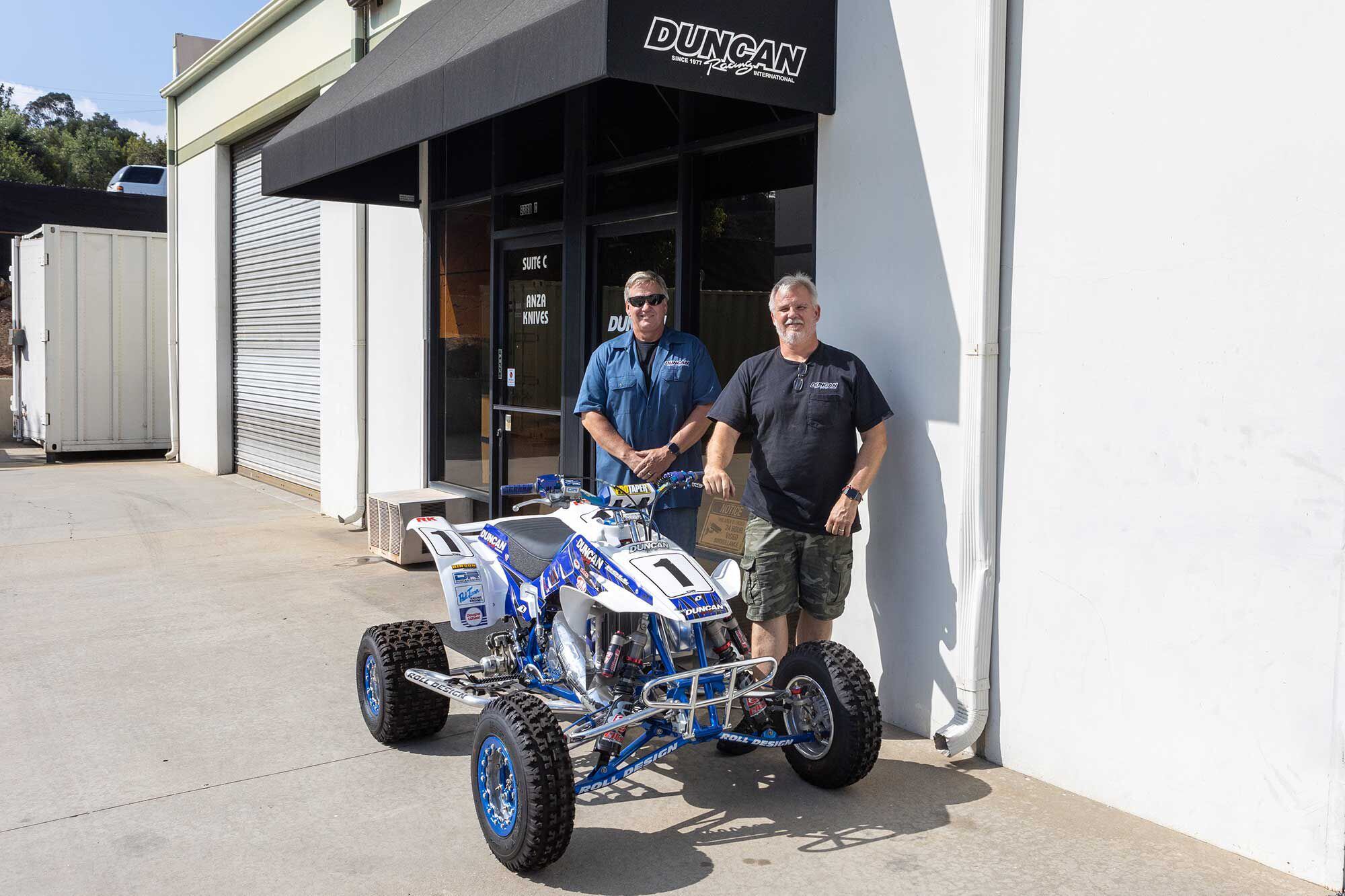 Loren Duncan (left) and Leonard Duncan with a brand-new Lobo Honda 250R. (Jeff Henson/)
Nobody knows sport ATVs or the sport of ATV racing better than Duncan Racing. Duncan Racing was originally founded in 1977 by Danny Duncan, just as three-wheeler racing was ramping up. In 1986, Loren Duncan took over as president of Duncan Racing and his brother, Leonard Duncan, managed the shop. In the 1990s Duncan Racing emerged as the premier high-performance ATV company in the industry, stacking up countless pro champion wins as ATV racing popularity exploded. Some of the biggest names in ATV racing—including Marty Hart, Doug Eichner, Gary Denton, Bob Sloan, and Travis Spader—relied on Duncan Racing for high-performance parts and race support.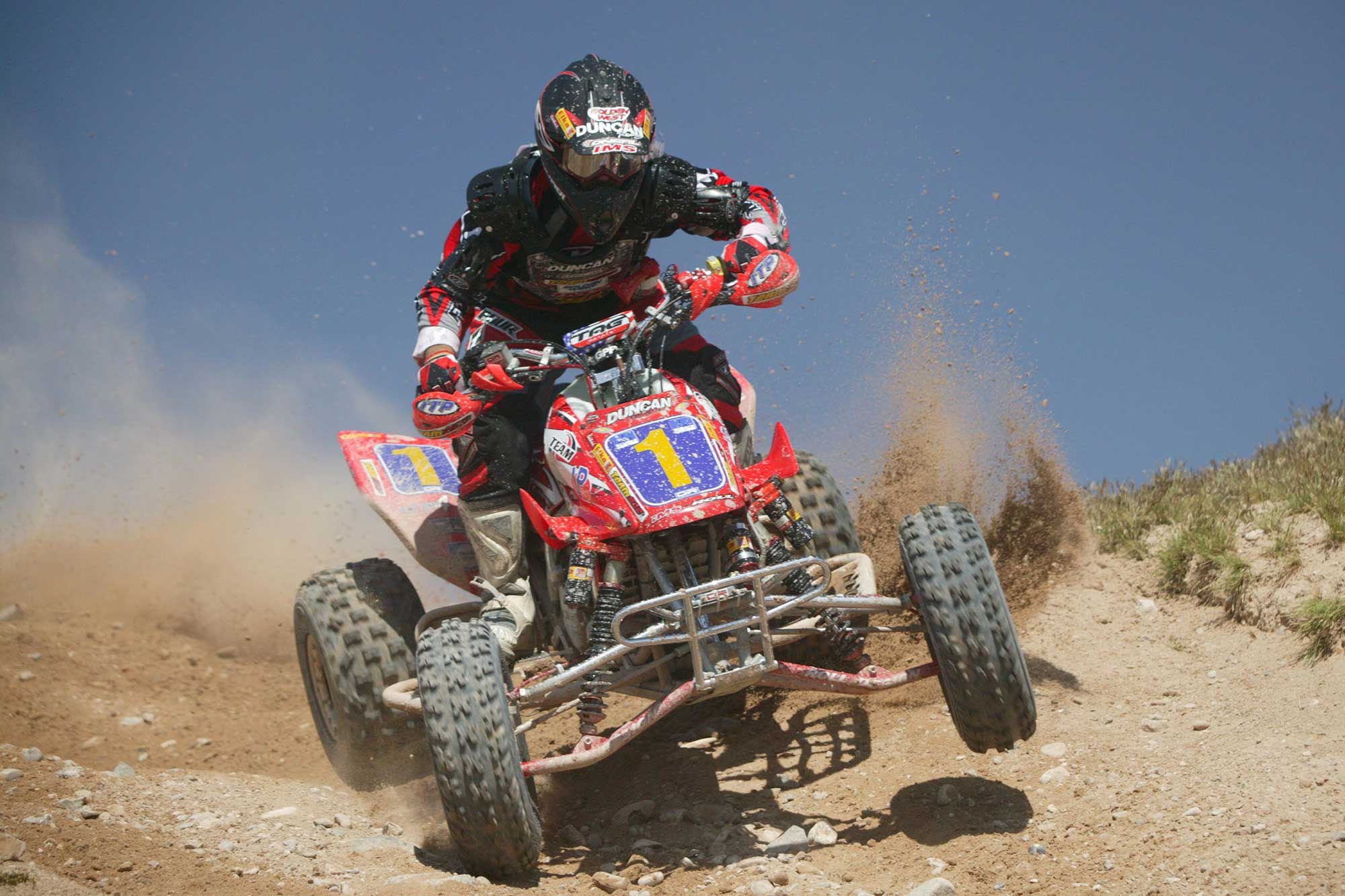 Duncan Racing sponsored racer Doug Eichner at the WORCS Lake Havasu (Arizona) round in 2005. (Adam Hynes/)
If you're passionate about ATV racing, or just sport ATVs in general, then you know a lot has changed in recent years. The Great Recession took its toll on ATV sales starting in 2008, and then the popularity of side-by-sides converted a lot of sport quad owners to high-performance side-by-sides. The future of sport ATVs looked grim for a while, but we're finally seeing some signs of rejuvenation as ATV racing entries pick up and used sport ATV prices jump to record levels.
We were recently in El Cajon, California, at Duncan Racing International headquarters, where we managed to get Loren Duncan to take a break from his busy schedule to speak with us about the current state of sport ATV manufacturing, and where he thinks the industry is headed from here.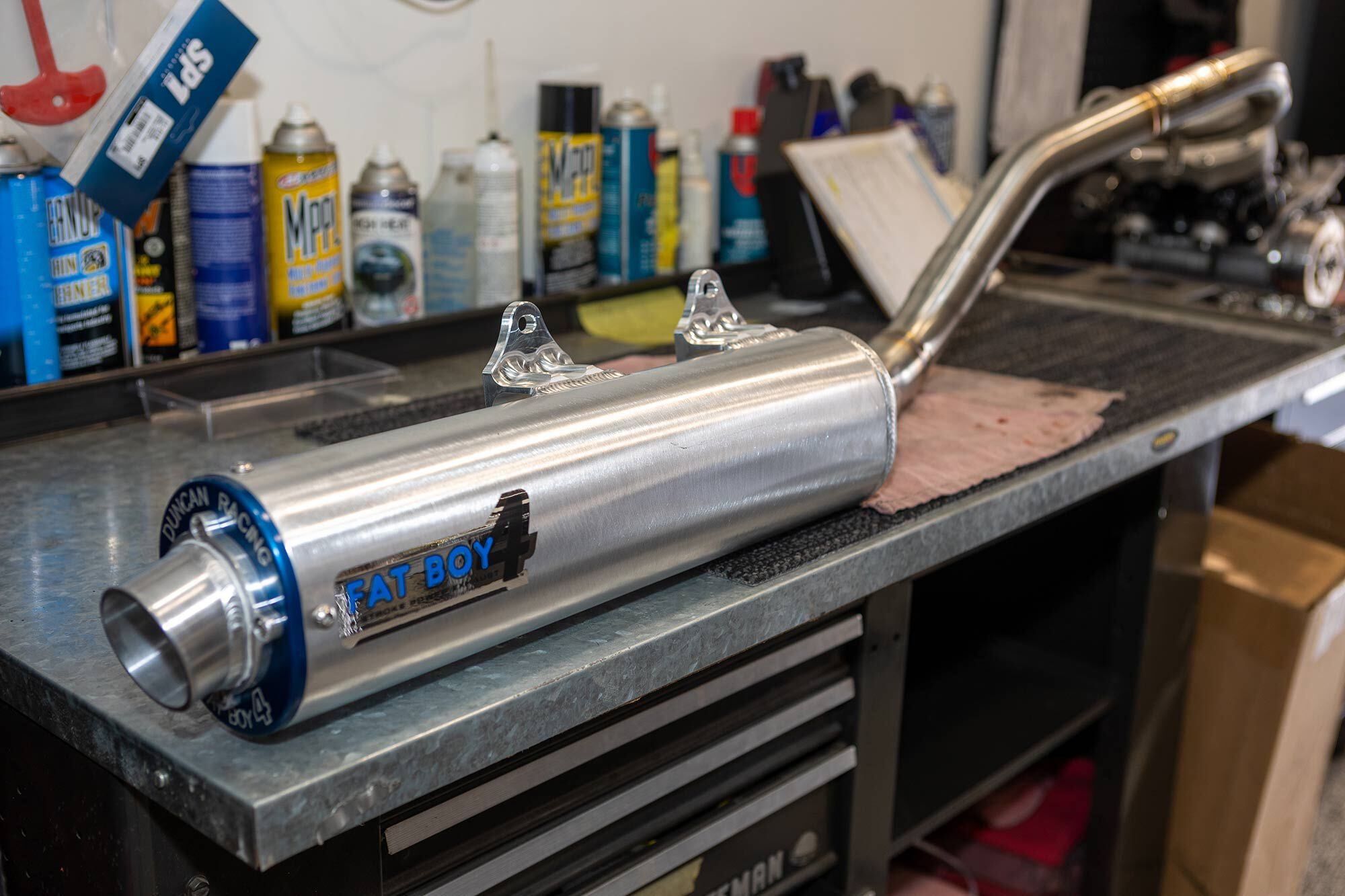 A new Duncan Racing exhaust system awaits installation on a Yamaha Raptor 700R. (Jeff Henson/)
ATVR: What's your take on the disappearance of sport quads from all but one major ATV manufacturer (Yamaha)?
Loren Duncan: It's nothing like it used to be because there's so many other things. We could go on for days about UTVs. It's kind of like when the four-stroke craze hit in the early 2000s; everyone jumped off their two-stroke and jumped on a four-stroke, whether it was an LTZ, YFZ, TRX, whatever model you pick. And then, about a decade or so later, we noticed a lot of our serious customers had at least one of each, a two-stroke and a four-stroke, as both have their advantages. Then, around 2015, everyone ran out and got a UTV. It was cheaper because families could buy one machine instead of four. They didn't have to buy all of the riding gear. But we see a niche out there that just loves sport quads and they refuse to be UTV owners. I have a Honda Talon, and I love it in the right place, but I'm still an ATV guy. We have a lot of customers with both, but we're not going to become a UTV company. We specialize in ATVs, we're known for ATVs, and we're swamped with ATV work.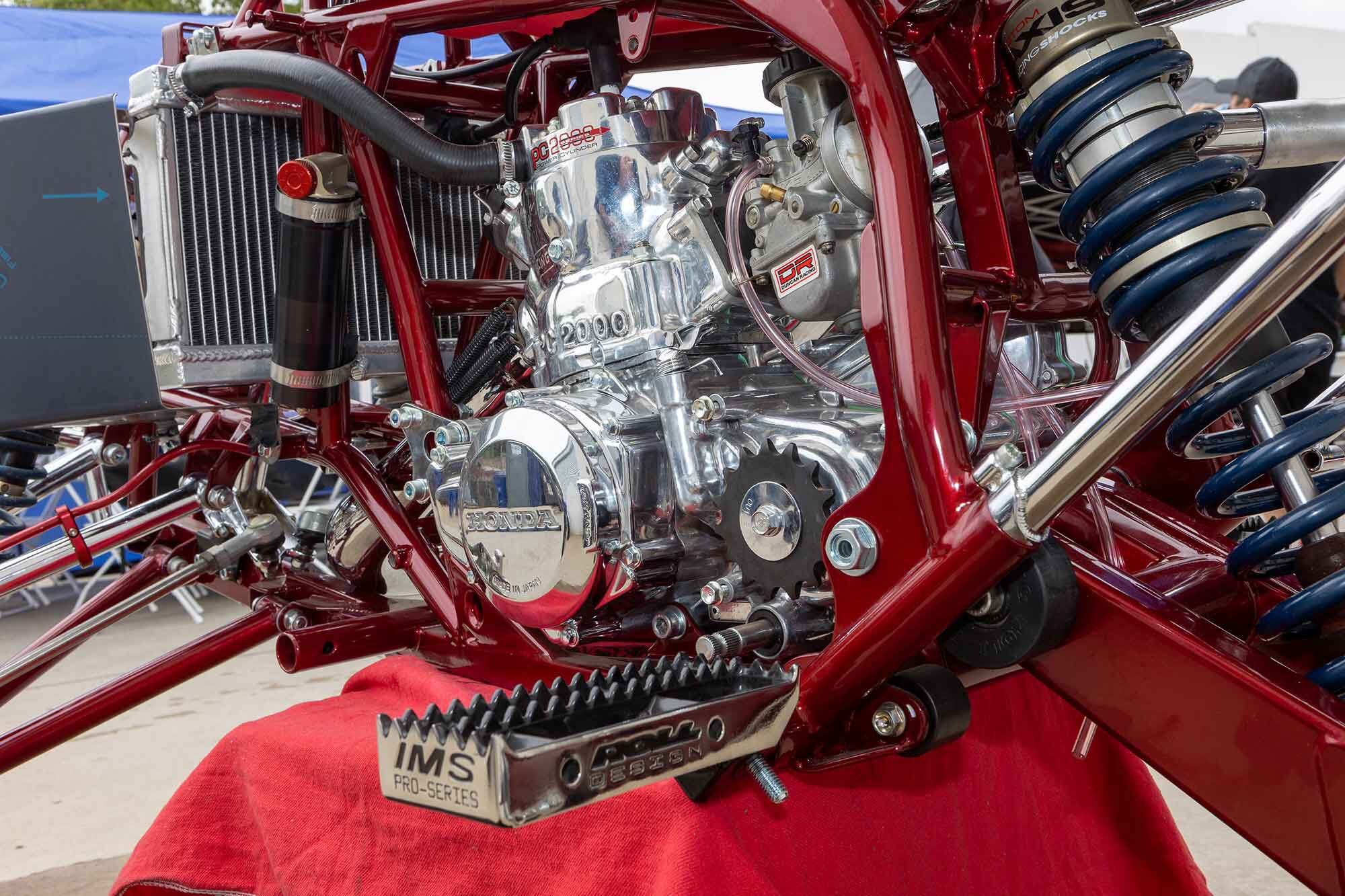 When all is said and done, more than 300 hours will be invested in this Lobo 250R. (Jeff Henson/)
ATVR: Yamaha tells us it continues to do very well with sales of the YFZ450R and Raptor 700, and it has no intention of giving up on sport quads like every other OEM.
Duncan: Yamaha has done a great job building high-quality sport ATVs. When Yamaha went from the YFZ450 S model with the carburetor to the YFZ450R in 2009, it's one of the best machines Yamaha ever built. The quality of that build, with the fuel injection, the transmission, and the crank, it is just a top machine. When they break, it's from the human that touched them. The fuel injection is pretty much flawless. And the Raptor 700R is right behind it. We're really pushing out a lot more Raptor 700R stuff this year. I personally ride a Raptor 700, and I like it.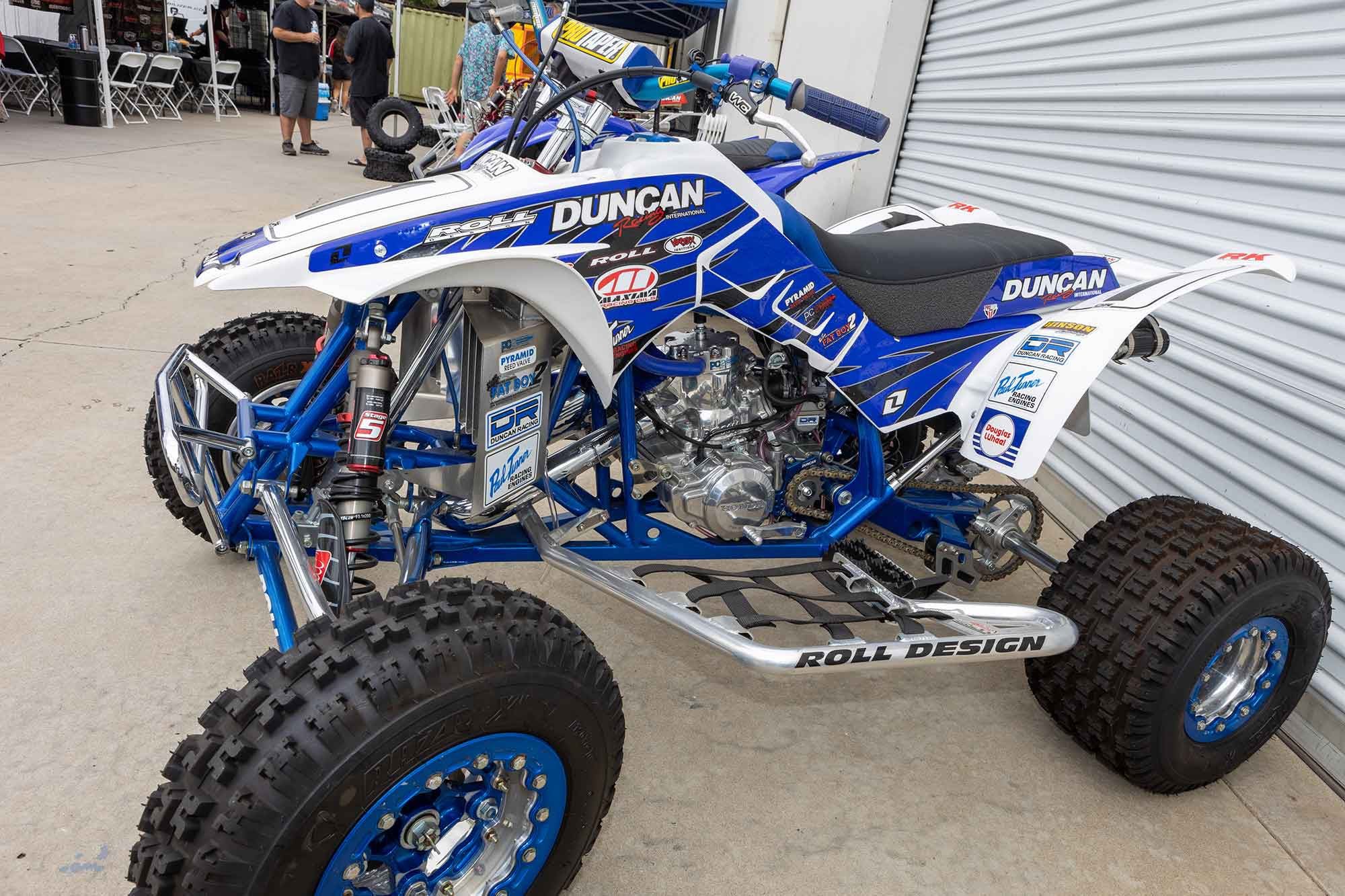 This is what a $35,000 Lobo 250R looks like, and it's already sold. (Jeff Henson/)
ATVR: Are you amazed by the skyrocketing prices of used ATCs and sport quads? We see old Honda 250R three-wheelers that were going for $600 five years ago now selling for $2,500 or more.
Duncan: I think some of those prices are delusional. If you buy a 1981 Honda 250R, you can't find parts for it. I'm restoring a Honda 110 ATC right now and building four or five Honda 110 engines. It's an adventure to find parts. I wouldn't take a restore job on a 185 or a 200s because I can't find the parts. The same goes for the 1981 to 1984 250Rs. The real value is in 1985 to 1986 liquid-cooled three-wheelers and Honda TRX250R four-wheelers, especially the 1988 and 1989 models. Suzuki LTR 500s have a premium, and the Banshee has really gained renewed popularity in the last three years. For a lot of people, it's the build and the process, like building a Harley or a car. They just love to do that. We have a Lobo right now that we built for a customer who has never been in the dirt, and it was built to go in a museum. No expense was spared. That's a 400-hour build and a $35,000 quad.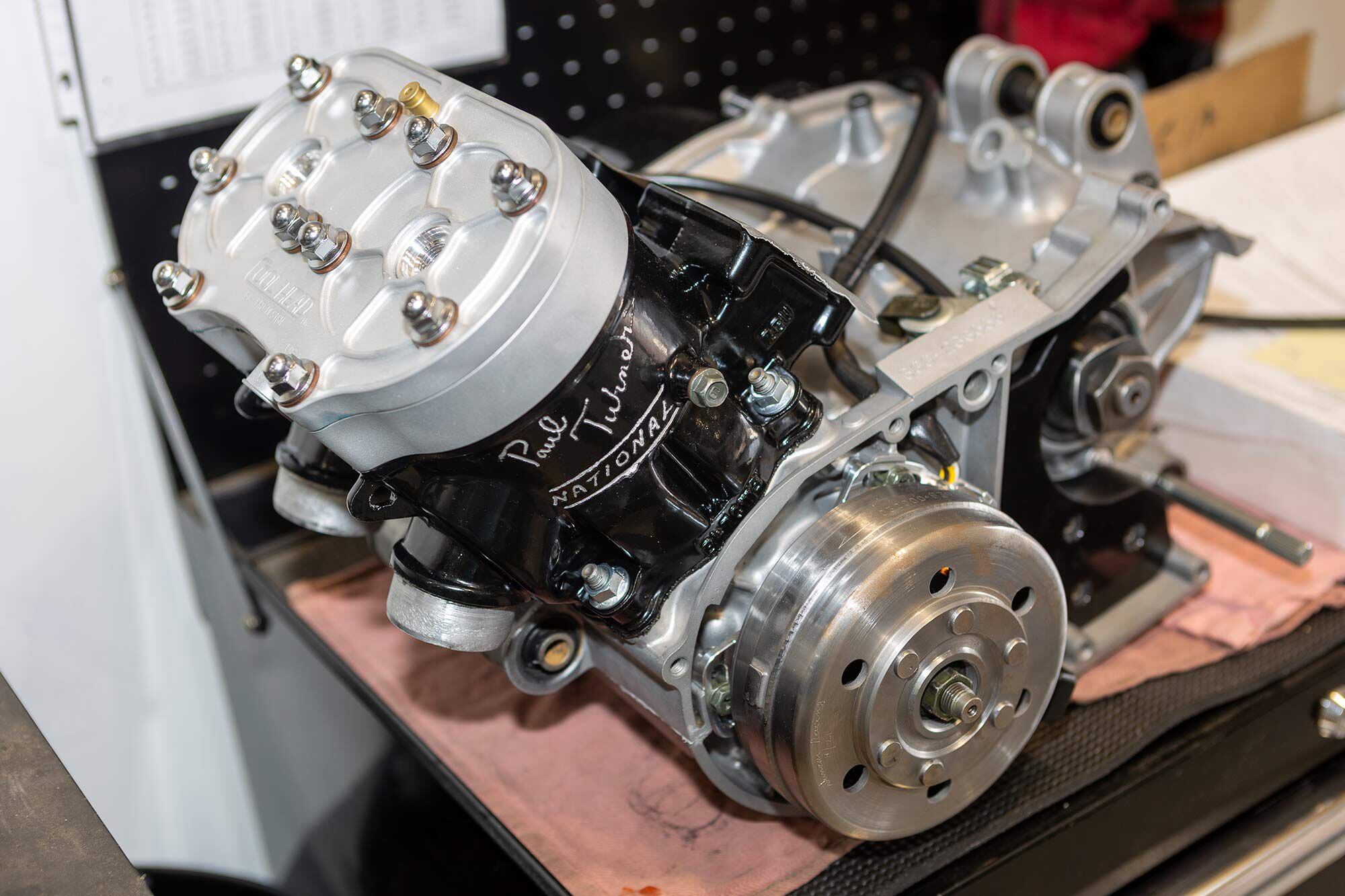 Loren Duncan claims Yamaha Banshee builds have become popular again, as well as the Suzuki Quadzilla. (Jeff Henson/)
ATVR: That's a hefty price tag. Do you see hybrids like the Lobo coming back like they did before 2004? There were a lot of custom chassis with dirt bike motors back then.
Duncan: Hybrids came about in the 1990s when ATV racing was at its peak. The manufacturers were out of it. There were no rules, so basically Doug Roll [of Roll Design] and I funded the Lobo that he made. He spent zillions of hours on the chassis and I supplied all of the motors and riders that went into the development of it. We had thousands of hours in it and it was a tremendous machine. I know Laeger also put a ton of energy into their hybrids too. There was a niche for it back then, but for someone of Roll Design quality to come in and do it today, they couldn't make money. Even if Doug Roll charges you $20,000 for a set of shocks and a chassis, it's not a money maker for him. There's so many hours and so many parts. He makes more money on front ends. Everybody thinks the industry is back and they want to talk about 250R and ATC builds, but it's not, it's not even close to what it once was. We used to sell thousands of pipes, now we sell hundreds, and I probably sell more than anybody. There's still a little niche out there, but it's not like before when that was the game and everybody was doing it. The same with Doug Roll; if he made ten chassis right now, he would probably sell two or three right away, but he's going to sit on the others for a little while. That's only part of the build, you still need a motor and everything else. Pretty soon you've got $40,000 into a quad. You could spend a lot less on a new YFZ450R and have a heck of a machine.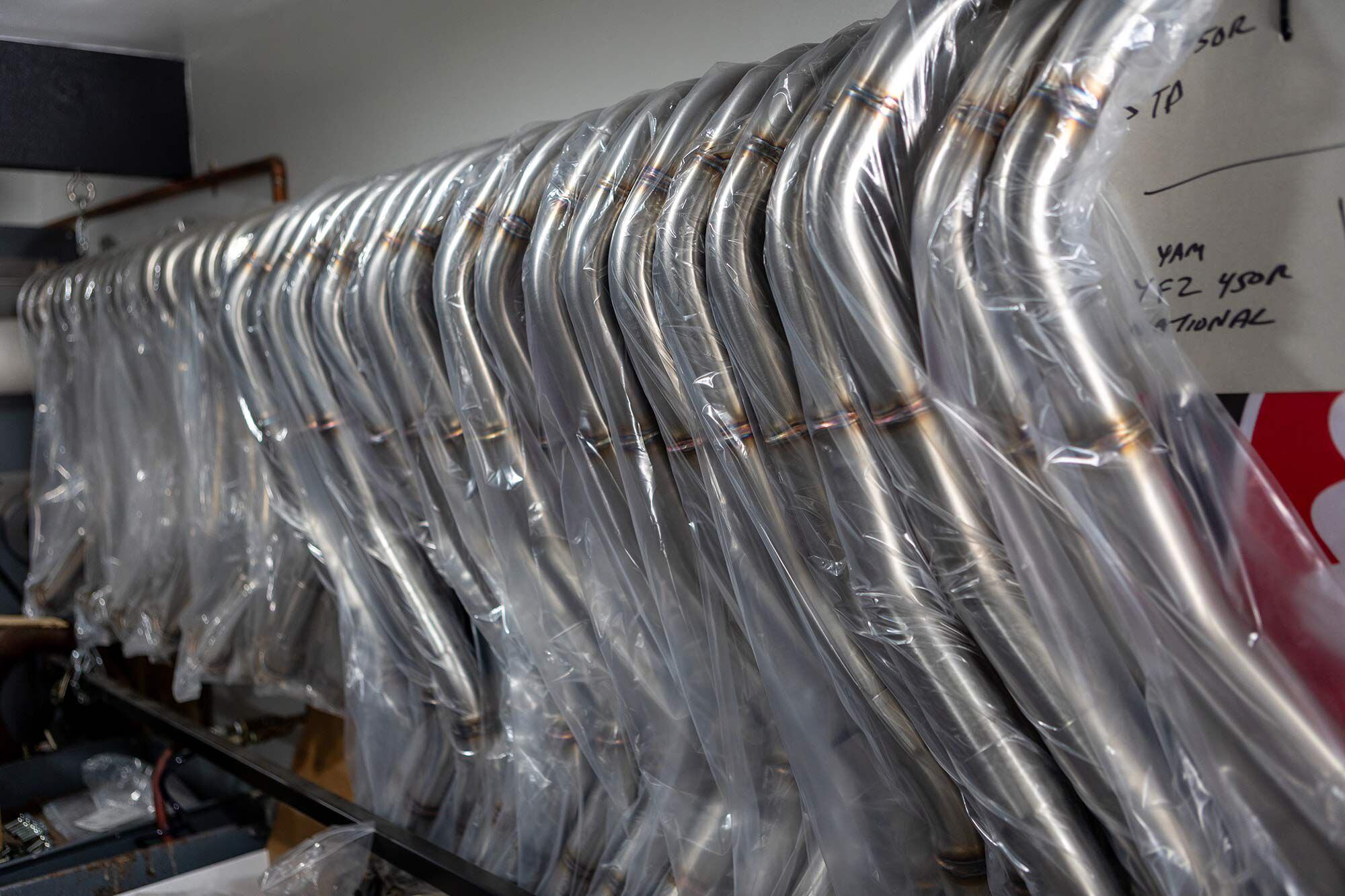 A row of four-stroke exhaust systems are ready for shipping. (Jeff Henson/)
ATVR: So what's your conclusion on the current state of the sport ATV industry?
Duncan: I don't think the industry is back, but I don't think it's gone either. You can just do the math to figure it out. For us, we've got a niche. We focus every day on our customers and our products. Right now I've got 60 motors in play and who knows how many other jobs. Some of those jobs I will not finish until next year, even if I took the phone off the hook. We're trying to get our work done the best we can and take care of our customers. That's what we do.
For more information on Duncan Racing products and services, visit online at duncanracing.com.