Unit 500 of 500. The Ducati Unica Superleggera was designed to match the owner's Lamborghini Aventador SVJ. (Ducati/)
Ducati announces Ducati Unica, a customization program giving select customers the opportunity to collaborate directly with designers at Centro Stile Ducati to create bespoke versions of their Ducati or Scrambler motorcycle.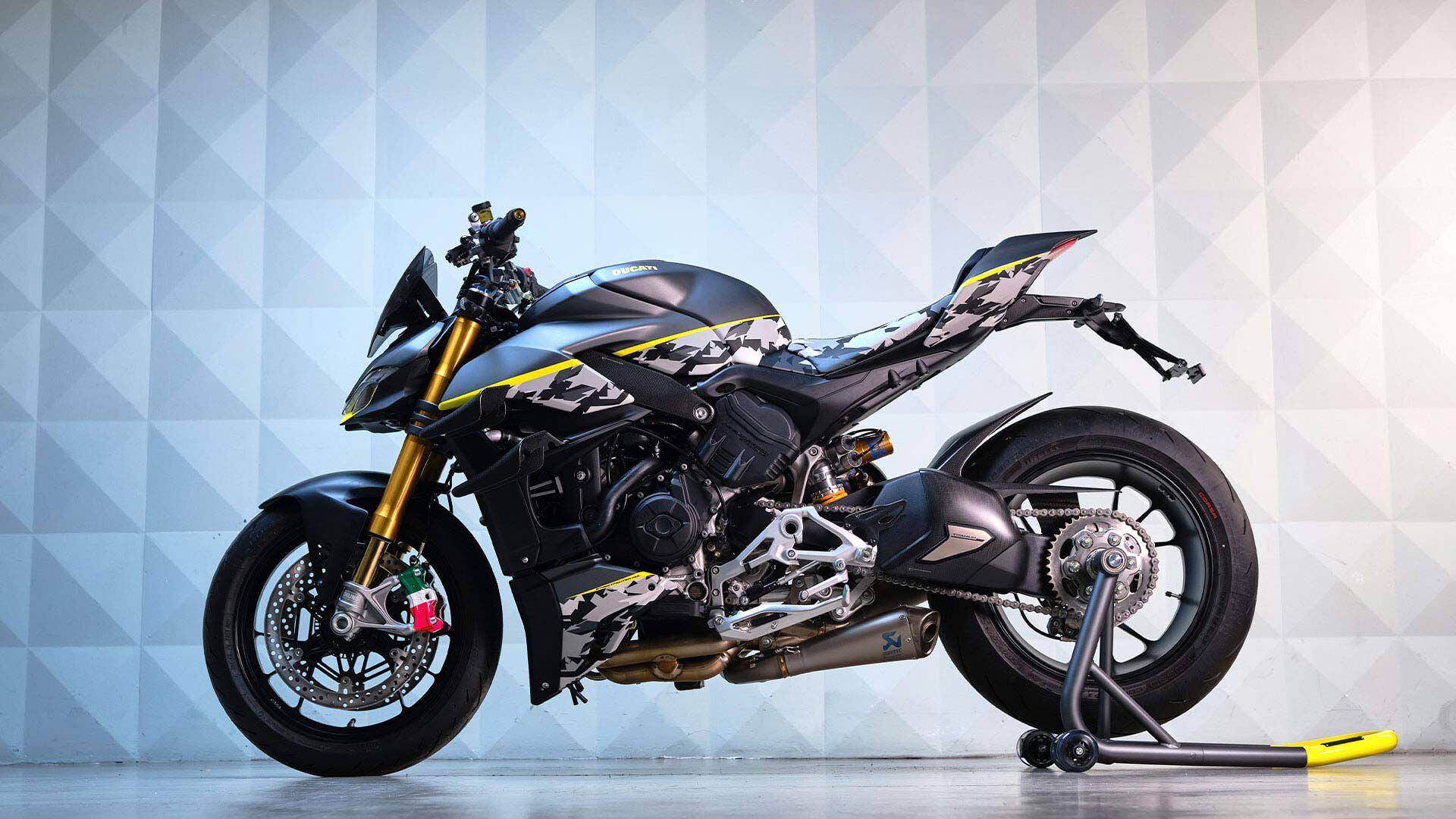 One-off Streetfighter V4. Cool? Sure. As cool as a Streetfighter V4 SP? (Ducati/)
With the help of Centro Stile designers, customers are able to create one-off liveries and stipulate the use of special paint colors, premium finishes, and Ducati Performance accessories. Each Ducati Unica project includes a certificate of authenticity and clients are invited to visit Centro Stile Ducati along every step of the process.
Ducati Unica Scrambler. (Ducati/)
"Design is a distinctive element of our creations," Centro Stile Ducati design director, Andrea Ferraresi, says. "For some time we have been working on the launch of a project that would give Ducatisti the possibility of identifying themselves even more with their own bike, making it a direct expression of each person's individual style."
According to Ducati, "only [customers] considered to be in line with the values of the brand and with the stylistic standards associated with it" will be selected to take part. Given that a single Ducati Unica motorcycle will be built per quarter for North American customers, and reading between the lines, it's not a stretch to imagine those wishing to take part will likely have a history of brand loyalty and, maybe more importantly, a Superleggera or two in the garage.
This Superleggera V4's sexy face: Blue Steel. (Ducati/)
While the level of customization that Ducati Unica offers is novel in the two-wheeled world, it's nothing new in the premium automotive space. For instance, Lamborghini, which like Ducati is owned by the Volkswagen Group, has its own program, Lamborghini Ad Personam, giving customers the ability to select finishes and materials with the guidance of Ad Personam Studio staff.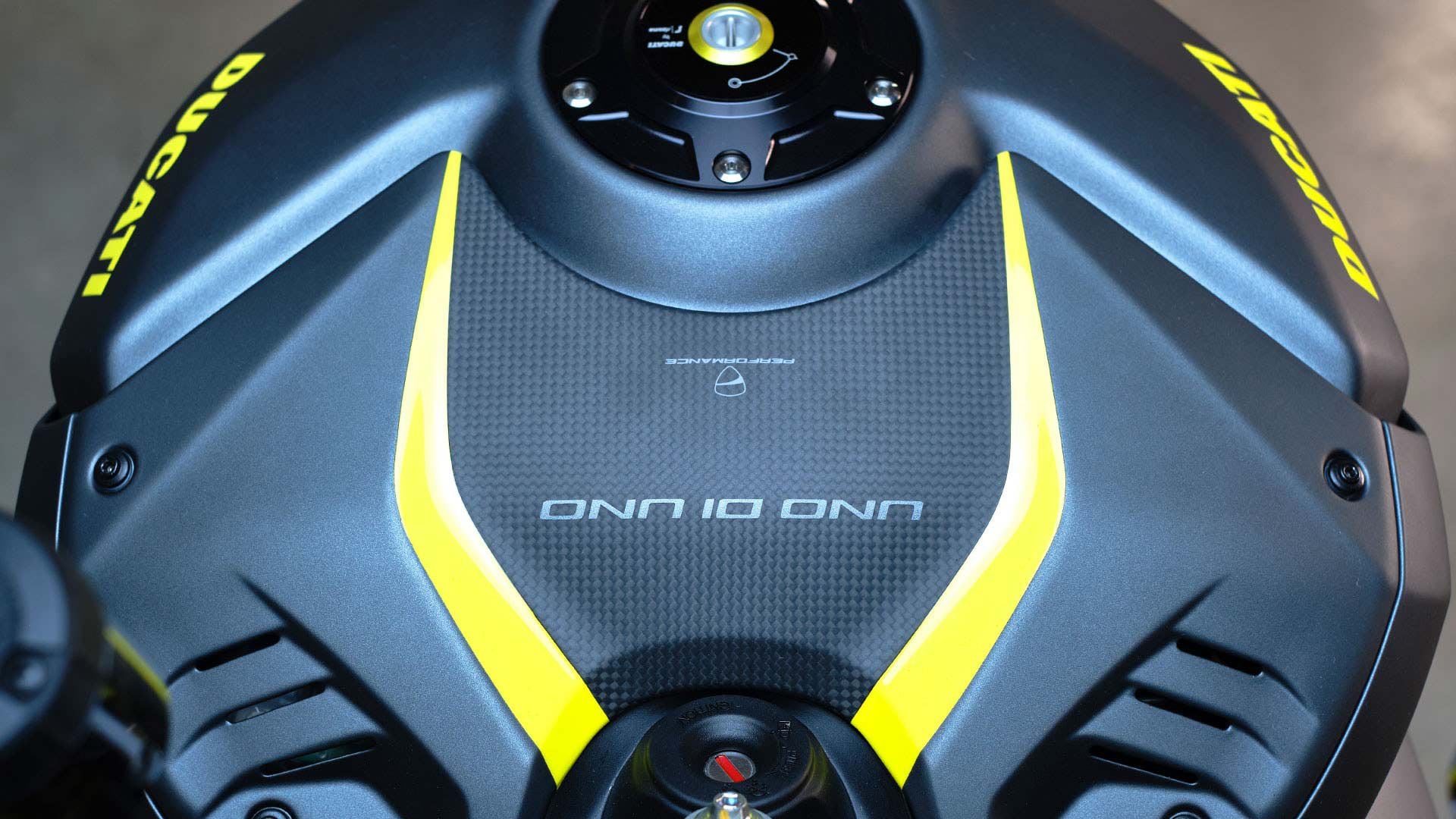 One of one. (Ducati/)
The program signals Ducati's intention to set itself apart as a builder of ultra-premium motorcycles—as if its many limited production run models wasn't enough. It brings a bit of the supercar experience to the two-wheeled realm, namely in its focus on exclusivity and customer care.
In a separate press release announcing that 2021 was its best sales year ever (having delivered 59,447 motorcycles worldwide), Ducati CEO Claudio Domenicali says: "The core values of the brand—Style, Sophistication, Performance and Trust—are more current than ever. Future growth will take place in compliance with these values, offering our enthusiastic customers products that are increasingly representative with a unique mix of beauty, technology and distinctiveness, such as the best of Made in Italy."
The Ducati Unica program is certainly consistent with Ducati's core values as described by Domenicali. The reader will also note that "Trust" is a new addition to Ducati's corporate values of "Style, Sophistication, and Performance." While the original motto names qualities Ducati wishes to ascribe to itself and to its products, trust is a quality it hopes to see (and cultivate) in its customers.
After-sales care is a massive component of building trust, but it's not the beginning of the path. The Ducati Unica program directly serves the smallest number of Ducati owners, but more importantly, it's likely intended to direct brand perception. From the outside looking in, it's less about the one rich dude who wants a motorcycle to match his Lambo, and more about capturing the imagination of the everyman who's struck by the blue Superleggera he sees all over Instagram. Perception leads to satisfaction, satisfaction leads to trust, trust leads to future growth.
North American clients can make requests through their dealerships to take part in the Ducati Unica program beginning in 2023. There's no word on how much the service will cost.
This seat is taken. (Ducati/)