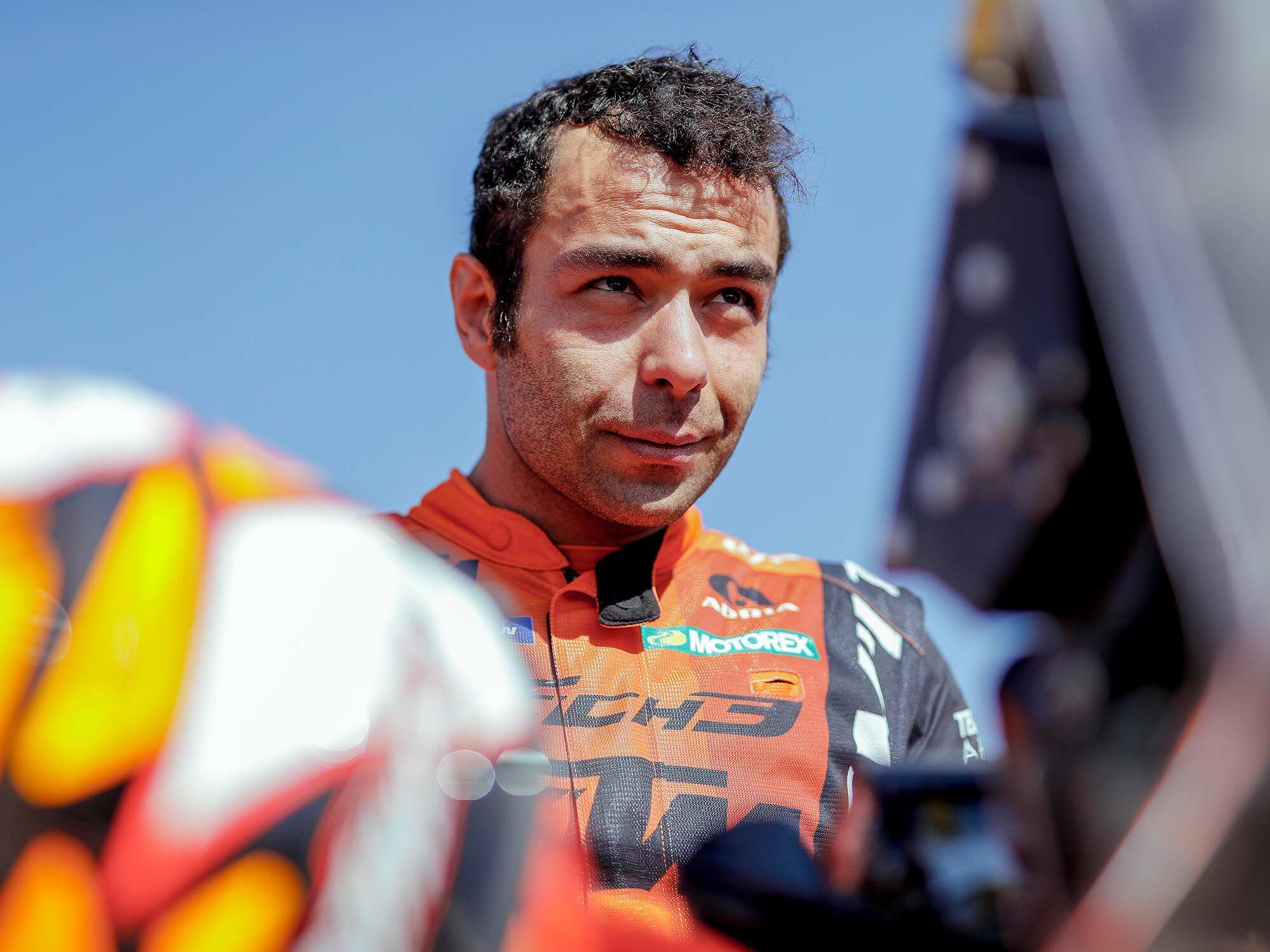 Danillo Petrucci is the first rider to win a MotoGP Race and a Dakar Rally stage. (KTM/)
"Hi, Danilo! Can you sign me an autograph?"Danilo Petrucci enjoys the popularity and the warm welcome he receives in the Dakar Rally bivouac. In the evening, you can often find him with the amateurs of the malle moto, the toughest category on the event, featuring riders without an assistance team. Pure passion for racing and motorbikes is their bond.
He arrived humble but confident in his skills, and Petrucci has surprised everyone on the rally starting with his KTM team. With only a single week of testing in Abu Dhabi (the capital of the United Arab Emirates), the Italian was a true revelation in the 2022 Dakar, becoming the first MotoGP rider to win a stage in his rookie year. Competing the Dakar was a dream he had cultivated since he was a child, and the 2022 season looks really promising for the Italian who is about to live the American dream. Petrux has signed with Ducati to compete in MotoAmerica for one year in the Superbike category.
Your Dakar was a roller coaster of emotions, twists and turns.
I knew it was hard, but I couldn't understand it till I experienced it. There are stages of 700–800 kilometers. Some days the clock alarm rings at 3 a.m. and you return to the bivouac 12 hours later after being on the bike for eight or nine hours in the most extreme conditions: freezing cold in the morning, hot during the day. And then sand, rocks, big dunes, mud. It's insane.
You surprised everyone with your speed since day one, and winning Stage 5 was just superb.
I knew I was fast, but I think many underestimated me, even in my team. I have always followed the Dakar, and it was a dream since I was a child. It was incredibly satisfying to clinch a victory, even if it was surreal, because I was informed when I was in the Italian embassy in Riyadh [to replace the passport he lost on Stage 2]. That day I finished second, 4.41 seconds behind Toby Price, who received a 6-second penalty. The support I've received from home has been incredible. In MotoGP we are used to celebrating a victory, while here the teams continue to work hard because the race is still long.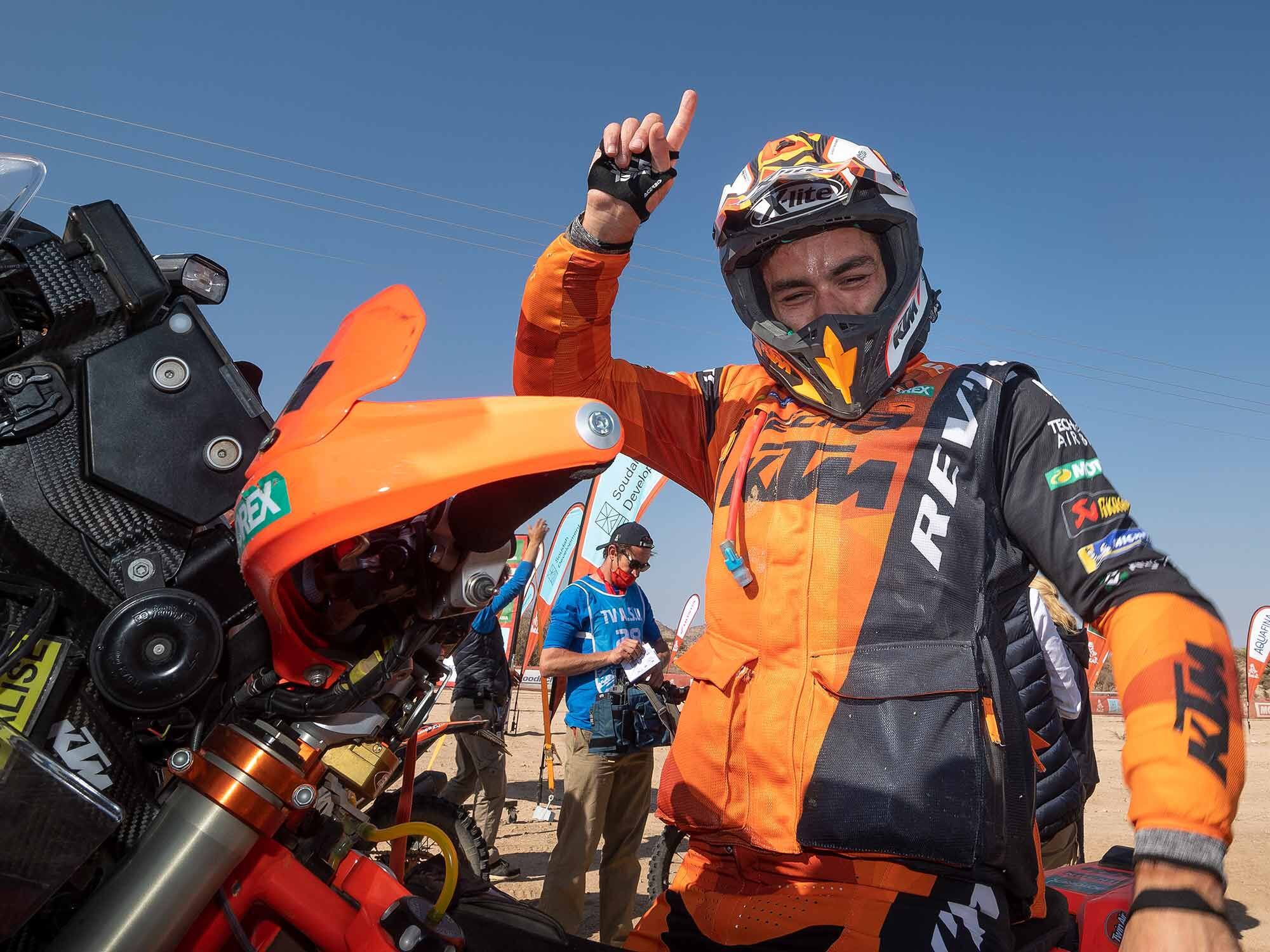 Petrucci celebrated each day of the Dakar. (KTM/)
It was a pity you had issues on Stage 2.
When I started, I didn't have ambitions of a specific result in the overall classification, but I was doing well so I was going for it. I finished P13 on day one when 80 percent of the field got lost, and I was third when I had an electrical issue on kilometer 115 of the second stage at Ha'il–Qaisumah. It was a very fast stage [front-runners like Petrucci can average 170 kph, or more than 106 mph], and I was comfortable when, after switching from the front to the rear tank, the bike stopped. I tried to understand what happened, and I even disassembled the bike and transferred the fuel from one tank to another, but nothing. In the end we discovered it was a fuse. I wanted to call Davide (Cotimbo), my mechanic, but I discovered that in the stage's end I had lost the phone together with my passport, the money, and the credit cards. I understood how ruthless this race is when I saw my bike taken away by the helicopter of the rescue team. The positive side of the story is that when I called the PC Course [race direction on the Dakar] the first to be sad were the organizers when they saw my name. [Danilo rejoined the race the following day with a time penalty of 11 hours and 30 seconds.]
What did you like most about this experience?
It's a tough race, but you ended up loving it. The camaraderie among the riders is amazing. The atmosphere at the bivouac is fantastic.
Dakar is one of the toughest races in the world, but Petrucci enjoyed the challenge. (KTM/)
Have you been in contact with your former MotoGP colleagues?
The other day, when I clinched the third position, the first to write were Andrea Dovizioso and Carmelo Ezpeleta.
How do you explain your ability to adapt so quickly?
I have always been very flexible and comfortable in all the disciplines. Since I was a kid, I have ridden all kinds of bikes: minicross, trials, minimoto. At age 13, I started roadracing.
During my MotoGP seasons, I have always trained with motocross. It's a very complete sport that taught me to face obstacles at a very high speed. I actually started with minicross when I was a child; it's really useful for learning bike control. I really like it. I also train with enduro bikes. I love this sport because it gives me an incredible feeling of freedom. I exit my garage with the enduro bike and explore the forests and the mountains.
Petrucci quickly adapted to rally racing, but it should not come as a total surprise. (KTM/)
What about MotoGP? What did you bring from your experience?
MotoGP is the pinnacle of motorsport and technology. It's the ultimate fight against the stopwatch. I lost a podium by three-tenths of a second. After a race of 120 kilometers [75 miles], what is a gap of three-tenths of a second? But the level is so high. From my years in MotoGP I brought the speed, the precision, the control of the bike.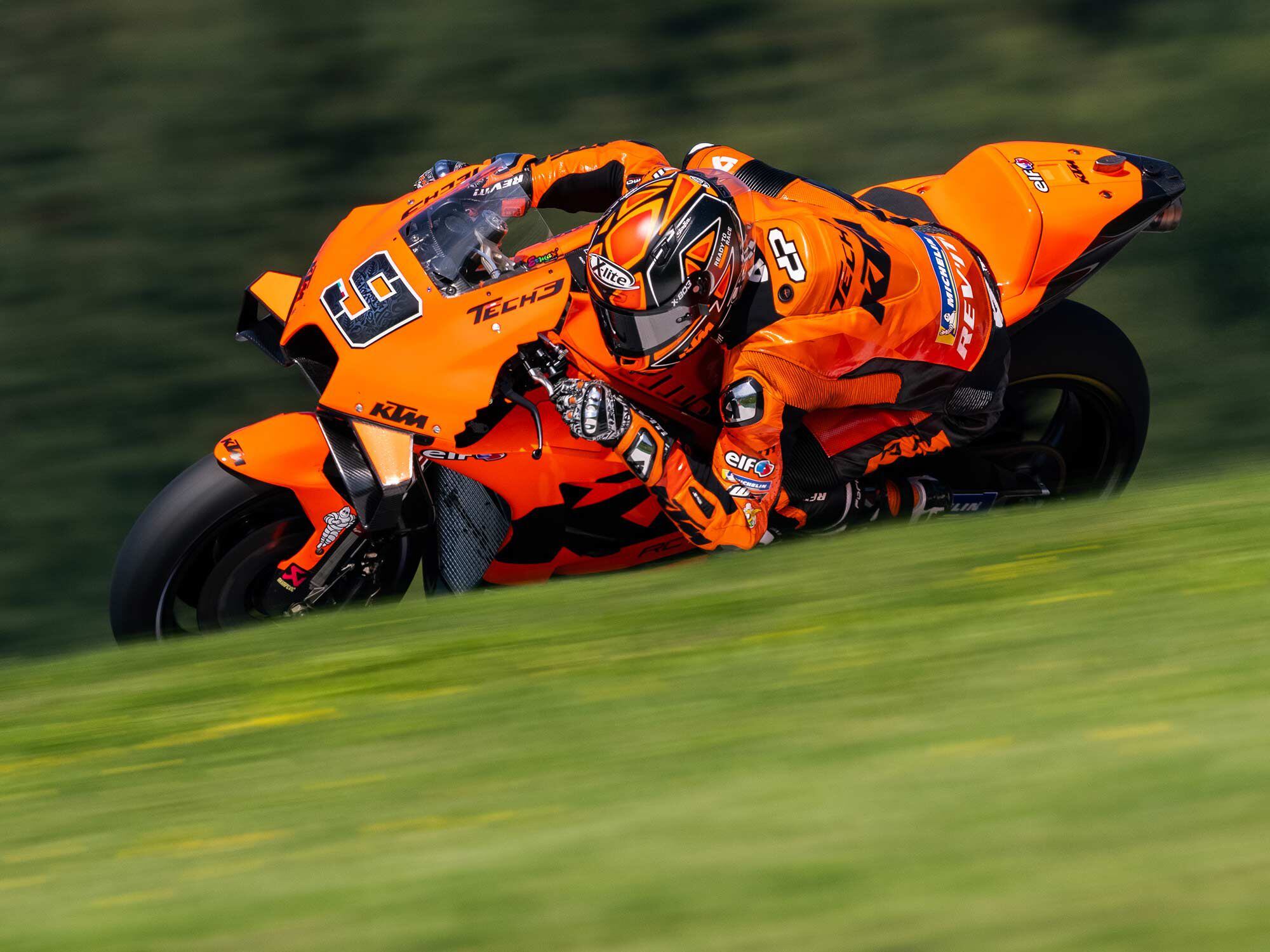 At the end of Petrucci's MotoGP career he struggled, taking the fun out of it. Racing Dakar allowed him to find joy in riding and racing again. (KTM/)
What is the Dakar for you?
The Dakar is freedom, risk, orientation, navigation. It requires a complete racer, able to ride the bike through all extremes of conditions and terrain. In a way it's a mix of everything, plus you ride in amazing places that you would never visit as a tourist. The other day, I was riding full throttle on a fast plateau, and I had the time to admire the landscape. It is amazing.
Looking back to MotoGP, do you have some regrets?
Honestly not, because my last year I was struggling and I had no fun. I didn't like this feeling. MotoGP is like Formula 1; the level is so high that you need a competitive machine. I'm really happy that on the Dakar I rediscovered the joy and pleasure to ride.
Was the World Superbike an option?
No. I was looking for something different.
What about MotoAmerica?
It's a life experience. I have the opportunity to live abroad and ride motorbikes, which is the thing I love most. I have always been in love with the United States. I love the lifestyle over there, the open spaces. Every winter I fly to California, rent a bike, and go ride for a couple of weeks in between Los Angeles and San Diego. Last time I went to Ocotillo. I have friends there like Giacomo Redondi, who is currently racing cross-country in the US.
Have you had the chance to speak with Toni Elias?
Yes, he has been very kind and supportive. He is enthusiastic about the MotoAmerica Championship.
You will compete with Ducati on a Panigale V4 R.
I'm happy because it was Ducati that contacted me. They did everything to get me. It's very satisfying. When I left the MotoGP Ducati factory team, I remained on good terms with Claudio Domenicali, Gigi Dall'Igna, Paolo Ciabatti, and Davide Tardozzi. They pushed to have me in MotoAmerica. It's a satisfaction.
When do you start?
The first test should be in February. I really look forward to it.
Will you return to Dakar?
I'd love to. I really loved the experience. Now it's time to relax, settle down, and be ready to live my American dream.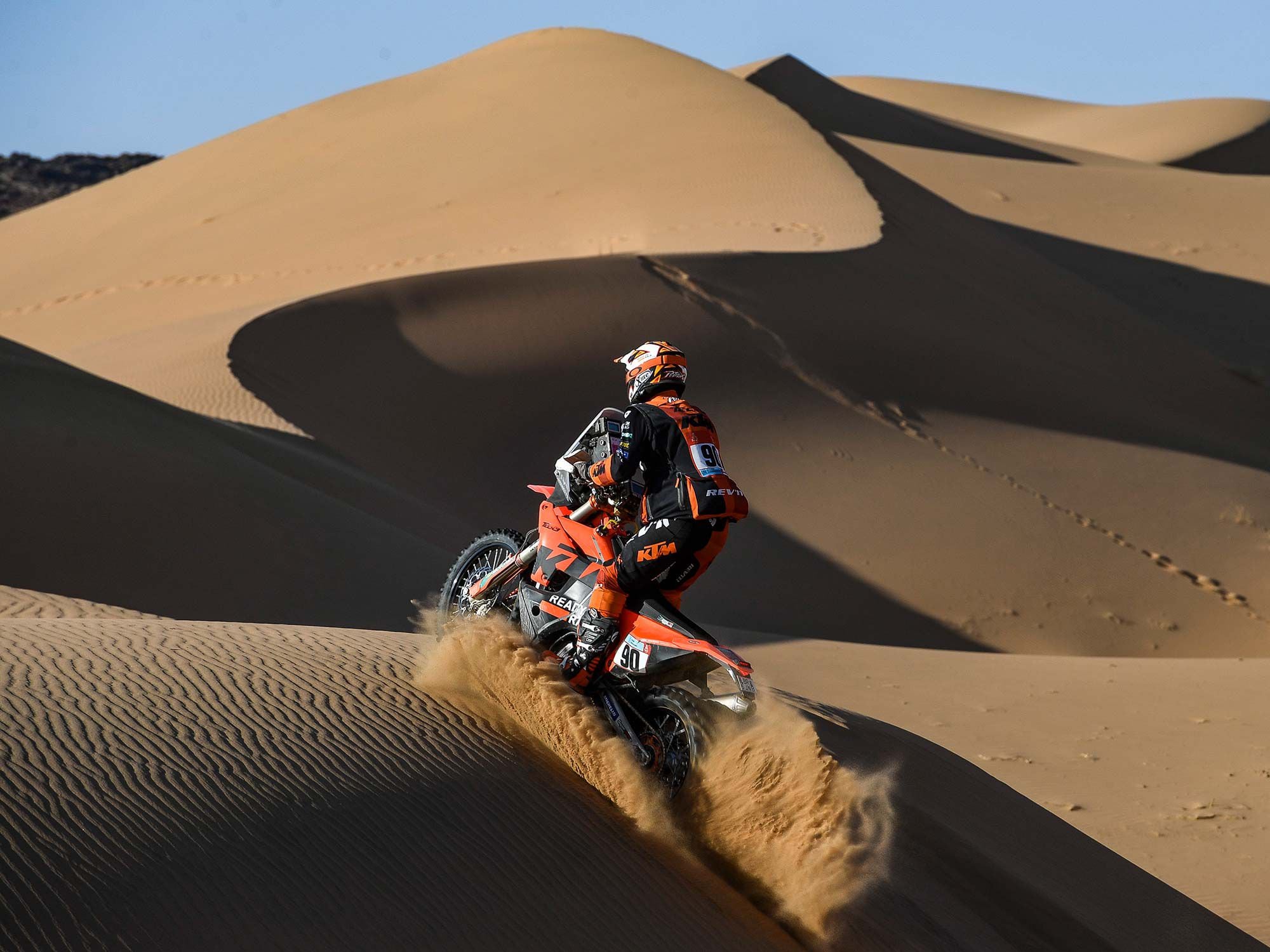 Dakar is over and now it's time for Petrucci to focus on his new American adventure. (KTM/)