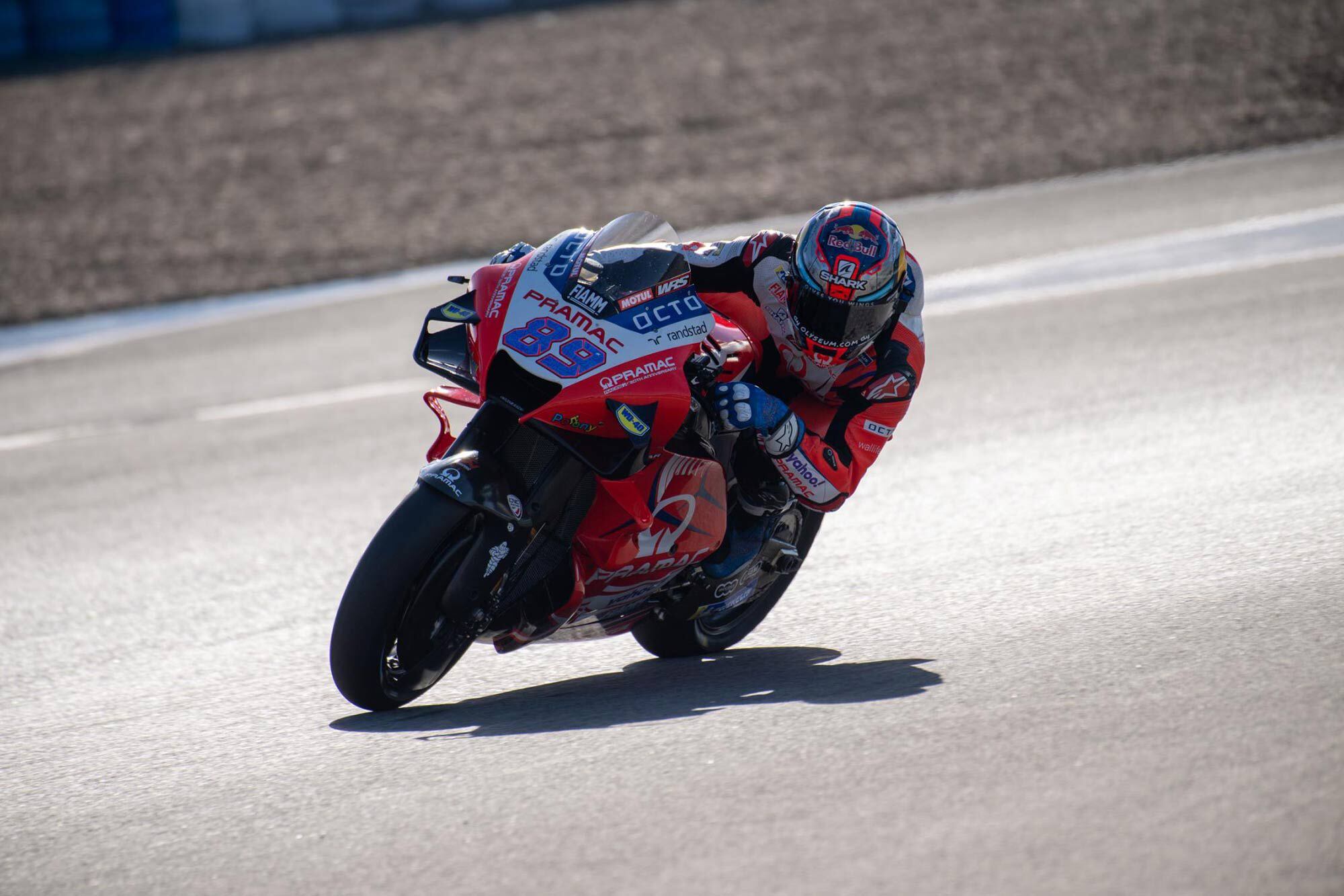 A new front fairing and intake are the most obvious changes to the Ducatis unveiled at Jerez testing. (MotoGP/)
"I'm happy." That's what Ducati's Francesco Bagnaia said after this past week's postseason testing at Jerez. Bagnaia finished second in the 2021 championship standings, winning four of the last six races of the season. At Jerez he was quickest over the two days with a 1:36.872, and there were four Ducatis in the top 10.
"I said that the old bike was already perfect and we are improving on this perfect bike."
The most obvious changes on the Ducati are a different front fairing and intake, plus a longer upswept "howitzer" exhaust system extending to the seat tail.
The new MotoGP champion Fabio Quartararo (Yamaha) delivered a less upbeat post-Jerez message: "We are missing just a lot, a lot of top speed and aerodynamics. That's why I'm pushing so much every day to have this in Sepang…because [what we tested at Jerez] is more or less the same as [at] the Misano test."
The Misano test began September 21, two months ago. Quartararo expressed the hope that Yamaha is saving more significant changes for the Sepang, Malaysia, test in three months.
The need for more top speed was clearly brought home to Quartararo in the last third of this season when he could no longer qualify well enough to avoid having to overtake the hard-to-pass fast Ducatis ahead of him.
Despite this, Quartararo was third quickest at Jerez with a 1:37.324. Bear in mind that test times differ from race times—testing does not present the problem of passing. Quartararo's Yamaha is fast on its own, but lacks the power to pass the Ducatis.
Quartararo summed up by saying "…we didn't make a step.
"…we tried many things but I didn't feel any improvement."
Honda had the only all-new bike at Jerez, but rider Marc Márquez remained absent. We now know that he has had a recurrence of the double vision he suffered after a Moto2 crash back in 2011.
Pol Espargaró said of the Hondas at the test, "There are two prototype bikes which have different things on them. The base is very similar, but they are different ways of getting the time."
This is important. As we know, in the past Hondas were quickest in smaller corners where hard, late braking and strong acceleration demonstrated their strengths. The Yamahas made their lap time mainly in fast corners, where their corner grip was outstanding, and in direction changing. Now that the Ducatis have become stronger in both those areas it is unclear what is the best way forward, making it important to understand "different ways of getting the time."
Takaaki Nakagami put his new Honda second on combined Jerez times, with a 1:37.313.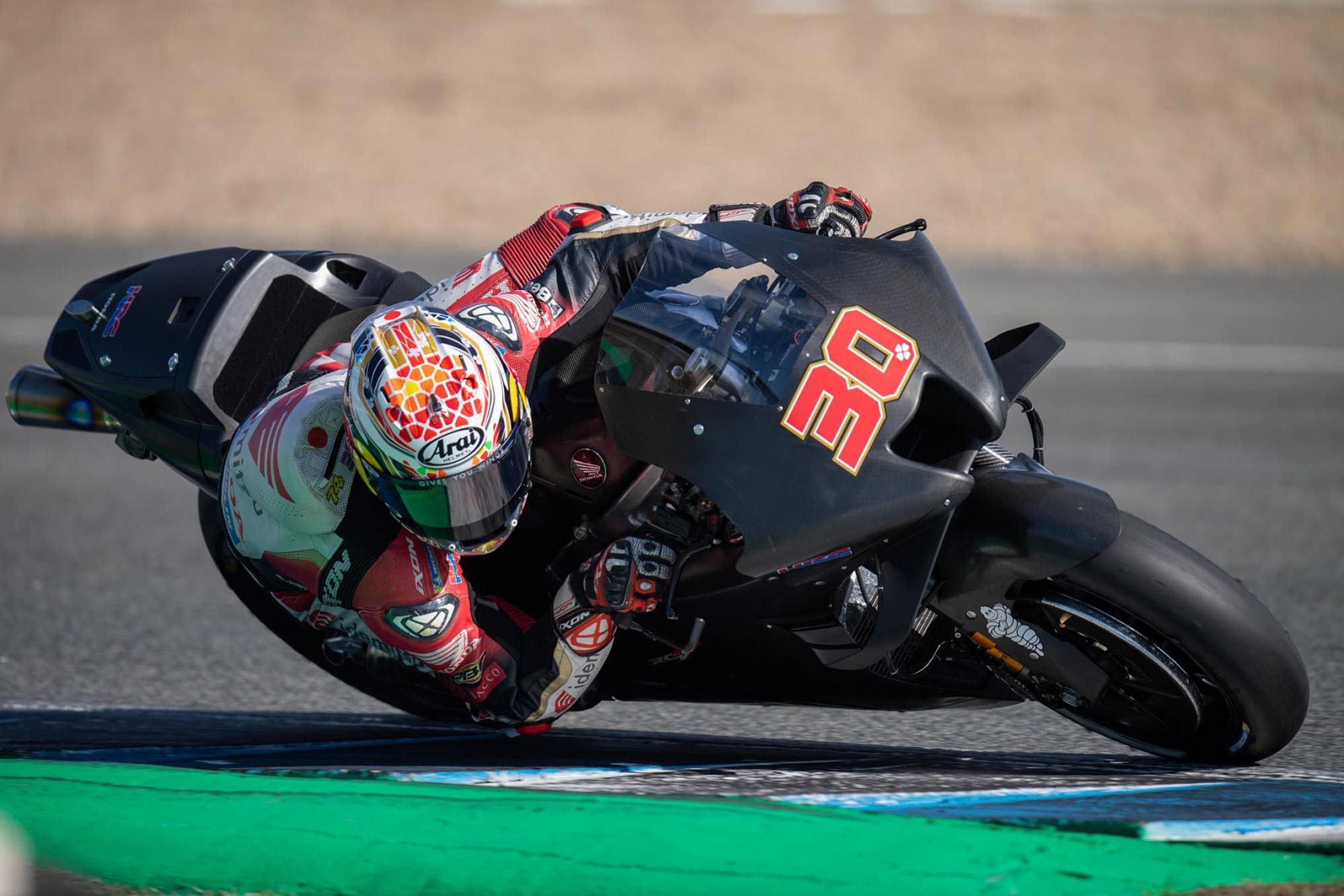 Takaaki Nakagami seems to be getting on well with the all-new Honda for 2022. (MotoGP/)
Espargaró explained some of the problems of the 2021 Honda: "…we need to generate more safety on the bike, especially on the rear tire. This means to have the rear tire more attached to the ground. Not just on the acceleration [that is, rear traction] to avoid the kind of highside like I had in Valencia, but also the floating feeling we have on the corner entry, that doesn't allow us to turn as fast as we would like."
He also noted that they'd had a problem "…to get more temperature in the rear tire, which we struggle with."
Tires and Glass Transition Temperature
During corner approach, the front tire is rapidly heated by braking. But the rear tire, carrying little load because of weight transfer, is not. If it has cooled enough since the previous corner, its lack of grip can make corner entry tricky. This may not be such a problem at the warm events, but cooler autumn weather can make tire temperature marginal.
Why don't street motorcyclists have problems of this kind? Every elastomer has what is called its "glass transition temperature" or Tg, a low temperature at which the rubber loses its flexibility. Remember when physicist Richard Feynman showed how the O-rings sealing the space shuttle's solid rocket booster sections could have failed to perform because low temperatures at the time of the shuttle's 2003 launch made them stiff? That stiffness resulted from operating too close to the Tg of the O-ring material.
Rubber for use in everyday motoring is given a quite low Tg so that it remains flexible in all anticipated conditions. But because the temperature for maximum grip occurs not far above the Tg, variations in air and track temperature or a race tire's natural cooling off on straightaways can cause significant loss of grip.
Espargaró's mention of "the floating feeling" recalled Gary Nixon, braking his 1976 Kawasaki KR750 two-stroke for turn 10 at the old Loudon, New Hampshire, track. Every lap, his rear tire hovered 3 or more inches above the asphalt as he hurtled toward turn-in on just the front wheel.
When I asked him about this he said, "I didn't even know I was doin' that, but a bunch of people told me that's what was happening."
Could it be that finding ways to share braking between front and rear tires does a better job of keeping rear-tire temperature in its working range? Riders this season have repeatedly spoken of having to use the rear brake. At Loudon, rear-tire cooling wasn't a problem for Nixon because the track had no long straights (10 corners in 1.6 miles).
Variable Ride Height and Tire Temperature
It may also be that variable ride height (VRH) technology is a key to keeping more load on the rear tire. The higher the bike, the more prompt and complete the transfer of weight from rear tire to front, which you would expect to deliver that "floating feeling." But if a VRH system lowers the bike at the right time and at the right rate, it might be easier to achieve shared front/rear braking.
Although Honda has always been among the more powerful bikes, Pol Espargaró also said, "…Ducati…are going to have a lot of bikes on the grid next year, and if we want to fight with them, we need to overtake them. So we need power."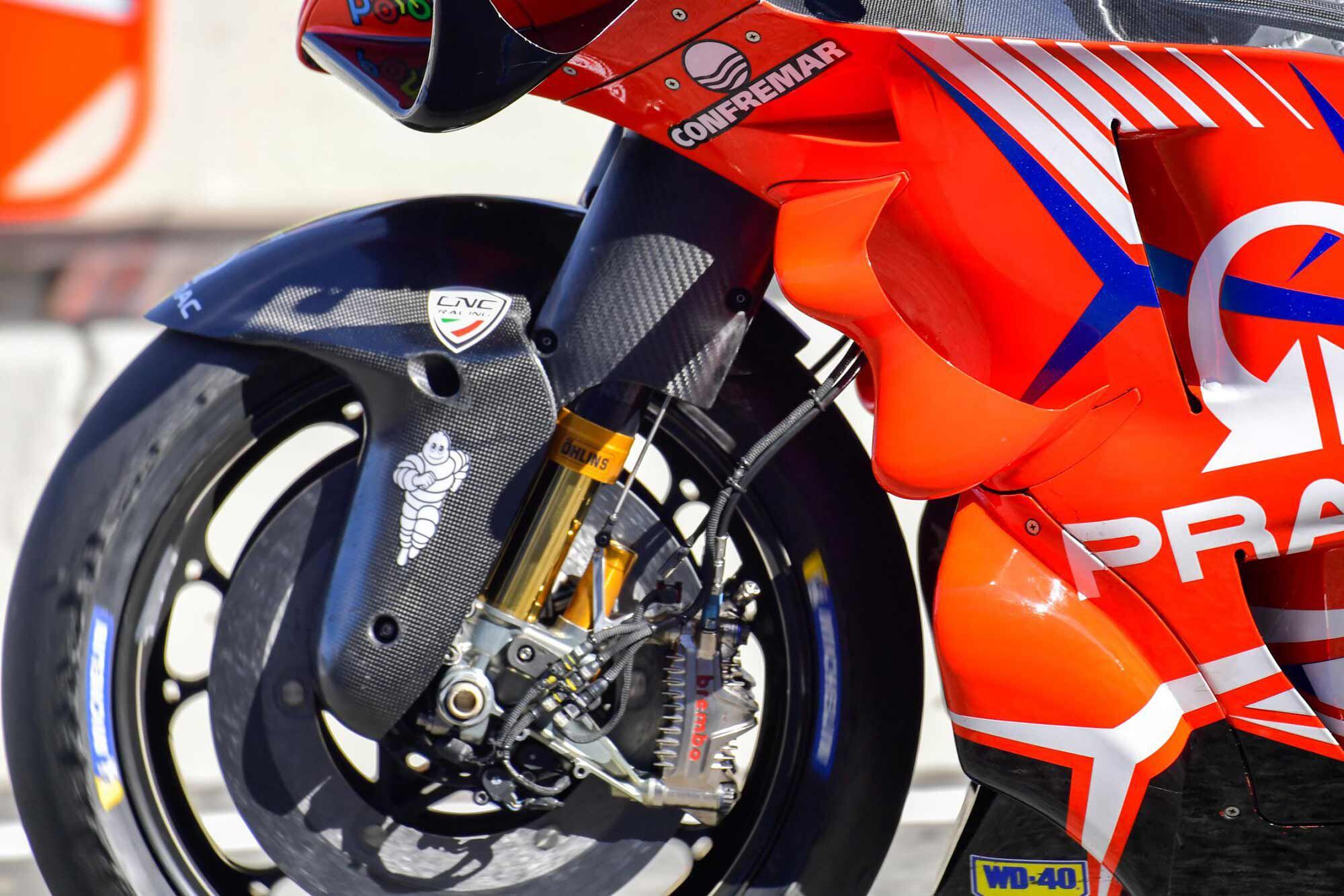 Plenty of sensors on the Ducati's at the Jerez test. (MotoGP/)
He cautioned that these changes need refinement to achieve maximum effect. "We still have to play a lot with the balance of this bike. It is normal that by increasing grip at the rear we also loaded the front tire more.
"We are working it too hard now."
The reader will recall that when Honda fell behind for a year or so in the horsepower race, Marc Márquez compensated with extreme braking, which in turn required use of the hardest front tire available.
To bring an all-new bike to Jerez is Honda at its most confident. This suggests that HRC now has the measure of chassis qualities required for superior performance, rather than taking the lower-risk path of adding diddly refinements to the existing machine.
The Value of Rideability
Luigi Dall'Igna, manager of Ducati Corse, said something especially significant, which may reveal how so many Ducati riders can run in the top five. Noting Ducatis had finished 1-2-3 at Valencia last weekend, he said, "That means our bike can fit different riding styles."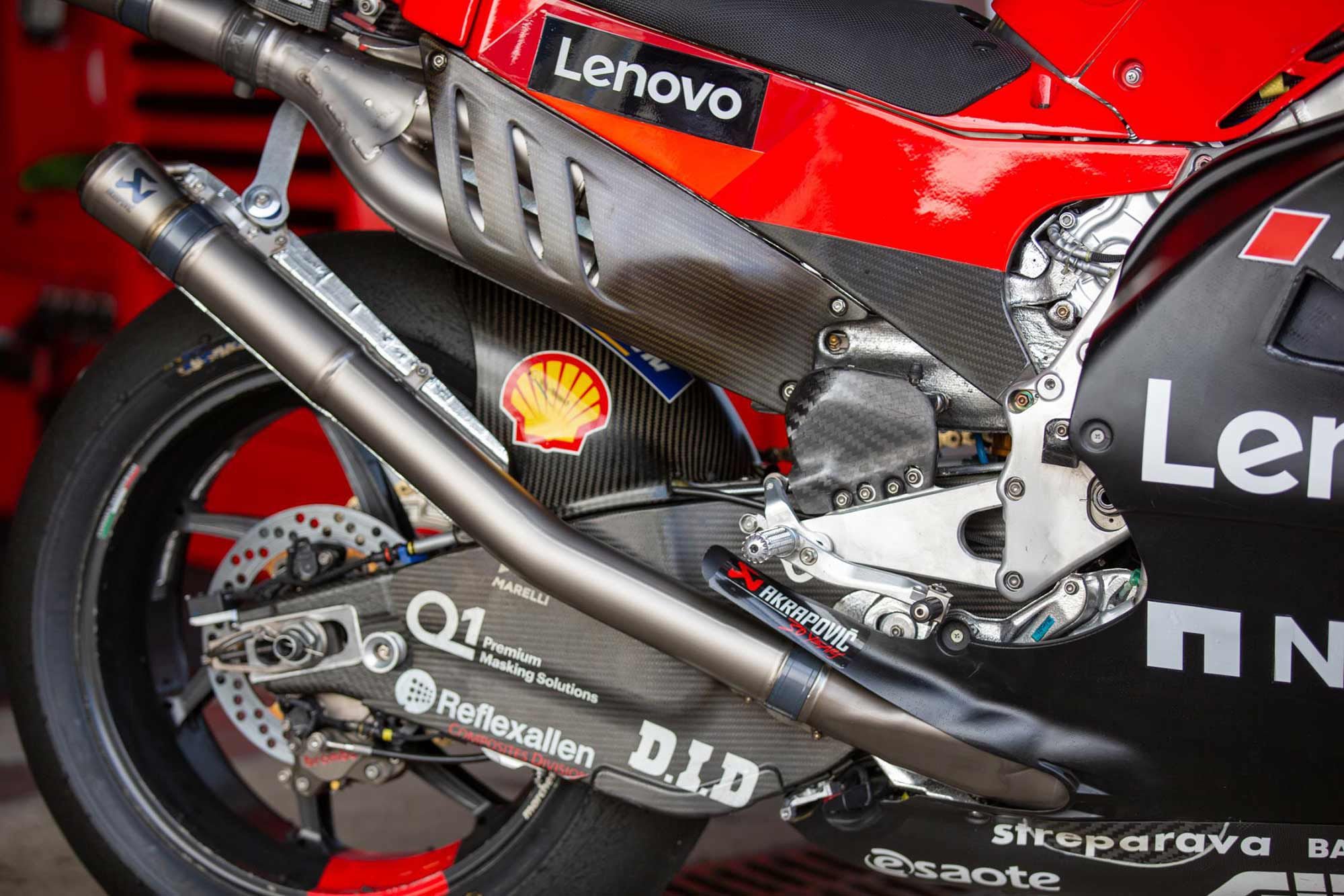 The Ducati's get a long upswept exhaust system along with new bodywork. (MotoGP/)
We have seen that developing a bike exclusively for a single outstanding rider can work, as it did up to 2019 for Honda and Marc Márquez. It has worked for Yamaha this season too: Quartararo has been the only rider to win on the brand. But sideline either of those two and what remains is no longer the stuff of championships. If one team develops a well-rounded bike, all teams must do the same or face being walled out of the top placings.
The Great Ducati Wall
Ducati, about to field eight bikes in the 2022 MotoGP season, will benefit from its machine's ability to suit varied rider styles. As it did in late 2021, that will buttress the wall of Ducatis that is already difficult for rivals to breach. If, as rumored, the now-retired Valentino Rossi evaluates the Ducati in a riding test, it will be interesting to hear his comments.
Joan Mir (sixth quickest on the second day at Jerez) said of the Suzuki at the test, "There's slightly more power (yet)…power alone isn't enough.
Joan Mir says the Suzukis have more power, but more is needed. Here Takuya Tsuda puts the Suzuki through its paces. (MotoGP/)
"It seems like it's better when braking, but as always what you gain on one hand tends to be lost on the other."
Of KTM, Miguel Oliveira (far downfield in the Jerez test) said, "At the moment (the test bike) is very similar to this year's bike.
"We lose a lot of stability out of the corners and waste potential power to the ground."
KTM riders this year have spoken of a lack of grip for acceleration.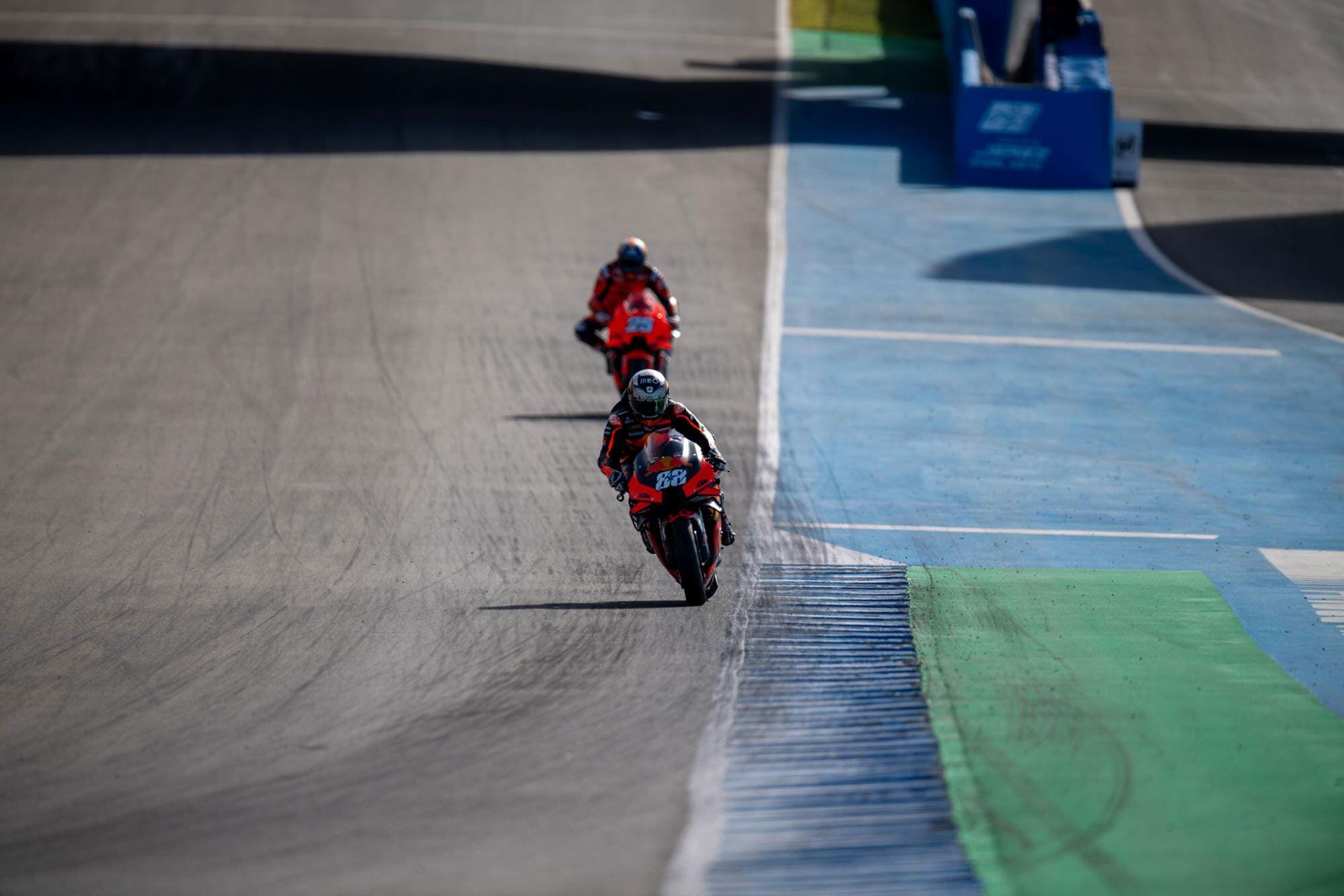 Miguel Oliveira and crew have struggled with grip on the KTM as of late. (MotoGP/)
"The tire is moving quite a lot. It's not on rails as it was last year in 2020.
"The reality is we don't have a bike strong enough [to challenge the front-runners]."
In sum, Ducati and Honda brought solid improvements while the others appear to have tested individual elements without being able to use them to make a step forward. To know more about what to expect in 2022 from Yamaha, Suzuki, KTM, and Aprilia, we must wait for the Sepang, Malaysia, and Mandalika tests in February.