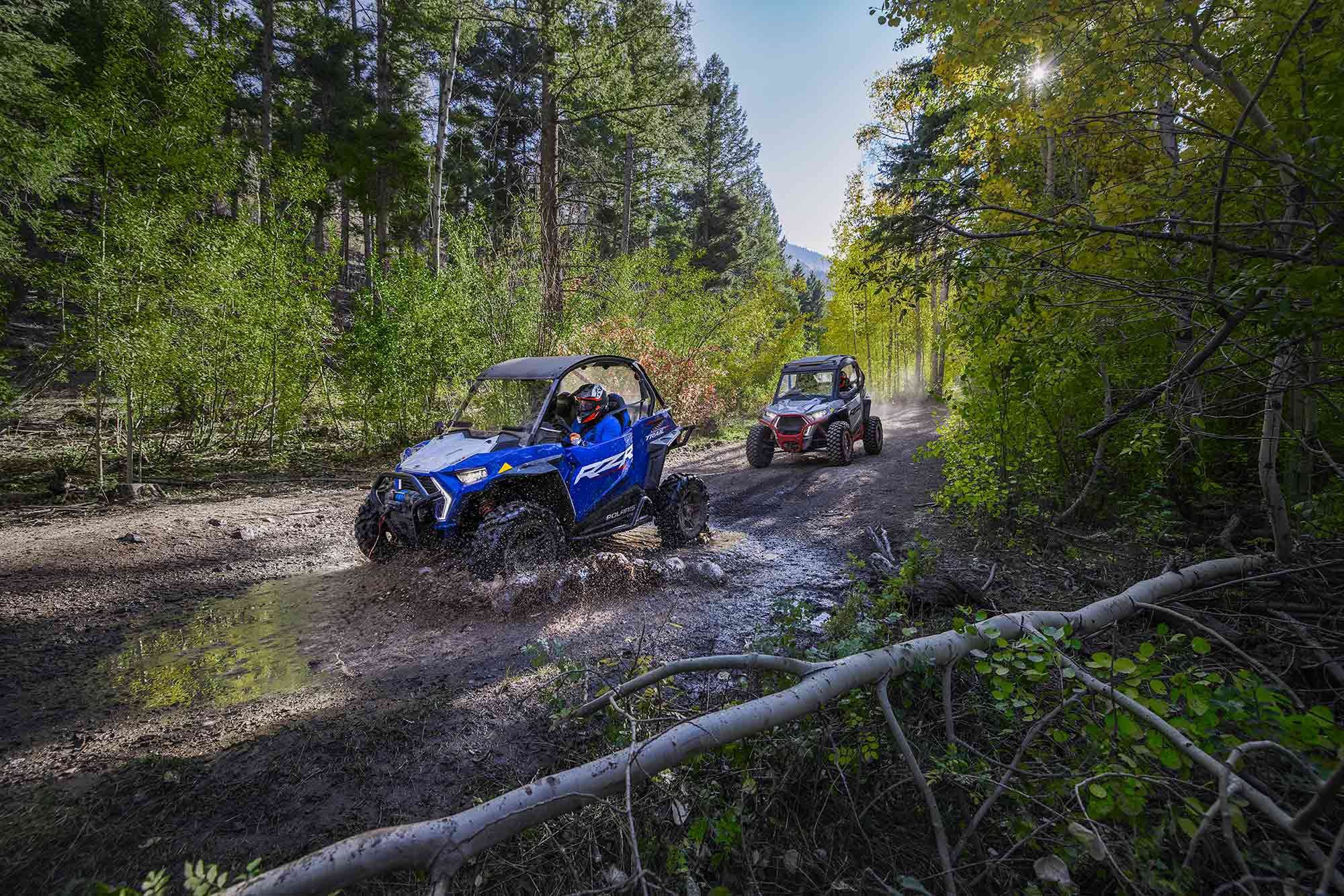 Sport UTVs offer some of the most fun that can be had on four wheels. (Polaris/)
Being a veteran off-roader doesn't magically absolve you of the financial dilemma of spending a pretty penny on a machine that you ultimately will subject to conditions that you'd never touch with your car or truck. UTVs have gotten pricier as manufacturers pack in tech and power, but there are still somewhat affordable options for having good, dirty fun on the trail. Here is a list of the least expensive sport UTVs.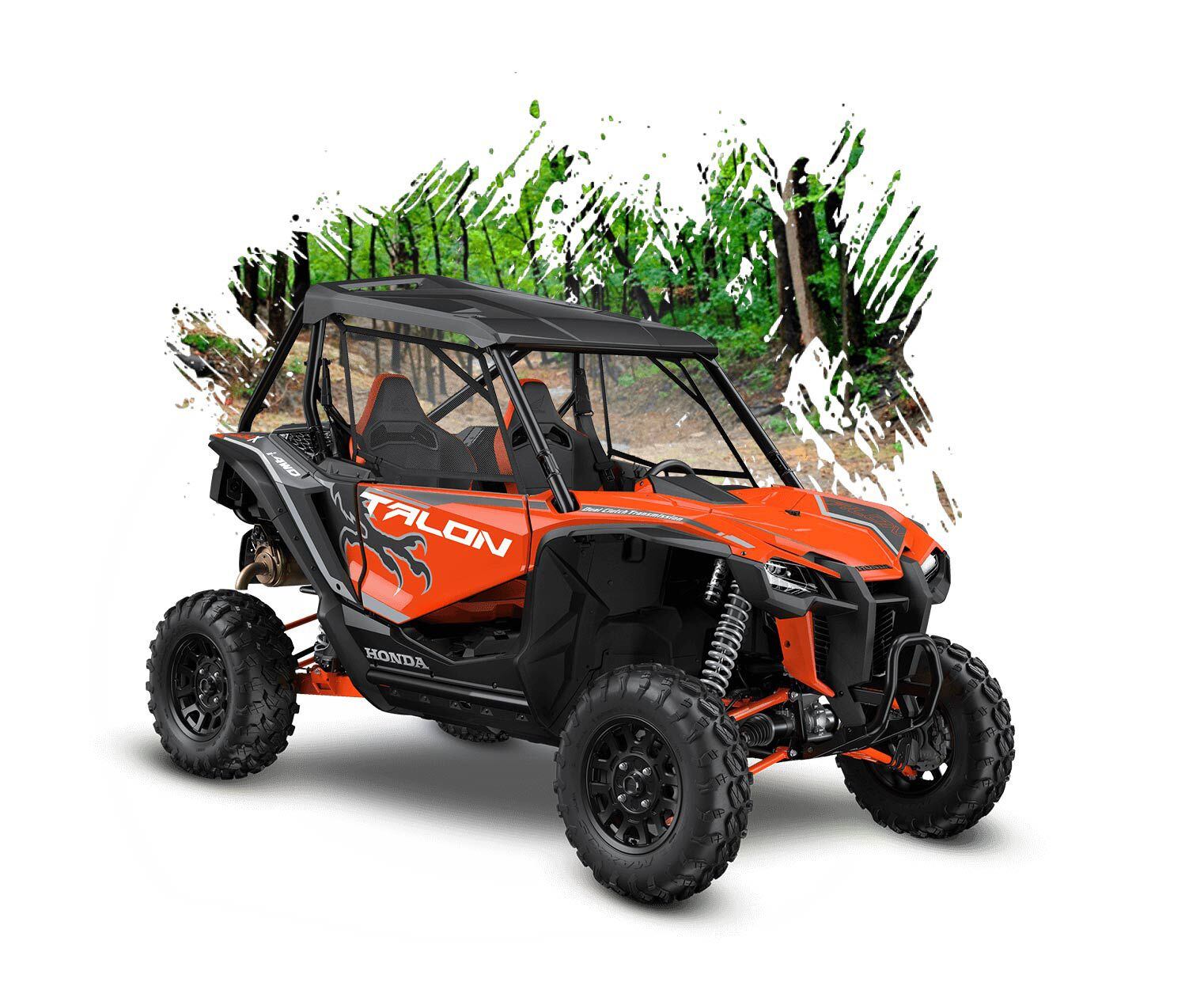 The Honda Talon 1000X. (Honda/)
Honorable Mention: Honda Talon 1000X, $19,999
The Talon hit the market and quickly stole the hearts of Honda fans and those looking for a dead-reliable, stout offering that walks a slightly different walk. Its 105 hp engine is a joy and the six-speed, automotive-style DCT is a breath of fresh air from the CVTs most machines use. Its $19,999 base price is supremely palatable for what's offered, including niceties like an adjustable driver's seat, tilt wheel, LCD display, standard doors, roof, and so on. The Talon is built in the good ol' USA and is one of our favorite rigs on sale today.
Related: The New 2021 Sport UTVs We're Most Excited About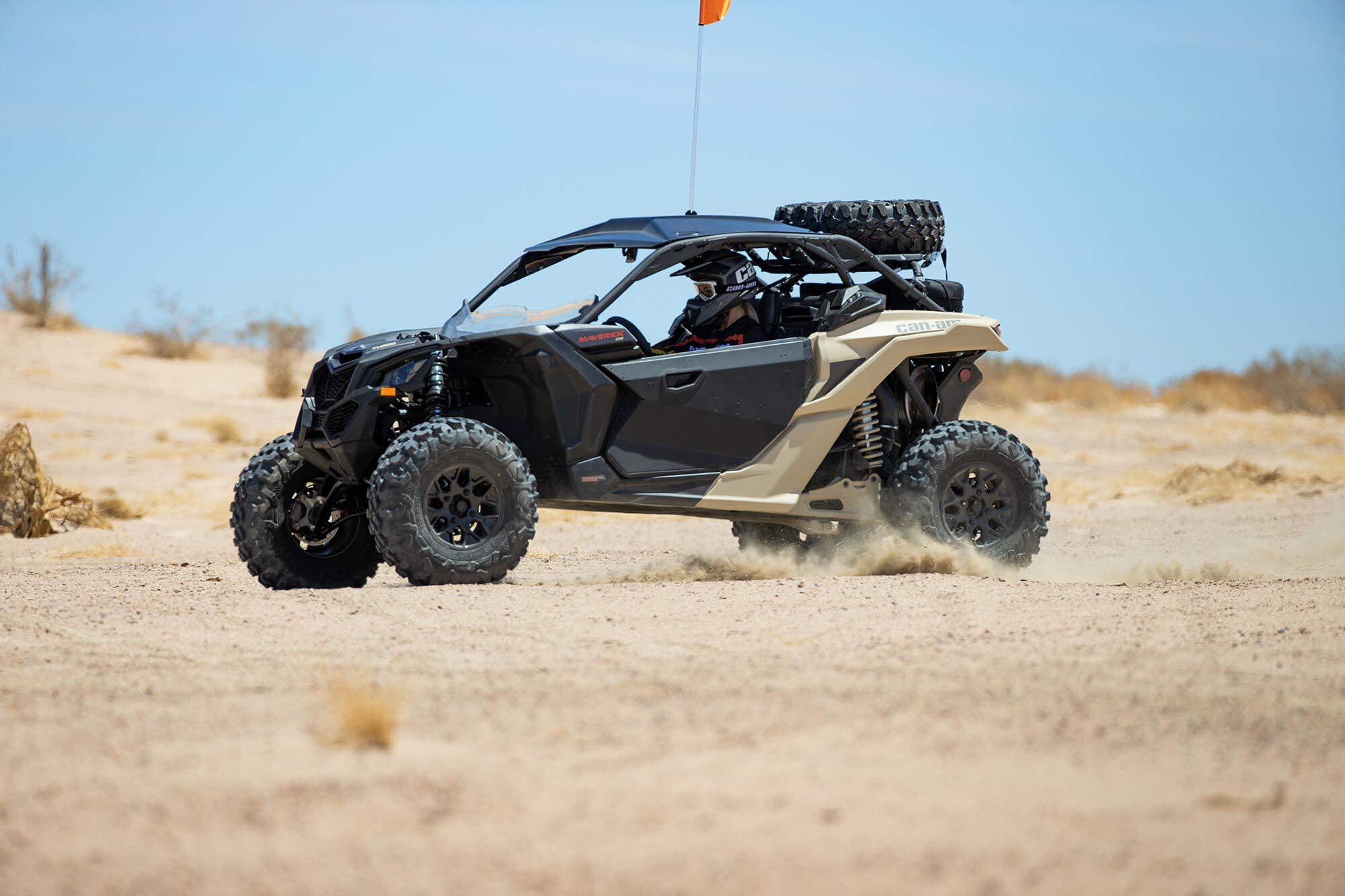 The Can-Am Maverick X3 DS Turbo. (Can-Am/)
#5. Can-Am Maverick X3 DS Turbo, $19,999
Can-Am is known for hard-hitting power and machines designed to take constant abuse, and the X3 Turbo line is the pinnacle of the pickings. The entry-level X3 DS Turbo ticks in just under the $20K mark and brings with it a ton of kit, most notably its otherworldly looks and a turbocharged 900cc Rotax engine that delivers 120 hp. The X3 DS Turbo isn't just power, though, with trophy-truck-inspired suspension and Fox 2.5 Podium piggyback shocks. The 30-inch Maxxis Carnivore tires are part of the package as well, as are a lower, more stretched-out seating position than some of the others listed here. It's a wild machine.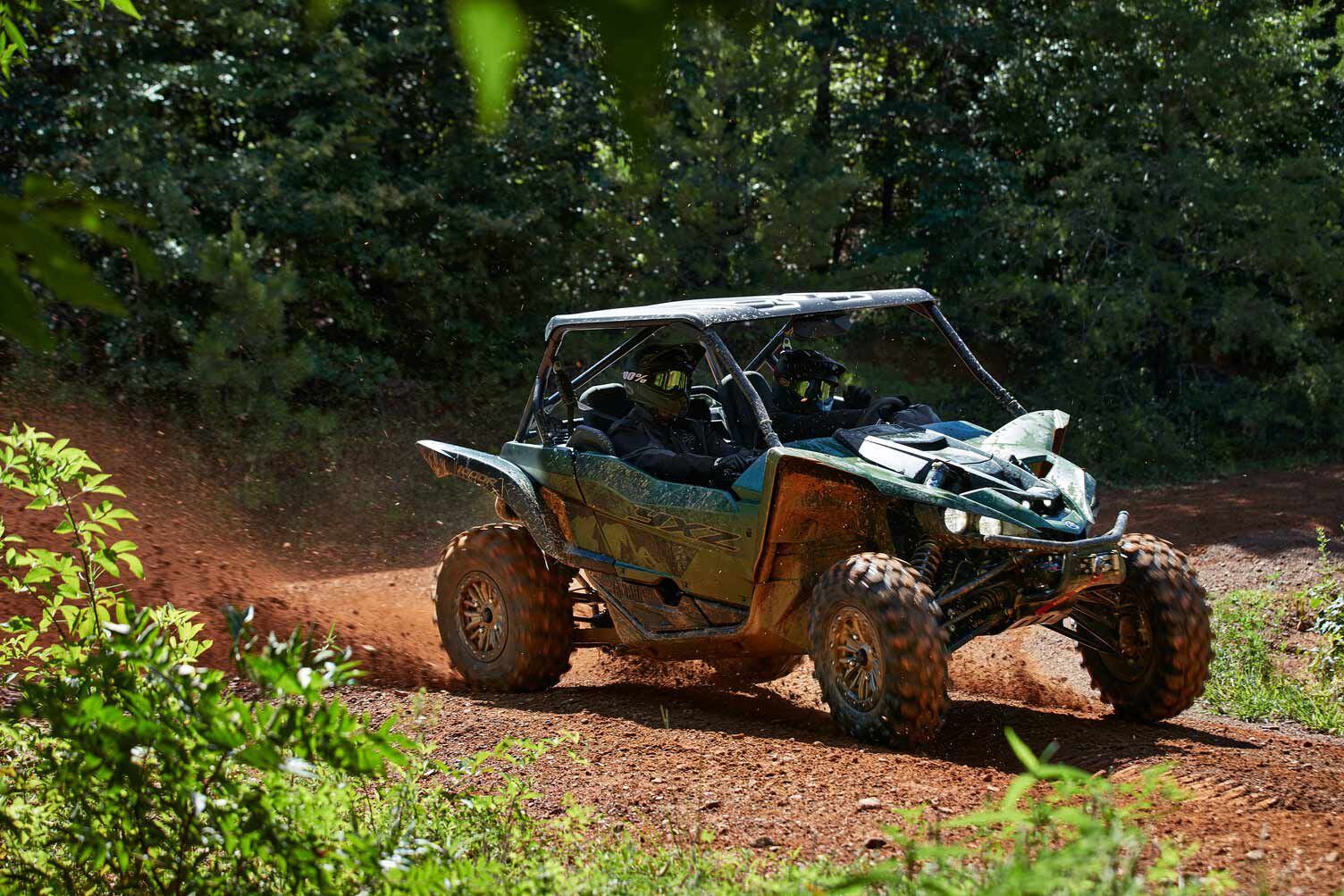 The Yamaha YXZ1000R. (Yamaha/)
#4. Yamaha YXZ1000R, $19,499
Like the Maverick, the Yamaha YXZ1000R delivers a massive amount of performance for the dollar. Its 998cc three-cylinder engine is unlike any other on the market, as is the standard five-speed sequential clutch-operated manual transmission. This combination may turn some off but it poises the Yamaha to be a unique offering in the sport UTV market. Its suspension travel is impressive as well and the machine is fairly robust, but it lacks some of the creature comforts of the others on our list.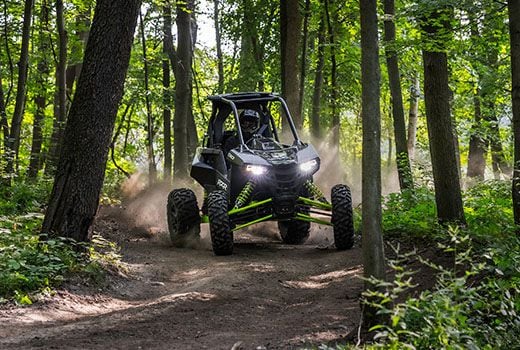 The Polaris RZR RS1. (Polaris/)
#3. Polaris RZR RS1, $15,999
The Polaris RZR RS1 only has one seat, and it's positioned center style like in a McLaren F1. That's part of its charm. Sitting dead center allows the driver to have a perfect view of the trail ahead and evens out the weight distribution. Narrow bodywork also allows the driver to pinpoint exactly where they want the tires to go, and the 110 hp engine feels even more potent in this application. The RS1 isn't the most traditional sport UTV, but it's one of the most fun and one of the least expensive too.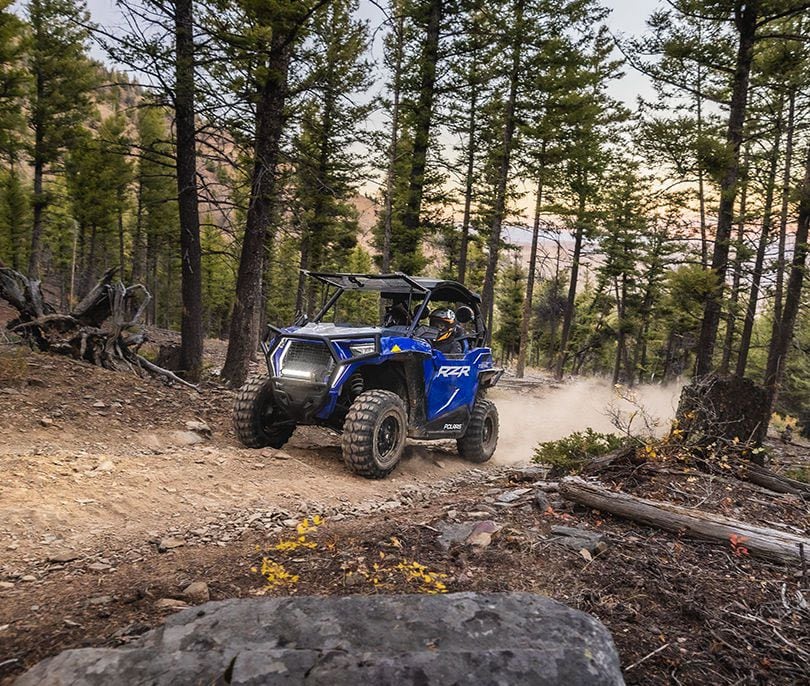 The Polaris RZR Trail Sport. (Polaris/)
#2. Polaris RZR Trail Sport, $13,699
With a starting price of $13,699, the Polaris RZR Trail Sport is the second least expensive sport UTV on sale today. It makes do with 75 hp and 26-inch tires, but its 50-inch width means it's only as wide as some ATVs. This is a truly nimble UTV that can fit not only through gates with ease, but also into the bed of most full-size pickups. It's equipped with full doors and analog gauges. The RZR Trail Sport may lurk in the shadows of its bigger siblings but it's still a fun time through and through.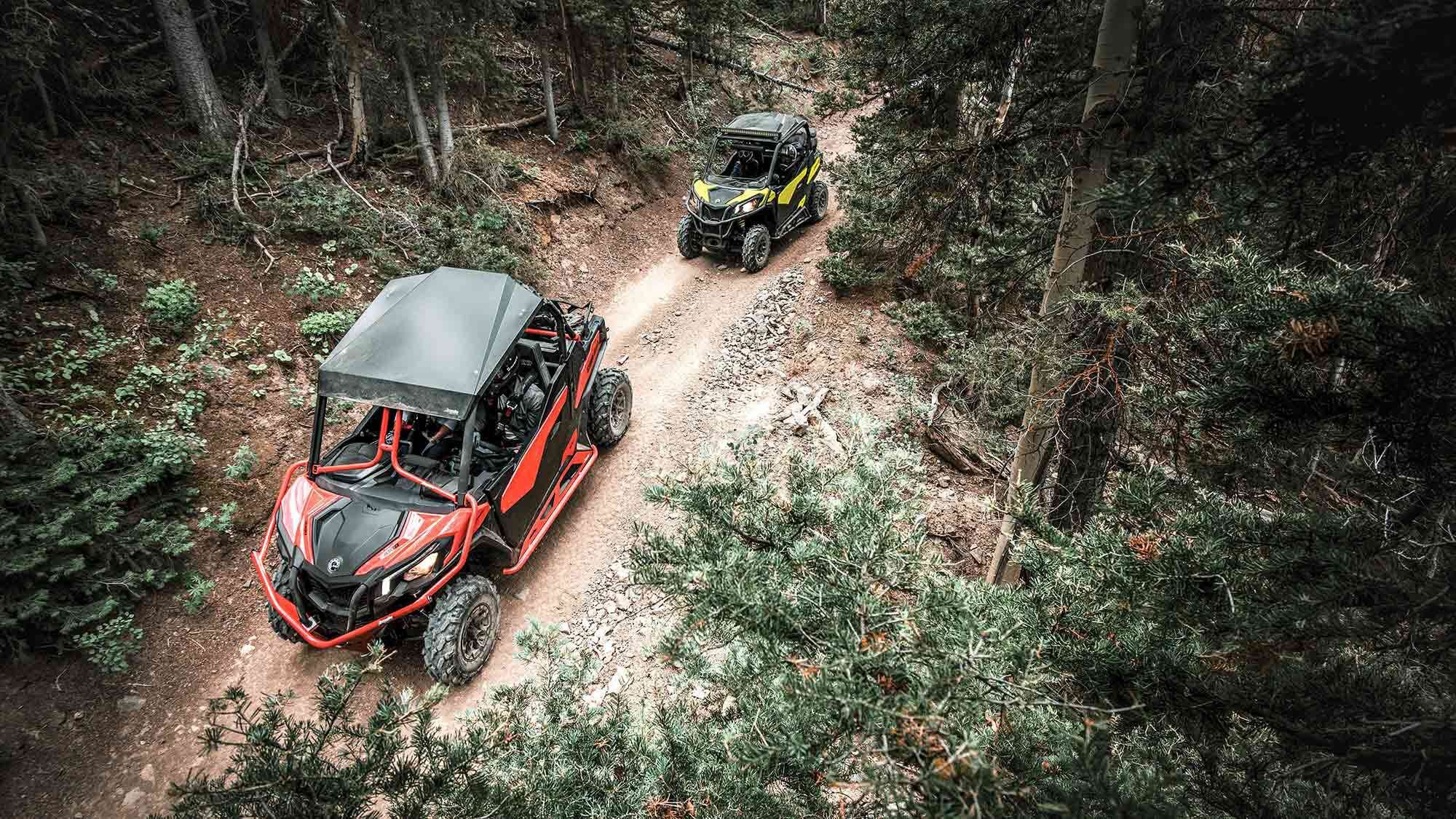 The Can-Am Maverick Trail. (Can-Am/)
#1. Can-Am Maverick Trail, $11,399
There's a lot to like in the Can-Am Maverick Trail aside from it being the least expensive sport side-by-side for 2022. Like the Polaris RZR Trail Sport, the Maverick Trail is a skinny 50 inches wide so it can scoot through tight trails and gates with ease. It packs a 650-class Rotax engine that makes 52 hp and a price on par with some handlebar-based offerings. This tidy package is a fantastic way to get into the world of sport UTVs at a low price point and one we're happy to recommend.