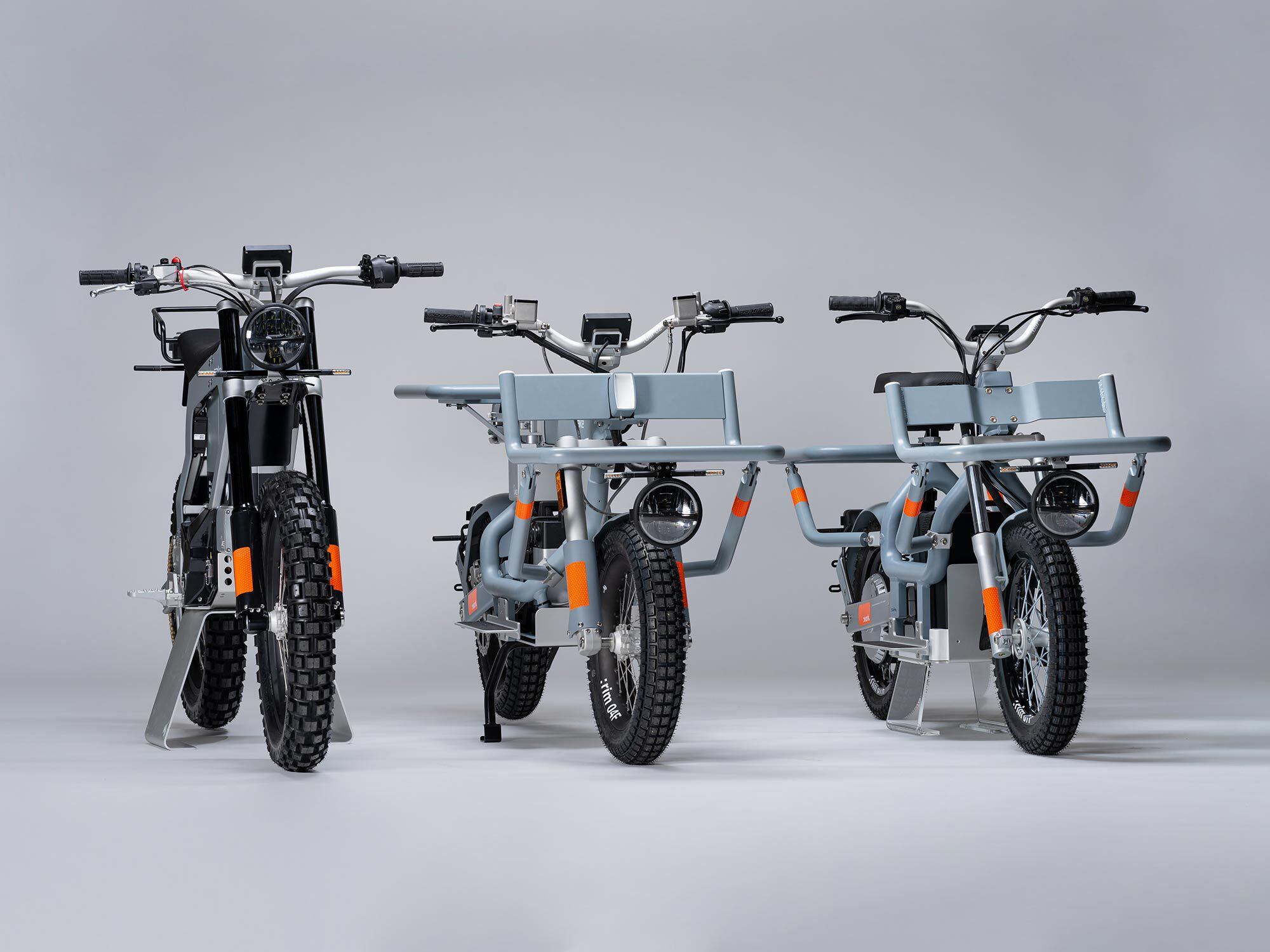 Cake has rolled out upgraded versions for each of its three bike families, and is calling the trio the Work Series. (Cake/)
We've kept pretty close tabs on Swedish ebike maker Cake since its 2019 launch, thanks to its debut Kalk model piquing our interest from the start. The brand launched the modular, Tinker Toy-like Ösa soon thereafter, and then just a few months ago added a new line of electrics dubbed Makka. These bikes are solidly engineered, and in some cases award-winning, each one playing a distinct role in Cake's stated focus on a zero-emission society, but each one represents very different interpretations—and categories—of electric two-wheel design. And now, rather unexpectedly, Cake has taken all three of those models, packed them into a new range called the Work Series, and debuted them a few days ago at EICMA 2021.
Related: Cake's Limited-Edition Kalk AP Takes on Rhino Poachers
The bikes are aimed at service professionals. (Cake/)
In a nutshell, the Work Series consists of upgraded versions of the off-road-ready Kalk, the Ösa modular utility bike, and the firm's newest offering, the short-range Makka moped launched just a few months ago and Cake's most affordable model yet. (Although $3,800 isn't exactly cheap.)
The all-electric bikes are, according to Cake, "built for professionals…and engineered and tuned…for various businesses in need of short-haul transportation." What that boils down to is increased battery capacity and improved motor efficiency, new modular accessories, and added cargo capacity for each of the three models, which can be further customized for each customer's individual needs, so delivery drivers, craftsmen and repair folks alike can more easily navigate often-dense metro areas. Cake touts the bikes' slim footprints, which allows quick and easy cruising in tight spots, their low maintenance requirements, and swappable batteries that can be quickly charged from a standard outlet. The bikes tout increased towing capacity as well.
Related: Cake Launches New Ösa Electric Model At EICMA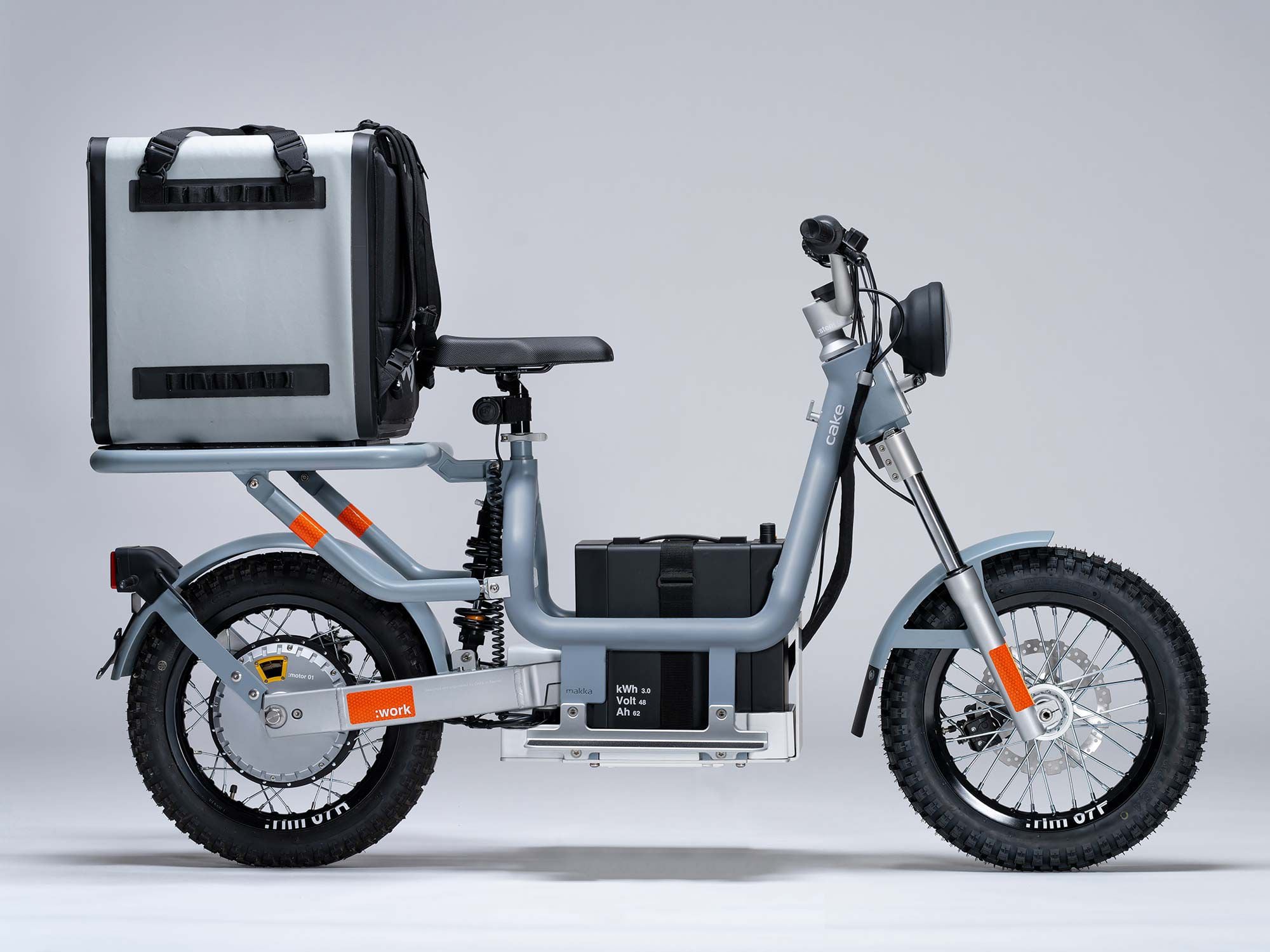 The Makka is Cake's newest and lowest-priced model, aimed at urban commuters, or in Work trim, at short-haul businesses. (Cake/)
First up is the Makka Work, which is available in two models (the Flex and the Range), both based on the new electric moped that debuted in September. The light yet robust electric moped is designed for running short-haul work errands in tight city environs but in Work iteration, its battery capacity is doubled and additional outlets are provided so you can charge your devices straight from the battery (via USB or 12-volt outlets). The Makka Flex Work is designed for higher top speeds, while the Range offers better battery performance and range.
Per Cake, the Makka Flex Work has a top speed of 30 mph and gets 31 miles of range (in mixed city riding). Meanwhile, the Makka Range Work has a top speed of 15.5 mph. Weight for both is 121 pounds, with another 24 for the battery, and MSRP starts at $3,800.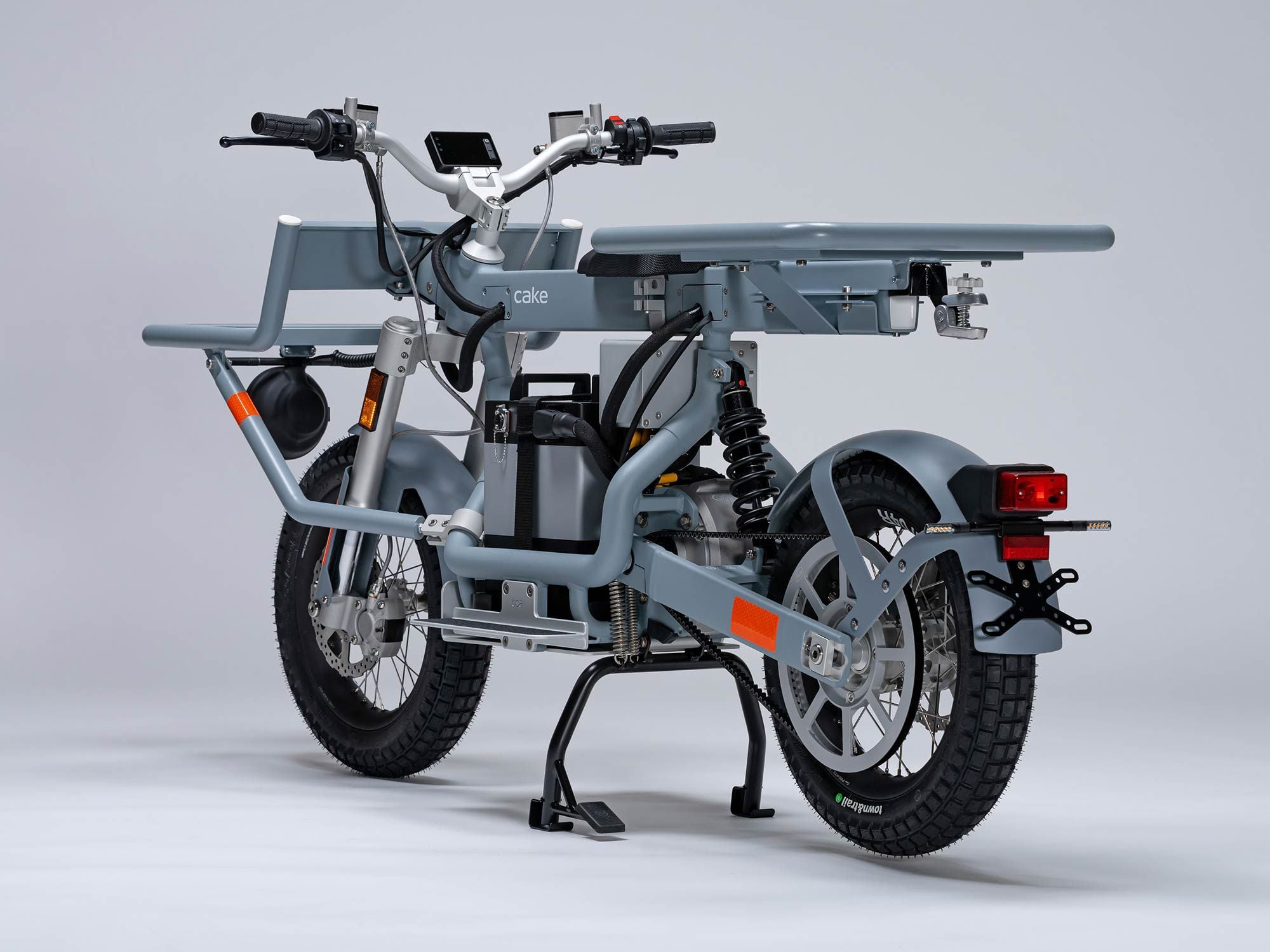 Cake says the new Ösa Work is optimized for towing, with a bigger battery and increased towing and carrying capacity. (Cake/)
Next is the Ösa Work, which Cake calls its two-wheel tow truck and is available in three versions (each of which is also off-road capable to some degree). But the headline feature for the Ösa is its configurability, thanks to a convenient unibar and clamp-on system that can haul trailers or baskets or a variety of odd-shaped loads. So the Ösa Work combines those standard-issue amenities with boosted motor power and a larger battery as well as new accessories, all of which allow it to carry bigger and bulkier loads. As with the Makka, the Ösa also provides multiple onboard charging options for your tools or devices for convenient on-site power.
Cake gives a top speed of +15 mph for the long-range base-model Ösa Range Work, moving up to +28 mph for the Ösa Flex Work, and topping out at 56 mph for the motorcycle version, called the Ösa+ Work (which requires a driver's license in the US). The bike weighs 154 pounds plus 37 pounds for the battery, with pricing beginning at $8,500.
Related: 5 Fast Facts About The Cake E-Motorcycle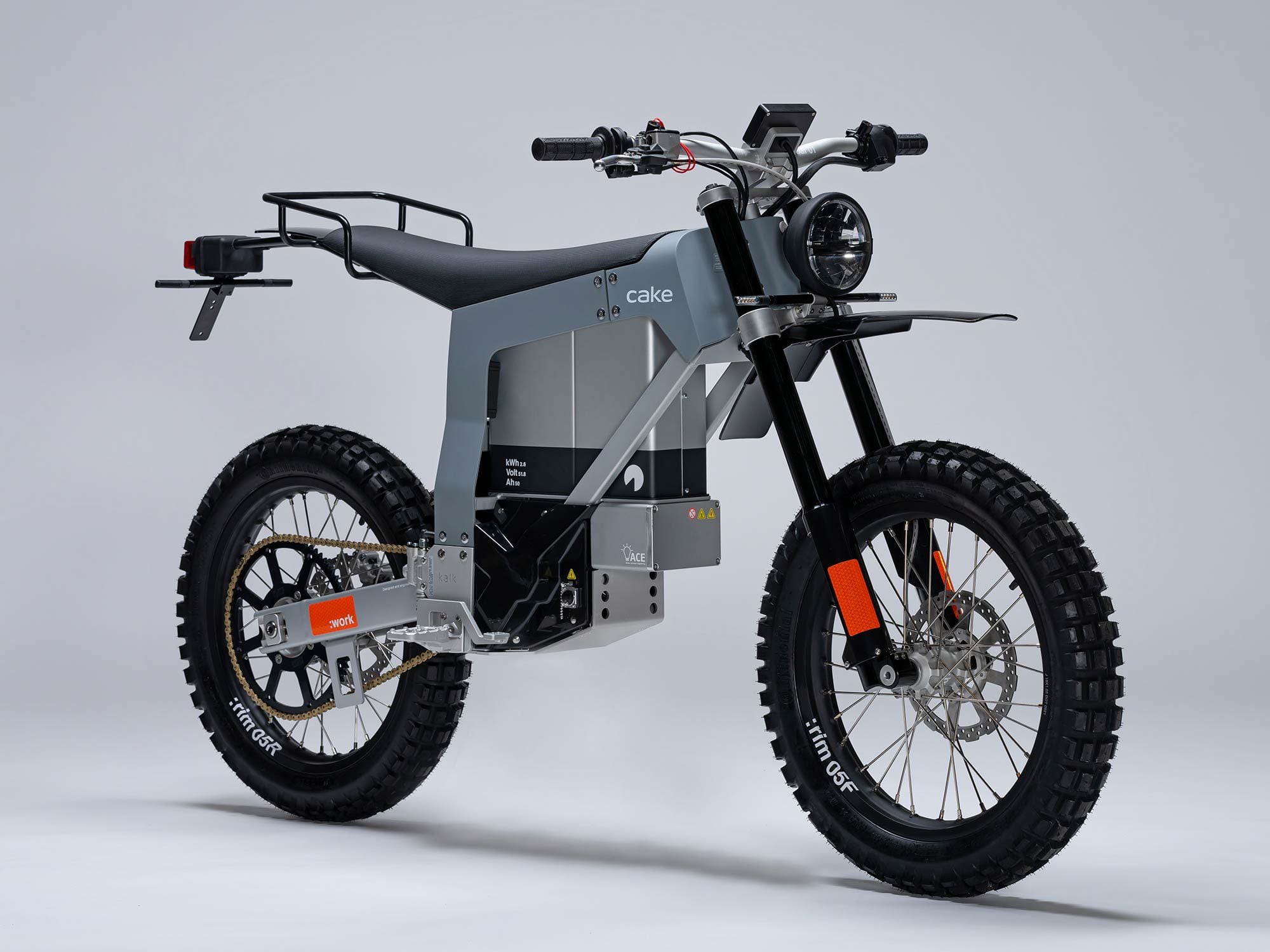 The enduro-ish Kalk Work has the most robust component setup, is off-road ready, and has the highest top speed, so it's well suited for patrolling in remote environments. (Cake/)
Last but not least is the Kalk Work which uses the brand's existing off-road enduro model as a platform but also receives some of the same upgrades seen on the anti-poaching AP model as well as upgraded performance. With its 18-inch tires and long-travel suspension, it's off-road capable but street legal too, and its higher top speeds make it a good match for security jobs, surveillance, and patrolling, especially in remote locations with rugged terrain.
Cake says top speed for the Kalk Work is more than 56 mph (a driver's license is required in the US) with a weight of 145 pounds plus an additional 37 pounds for the battery. Range is given as 52 miles in mixed city riding, and MSRP is $13,000 USD.
The bikes will be available in spring of 2022, but some initial production runs have already sold out.
For more info, specs, and pricing, see ridecake.com.