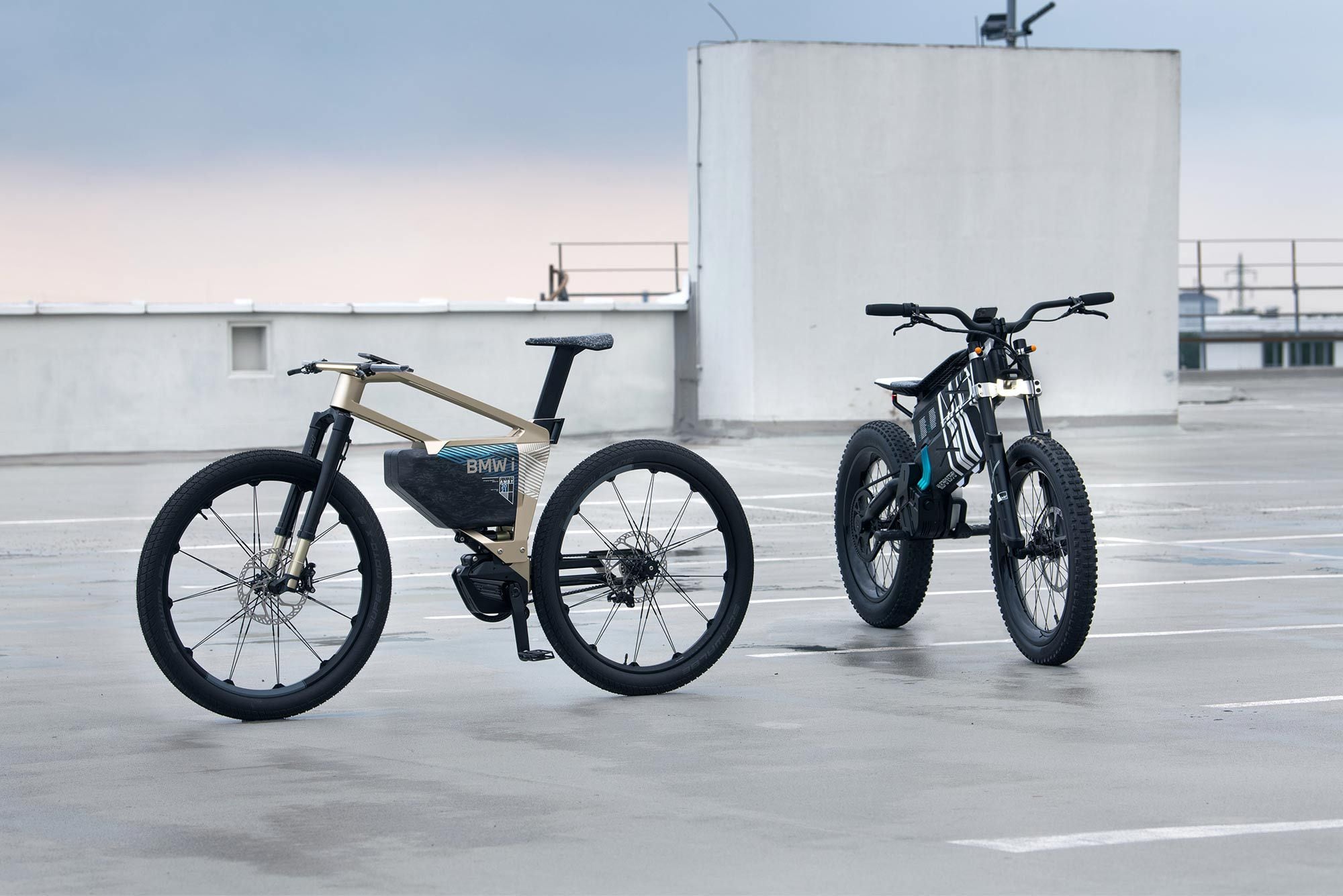 BMW's two new Vision Amby concepts further blur the line between electric bicycle and electric motorcycle. (BMW Motorrad/)
BMW has produced a fair amount of four-wheel electrics over the last five years, but when it comes to two wheelers we've heard mostly crickets, save for overpriced production efforts like the C Evolution or tasty concepts like the Vision DC Roadster and Definition CE 04. But now come signs that the Bavarian brand may have just been waiting for the right moment. The introduction of the new i Vision Amby and Vision Amby concepts at the recent IAA Mobility Show (formerly known as the Frankfurt Auto Show) earlier this week serve as Exhibit A and B, with the i Vision Amby technically debuting as an electric bicycle, and the Vision AMBY, a higher-speed electric motorcycle (the latter was even presented by BMW's Motorrad division).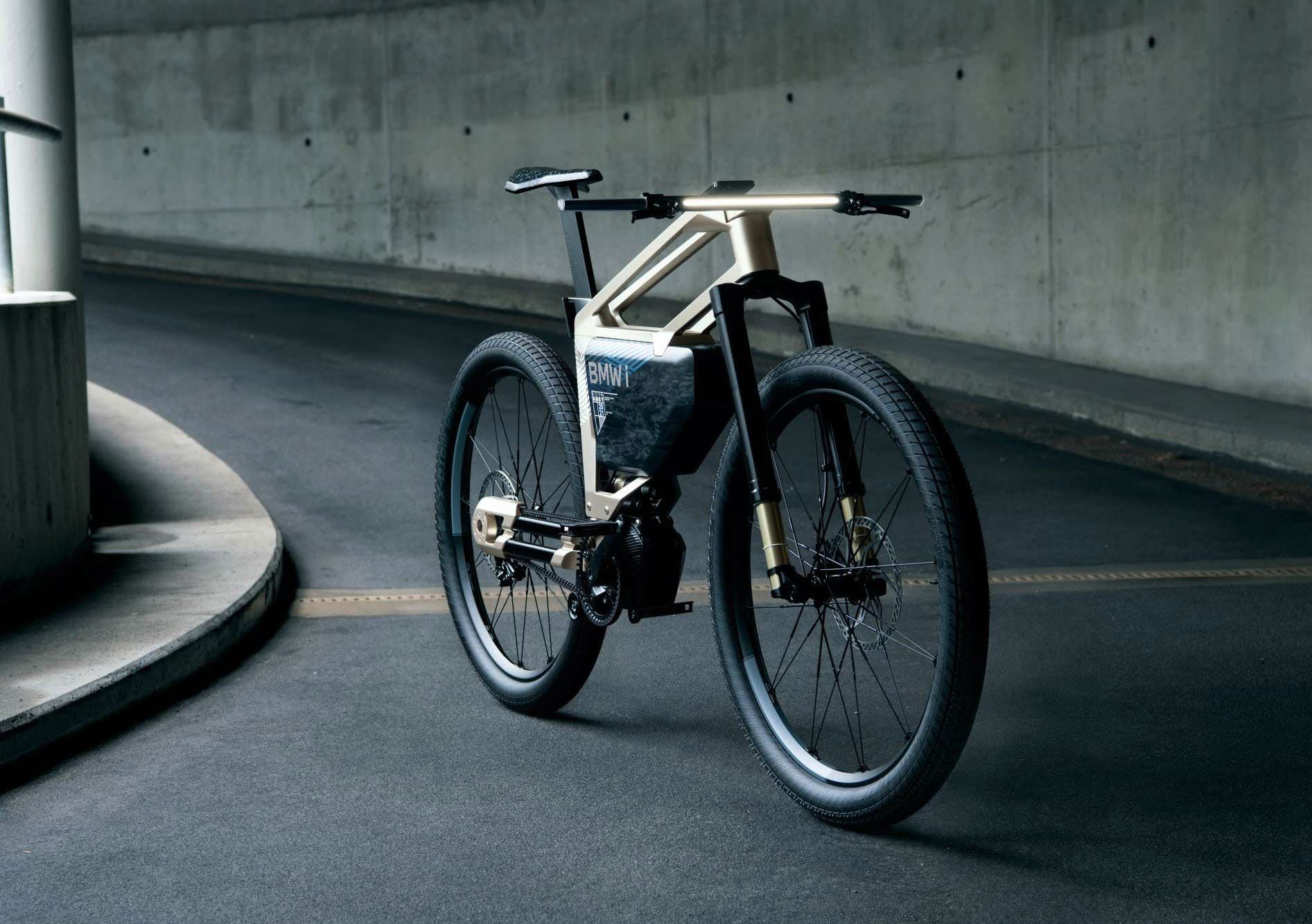 The i Vision Amby is the electric bicycle of the pair, featuring a modern frame with a huge battery pack and three drive modes. Claimed range is up to 186 miles, with a claimed top speed of 37 mph. (BMW Motorrad/)
The Amby nomenclature is BMW's clever squishing of the phrase "adaptive mobility" into what it hopes is a catchy sound bite, with both electric vehicles focused on urban use and offering three speed levels for different types of road—a pretty much unheard of concept up to this point.
BMW i Vision Amby
But there are some pretty stark differences between the two. In BMW's explanation, the i Vision Amby is meant to push the envelope of typical ebike design by adopting a larger frame structure with a modern geometry that "feels like a mixture of racing bike and sporty e-bike." The upper frame tube (or tubes), crafted from four sculptural aluminum pieces underscores the dynamic intent, but the space between the profiles is also practical, giving users some cargo space for things like a backpack or laptop bag. Up near the handlebars you can also spot a smartphone integration pad, which is designed to hold your device in place with magnets (and offer a charging pad to boot). A beefy fork provides 120mm of suspension travel up front and a rear shock offers the same out back, with both riding on 27.5-inch wheels fitted with wide chunky tires for even more bump absorption. Overall weight is a claimed 66.1 pounds.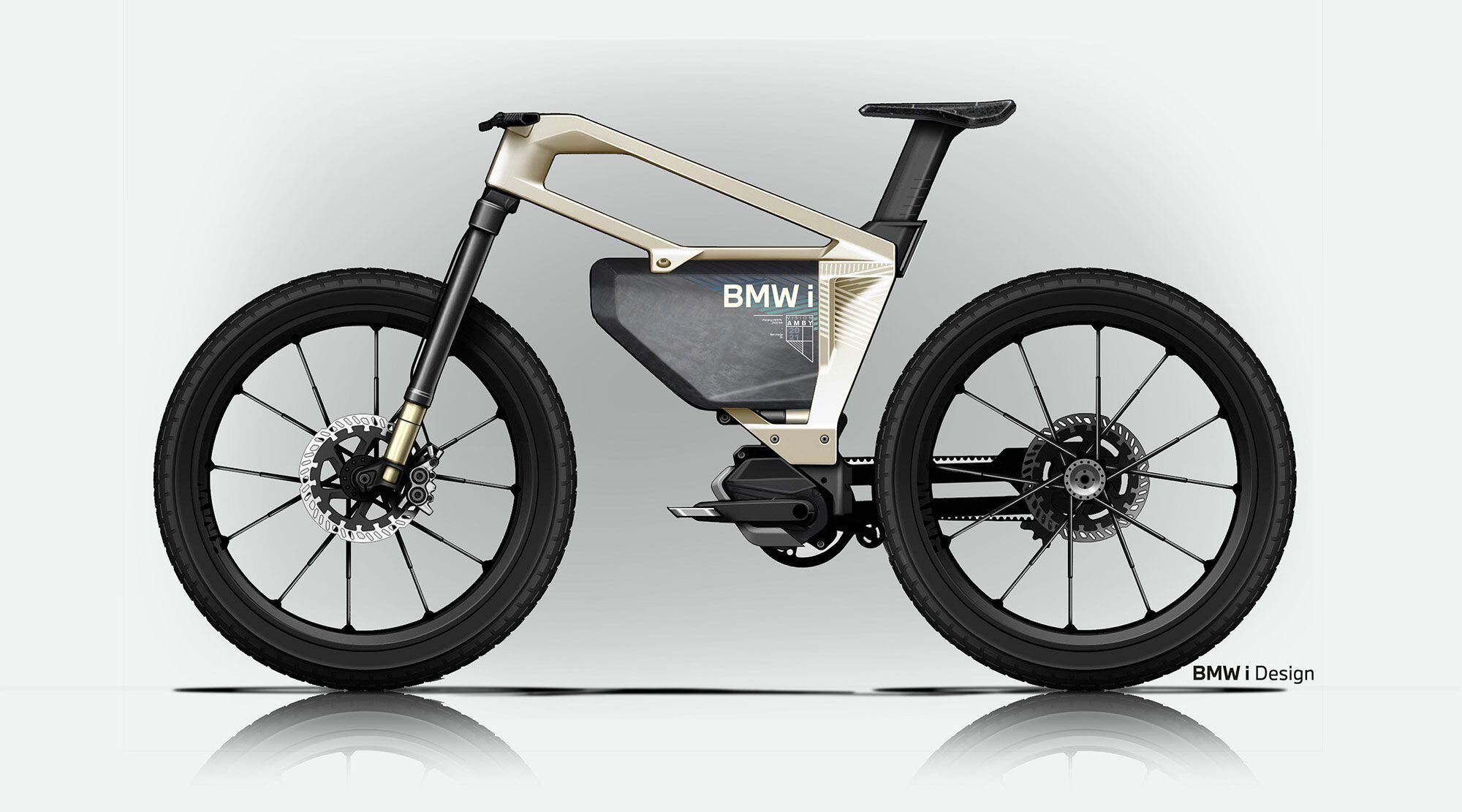 That massive lump in the middle? That's your basic 2,000Wh battery pack. Fast charging means you'll be back on the road in three hours. (BMW/)
The i Vision Amby is a high-speed pedelec and you have to be pedaling to gain any kind of assistance from the electric motor, which unfortunately BMW doesn't offer any details about, but we do get some velocity and range numbers to chew on. We're told the three drive modes allow speeds of up to 15.5 mph on cycle paths, up to 28 mph on inner-city roads, and a top speed of 37 mph on multilane roads and out of town. You'll need a helmet, insurance, licence plates, and the right driving license to be able to travel at those higher speeds, however. The modes can be accessed from your phone with a specially designed app linked with the vehicle, and BMW employs what it calls "geofencing technology" to automatically adjust your top speed for the type of road you're on, or for certain situations.
Powering all that stuff is the massive 2,000Wh battery at the center of the frame, which BMW claims gives the i Vision a range of up to 186 miles if you're in the lowest, 15.5-mph Vmax mode. Range drops to 112 miles (in the 28-mph Vmax mode) and goes down to 47 miles (in the 37-mph Vmax). The bike also specs fast-charging tech, allowing it to be recharged in only three hours. Power is transferred from the motor via a toothed belt, with the transmission integrated into the drive system.
Related: Production-ready BMW CE 04 Revealed in Patents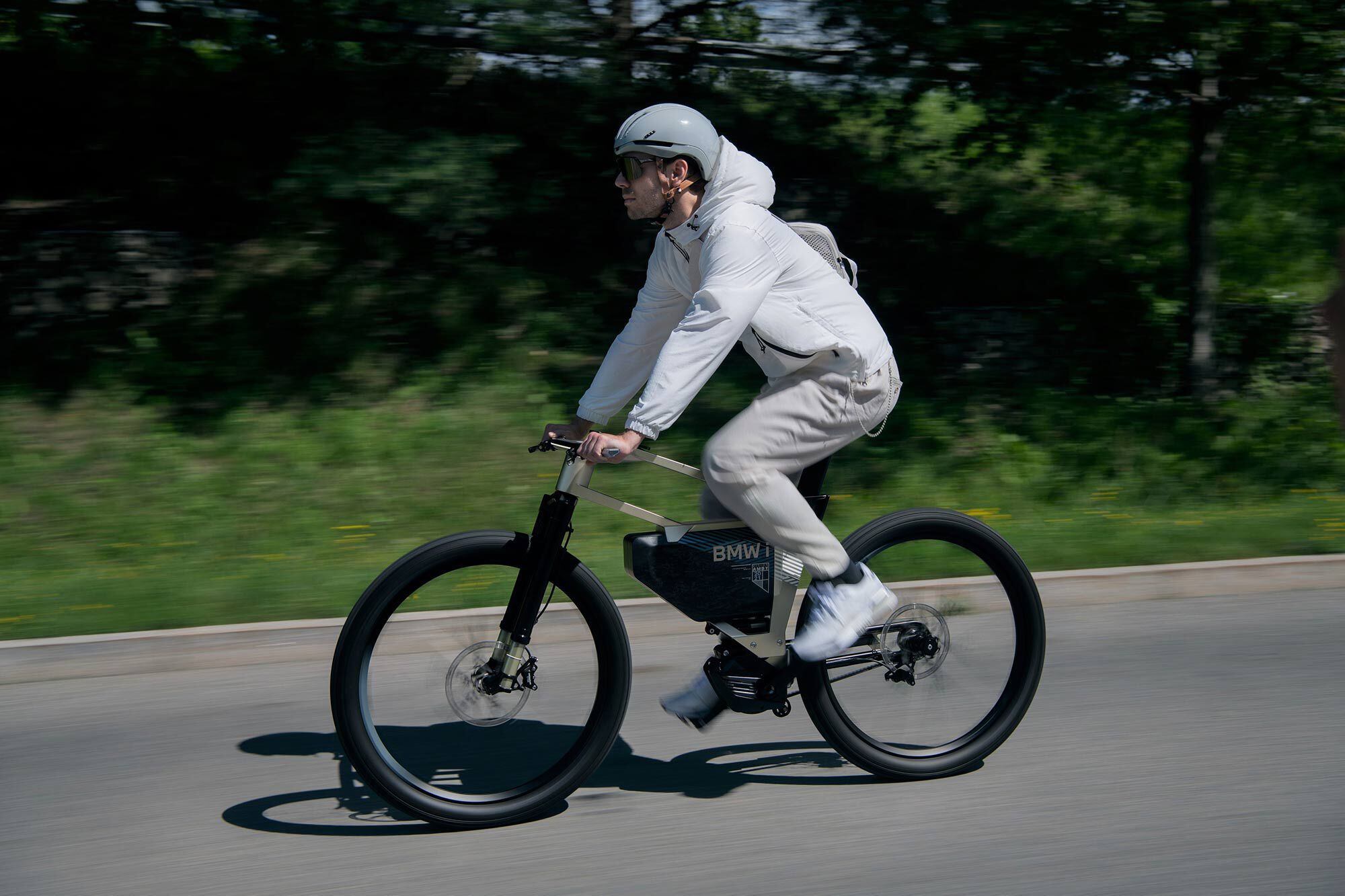 Single-sided swingarm from BMW Motorrad links the rear wheel with the frame; both wheels can be easily removed for transport. (BMW/)
Other impressive details come into focus when you look closer; stuff like a handlebar stem that's part of the frame; a slim, horizontal LED light strip integrated into the handlebars; the fully integrated brakes and internally routed cables; an LED rear light integrated into the seatpost. The rear wheel is designed with a central fastener and can be easily swapped out when you're transporting the bike, with the front wheel also offering that capability; even the battery can be removed and stored separately.
To boot up and go, BMW says riders will need their smartphone and the companion app to act essentially as a key; the phone can also store their license and insurance paperwork and use familiar smartphone identification functionality (e.g., facial recognition) to unlock the bike for the right user.
On both vehicles, your smartphone acts like a key, activating the bike, accessing ride modes, and storing your documents. Vision Amby shown. (BMW Motorrad/)
As far as positioning goes, in BMW's view the i Vision Amby is meant to serve as appealing future transportation option in larger cities, but because it fits somewhere between a bicycle and a light motorcycle, it's a bit ahead of its time; local regulations haven't yet caught up to the idea of a vehicle with this kind of modular speed concept, but you can bet BMW wants to have a say in any upcoming legislation.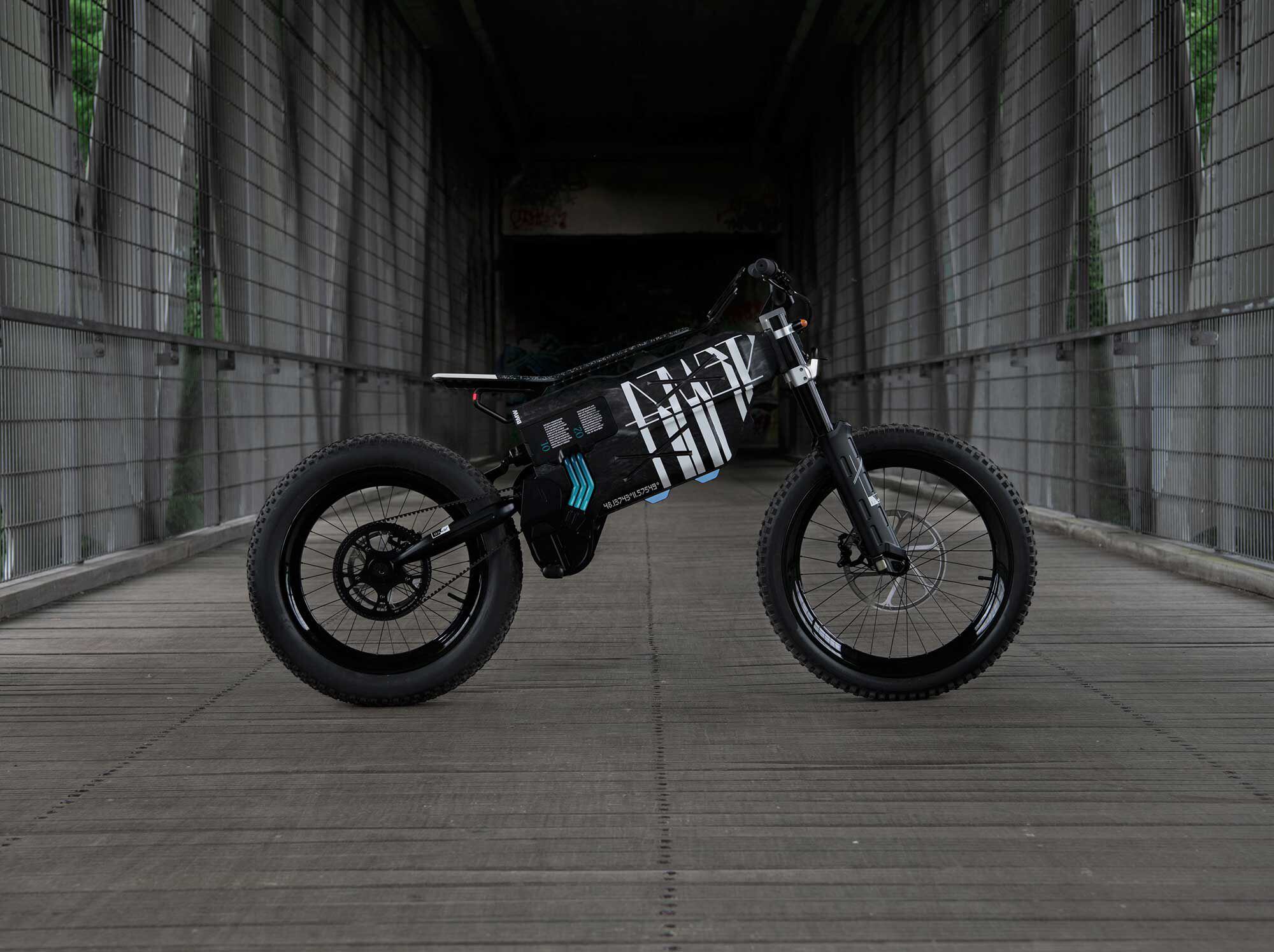 BMW is even stingier with details for the Vision Amby electric motorcycle, but we can see it blends elements of a mountain bike with a motocrosser. (BMW Motorrad/)
BMW Motorrad Vision Amby
The more moto-like BMW Motorrad Vision Amby meanwhile, gets a beefier profile and more robust components, all while still retaining some bicycle-like qualities. You can see some influences from the Super73 ethos and even a smidge of the utilitarian bent as found on Cake's bikes, but the overarching feel is still that of a BMW enduro bike. The off-road vibe comes through via the chunky treads on both the spoked 26-inch front wheel as well the 24-inch rear (with its more rounded tire) and stout fork, giving it a go-anywhere aesthetic. The 32-inch integrated seat and fixed footrests also signal a motorcycle intent, with the seat acting as a design element over the upper frame section and offering a kind of visual link between the ebike and motocross world. A big chunk of black metal suggests another large energy storage unit and motor at the center of the frame, though again, BMW declines to give any specifics—not even about the battery. We do know that propulsion on the Vision Amby comes via a throttle, however; there are no pedals, only footrests.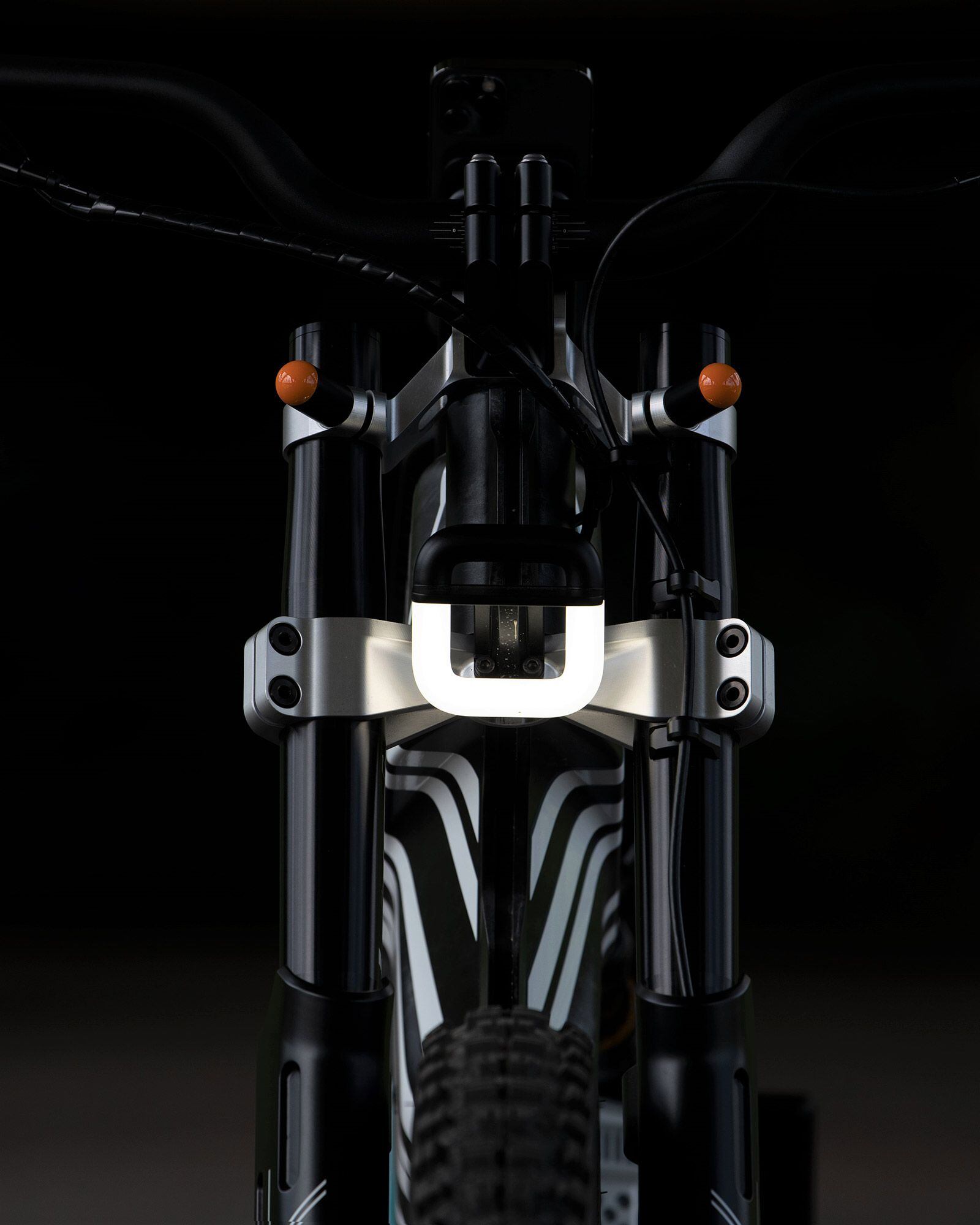 Beefy front fork holds a unique U-shaped LED lighting element as well as a 26-inch front wheel. (BMW Motorrad/)
As on the i Vision Amby, the rider modes on the Vision Amby can be accessed via the app on your smartphone, linked with the appropriate vehicle. Again, geofencing technology can automatically adjust your speed levels to the type of road, cycle path, or slow traffic area being used, and the specially developed app lets users activate the Vision Amby for riding, display their stored license and appropriate insurance, and act, in essence, as a key might, but with the higher level of security a smartphone affords.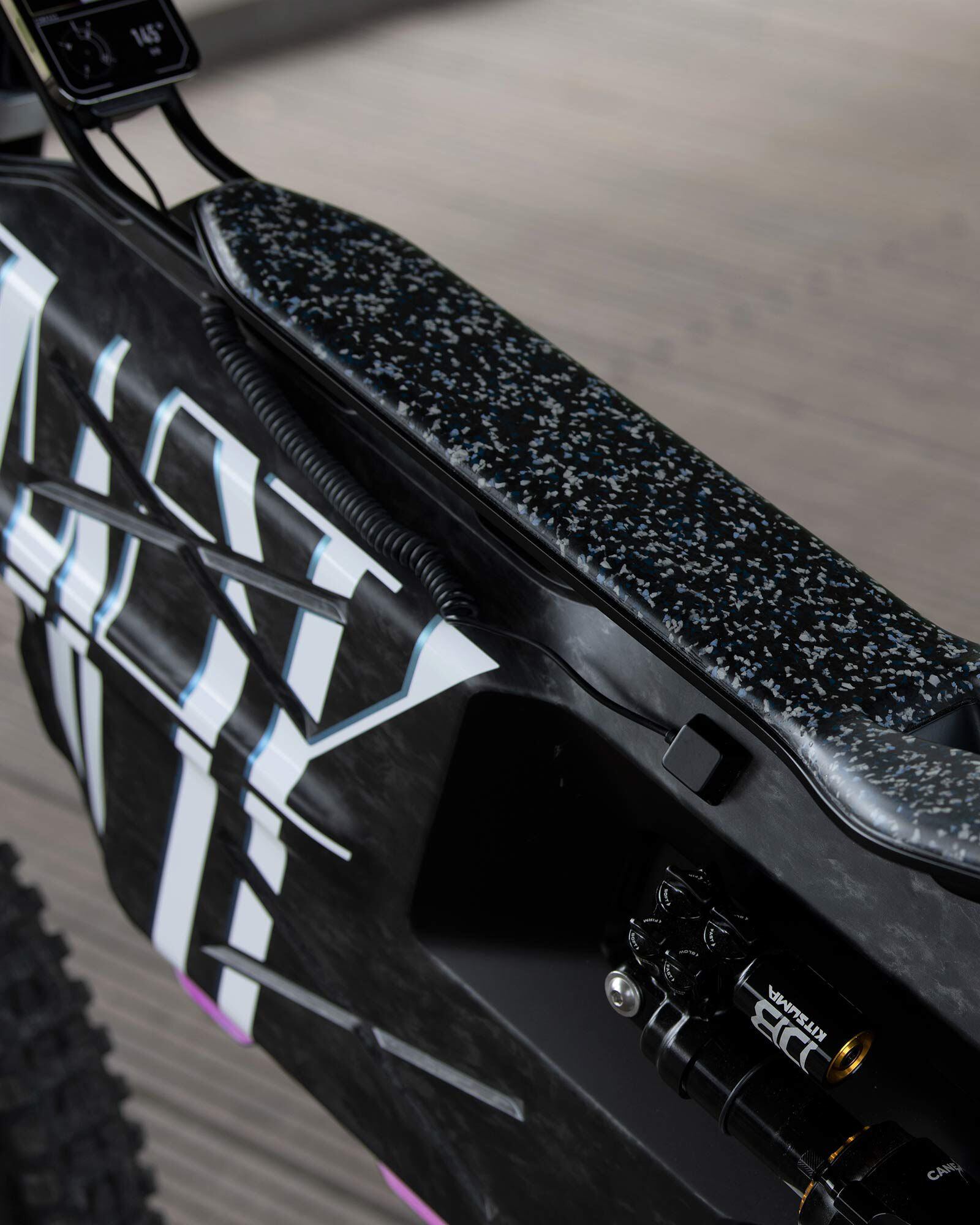 The flat seat borrows its profile from the narrow pads often seen on dirt bikes. BMW says it's made from recycled plastic. (BMW Motorrad/)
Given the lack of any real specs on the two vehicles, the fact that the two are concepts, and that both will still need to face some regulatory hoops to be approved for use in various municipalities anyway, we probably shouldn't expect to see production versions of the Vision Ambys anytime this year. But with their forward-looking designs and adaptability, it stands to reason that BMW is seeing them as a way to get more involved in the future planning of urban spaces, which are increasingly embracing two-wheel transportation.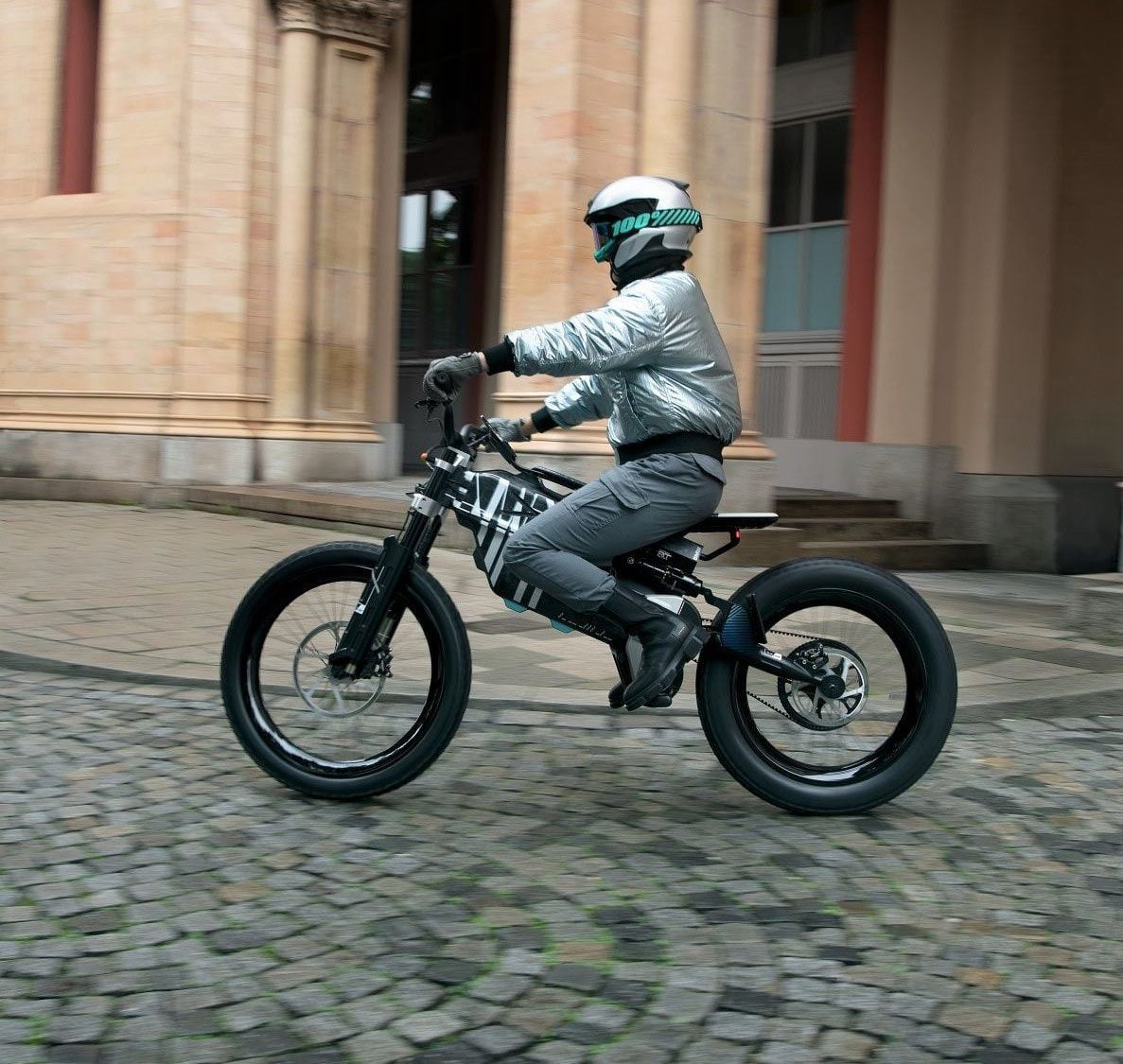 Military vibes on the Vision Amby. Weight is a claimed 132 pounds. (BMW Motorrad/)