Patents filed by BMW show a width-adjustable motorcycle saddle made up of three separate sections. (BMW Motorrad/)
An entirely new replacement for BMW's R 1250 GS is currently under development and is likely to be one of the most anticipated new machines of 2023. Now comes a new patent that might be a hint as to how BMW intends to raise its game with the next-gen GS: the development of a seat that's adjustable for width as well as height. It's one of those ideas that's so simple it's astounding you don't already see it in common use. You can already buy width-adjustable bicycle saddles to accommodate vast varieties of posteriors—the $250 BiSaddle, for instance—so why shouldn't we expect the same level of adaptability in a high-end motorcycle?
For years, motorcycle firms have offered adjustable-height seats and kits to make them lower or higher, but for a broader seat, you've currently got no option but to delve into accessories catalogs or aftermarket suppliers. The fact that there's a strong market for such offerings proves that the demand is there; stock saddles aren't always suited to everyone's behind. BMW's new patent application reveals an incredibly simple way to provide, cheaply and easily, a saddle with that added adaptability.
Related: BMW Motorcycles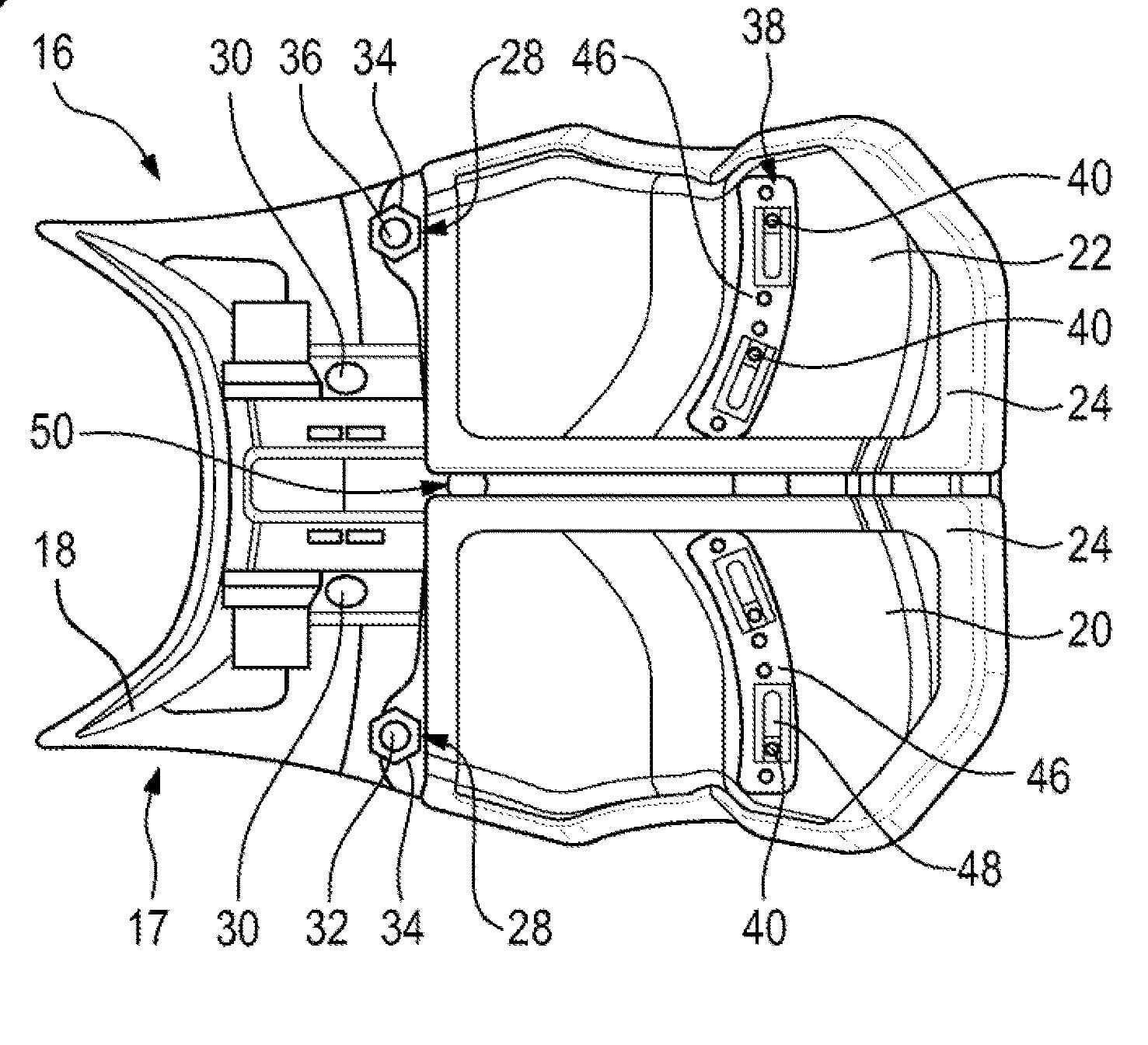 The two rear sections are supported by slotted runners underneath, and can pivot on them. (BMW Motorrad/)
The pictures are self-explanatory, depicting a saddle made up of three sections rather than a single, shaped piece of foam. The front element is fixed as normal, fitting snugly around the back of the fuel tank, but behind it there are two, movable side elements, one for each side. In standard mode, it looks like a normal seat, just with a couple of additional seams separating the sections. But with the cover stripped off, the design reveals that the two back sections are pivoted from their outer front corners and supported on curved runners underneath. That means the rear halves can be swung outward by up to a couple of inches, making the back section of the seat significantly wider, though it does create a central gap in the process.
The patent says the seat can be tightened into place at any position along those slotted guide runners, making it infinitely adjustable. It points out that "on motorcycles, the seat bench forms one of the direct attachment points between man and machine, and therefore plays an important role when it comes to comfort."
When the sections are swung outward the back portion becomes substantially wider, though that does create a gap in the middle. (BMW Motorrad/)
Given the goal of a quick and easy adjustment, it's surprising that the main focus of the patent is on a version of the width-adjustable seat that uses threaded fasteners to lock it into place. In other words, remove the seat, loosen the fasteners underneath, shift the sides to your desired position, then retighten the fasteners to hold the seat sides in place. Not the work of a moment.
The patent does suggest other ideas are under consideration, saying, "a further aspect of the invention provides that the adjusting device can be actuated electrically and/or manually. Accordingly, the adjusting device comprises an electric motor and/or a mechanical mechanism, by means of which the two pivoting sections can be pivoted."
That means an electrically adjustable version and a quick-adjustable mechanical version might well be under development, allowing tweaks to be made without removing the seat. It may even be possible to adjust these future versions on the move.
It's worth noting that BMW's car arm has been among the pioneers of developing active seat technologies. The company was one of the first to offer massage seats, as well as ventilated ones, and in the E60-generation 5 series the company introduced the option of active seat bolsters that tightened their grip on you during hard cornering and relaxed when you were cruising. A similar system may not be out of the question for future bikes if BMW pursues the idea of electrically adjustable seat width.