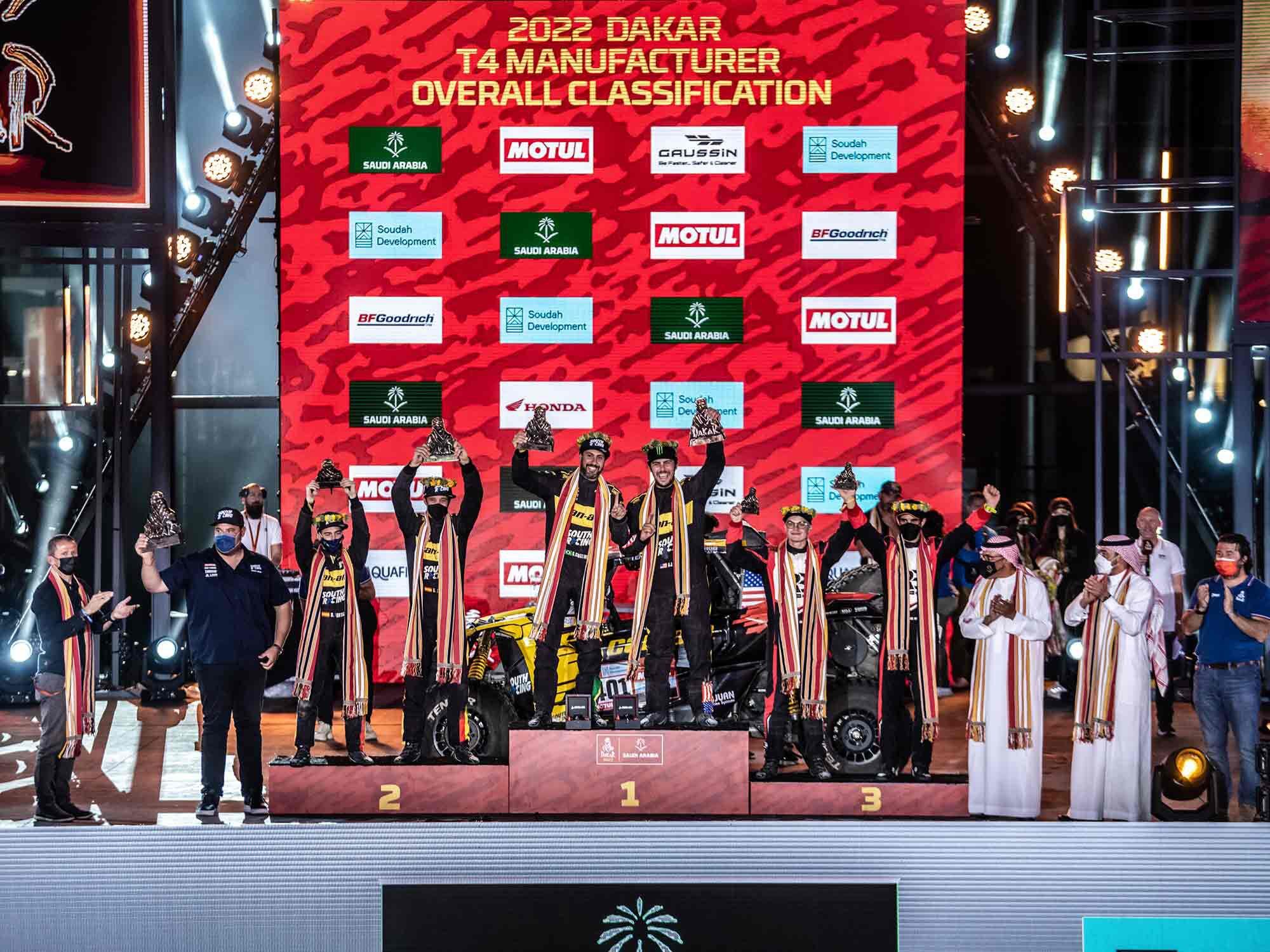 Austin Jones became the youngest American ever to win a Dakar this year, using grit and consistency to dominate the 5,000-mile race. (Marian MCH Photos/)
One minute, 41 seconds. Not even enough time to make a cup of coffee, but it's an eternity in racing, even in the two-week, 5,000-mile Dakar Rally.
In the midst of Special Stage 11, on the rally's next-to-last day, American Austin Jones, known around the bivouac as AJ, was desperate. An issue with the differential had vaporized his margin over his rivals, and instead of managing a comfy lead, he found himself chasing with only one day to go.
"Stage 11 broke my heart," Jones said. "I cried out there in the desert when I realized that we had lost the front differential. We had to stop and do repairs that cost us almost 18 minutes. The result? We were 1 minute, 41 seconds down." AJ and his Brazilian navigator Gustavo Gugelmin repaired the car and arrived at the bivouac to the South Racing Team for a permanent fix before the last stage.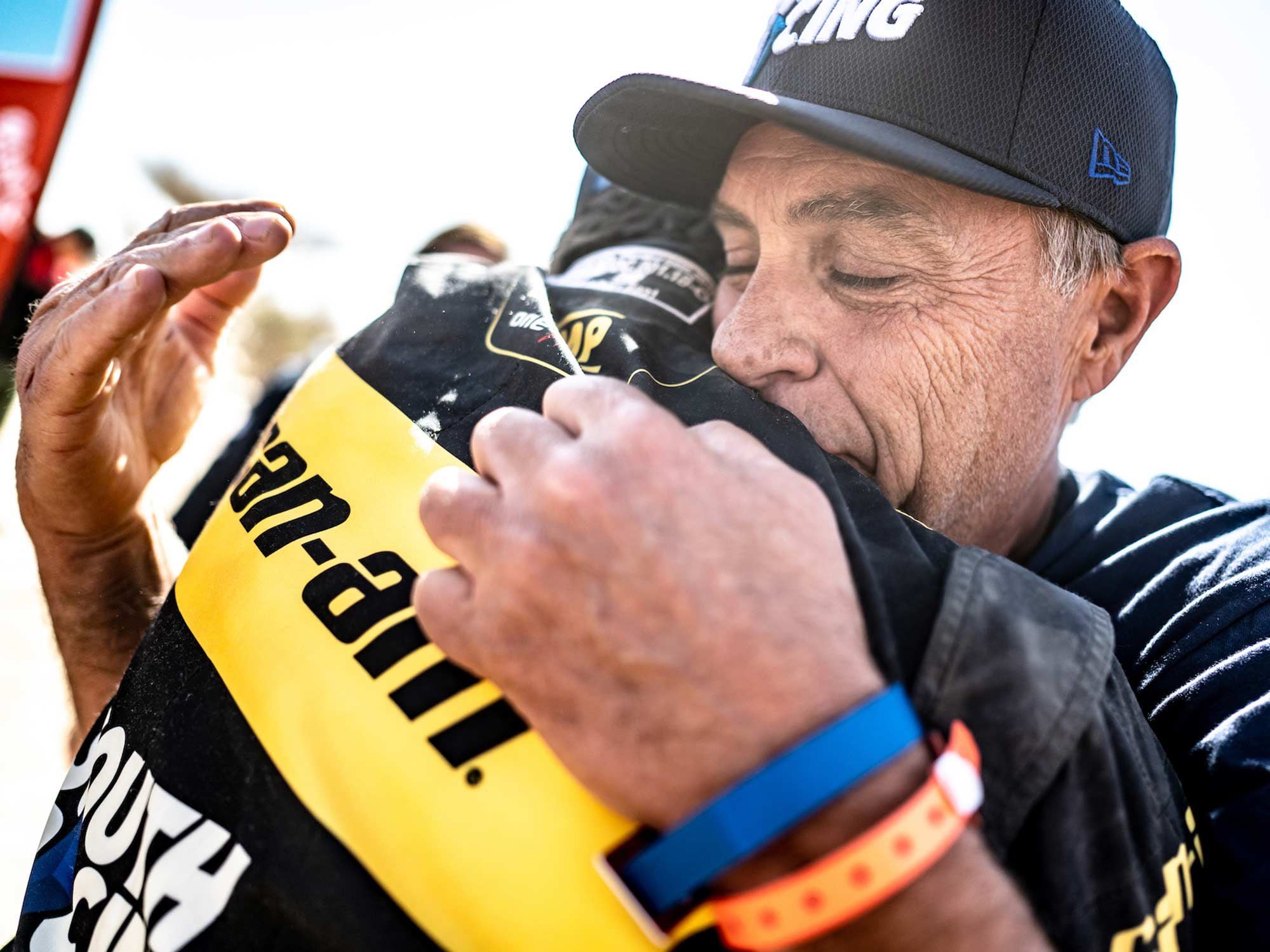 Jones and his dad, Jesse, share an embrace after AJ's historic win. (Marian MCH Photos/)
That night Jones couldn't sleep.
"I was nervous. I had so many thoughts," the 25-year-old said. "Because anything can happen in a race like the Dakar. I knew it by experience because I was leading on Stage 10 with an important margin but the following day I lost all the advantage due to the differential. In less than 24 hours my situation was completely upside down. Fortunately, the liaison helped me to relax. I knew what we had to do, we had a goal, and we went for it."
Going for broke paid off, and Jones won the SSV class in the 2022 Dakar Rally by 2 minutes, 37 seconds over Gerard Farrés in second.
"We made it! I don't know how to describe it yet," he said at the finish line. "This is what we've trained for for three years now. There are no words to describe what I feel. It's a dream come true. I'm the youngest American to achieve this result. It means everything. To get it done on the last day created a thrilling ending to a really great story!
Related: Austin Jones Wins Dakar Rally in Can-Am Maverick X3
"It's been a hard battle, and even if we have been leading several stages, we knew anything could happen and we had to remain focused. All the guys have been really fast.
"Everyone did really well. Gustavo (Gugelmin), my navigator, did a great job, and the team gave me a great car and supported me every day. It doesn't matter whether you win by a second or an hour. A win is a win."
Jones is the youngest American to clinch a Dakar Rally win, and the third after Casey Currie in the SSV category and Ricky Brabec in the bike category in 2020.
Leading the overall standings for eight out of 12 stages, AJ's race was a perfect lesson on what it takes to win the Dakar: speed, consistency, and managing the vehicle for two long weeks in the most extreme conditions.
The crazy thing about an endurance race like the Dakar Rally is that you don't necessarily need to win stages to clinch the victory. Jones' race sums up this principle to perfection. Finishing second on the first stage, he continued consistently in the top three and top five every day, which kept him at the top of the overall standings.
Marek Goczał claimed six victories to his name, followed by his brother Michał with two and Aron Domżała with one. Yet none of those racers finished on the final podium. Jones kept his powder dry from day one, notching a top three in seven out of 12 stages.
"In a tough navigated rally like Dakar, you are penalized when you [start a stage first], because you are faster when you chase rather than when you open. The secret is to keep a regular pace and stay among the front-runners so that you can manage the gap and decide when to attack and when to slow down," he explained. "Speed and consistency are the keys to win the Dakar. Our target was to finish consistently in the top five, and we did it."
Recently crowned the 2021 FIA T4 World Cup Cross-Country Rally champion, Jones has added a stunning victory to a second place last year and a P8 in 2020, the year of his debut on the Dakar. With only three years in the discipline he is the most successful young talent on four wheels and this is just the start.
The Dakar Rally is the first round of the FIA World Cross-Country Rally Championship, and now Jones looks ahead to the second round of the series, the Abu Dhabi Desert Challenge from March 4–10.
"As title defender, my target is to be the first American able to repeat himself, as for the future, I'd love one day to challenge myself behind the steering wheel of a T1 car, like the Mini of the XRaid Team, the Toyota Hilux of Nasser Al-Attiyah or the hybrid Audi of Carlos Sainz and Stéphane Peterhansel," he said.
Want to stay up to date on the latest UTV Driver news and reviews? Sign up for our weekly newsletter!