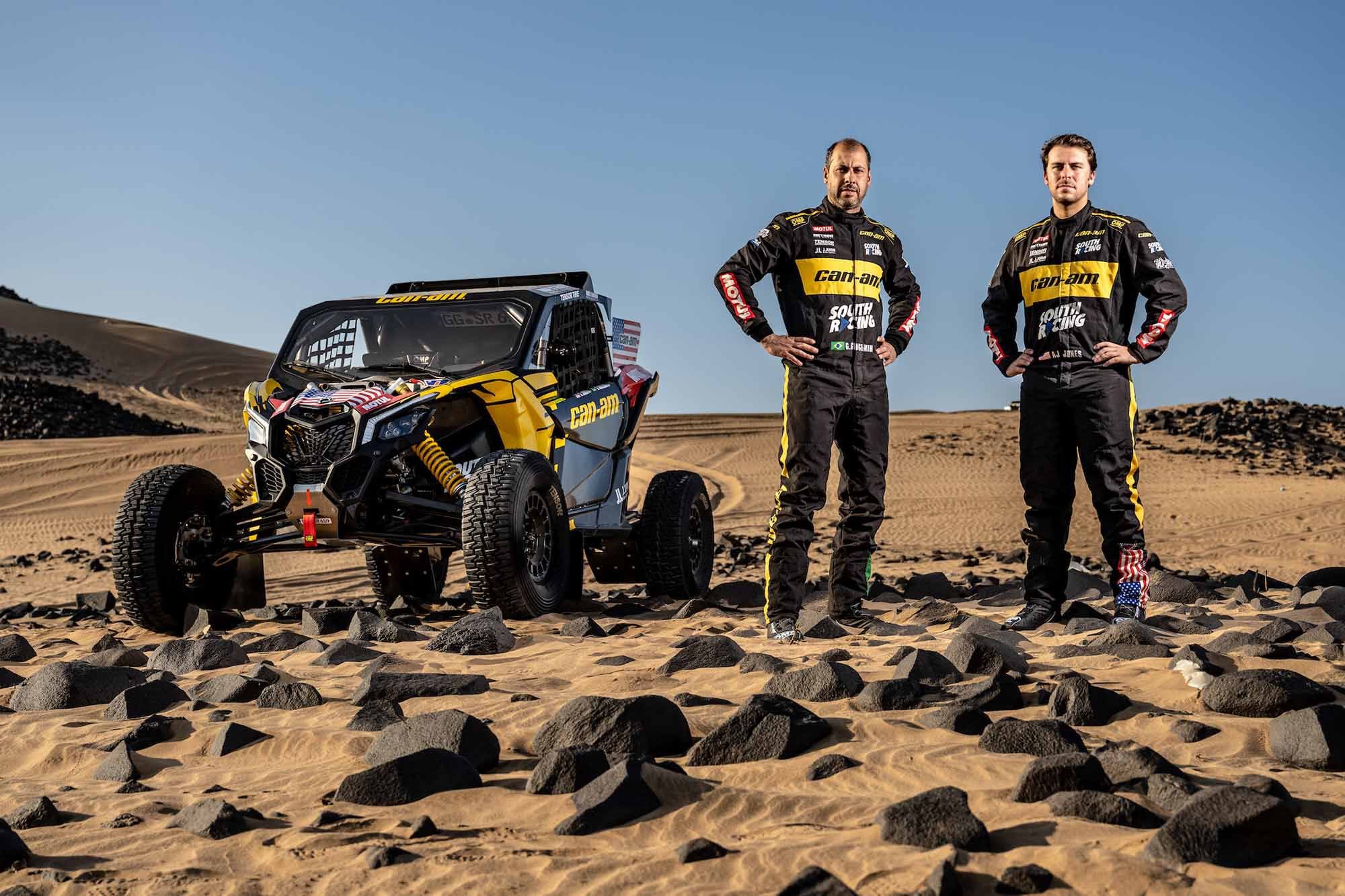 Can-Am is atop the podium at the Dakar Rally once again. (Can-Am/)
The Dakar Rally is the world's most grueling, most dangerous off-road race. Like the Baja 1000, finishing is a victory in itself. But Can-Am went a step further and, with Austin Jones behind the wheel of a Maverick X3, achieved its fifth consecutive championship at the Dakar.
This year's event took place in Saudi Arabia. The setting is a stunning backdrop for the globe's most exciting and difficult off-road racing. It also presents a new set of challenges for the drivers and teams to battle, but Can-Am beat the odds this year with top positions in two different categories.
In the T4 category, for production-based side-by-sides, the team of Austin Jones and Gustavo Gugelmin (Brazil) took the title by completing the event with the best overall time.
"It's incredible to win the Dakar Rally.… This event is truly the ultimate test of off-road racing. Anything can happen, and we pushed hard until the very end against extremely strong competition," Jones said. "My navigator and team did a great job, and the Can-Am was awesome with its performance and durability."
Second place went to another Can-Am, with Gerard Farrés (Spain) behind the wheel, and Rokas Baciuška (Lithuania) rounded out the podium sweep for Can-Am. In a wild bout of dominance, the top 17 vehicles to finish in the T4 class were Can-Ams. The brand's command of the top didn't stop there. In the T3 prototype class, Can-Am took first and second as well. Francisco López (Chile) and Juan Pablo Latrach Vinagre (Chile) won the division, and teammates Sebastian Eriksson (Sweden) and Wouter Rosegaar (Netherlands) claimed second.
"It takes a true team effort to accomplish what our Can-Am Off-Road team just did at the Dakar Rally.… We have the best of the best, from drivers to support staff to the incredible Can-Am Maverick X3 platform," said Sandy Scullion, BRP senior vice president of global retail and service for powersports. "We can't wait for what's in store for the rest of this year for racing as we plan to continue our incredible momentum with championships from all over the world."