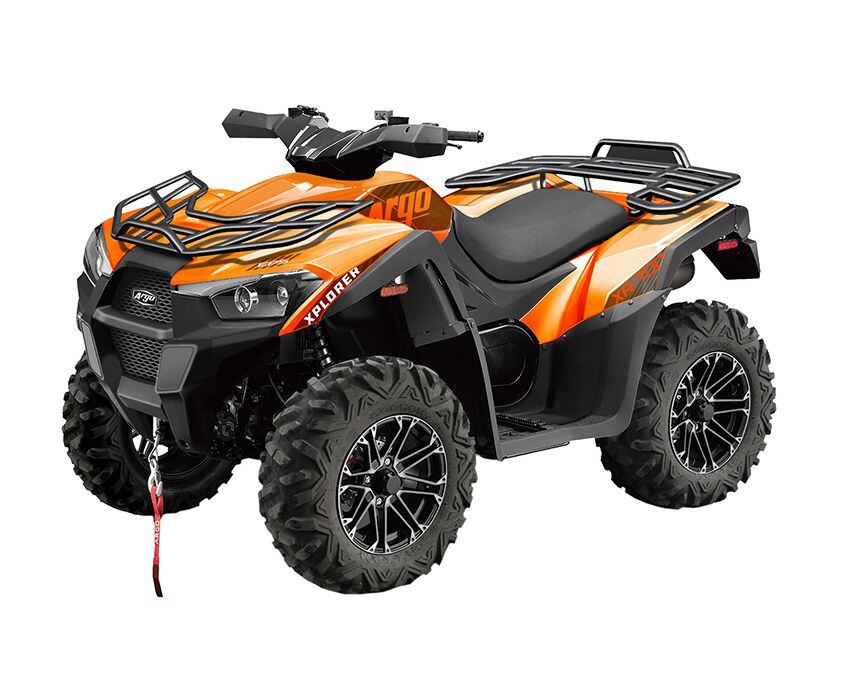 The all-new Argo Xplorer XR 700 LE. (Argo/)
Argo, the Ontario, Canada-based manufacturer of those 6×6 and 8×8 amphibious vehicles, also manufactures ATVs and side-by-sides. For 2022 PowerSports Business reports that Argo is adding a few "all-new" ATV models to its ATV lineup, and the list of features is eye-opening. Here's what we know so far.
2022 Argo Xplorer XR 700
A 695cc liquid-cooled fuel-injected four-stroke engine powers the new Xplorer XR 700. Equipped with a CVT transmission, this model includes high and low range operation, as well as neutral, reverse, and park. The CVT duct work is fully sealed with venting that is designed to keep mud and water out of the clutching. It also includes engine-braking for descending steep hills. The 2WD/4WD operation is electronic push-button selectable, and we're excited to report that it includes the ability to lock the front differential.
The XR 700 comes with Maxxis tires, a full-length skid plate, steel racks, and a 2-inch receiver. Electric power steering is also standard. Front fender storage is sealed, and lockable and center console storage includes a USB port. Double A-arm suspension can be found at all four wheels. We don't have any further details yet, but Argo claims this model to have "class-leading" suspension travel, ground clearance, rack capacity, and towing capacity.
An XR 700 LE will also be available. It comes with painted body panels in Slate Grey or Flame Orange, 26-inch Maxxis Bighorn tires mounted on aluminum rims, integrated composite hand guards, and a 2,500-pound winch. Pricing and additional details are not yet available.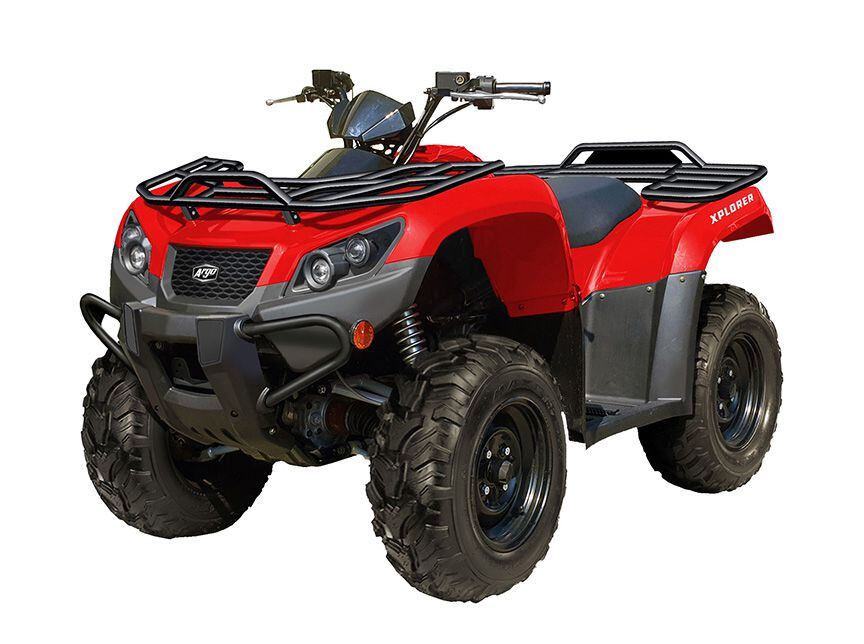 The all-new Argo Xplorer XR 500. (Argo/)
2022 Argo Xplorer XR 500
Like the Xplorer XR 700, Argo boasts a lot of class-leading features on the all-new Xplorer XR 500, including suspension, rack capacity, horsepower, and comfort. A liquid-cooled 443cc SOHC fuel-injected four-stroke uses an automatic CVT transmission to get power to the ground. The transmission includes selectable high and low range operation and engine-braking. Push button 2WD/4WD operation includes front differential lock.
Double A-arm front and rear suspension with preload-adjustable shocks provide 7 inches of suspension travel and 10.5 inches of ground clearance. The 24-inch Maxxis tires are mounted on 12-inch steel rims. Cargo racks can handle up to 75 pounds up front and 150 pounds at the rear, and a standard front bumper appears to be meaty and functional. Large floorboards provide plenty of room to move around.
A Special Edition Xplorer XR 500 package will also be available. The SE package adds painted body panels, fancy aluminum wheels, and a 2,500-pound winch. There's no pricing information available yet.
Returning for 2022, the Xplorer XRT 570 and Xplorer XRT 1000 LE 4×4 ATVs come with room for two. An elevated passenger position provides a better view with grab bars, a backrest, and raised foot floorboards. Both models are also available in LE packaging. The sport-focused Xplorer XC 90 will also return for riders 12 years and older. For more information on the entire Argo ATV lineup, visit Argo here.
Argo is also bringing new side-by-side models to dealerships in 2022. Check out our sister website, UTV Driver, for all of the details right here.