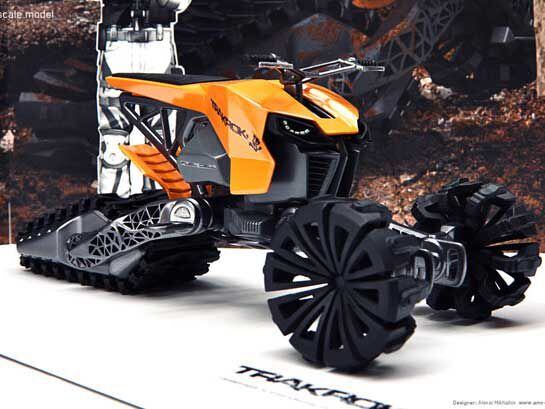 Alexei Mikhailov's trike has two wheels up front, a track out back, and a hydrogen powerplant. (Alexei Mikhailov/)
Three-wheelers may have vanished from the dealerships but they never left our hearts. Woefully unstable at speed for some, trikes are still as exciting as ever. Designer Alexei Mikhailov clearly feels the same and we're lucky to now see the next iteration of the never-ending evolution of the TrakRok ATV Trike. This machine pushes to the future with alternative fuel and by reversing the orientation of the layout we're used to seeing on a traditional three-wheeler. It looks like a wild ride.
After years of throwing the idea around, Mikhailov recently submitted the concept art to Tuvie (a blog for innovative designs and concepts) for a hyper-modern, next-generation three-wheeler. Unlike trikes from the 1980s, which had two tires in the rear connected to the drive axle and one tire up front to handle turning duty, Mikhailov's machine features two tires up front for added stability. Out back there's a snowmobile-like track made of rubber for maximum grip in all types of terrain. The TrakRok ATV continues to eschew normalcy with its drivetrain. The two front tires are driven by independent electric motors, and hydrogen fuel cells not only keep the center of gravity low but also mean the vehicle runs on renewable propulsion. Tuvie states that the TrakRock has an anodized aluminum construction and dual radiators.
It's a crazy-looking thing, with cues from ATVs, snowmobiles, the Can-Am Spyder, and so on. Tuvie claims the trike can be used for sport leisure, construction, farming, and even in the armed forces. Whether it comes to fruition remains to be seen, so for now all we can do is hope that someday this machine sees the light of day rather than just existing as pixels on the internet.