Rainy, muddy, messy. (Ross Ballot/)
The temperature hovered around 40 degrees, rain slammed down, and wind bent icy drops around the roof and windshield of our Polaris RZR Trail S as we entered the trails in Northern New Hampshire. Everyone engaged 4WD immediately. It was going to be that kind of day. Soaked before we had even been a mile, we blasted down the trails anyway.
We had trekked 400 miles north for our big fall outing, a few days riding the North Country's outstanding trails. I'd gotten up before sunrise, 2021 Polaris RZR Trail S 1000 in tow behind a Nissan Frontier. The day's rainy forecast wouldn't be the first adventure of its kind this year: Our visit in June was a thoroughly wet affair. On that ride, I was out in the open on a Can-Am Outlander 650, laughing through nearly 150 miles of constant downpour. I was hoping this trip would be different, thanks to the RZR's standard doors and roof, which would keep me dry. Instead, my underwear was soaked through by mid-morning.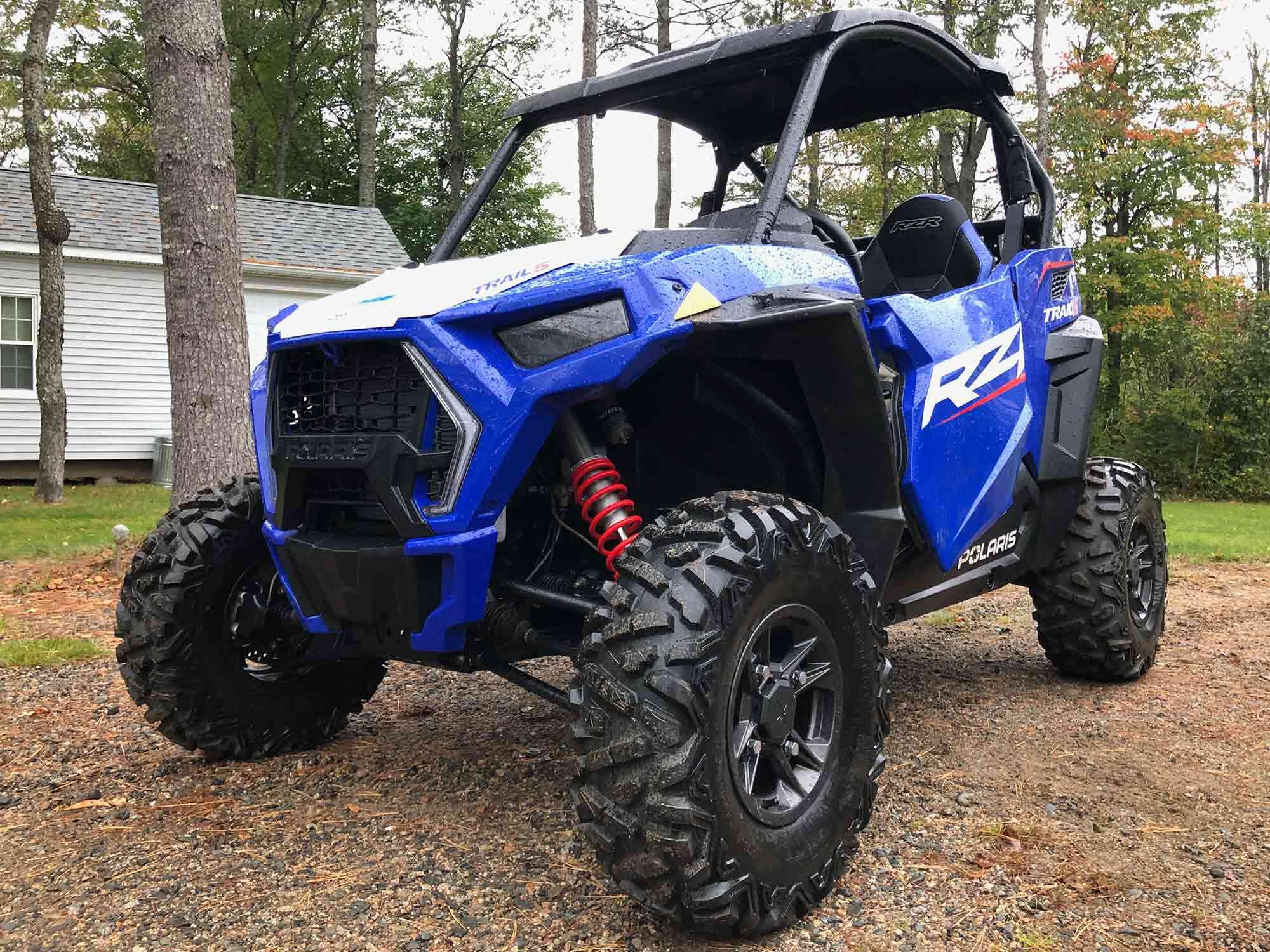 Launch pad for the day. Very wet launch pad. (Ross Ballot/)
The North Country's trails aren't particularly difficult, with just a few places that require extra attention or high-range 4WD in the dry. But sections of trail we'd previously run with ease were suddenly a battle for traction in 4WD. Rocky obstacles required extra throttle, but we powered through anyway. Steep uphill obstacles deep in the mountains provided a first-row look at the sky, which laughed in our face and poured the rain on even harder. It was like the rain gods were snickering, daring us to continue.
If you can't beat the elements, might as well join them. We took to sliding around corners and finding the RZR's limits at every opportunity. The big upside of precipitation is that it lowers grip. Wheelspin becomes constant, so drifting and sliding like a Formula D driver is as easy as flicking the wheel, hammering the gas, and hoping you don't end up in the trees.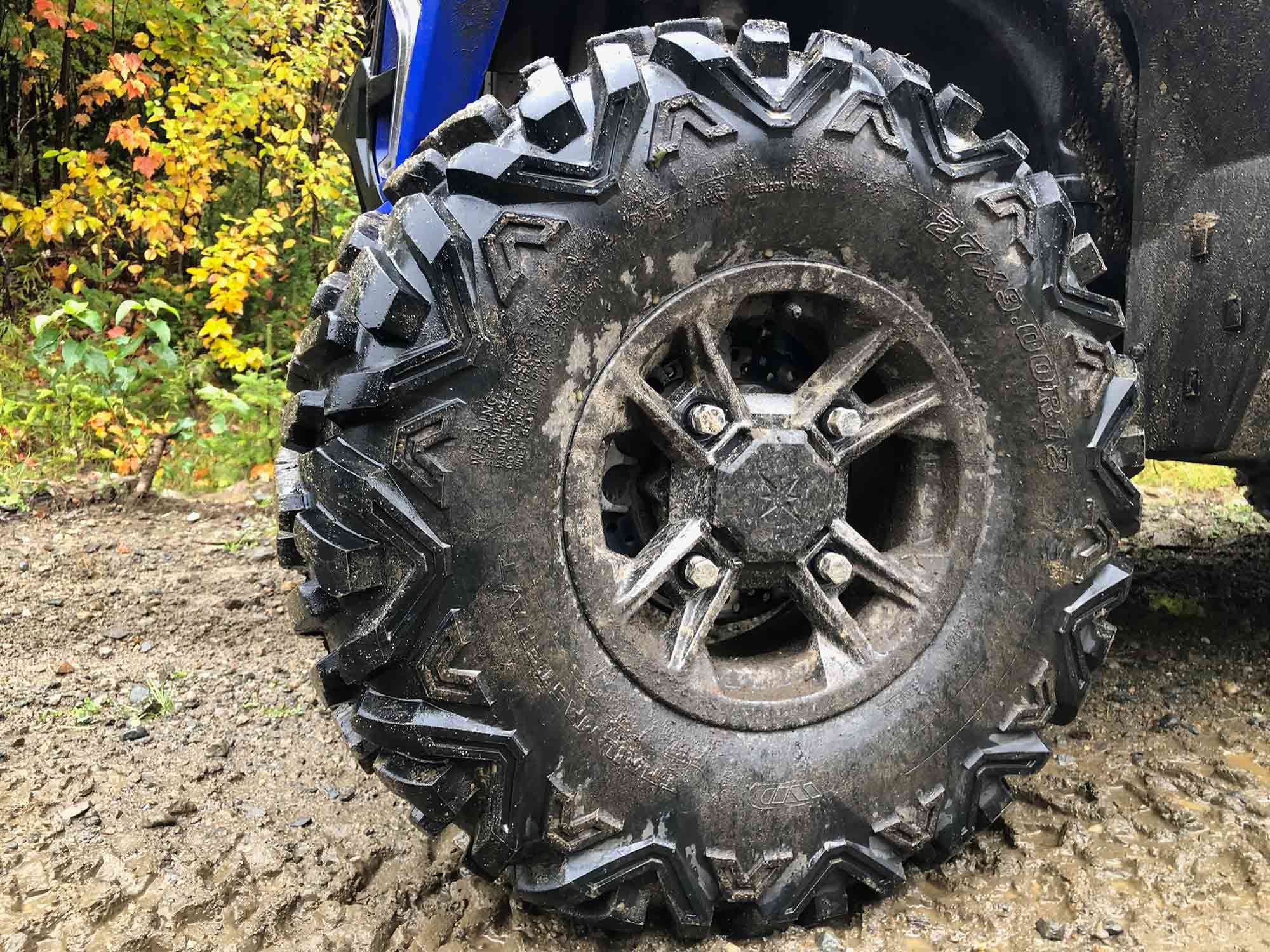 Aggressive 27-inch trail tires quickly turned into slicks when balled up with mud. (Ross Ballot/)
We broke for lunch around noon with 75 miles behind us, the rain slowly washing layers of mud off the machines. I peeled myself out of the RZR, so soaked I might as well have just climbed out of a pool, albeit a particularly cold and muddy one. After we fueled ourselves and the machines, we grabbed sludgy-but-hot gas station coffee. We're still not entirely sure if it was actually coffee or heated crude oil; all we know is it was hot and got the job done.
The rain never let up and neither did our ride. As the day went on, we had to rely on four-wheel-drive low more and more, especially on the long, steep, rock-strewn hills. Driving the RZR through the dismal conditions was no more difficult than playing Forza Horizon 5 from the comfort of our couch, just colder and wetter. And yet, it was so much more fun. My drenched, shivering, woefully under-gloved hands gripped the steering wheel for dear life. No gaming system controller would ever be able to provide the same thrill. Nor would they provide the same excitement as almost hitting a deer standing stationary in the trail. It was just as surprised to see me. Had it been a bear, we might have been able to answer the famous hypothetical question for both of us. Especially after that coffee.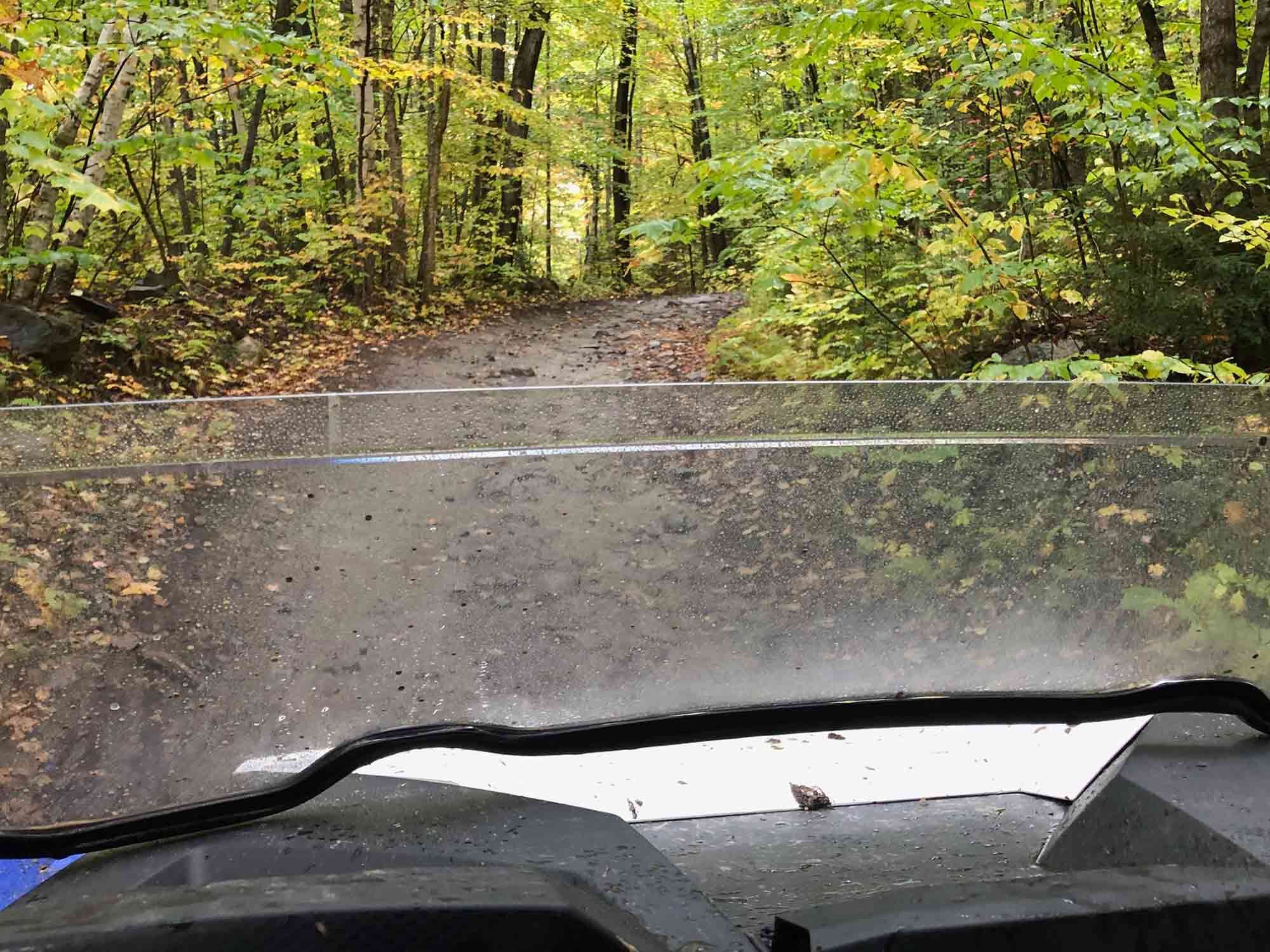 The view out the front of the RZR could have been mistaken for a modern-day interpretation of a scene from <i>Jurassic Park</i>, just with fewer dinosaurs. Hopefully. (Ross Ballot/)
Our trek continued for another two hours, by which point everyone was exhausted. The jolly, frequent banter disappeared, replaced with inconsistent quips about "Better than being in the office!" But the RZR remained unphased, its LED headlights leading the way, brightening the gathering darkness.
I took my mind off the dropping temperature by internally reminiscing about a ride on my long-gone Kawasaki Brute Force on which the weather was so severe and the machine so worn that water got into the headlights and washed around like a fishbowl. I had to ride with my father following close behind in his light bar-equipped RZR just to see my way.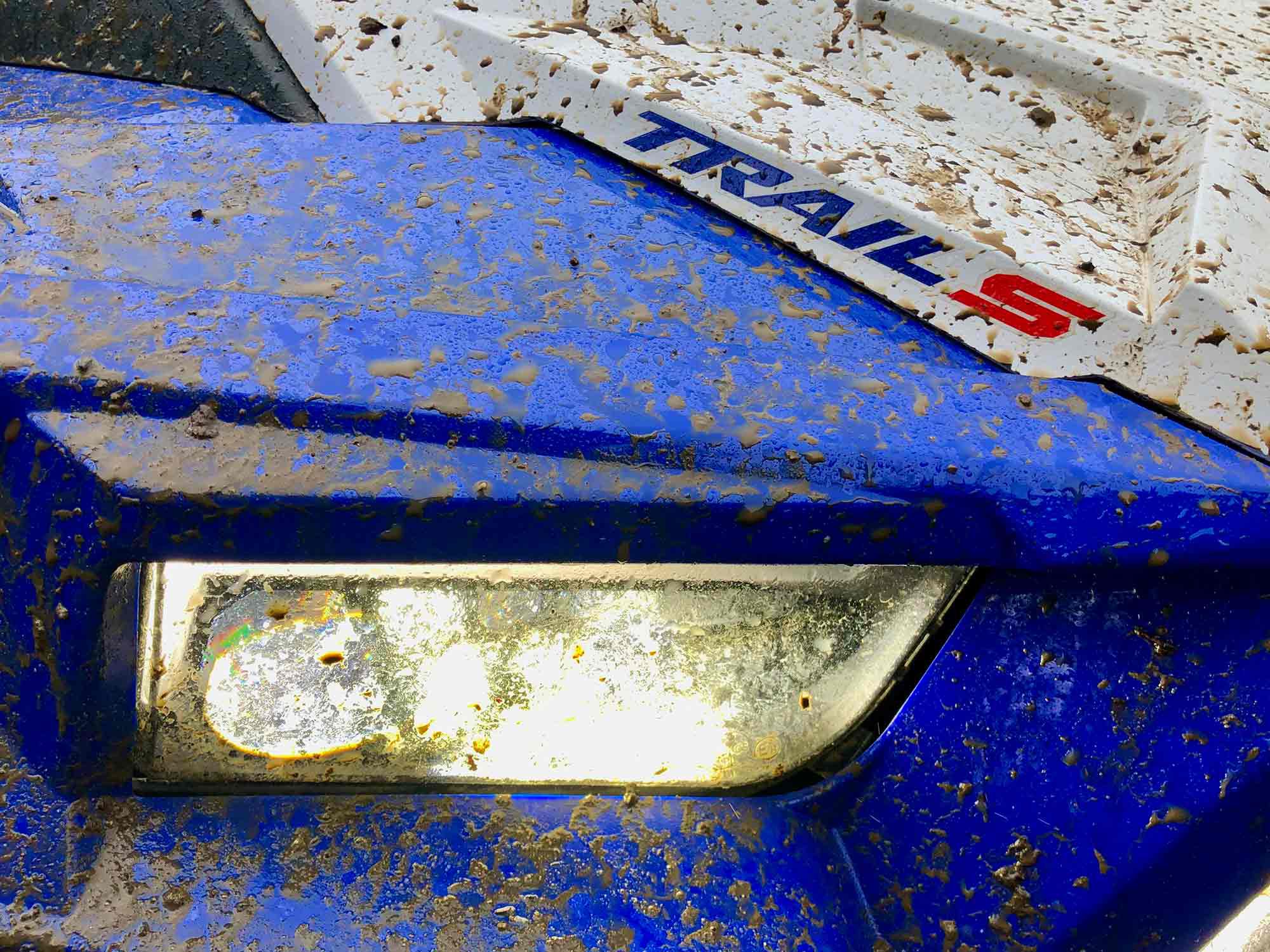 We always recommend keeping your lights on when on a trail ride. Some days you just need them more than others. (Ross Ballot/)
The difference was that my dad was now riding shotgun with me in the RZR. The half-windshield we borrowed from his machine was failing to keep us dry, and it was in this instance that I resolved to admit a full windshield and cab would have been a nice addition. Heated seats, handgrips, and bodysuits sure seem like unnecessary luxuries a lot of the time, but this had me wondering if I should sell a vital organ for anything that could provide warmth. The heated bodysuit I longed for turned out to be bourbon once we arrived back at the hotel.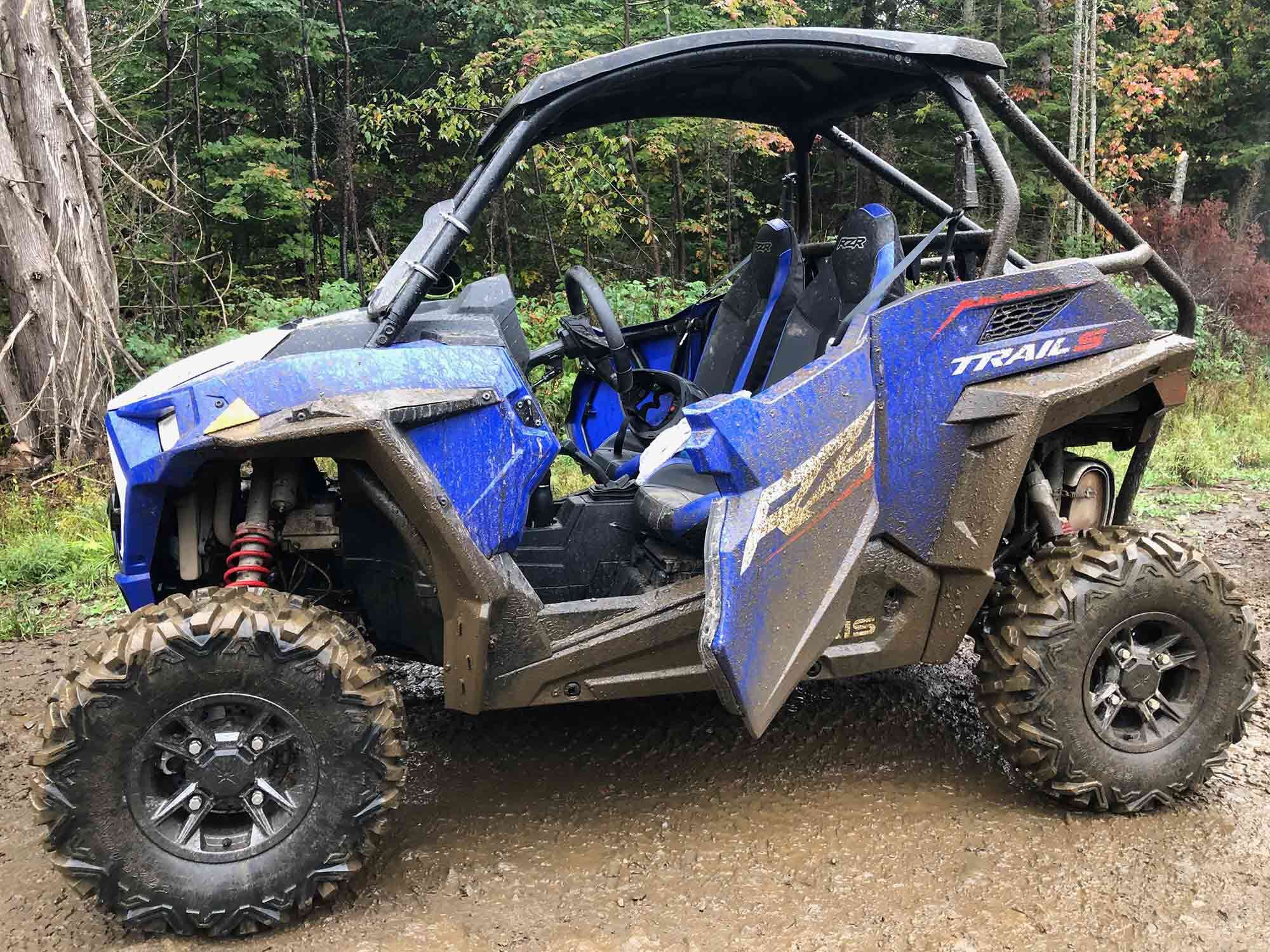 Wet and muddy on the outside; wet and muddy on the inside. (Ross Ballot/)
I was nearly hitting my limit for what I could withstand when the familiar trails returning us home appeared. A sigh of relief. There wasn't much talking when we rolled into camp, just the quiet duty of everyone assessing their machines and themselves for damage. I was feeling grateful for the experience and for having such a cohesive, skilled riding group to call my own. With conditions these foul, any small misstep could have meant disaster. The only breakage by day's end was to our morale. And maybe acknowledging that it's time to buy serious cold-weather gear. If anyone is looking for holiday gift ideas…
Never before had a full cab enclosure seemed so appealing. (Ross Ballot/)
We've all been there: Weeks of preparation and a long journey to spend a weekend doing our favorite hobby only to have things go sideways. Sometimes it's a sidelined machine, sometimes it's horrid weather. There weren't many laughs during the ride, but now that this trip is long in the past, we can look back and smile. Sunny skies and dry conditions are always preferable, but then again, nobody remembers the good days. Rainy, dreary days like this make you a better rider and a better enthusiast, and prove that old saw true: A bad day on the trail is still better than a day spent anywhere else.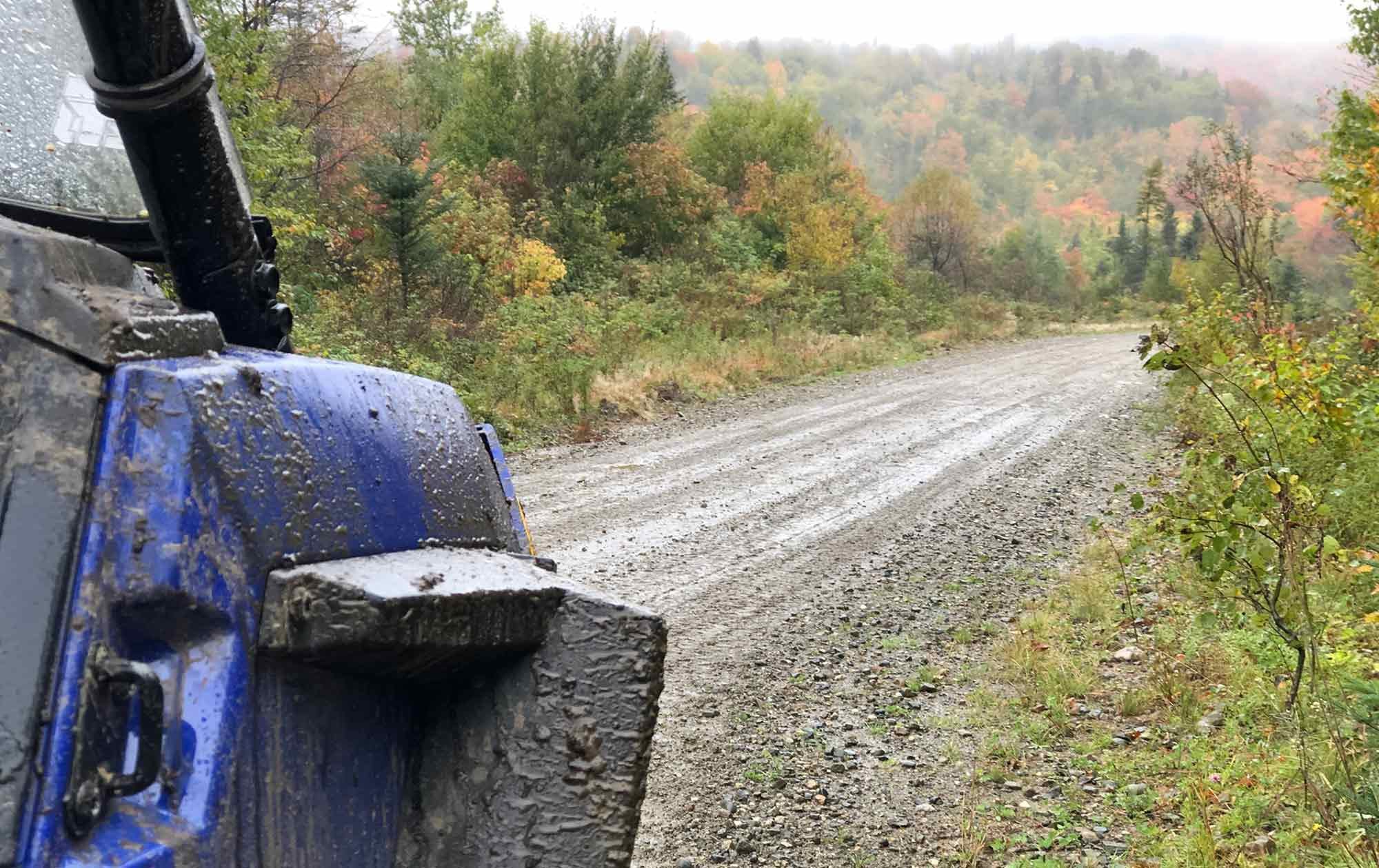 A view we'd take over just about anything, regardless of weather. (Ross Ballot/)