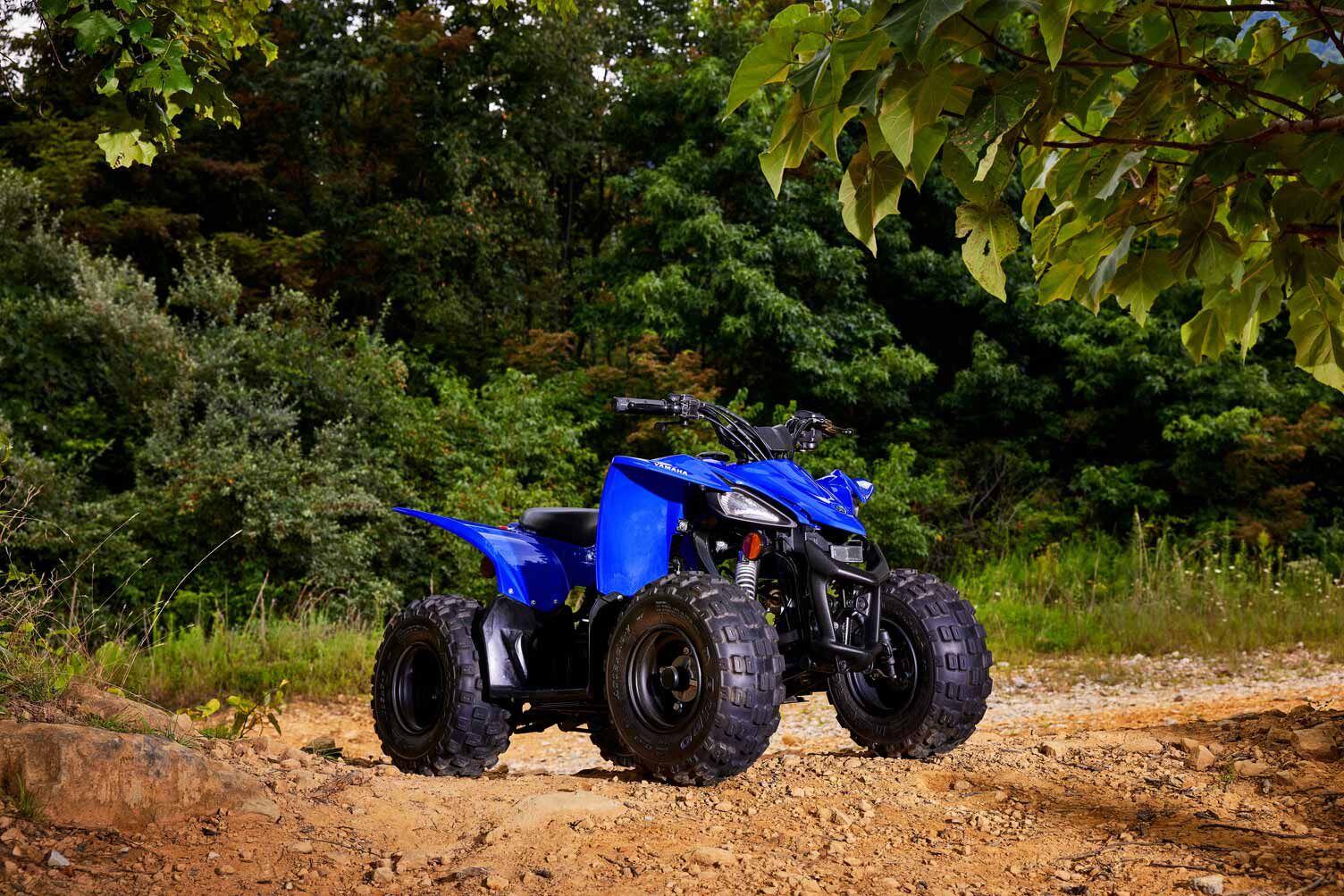 The 2022 Yamaha YFZ50 in Team Yamaha Blue. (Yamaha/)
Ups
Sporty appearance, inexpensive price, tether cutoff for added safety, inspires a younger generation
Downs
Carbureted, Good luck getting your kid off of it
Verdict
The 2022 Yamaha YFZ50 looks just like dad's YFZ450R and is a great first ATV choice for beginner riders 6 and older.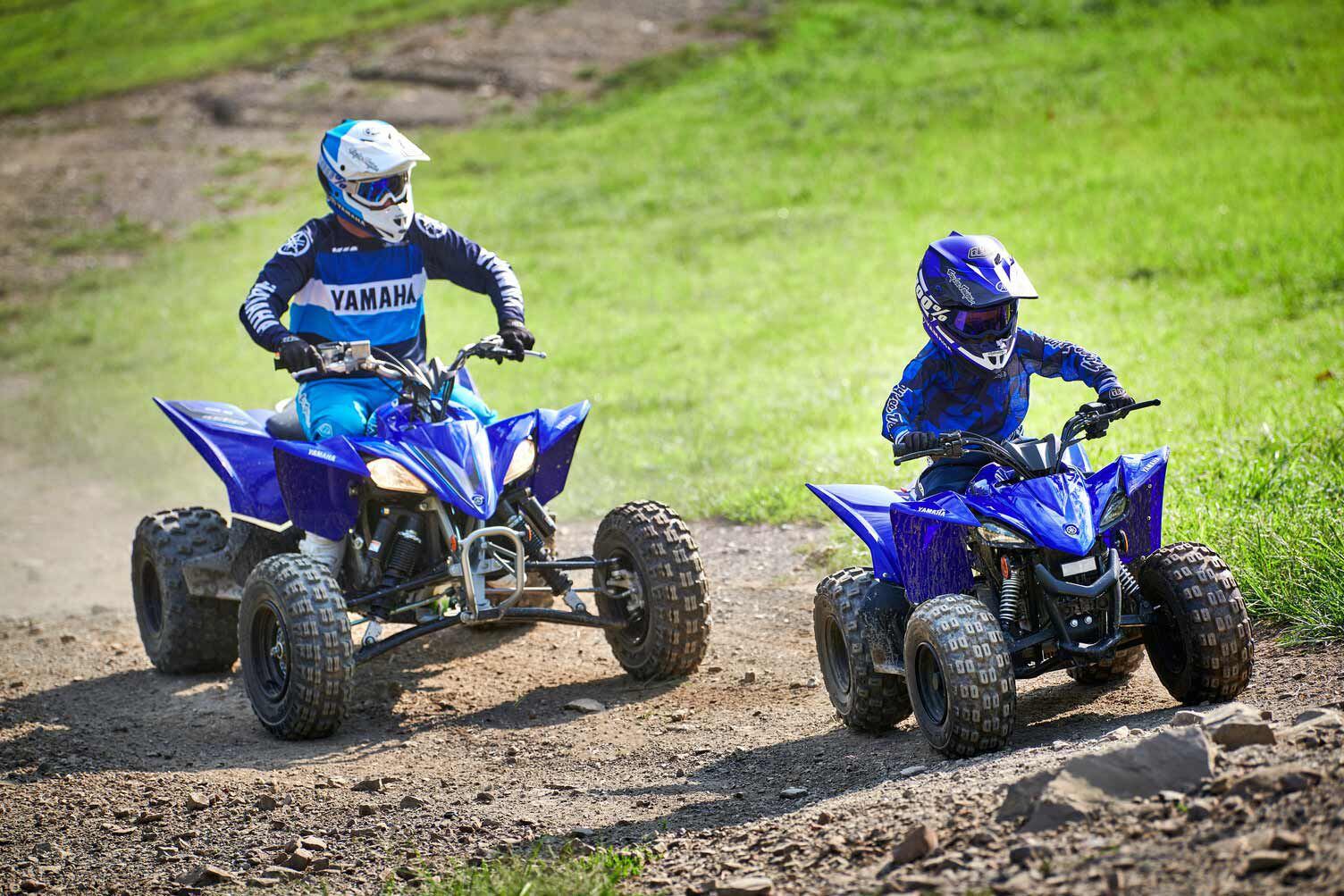 The 2022 Yamaha YFZ50 gets its sporty looks from the race-ready Yamaha YFZ450R. (Yamaha/)
Overview
The 2022 Yamaha YFZ50 is the brand's smallest ATV geared toward its youngest audience. It's low on features, but also has a low buy-in price and great wannabe-full-size looks that are spot-on for its intended purpose.
Updates for 2022
There are no updates to the YFZ50 for 2022.
Pricing and Which One to Buy
2022 Yamaha YFZ50 MSRP: $2,199
If you have a child older than the age of 6 who wants to get into ATVs, the YFZ50 is a great place to start. For 2022 it is available in the iconic Team Yamaha Blue paint scheme as well as white plastics.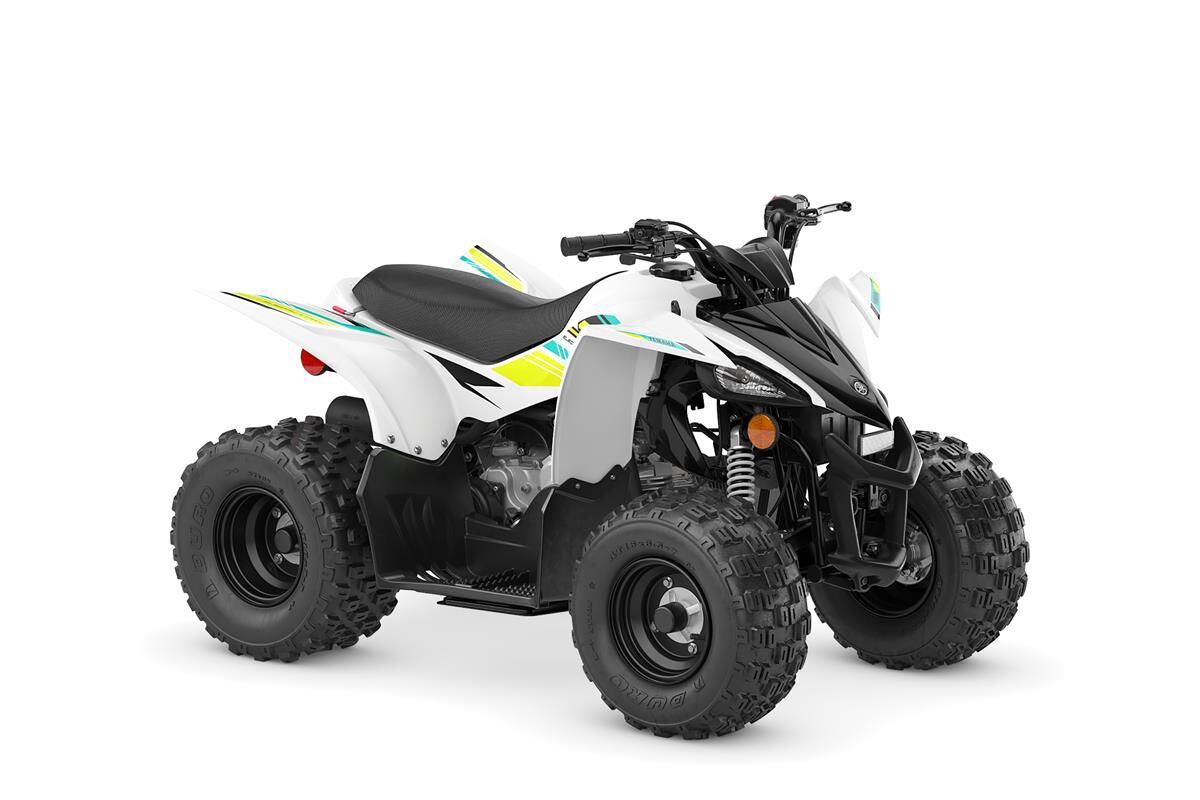 The 2022 Yamaha YFZ50 is also available in white with sport-inspired graphics. (Yamaha/)
Powertrain: Engine, Transmission, and Performance
The YFZ50 doesn't need much power to excite those who ride it, and the 49cc engine isn't exactly about to set the world on fire, but it's suitable for the age group's purpose. The engine is a simple but durable air-cooled design with a carburetor that is easy to maintain. The YFZ50′s transmission is an automatic CVT without reverse. Fire it up, give it a little gas, and forward motion eases in automatically. Power gets to the rear wheels via chain final drive.
Handling
Kids will think the YFZ50 is comparable in its handling prowess to the larger Yamaha sport ATV. Its front suspension architecture is somewhat antiquated with a single I-arm and 2.4 inches of travel. The rear suspension uses a swingarm design like any true sport quad, and a single shock provides 2 inches of travel
Low-profile Duro tires are motocross inspired for better handling in corners, making the YFZ50 a stellar choice for mini-moto-track riding.
Brakes
The YFZ50 uses dual drum brakes up front and a single drum in the back. A handlebar-mounted parking brake keeps it stationary when parked.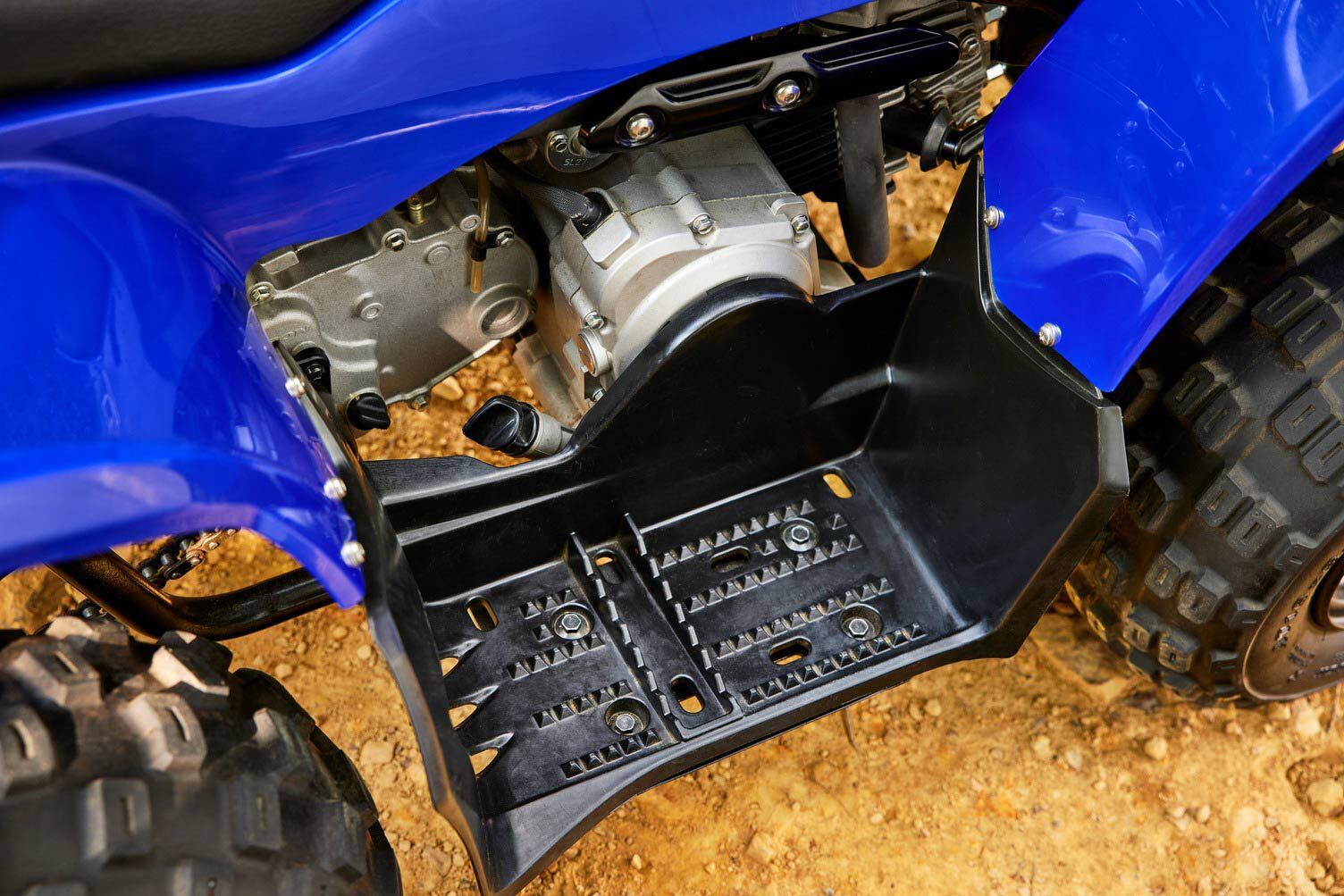 Deep footwells provide plenty of room and protection for small boots and legs. (Yamaha/)
Ergonomics: Comfort and Utility
The YFZ50 is in fact a small machine and larger kids will be cramped on it, but for smaller riders 6 and older it's ideal. The handlebars are narrow but still big enough to provide easy leverage when turning. The seat is comfortable and flush with the tank, which makes transitioning from front to back easy when adjusting weight and balance. All of the hand controls are minimal so as not to be confusing, but installed within easy grasp. Finally, footwells are wide for easy movement and do a better job of protecting small legs than traditional footpegs.
Towing
The YFZ50 is not rated for towing.
Electronics
The YFZ50 has electric start, but parents will be most interested in the fact that the machine comes standard with a throttle limiter and power cutoff tether for added safety.
Warranty and Maintenance Coverage
Yamaha's six-month limited factory warranty comes standard with the YFZ50.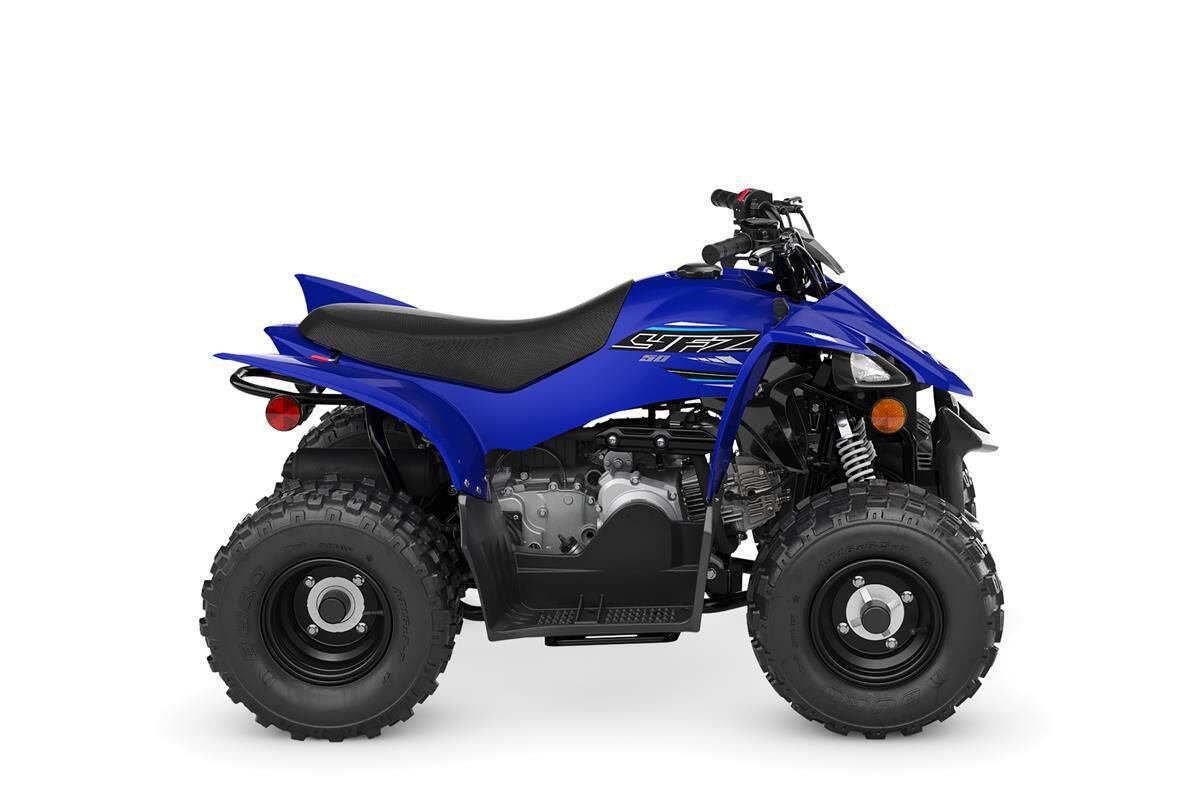 The 2022 Yamaha YFZ50. (Yamaha/)
2022 Yamaha YFZ50 Claimed Specs
| | |
| --- | --- |
| MSRP: | $2,199 |
| Engine: | SOHC, air-cooled, four-stroke single-cylinder; 2 valves/cyl. |
| Displacement: | 49cc |
| Bore x Stroke: | 39.0 x 41.4mm |
| Compression Ratio: | 8.5:1 |
| Transmission: | CVT |
| Claimed Horsepower: | N/A |
| Claimed Torque: | N/A |
| Fuel System: | Carburetor |
| Drivetrain: | Chain-driven 2WD |
| Front Suspension: | I-arm; 2.4 in. travel |
| Rear Suspension: | Single-shock swingarm; 2.0 in. travel |
| Front Brakes: | Dual sealed drum |
| Rear Brakes: | Drum |
| Wheels, Front/Rear: | Steel; 8 in. |
| Tires, Front/Rear: | 16×6.5-7 / 16×7-7 |
| Length: | 49.2 in. |
| Width: | 32.3 in. |
| Height: | 30.3 in. |
| Wheelbase: | 32.7 in. |
| Rack Capacity: | N/A |
| Towing Capacity: | N/A |
| Seat Height: | 23.0 in. |
| Ground Clearance: | 3.5 in. |
| Steering: | Manual |
| Turning Radius: | N/A |
| Claimed Dry Weight: | 220 lb. |
| Fuel Capacity: | 1.5 gal. |
| Warranty: | 6-month limited factory warranty |
| Minimum Operator Age: | 6 |
| Availability: | Now |
| Contact: | yamahamotorsports.com |