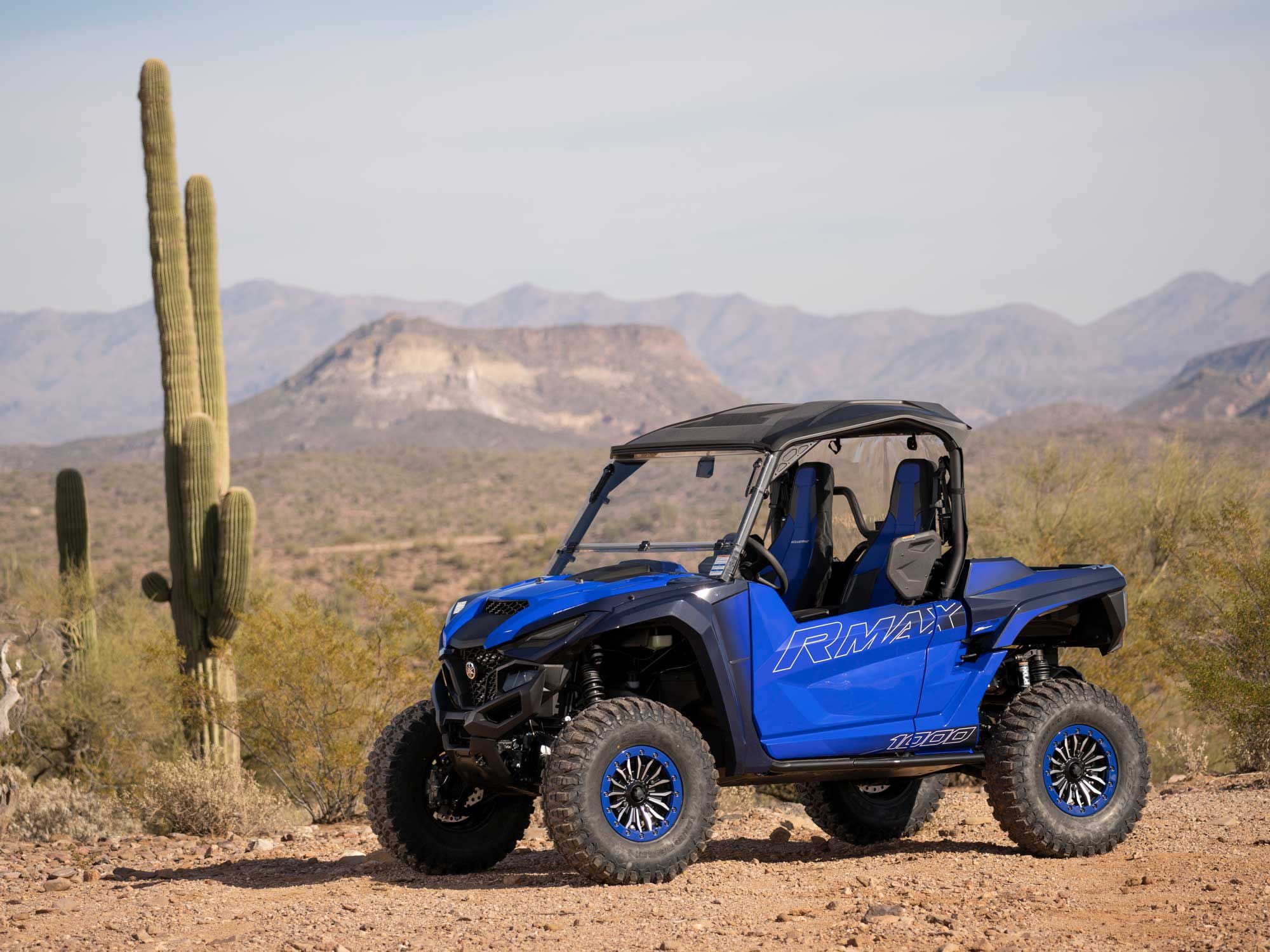 2022 Yamaha Wolverine RMAX2 1000 Sport (Dave Schelske /)
As the editor of ATV Rider, I don't get behind the wheel much since I'm more in tune with a set of handlebars. In fact, the last time I drove a Yamaha Wolverine, it had handlebars. So when UTV Driver's editor-in-chief had to bow out of the press introduction for the 2022 Yamaha Wolverine RMAX2 1000 Sport in Arizona, I happily agreed to fill the void. I've reviewed plenty of UTVs in the past and I own a side-by-side, but this would be my first time behind the wheel of a Yamaha Wolverine RMAX2 1000.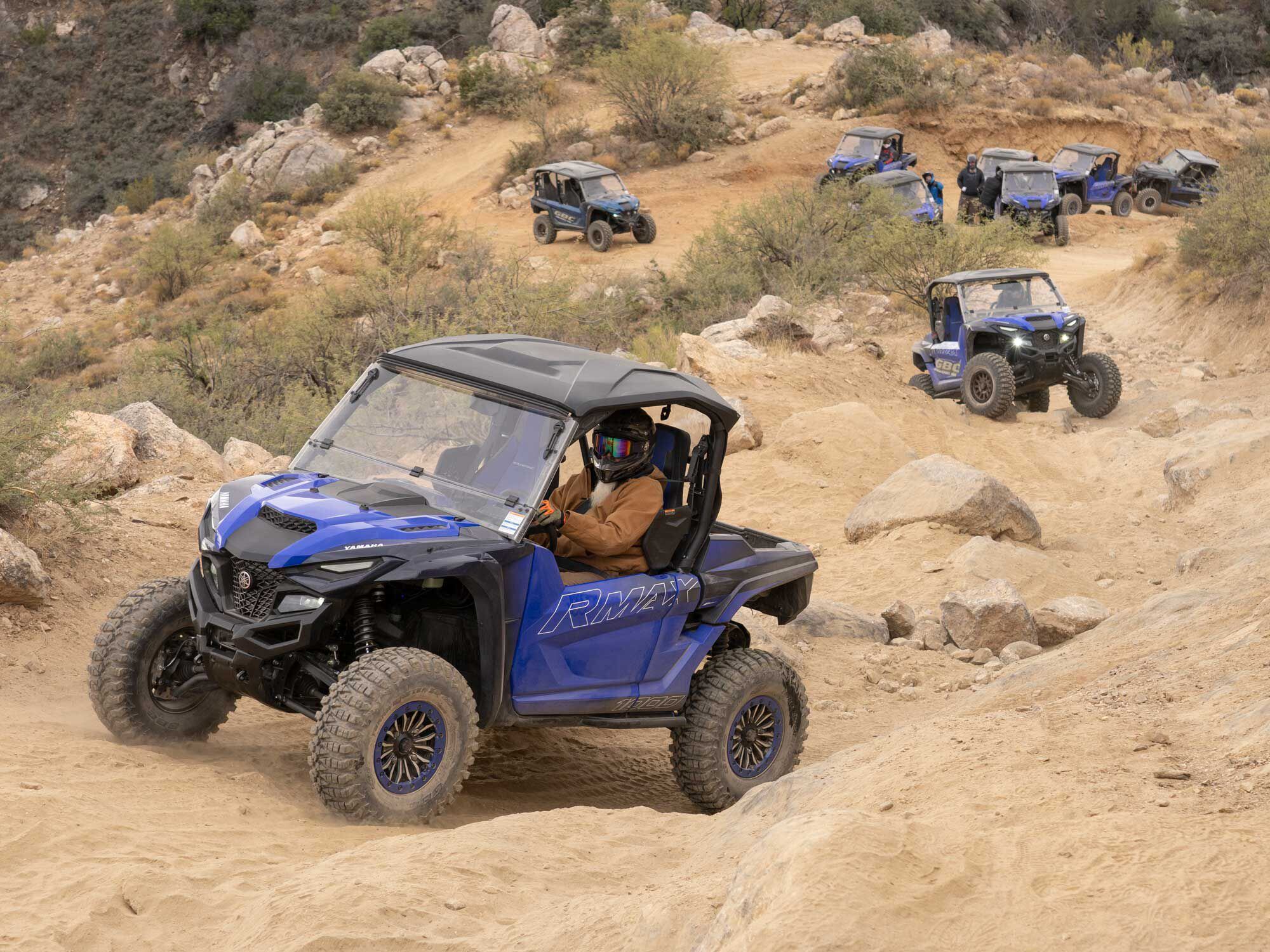 The back way to Crown King Trail offers a little bit of everything and can occasionally get extreme. (Dave Schelske/)
The Back way to Crown King
I soon learned that our test trail was one that I have covered at least 50 times over the years, and it's right in my backyard: the back way to Crown King, Arizona. The trail starts in the desert and saguaros north of Phoenix and climbs through the Hieroglyphic Mountains to the pine tree-lined town of Crown King. Elevation begins at approximately 1,000 feet and ends at 6,500 feet. The trail is extremely rocky in parts, occasionally crosses water, has a few alternate and very difficult rock crawling lines, and hugs the side of a mountain as it leads into historic Crown King. The rugged trail is perfect for high- and low-speed suspension testing.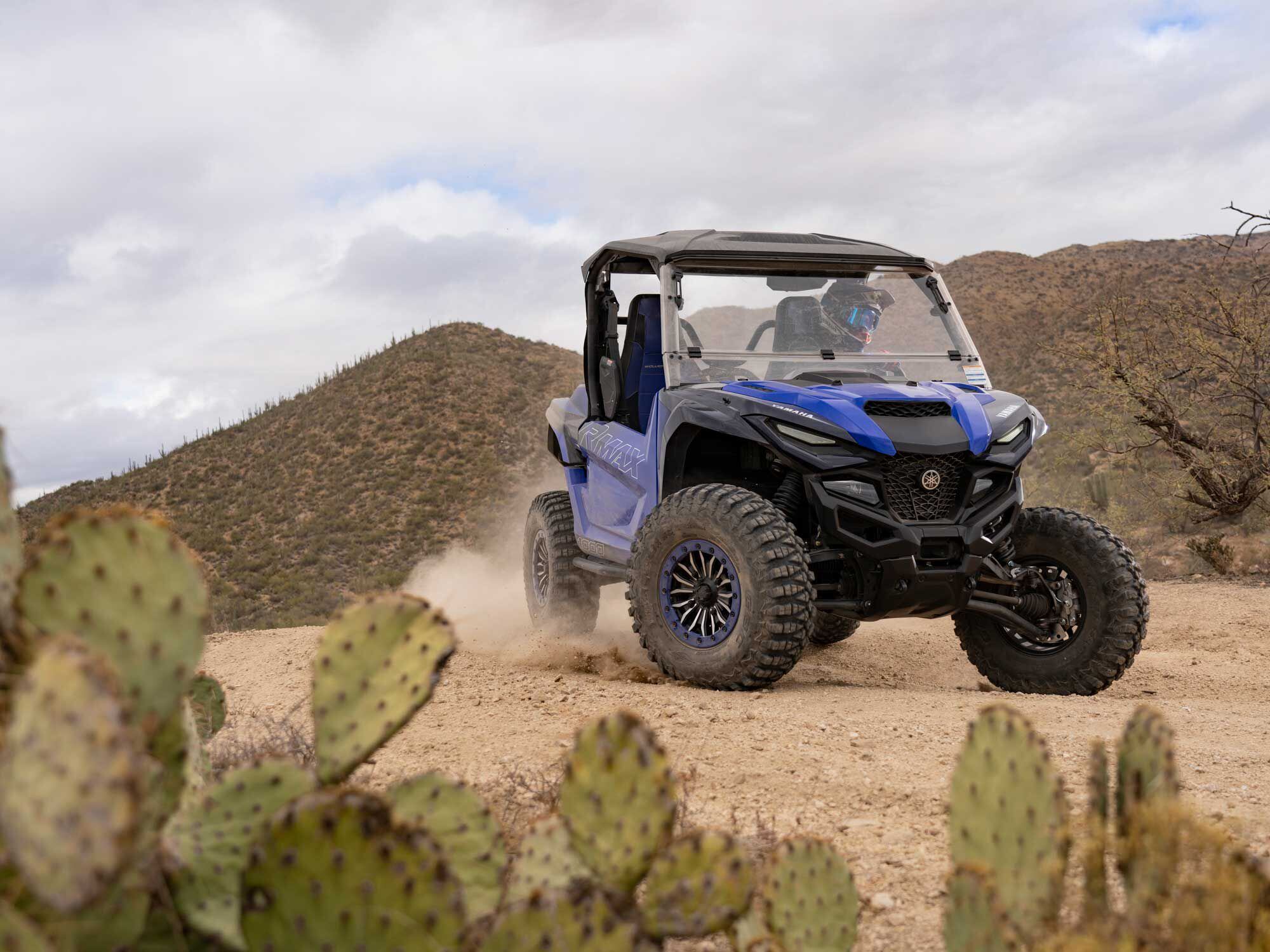 Sand, trail, rocks, and mud: The 2022 Wolverine RMAX2 1000 Sport might just be the best do-it-all side-by-side to date. (Dave Schelske/)
Creature Comforts
Yamaha claims the RMAX2 1000 Sport is targeted at the consumer who wants pure-sport-type handling and performance, the ability to take on extreme terrain, a comfort-focused interior that retains a sporty image, and recreation category cargo space. The latter doesn't refer to hauling weight so much as the ability to carry more stuff. When I look at this machine, I see the perfect vehicle for a weeklong camping trip down the Baja peninsula to catch the best vantage point for the Baja 1000. I can strap down a tent, sleeping bag, food, clothes, and all of my camera and video gear with multiple steel anchor points. And once camp is set, I can use the 600-pound-capacity hydraulic dumb bed to make a firewood run.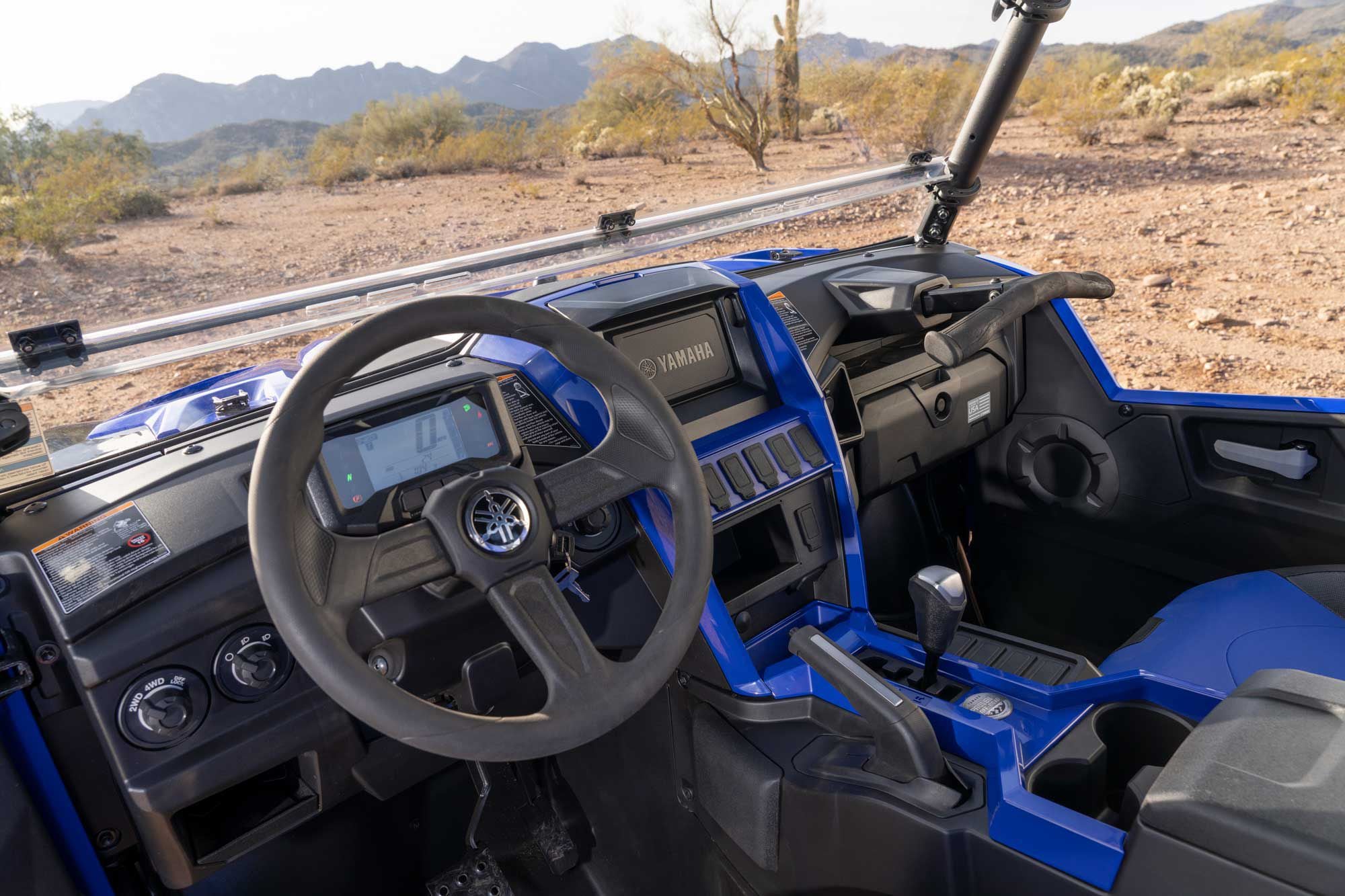 Interior fit and finish is second to none. (Dave Schelske/)
Sliding into the seat, I found the interior comfortable for my 6-foot frame, though I did want a little more legroom. The doors shut firmly without any play or annoying rattle. In fact, everything inside the cab has a solid fit and feel. The seatbelts are six-position adjustable for different sized riders. Cut and sew seats offer wide bolstering and a plush feel for larger-than-average occupants. There are soft touch points everywhere that your legs and arms touch to prevent rubbing your skin raw in bumpy conditions. After a full day of riding, I can attest that the touch points work. Other stylish and functional interior features include blue LED-lit switches, blue console and floor lighting, 17 degrees of tilt steering adjustment, a new adjustable and ergonomically correct passenger handhold, plenty of personal storage space, and drink holders.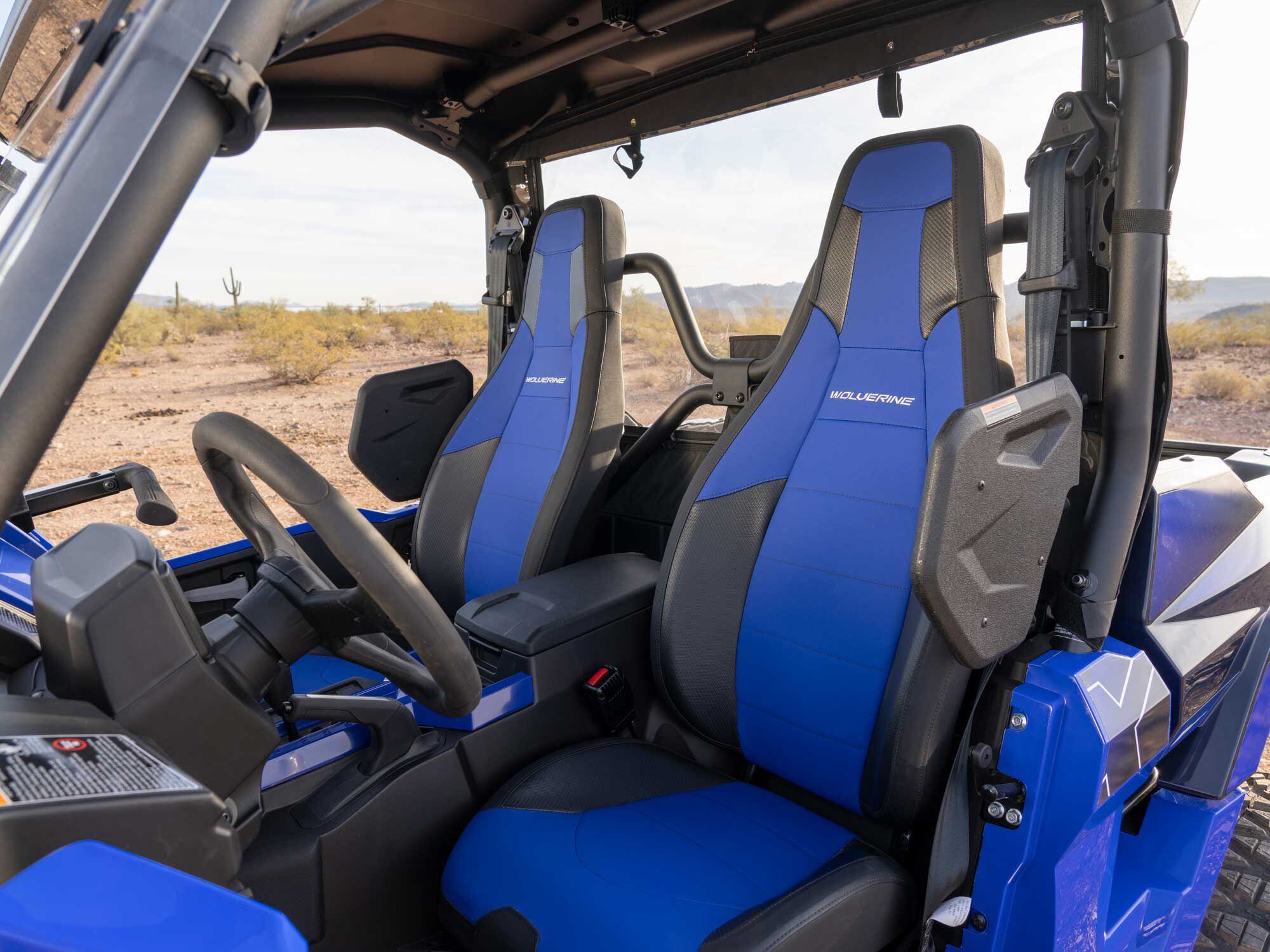 Stitch and sew seats are contoured to be comfortable for even the largest of riders. (Dave Schelske/)
Driving
With the engine warmed up, we hit the trail.
If you haven't heard about Yamaha's D-mode selector, it's a dash control that toggles between three levels of performance for different trail situations. Sport is for fast trails and sand, the Trail setting is for casual trail riding, and Crawl favors technical trails and rock crawling. The driver can switch between different modes on the fly by turning the dial to the desired mode and backing off the gas for a split second. Yamaha uses a dial selector knob rather than a rocker switch, so you're not constantly staring at a dash indicator light to make sure you're in the right setting. Just turn the dial and go. Each mode is distinctly different in how power is delivered, but all three still let you have maximum power when you need it.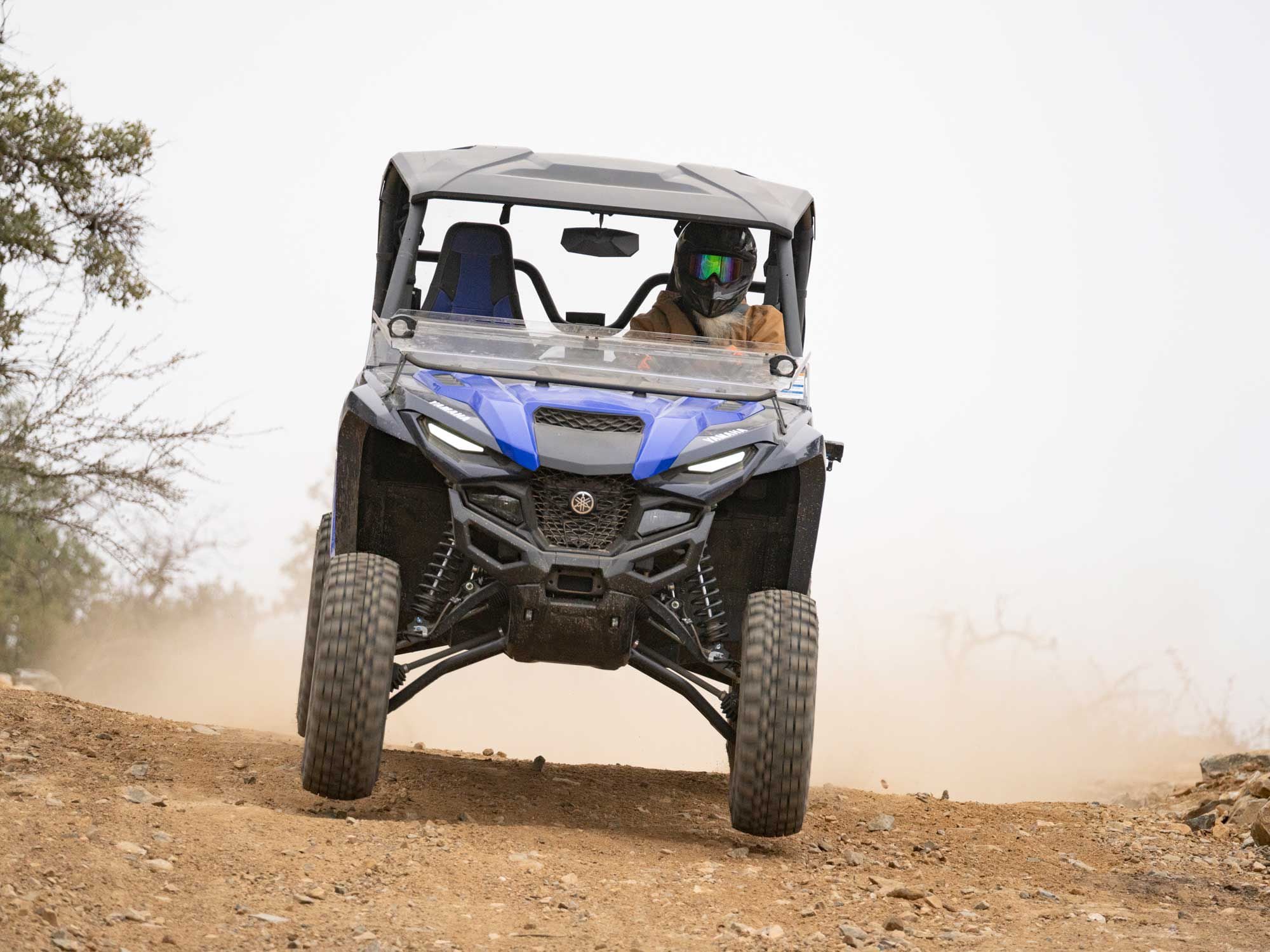 With D-mode set to Sport, acceleration is snappy. (Dave Schelske/)
I started off the ride with D-mode set to Sport. Hard stabs of the gas produce snappy acceleration thanks to Yamaha's Ultramatic CVT transmission, which keeps constant tension on the drive belt. Yamaha has so much faith in this transmission that it warrants the drive belt for 10 years.
As I said, I've never driven a Yamaha RMAX before, but the two features that impressed me the most are what separates the RMAX2 Sport from the rest of the RMAX family.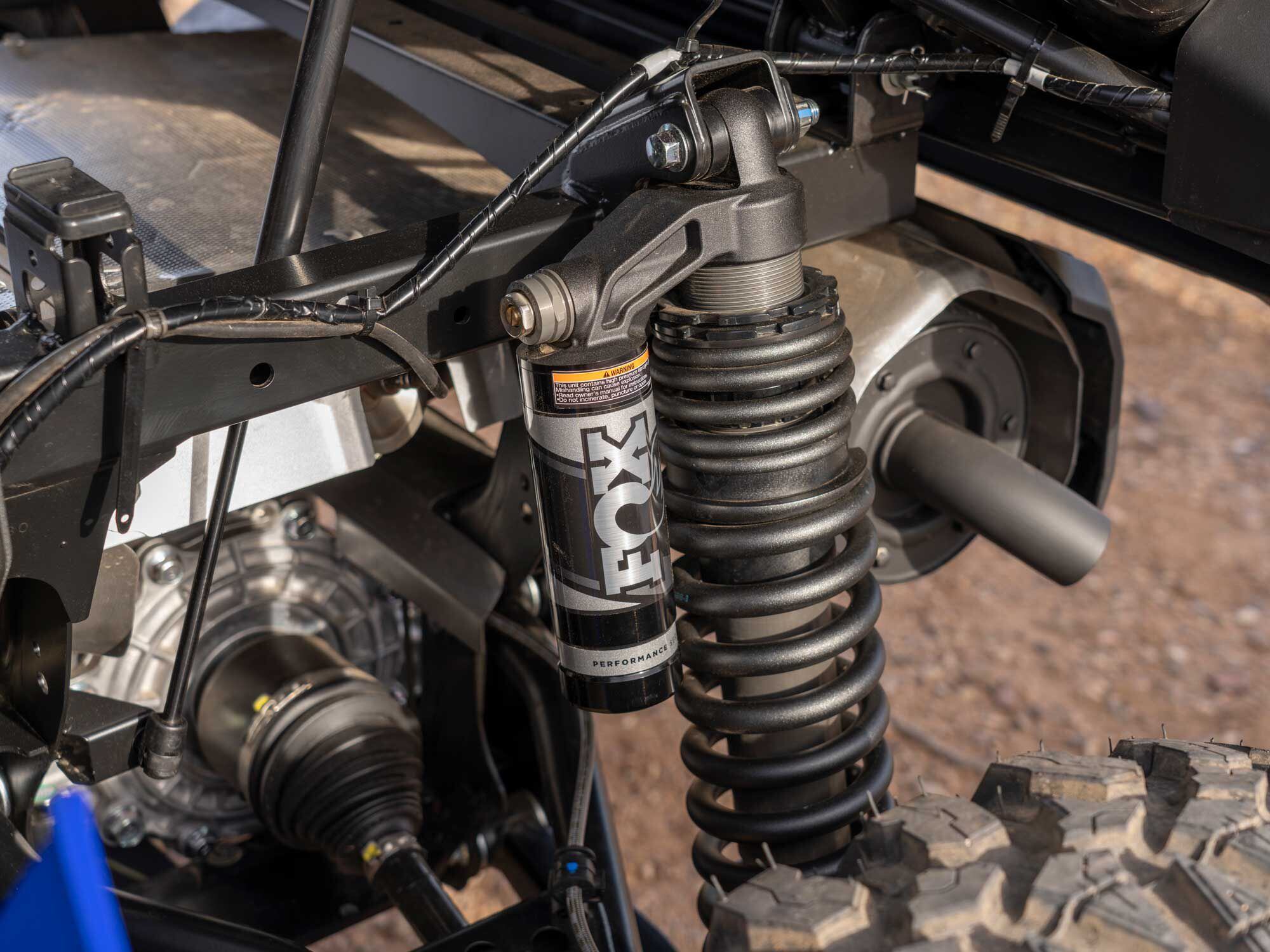 Fox 2.0 piggyback reservoir shocks offer increased cooling capacity, dual rate springs with preload and crossover adjustment, and high- and low-speed compression adjustment. (Dave Schelske /)
Suspension
The RMAX2 Sport is fitted with Fox 2.0 piggyback reservoir shocks with dual rate springs and adjustable preload and crossover. Low- and high-speed compression can also be changed with 25 clicks of low-speed compression adjustment and 26 clicks of high-speed adjustment. The suspension is designed to have improved high-speed bottoming resistance. It's also aimed at keeping the tires in contact with the terrain for a more confident feel when cornering at higher speeds. You say you like to slide around corners? Well, the RMAX lets you bust out your finest Hoonigan drift with more predictable precision.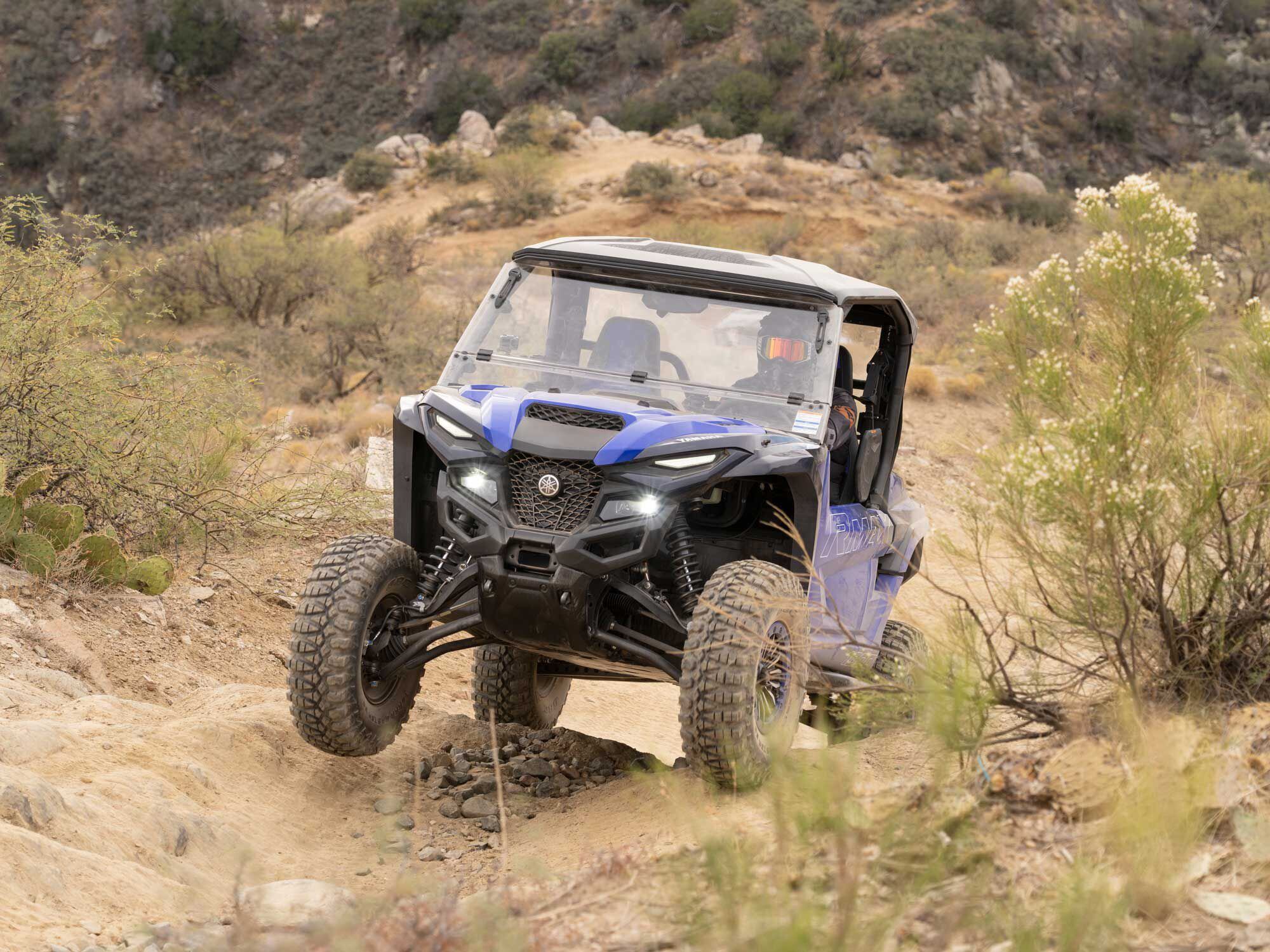 This recreational side-by-side packs pure-sport-level suspension travel. (Dave Schelske/)
The back way to Crown King is overrun with giant boulders, embedded baby heads, and braking bumps around every corner. Recent rains had carved deep ruts across the trail. With suspension travel numbers that rival some pure sport side-by-sides—14.2 inches up front and 16.9 inches at the rear—the RMAX2 Sport virtually turned everything ahead of me to butter. I usually come away from this trail with a decent amount of muscle pain and a sore neck, but that just didn't happen with the RMAX2 1000 Sport.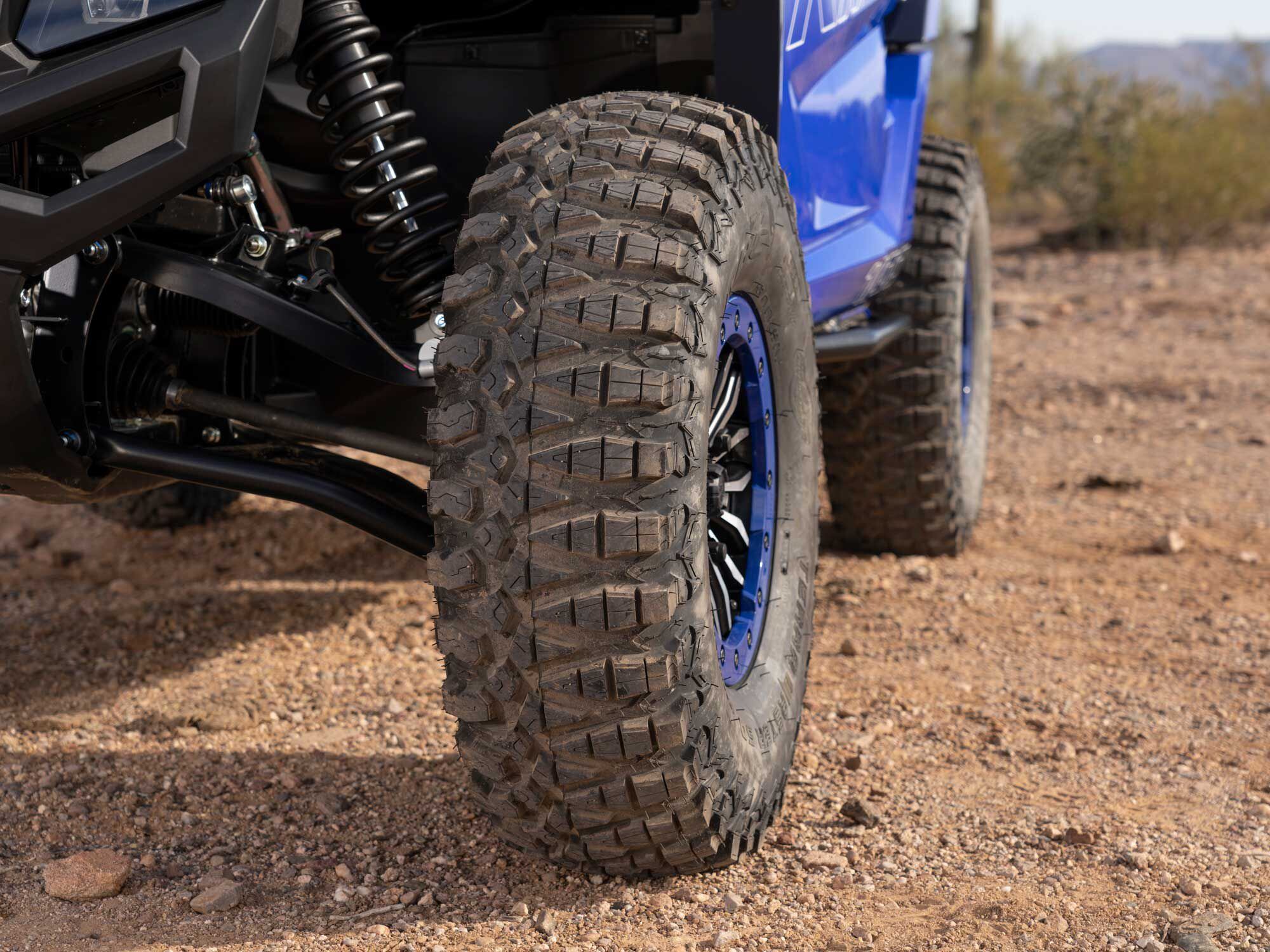 GBC Terra Master SQ tires have an exclusive A- and B-side for hard- or soft-terrain selection. The tires come mounted on beadlock wheels. (Dave Schelske/)
Tires
My favorite feature on the RMAX2 Sport, and this is likely a first for me on any machine, is the tire choice. Mounted on the same beadlock wheels that come on the front of the YXZ1000R, Yamaha partnered with GBC to develop the Terra Master SQ tire. Similar to the original Terra Master, these tires have a square shoulder profile designed for more predictable steering and sliding. And they look wicked cool.
The Terra Masters are 10-ply rated and made with a lightweight, steel-belted design for better wear resistance. The design isn't nearly as stiff as other tires, allowing the rubber to flex and provide a wider contact patch. Increased durability means they can also be run at lower psi for an even softer ride and more aggressive grip when climbing rocks.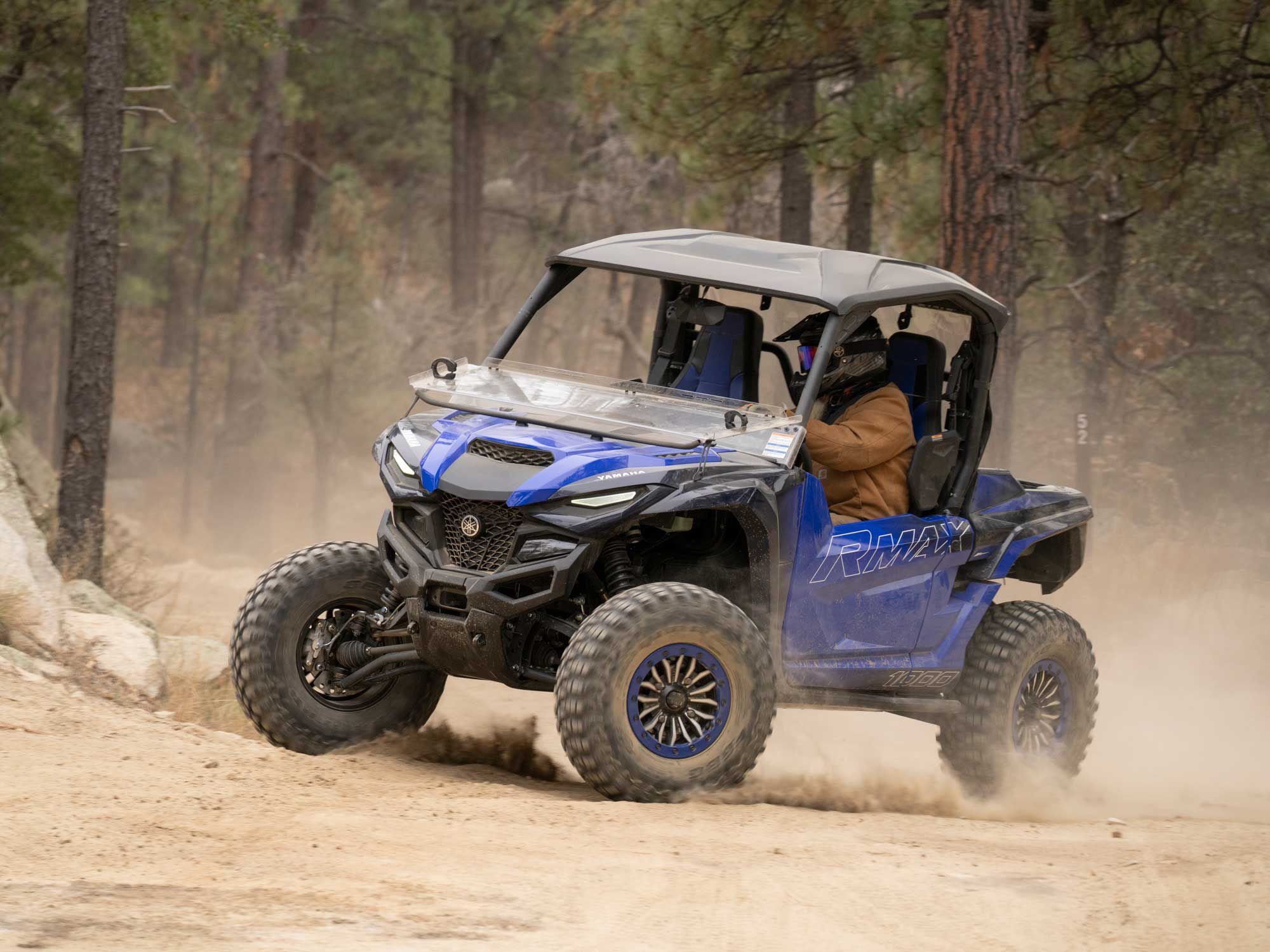 You'll be hard-pressed to find any vehicle that corners better in loose and uneven terrain. (Dave Schelske/)
GBC Terra Masters are also the only UTV tire to offer an A-side and a B-side for different terrain types. The RMAX 1000 Sport comes stock with the tires mounted on the A-side, which is designed for soft to intermediate terrain. There's more gap between the horizontal-shaped lugs to increase traction and sliding predictability over loose terrain. Flip the tires to the B-side and you're set up for intermediate to hard terrain. The outer lugs are spaced closer together for more surface contact.
All four tires and wheels are the same size, so they can be easily rotated. And a single spare tire is all you need to in the event of a front or rear flat.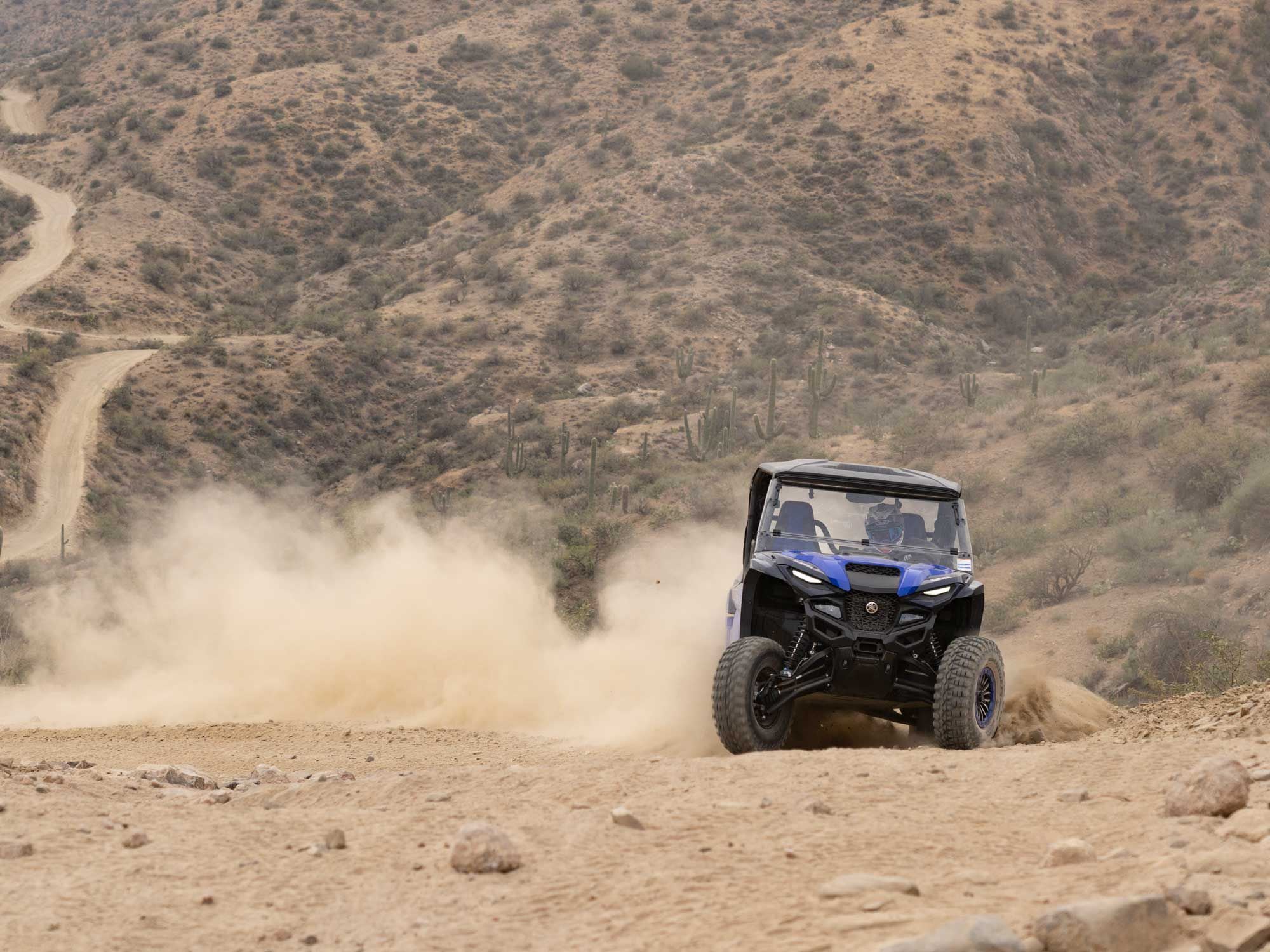 If drifting is your thing, the RMAX2 1000 Sport does it with predictable precision. (Dave Schelske/)
It might all sound like a gimmick, but the GBC Terra Master SQ tires work and do exactly as advertised. About midway, the trail begins to hug a mountainside, winding in and out of the mountain's gullies and climbing quickly into the pine trees. Blowing a corner would make for a very long, steep, and fast trip back to the bottom. The outside corners are riddled with braking bumps, which typically cause rear tires to break loose while navigating turns with even a fair amount of speed. The result can be unnerving. But the wider and more flexible contact patch of the GBC Terra Master tire stuck to the uneven terrain. I found myself pushing a little harder around each corner, always with the same result.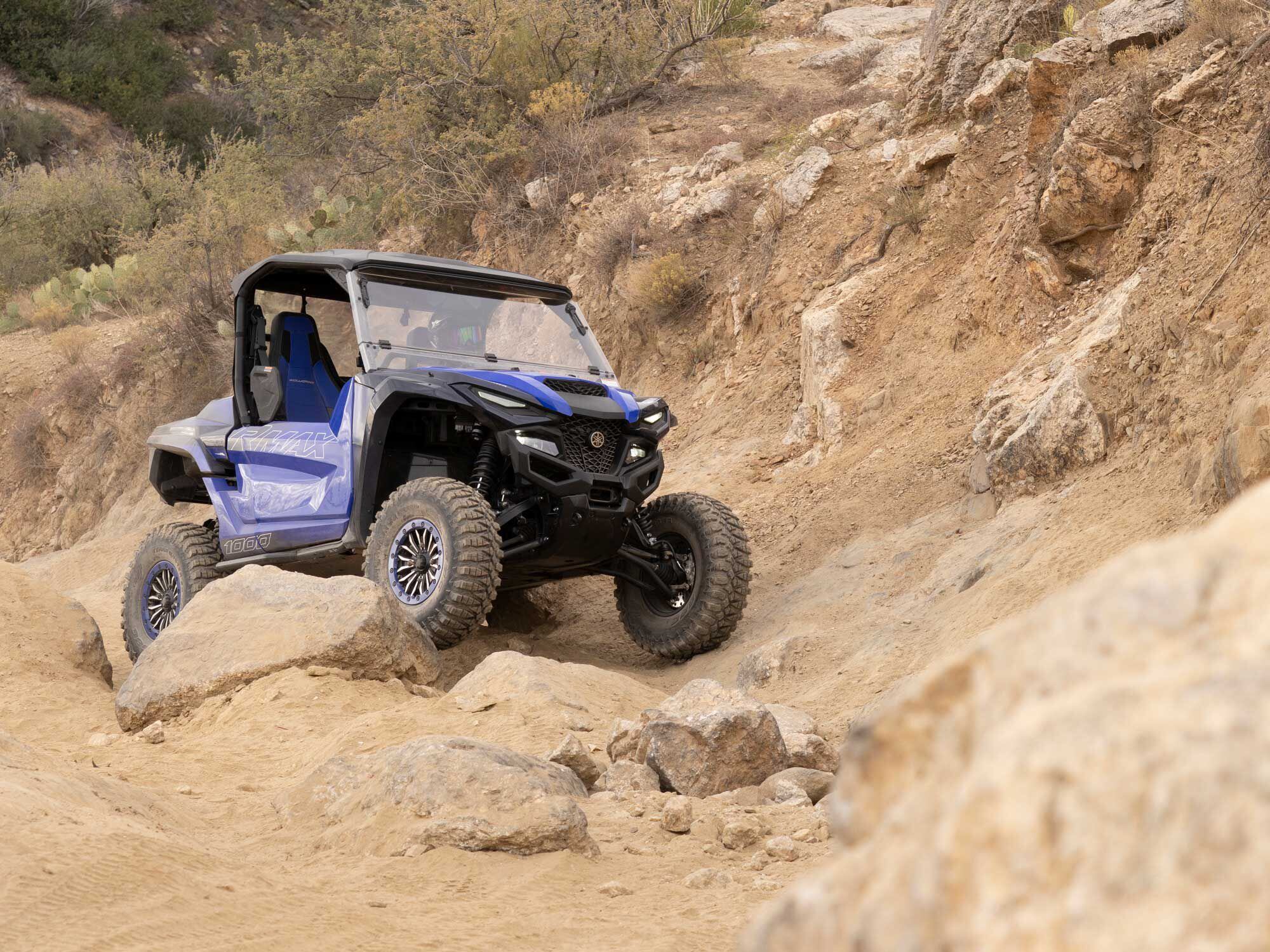 GBC Terra Master SQ tires love gripping rocks—even the slippery ones. (Dave Schelske/)
The alternate rock crawling lines on the Crown King trail are difficult and not for novice drivers. These rocks have claimed more than their fair share of destruction to all sorts of vehicles, especially jeeps and UTVs. With the D-mode knob switched to Crawl, the transmission in low range, and diff-lock 4WD engaged, I began the ascent up my first of several rugged climbs. Crawl mode provides smooth and predictable throttle response as the front Terra Masters gripped the first vertical rock face. As the tires crested the top of the dusty ledge, they squished against the surface and pulled the RMAX2 Sport up and over without any hint of slippage. I have never been this impressed by any other off-road tire. At the end of the day, approximately a dozen RMAX2 1000 Sport side-by-sides completed this blistering trail without a single flat tire.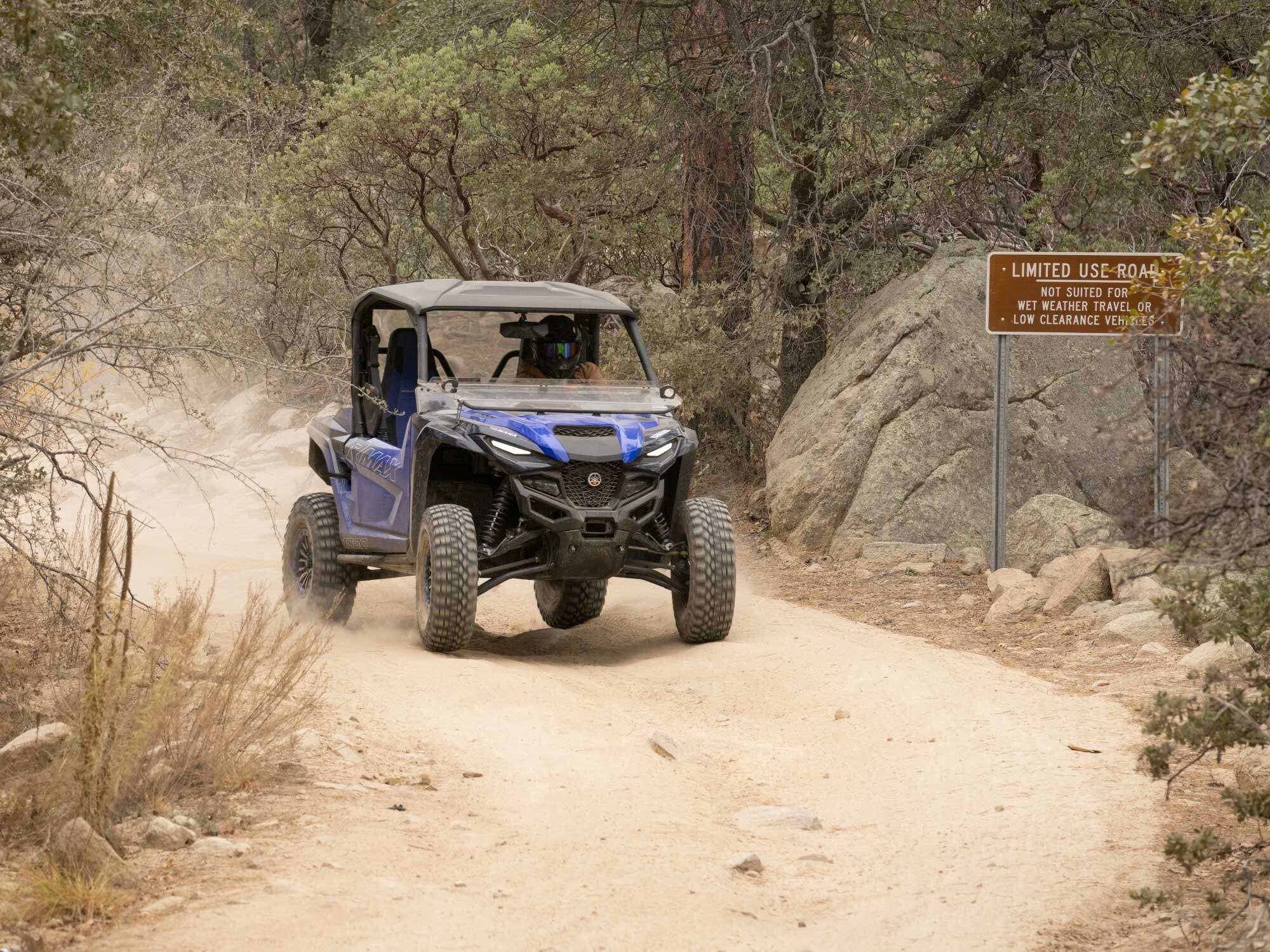 Through 70-plus miles of gnarly terrain, the Yamaha Wolverine RMAX2 1000 Sport came away rock solid. (Dave Schelske/)
Happy Trails
Back at the bottom of the mountain, my turn behind the steering wheel had come to an end. After 70-something miles of rocks, bumps, and steep climbs, the Yamaha Wolverine RMAX2 1000 Sport stood as solid as it did that morning. Not once did I detect any creaking, popping, hard flexing, or annoying door and seat rattling. The folks at Yamaha take a tremendous amount of pride in their products and the results speak for themselves. At the end of the day, I walked away a believer.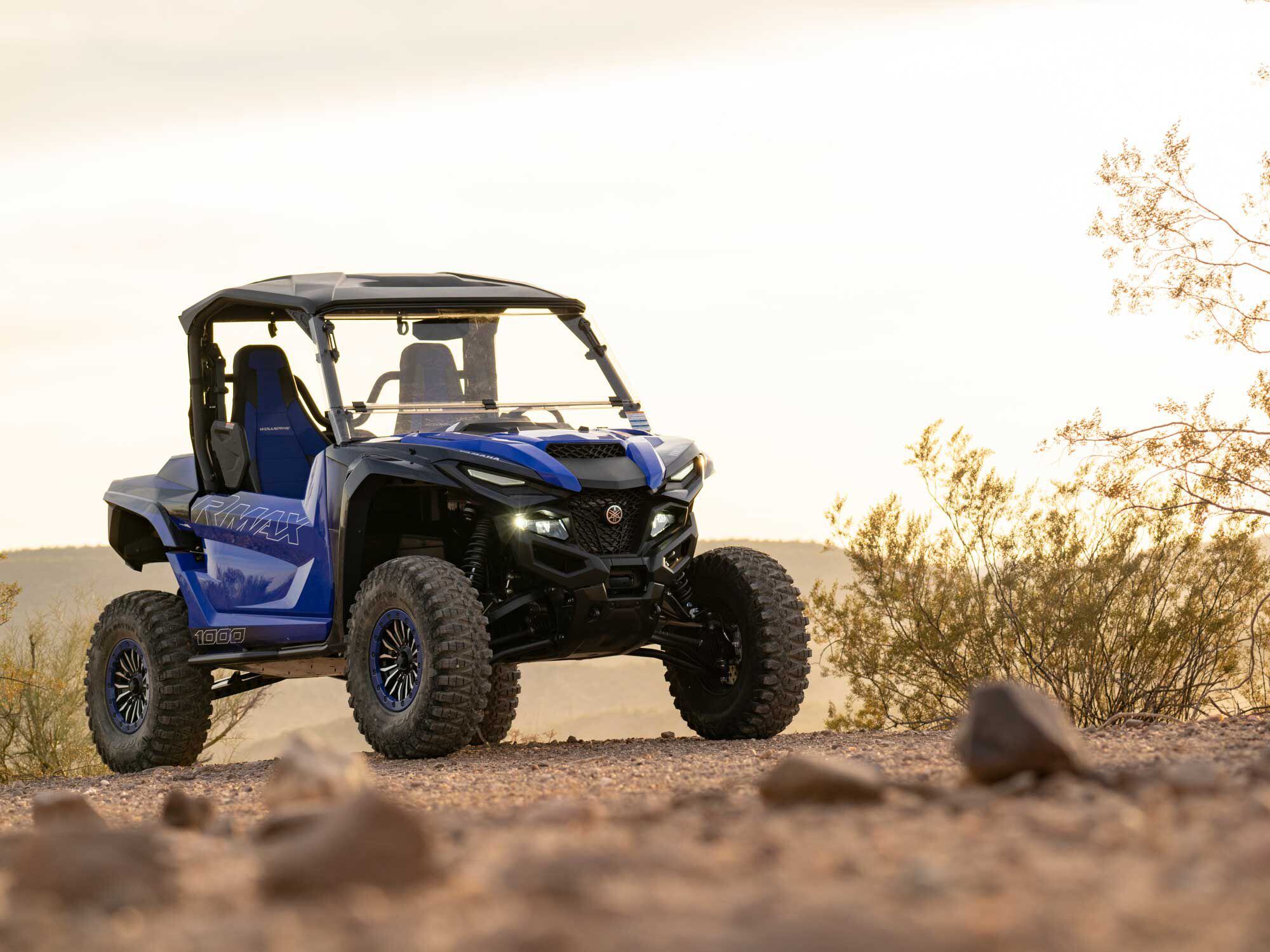 The Yamaha Wolverine RMAX2 1000 Sport leaves little to complain about. (Dave Schelske/)
2022 Yamaha Wolverine RMAX2 1000 Sport Claimed Specifications
| | |
| --- | --- |
| Price: | $22,599 |
| Engine: | DOHC, liquid-cooled, 4-stroke parallel twin; 4-valve |
| Displacement: | 999cc |
| Bore x Stroke: | 93.0 x 73.5mm |
| Compression Ratio: | 11.2:1 |
| Transmission: | Yamaha Ultramatic V-belt w/ high/low range, reverse, engine-braking |
| Claimed Horsepower: | N/A |
| Claimed Torque: | N/A |
| Fuel System: | Yamaha fuel Injection w/ 48mm throttle bodies |
| Steering: | EPS |
| Drivetrain: | 2WD, 4WD, full diff-lock 4WD |
| Front Suspension: | Independent double wishbone w/ anti-sway bar, Fox 2.0 piggyback shocks, preload, high/low-speed compression adjustable; 14.2 in. travel |
| Rear Suspension: | Independent double wishbone, Fox 2.0 piggyback shocks, preload, high/low-speed compression adjustable; 16.9 in. travel |
| Front Brakes: | Dual hydraulic disc |
| Rear Brakes: | Dual hydraulic disc |
| Wheels, Front/Rear: | Beadlock; 14 in. |
| Tires Front/Rear: | GBC Terra Master; 30x10R-14 |
| Length: | 119.3 in. |
| Width: | 66.1 in. |
| Height: | 77.8 in. |
| Wheelbase: | 86.7 in. |
| Bed Capacity: | 600 lb. |
| Towing Capacity: | 2,000 lb. |
| Max Seating Capacity: | 2 |
| Ground Clearance: | 13.8 in. |
| Turning Radius: | 19.7 ft. |
| Wet Weight: | 1,839 lb. |
| Fuel Capacity: | 9.2 gal. |
| Warranty: | 6-month limited; 10-year belt |
| Availability: | Now |
| Contact: | yamahamotorsports.com |