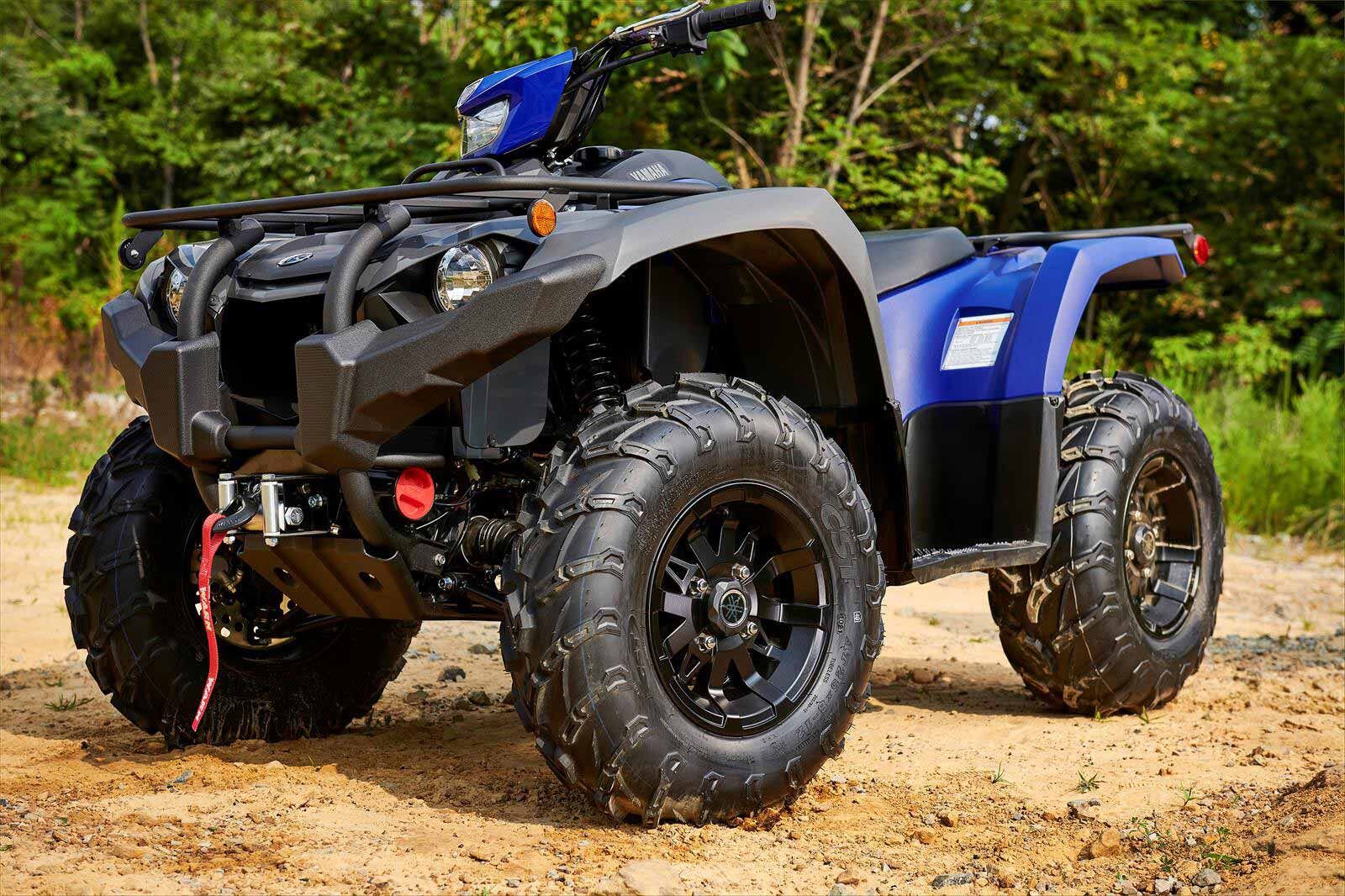 The 2022 Yamaha Kodiak 450 EPS SE in Steel Blue with standard Warn VRX 25 winch. (Yamaha/)
Ups
Engine is well matched to compact chassis, independent suspension at all four wheels, comfortable, good towing capacity with standard 2-inch receiver, affordable, limited 10-year belt warranty
Downs
No locking front differential on base model, halogen headlights instead of LED, limited colors, weak tire choice
Verdict
The 2022 Yamaha Kodiak 450 is no slouch. This midsize 4×4 ATV has enough power to tow hefty loads and tackle chores around the farm. The compact design makes it fun and easy to whip around on trails too.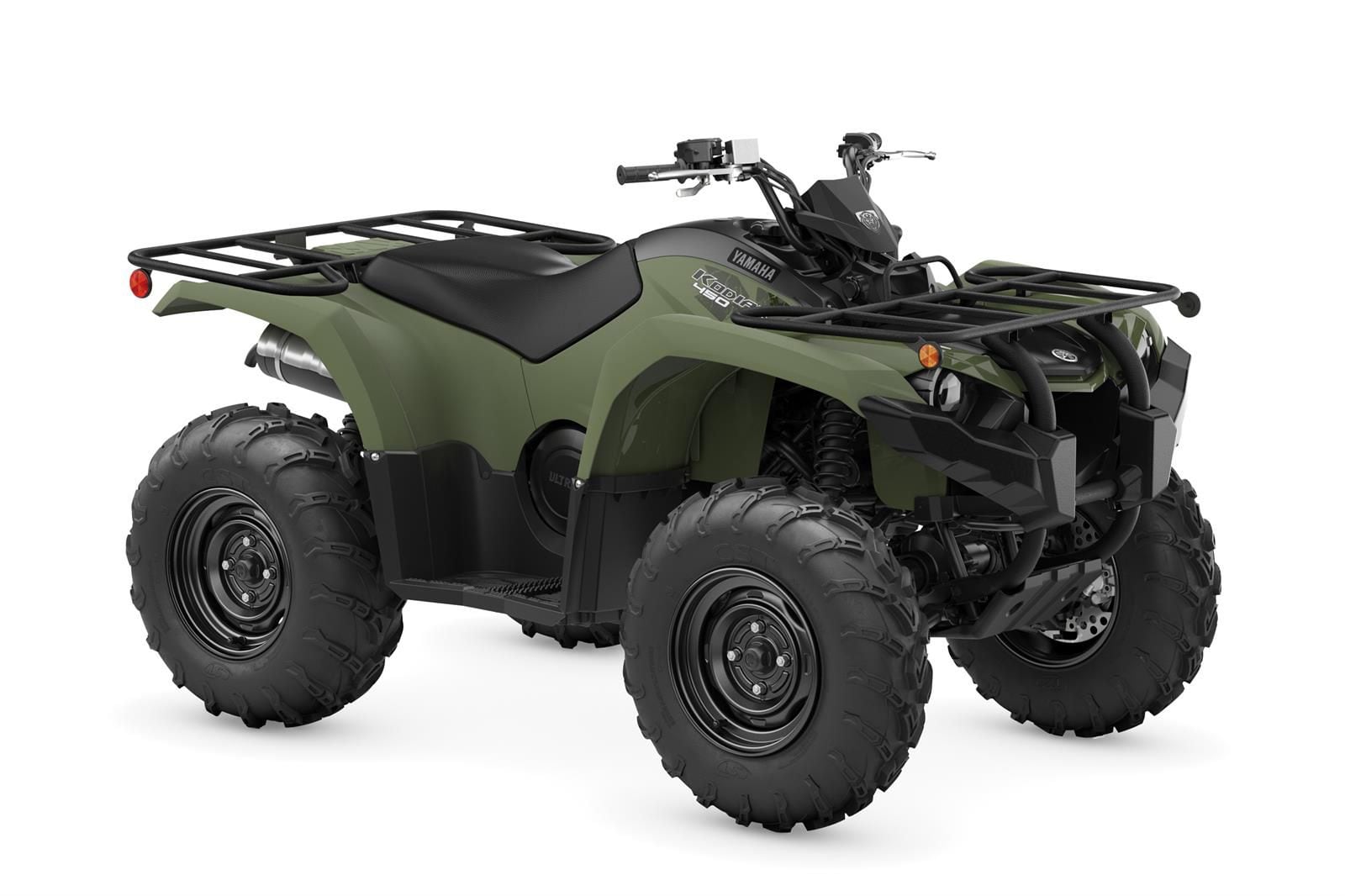 The 2022 Yamaha Kodiak 450 in Tactical Green. (Yamaha/)
Overview
The 2022 Yamaha Kodiak 450 is a midsize 4×4 ATV and a solid entry-level machine. Despite its size, the fuel-injected four-stroke 421cc engine packs a lot of pep and makes the machine fun to throw around on the trails. It's a lighter-weight ATV with an automatic transmission, making it the ideal ride for small and inexperienced riders. The compact design makes the Kodiak 450 highly maneuverable and fun for riders of all skill levels.
Updates for 2022
No changes for 2022.
Pricing and Which One to Buy
2022 Yamaha Kodiak 450 MSRP: $6,499 –$6,699
2022 Yamaha Kodiak 450 EPS MSRP: $7,599–$7,799
2022 Yamaha Kodiak 450 EPS SE MSRP: $7,899
The 2022 Yamaha Kodiak 450 comes with steel wheels and your choice of Tactical Green and Steel Blue colors, or you can get Fall Beige with Realtree Edge camo for an additional $200.
If you want power steering, a front locking differential, and/or fancy aluminum wheels, skip past the base model to the Yamaha Kodiak 450 EPS. You get all three of those features for an additional $1,100. The ease of electric power steering and a lockable front differential make the upgrade worth it.
For $300 more, the 2022 Yamaha Kodiak 450 EPS SE comes with a Warn VRX 25 winch—a good bargain without the installation hassle. This model also includes a halogen work lamp on the handlebars. The Special Edition model is only available in Steel Blue.
Powertrain: Engine, Transmission, and Performance
All models come with a 421cc liquid-cooled two-valve single-cylinder SOHC engine. The engine is fed through a 34mm EFI throttle body. The transmission includes high and low range as well as neutral, reverse, and park. The shaft-driven Kodiak comes with selectable 2WD and 4WD on the fly. The Yamaha Kodiak 450 EPS and Kodiak 450 EPS SE come with a front locking differential.
Handling
The chassis is not a full-sized ATV chassis, like the Kodiak or Grizzly 700. The Yamaha Kodiak 450 gets a more compact frame that is specifically designed around the 421cc engine. It's made to be more maneuverable and easier to zip around on trails. The Yamaha Kodiak 450 gets independent double-wishbone suspension at all four corners, and five-way preload-adjustable shocks offer 6.7 inches of travel up front and 7.4 inches at the rear. Duro all-terrain tires offer good traction, but sidewall protection could be better. There is 9.6 inches of ground clearance, even with full composite skid plate protection. EPS models require low effort for steering and EPS adapts as speed increases.
Brakes
Disc brakes with hydraulic calipers stop each front wheel. The rear braking system is a sealed multi-disc wet brake system that is virtually maintenance free.
Ergonomics: Comfort and Utility
The compact design of the Yamaha Kodiak 450 doesn't give up comfort. Footwells are large and the seat is thick with contoured foam. The shorter chassis makes the Kodiak 450 easier to throw around, which amounts to less fatigue after a full day of exploring. Rubber engine mounts eliminate engine vibration transmission to the handlebars. Storage for personal items is located under the seat.
Payload/Towing
Front and rear racks come with plenty of anchor locations for strapping down cargo. The front rack is rated for 88 pounds, and the rear rack can handle 176 pounds. The Yamaha Kodiak 450 can tow a maximum of 1,322 pounds with its standard 2-inch receiver.
Electronics
We would like to see the halogen headlights get upgraded to LEDs. A third directional pod headlight joins grille-mounted headlights. The Yamaha Kodiak EPS SE model comes with a halogen work lamp mounted to the handlebars. The wiring harness includes marine-grade waterproof connectors.
A small LCD display provides speedometer, tripmeter, transmission status, fuel level, and more.
Warranty and Maintenance Coverage
A six-month limited warranty is standard with extended terms available for purchase. Yamaha also includes a standard 10-year limited V-belt warranty on the transmission belt.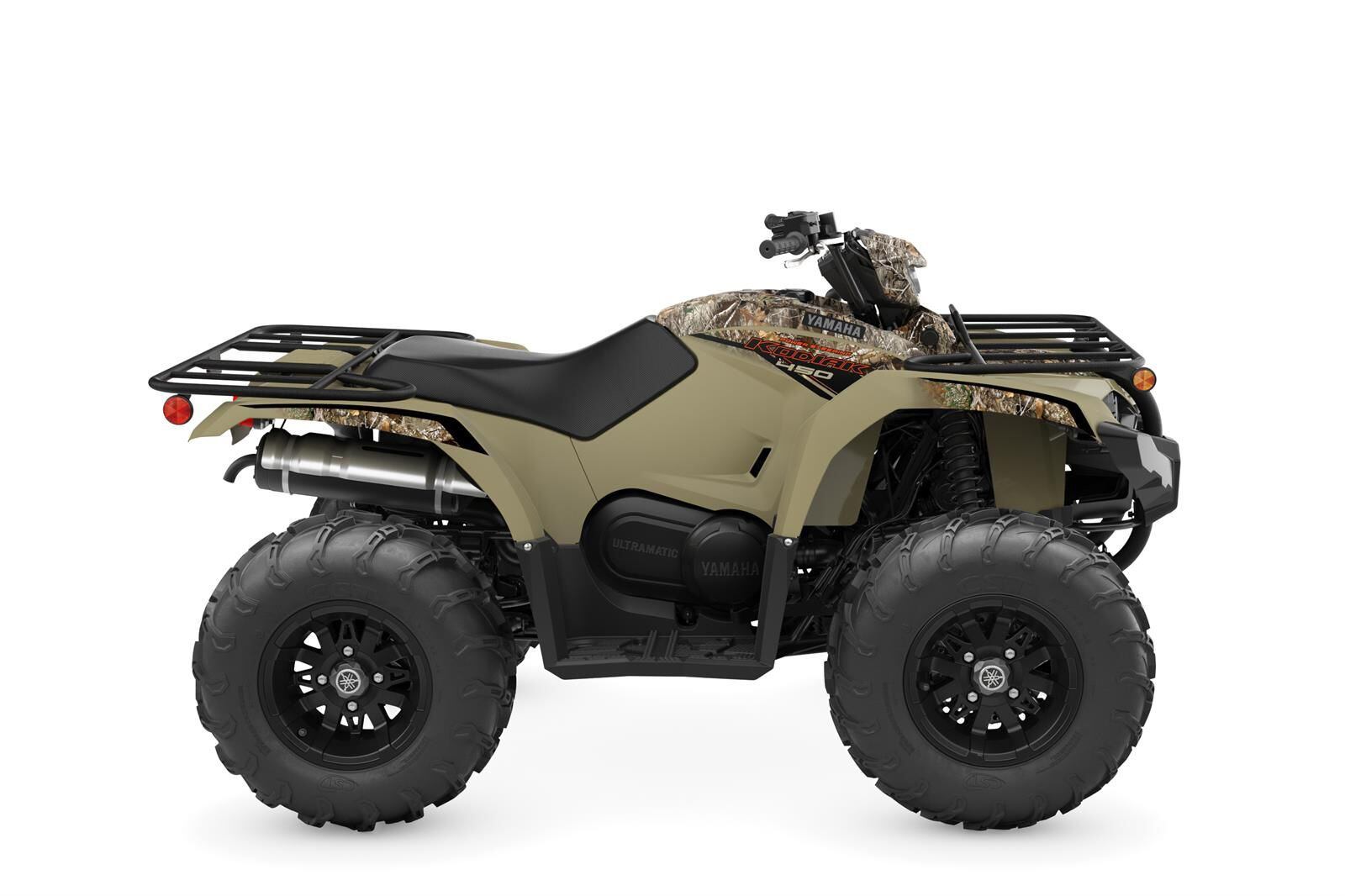 Fall Beige with Realtree Edge camo comes with a $200 premium on the base and EPS model seen here. (Yamaha/)
2022 Yamaha Kodiak 450 Specs
| | |
| --- | --- |
| MSRP: | $6,499–$7,899 |
| Engine: | SOHC, liquid-cooled single-cylinder |
| Displacement: | 421cc |
| Bore x Stroke: | 84.5 x 75.0mm |
| Compression Ratio: | 10.0:1 |
| Transmission: | Ultramatic V-belt w/ high/low range, reverse; parking, engine-braking |
| Claimed Horsepower: | N/A |
| Claimed Torque: | N/A |
| Fuel System: | EFI w/ 34mm throttle body |
| Drivetrain: | Selectable 2WD/4WD (base) / Selectable 2WD/4WD/locked 4WD (EPS, EPS SE) |
| Front Suspension: | Independent double wishbone; 6.7 in. travel |
| Rear Suspension: | Independent double wishbone; 7.4 in. travel |
| Front Brakes: | Dual hydraulic disc |
| Rear Brakes: | Multi-disk wet brake |
| Wheels, Front/Rear: | Steel (base) / aluminum (EPS, EPS SE); 12 in. |
| Tires, Front/Rear: | AT25x8-12 / AT25x10-12 |
| Length: | 80.1 in. (base, EPS) / 80.4 in. (EPS SE) |
| Width: | 46.5 in. |
| Height: | 45.7 in. (base, EPS) / 47.0 in. (EPS SE) |
| Wheelbase: | 48.8 in. |
| Front/Rear Rack Capacity: | 88 lb. / 176 lb. |
| Towing Capacity: | 1,322 lb. |
| Seat Height: | 33.7 in. |
| Ground Clearance: | 9.6 in. |
| Steering: | Manual (base) / EPS (EPS, EPS SE) |
| Turning Radius: | 126.0 in. |
| Claimed Wet Weight: | 637 lb. (base) / 650 lb. (EPS) / 680 lb. (EPS SE) |
| Fuel Capacity: | 3.7 gal. |
| Warranty: | 6-month limited warranty; 10-year limited V-belt warranty |
| Minimum Operator Age: | 16 |
| Availability: | December 2021 |
| Contact: | yamahamotorsports.com |