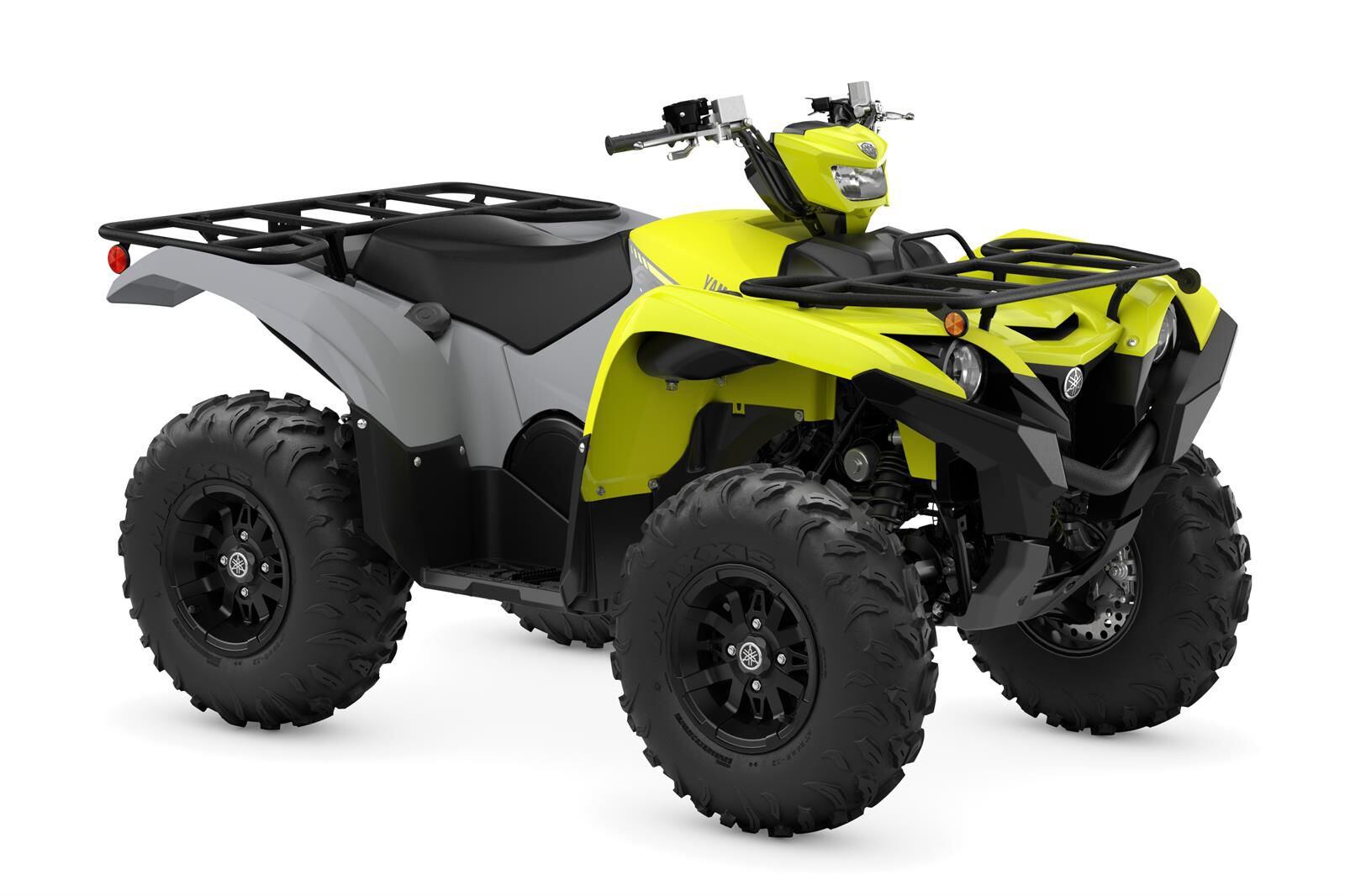 The 2022 Yamaha Grizzly EPS comes in Armor Gray and Yellow. (Yamaha/)
Ups
Loaded with torque, plenty of ground clearance, 10-year drive belt warranty, all Grizzly models prewired for Adventure Pro GPS system
Downs
$100 price increase over 2021 with no significant changes
Verdict
The Yamaha Grizzly packs plenty of low-end single-cylinder grunt, a solid 4WD system, excellent cargo and towing capacity, and all-day-comfortable suspension and ergos.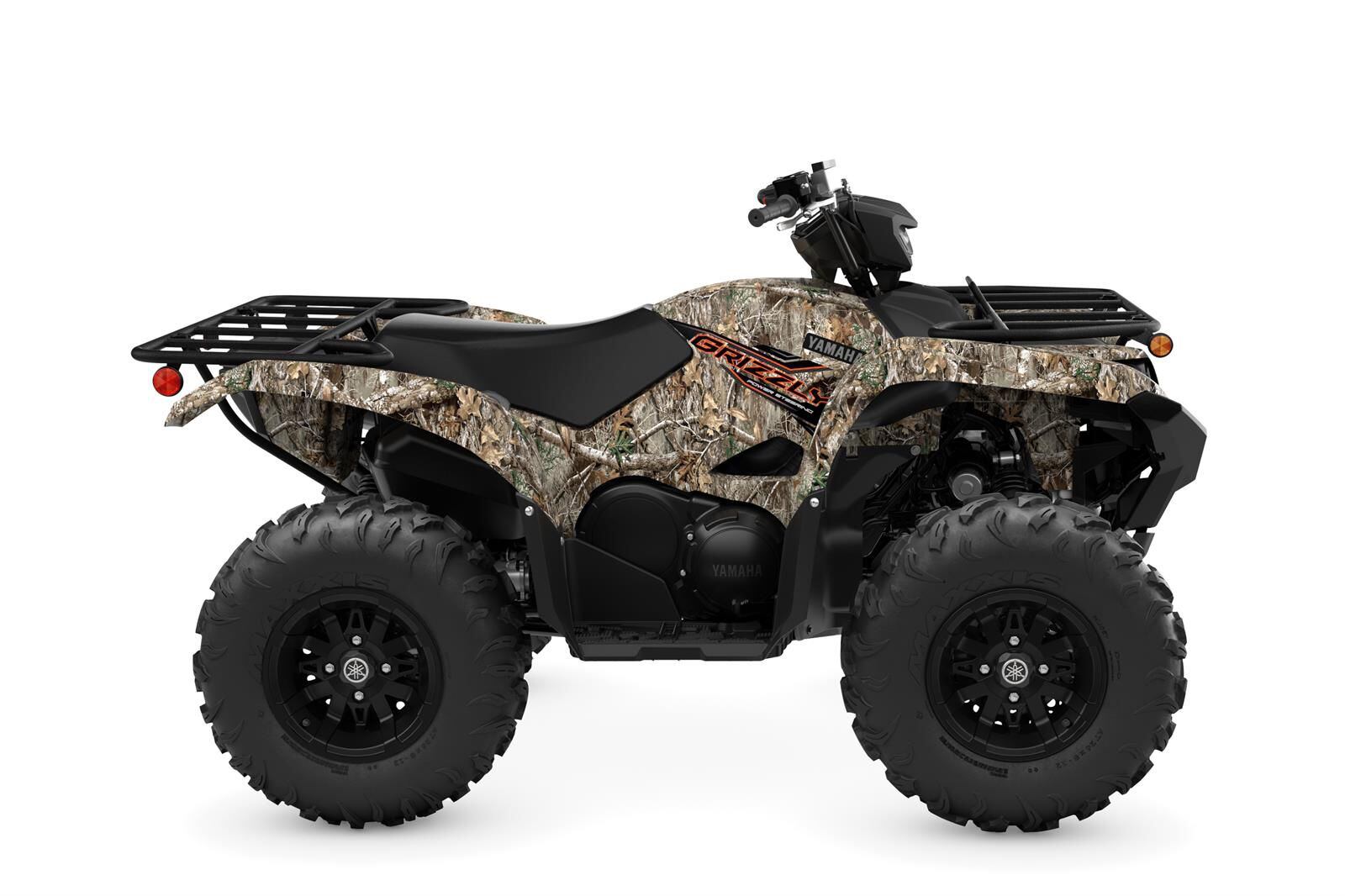 For $400 more, get the 2022 Yamaha Grizzly EPS in Realtree Edge Camo. (Yamaha/)
Overview
The Yamaha Grizzly EPS might be short on engine displacement, but it still packs enough grunt and punch to tackle any trail or chore. On the other hand, suspension travel and ground clearance are well above par. The Grizzly is a serious off-road performer with fully lockable 4WD capability. It's designed for all-day adventures with features like high-mounted air intakes, aggressive tires, and an automatic transmission with engine-braking. Every Grizzly trim comes prewired to accept Yamaha's Adventure Pro GPS system with 7-inch display too.
Updates for 2022
New color choices on the base Grizzly EPS, Grizzly EPS SE and Grizzly EPS XT-R are the only changes for 2022.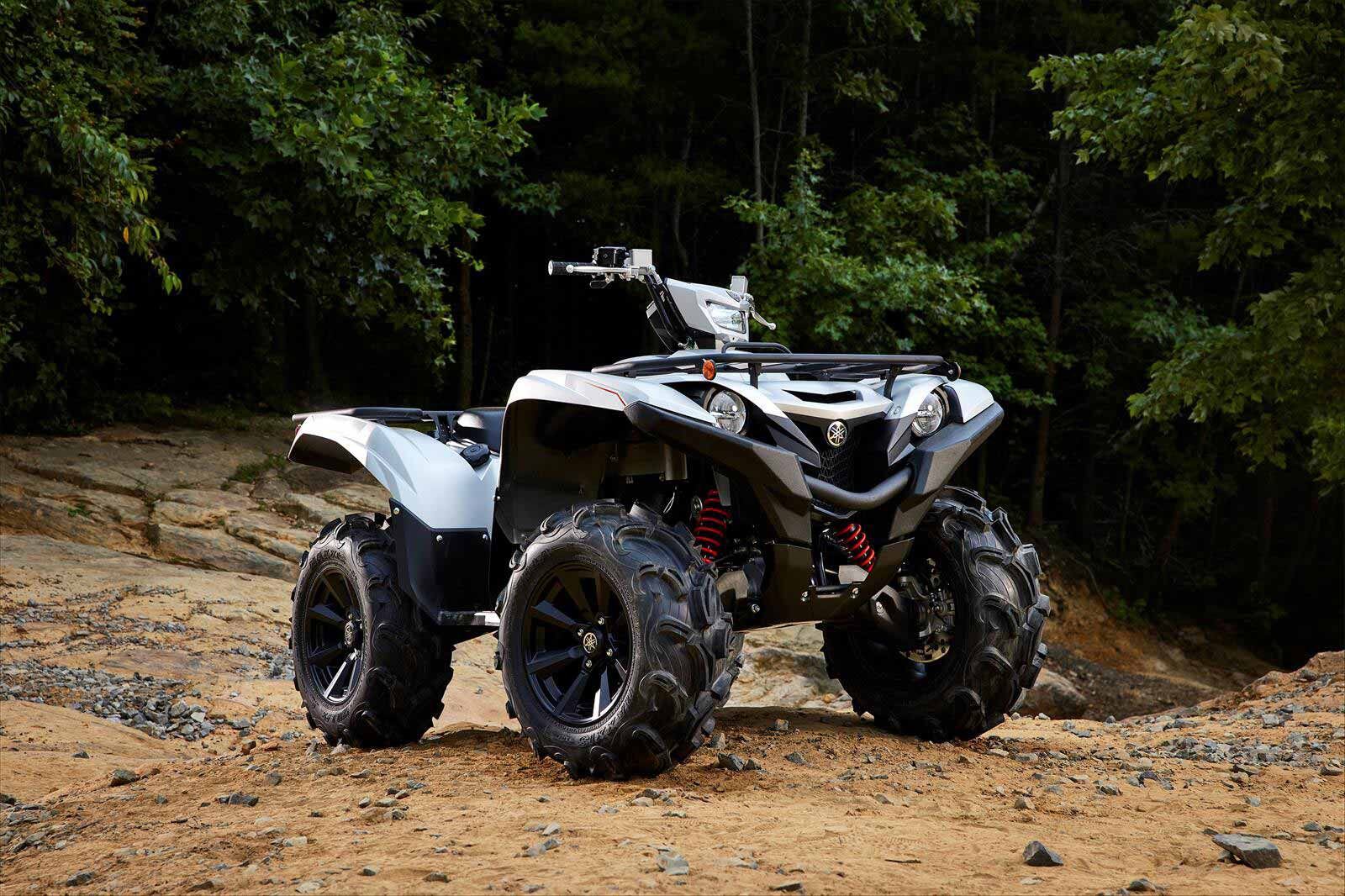 The 2022 Grizzly EPS SE receives upgrades like Maxxis Zilla tires on 14-inch aluminum wheels and Matte Silver painted bodywork. (Yamaha/)
Pricing and Which One to Buy
2022 Yamaha Grizzly EPS MSRP: $10,299
2022 Yamaha Grizzly EPS Realtree Edge Camo MSRP: $10,699
2022 Yamaha Grizzly EPS SE MSRP: $10,899
2022 Yamaha Grizzly EPS XT-R MSRP: $11,299
Yamaha's base-model Grizzly EPS includes some premium features like 12-inch aluminum wheels, LED headlights, electric power steering, and almost a foot of ground clearance. It comes in an Armor Gray and Yellow color combination, but can also be had in Realtree Edge Camo for an additional $400. The Grizzly EPS SE is upgraded with more aggressive Maxxis Zilla tires on 14-inch aluminum wheels and painted bodywork in Matte Silver. If you want the most bang for your hard-earned bucks, go with the Yamaha Grizzly EPS XT-R. The extra $1,000 over base price gets you a factory-installed Warn winch, high-quality two-tone Tactical Black/Carbon Metallic paint, color-matched 14-inch aluminum wheels and Maxxis Zilla tires.
Powertrain: Engine, Transmission, and Performance
The 686cc liquid-cooled SOHC four-stroke shares some similarities with the sport-focused Yamaha Raptor, but the Grizzly engine is tuned for more low and midrange pulling power. The Grizzly is fuel injected via a 44mm throttle body. Yamaha's Ultramatic V-belt transmission includes high- and low-range operation and neutral, park, and reverse. Yamaha's V-belt also comes with a 10-year limited warranty. The final drive system includes selectable 2WD, 4WD, and locked 4WD.
Handling: Steering, Suspension
The Yamaha Grizzly has a lighter and more compact feel making it easy to flick around corners on the trail. Every Grizzly model comes standard with Yamaha's speed-sensitive electric power steering. Double wishbone control arms can be found at all four corners with a sway bar at the rear for true independent suspension action. All four shocks come with five-way preload adjustment with 7.6 inches of travel up front and 9.1 inches of travel at the rear. Almost a foot of ground clearance sets the bar for any ATV.
Brakes
Hydraulic disc brakes are mounted behind all four tires and work as they should.
Ergonomics: Comfort and Utility
The Grizzly is a big ATV without feeling overwhelmingly big. It has a compact and lighter feel, which makes it comfortable to ride more miles with less fatigue. The seat is thick and inviting for multiday outings. Three sealed compartments offer storage for personal items and two are accessible from the seat.
Payload/Towing
Front and rear racks are rated for a combined cargo capacity of 308 pounds, which is above average. The Grizzly also comes with a 2-inch automotive receiver so it can accept various drop and rise hitches. The Grizzly can tow up to 1,322 pounds.
Electronics
Unlike many competing OEM offerings, LED headlights are standard on all Grizzly models and a halogen handlebar pod light moves in the direction of travel. An LCD display includes warning indicators, speedometer, trip odometers, and all of the usual information. All Grizzly models are prewired to accept Yamaha's Adventure Pro GPS system powered by Magellan. The optional GPS system comes with a full-color display and retails for $999.99.
Warranty and Maintenance Coverage
Six-month factory limited warranty, with longer terms available for purchase. Ten-year limited V-belt warranty.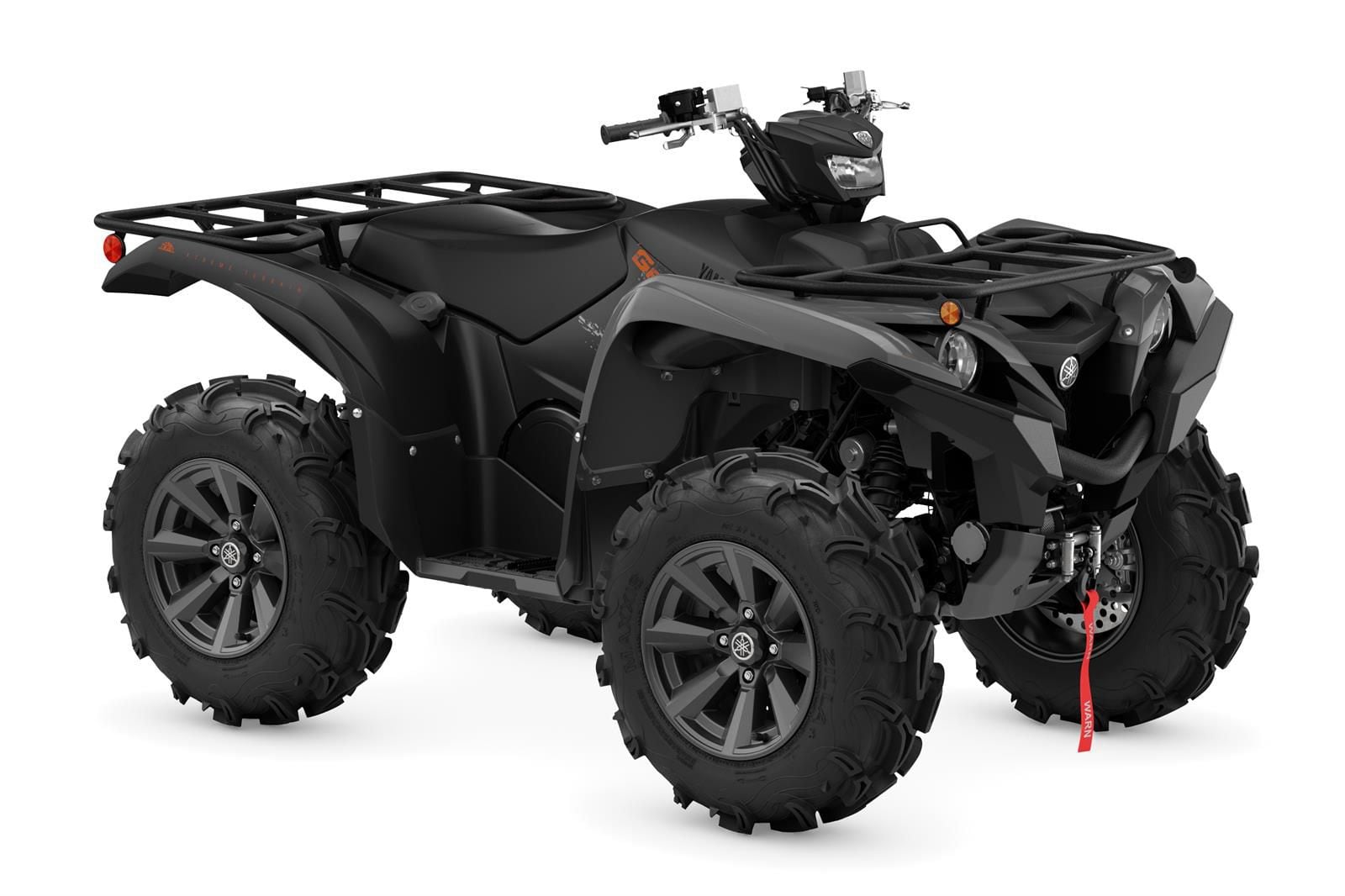 The 2022 Grizzly XT-R Edition includes a factory-installed Warn winch, Special Edition paint, and aggressive Maxxis Zilla tires on color-matched aluminum wheels. (Yamaha/)
2022 Yamaha Grizzly EPS Specs
| | |
| --- | --- |
| MSRP: | $10,299–$11,299 |
| Engine: | SOHC, liquid-cooled, 4-stroke single-cylinder |
| Displacement: | 686cc |
| Bore x Stroke: | 102.0 x 84.0mm |
| Compression Ratio: | 10.0:1 |
| Transmission: | Ultramatic V-belt w/ high/low range, reverse, park |
| Claimed Horsepower: | N/A |
| Claimed Torque: | N/A |
| Fuel System: | EFI w/ 44mm throttle body |
| Drivetrain: | Shaft drive w/ selectable 2WD, 4WD, locked 4WD |
| Front Suspension: | Independent double wishbone, 5-way preload adjustment; 7.6 in. travel |
| Rear Suspension: | Independent double wishbone w/ anti-sway bar, 5-way preload adjustment; 9.1 in. travel |
| Front Brakes: | Dual hydraulic discs |
| Rear Brakes: | Dual hydraulic discs |
| Wheels, Front/Rear: | Aluminum; 12 in. (base) / 14 in. (SE, XT-R) |
| Tires, Front/Rear: | Maxxis; AT26x8-12, AT26x10-12 (base) / AT27x10-14, AT27x10-14 (SE, XT-R) |
| Length: | 81.5 in. |
| Width: | 48.4 in (base) / 49.2 in. (SE, XT-R) |
| Height: | 49.3 in. (base) / 50 in. (SE, XT-R) |
| Wheelbase: | 49.2 in. |
| Front/Rear Rack Capacity: | 110 lb./198 lb. |
| Towing Capacity: | 1,322 lb. |
| Seat Height: | 36.1 in. (base, SE) / 36.6 in. (XT-R) |
| Ground Clearance: | 11.3 in. (base) / 11.8 in. (SE, XT-R) |
| Turning Radius: | 12 ft. 2.0 in. |
| Claimed Wet Weight: | 701 lb. (base) / 754 lb. (SE) / 783 lb. (XT-R) |
| Fuel Capacity: | 4.8 gal. |
| Warranty: | 6-month limited factory warranty, 10 year V-belt warranty |
| Minimum Operator Age: | 16 |
| Availability: | November 2021 |
| Contact: | yamahamotorsports.com |