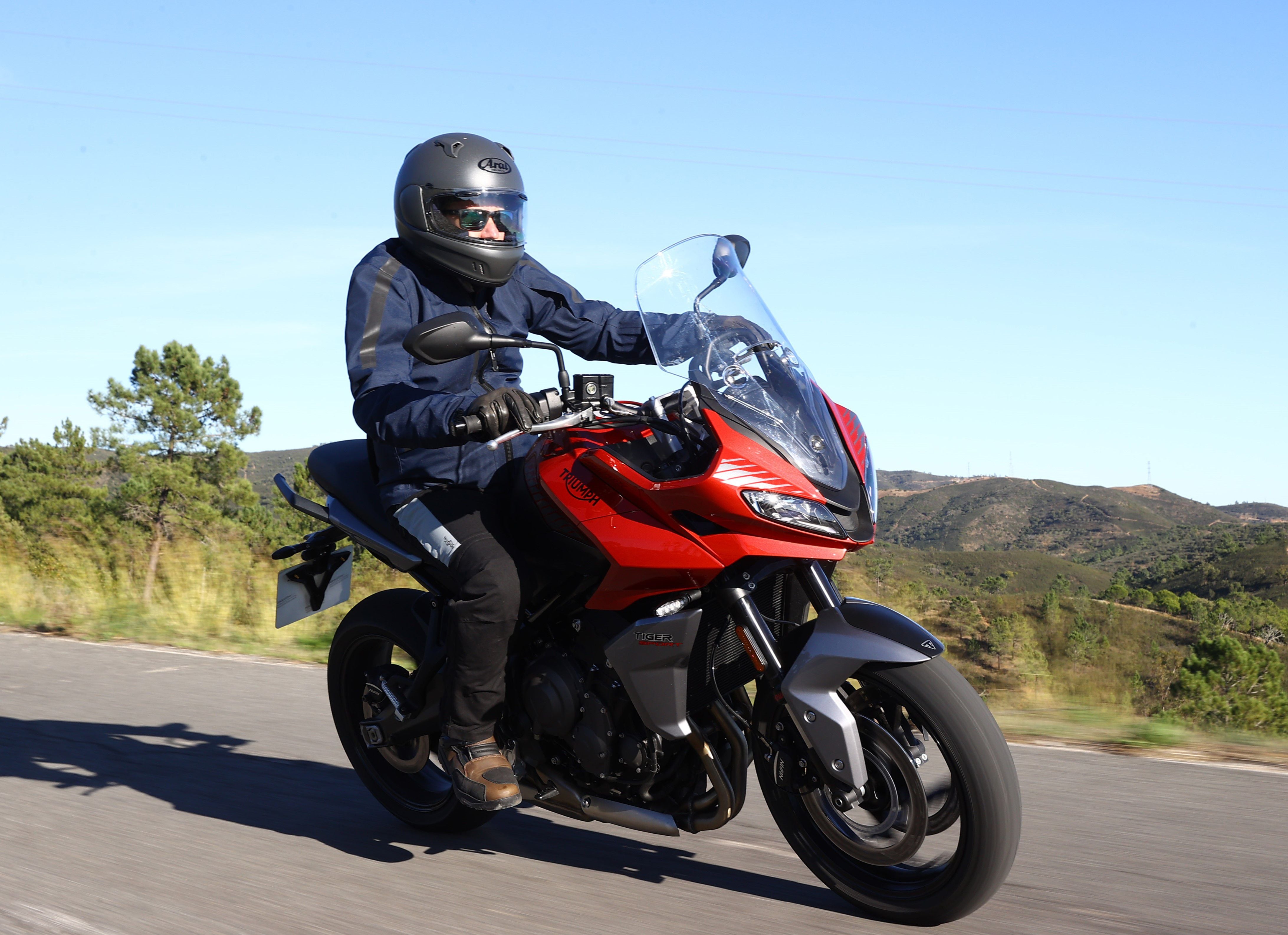 The new Tiger Sport 660 is the latest model built around Triumph's 660cc inline-triple engine. (Triumph Motorcycles/)
When we rode Triumph's all-new Trident roadster earlier this year, we were deeply impressed by both its capability and its balance (read the review here). But human nature being what it is, we also wondered what the next plank in the new 660 platform would be. After all, the brand made no bones about basing more than one bike around that 660cc engine.
Now the highly anticipated follow-up is here, and we're taking it out to the rolling hills of Portugal's Algarve region. So does the new Tiger Sport 660 make as much of an impression on the Adventure Sports category as its strong-selling roadster sibling made on the entry-level middleweight world?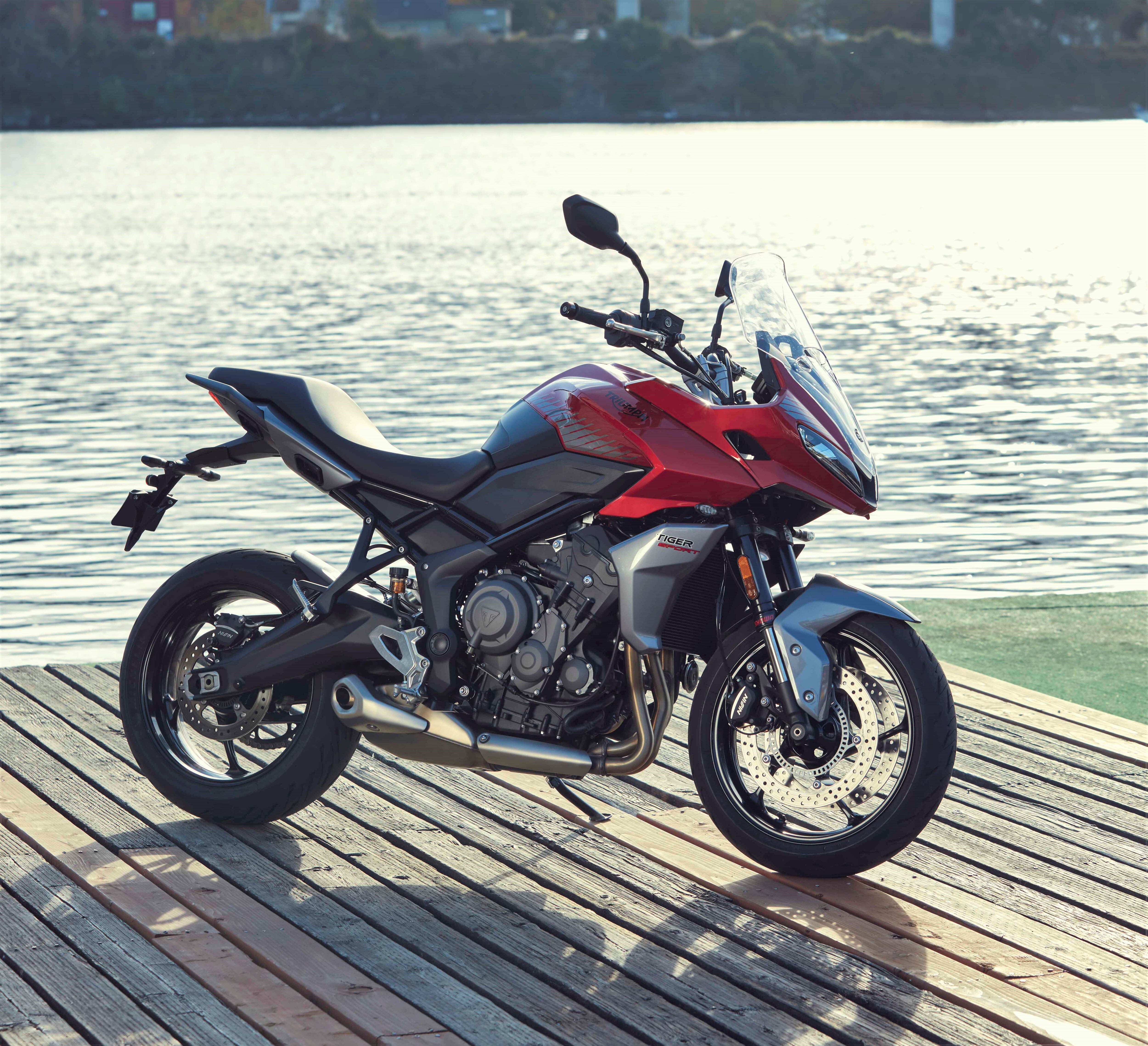 Although the Tiger 660 shares much with the Trident, the frame is beefed up and ergonomics are more upright. (Triumph Motorcycles/)
As you'd expect, the Tiger builds upon the Trident but skews the formula toward more versatility. Carryover elements include the chassis, powerplant, and other major components; the Tiger Sport gets the 660cc liquid-cooled inline-triple with no remapping or tuning tweaks, so the 80 hp and 47 pound-feet numbers remain unchanged. (For context, the Trident recorded 72.1 hp at 10,200 rpm and 42.9 pound-feet at 6,700 rpm on our in-house dyno.)
There are clear variations between the Tiger Sport and its roadster brother beyond the obvious bodywork additions and sharper styling. You can see a subtle resemblance to the larger Tiger family members in the front face, in the side cowlings, even in the large 4.5-gallon fuel tank. But despite those cues, you'll find 17-inch wheels and no ADV beak on the smallest Tiger, underscoring its intentions to go up against the likes of Kawasaki's Versys and Yamaha's MT-07 in the multipurpose middleweight arena.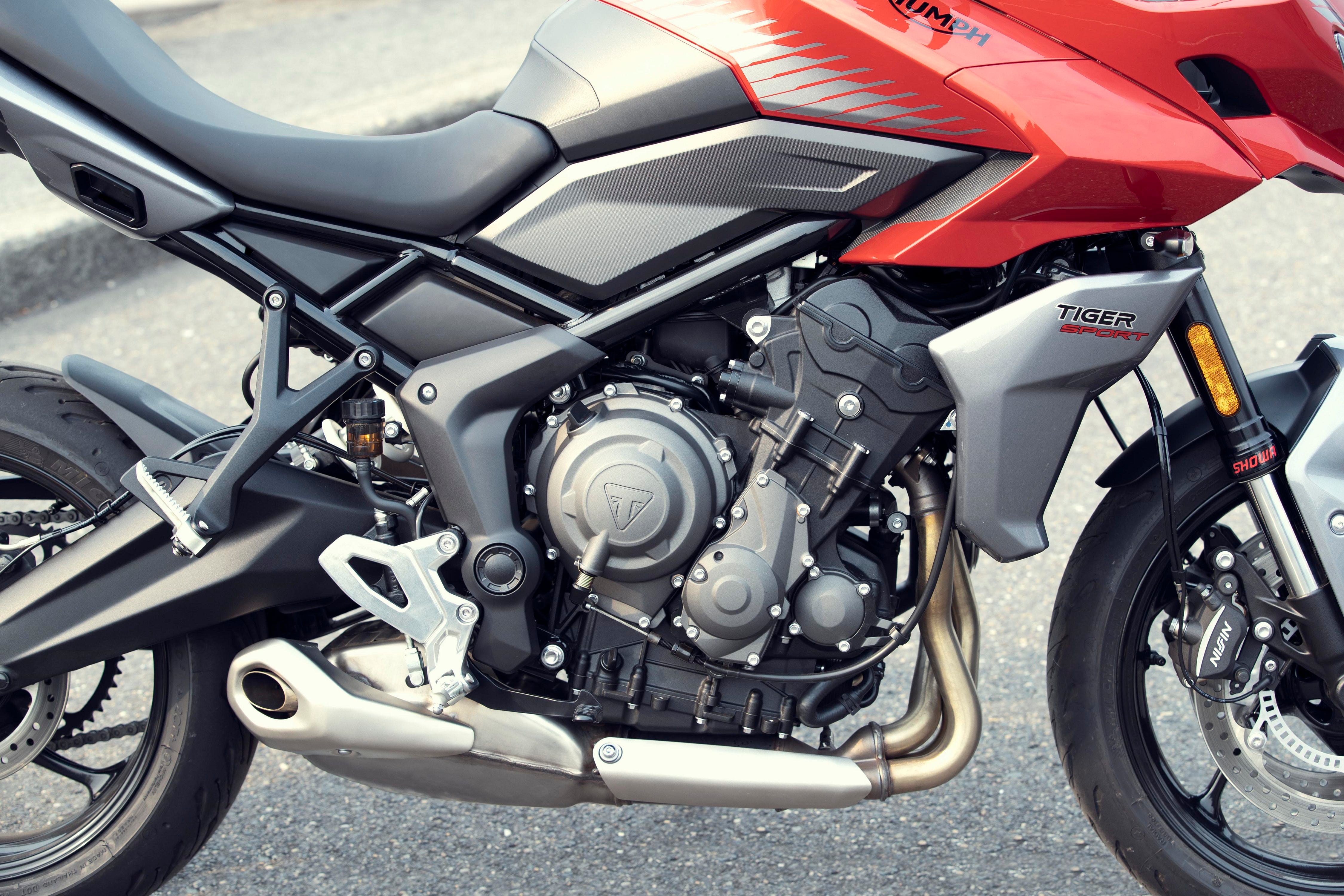 The 659cc inline-triple engine, transmission, and exhaust are unchanged. New bodywork and graphics instantly distinguish the two. (Triumph Motorcycles/)
In the chassis, the Tiger Sport retains the bulk of the Trident's tube-steel frame but gets a longer, touring-focused and reinforced subframe, with a longer swingarm to accommodate passengers and added payloads. Up front, important tweaks to the Tiger include a steeper rake and shorter trail, now 23.1 degrees and 3.8 inches, and a slightly longer wheelbase, 55.8 inches versus the Trident's 55.2.
The nonadjustable Showa Separate Function Fork (SFF) carries over to the Tiger Sport, but suspension travel is over an inch more than the Trident's at 5.9 inches, noticeable for a streetbike. The Showa monoshock also increases travel to 5.9 inches and is adjustable for preload remotely via an easily accessible knob just below the seat.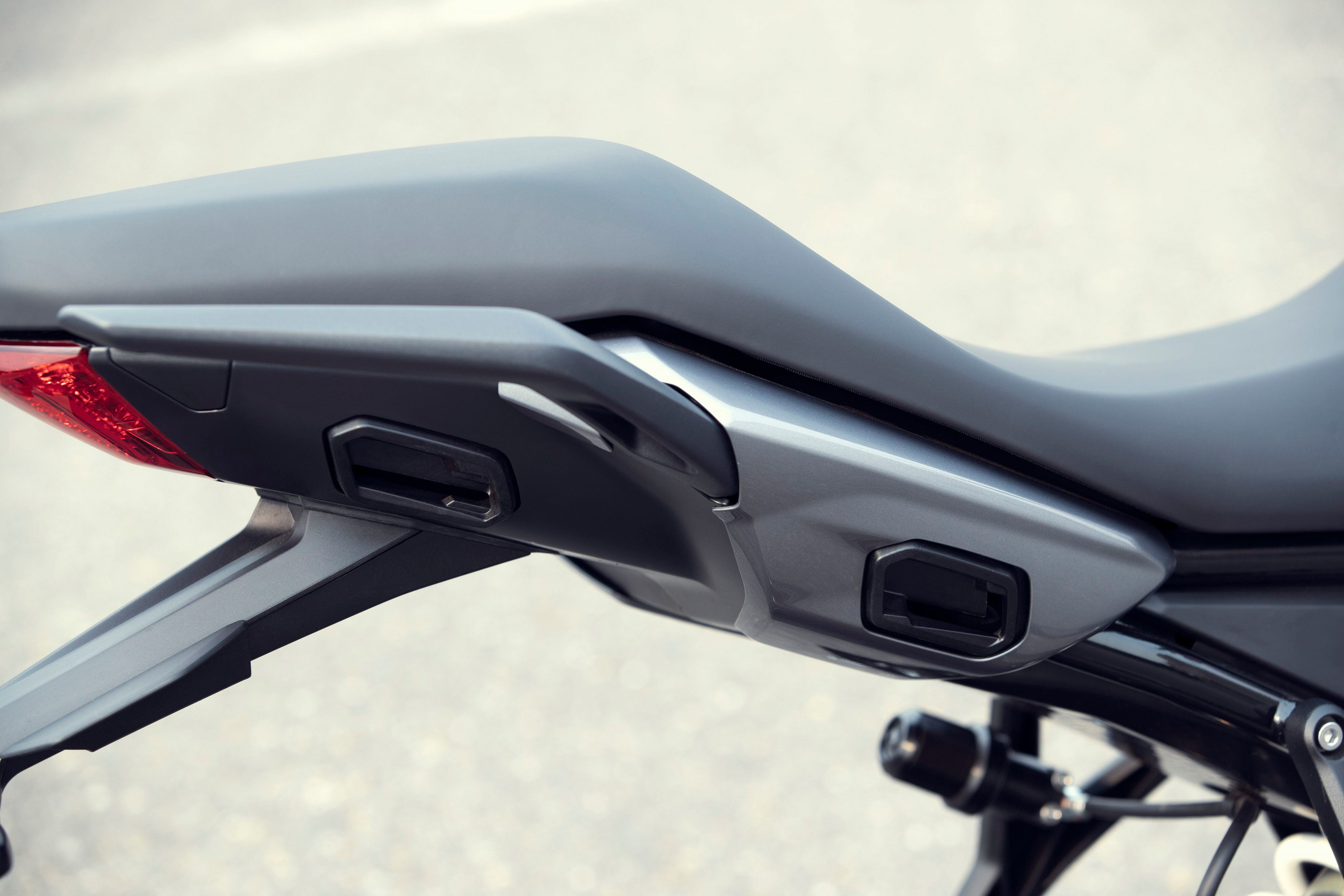 A new, bigger seat and a longer reinforced subframe signal the Tiger Sport 660′s two-up capabilities. Cutouts are integrated mounting points for Triumph's new luggage system (optional). (Triumph Motorcycles/)
Meanwhile, cast 17-inch wheels and road-biased Michelin Road 5 rubber signal a straight-up sport-touring mindset, and the Tiger Sport 660 gets upright ergonomics to match. While the seat is an inch taller than the Trident's, a narrow taper at the tank junction lets you flat-foot the Tiger more easily. The saddle is long and fairly flat, making it easy to move around and giving your companion more room in the back. Another boon for passengers? That would be the built-in grab handles on the pillion portion, which let your partner feel more secure and provide you with another place to strap gear onto.
A single TFT gauge displays basic info and allows access to the two riding modes, Road and Rain. Traction control can be switched off deeper in the menu. (Triumph Motorcycles/)
I found the Tiger's ergos fit my 5-foot-7 frame nicely, with the wider and taller handlebar giving me an easy reach and neutral body positioning. The foot-to-peg dimension is also more relaxed than the Trident's, for more legroom.
The cockpit is set up to be tidy; cables are cleanly routed, an easy-to-read TFT gauge serves up basic riding info, and simple-to-use controls are located on a compact switch cube at the left handlebar. The cube has four arrow buttons to navigate and an OK button to accept changes.
An optional Bluetooth module will give you access to the My Triumph mobile app, which allows you to also tap into navigation functions, interact with your phone, and more.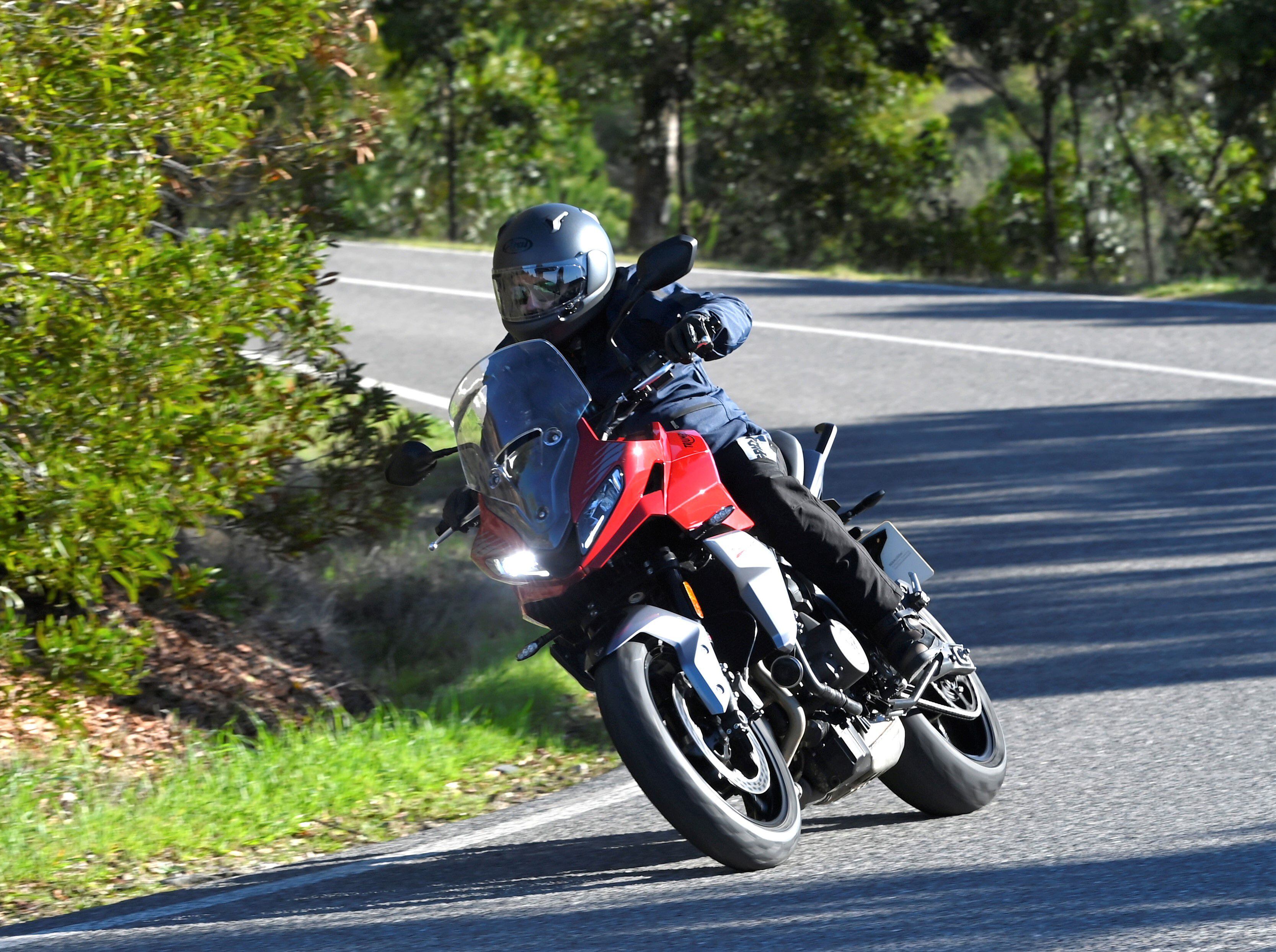 Linear power, a broad powerband, and excellent mapping make for a spirited but stress-free ride. (Triumph Motorcycles/)
When your ride leader is a British ex-roadracer, you learn to get up to speed quickly, and we found the Tiger Sport 660 packs a more than decent midrange punch. This is where the bike feels happiest; a fantastic spread of power is available from about 3,600 to 9,000. The throttle response is linear and approachable, not overly eager. Every crack of the wrist demonstrated that the Tiger's excellently mapped ride-by-wire throttle was free of any flat spots or hiccups, allowing us to fully enjoy the solid connection between the throttle and rear tire. On throttle or off, the response was never jerky, always manageable.
Simplifying matters further is that the Tiger Sport, in inheriting Triumph's ride-by-wire throttle system, has only two selectable riding modes: Road and Rain. Each incorporates its own traction control and throttle response parameters, with Rain dulling throttle response and dialing up TC; Triumph is keen to note that this is something the competition doesn't offer. TC can also be disabled by going into the menu.
We spent a good deal of our time in third gear, where even the tightest of turns could be navigated without too much penalty. Even if I found myself in the wrong gear, as was often the case since I was following a roadracer on unfamiliar roads, the broad powerband meant we didn't always have to hunt for another cog; the bike would chug off without complaint. But shifts have to happen eventually, and on that end I found the six-speed gearbox smooth and positive, with an easy pull from the lever on the slip-and-assist clutch; a quickshifter is optional. Overall, we never had to worry too much about shifting, which makes the Tiger Sport an easy bike to ride, something Triumph is quick to point out.
That's not to say you can't tear it up on the Tiger Sport. The 80 hp peak comes all the way up at 10,250 rpm, with a top-end boost that doesn't sign off in the upper revs. You can rev it to the moon, with good results, though it's worth noting that you'll get a fair bit of vibration once you stray into that territory. Anywhere north of about 5,500 rpm, which is coincidentally highway speed, and you'll feel slight buzzing, mostly through the bars. Still, it's clear this Tiger isn't about catering to squids. The engine is all about being elastic but accessible when needed.
| 6.Tiger660-Handling.jpg | A 23.1-degree rake makes for easy tip-ins on the Tiger, while the longer-travel front suspension is composed enough for all but the harshest bumps. | Photo: Triumph Motorcycles |
A smooth throttle means nothing without good handling, and that's where the Tiger Sport 660′s steeper rake comes in. The bike is agile and tips in easily, transitioning smoothly from side to side without feeling twitchy, even at pace. That wide and tall one-piece handlebar gave us great leverage especially when coming into decreasing-radius turns, usually a little too hot. Midcorner adjustments could be made without the bike complaining or feeling unsettled. Just pick a line and the Tiger holds it throughout.
Our 150-plus miles of combined freeway, deserted mountain roads, and cobblestone village streets also gave us a pretty good idea of suspension quality, even if the upside-down 41mm fork has zero adjustment options. The longer-travel unit was well balanced and more than adequate for my 160 pound, 5-foot-7 self; the dual-rate spring soaking up the majority of pavement protrusions we rolled over, though sharper-edged hits would often come through. One quibble here was pronounced fork dive when riders went hard on the brakes; kudos to the chassis for not ever getting out of sorts even with the excess dive. It was surprising just how forgiving and tolerant the Tiger was of both heavy throttle and heavy brakes, as it shrugged off my abuses without complaint.
Nissin two-caliper brake setup is par for the segment, but still gives a good bite and plenty of power (though not much feel). (Triumph Motorcycles/)
As you've probably already deduced, the Tiger Sport 660′s brakes were put through the wringer on our ride, and by any measure, passed with flying colors. Although the Nissin setup may seem middle of the road, the dual-disc twin-caliper arrangement hauled the Tiger down from speed well even in extreme situations. Pull from the span-adjustable lever is easy, though the initial bite can be a bit harsh and feedback is sometimes vague. The always-on ABS proved handy on the twistier, dirtier portion of our route; I left TC on as I felt that would be a wise choice on zero-runoff mountain roads. In another nod to simplicity there's no inertial measurement unit here, so TC and ABS aren't lean sensitive.
The stock windscreen is height adjustable with one hand from the cockpit (via the dark handle seen behind it). (Triumph Motorcycles/)
Miscellaneous Notes
A few other features and details on the Tiger Sport 660 are worth a mention, primarily the excellent feel of the sticky Michelin Road 5 tires that come stock on this model. Their unwavering grip on even the gnarliest turns gave us supreme confidence, whether at full lean, under braking, or flat out. There's also the Tiger Sport's simple, manually adjustable windshield, which got a workout on faster stretches and highways; it can be moved up or down with just one hand. Adjusting it upward definitely made a difference in protection airflow, but it's a bit rattly up there; in its lowest position, protection is negligible. Still, it's necessary equipment on a bike that aspires to longer hauls.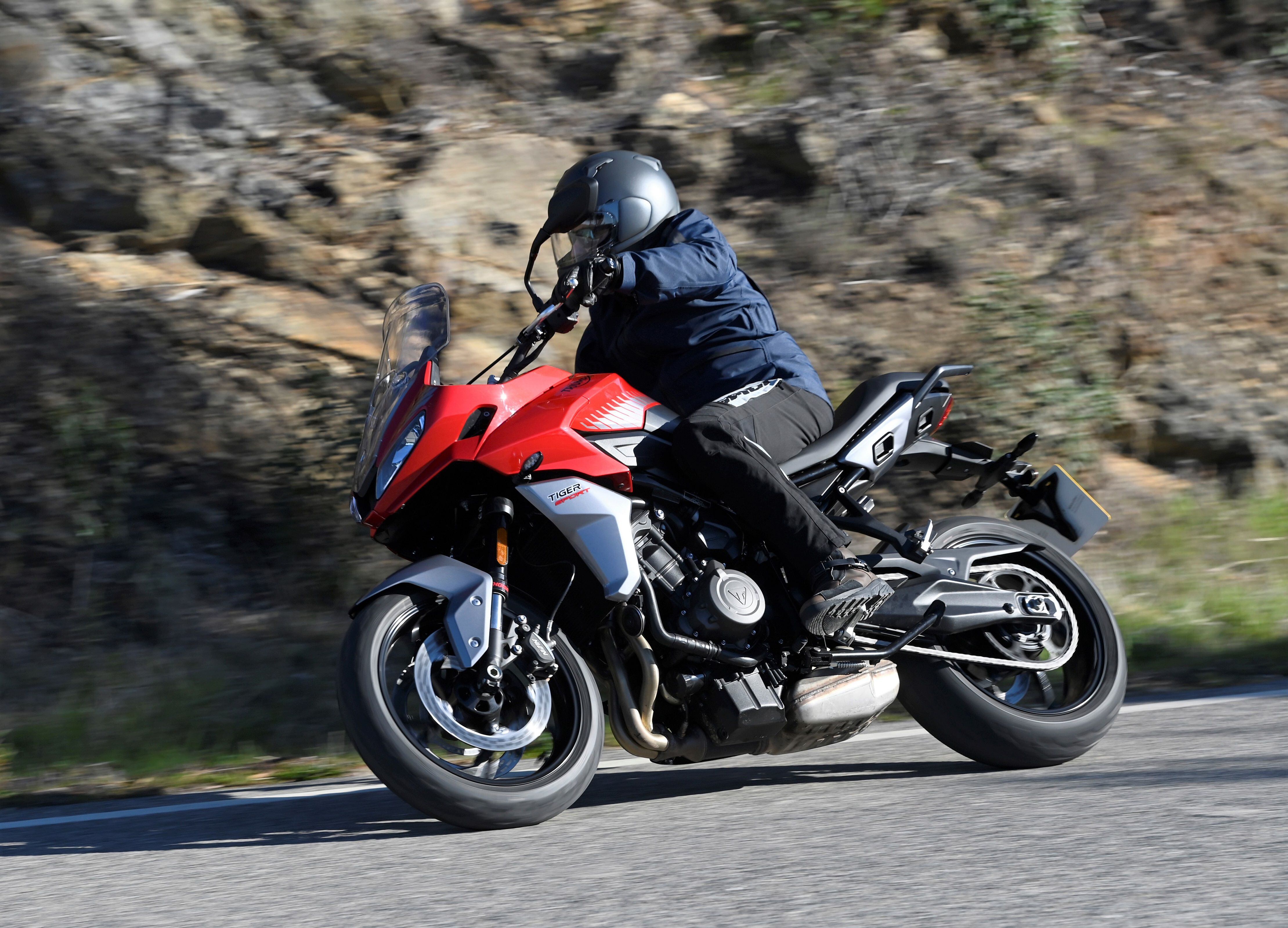 Stability is good, even at speed. We do wish there was cruise control, even if it was a factory option. (Triumph Motorcycles/)
Speaking of long hauls, the Tiger's low fuel light gives you more than adequate warning time to make it to a gas station; when it comes on, you can still go 80 kilometers (almost 50 miles). That said, we're disappointed to see cruise control isn't offered on the Tiger Sport 660, not even as a factory option. If Triumph is trying to tout touring potential, cruise control needs to be on the short list of features going forward, as is an onboard charging port; USB or 12V are only available as options, so bring your own power supply.
Triumph has developed a new luggage system to work with the integrated mounting points on the Tiger Sport 660. The side cases and 47-liter top box can be color-matched to the bike (Lucerne Blue shown here). (Triumph Motorcycles/)
With Triumph emphasizing the bike's touring capabilities, it makes sense that a new luggage system, as well as a slew of other accessories like heated grips and lighting, are all available via its accessory catalog. No accessorized bikes were available for us to ride, but the Triumph-developed luggage includes side hard cases and a rear top box claimed to fit two full-face helmets. All bags slot into the Tiger Sport's integrated mounting points, a very clean-looking and discreet arrangement that dispenses with unsightly external add-ons.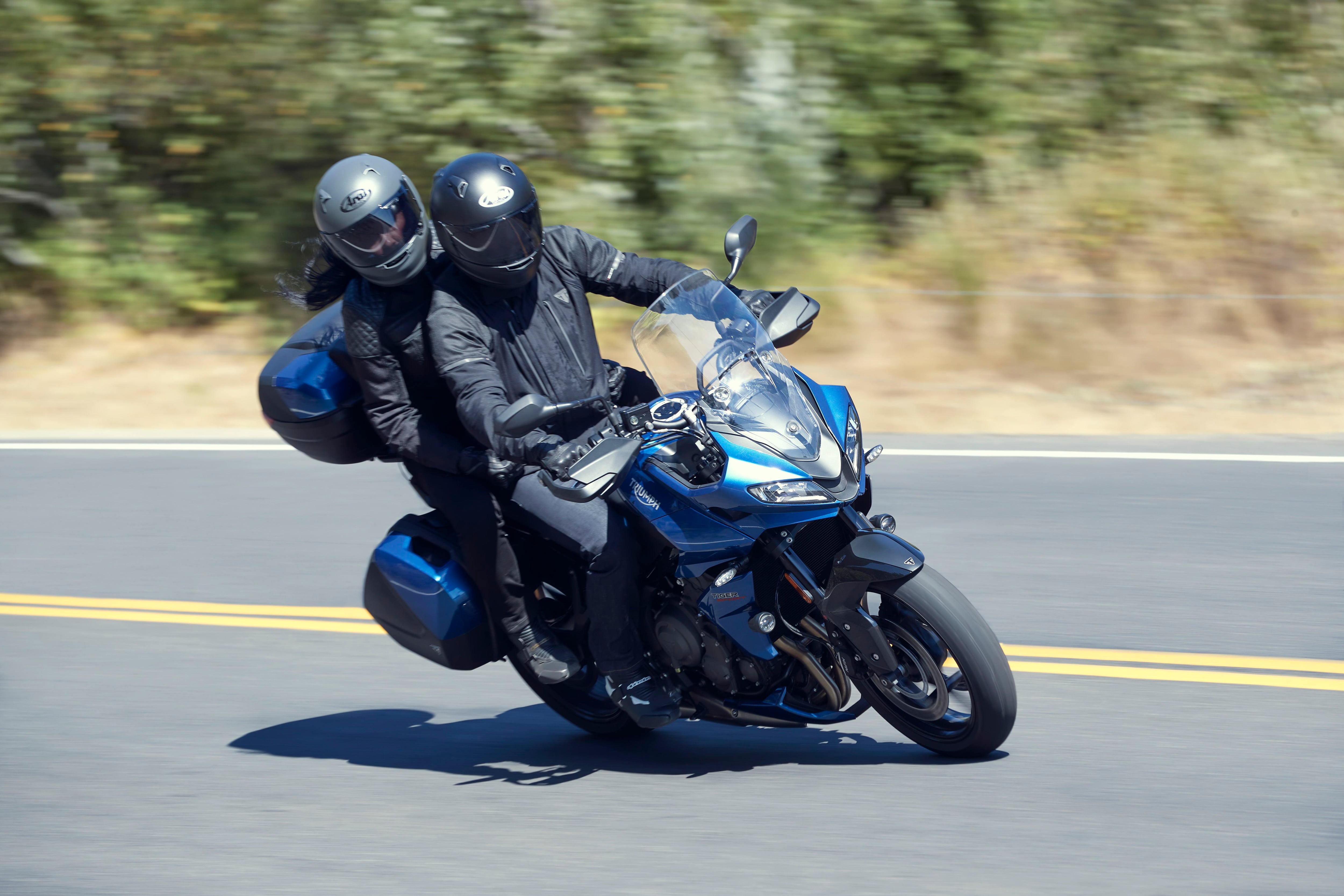 Triumph touts the bike's two-up capability and touring potential, which should heat up competition in the segment. (Triumph Motorcycles/)
It looks like Triumph has managed to dodge the dreaded sophomore slump. We're pretty impressed with the all-around versatility of the Tiger Sport 660 as it relates to the rest of the class. Triumph has managed to hit the marks on feature set, comfort, performance, and affordability. And with its two-up capability, the newest 660 has arguably even exceeded them. The brand says it's looking to position the Tiger Sport 660 as a do-it-all commuter, daily rider, or tourer that will appeal to a wide and diverse group of riders, newbies and vets alike. That's a tall order. But with its excellent manners and extremely easy-to-ride characteristics, a spirited engine, and a competitive price under $10,000, it may come pretty close.
Triumph says the Tiger Sport 660 to be available stateside by early 2022.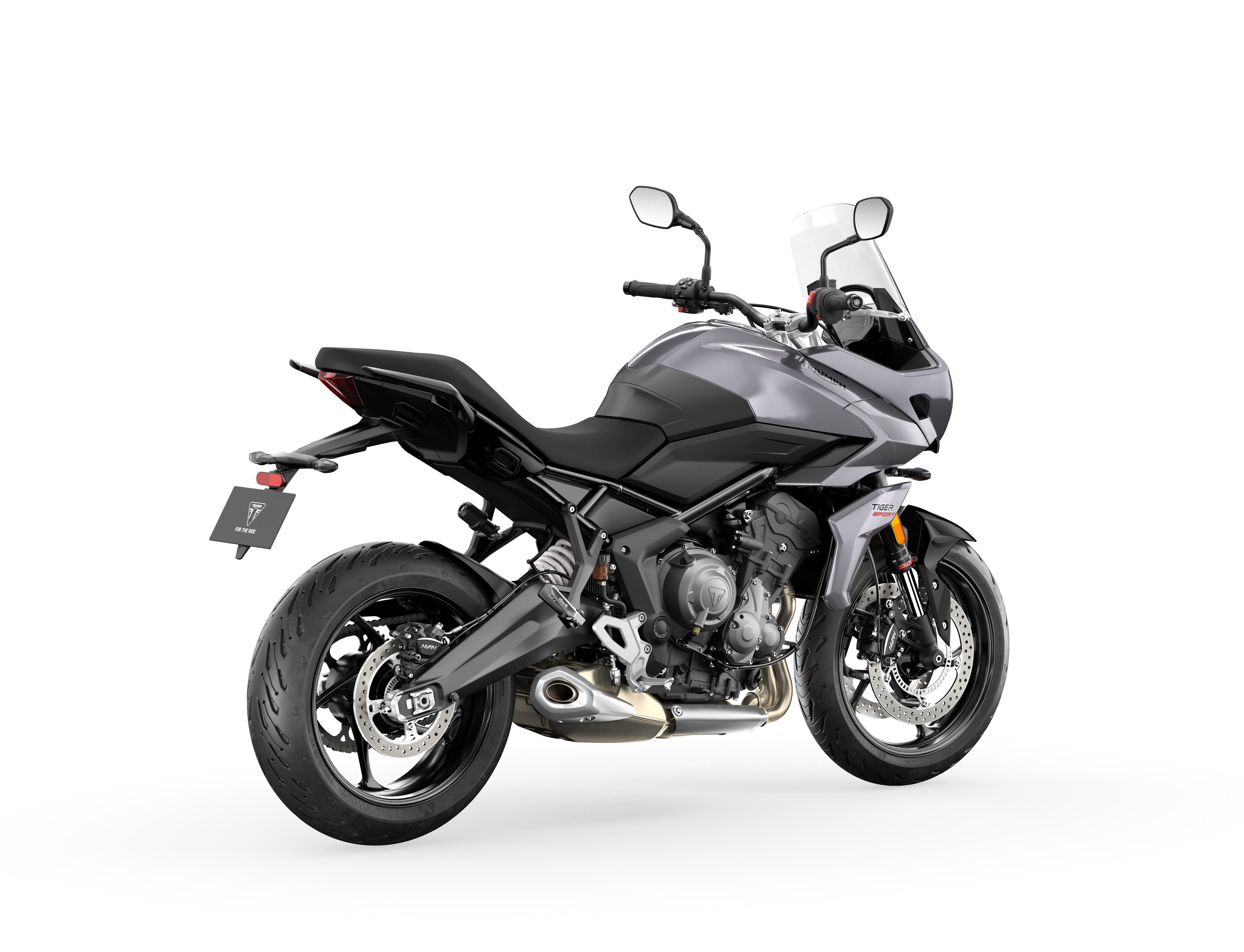 The Tiger Sport will be available in Lucerne Blue/Sapphire Black, Korosi Red/Graphite, or the Graphite/Sapphire Black shown here. (Triumph Motorcycles/)
2022 Triumph Tiger Sport 660 Specifications
| | |
| --- | --- |
| MSRP: | $9,295 (base) |
| Engine: | DOHC, liquid-cooled inline-triple; 12-valve |
| Displacement: | 660cc |
| Bore x Stroke: | 74.0 x 51.1mm |
| Compression Ratio: | 11.95:1 |
| Transmission/Final Drive: | 6-speed/X-ring chain |
| Claimed Horsepower: | 80 hp @ 10,250 rpm |
| Claimed Torque: | 47 lb.-ft. @ 6,250 rpm |
| Fuel System: | Multipoint sequential EFI; ride-by-wire |
| Clutch: | Wet, multiplate, slip and assist |
| Engine Management/Ignition: | Electronic |
| Frame: | Tubular steel perimeter |
| Front Suspension: | 41mm inverted Showa SFF fork, nonadjustable; 5.9 in. travel |
| Rear Suspension: | Showa monoshock, remote preload adjustable; 5.9 in. travel |
| Front Brake: | Nissin 2-piston sliding calipers, dual 310mm petal discs w/ ABS |
| Rear Brake: | Nissin 1-piston sliding caliper, 255mm disc w/ ABS |
| Wheels, Front/Rear: | Cast aluminum; 17 x 3.5 in. / 17 x 5.5 in. |
| Tires, Front/Rear: | Michelin Road 5; 120/70R-17, 180/55R-17 |
| Rake/Trail: | 23.1°/3.8 in. |
| Wheelbase: | 55.8 in. |
| Ground Clearance: | N/A |
| Seat Height: | 32.9 in. |
| Fuel Capacity: | 4.5 gal. |
| Claimed Wet Weight: | 455 lb. |
| Availability: | Early 2022 |
| Contact: | triumphmotorcycles.com |
GEARBOX:
Helmet: Arai Defiant-X
Jacket: Rev'It Ridge GTX
Pants: Spidi Thunder H2Out
Gloves: Rev'It Monster 2
Boots: Tourmaster Horizon