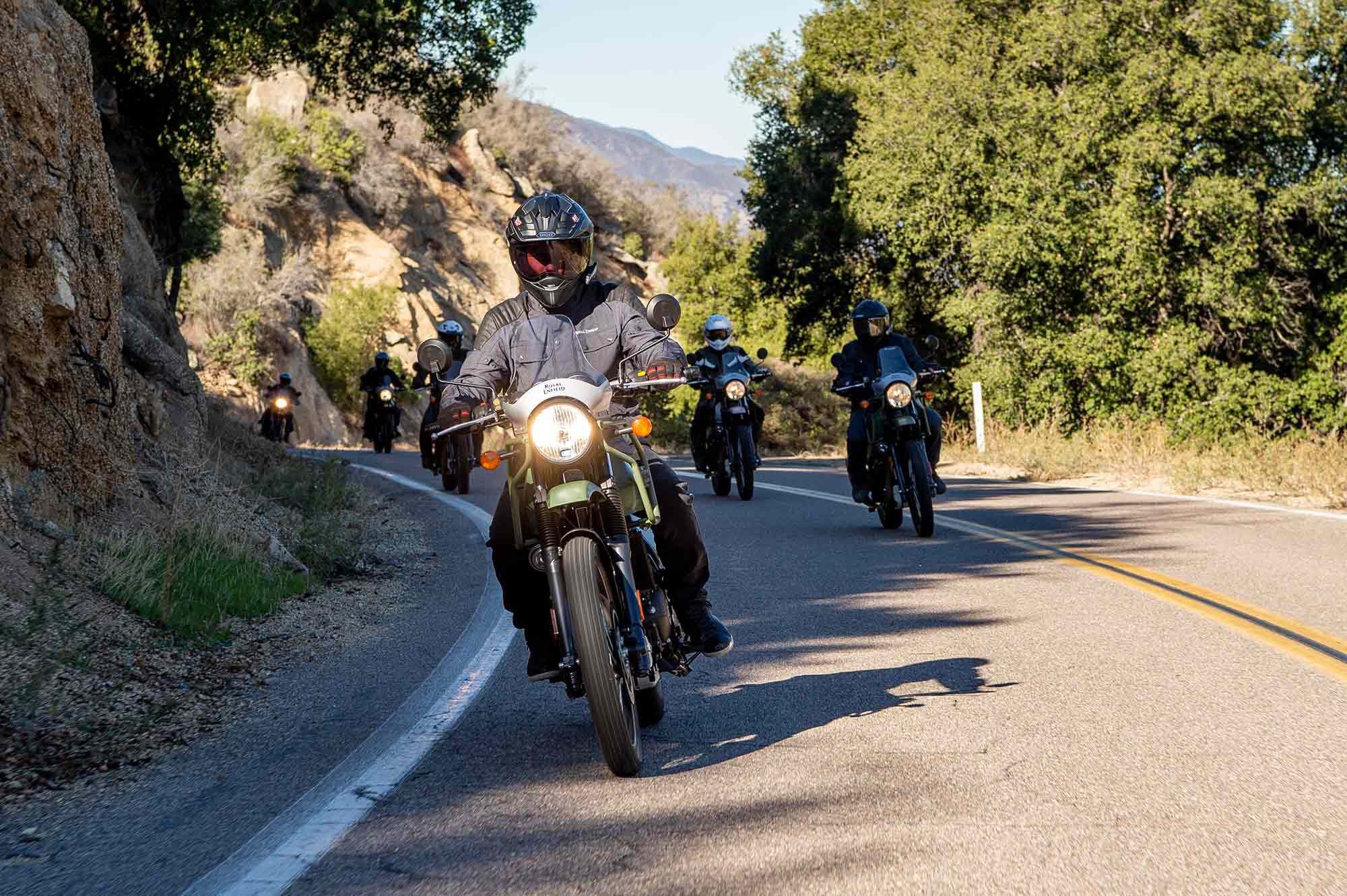 The Himalayan is a great option for a wide range of riders thanks to its friendly engine and comfortable ergonomics. (Royal Enfield/)
India's Royal Enfield can reasonably lay claim to being the oldest global motorcycle brand in continuous production, having produced its first model in 1901. Twelve decades ago RE was a British manufacturer; the firm is now owned by vehicle manufacturer Eicher Motors Limited and makes its motorcycles in the Indian city of Chennai. Royal Enfield currently has only a few cafe-style streetbikes to its name, but its Bullet is indeed currently the longest-running motorcycle in production. The company dipped a toe in the adventure market with the midsize Himalayan in 2018; that bike has since carved out its own niche in the adventure-touring category.
2022 Royal Enfield Himalayan Updates
The Himalayan doesn't get a full overhaul for 2022, but enjoys several updates with an emphasis on rider comfort and delivering a better overall ride. Both front and rear cargo racks have been modified, the front rack with a slimmer design to give taller riders more legroom and the rear rack with a lower, stronger profile for better luggage mounting and an easier time getting on and off the motorcycle. The seat cushion has been updated, and a new windscreen is designed to increase comfort on longer rides.
Related: A 3,500-Mile Royal Enfield Himalayan Summer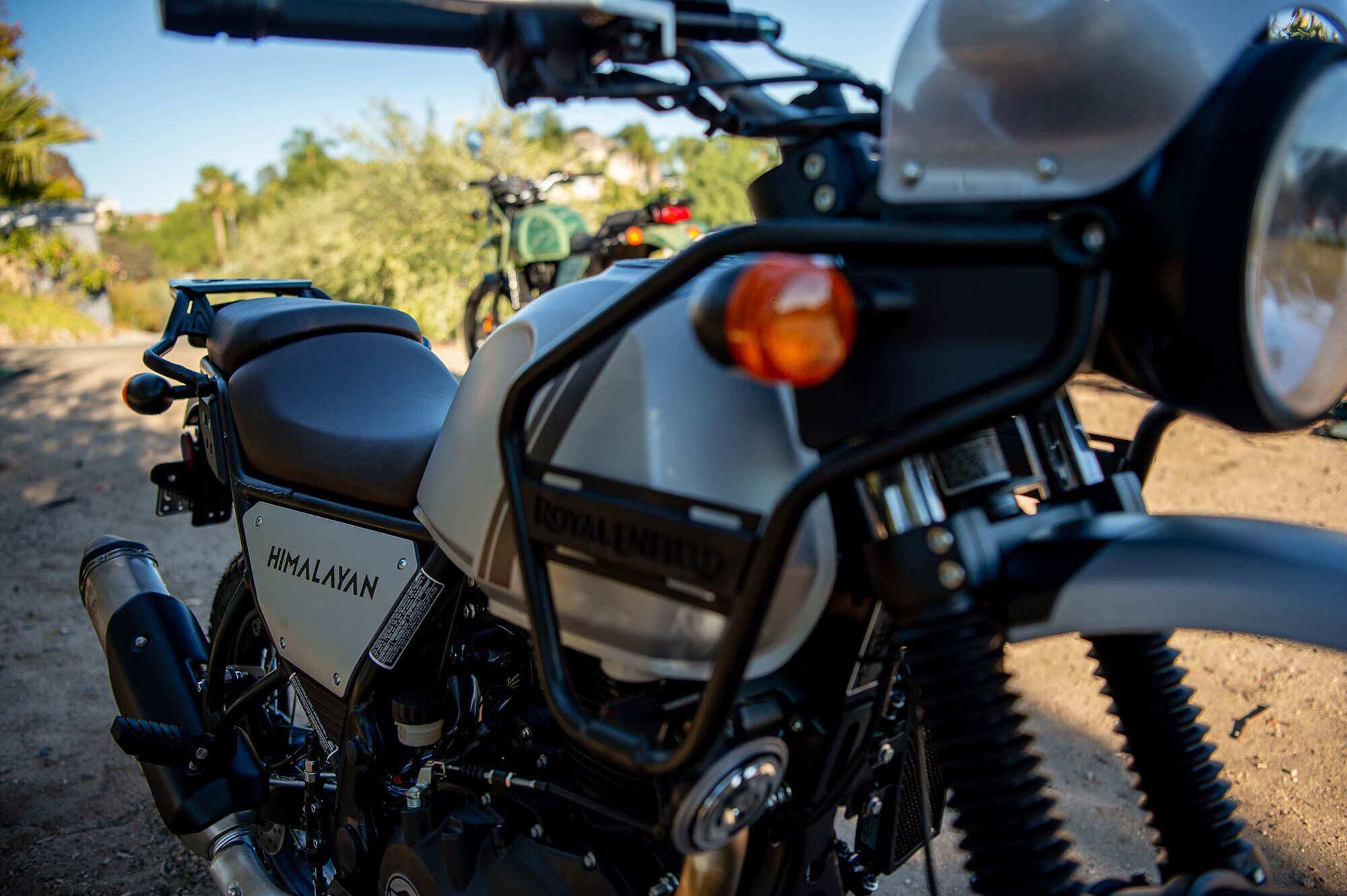 Updated front racks provide riders more than 6 inches of additional legroom. (Royal Enfield/)
Perhaps the most notable update is the addition of a Royal Enfield Tripper Navigation pod on the right side of the dash. Riders simply connect to the bike via the Royal Enfield North America navigation smartphone app, type in a destination, press go, pocket their phone, and follow the simple directions on the Tripper.
The Himalayan also gets three new paint jobs, Granite Black, Mirage Silver, and Pine Green, added to returning colors Gravel Grey, Rock Red, and Lake Blue. The 2022 Himalayan is set to arrive in North America this month (November) with a $5,299 price tag, very reasonable when compared to other middleweight adventure bikes.
Riding the 2022 Royal Enfield Himalayan
We had the opportunity to throw a leg over the updated 2022 Royal Enfield Himalayan in the hills of Southern California's Temecula wine country. Royal Enfield put together a solid event to showcase the updated Himalayan at Doffo Winery—if you're a motorcycle enthusiast, Doffo should be on your list of places to visit. The winery has a beautiful collection of motorcycles, memorabilia, and wine. It would also be the perfect place to take your significant other for a date—thank us later.
Doffo Winery hosted the 2022 Royal Enfield Himalayan press intro in Temecula, California. (Royal Enfield/)
The Himalayan had a certain something that caught our eye when it was first released in 2018, and it's still got it today. Small-bore manageability, a simple good-looking design, and a low price tag hit the sweet spot: The Himalayan would be a great bike for more riders than not. Large ADVs are great, but their horsepower, weight, and tall seats can be tiring, if not intimidating; the mid- and small-ADV market seems more inviting for more riders as they push farther off the road.
Sit on the Himalayan's low 31.5-inch seat for the first time and the riding position gets your attention. Just in front of the seat there's a boxy, retro-styled 4.0-gallon fuel tank between you and the bars, making for a comfortable rider cockpit. The grips are an easy reach from the center of the seat, though they're thin and could use some extra material for a less hard feel. The controls are simple and straightforward, and it's easy to read the speedometer and tachometer, the digital compass, and new Tripper Navigation pod on the dash. The footpegs are well placed for an off-road-capable machine, so your legs aren't cramped. It may have your attention at first, but there's no reason to give it too much thought once underway; it fit our 5-foot-11 tester perfectly.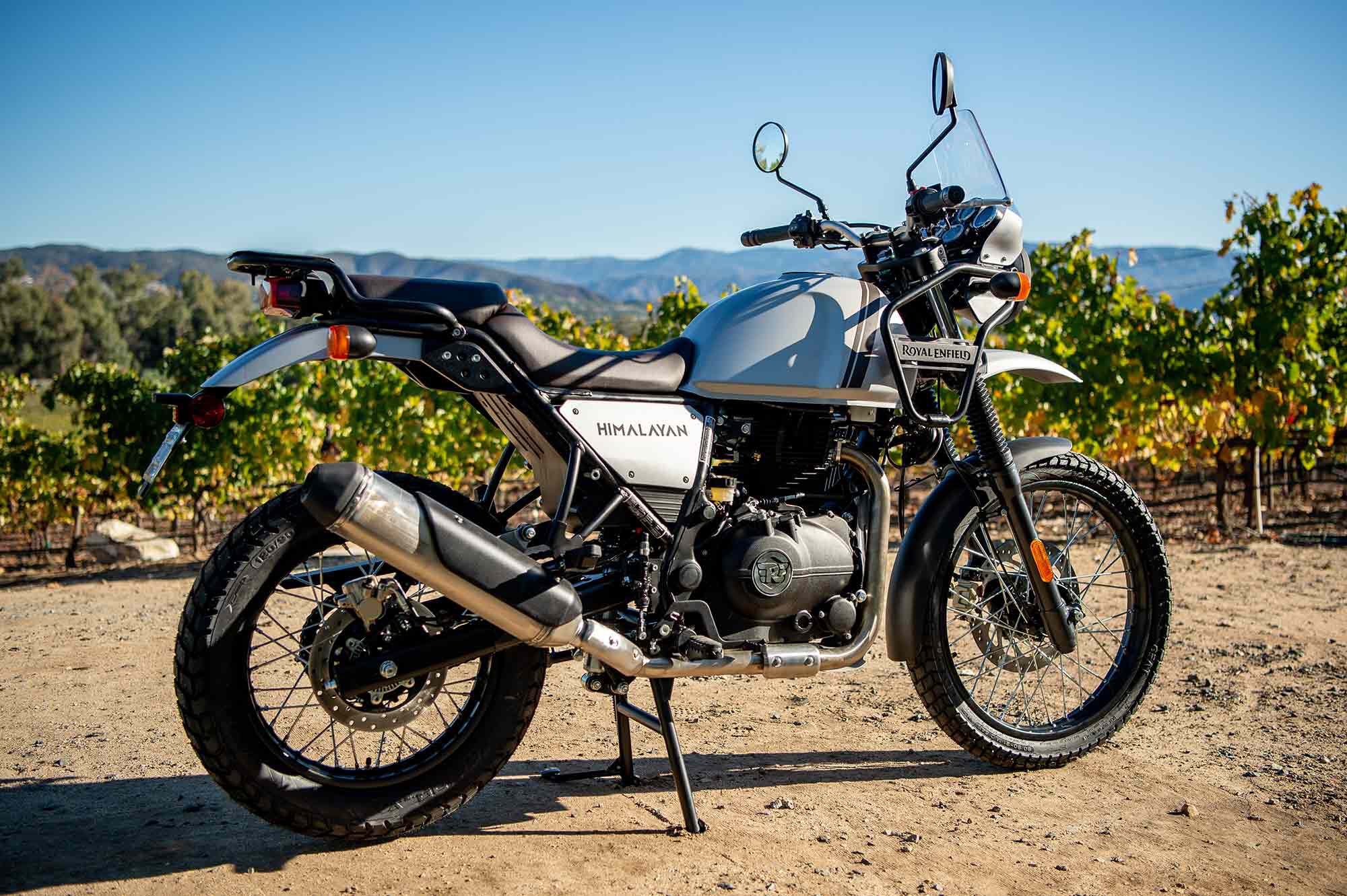 The Himalayan looks the part of adventure with a rally styled front end, contoured seat, high pipe, and front and rear racks. (Royal Enfield/)
Once things get rolling, the chassis and suspension package delivers a smooth, controlled ride that handles a variety of terrain better than one might expect from a relatively new, relatively inexpensive ADV bike. Combine that with a low center of gravity and the Himalayan feels quite a bit lighter than its claimed 439 pounds (with a 90 percent fuel load). With its 58-inch wheelbase this bike carves through the canyons effortlessly, enjoys good road grip thanks to Pirelli MT 60s, and has impressive straight-line stability due to its half-duplex split-cradle frame and monoshock linkage rear end.
The Himalayan is the only Royal Enfield with a linkage setup, which was designed specifically for adventure riding in mind. The overall suspension action was predictable; the compression damping felt soft through on-road high-speed bumps, but the initial stroke and low-speed damping on both the fork and shock are on the money when conditions are less than desirable. Broken pavement, dirt roads, rocks, or potholes don't matter; the Himalayan and its 8.6 inches of ground clearance and inches of suspension travel eat it up. The Himalaya's slogan is "Built for all roads. Built for no roads," and it certainly seemed accurate.
Even when things get a little wild you'll be hard-pressed to bottom out and make the suspension go metal to metal. There may be only 7.9 inches of travel from the 41mm nonadjustable fork and 7.1 inches of travel in the basic monoshock, but what Royal Enfield is able to accomplish with such a simple and cost-effective platform is certainly impressive. The Himalayan is not a performance ADV, but it punches further above its weight class than you'd expect.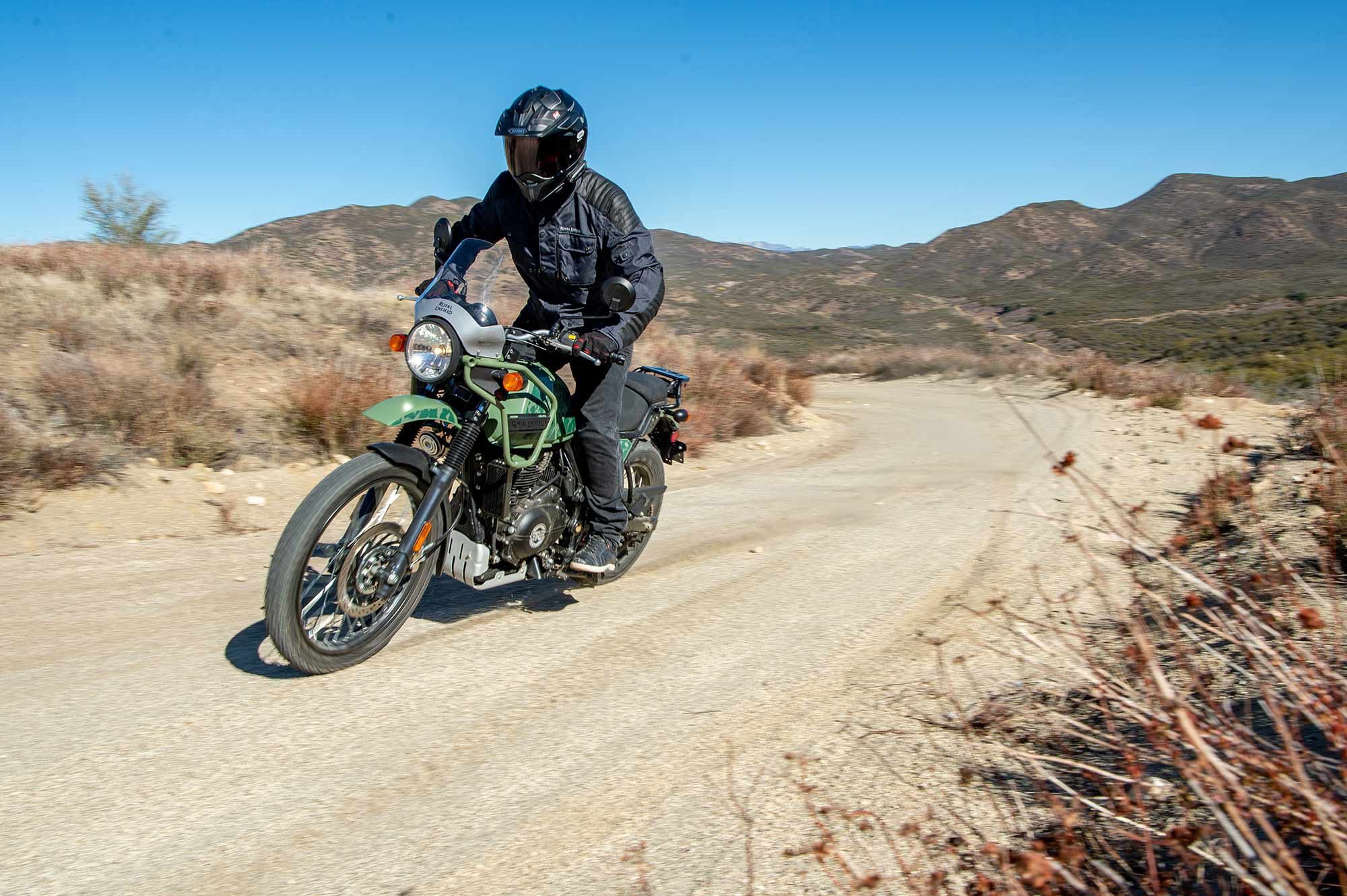 The Himalayan suspension is right at home while riding off-road—rougher the road the better. (Royal Enfield/)
The Himalayan also satisfies with its engine character and overall engine performance. It's no high-horsepower fire breather; in fact it's the complete opposite, an easy-to-control single with good, useful torque. That fuel-injected SOHC 411cc engine is a joy to work with, easily tractoring through the terrain with little to no vibration thanks to the Himalayan's counterbalancer.
The five-speed constant-mesh transmission has a spread wide enough to cover any type of terrain without putting too much stress on the long-stroke engine. The pull on the wet, multiplate clutch is light, and shifting is smooth as long as shifts aren't too aggressive. There's a wide gap between first and second that is noticeable while riding off-road; second gear can be run from quite low in the rpm range without stalling, especially while climbing hills.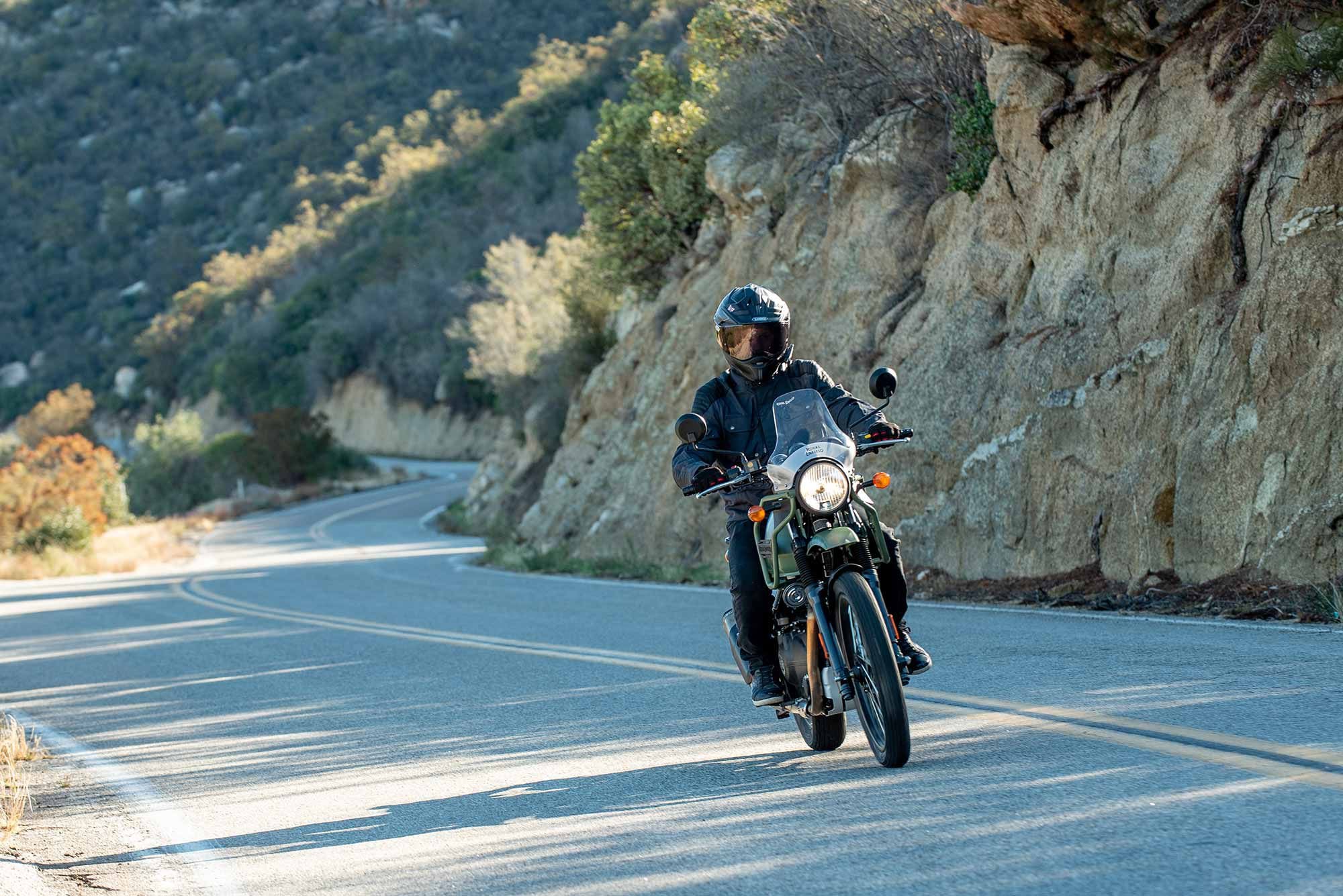 On-road comfort and a claimed 75 mpg entices you to find the long way. (Royal Enfield/)
At speed on the road, power is smooth and predictable; during our local ride five gears were all that was needed. This bike wasn't intended to travel 90 mph down the interstate, but when riding at a relaxed pace on the local highway or taking the road less traveled it couldn't be happier.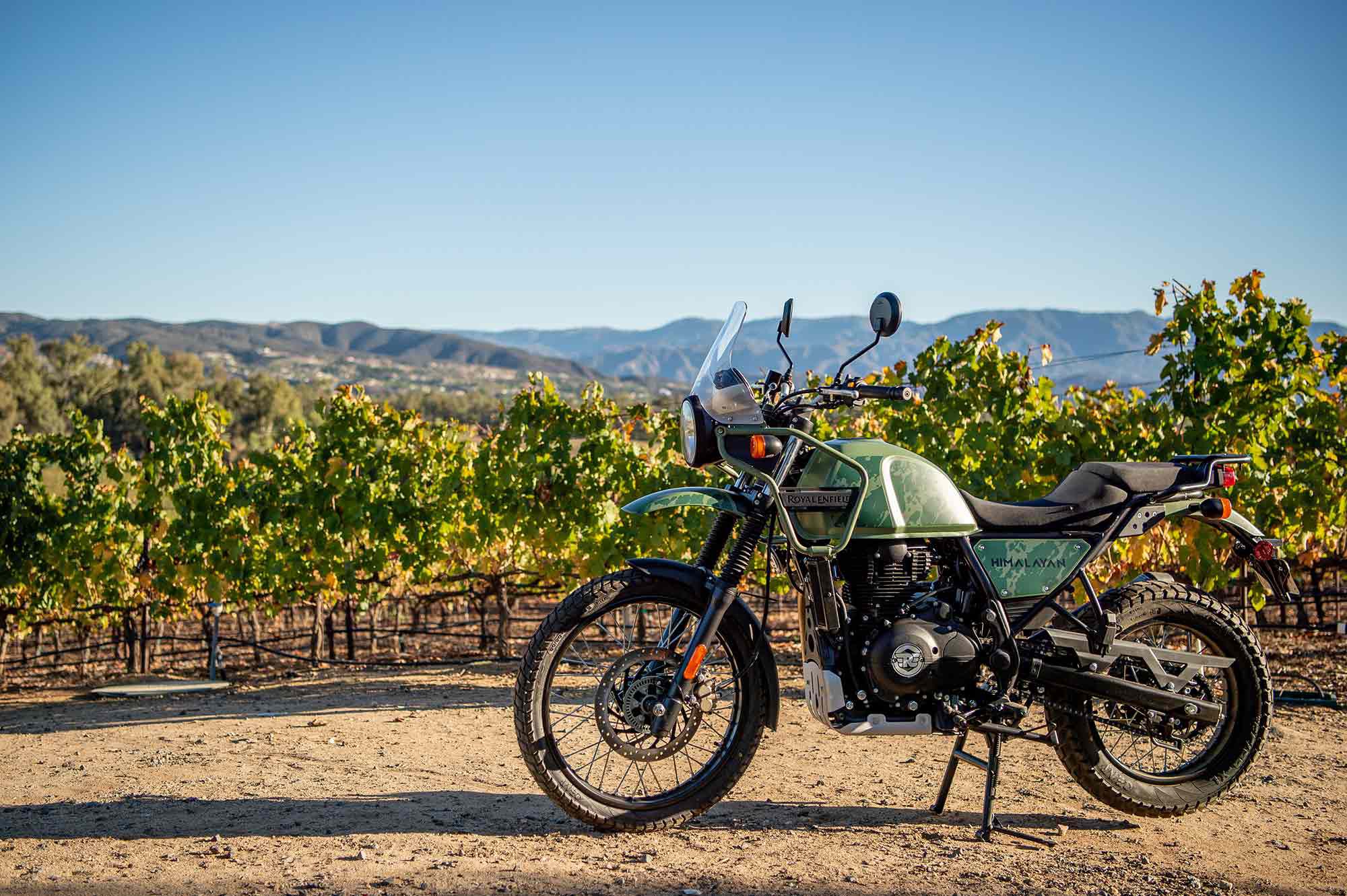 Pine Green is one of the three new color choices for the Himalayan. (Royal Enfield/)
That said, the Himalayan's brakes are interesting, and likely a work in progress, as they have a rather wooden feel and lack bite. The single 300mm disc and two-piston floating caliper do a respectable job up front, though a harder squeeze than normal was necessary to get the desired stopping performance. That's most likely because this is a 400-pound-plus motorcycle with a single front disc and ABS. Speaking of which, the dual-channel ABS system now gives the option to shut off the rear channel (via dash) on a single-piston caliper for increased control off-road, and taking full advantage of this feature makes the bike feel more at home in the dirt.
Himalayan Tripper Navigation
Royal Enfield's dash-mounted Tripper Navigation unit is useful and a joy to use. Once you install the North American app, it's easy to connect and use. The pod uses the Google Maps platform to tell you your distance to and direction of your next turn via both mileage and large arrows; total mileage to destination appears on the bottom. Tripper Navigation can connect to headsets as well. That said, the compass on the dash shows the wrong direction the majority of the time, so pay it no attention. Frankly, an old-school floating ball compass would be a better choice, because it would mesh with the vibe of the bike. Also, it would actually work.
Royal Enfield's new Tripper Navigation works seamlessly once connected to your phone through the North America Royal Enfield app and is a great addition to this funky adventure motorcycle. (Royal Enfield/)
At the end of the day, Himalayan riders will walk away with smiles on their faces. Not because they've just finished a gnarly ride and feel the satisfaction of testing the limits of man and machine, but because they had a relaxing day on a fun and capable motorcycle. This is a bike with the ability to make adventure riding accessible to a wider range of people, including those that might be intimidated by more powerful multicylinder ADVs. You'd be hard-pressed to find a machine that has such a wide range of ability in this price range. And you won't find one with this much character.
2022 Royal Enfield Himalayan Specifications
| | |
| --- | --- |
| MSRP: | $5,299 |
| Engine: | SOHC, air-cooled single |
| Displacement: | 411cc |
| Bore x Stroke: | 78.0 x 86.0mm |
| Compression Ratio: | 9.5:1 |
| Transmission/Final Drive: | 5-speed/chain |
| Claimed Horsepower: | 24.3 hp @ 6,500 rpm |
| Claimed Torque: | 23.6 lb.-ft. @ 4,500 rpm |
| Fuel System: | Electronic fuel injection w/ 33mm throttle body |
| Clutch: | Wet, multiplate |
| Frame: | Half-duplex, split-cradle steel frame |
| Front Suspension: | 41mm telescopic fork, nonadjustable; 7.9 in. travel |
| Rear Suspension: | Monoshock w/ linkage, preload adjustable; 7.1 in. travel |
| Front Brake: | 2-piston floating caliper, 300mm disc w/ ABS |
| Rear Brake: | 1-piston floating caliper, 240mm disc w/ disengageable ABS |
| Tires, Front/Rear: | 90/90-21 / 120/90-17 |
| Rake/Trail: | 36.0°/4.4 in. |
| Wheelbase: | 57.7 in. |
| Ground Clearance: | 8.6 in. |
| Seat Height: | 31.5 in. |
| Fuel Capacity: | 4.0 gal. |
| Claimed Wet Weight: | 439 lb. |
| Availability: | Now |
| Contact: | royalenfield.com |