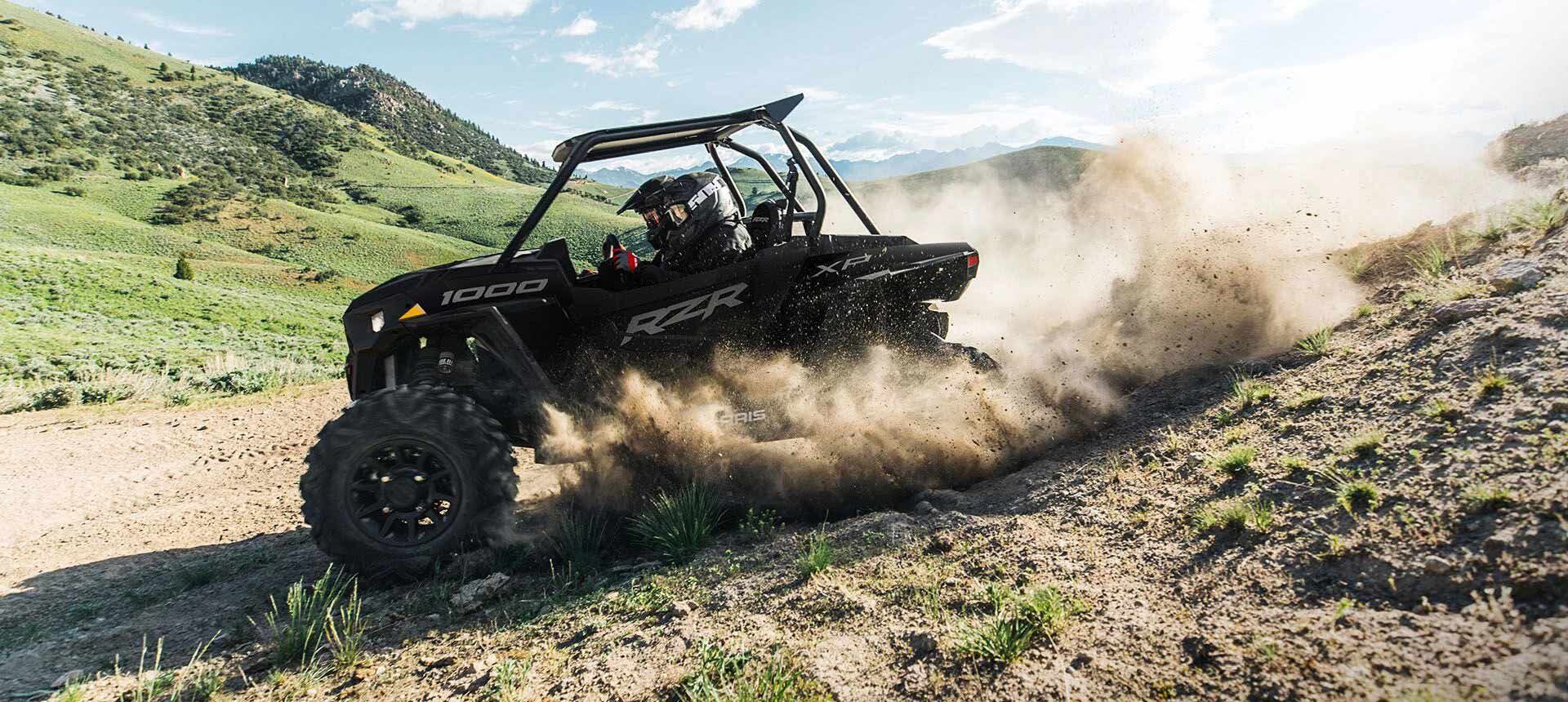 2022 Polaris RZR XP 1000 Sport available with two or four seats. (Polaris/)
Ups
Excellent suspension travel and ground clearance, several terrain-specific trims to choose from
Downs
Available horsepower is on the shallow end
Verdict
It's not the most powerful RZR, but the RZR XP 1000 shines everywhere else with a base two-seater price that begins below the $20K mark.
Overview
If you're looking for a go-everywhere side-by-side that won't break the bank, the Polaris RZR XP 1000 is a great place to start. The 64-inch width is narrow enough for most trail systems but still manages 20 inches of usable suspension travel front and rear. It's not the fastest side-by-side but there's still enough power on tap to blaze your favorite trails and shred those giant Glamis sand bowls. Available in two- and four-seat trims, there's a RZR XP 1000 for most buyers.
Updates for 2022
Aside from a few color and graphics variations, there are no significant changes to the RZR XP 1000 lineup. The bigger news is what's missing from the 2022 RZR XP lineup: the RZR XP Turbo.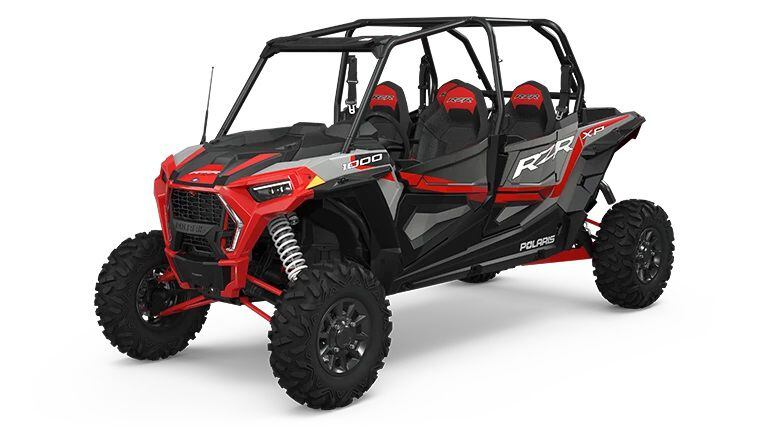 Ride Command comes standard on the 2022 RZR XP 1000 Premium models. (Polaris/)
Pricing and Which One to Buy
2022 Polaris RZR XP 1000 Sport MSRP: $19,499
2022 Polaris RZR XP 1000 Premium MSRP: $21,499
2022 Polaris RZR XP 1000 High Lifter MSRP: $22,699
2022 Polaris RZR XP 1000 Trails & Rocks MSRP: $23,999
2022 Polaris RZR XP 4 1000 Sport MSRP: $22,499
2022 Polaris RZR XP 4 1000 Premium MSRP: $24,999
2022 Polaris RZR XP 4 1000 High Lifter MSRP: $26,199
There are four two-seat and three four-seat XP models to choose from. All of them include the 110 hp ProStar engine, 20 inches of front and rear suspension travel, and at least 14 inches of ground clearance. The Premium XP and XP 4 models stand out to us with the inclusion of Ride Command, a 7-inch touchscreen display with advanced GPS and topographical mapping systems that will never leave you lost on the trail. Don't worry though, you can purchase Ride Command separately for any RZR model, such as the RZR XP 1000 High Lifter or Trails & Rocks editions.
The RZR XP 1000 High Lifter is a mud-specific side-by-side that comes with 30-inch High Lifter Outlaw II mud tires and high-clearance A-arms that provide 15 inches of ground clearance. Low range operation is reduced by 55 percent for serious grunt with low-speed throttle mapping and an Xtreme Performance drive system. High-mount intakes and vent lines keep water and debris out of the airbox and away from the drive belt and clutches, and full doors keep the mud out of your lap. A high-mounted 4,500-pound winch is standard with this model, and it's available with two or four seats.
The RZR XP 1000 Trails & Rocks Edition is only available as a two-seat rig that will certainly appease the nasty trail and rock crawler crowd. It includes 30-inch Pro Armor Crawler XG tires on aluminum beadlock wheels, high-clearance A-arms with 14.5 inches of ground clearance, a 55 percent lower low gear with low-speed throttle mapping, a 4,500-pound winch, and full doors. Standard seatbelts are also upgraded to retractable Click6 harnesses.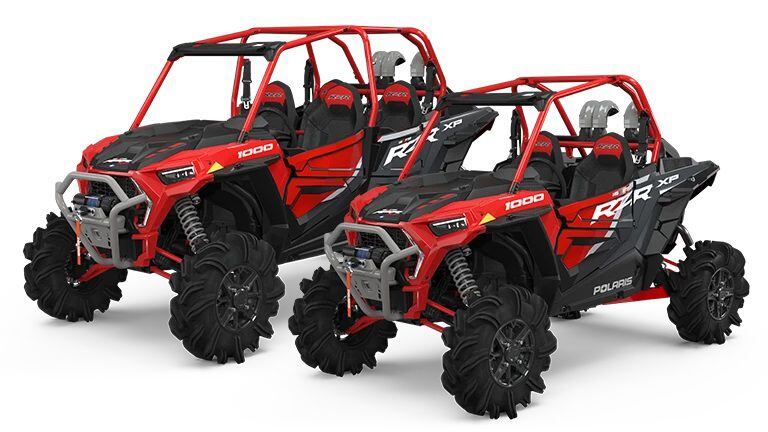 2022 Polaris RZR XP 1000 and XP 1000 4 High Lifter Edition. (Polaris/)
Powertrain: Engine, Transmission, and Performance
Each RZR XP 1000 starts out with a 999cc DOHC twin-cylinder engine making 110 hp. Polaris' automatic PVT transmission is belt driven with high and low range operation. On Demand AWD/2WD operation is selectable from the dash.
Handling
Polaris claims there is a minimum of 20 inches of suspension travel on every RZR XP 1000 model. Ground clearance starts at 14 inches, which is more than adequate for most terrain types. Dual A-arms and rear trailing arms provide true independent suspension. The RZR XP 1000 has a reputation for tracking smooth and straight at low and high speeds and providing a plush ride over uneven terrain. Walker Evans Needle shocks come with 16-position-adjustable clickers so you can dial in the perfect setting for the terrain ahead.
Brakes
Hydraulic disc brakes with dual-bore front and rear calipers are at all four wheels.
Ergonomics: Comfort and Utility
Bolstered bucket seats are all-day comfortable and come with height-adjustable seatbelts, except for the Trails & Rocks Edition, which includes retractable Click6 harnesses. The driver seat is adjustable, as is the steering wheel height. Front seats offer a fair amount of leg and elbow room. Rear seats on the XP 4 models aren't quite as spacious, but we wouldn't label them as cramped either.
Payload/Towing
Total payload capacity comes in at 740 pounds, which includes occupants. The rear cargo area is rated for 300 pounds. The RZR XP 1000 is not equipped for towing.
Electronics
Low and high beam headlights are accompanied with signature LED accenting. Instrumentation includes dual-sweep analog dials and a 4-inch LCD Rider Information Center with user selectable blue/red backlighting and brightness, programmable service intervals, speedometer, tachometer, odometer, tripmeter, clock, hourmeter, gear indicator, fuel gauge, coolant temperature, battery voltmeter, service indicator and codes, seatbelt indicator, and a DC outlet.
Warranty and Maintenance Coverage
All RZR XP 1000 models come with a standard six-month warranty.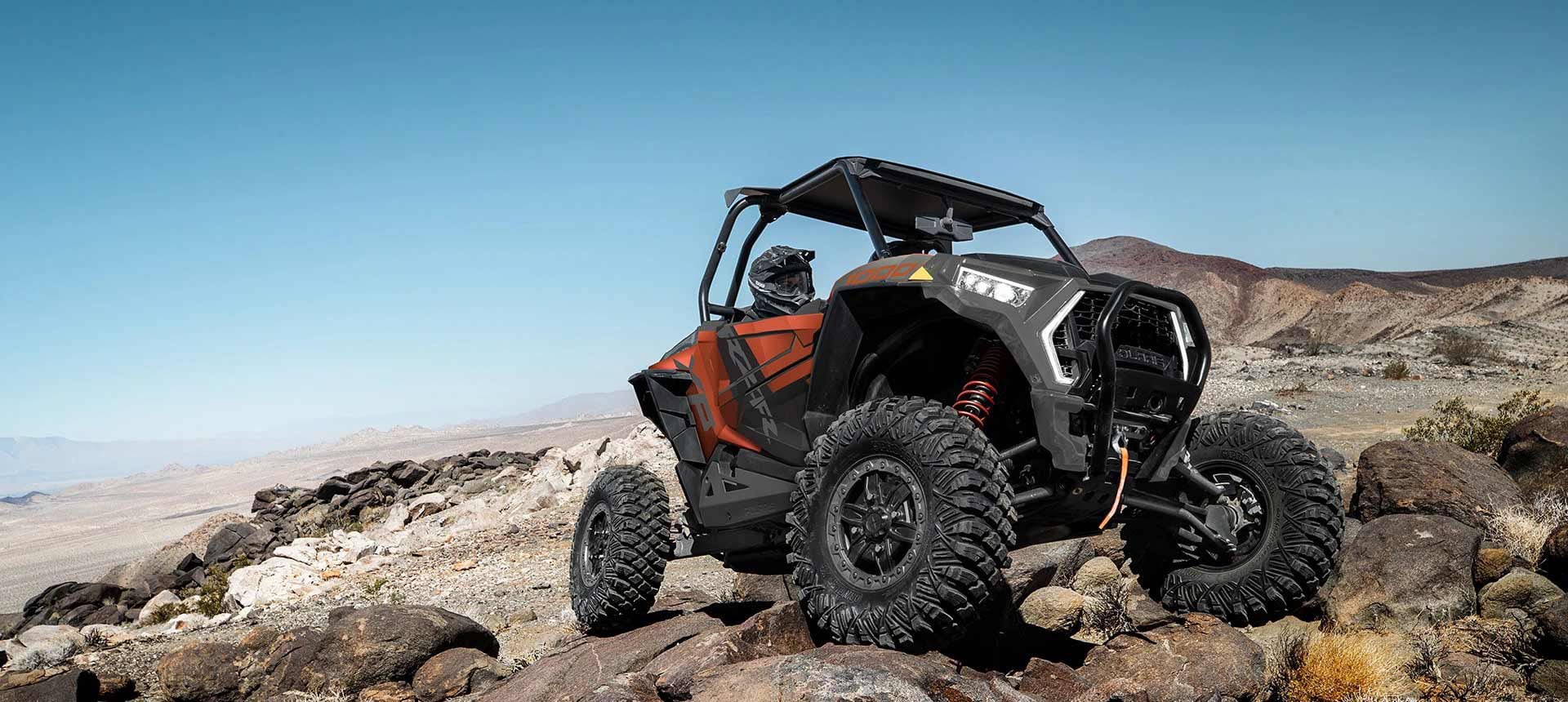 If you like your fun on the rocks, you'll dig the RZR XP 1000 Trails & Rocks Edition. (Polaris/)
2022 Polaris RZR XP 1000 and RZR XP 4 1000 Specs
| | |
| --- | --- |
| MSRP: | $19,499–$26,199 |
| Engine: | DOHC liquid-cooled twin-cylinder |
| Displacement: | 999cc |
| Bore x Stroke: | N/A |
| Compression Ratio: | N/A |
| Transmission: | Automatic PVT w/ high/low range, reverse; reduced low gear (High Lifter) |
| Claimed Horsepower: | 110 hp |
| Claimed Torque: | N/A |
| Fuel System: | EFI |
| Steering: | Electric power steering |
| Drivetrain: | Belt AWD/2WD |
| Front Suspension: | Dual A-arms w/ stabilizer bar, Walker Evans 2.0 Needle shocks, 16-position-adjustable clickers; 20 in. travel |
| Rear Suspension: | Trailing arm w/ stabilizer bar, Walker Evans 2.5 Needle shocks, 16-position-adjustable clickers; 20 in. travel |
| Front Brakes: | Hydraulic disc w/ 2-bore calipers |
| Rear Brakes: | Hydraulic disc w/ 2-bore calipers |
| Wheels, Front/Rear: | Cast aluminum (all other models) / cast aluminum beadlock (Trails & Rocks); 14 in. |
| Tires, Front/Rear: | Radial; 29×9-14, 29×11-14 (Premium, Sport) / High Lifter Outlaw II; 29.5×9.5-14, 29.5×11-14 (High Lifter) / Pro Armor Crawler XG; 30×10-14 / 30×10-14 (Trails & Rocks) |
| Length: | 119–122 in. (XP) / 146–149 in. (XP 4) |
| Width: | 64.0 in. |
| Height: | 73.8 in. (all other models) / 74.3 in. (Trails & Rocks) / 75.3 in. (High Lifter) |
| Wheelbase: | 90.0 in. (XP) / 117.0 in. (XP 4) |
| Bed Capacity: | 300 lb. |
| Towing Capacity: | Not equipped |
| Max Seating Capacity: | 2 (XP) / 4 (XP 4) |
| Ground Clearance: | 14.0 in. (all other models) / 14.5 in. (Trails & Rocks) / 15.0 in. (High Lifter) |
| Turning Radius: | N/A |
| Claimed Dry Weight: | 1,460–1,573 lb. (XP) / 1,671–1,752 lb. (XP 4) |
| Fuel Capacity: | 9.5 gal. |
| Warranty: | 6-month |
| Availability: | Now |
| Contact: | rzr.polaris.com/en-us/rzr-xp-1000-eps/ |