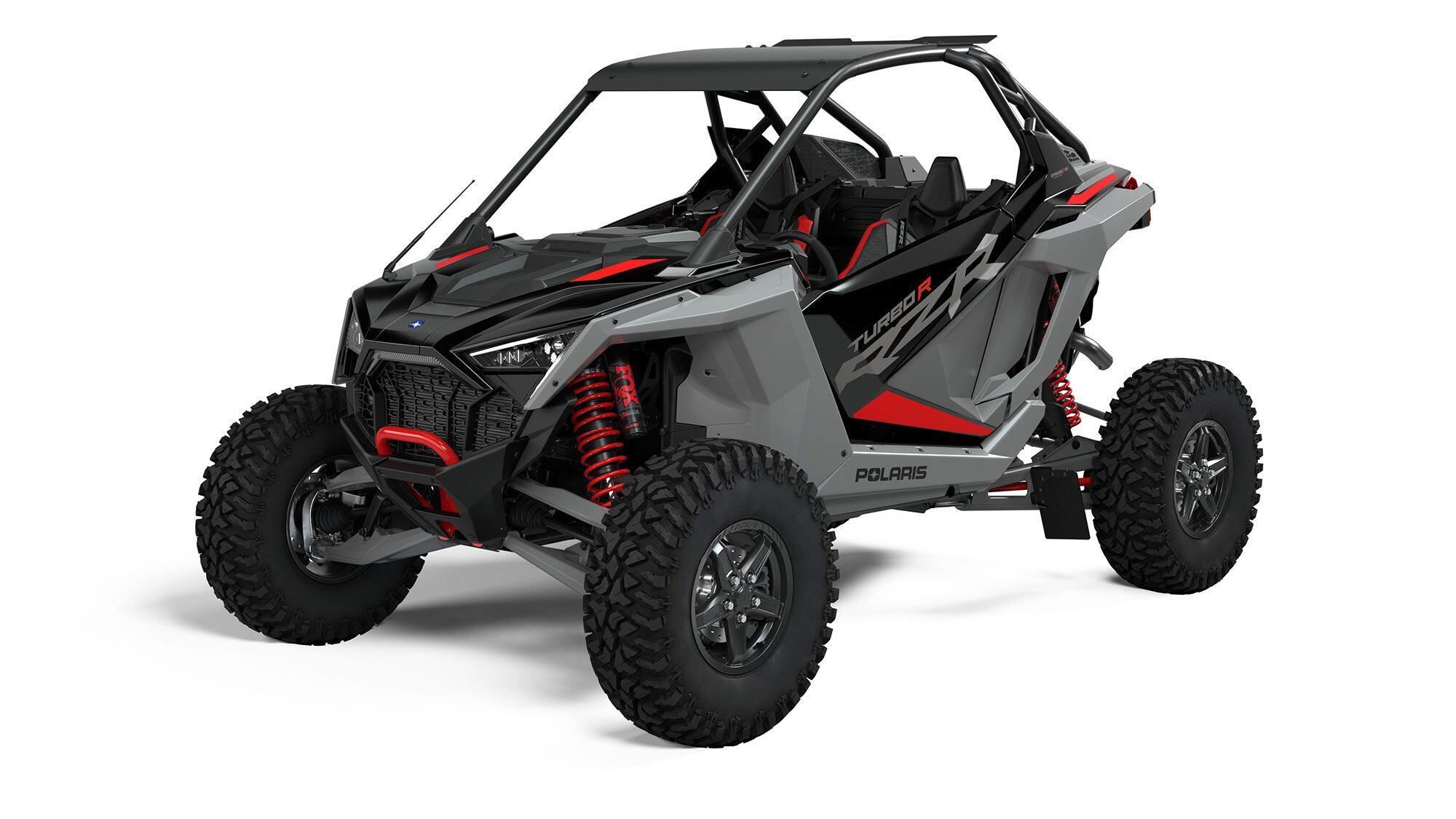 2022 Polaris RZR Turbo R Ultimate in Onyx Black. (Polaris Inc./)
Ups
Refreshed chassis, beefed-up suspension components, upgraded technology, refined handling and comfort, big brakes, and that ultrawide stance.
Downs
Limited availability, no longer the most powerful RZR on the market, significant size that may not fit all trails or trailers, one of the heavier sport side-by-sides, no factory included mirrors, and premium pricing.
Verdict
Out with the old RZR Turbo S (R.I.P.) and in with the new redesigned RZR Turbo R. Buyers are getting a similar machine on paper, but our guess is that real-world testing will result in better overall performance across every metric thanks to a host of chassis and suspension updates.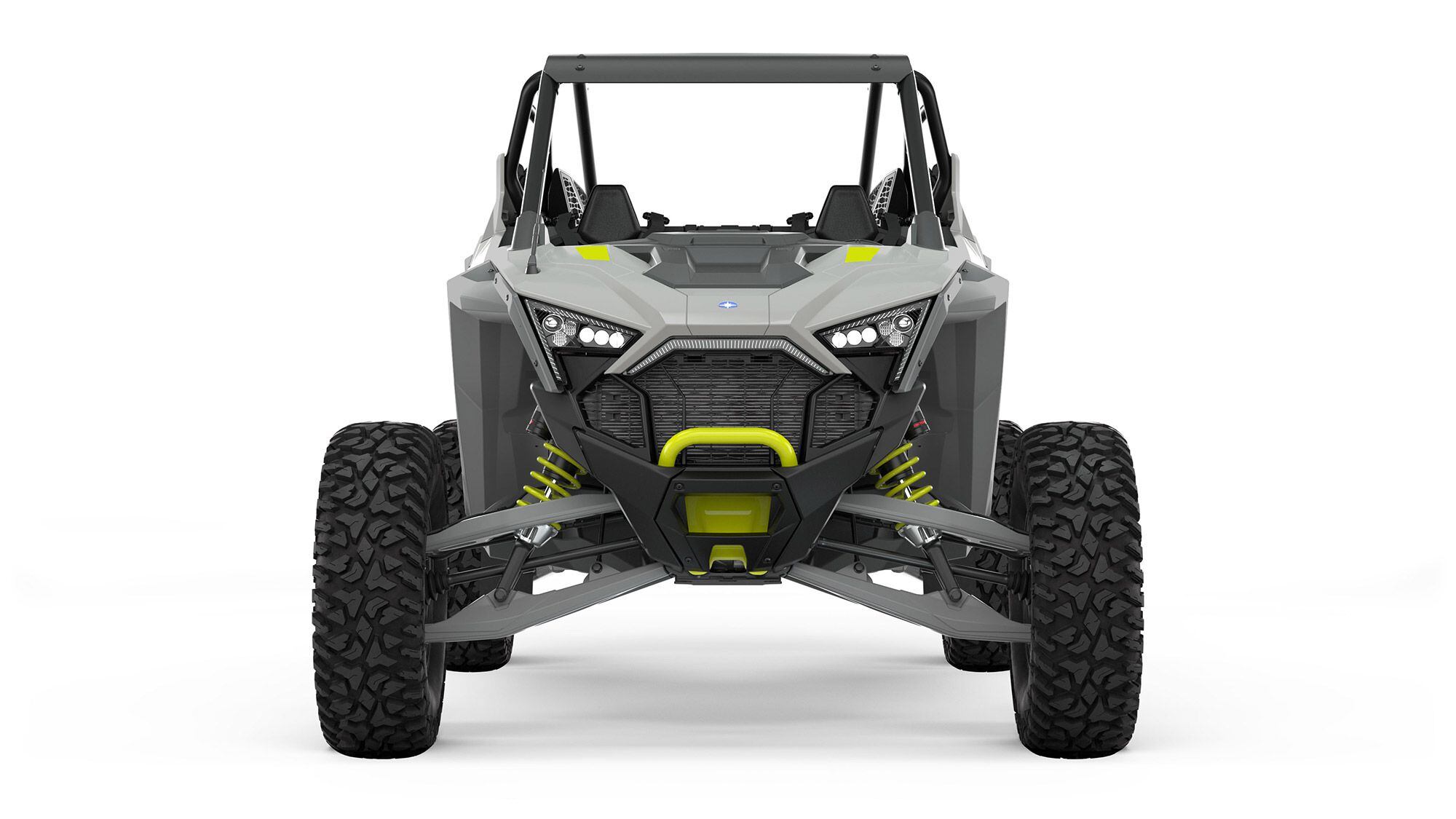 2022 Polaris RZR Turbo R Ultimate front view in Ghost Gray. (Polaris Inc./)
Overview
The 2022 RZR Turbo R is the most impressive twin-cylinder pure sport side-by-side Polaris offers. It shares the same fundamental chassis as its new bigger brother, the RZR Pro R, but uses a smaller engine brought from the previous-generation RZR.
The Turbo R still squeezes out the same 181 hp into the same automatic PVT transmission. Everything else on the vehicle has been refreshed to bring the old wide-track Turbo S model into the next-generation Pro platform.
Updates for 2022
While the RZR Turbo R still uses the same 181 hp, turbocharged parallel twin-cylinder engine and PVT transmission, everything else is new for 2022. Read on to get the details.
Pricing and Which One to Buy
2022 Polaris RZR Turbo R Sport MSRP: $25,999
2022 Polaris RZR Turbo R Premium MSRP: $29,999
2022 Polaris RZR Turbo R Ultimate MSRP: $32,999
2022 Polaris RZR Turbo R 4 Sport MSRP: $29,999
2022 Polaris RZR Turbo R 4 Premium MSRP: $33,999
2022 Polaris RZR Turbo R 4 Ultimate MSRP: $36,999
This model breaks down pretty straight forward. If you only care about buying the fundamentals that make this one of the best RZRs ever, and like saving a buck or two, grab a Sport trim. Jump up to the Premium trim if you want Ride Command and built-in audio. The Ultimate trim is your crème de la crème with premium Dynamix DV ride modes and Fox 3.0 Live Valve suspension components.
Powertrain: Engine, Transmission, and Performance
Every RZR Turbo R trim shares the same 181 hp, 925cc turbocharged twin-cylinder engine, and they all use the same automatic PVT transmission that was bolted to the previous-generation machine.
The transmission offers low/high forward gears, reverse, neutral, and park via centrally mounted manual shift lever. Power goes to either both the rear wheels in two-wheel-drive mode, or to all four wheels via a two-way rocker switch located on the dash. Polaris is quick to point out that this model doesn't offer four-wheel drive, it uses an on-demand all-wheel-drive system that tries to put power down where it's needed most.
Suspension, Handling
All RZR Turbo R machines adopt a new lightweight, boxed double A-arm front suspension with a three-piece stabilizer bar that can also be found on the RZR Pro R machines. Rear suspension is an equally impressive tubular-trailing-arm setup with boxed gusseting and toe link, standard clearance radius rods, and stabilizer bar.
Sport and Premium trim vehicles use Walker Evans 2.5-inch Velocity Series shocks up front and Walker Evans 3.0-inch Velocity Series shocks in the rear. All four offer 16-position on-shock adjustment to manually control damping.
The Ultimate trim package steps up to Fox 3.0 Live Valve X2 internal bypass shocks with electronically controlled compression and rebound damping. A sophisticated Dynamix DV system works in conjunction with the Live Valve system to tailor damping rates to various terrain conditions via four ride modes: Comfort, Rock, Track, and Baja. It's also important to note that Polaris recommends using the Comfort setting while strapping down any RZR equipped with the Dynamix DV system.
While the Walker Evans suspension should be adequate for most riders, we suspect the new Dynamix DV Fox 3.0 system will be quite impressive.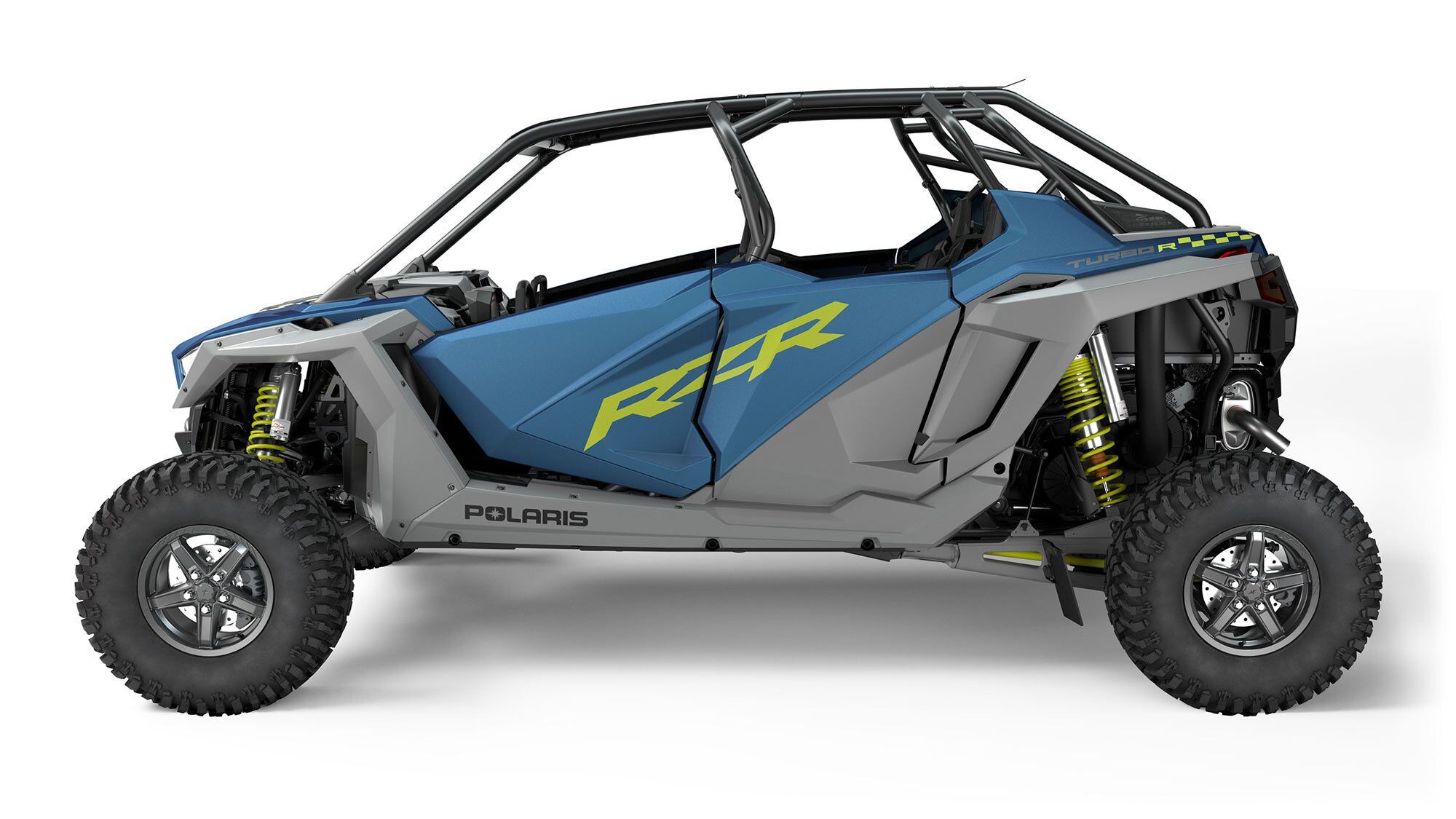 2022 Polaris RZR Turbo R 4 Premium side view in Matte Blue Slate color. (Polaris Inc./)
Brakes
Polaris uses new hydraulic three-piston calipers on the front axle that wrap heavy-duty steel rotors with aluminum top hats to help slice a few pounds of rotational weight off the Turbo R. Out back, two-piston calipers grip the same aluminum top hat rotor setup. This is the same braking system the RZR Pro R uses.
While Polaris hasn't released rotor sizes yet, we expect they'll be larger than your average setup. All four rotors come drilled to boost performance under heavy braking.
Ergonomics: Comfort and Utility
Bolstered bucket seats fill the front row. The driver gets four-way adjustability via a 6-inch front/back slide with tilt option. The front passenger seat offers tilt adjustment only. A race-inspired steering wheel with tilt and telescoping adjustment lets the driver dial in ergonomics.
Sport trims come with SubZero four-point harnesses, vented half doors, and no roof.
Premium and Ultimate trims upgrade to a six-point retractable harness, sealed half doors, and a full roof.
Front-opening internal handles are mounted to a metal bracing system that allow for easier ingress and egress with the race-type seating.
No trim level gets rearview mirrors of any kind.
A glove box offers semi-sealed storage in the cabin. The rear cargo area is equipped with the Polaris Lock & Ride attachment points to mount cargo accessories up to 300 pounds, but does not offer any sealed compartments.
Payload/Towing
As with all RZR models, the Turbo R is not rated or equipped to tow. It can handle a few well-secured items in the rear cargo space, and offers a few cubby spaces in the cabin for storage. Both the standard Turbo R and the Turbo R 4 are rated for 300 pounds of rear cargo box capacity. The four-seater chassis increases overall payload capacity from 730 to 1,160 pounds.
Electronics
A high-output charging system pumps 900 watts of power to any accessories you bolt to the machine. The vehicle's electrical system incorporates the Polaris Pulse standard to make wiring up accessories even easier. An in-dash trickle charge port and two front 12-volt DC ports are located in the cabin to help power your accessories. Polaris Pin Activated Security System (PASS) helps prevent theft.
The driver's gauge readout, on all trim levels, consists of dual-sweeping analog dials and a 4-inch LCD screen displaying the following selectable readout metrics: user-selectable blue/red backlighting and brightness, programmable service intervals, speedometer, tachometer, odometer, tripmeter, clock, hourmeter, gear indicator, fuel gauge, coolant temperature, voltmeter, service indicator and codes, seatbelt reminder light, and gear indicator.
The Premium and Ultimate trim level vehicles add the Polaris 7-inch Ride Command touchscreen display to the center of the front dashboard. This acts as an infotainment manager for most of the onboard systems. It also controls the included Rockford Fosgate stereo. The audio system uses a 400-watt amplifier to power six onboard speakers.
Only the Ultimate trims come with the new Dynamix DV Fox 3.0 Live Valve suspension bits.
All interior and exterior lighting is handled by way of LED units.
Warranty and Maintenance Coverage
All RZR Turbo R vehicles come with an unlimited-mileage six-month factory warranty when purchased new. Extended protection plans are typically available at time of purchase.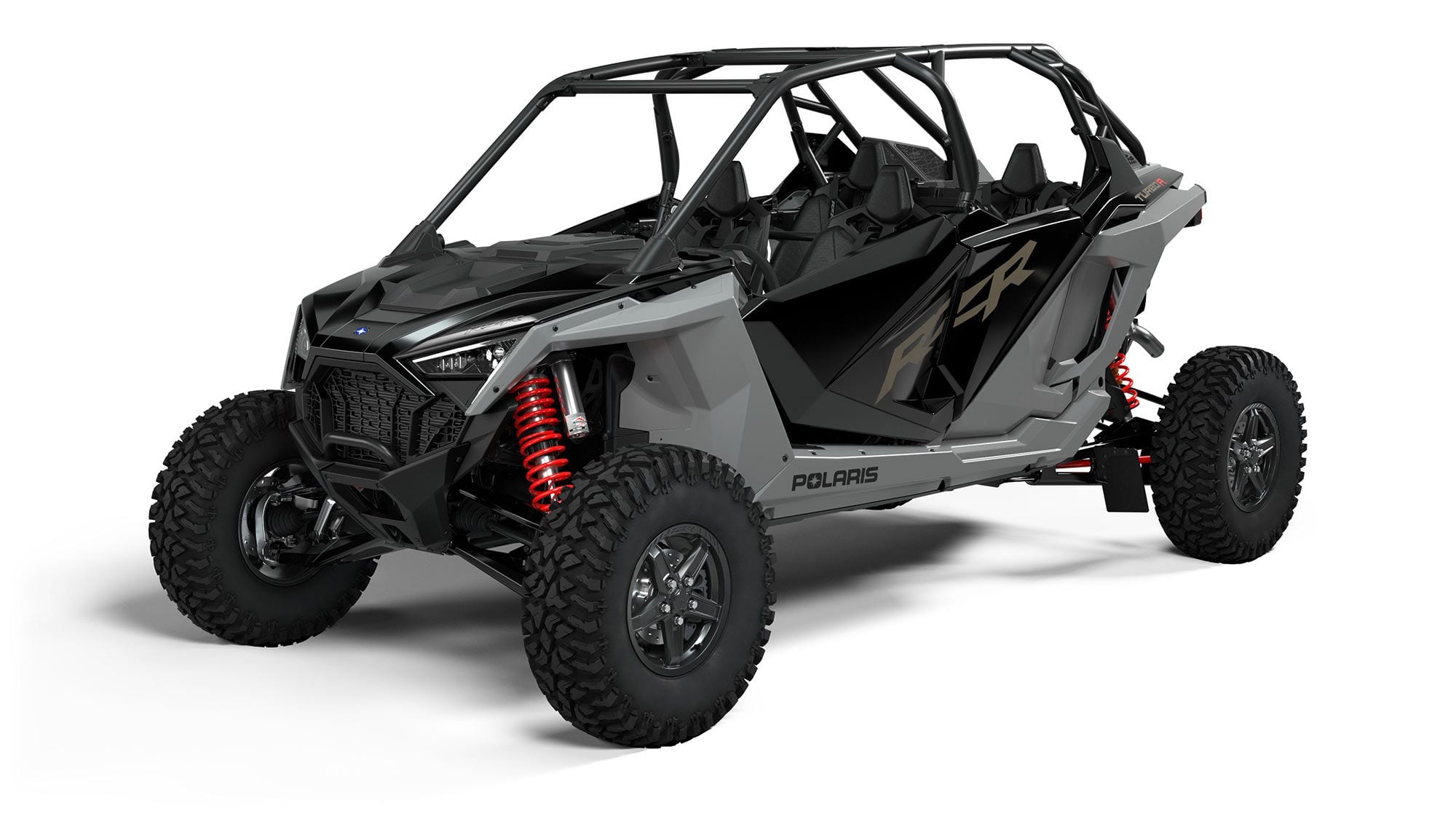 2022 Polaris RZR Turbo R 4 Sport in Cruiser Black color. (Polaris Inc./)
2022 Polaris RZR Turbo R Specs
| | |
| --- | --- |
| MSRP: | Ranging from $25,999 to $36,999 |
| Engine: | DOHC, liquid-cooled, 4-stroke turbocharged twin-cylinder |
| Displacement: | 925cc |
| Bore x Stroke: | N/A |
| Compression Ratio: | N/A |
| Transmission: | Automatic PVT w/ high/low range, reverse; parking |
| Claimed Horsepower: | 181 hp |
| Claimed Torque: | N/A |
| Fuel System: | EFI, 12-volt DC |
| Steering: | Rack-mounted high-assist electric power steering w/ Quick Turn Rack |
| Drivetrain: | Isolated Xtreme Performance True On-Demand AWD/2WD |
| Front Suspension: | Lightweight boxed dual A-arms w/ 3-piece stabilizer bar, unitized hubs, Walker Evans 2.5-in. Velocity adjustable needle shocks (Sport, Premium) / Fox 3.0 Live Valve X2 internal bypass (Ultimate); 22.25 in. travel |
| Rear Suspension: | Boxed trailing arm w/ tow link, high-clearance radius rods w/ 3-piece stabilizer bar, unitized hubs, Walker Evans 3.0-in. Velocity adjustable needle shocks (Sport, Premium) / Fox 3.0 Live Valve X2 internal bypass (Ultimate); 22.4 in. travel |
| Front Brakes: | Hydraulic disc w/ 3-bore caliper, aluminum top hat w/ steel drilled rotor |
| Rear Brakes: | Hydraulic disc w/ 2-bore caliper, aluminum top hat w/ steel drilled rotor |
| Wheels, Front/Rear: | Painted cast aluminum w/ 5-lug pattern; 15 x 7 in. |
| Tires, Front/Rear: | Maxxis Rampage Fury, 8-ply rated; 32×10-15 |
| Length: | 128.0 in. (2-seat) / 157.0 in (4-seat) |
| Width: | 74.0 in. |
| Height: | 74.4 in. (2-seat) / 77.0 in (4-seat) |
| Wheelbase: | 96.0 in. (2-seat) / 125.0 in (4-seat) |
| Bed Capacity: | 300 lb. |
| Towing Capacity: | N/A |
| Max Seating Capacity: | 2 (Turbo R) / 4 (Turbo R 4) |
| Ground Clearance: | 16.0 in. |
| Turning Radius: | N/A |
| Claimed Dry Weight: | Ranging from 1,943 lb. to 2,286 lb. |
| Fuel Capacity: | 12.0 gal. (2-seat) / 13.0 gal. (4-seat) |
| Warranty: | 6-month limited |
| Availability: | Early 2022 |
| Contact: | rzr.polaris.com |
Want to stay up to date on the latest UTV Driver news and reviews? Sign up for our weekly newsletter!