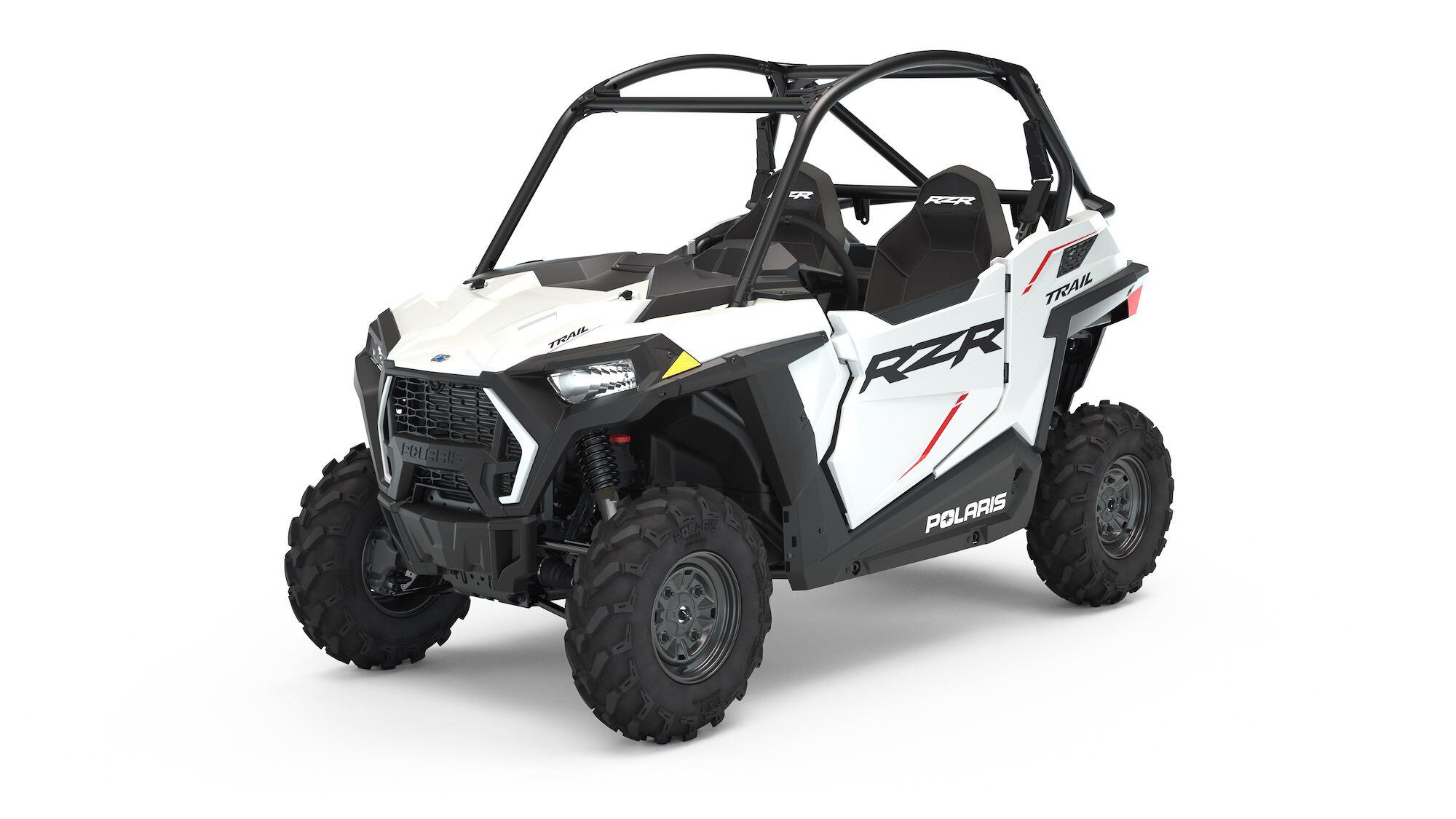 2022 Polaris RZR Trail Sport in White Lightning. (Polaris/)
Ups
The most powerful 50-inch-wide RZR, nimble, quick, full arsenal of features available across three trim levels, full doors, rated to tow 1,500 pounds with a 1.5-inch hitch receiver
Downs
Narrow width can make it feel a little less stable on off-camber trails and at higher speeds. Cockpit room, while improved over previous models, is still cramped for larger adults due to the width. Stabilizer bars on both ends of the vehicle will limit suspension articulation during trail riding.
Verdict
A fully featured RZR platform in a pint-size version. This tiny, 50-inch-wide RZR Trail packs a punch with its class-leading power-to-weight ratio. Perfect for your favorite tight trails or those with small towing capacities. You'll also enjoy some cost savings on the Sport trim compared to many other side-by-sides on the market.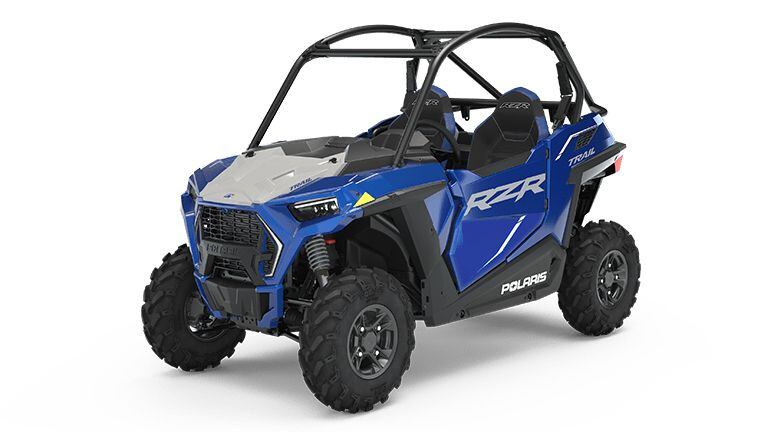 2022 Polaris RZR Trail Premium in Polaris Blue. (Polaris/)
Overview
The 2022 Polaris RZR Trail hits a target market that needs a skinny machine for tight trails, but still wants modern amenities and power levels. With an 875cc fuel-injected twin-cylinder engine pumping out 75 hp, the RZR Trail can easily push the factory 26-inch PXT tires anywhere a driver would want to go.
Updates for 2021
No changes for the 2022 model year aside from a small price increase.
Pricing and Which One to Buy
2022 Polaris RZR Trail Sport MSRP: $13,699
2022 Polaris RZR Trail Premium MSRP: $15,999
2022 Polaris RZR Trail Ultimate MSRP: $17,999
While the Sport trim nets you the largest engine in a 50-inch-wide RZR, the Premium trim improves quality of life substantially for $2,300 more. However, the Ultimate trim level garners all the goodies, including Ride Command, a full Rockford Fosgate stereo, backup camera, and roof.
If budget is a concern, we'd urge you to grab the Premium with its modern LED lighting, alloy wheels, and power steering. If you're looking for the most technology and comfort, grab the Ultimate.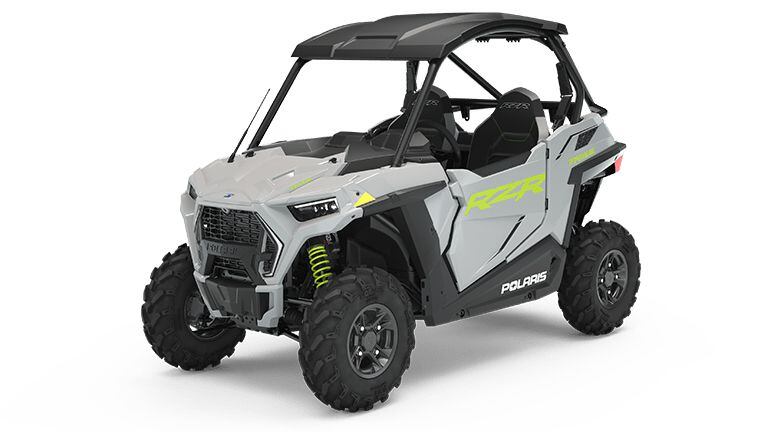 2022 Polaris RZR Trail Premium in Ghost Gray. (Polaris/)
Powertrain: Engine, Transmission, and Performance
A 75 hp, 875cc fuel-injected twin-cylinder engine powers the RZR Trail.
Handling
Polaris equipped the 50-inch-wide RZR Trail with ZF twin-tube shocks capable of 10 inches of travel. Both front and rear axles come with stabilizer bars to help eliminate body roll. Smaller 26-inch tires wrap 12-inch wheels. The Premium and Ultimate trim levels include power steering. The narrow width and narrow tires are a double-edged sword. The RZR Trail is capable of traversing tight narrow trails but does feel more tippy because of it. High-speed maneuvers should be attempted with much prejudice.
The Ultimate model upgrades suspension components to Fox 2.0 Podium X components. While you wont get any additional wheel travel, you will notice improved damping and bottoming-out resistance.
Brakes
Every RZR Trail trim utilizes hydraulic disc brakes on all four corners, each with a dual-bore caliper. This results in impressive stopping power for such a small machine. The parking brake is set by placing the transmission to park.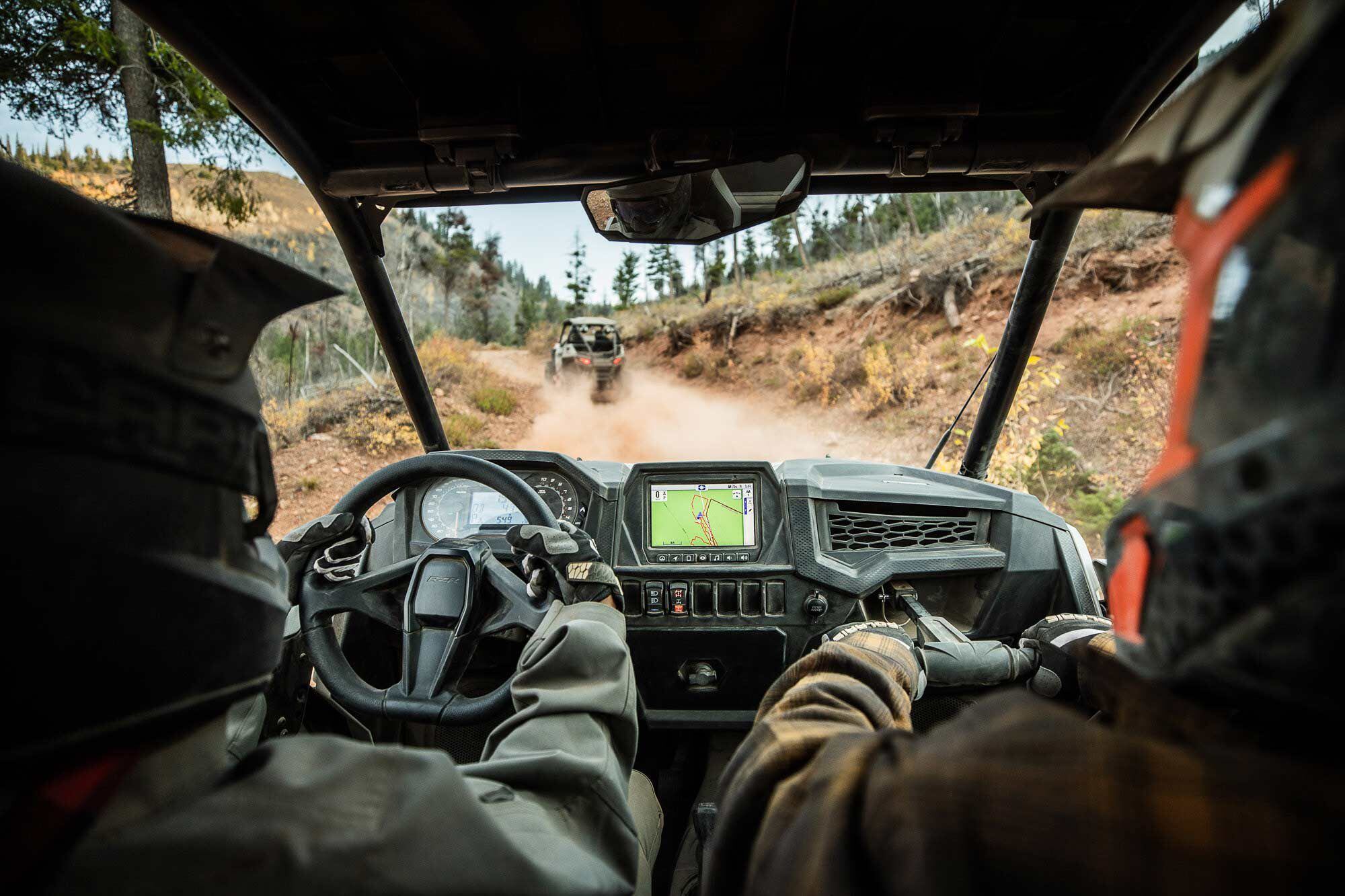 2022 Polaris RZR Trail Ultimate interior cab view. (Polaris/)
Ergonomics: Comfort and Utility
A narrow machine will never offer the same level of comfort as a larger side-by-side, but Polaris has taken steps in this recent iteration to maximize cabin room for both passengers. All interior panels are still hard plastic and give a very utilitarian feel. Drivers will get a manual sliding seat and tilting steering wheel. Passengers have a seat adjustment, but they'll need a tool to accomplish the task. Passengers also get an adjustable T-bar to hang on to.
A small bed cargo area sits behind the cab and comes rated for a maximum of 300 pounds of cargo. It utilizes the Polaris Lock & Ride system.
The Ultimate trim level is the only RZR Trail that comes standard with a plastic roof.
Payload/Towing
Bed capacity is rated at 300 pounds maximum weight. The RZR Trail is equipped with a standard 1.25-inch hitch receiver that's rated at a maximum towing capacity of 1,500 pounds.
Electronics
Dual-sweep analog dial gauges fill the driver's side of the dashboard. A 4-inch LCD rider information center displays speedometer, tachometer, odometer, tripmeter, clock, hourmeter, gear indicator, fuel gauge, coolant temperature, voltmeter, service indicator, seatbelt reminder, and DC outlet status. Lighting is by way of front 55-watt/60-watt high/low beam headlights and rear LED taillights. Transfer case drive modes are handled by way of a dash-mounted rocker switch.
Premium models upgrade the headlights to high/low LED units with white LED accents.
Ultimate models receive both the LED headlights and the Polaris Ride Command system with Rockford Fosgate stereo. In addition, a rear backup camera is included.
Warranty and Maintenance Coverage
A six-month factory warranty comes standard with all 2022 RZR side-by-sides. Optional extra Polaris protection is available at time of purchase to extend your warranty period.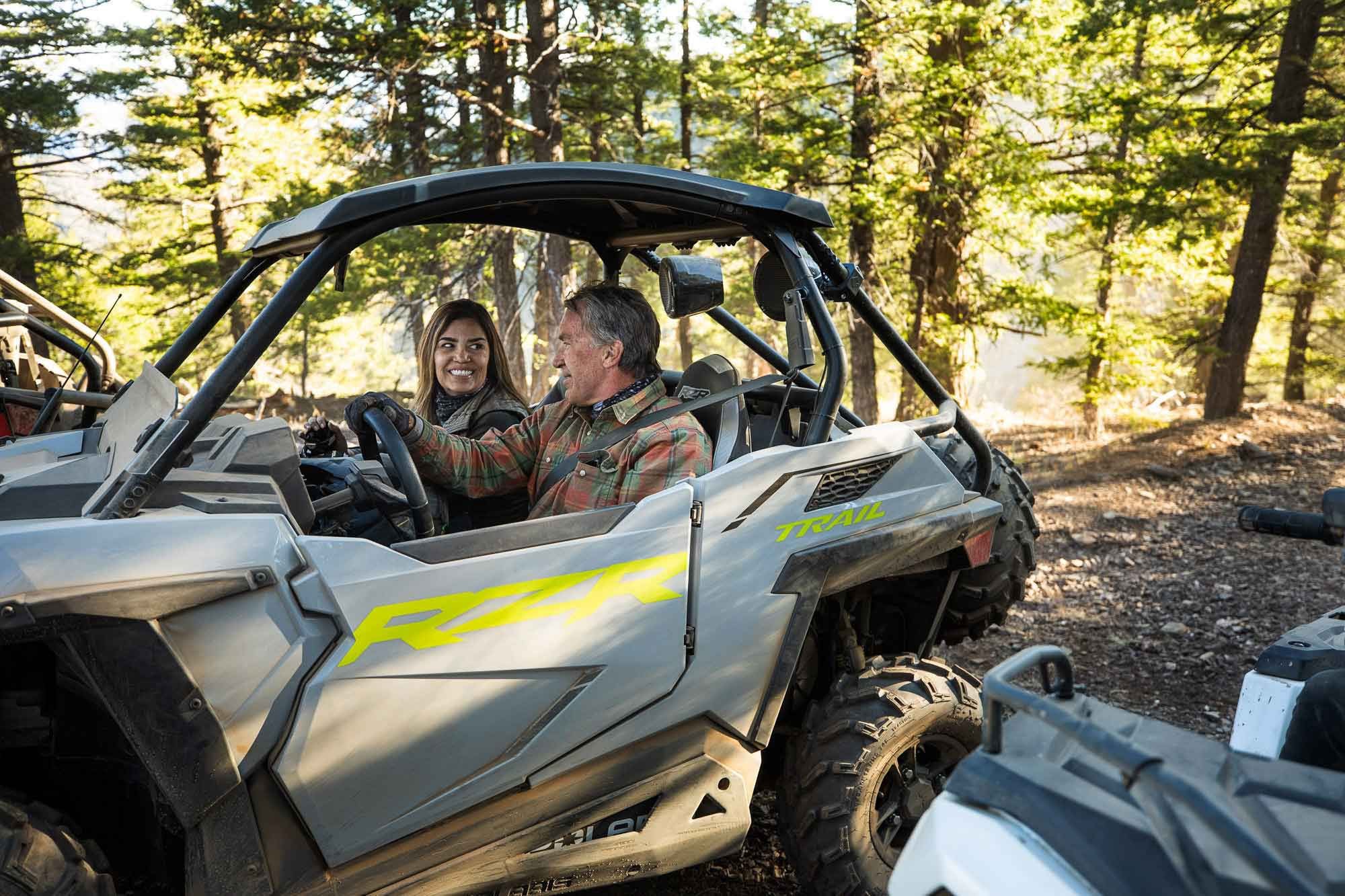 2022 Polaris RZR Trail Ultimate two-seater side-by-side. (Polaris/)
2022 Polaris RZR Trail Specs
| | |
| --- | --- |
| MSRP: | Starting at $13,699 |
| Engine: | DOHC, liquid-cooled 4-stroke twin-cylinder |
| Displacement: | 875cc |
| Bore x Stroke: | N/A |
| Compression Ratio: | N/A |
| Transmission: | Automatic PVT w/ high/low range, reverse |
| Claimed Horsepower: | 75 hp |
| Claimed Torque: | N/A |
| Fuel System: | EFI |
| Steering: | N/A (Sport) / electric power steering (Premium, Ultimate) |
| Drivetrain: | True On-Demand AWD/2WD (Sport) / High Performance True On-Demand AWD/2WD/VersaTrac turf mode (Premium, Ultimate) |
| Front Suspension: | Dual A-arms w/ stabilizer bar, ZF Sachs (Sport) / ZF twin tube (Premium) / Fox 2.0 Podium X (Ultimate); 10.0 in. travel |
| Rear Suspension: | Dual A-arms w/ stabilizer bar, ZF twin tube (Sport, Premium) / Fox 2.0 Podium X (Ultimate); 10.0 in. travel |
| Front Brakes: | 4-wheel hydraulic disc w/ 2-bore calipers |
| Rear Brakes: | 4-wheel hydraulic disc w/ 2-bore calipers |
| Wheels, Front/Rear: | Steel (Sport) / cast aluminum (Premium, Ultimate); 12 in. |
| Tires, Front/Rear: | PXT; 26×8-12 / 26×9-12 |
| Length: | 110.9 in. |
| Width: | 50.0 in. |
| Height: | 67.9 in. |
| Wheelbase: | 79.0 in. |
| Bed Capacity: | 300 lb. |
| Towing Capacity: | 1,500 lb. |
| Max Seating Capacity: | 2 |
| Ground Clearance: | 11.0 in. |
| Turning Radius: | 13.6 ft. |
| Claimed Dry Weight: | 1,238 lb. (Sport) / 1,260 lb. (Premium) / 1,297 lb. (Ultimate) |
| Fuel Capacity: | 9.5 gal. |
| Warranty: | 6-month factory warranty |
| Availability: | Now |
| Contact: | rzr.polaris.com |