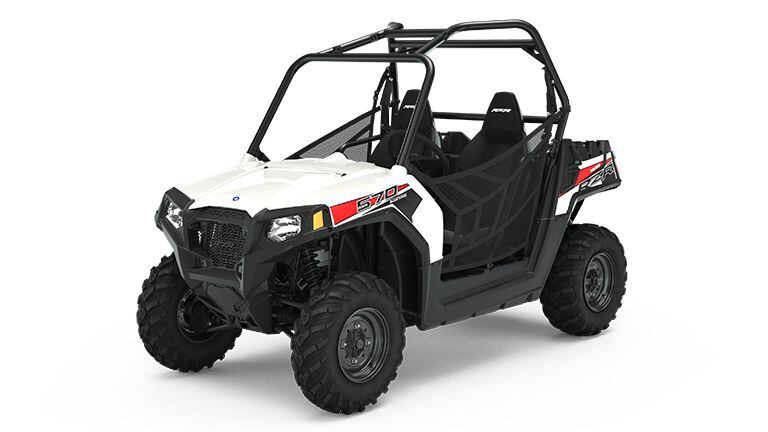 The 2022 Polaris RZR Trail 570 continues on. (Polaris RZR/)
Ups
Small dimensions, decently portable, affordable compared to all other RZR models, light weight
Downs
Older design, smaller tires, simple suspension, less ground clearance than other RZR models, basic fit and finish
Verdict
The Polaris RZR Trail 570 continues on for 2022. It balances more toward the budget end of the scale as it lacks any modern performance-oriented components. What it gives up in flash, it makes up for in agility and affordability. If you're just starting out in the world of side-by-sides or you have a young adult looking to make the jump up in rig class, the RZR Trail 570 can tick that box.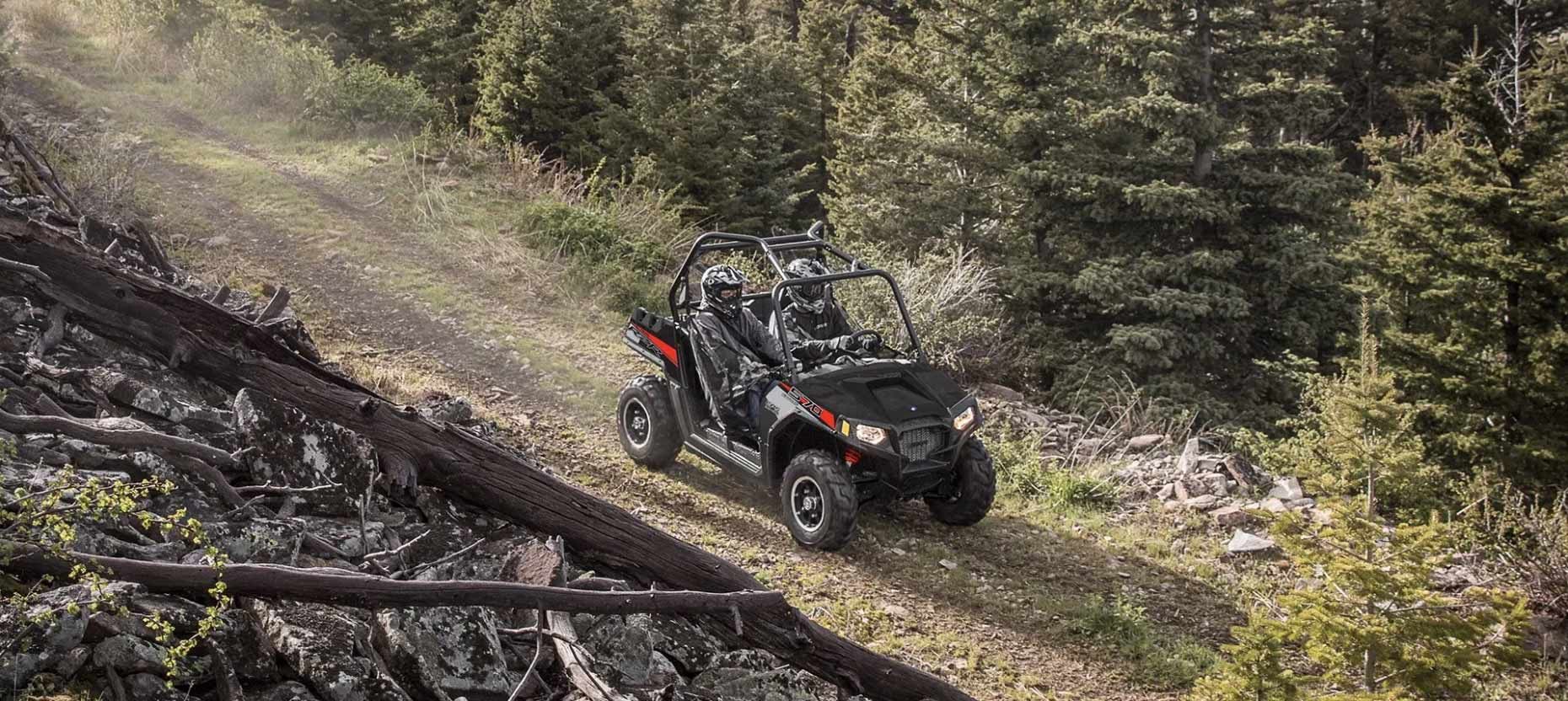 When you need an adult-sized RZR for tight restricted trails, the RZR 570 steps up. (Polaris RZR/)
Overview
The 2022 Polaris RZR Trail 570 is the most affordable RZR model Polaris offers. It's also one of the smallest. With its 45 hp single-cylinder engine, the little RZR can shuttle you and a friend down almost any trail thanks to its four-wheel-drive layout. You can even toss a cooler in the back.
Updates for 2021
The RZR Trail 570 rolls right along with no mentionable changes for 2022.
Pricing and Which One to Buy
2022 Polaris RZR Trail 570 MSRP: $10,999
Buyers will have one color to choose from for 2022, White Lightning. Pricing starts at $10,999 and is the most affordable RZR model.
Powertrain: Engine, Transmission, and Performance
The RZR Trail 570 utilizes a single-cylinder 567cc ProStar engine that produces a claimed 45 hp. The powerplant mates to a PVT belt drivetrain and standard four-wheel-drive system. The micro-RZR has two forward gears, high/low, and one reverse gear.
Handling
Front and rear 25-inch tires are sprung via ZF Sachs shocks with 9.0 inches of travel up front and 9.5 inches in the rear. Ground clearance is measured at 10.5 inches. Both front and rear ends utilize dual A-arm setups. Both ends also include a stabilizer bar to minimize body roll.
Brakes
Hydraulic disc brakes are located on all four corners of the RZR Trail 570. The front calipers utilize a dual bore setup, while the rear calipers settle for a single bore unit. The parking brake is handled within the transmission while the transmission is in park.
Ergonomics: Comfort and Utility
Passenger comfort isn't premium but Polaris does a good job of making room for full-sized adults in a 50-inch-wide machine. With minimally adjustable ergonomics, the Trail 570 is more of a one-size-fits-all rig. While there are no doors, side nets keep limbs and gear from taking flight during evasive maneuvers. The rear quarter of the machine provides a bed space capable of carrying your gear up to 300 pounds.
Payload/Towing
The rear bed is rated at 300 pounds of payload capacity. The rear frame-mounted 1.25-inch hitch receiver is rated for 1,500 pounds of towing capacity. Overall, the RZR Trail 570 can handle up to 740 pounds, including any passengers.
Electronics
A simple setup means the RZR Trail 570 goes without most electronic amenities. The driver will get a simple 2-inch display for cycling through vehicle information. Single-beam 50-watt headlights are controlled via an on/off dash switch. Even the suspension goes without electronic assistance.
Warranty and Maintenance Coverage
A six-month factory warranty is included with all RZR models.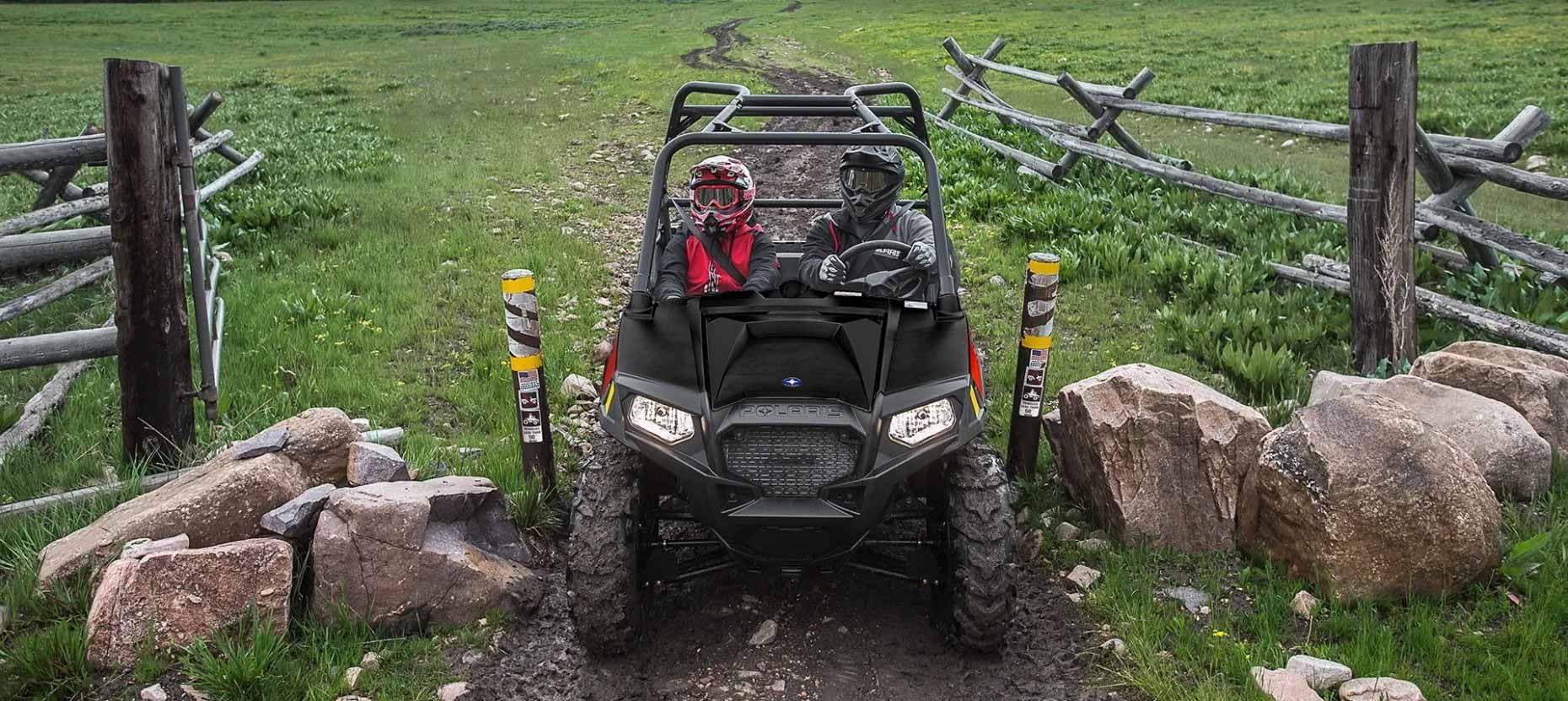 The 50-inch width means you can go almost anywhere, even those restricted trails. (Polaris RZR/)
2022 Polaris RZR Trail 570 Specs
| | |
| --- | --- |
| MSRP: | $10,999 |
| Engine: | DOHC, liquid-cooled 4-stroke single-cylinder |
| Displacement: | 567cc |
| Bore x Stroke: | N/A |
| Compression Ratio: | N/A |
| Transmission: | Automatic PVT w/ high and low range, reverse |
| Claimed Horsepower: | 45 hp |
| Claimed Torque: | N/A |
| Fuel System: | EFI |
| Steering: | Manual |
| Drivetrain: | True On-Demand AWD/2WD |
| Front Suspension: | Dual A-arms w/ stabilizer bar, ZF twin-tube shock; 9.0 in. travel |
| Rear Suspension: | Dual A-arms w/ stabilizer bar, ZF twin-tube shock; 9.5 in. travel |
| Front Brakes: | 2-bore calipers, hydraulic disc |
| Rear Brakes: | 1-bore calipers, hydraulic disc |
| Wheels, Front/Rear: | Steel; 12 in. |
| Tires, Front/Rear: | 25×8-12 in. / 25×10-12 in. |
| Length: | 107.5 in. |
| Width: | 50.0 in. |
| Height: | 69.0 in. |
| Wheelbase): | 77.0 in. |
| Bed Capacity: | 300 lb. |
| Towing Capacity: | 1,500 lb. |
| Max Seating Capacity: | 2 |
| Ground Clearance: | 10.5 in. |
| Turning Radius: | N/A |
| Claimed Dry Weight: | 996 lb. |
| Fuel Capacity: | 7.25 gal. |
| Warranty: | Factory 6-month |
| Availability: | Now |
| Contact: | rzr.polaris.com |