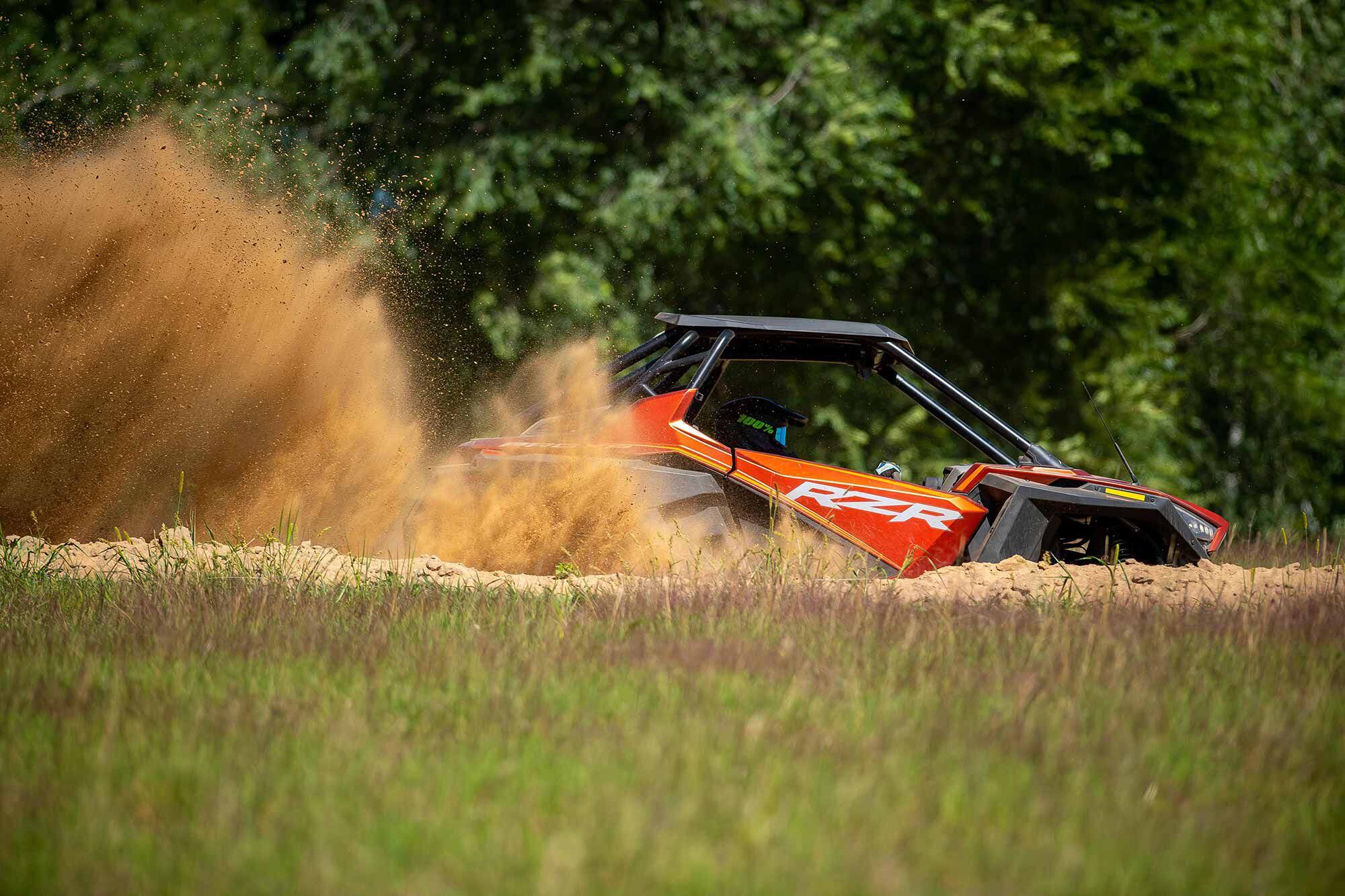 The RZR Pro XP's explosive power and comfortable cabin make it an easy all-day trail rig. (Mike Emery/)
Since 2007, Polaris has been on a warpath to create the ultimate enthusiast sport UTV. In 2019, Polaris introduced the new-generation RZR platform, the Pro XP. Now, two years later, Polaris has made the announcement that it will no longer be offering its previous-generation XP Turbo or XP Turbo S for sale after the 2021 model year. We are officially entering the next generation of Polaris UTVs.
The previous-generation RZR dates back to 2014, when the XP 1000 was released to a very gracious public. Its release started a wave in the UTV industry that we are still riding, as it offered an amazing amount of performance potential in a 64-inch-wide chassis at a low cost. The Pro XP builds on that same philosophy, but ushers in a new frame architecture that improves on the outgoing models. The Pro XP offers increased interior volume and amenities, a higher level of comfort, more horsepower, and much easier accessory integration. New for 2022, all Pro XP models get a 900-watt dual-wound stator with dual voltage regulators. Previously only found on Dynamix-equipped models, the new high-output charging system is a welcome addition.
Related: 2021 Polaris RZR Pro XP Buyer's Guide
Standard features like these incredible LED high and low beam headlights are both stylistic and functional. (Cody Hooper/)
Also new for MY 2022 is the inclusion of full door panels on the Premium and LE trims. Sport (base) model RZR Pro XPs have an opening in the door for ventilation. No matter which model you choose, the Pro XP has a gap between the front of the door and the fender that can only be sealed with aftermarket parts—Polaris does not offer a fully sealed door at this time. The door brackets are now bolted to the frame rather than welded, so aftermarket door installs or OE door replacements will be much easier than on 2020 and 2021 models.
Rounding out the updates for 2022 are new, stronger rear trailing arms, a standard trickle-charger port in the dash, a stronger charge pipe for the turbo, and a new metal blow-off valve that replaces the plastic unit found on earlier models. That trickle charger port in the dash is making its way into every Polaris UTV, and since it accepts a standard two-prong plug like those used on Battery Tenders and other popular float chargers, there is no need to buy a unique Polaris accessory charger. The 2022 Polaris RZR Pro XP comes in three flavors, starting at $21,999. Rockford Fosgate also upgraded the stereo components on all factory and accessory Polaris stereos, offering improved durability and better sound quality for 2022.
Related: 2021 Polaris RZR Pro XP 4 Premium Trail Review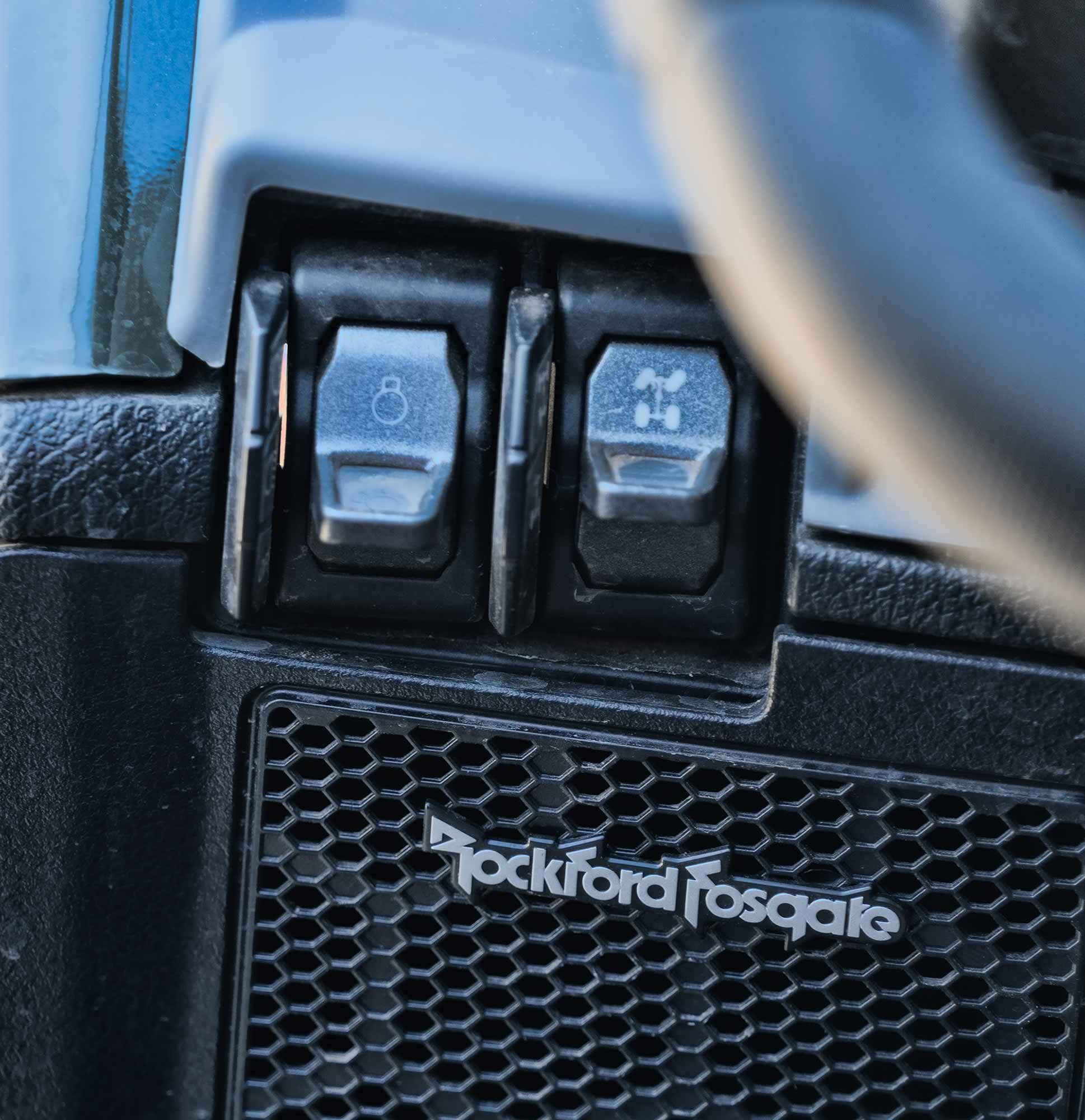 Upgraded switch gear and factory-integrated audio options make the Pro XP feel like a more well-rounded vehicle. (Cody Hooper/)
The Pro chassis is an evolution of Polaris' design philosophy, which means it does not prioritize all-out performance over all-day comfort. The 64-inch-wide car offers great suspension performance for its footprint, but does not pack the handling prowess of the wider, more sport-focused RZRs Polaris has offered in the past. We expect to see a 72-inch-wide sport model on this new platform very soon, as we know Polaris has been working on that and other higher-spec versions of the Pro. While it is sad to see the older RZR we know and love finally be put to bed, the leaps in comfort, performance, and quality that are possible with this new architecture are astounding.
On the inside, the Pro is a nice place to be. Having a wider cab and much more interior volume than previous RZRs gives the Pro chassis an immediate leg up. The seat sits lower than any other 64-inch RZR, more reminiscent of a Yamaha YXZ or Can-Am X3 seating position. Indents in the door panels leave plenty of room for your knees, and the dash and cab layout is a big upgrade from previous models. New toggle switches for the lights and 4WD systems replace the standard rocker switches for a more upscale feel, and top-tier models even feature controls for some of the electronic systems fitted to the steering wheel. Polaris is aiming for automotive levels of comfort and convenience, and they are getting there quickly.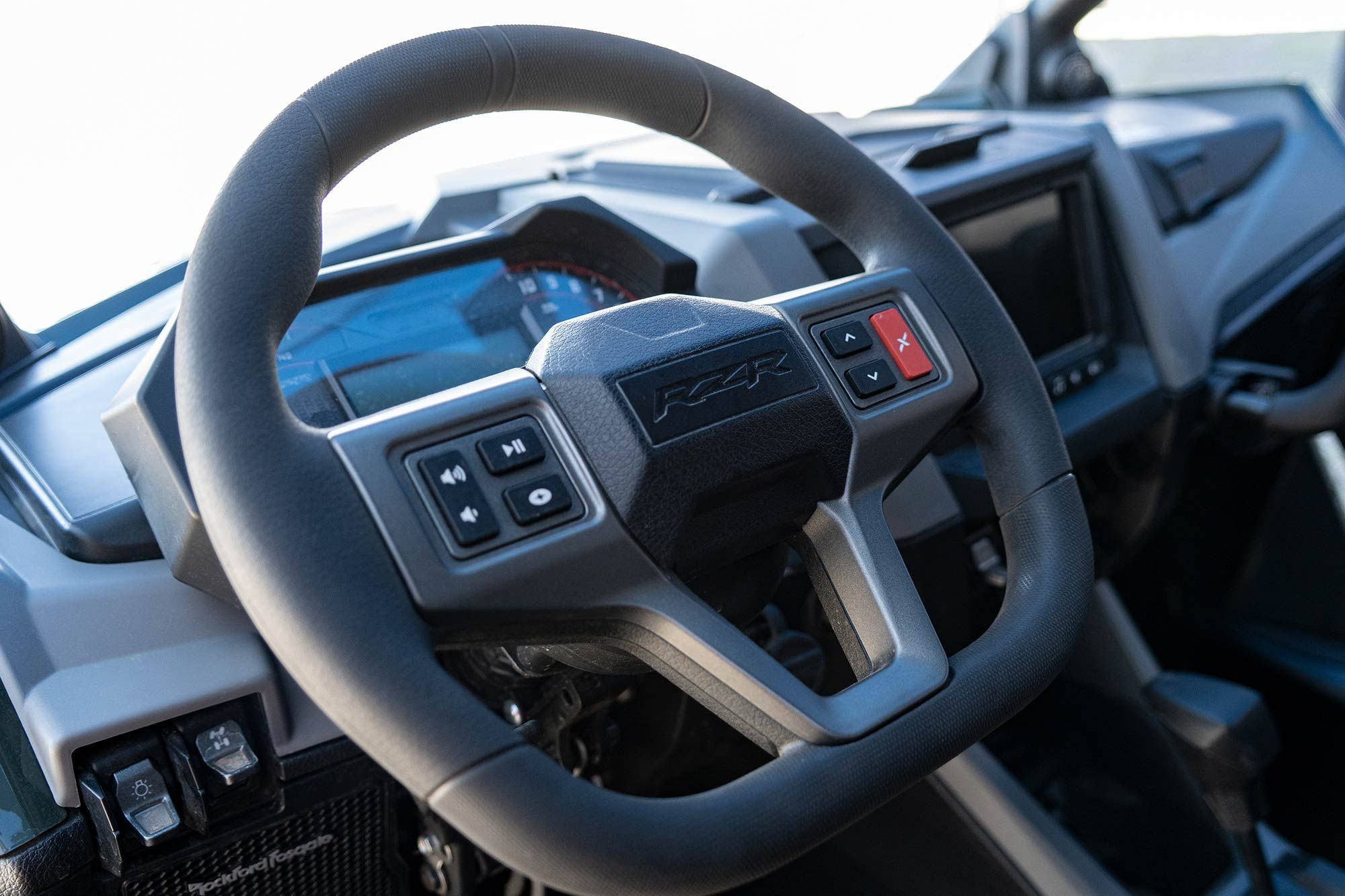 The Ultimate trim's steering wheel is very nice, offering audio and suspension controls right from the wheel. That red X button is instant fun on the trail. (Cody Hooper/)
Perhaps one of the most compelling reasons to buy an RZR Pro XP is the number of integrated and accessory features available. Standard on Premium and higher trim levels, the Ride Command GPS and infotainment system is the best on the UTV market. Ride Command lets you track and view your riding buddies in real time using GPS data that now covers more than 750,000 miles of dirt trails, and it comes pre-installed in your Pro XP's dash. Steering wheel controls for audio volume, menu navigation, and more make the Pro feel easy to use on the trail. The Dynamix suspension-equipped Ultimate model even features an "X" button on the wheel, which sets the suspension to full stiffness immediately and for as long as you hold the button. This is a great tool for anywhere you may need a slight increase in ride height or need to absorb a big impact.
The Pro XP's drivetrain is also upgraded over the last-gen Turbo RZRs. A 181 hp ProStar twin engine uses a liquid-cooled turbocharger to feed boost to the parallel-twin, dual-overhead-cam engine. It represents the latest in Polaris' ProStar engine architecture and packs a big punch. The mill makes great noises, but we do wish it were paired with something other than a standard CVT transmission. Rumor has it Polaris is working on a fix for us shift-it-yourself types.
Related: 2021 Polaris RZR Pro XP 4 Premium First Look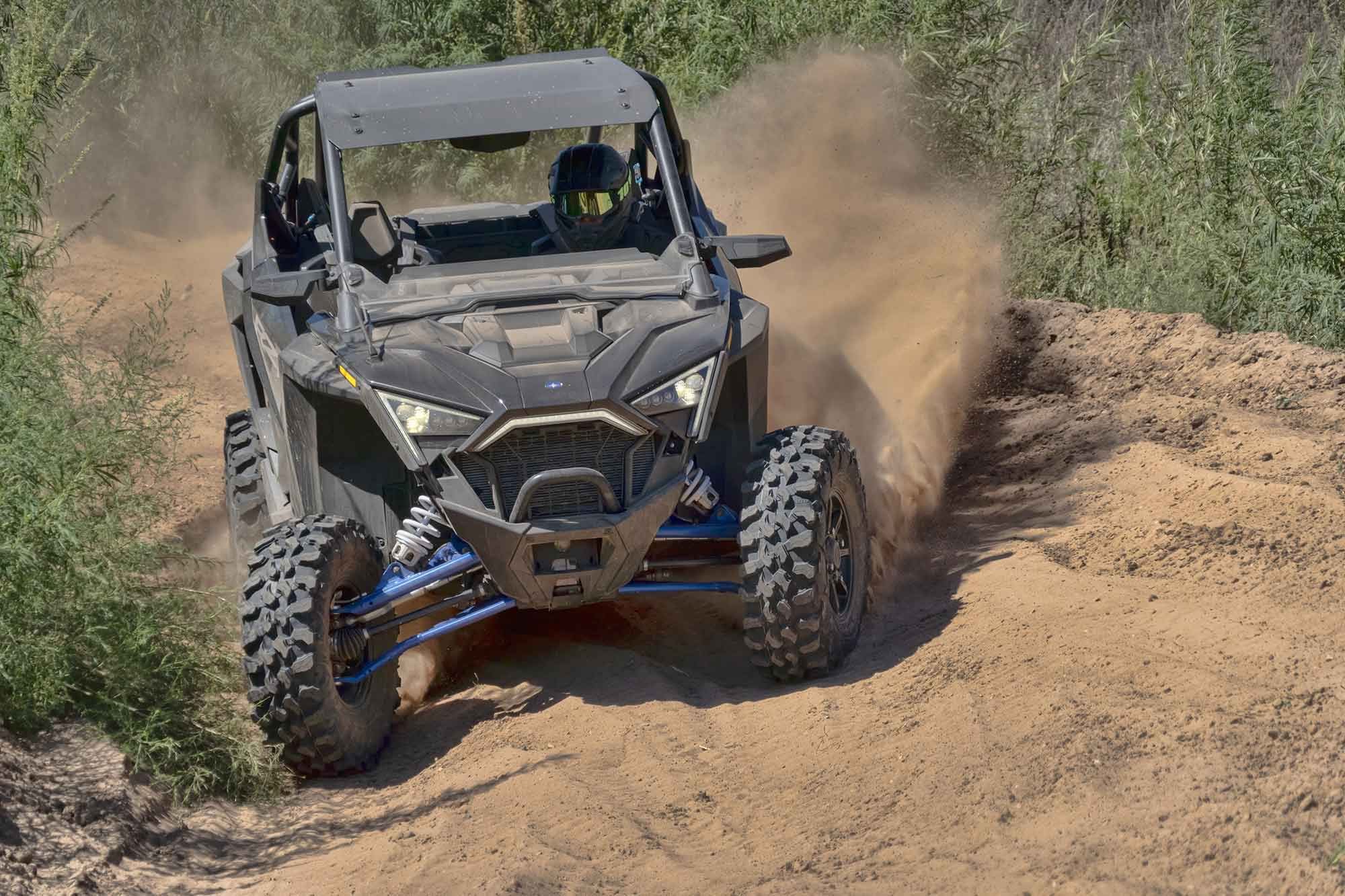 Steering feel is muted, but front-end traction is fairly strong. The stock Maxxis Carnivore tires are great all-terrain meats. (Cody Hooper/)
The Pro also receives upgraded CVT clutches compared to the XP Turbo and Turbo S, though the final model year Turbo S models did receive the Pro XP clutch as a last-minute upgrade. Polaris claims the Pro clutch offers increased cooling and double the belt life of the previous generation. We are currently testing that very UTV to bring you a chronicling of the XP chassis' lifetime achievements and successes. The Pro XP's clutches are stronger than previous generations, but still lack the low-speed drivability and polish that manufacturers like Kawasaki and Yamaha are bringing to the market. The trade-off for some of that low-speed smoothness is immediate power delivery and throttle response once boost builds, as the Pro XP has an explosive and generous method of power delivery. Polaris claims it tuned the Pro XP for quickest engine response between 20 and 50 mph, which is perfect for ripping around at trail speeds. No matter what elevation you are at, the Pro XP offers stunning acceleration.

The 2022 Pro XP's three trim levels are Sport, Premium, and Ultimate. (Polaris/)
The Pro XP's three trim levels are Sport, Premium, and Ultimate. They are tiered much like an automotive company's trim levels, offering higher performance potential and more creature comforts the higher up the list you go. Pro XP Sport and Premium trims use 2.0-inch-diameter Walker Evans Needle valve shocks that are compression adjustable up front, and 2.5-inch body Walkers in the rear. They give a plush ride, but the front suspension feels far softer than the rear. Some time spent adjusting preload and compression stiffness to match your driving style will make your time in the Pro XP more enjoyable. On the Ultimate trim, Dynamix 2.0 brings 2.5-inch body Fox Podium Live Valve shocks to all four corners, utilizing Polaris' latest shock control technology to keep the ride comfortable and the body roll minimized.
The Ultimate would be our pick of the litter if money was not tight, seeing as it comes standard with Ride Command, Rockford Fosgate audio, Dynamix 2.0, and upgraded (also larger) Fox shocks. Dynamix 2.0 functions well, and the responsiveness of the "Oh no!" button on the steering wheel makes it a truly useful function. In the dunes, simply holding the X button on the wheel of the Pro XP Ultimate will firm up the suspension enough to allow you to keep the car from bottoming on steep dune transitions at speed. The price difference is pretty staggering, with the Pro XP Sport starting at $21,999, the Premium at $27,299, and the Ultimate at $29,499. If you are thinking about purchasing a Premium, spend the extra $2,200 and get the Dynamix car, unless you plan on adding aftermarket suspension components down the line.
Related: Polaris Updates 2021 RZR Pro XP Lineup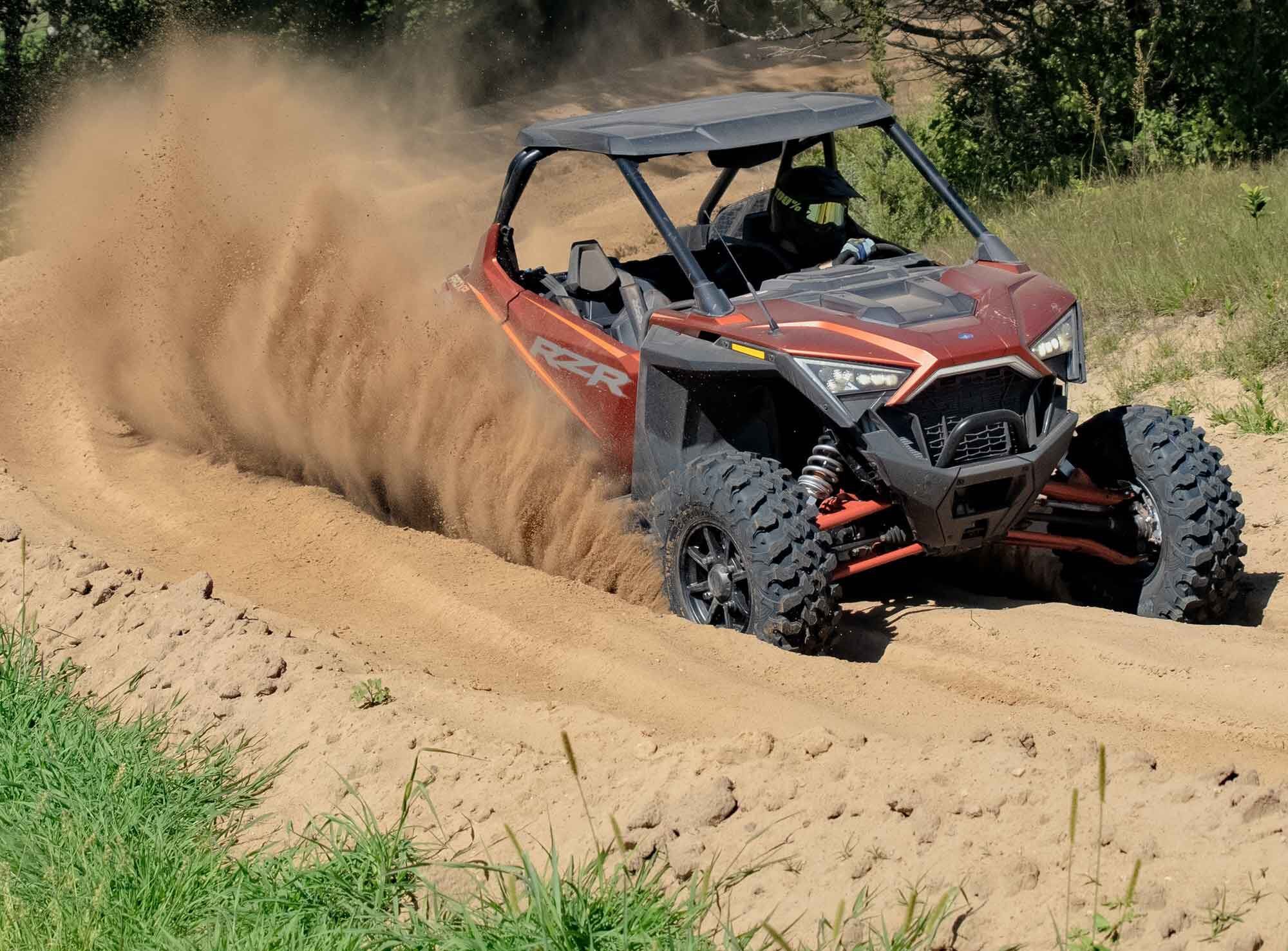 With its 64-inch stance, the Pro XP offers as much horsepower as is usable in a car this size. We can't wait to see the higher-performance versions Polaris is sure to release soon. (Cody Hooper/)
The $5,300 difference between the Sport and Premium trims gets you a full Ride Command in-dash GPS/infotainment suite, Rockford Fosgate premium audio, LED accent lighting, six-point retractable harnesses, and a telescoping steering wheel. This is a big jump in price, especially considering the Rockford system on the Premium model only comes with two tweeters and two front speakers. For such a large price gap, we were hoping Polaris would add two rear speakers and a subwoofer to the factory audio system, but they remain available as accessory only. For those looking for a basic, fast turbo car to build into their own dream UTV, the stripped-down Sport model is an easy choice, as it retains all of the horsepower and suspension geometry of the top-tier models, albeit with fewer bells and whistles.
Suspension travel numbers from the 64-inch-wide Pro XP are already impressive, so we cannot wait to see how the more performance-oriented models coming down the line stack up. Polaris lists 17 inches of front and 20 inches of rear wheel travel, which puts it in about the same territory as the Kawasaki KRX 1000. Suspension tuning on the KRX is better out of the box, but the Pro XP also makes nearly 100 hp more than the Kawasaki. Those looking for a great value and a fast ride will find it with the Pro XP Sport; at this price point, it is hard to beat.
Check utvdriver.com soon for a full test on the Pro XP!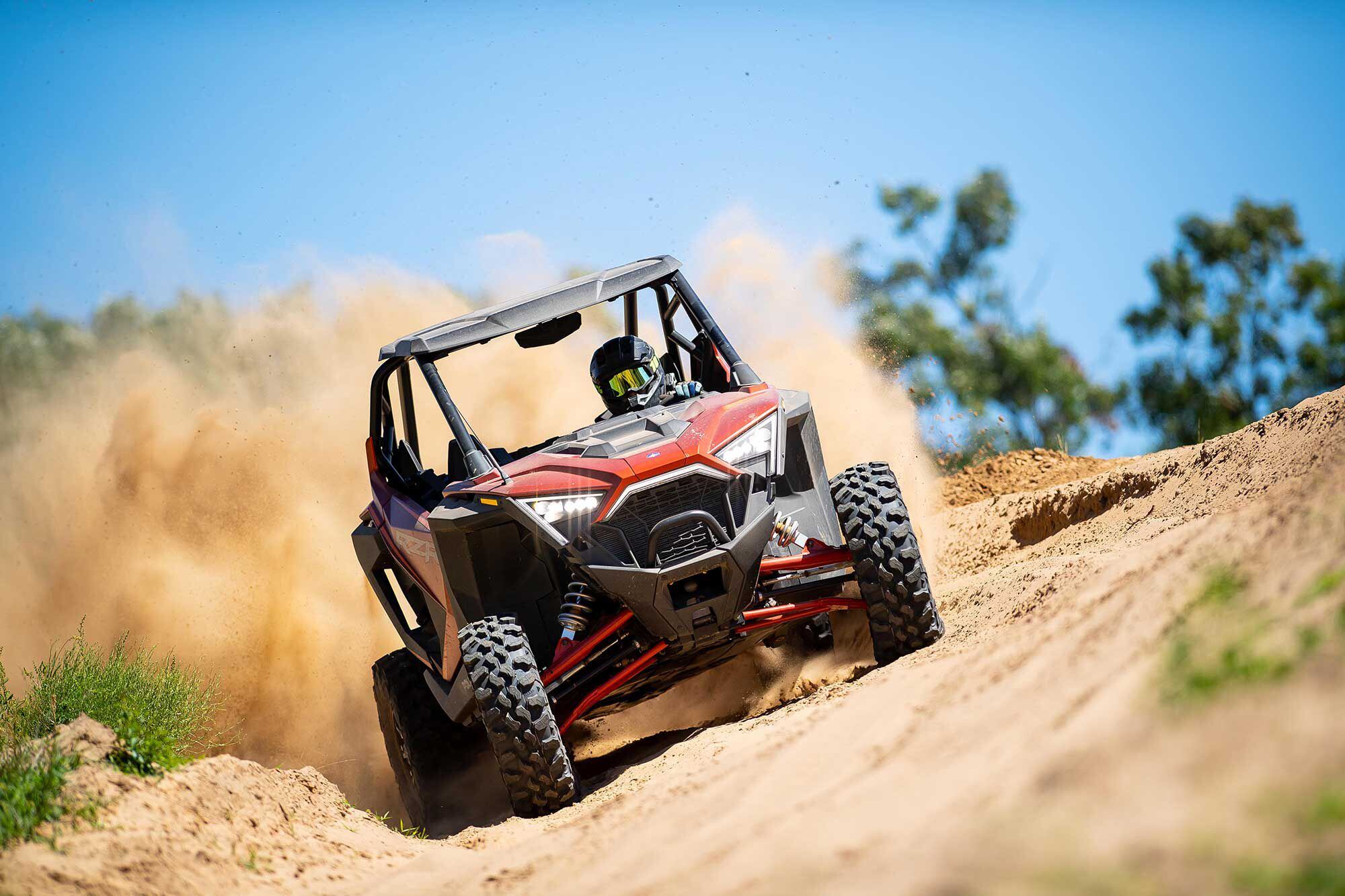 The Pro XP's look is growing on us, but we can't help but feel that the outgoing Turbo S was the best-looking car Polaris has made to date. Thankfully, the Pro XP gives you many reasons to upgrade besides looks, and most of them translate to a more comfortable RZR experience. (Mike Emery/)
2022 Polaris RZR Pro XP Sport Specs
| | |
| --- | --- |
| MSRP: | $21,999–$29,499 |
| Engine: | DOHC, liquid-cooled, turbo-charged four-stroke twin-cylinder |
| Displacement: | 925cc |
| Bore x Stroke: | N/A |
| Compression Ratio: | N/A |
| Transmission: | Automatic PVT w/ high/low gear, reverse |
| Claimed Horsepower: | 181 hp |
| Claimed Torque: | N/A |
| Fuel System: | EFI |
| Steering: | Electric power steering w/ quick turn rack |
| Drivetrain: | Isolated Xtreme Performance True On-Demand AWD/2WD |
| Front Suspension: | High-clearance dual A-arms w/ stabilizer bar, 2.0 in. Walker Evans Needle shocks w/ 16-position adjustable clickers (Sport, Premium) / Fox 2.5 Podium Live Valve w/ electronically controlled damping (Ultimate); 20 in. travel |
| Rear Suspension: | Trailing arm and high-clearance radius rods w/ stabilizer bar, 2.5 in. Walker Evans Needle shocks w/ 16-position adjustable clickers (Sport, Premium) / Fox 2.5 Podium Live Valve w/ electronically controlled damping (Ultimate); 22 in. travel |
| Front Brakes: | 4-wheel hydraulic disc w/ 3-bore front and 2-bore rear calipers |
| Rear Brakes: | 4-wheel hydraulic disc w/ 3-bore front and 2-bore rear calipers |
| Wheels, Front/Rear: | Cast aluminum; 14 x 6 in. / 14 x 7 in. |
| Tires, Front/Rear: | Maxxis Carnivore; 30×10-14 |
| Length: | 126.0 in. |
| Width: | 64.0 in. |
| Height: | 71.7 in. |
| Wheelbase: | 96.0 in. |
| Cargo Box Capacity: | 300 lb. |
| Towing Capacity: | N/A |
| Max Seating Capacity: | 2 |
| Ground Clearance: | 14.5 in. |
| Turning Radius: | N/A |
| Claimed Dry Weight: | 1,760–1,795 lb. |
| Fuel Capacity: | 12.0 gal. |
| Warranty: | Now |
| Availability: | 6 month, unlimited mileage |
| Contact: | rzr.polaris.com |