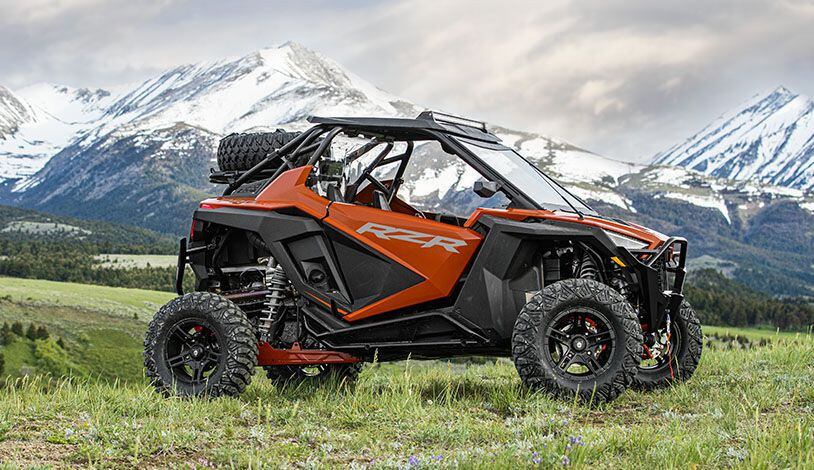 The 2022 RZR Pro XP Premium Edition outfitted with Polaris signature accessories. (Polaris/)
Ups
Turbo power, 20-plus inches of suspension travel, three trim levels with serious upgrades, two- and four-seat versions available
Downs
Not the most powerful turbo in the shed, upgraded trims are pricey, roof sold separately
Verdict
At 64 inches wide, this is a more trail-friendly turbo side-by-side, but it also packs all the muscle required for wide-open desert and sand dunes.
Overview
It's not the most horsepower offered in a side-by-side, but it's close and still blisteringly fast. Front brake calipers are beefed up to quickly slow this beast.
Upgraded trim levels aren't cheap, but they offer far more than bolt-on bumpers and fancy graphics. We're talking Ride Command, Dynamix 2.0 electronic suspension and Rockford Fosgate thumping stereo systems.
The 64 inches of width will have you going more places, unlike the 72-inch-wide side-by-sides that are purpose built for wide-open spaces. A narrower stance doesn't equate to a bumpy ride as every RZR Pro XP model includes more than enough "usable" suspension travel to match all 181 ponies on tap.
Updates for 2022
Updates are mostly cosmetic, as there are several new color options. Polaris also consolidated the RZR Pro XP and XP 4 lineup for 2022. Last year there were a total of 10 trim levels to choose from. For 2022 Polaris dropped that number to six. Polaris no longer builds a Pro XP Sport Rockford Fosgate Edition, and the 2022 Pro XP and Pro XP 4 Premium and Ultimate editions now come standard with Ride Command and a Rockford Fosgate stereo. Polaris also lowered pricing across the board on all of the Pro XP models. For example, the 2022 RZR Pro XP Sport is $1,000 cheaper than last year.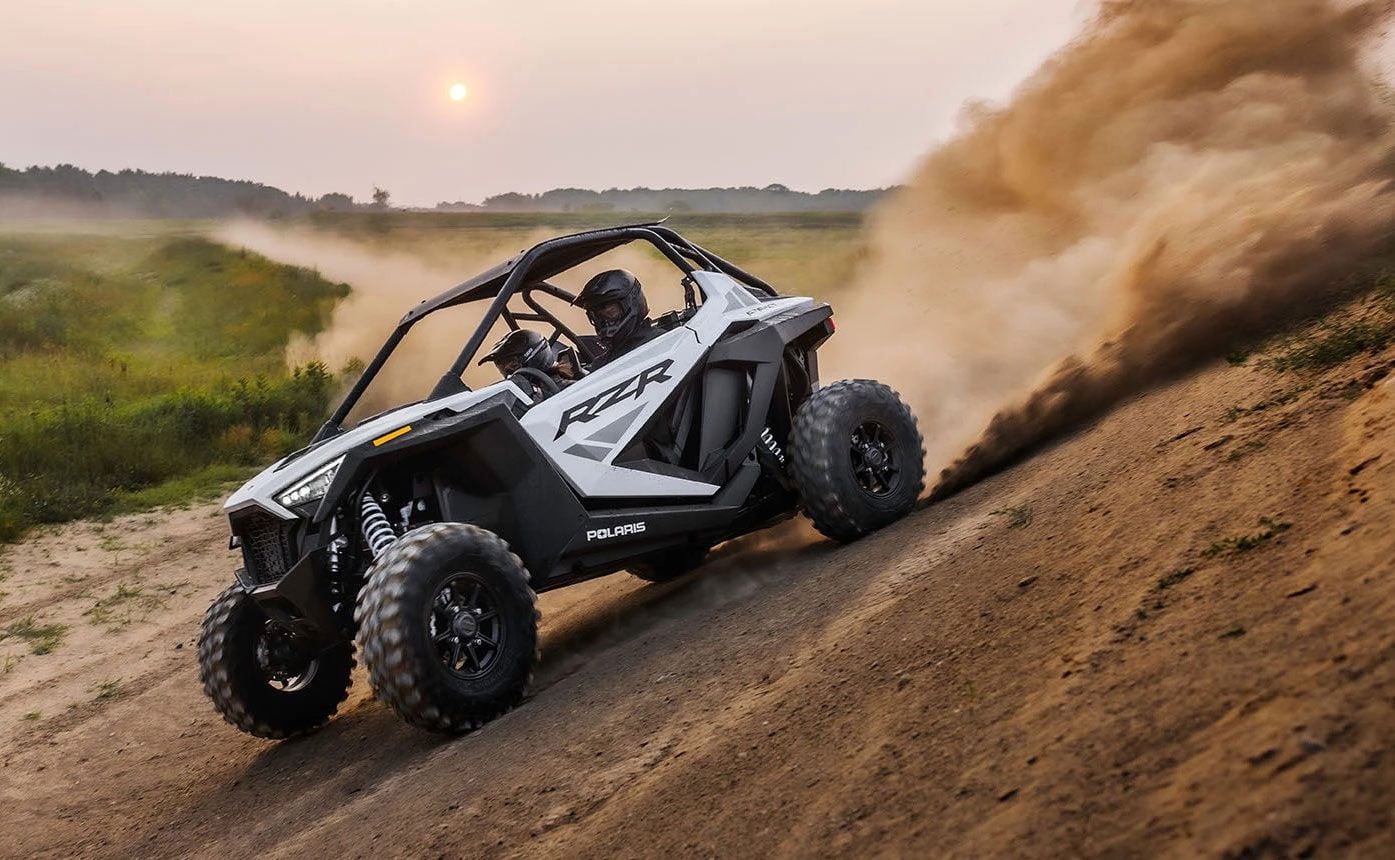 The Polaris Pro XP Sport returns with a price tag that is $1,000 cheaper than last year. (Polaris/)
Pricing and Which One to Buy
2022 Polaris RZR Pro XP Sport MSRP: $21,999
2022 Polaris RZR Pro XP Premium MSRP: $27,299
2022 Polaris RZR Pro XP Ultimate MSRP: $29,499
2022 Polaris RZR Pro XP 4 Sport MSRP: $24,999
2022 Polaris RZR Pro XP 4 Premium MSRP: $31,299
2022 Polaris RZR Pro XP 4 Ultimate MSRP: $32,299
Do you need a two-seater or a four-seater? Answer that and you've cut the decision process in half. Both come in the same three trim levels: Sport, Premium, or Ultimate.
The XP and XP 4 Sport include a 181 hp turbo engine with 20 inches of suspension travel up front and 22 inches of suspension travel at the rear. Maxxis eight-ply 30-inch tires are puncture resistant and help boost ground clearance to 14.5 inches. Available in White Lightning or Cruiser Black.
XP and XP 4 Premium editions get serious upgrades like Ride Command technology, which includes GPS technology and Polaris' extensive collection of topographical maps. It's programmable so you can load your own maps, but chances are good that Ride Command has already been where you are headed. The 7-inch glove-friendly display also contains communication and security features such as Group Ride, which shows you the location of other Ride Command users in your group. The Premium models also include a Rockford Fosgate Stage 2 Audio system. Other Premium features include full doors, painted body panels, LED accent and headlights, a telescoping steering wheel, and retractable six-point seat harnesses. This model comes in Matte Orange Rust color.
The XP and XP 4 Ultimate editions get all those premium features plus the Dynamix 2.0 Active Suspension System. Shock damping is controlled electronically, automatically, and on the fly as factors like speed and terrain change. If you have the means, go for the Ultimate. The ride quality is worth the extra coin. Ultimate models are available in your choice of Super Graphite or Army Green.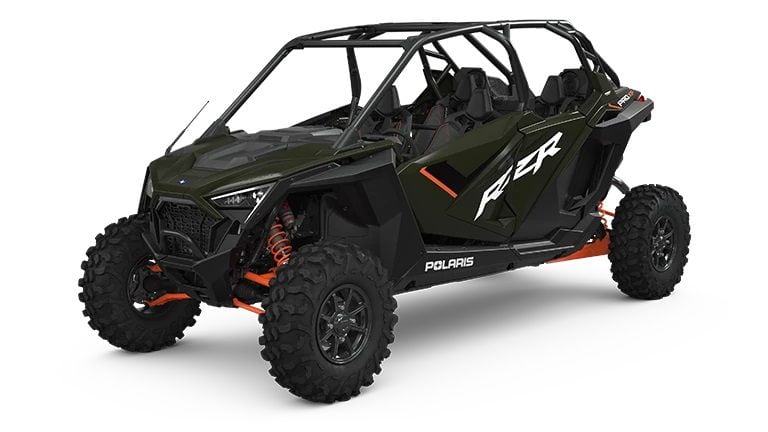 The 2022 Polaris RZR Pro XP Ultimate Edition shown here in Army Green. (Polaris/)
Powertrain: Engine, Transmission, And Performance
The 925cc parallel twin lacks nothing for power with 181 turbocharged ponies on tap. Power is soft and manageable down low and pulls to the moon on top, but it really shines in the midrange. Stabbing the gas through the corners is precise and predictable with just enough wheelspin to launch out of the corners.
The belt-driven PVT CVT transmission is a smooth operator in high and low range. AWD or 2WD operation is selectable, on the fly, with the flip of switch. The front differential is not manually lockable, but the Isolated Xtreme Performance AWD system performs flawlessly. We wouldn't hesitate to take it up difficult rock climbs or through the local mudhole.
Handling
The RZR Pro XP shines in the corners. Its 30-inch Maxxis Carnivore tires provide plenty of grip, and eight-ply toughness resists punctures. Walker Evans Needle shocks come with 16 clickable adjustment settings. Step up to Dynamix Active Suspension 2.0 with Live Valve electronic shocks on the RZR Pro XP Ultimate for continuous and automatic shock damping adjustments at split-second speeds. Ground clearance is huge at 14.5 inches. Rocks, logs, and mud don't stand much of a chance at stopping the RZR Pro XP.
All models are equipped with electric power steering. The Premium and Ultimate models are upgraded with telescoping wheel adjustment and Ride Command push-button controls on the steering wheel.
Brakes
You get hydraulic disc brakes at all four corners. Dual-bore calipers slow the rear, and triple-bore calipers (on the XPs, the XP 4 fronts are dual-bore extra large) are extremely responsive up front. It's an optimal setup for a turbo side-by-side.
Ergonomics: Comfort and Utility
Bolstered bucket seats are all-day comfortable and come with height-adjustable seatbelts, but we much prefer the security of the retractable Click6 harnesses that are standard on the Premium and Ultimate editions. The seats sit low in the cockpit for a sports car-like feel and view. All controls are within arm's reach and instrumentation is easy to read, especially on models equipped with Ride Command. There's plenty of storage options for personal items.
Payload/Towing
This model is not equipped for towing. Total payload is 740 pounds for XP models and 900 for XP 4s. Bed capacity maxes out at 300 pounds.
Electronics
The RZR Pro XP Sport includes basic analog dials and a 4-inch LCD screen. Upgrade to the Premium or Ultimate with Ride Command and get an integrated 7-inch touchscreen display and Rockford Fosgate premium audio, which is louder and better than before.
Warranty And Maintenance Coverage
All RZR Pro XP models come with a standard six-month warranty.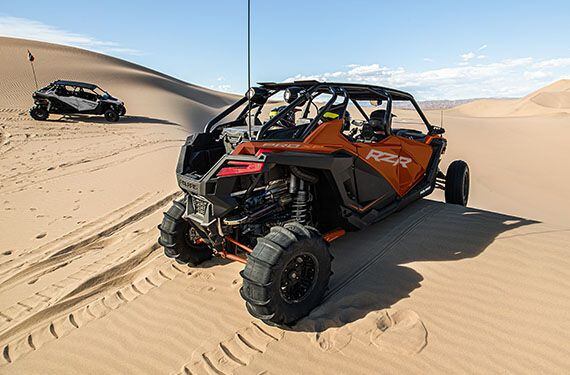 All 2022 Polaris Pro XP models include your choice of two seats or four. (Polaris/)
2022 Polaris RZR Pro XP/Pro XP4 Specs
| | |
| --- | --- |
| MSRP: | $21,999–$32,999 |
| Engine: | DOHC, liquid-cooled, turbocharged twin-cylinder |
| Displacement: | 925cc |
| Bore x Stroke: | N/A |
| Compression Ratio: | N/A |
| Transmission: | Automatic PVT w/ high/low range, reverse |
| Claimed Horsepower: | 181 hp |
| Claimed Torque: | N/A |
| Fuel System: | EFI |
| Steering: | Electric power steering |
| Drivetrain: | Belt AWD/2WD |
| Front Suspension: | Dual A-arms w/ stabilizer bar, Walker Evans 2.0 in. Needle shocks, 16-position-adjustable clickers (Sport, Premium) / Fox 2.5 Podium Live Valve w/ Bottom-Out Control (Ultimate); 20 in. travel |
| Rear Suspension: | Trailing arm w/ stabilizer bar, Walker Evans 2.5 in. Needle shocks, 16-position-adjustable clickers (Sport, Premium) / Fox 2.5 Podium Live Valve w/ Bottom-Out Control (Ultimate); 22 in. travel |
| Front Brakes: | Hydraulic disc, 3-bore calipers (XP) / 2-bore XL calipers (XP 4) |
| Rear Brakes: | Hydraulic disc, 2-bore calipers |
| Wheels, Front/Rear: | Cast aluminum; 14 x 6 in. / 14 x 7 in. |
| Tires, Front/Rear: | Maxxis Carnivore; 30×10-14 |
| Length: | 126 in. (XP) / 155 in. (XP 4) |
| Width: | 64.0 in. |
| Height: | 71.7 in. (XP) / 73.6 in. (XP 4) |
| Wheelbase: | 96.0 in. (XP) / 125.0 in. (XP 4) |
| Bed Capacity: | 300 lb. |
| Towing Capacity: | Not equipped |
| Max Seating Capacity: | 2 (XP) / 4 (XP 4) |
| Ground Clearance: | 14.5 in. |
| Turning Radius: | N/A |
| Claimed Dry Weight: | 1,760–1,795 lb. (XP) / 2,015–2,066 lb. (XP 4) |
| Fuel Capacity: | 12.0 gal. (XP) / 13.0 gal. (XP 4) |
| Warranty: | 6-month |
| Availability: | Now |
| Contact: | rzr.polaris.com/en-us/rzr-pro-xp/ |