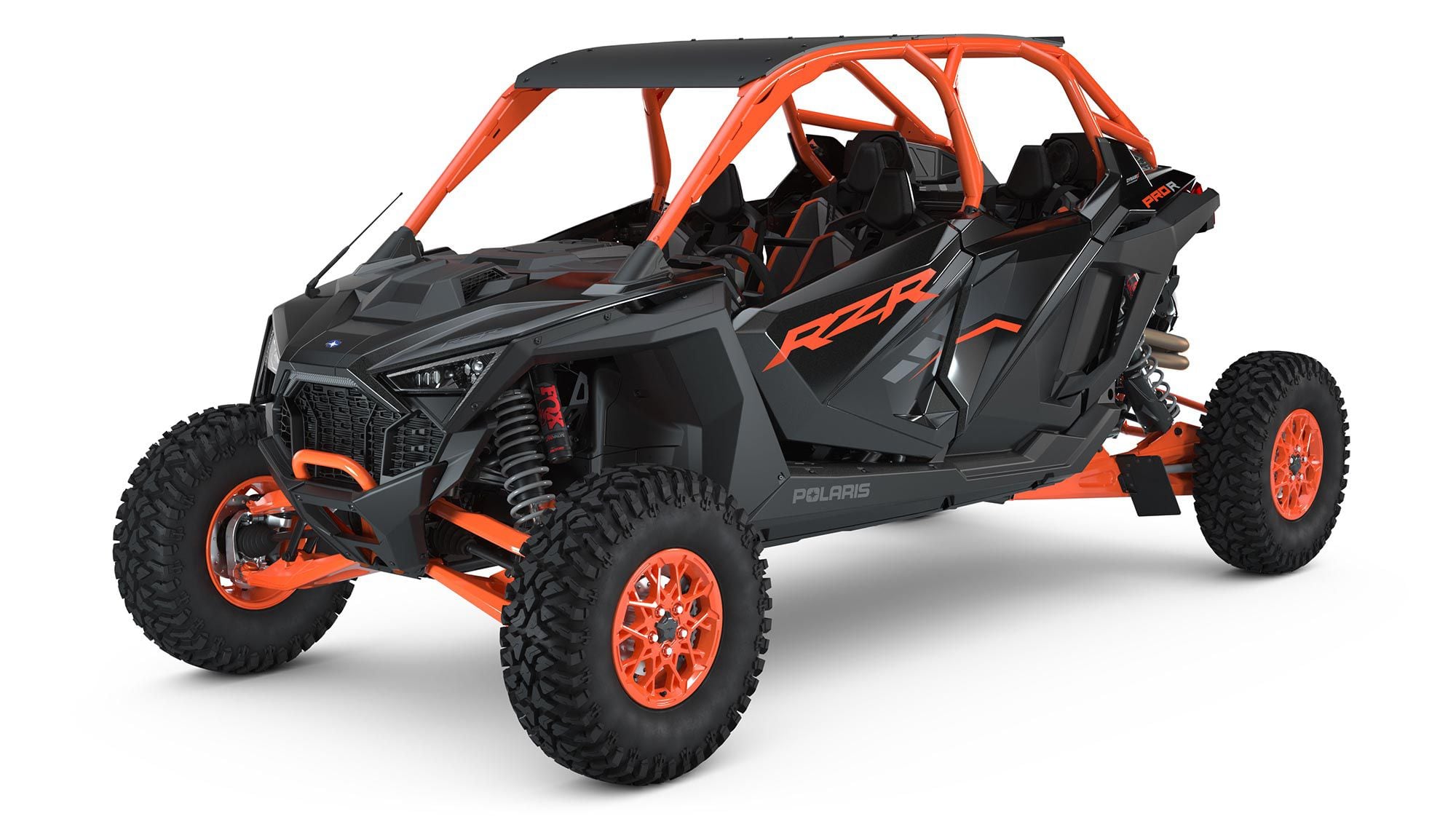 The 2022 Polaris RZR Pro R 4 Ultimate Launch Edition in Indy Red and Onyx Black. (Image Source: Polaris Inc./)
Ups
The most powerful factory side-by-side ever produced comes with a warranty, ultrabeefy suspension components, a 74-inch track, available Dynamix DV electronic suspension, massive 1,700W alternators, standard 32-inch tires, three-piston brake calipers, and incorporated Lock & Ride cargo systems.
Downs
Expensive, big, and heavy; super wide; limited parts availability means you'll be a beta tester if you purchase year one.
Verdict
This should be one of the most sought-after side-by-sides for the 2022 model year thanks to its huge leap in engine and suspension performance. While the Pro R carries a hefty price tag, we expect a long waiting list at dealerships. If you're ready to purchase a first-year four-cylinder RZR with a 74-inch track and more than 2 feet of suspension travel, get in line.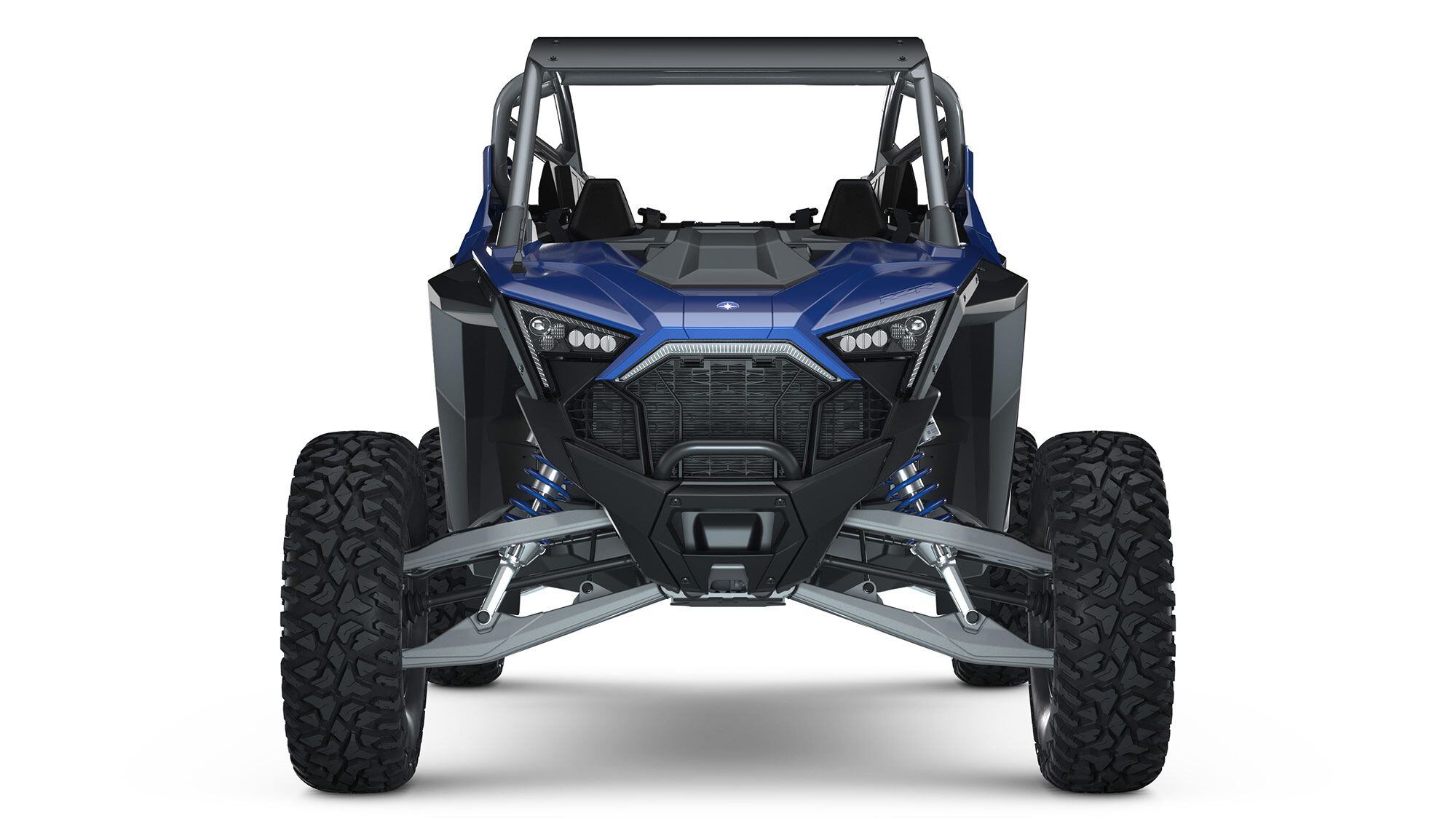 The 2022 Polaris RZR Pro R Premium in Polaris Blue color. (Image Source: Polaris Inc./)
Overview
The 2022 Polaris RZR Pro R family of pure sport side-by-sides sits at the very top of the lineup in terms of performance, cost, technology, size, and strength. It's the pinnacle of everything Polaris has learned in the powersports industry thus far. The Polaris engineers crafted a vehicle that offers 225 hp, up to 24.5 inches of wheel travel, 74 inches of track width, a technical parts listing that would turn this buyer's guide into an engineer's wet dream, and covered it with its typical factory warranty.
There are eight trim levels offered for the first year of the RZR Pro R, including a special Launch Edition. We'll break them down below by hitting the highlights of what's important.
Updates for 2022
While the Pro R is loosely based on previous Pro XP machines, this platform is all new for 2022 so read on to get the goods.
Pricing and Which One to Buy
2022 Polaris RZR Pro R Sport MSRP: $31,999
2022 Polaris RZR Pro R Premium MSRP: $34,999
2022 Polaris RZR Pro R Ultimate MSRP: $37,999
2022 Polaris RZR Pro R Ultimate Launch Edition MSRP: $40,999
2022 Polaris RZR Pro R 4 Sport MSRP: $35,999
2022 Polaris RZR Pro R 4 Premium MSRP: $38,999
2022 Polaris RZR Pro R 4 Ultimate MSRP: $41,999
2022 Polaris RZR Pro R 4 Ultimate Launch Edition MSRP: $44,999
Polaris has done a decent job of breaking these trim levels down to fit a widish range of budgets. If you can afford to reach for creature comforts like Ride Command and Dynamix DV, we'd highly recommend you do it. If not, grab the Sport trim that includes all the fundamental base systems that make the Pro R what it is; all the performance with less filler.
Powertrain: Engine, Transmission, and Performance
An industry-first 2.0-liter inline four-cylinder engine powers the new 2022 RZR Pro R platform. This ProStar DOHC 16-volt high-compression machine pumps out an industry-leading 225 hp off high-octane fuel. It uses a redesigned Polaris Variable Transmission (PVT) to transfer all that power to the tires. A wider and longer belt works in conjunction with larger clutching surfaces to help strengthen the overall system.
This powerplant is sure to attract many buyers looking to flex the most factory horsepower money can buy in a sport side-by-side. We'd like to remind prospective buyers that this is a brand-new design which usually means working through initial model hiccups.
What Polaris calls the Pro Performance True transfer case allows selectable drive modes to manage traction; 2WD, 4WD, 4WD Lock are all managed by way of dash rocker switch.
Suspension, Handling
Sport and Premium trims include the Walker Evans 16-position adjustable front and rear shock absorbers. The front are 2.5-inch Velocity series while the rear increase to 3.0-inch Velocity series bodies.
All Ultimate trim level vehicles use the upgraded Fox 3.0 Live Valve X2 internal bypass shocks that offer electronically controlled compression and rebound damping from the Ride Command screen inside the cab. The Polaris Dynamix DV selectable riding modes are unique to the RZR Pro R Ultimate vehicles and let drivers control how the Fox suspension reacts while navigating certain types of terrain.
Both systems offer impressive amounts of wheel travel and vehicle control over rough and technical terrain. A respectable 22.25 inches of front wheel travel work in conjunction with 24.5 inches of rear wheel travel regardless of which name-brand suspension components you go with.
Brakes
A big, heavy, fast machine needs the ability to control all of that momentum. Polaris uses new hydraulic three-piston calipers on the front axle that wrap heavy-duty steel rotors with aluminum top hats to help slice a few pounds off the rotational weight. Out back, two-piston calipers grip the same rotor setup. While Polaris still hasn't realized rotor sizes, we expect they'll be bigger than the usual fare, especially since they needed 15-inch wheels to clear them.
Ergonomics: Comfort and Utility
Color-matched bolstered bucket seats fill the front row of all trim level Pro R vehicles. The driver gets four-way adjustability via front/back and tilt options. The front passenger seat offers tilt adjustment only. A race-inspired steering wheel with tilt and telescoping adjustment let the driver dial in ergonomics.
Sport trims come with four-point harnesses. Premium and Ultimate trims upgrade to a six-point retractable harness.
Sport trims use vented full doors while all other trims step up to sealed full doors. Front-opening internal handles are mounted to a metal bracing system that allow for easier ingress and egress with the race-type seating.
The rear cargo area is equipped with the Polaris Lock & Ride attachment points to mount cargo accessories up to 300 pounds.
Payload/Towing
While no RZR is rated or equipped to tow, they can haul a few items in the rear cargo space. Both the standard Pro R and the Pro R 4 are rated for 300 pounds of box capacity. The four-seater chassis increases overall payload capacity from 740 to 900 pounds. That means if you're maxing out the 300 pounds of rear cargo weight, then you and your buddies need to scale in under 600 pounds gross on the four-seater and 440 pounds on the two-seater.
Electronics
A large automotive-style alternator outputs a massive 1,700 watts of 12-volt DC current to power any accessories you bolt to the machine. The vehicle's electrical system incorporates the Polaris Pulse standard to make wiring up accessories even easier. A plethora of DC ports are scattered throughout the RZR's interior and exterior for hooking up to tools, equipment, and accessories. Polaris Pin Activated Security System (PASS) helps prevent theft.
The driver's gauge readout consists of dual-sweeping analog dials and a 4-inch LCD screen displaying the following selectable readout metrics: user-selectable blue/red backlighting and brightness, programmable service intervals, speedometer, tachometer, odometer, tripmeter, clock, hourmeter, gear indicator, fuel gauge, coolant temperature, voltmeter, service indicator and codes, seatbelt reminder light, gear indicator.
Purchase one of the Premium or Ultimate trim levels and you'll get the gorgeous 7-inch Ride Command display that acts as an infotainment manager for most of the onboard systems. You'll also get premium Rockford Fosgate audio. Only the Ultimate trims come with the Dynamix DV Fox suspension bits.
All exterior lighting is handled by LED units.
Warranty and Maintenance Coverage
Each RZR Pro R comes with an unlimited-mileage six-month factory warranty. Extended protection plans are typically available at time of purchase.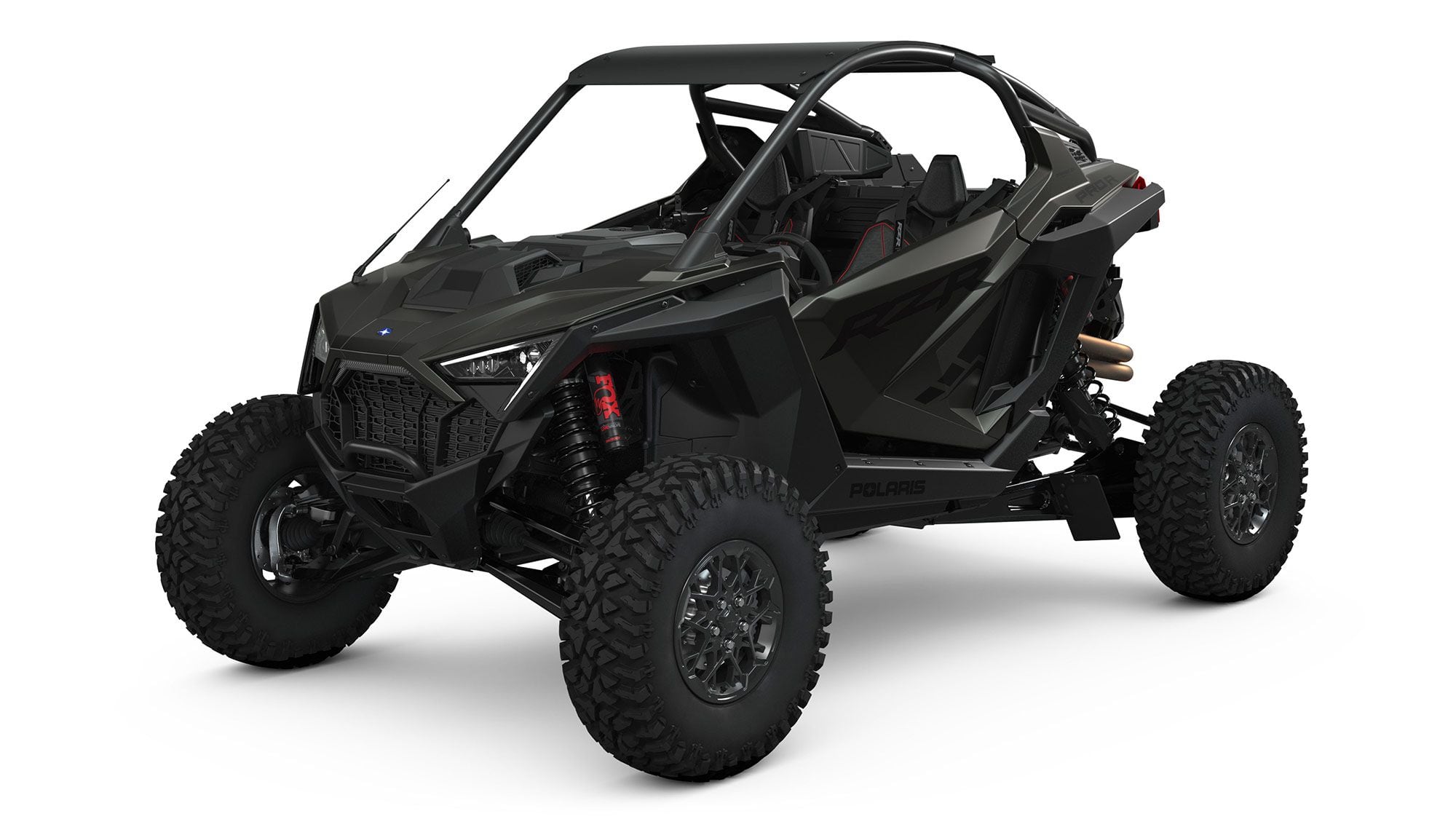 The 2022 Polaris RZR Pro R Premium in Stealth Black color. (Image Source: Polaris Inc./)
2022 Polaris RZR Pro R Specs
| | |
| --- | --- |
| MSRP: | Ranging from $31,999 up to $44,999 |
| Engine: | ProStar DOHC, liquid-cooled, 16V inline four-cylinder |
| Displacement: | 1,997cc/2.0L |
| Bore x Stroke: | N/A |
| Compression Ratio: | N/A |
| Transmission: | Automatic PVT w/ high/low range, reverse; parking |
| Claimed Horsepower: | 225 hp |
| Claimed Torque: | N/A |
| Fuel System: | EFI, 12V DC battery |
| Steering: | Rack-mounted high-assist electric power steering w/ Quick Turn Rack; race-inspired steering wheel w/ tilt adjustment |
| Drivetrain: | Pro Performance True 2WD/4WD/4WD Lock |
| Front Suspension: | Lightweight boxed dual A-arms w/ 3-piece stabilizer bar, unitized hubs, Walker Evans 2.5-in. Velocity adjustable needle shocks (Sport, Premium) / Fox 3.0 Live Valve X2 internal bypass (Ultimate); 22.25 in. travel |
| Rear Suspension: | Boxed trailing arm w/ tow link, high-clearance radius rods w/ 3-piece stabilizer bar, unitized hubs, Walker Evans 3.0-in. Velocity adjustable needle shocks (Sport, Premium) / Fox 3.0 Live Valve X2 internal bypass (Ultimate); 24.5 in. travel |
| Front Brakes: | Hydraulic disc w/ 3-bore caliper, aluminum top hat w/ steel rotor |
| Rear Brakes: | Hydraulic disc w/ 2-bore caliper, aluminum top hat w/ steel rotor |
| Wheels, Front/Rear: | Painted cast aluminum w/ 5-lug bolt pattern; 15 x 7 in. |
| Tires, Front/Rear: | Maxxis Rampage Fury, 8-ply rated; 32×10-15 |
| Length: | 136.5 in. (2-seat) / 165.5 in (4-seat) |
| Width: | 74.0 in. |
| Height: | 72.8 in. (2-seat) / 76.5 in (4-seat) |
| Wheelbase: | 104.5 in. (2-seat) / 133.5 in (4-seat) |
| Bed Capacity: | 300 lb. |
| Towing Capacity: | N/A |
| Max Seating Capacity: | 2 (Pro R) / 4 (Pro R 4) |
| Ground Clearance: | 16.0 in. |
| Turning Radius: | N/A |
| Claimed Dry Weight: | Ranging from 2,085 lb. to 2,480 lb. |
| Fuel Capacity: | 12.3 gal. |
| Warranty: | 6-month limited |
| Availability: | Early 2022 |
| Contact: | rzr.polaris.com |
Want to stay up to date on the latest UTV Driver news and reviews? Sign up for our weekly newsletter!