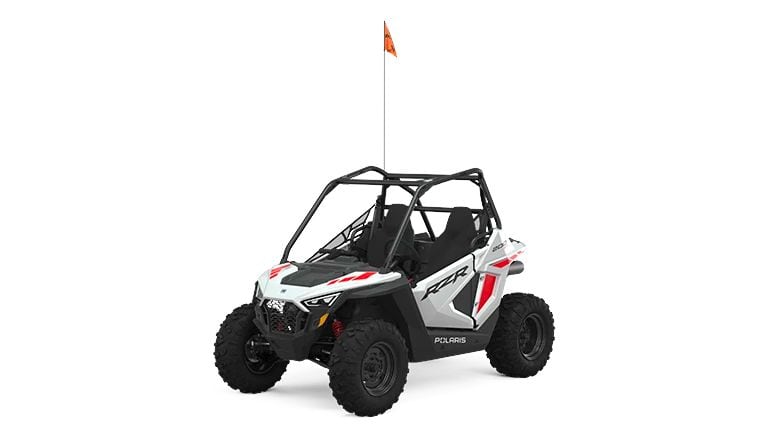 The 2022 Polaris RZR 200 EFI in White Lightning/Indy Red. (Polaris/)
Ups
The RZR for the kids who aspire to rip, electronic fuel injection, smart systems for keeping kids in check, looks great; how adorable is this thing?
Downs
Only one color and trim, price may scare away some for a 200-class engine, 2WD only, 700-plus pounds
Verdict
Those who want the RZR 200 will be utterly, completely pleased with the RZR 200. It looks the part, and at the age it is geared toward, that's more than half of the battle.
Overview
Polaris realizes the UTV market is growing faster than the onset of the Big Bang, and is capitalizing on it with a RZR suited for the up-and-coming generation of side-by-side enthusiasts.
Updates for 2022
The RZR 200 is all-new for 2022.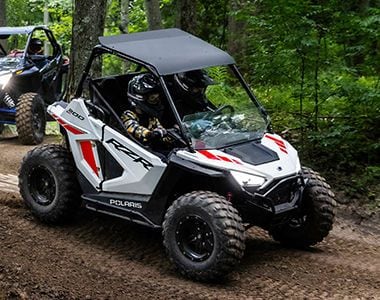 Looking the part is more than half the battle, and the RZR 200 delivers. (Polaris/)
Pricing and Which One to Buy
2022 Polaris RZR 200 EFI MSRP: $5,899
Polaris is only selling one trim and color for the RZR 200 EFI in 2022, and it costs $5,899 plus destination. It's not an inexpensive machine, but UTVs generally aren't. If your kid is ready for a side-by-side of their own, the RZR is a good choice, even at almost $6K.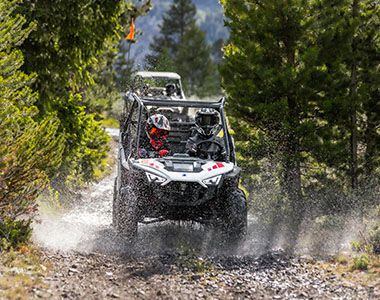 The 2022 Polaris RZR 200 EFI. (Polaris/)
Powertrain: Engine, Transmission, and Performance
The RZR 200 EFI uses a four-stroke single-cylinder 180cc engine that features electronic fuel injection. Although 20cc down from a true 200-class machine, it should be more than enough to push the RZR 200′s 735-pound dry weight. This isn't a groundbreaking engine in any way, but we appreciate that it has EFI as much as we like its output.
An automatic PVT handles the power, and sends it only to the rear tires. We wish the RZR 200 offered 4WD, even in a slightly more expensive trim or package, but no dice yet.
Performance for the RZR 200 is fair for its class. It by no means will snap any necks, but that's not something the intended user should be trying to do anyway.
Handling
A reasonably low center of gravity helps the RZR 200′s handling, and 10 inches of ground clearance allow drivers to easily avoid obstacles. Dual A-arms in the front and an independent rear suspension keep things in check. No youth machine will corner like a true go-kart, but in this class it's all about feeling like you're handling well. Checkmate for the RZR 200.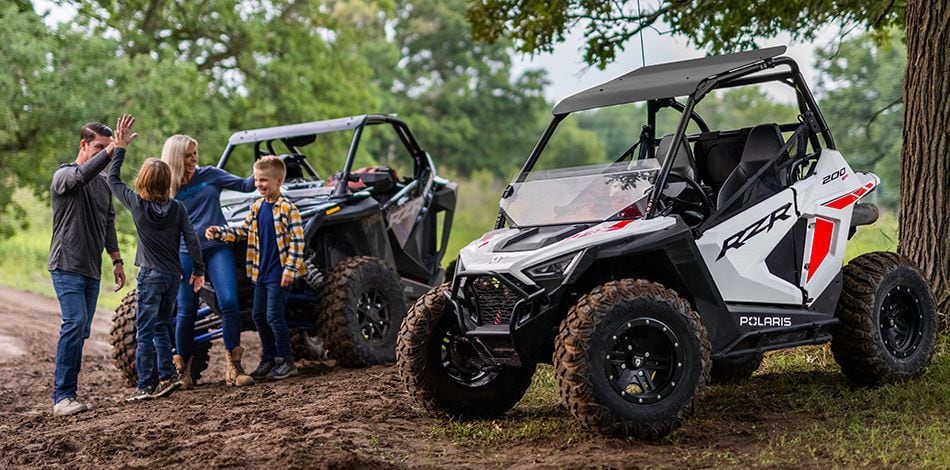 The 2022 Polaris RZR 200 EFI. (Polaris/)
Brakes
We're pleased to report the RZR 200 uses four-wheel disc brakes, just like its larger RZR stablemates. Polaris included a hand-actuated parking brake as well, since the transmission doesn't have a true park gear.
Ergonomics: Comfort and Utility
The RZR 200 should be comfortable for users in the intended age range. It'll inevitably be hilarious for adults to try and squeeze in for a blast around the property, but this is suited for children.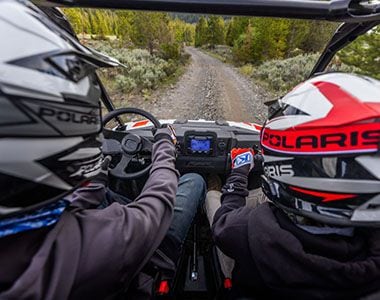 The 2022 Polaris RZR 200. (Polaris/)
Payload/Towing
A payload capacity of 375 pounds means the RZR 200 cannot be loaded with much, but it should handily manage a cooler or bag of gear in its bed, given the 50-pound rear rack capacity. The RZR 200 isn't rated to tow, but should easily drag a yard trailer for leaves or gardening equipment in a pinch.
Electronics
The RZR 200 really makes its case in the electronics department. The inclusion of Polaris' ingenious Ride Control, part of the Ride Command app, means that RZR 200 users' guardians can see the machine's speed at any time. That speed can be limited too. Helmet Aware technology is brilliant, using a microchip in the Polaris-provided helmets to assure helmets are present in the cabin when users go to start and use the machine. LED headlights and taillights adorn the front and rear. The RZR 200 also comes with the following instrumentation on its digital display: gear indicator, odometer, tripmeter, moltage, engine temperature, engine hour interval, ground speed, engine rpm, and Youth Ride Command status (Speed Limiting, Geofencing, Helmet Aware).
Warranty and Maintenance Coverage
The RZR 200 comes with Polaris' standard six-month warranty.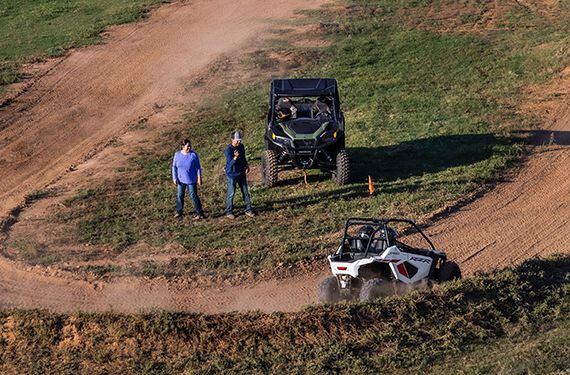 The 2022 Polaris RZR 200. (Polaris/)
2022 Polaris RZR 200 EFI Claimed Specifications
| | |
| --- | --- |
| MSRP: | $5,899 |
| Engine: | SOHC, air/oil-cooled four-stroke single-cylinder |
| Displacement: | 180cc |
| Bore x Stroke: | N/A |
| Compression Ratio: | N/A |
| Transmission: | Automatic PVT w/ reverse |
| Claimed Horsepower: | N/A |
| Claimed Torque: | N/A |
| Fuel System: | EFI |
| Steering: | Manual |
| Drivetrain: | 2WD, chain-driven |
| Front Suspension: | Dual A-arms, 7.0 in. travel |
| Rear Suspension: | Independent Rear Suspension, 7.0 in. travel |
| Front Brakes: | Hydraulic disc |
| Rear Brakes: | Hydraulic disc |
| Wheels, Front/Rear: | Stamped steel; 12 in. |
| Tires, Front/Rear: | CST; 24×8-12 / 24×10-12 |
| Length: | 89.0 in. |
| Width: | 48.0 in. |
| Height: | 59.0 in. |
| Wheelbase: | 65.0 in. |
| Rear Rack Capacity: | 50 lb. |
| Towing Capacity: | Not rated |
| Max Seating Capacity: | 2 |
| Ground Clearance: | 10.0 in. |
| Turning Radius: | N/A |
| Claimed Dry Weight: | 735 lb. |
| Fuel Capacity: | 2.5 gal. |
| Warranty: | 6-month limited |
| Recommended Operator Age: | 10–16 |
| Availability: | Now |
| Contact: | rzr.polaris.com/en-us/rzr-200/ |