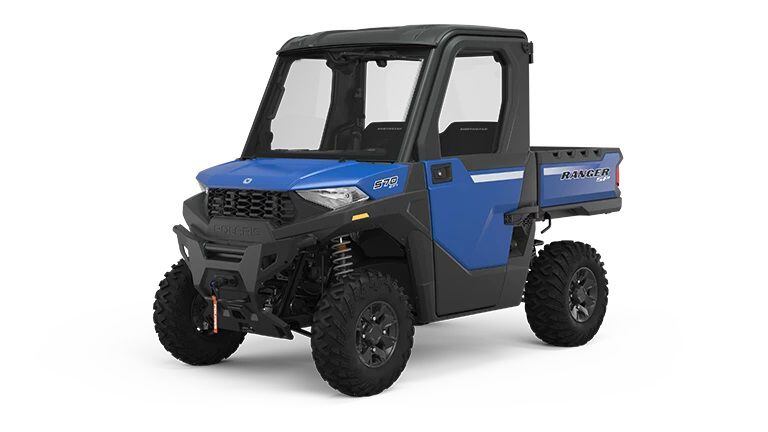 The 2022 Polaris Ranger SP 570. (Polaris/)
Ups
Two- and four-seat models to meet your people-carrying needs, two-seater base model is only slightly more expensive than the Ranger 500, comfort is a high priority, easy to transport.
Downs
Gets pricey quick, not a high-performance machine or engine for the money, upright seating position not very sporty.
Verdict
Those looking for a machine that splits work and play duty down the middle, or perhaps slightly more towards the work side, should find satisfaction in the 2022 Polaris Ranger SP 570 and SP 570 Crew. These are versatile machines that can tow and haul, and still provide good fun on the trail. It's a good all-around solution.
Overview
Polaris' 2022 Ranger SP 570 and SP 570 Crew can be had with either two or four seats and in standard, Premium, and NorthStar Edition trims. The model utilizes a 567cc single-cylinder ProStar engine that makes 44 hp in all applications. Polaris' all-wheel-drive system is standard and all models offer stout towing and hauling capacities.
Updates for 2022
The Ranger SP 570 lineup is all-new for 2022.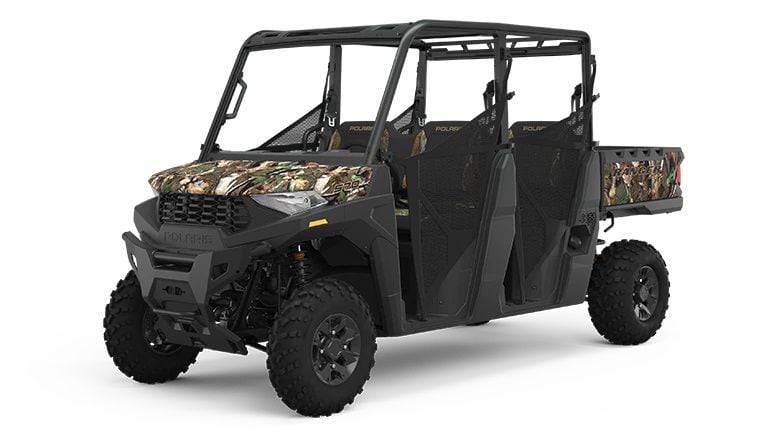 The 2022 Polaris Ranger SP 570 Crew. (Polaris/)
Pricing and Which One to Buy
2022 Polaris Ranger SP 570 MSRP: $10,499
2022 Polaris Ranger SP 570 Premium MSRP: $12,499
2022 Polaris Ranger SP 570 NorthStar Edition MSRP: $16,999
2022 Polaris Ranger Crew SP 570 MSRP: $11,999
2022 Polaris Ranger Crew SP 570 Premium MSRP: $13,999
2022 Polaris Ranger Crew SP 570 NorthStar Edition MSRP: $19,499
There's a wide spread of Ranger 570s available and the pricing structure reflects this accordingly. The entry-level two-seater starts at $10,499 and the top-trim four-seater tops out at $19,499. For our money, we'd definitely step up to the Premium for either the two- or four-seat model as it brings with it electric power steering and full bumpers, two options that justify the extra $2,000. Those who want full-cab coverings along with a windshield, roof, and doors, plus a 3,500 pound winch will like the warranty coverage that comes with all of these items on the NorthStar Edition.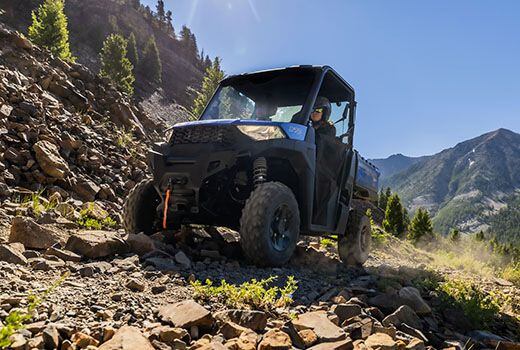 The 2022 Polaris Ranger SP 570. (Polaris/)
Powertrain: Engine, Transmission, and Performance
Polaris' 567cc workhorse is the sole engine option for the Ranger 570 line. It's a single-cylinder DOHC unit that produces 44 hp. It's not a drag racer, but these are relatively light machines, so power will feel ample.
Transmission duty is dealt with by an automatic PVT with H/L/N/R/P gears, and a shaft drives both front and rear axles.
Handling
Suspension is MacPherson struts up front and dual A-arms with independent rear suspension out back. The Ranger 570 isn't a star handler. It gets by, and the somewhat compact size means it'll tuck around corners decently, but this is no RZR.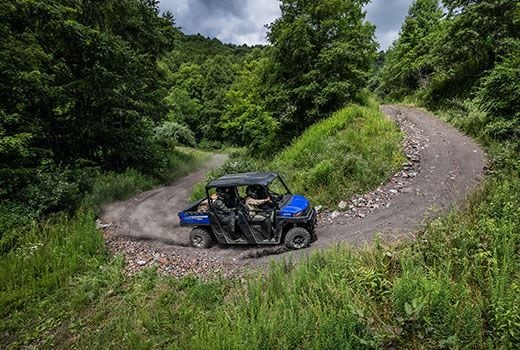 The 2022 Polaris Ranger SP 570. (Polaris/)
Brakes
All Ranger 570s use hydraulic disc brakes at all four corners. It's a safe, strong system that provides a modern solution (versus the drum brakes that some machines still use) and means braking will be sufficient for most uses.
Ergonomics: Comfort and Utility
Comfort is a high priority for the Ranger 570. Ingress and egress are of utmost importance, as this machine is designed so that getting in and out countless times over the duration of a workday is easy and doesn't require being a contortionist as is the case in some high-performance UTVs. Additionally, there's a tilt steering wheel for the driver and plenty of storage spots in the cabin.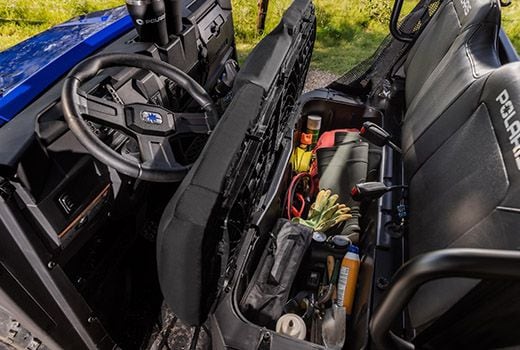 The 2022 Polaris Ranger SP 570. (Polaris/)
Payload/Towing
The Ranger SP 570 has a payload capacity of 1,000 pounds and the Crew version boosts it up to 1,225 pounds. These are sufficient numbers but do limit the combination of people plus how much can be loaded into the cargo boxes (both two-seater and four-seater are rated for 500 pounds in their beds). The bed does tilt for all of your dump-bed needs, and is supported by gas struts.
Towing capacities are the same for all models at 1,500 pounds via a 2-inch hitch receiver. It's a rating that's right in line with the class norm, and should be enough for all but the most demanding circumstances.
Electronics
The base Ranger SP 570 and Crew are fairly tech-loaded. This suite includes: 4-inch LCD Rider Information Center with user-selectable blue/red backlighting and brightness, programmable service intervals, speedometer, tachometer, odometer, tripmeter, clock, hourmeter, gear indicator, fuel gauge, coolant temperature, voltmeter, service and code indicator, seatbelt reminder, and a DC outlet. The 55W low beams and an LED taillight handle lighting duty. Additionally, there's a standard in-dash SAE charge port.
Stepping up to Premium and NorthStar Edition trim adds: halogen headlamps with 55W low beams and a 60W high beam, and LED taillamps. Polaris Pulse Electrical System offers factory locations to add electrical items like supplemental lights or a winch.
Warranty and Maintenance Coverage
The Ranger SP 570 and SP 570 Crew carry Polaris' standard six-month warranty.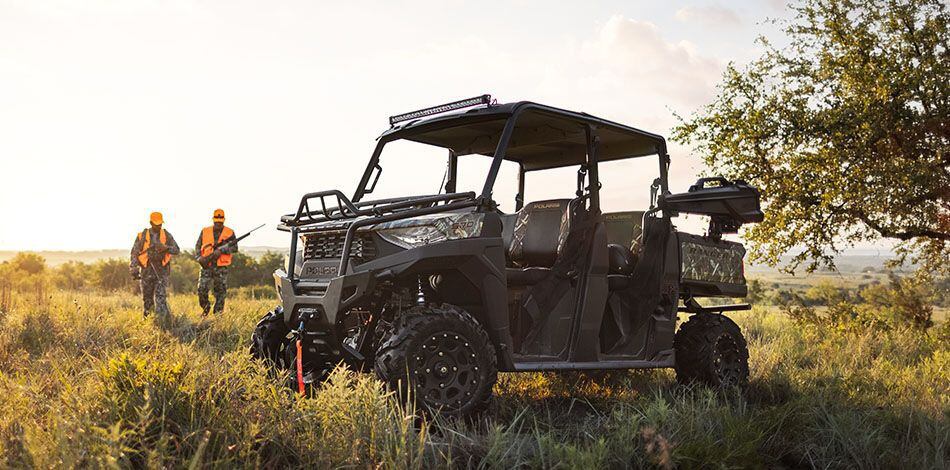 The 2022 Polaris Ranger SP 570. (Polaris/)
2022 Polaris Ranger SP 570 & SP 570 Crew Specs
MSRP:
$10,499–$19,499
Engine:
ProStar DOHC, liquid-cooled, four-stroke single-cylinder
Displacement:
567cc
Bore x Stroke:
57.4 x 57.8mm
Compression Ratio:
9.5:1
Transmission:
Automatic PVT w/ high/low range, reverse; park
Claimed Horsepower:
44 hp
Claimed Torque:
N/A
Fuel System:
EFI
Steering:
Manual (standard) / Electric Power Steering (Premium, NorthStar)
Drivetrain:
On-Demand True AWD/2WD/VersaTrac turf mode
Front Suspension:
MacPherson strut; 9.0 in travel
Rear Suspension:
Dual A-arms, IRS; 10.0 in travel
Front Brakes:
Hydraulic disc
Rear Brakes:
Hydraulic disc
Wheels, Front/Rear:
Stamped steel (base) / aluminum (Premium, NorthStar); 12 in.
Tires, Front/Rear:
Carlisle 489 (base, Premium) / Carlisle Terra Cross (NorthStar); 25×8-12 / 25×10-12
Length:
108.0 in. (2-seat) / 144.0 in. (Crew)
Width:
56.0 in. / 58.0 in. (NorthStar)
Height:
74.0 in.
Wheelbase:
73.0 in. (2-seat) / 105.0 in. (Crew)
Bed Capacity:
500 lb.
Towing Capacity:
1,500 lb.
Max Seating Capacity:
2 / 4 (Crew)
Ground Clearance:
10.5–11.0 in. (2-seat) / 10.3–10.5 in. (Crew)
Turning Radius:
12.7 ft. (2-seat) / 16.3 ft. (Crew)
Claimed Dry Weight:
1,139–1,476 lb. (2-seat) / 1,386–1,857 lb. (Crew)
Fuel Capacity:
9.5 gal.
Warranty:
Polaris 6-month limited
Availability:
Now
Contact:
ranger.polaris.com/en-us/ranger-sp-570/
ranger.polaris.com/en-us/ranger-crew-sp-570/