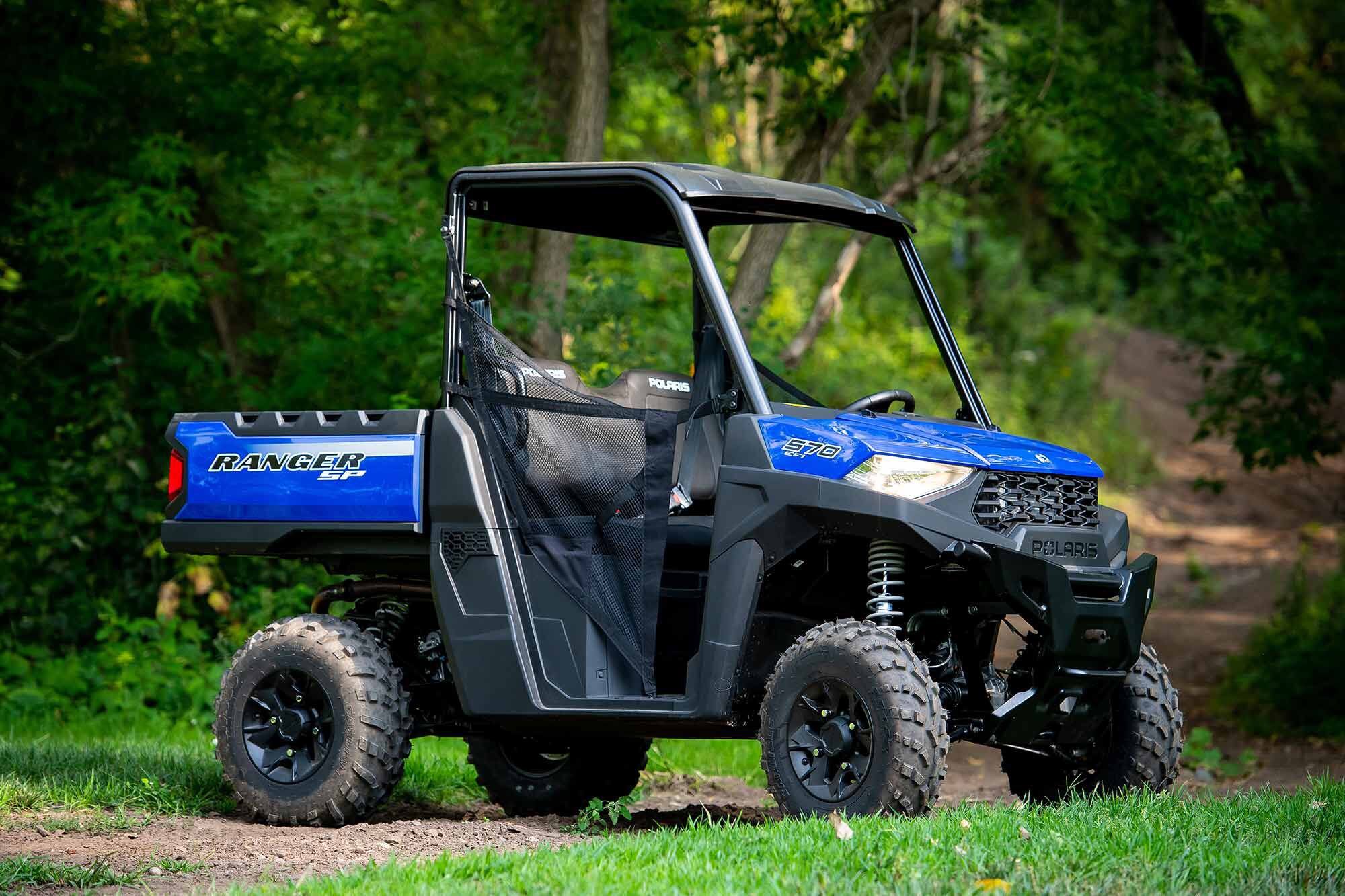 2022 Polaris Ranger SP 570. (Polaris/)
We spend plenty of time talking about the heavy hitters in the UTV world. Machines like the Polaris Ranger 1000 and Can-Am Defender HD10 snag headlines, but not everyone needs a big UTV. Those with tight gates, trails, or budgets may find more to love in midsize bruisers like the 2022 Polaris Ranger SP 570. The updated UTV brings fresh styling, a larger cargo box, and a nimble footprint to bear on an often overlooked segment. We joined Polaris in Minnesota for a closer look and a quick drive.
First, some numbers. At 56 inches wide, the  Ranger SP 570 is 2 inches narrower than before. Engineers also gave the vehicle a significantly tighter turning radius of 12.7 feet all while maintaining excellent suspension travel—9 inches in the front and 10 inches in the rear. There's also a solid 11 inches of ground clearance compared to the outgoing rig's 10 inches. Those bits are handy in rough terrain, as are the dual-rate, ride-height-adjustable springs, but hobby farmers will be more excited about the 1,500-pound tow capacity and 500-pound box capacity. Speaking of, the gas-assist dump bed now boasts 12 cubic feet of cargo area. That's 20 percent larger than before, and designers did away with the cumbersome two-latch tailgate for a single, automotive-style piece.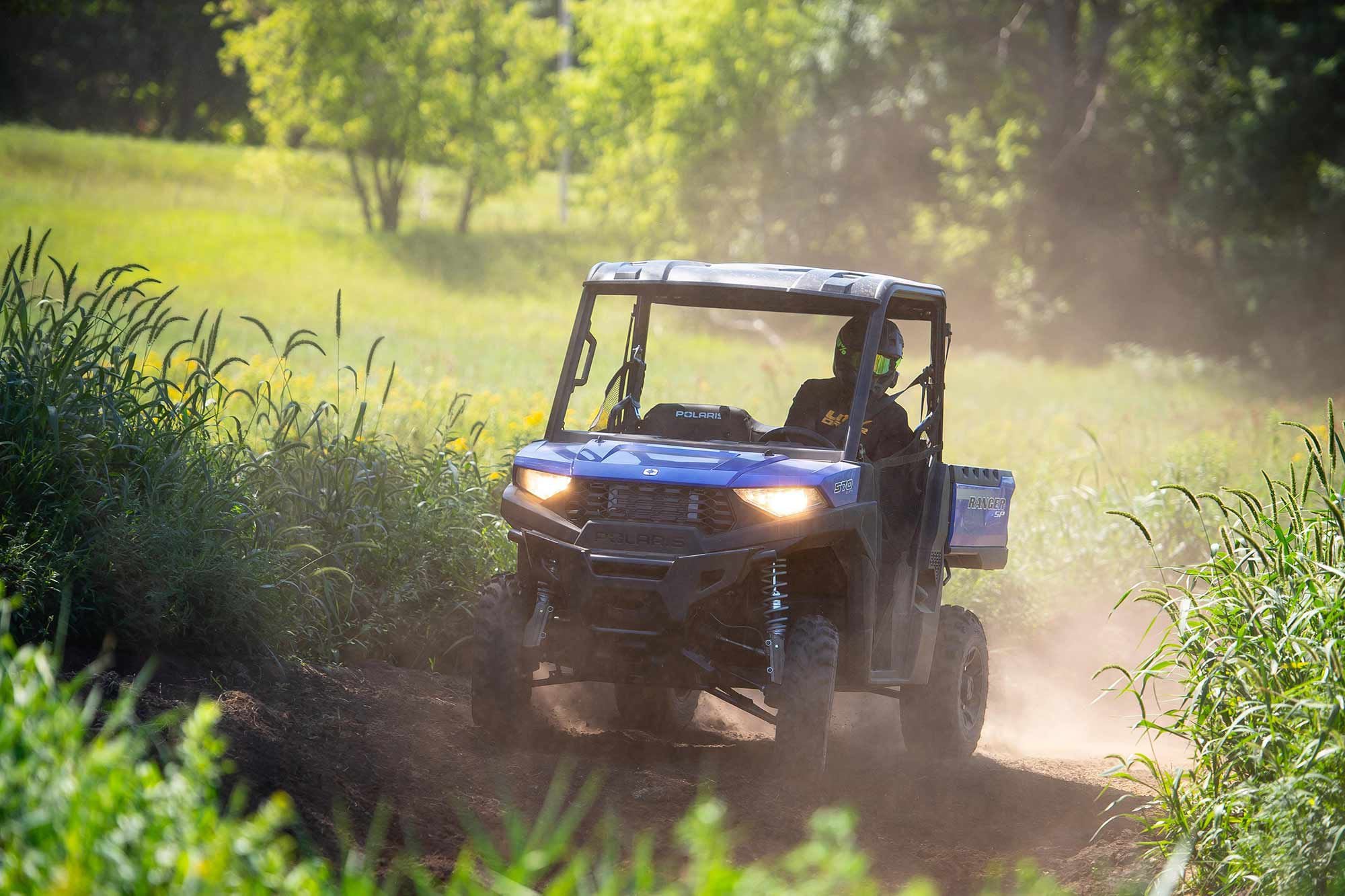 With 44 hp and very little weight, the SP 570 is big fun. (Polaris/)
Power comes from a 567cc engine that's a carryover from last year, but engineers borrowed a few pieces from the Ranger 1000 to build a smoother, more robust clutching system. More importantly, they bolted on an updated exhaust that's significantly quieter than before. No more shouting over the engine. The electrical system also received some love in the form of a battery that's now three times larger than before, up to 575 cold cranking amps, and it's paired with a 660-watt stator for less time on the battery tender.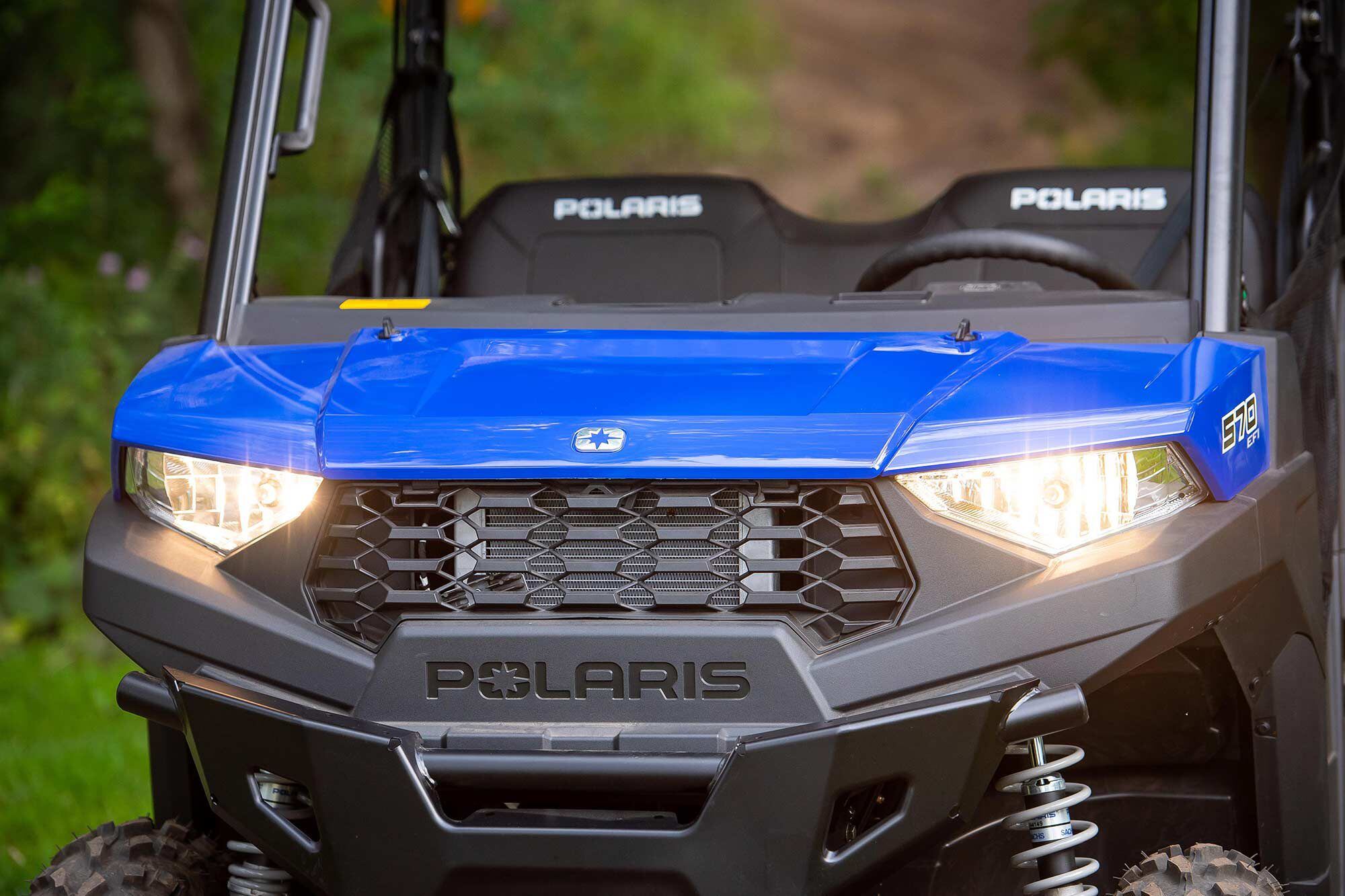 An updated electrical system means the SP 570 will keep working, even in cold weather. (Polaris/)
That electrical system allows for a fully sealed cab in the $16,999 NorthStar trim, complete with a heater. There is no air-conditioning option at this time, and you won't get power windows, but you will get a front stabilizer bar, a 3,500-pound winch with synthetic rope, and optional plow kits.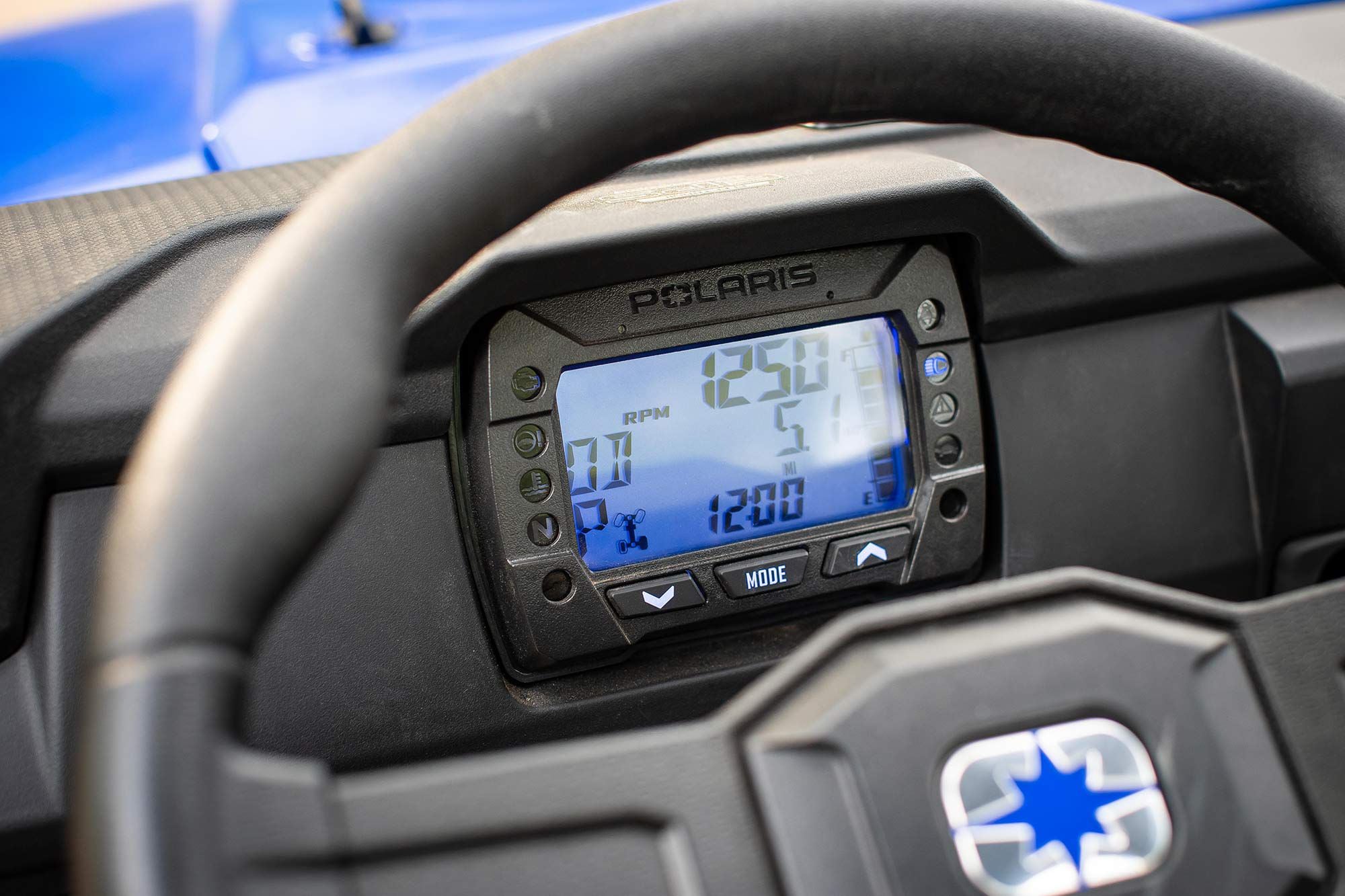 Simple gauges dominate the dash, but Ride Command is now also available. (Polaris/)
Inside, there's a surprising amount of room given the vehicle's size. Polaris pushed the dash forward and reworked the seats and seating position for more legroom. The bench is now contoured with updated foam and lumbar support, all aimed at reducing fatigue. It's a comfortable place to spend time, and the massive underseat storage means you can bring with you all the gear you need for a day without having to backtrack to the barn. Otherwise, the interior is very utilitarian, with cheap-feeling plastics throughout. That's a small complaint on a vehicle that starts at $10,999.
With a claimed dry weight of 1,139 pounds, the 44 hp, single-cylinder engine doesn't have to work hard to get you up to speed. The Ranger SP 570 feels plucky and eager with a smooth, progressive throttle. The manual steering is slow, likely to keep you from getting in trouble with such a narrow wheelbase, but predictable.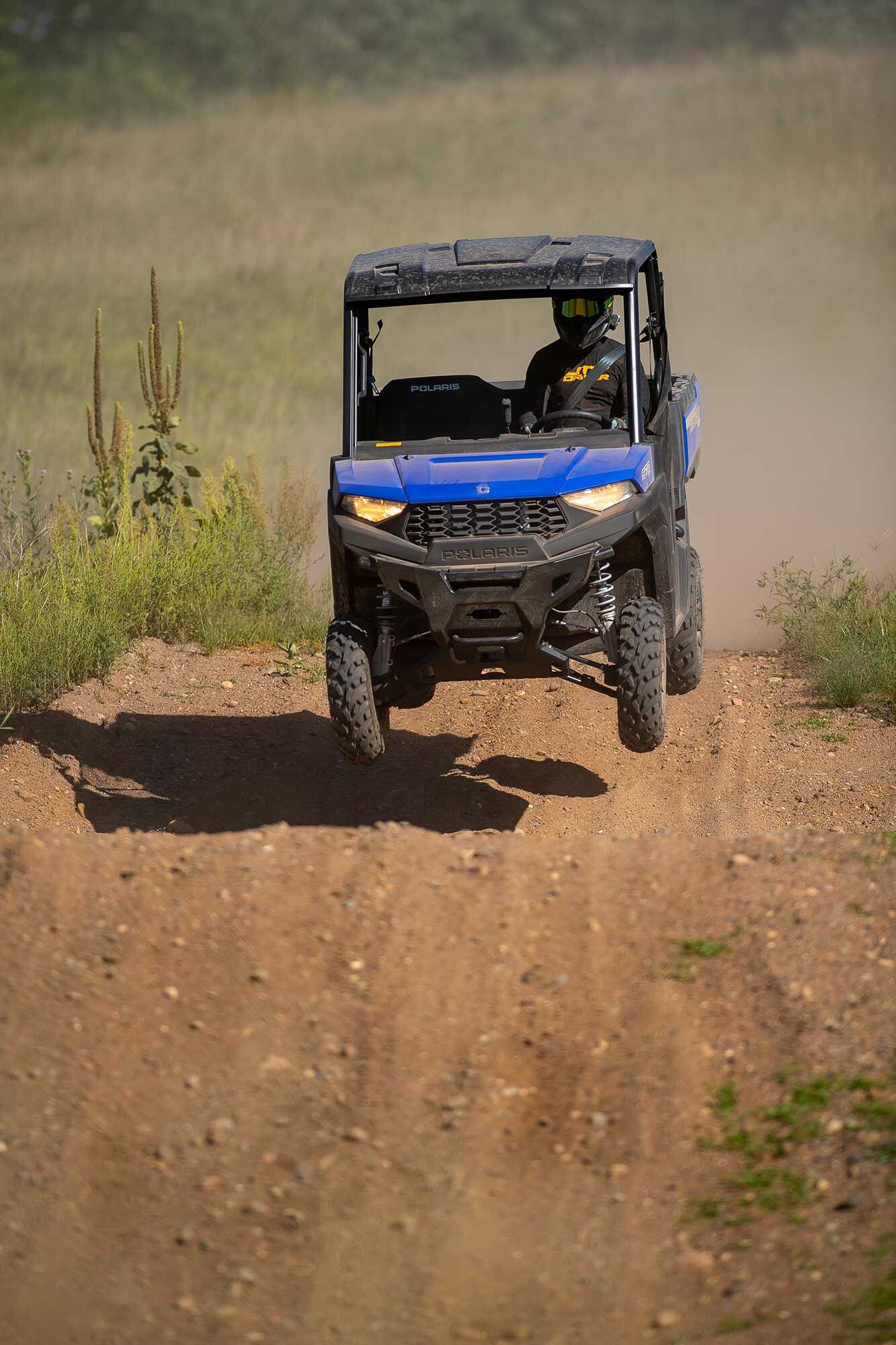 File this under, "Not intended use." That said, the SP 570′s suspension is great, and soaks up plenty of abuse. (Polaris/)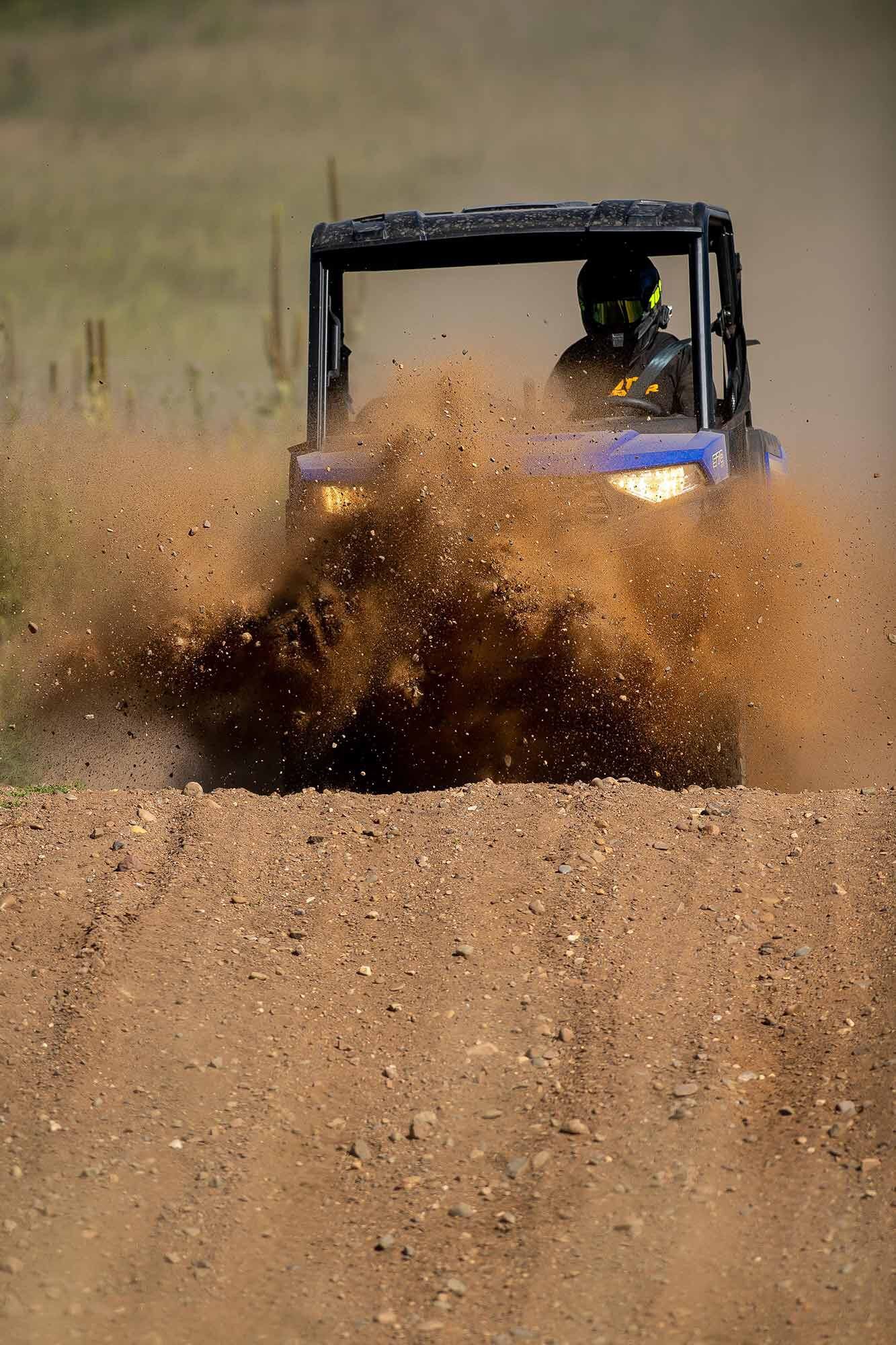 The steel front bumper and bash plate can take a beating too. (Polaris/)
We didn't have a chance to pull a trailer or find out how the Ranger SP 570 performs with a load, but we did get to sprint around a few trails. We've never laughed so hard behind the wheel. The suspension is better than it has any right to be, refusing to bottom out through even the most ham-fisted antics. And with just 44 hp, you're at wide-open throttle more often than not, cackling the entire time. It's everything you loved about your first time behind the wheel of a golf cart, now with actual power.
The selectable all-wheel-drive system works great, seamlessly changing between all-wheel drive, two-wheel drive, and turf mode, which unlocks the rear differential to keep grass intact during tight turns. All-wheel drive turns the Ranger SP 570 into a happy billy goat, scrambling up steep, loose inclines, and tiptoeing through rock gardens without scraping its belly.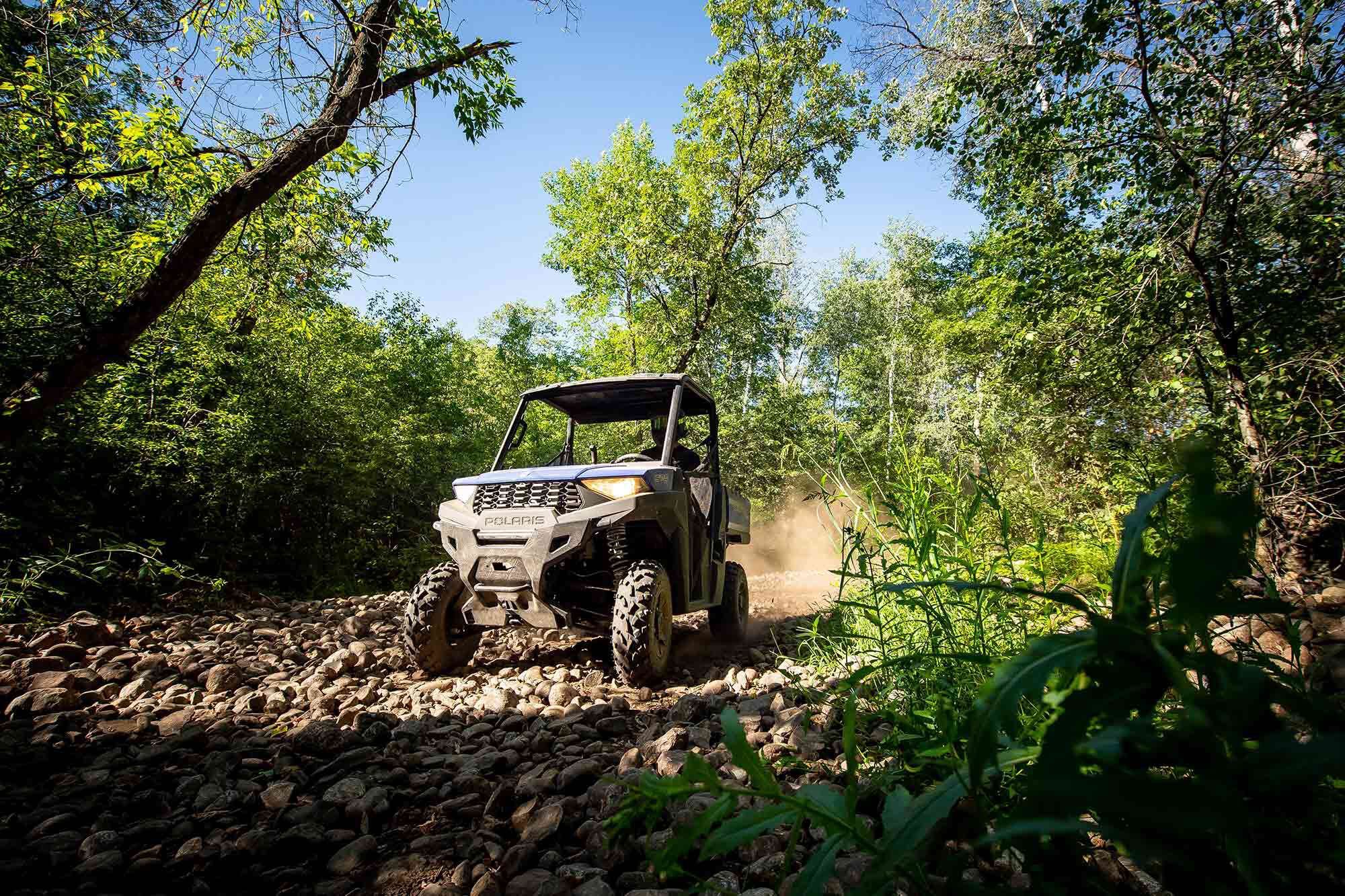 Work or play, the Ranger SP 570 is ready to go. (Polaris/)
Is the Ranger SP 570 for everyone? No, but with excellent capability and a massive dose of fun, it's up to whatever you want or need to throw at it. We can't wait to put it through its paces.
Specifications:
| | |
| --- | --- |
| MSRP: | $10,499 |
| Engine: | SOHC liquid-cooled single |
| Displacement: | 567cc |
| Bore x Stroke: | N/A |
| Compression Ratio: | N/A |
| Transmission: | Automatic PVT w/ high and low range, reverse |
| Claimed Horsepower: | 44 hp |
| Claimed Torque: | N/A |
| Fuel System: | EFI |
| Steering: | Manual |
| Drivetrain: | On-demand AWD/2WD w/ turf mode |
| Front Suspension: | MacPherson strut; 9.0 in. travel |
| Rear Suspension: | Dual A-arms, IRS; 10.0 in. travel |
| Front Brakes: | Hydraulic disc |
| Rear Brakes: | Hydraulic disc |
| Wheels, Front/Rear: | Steel; 12 x 8 in. / 12 x 10 in. |
| Tires, Front/Rear: | Carlisle 489; 25×8-12 / 25×10-12 |
| Length: | 108.0 in |
| Width: | 56.0 in |
| Height: | 74.0 in |
| Wheelbase: | 73.0 in |
| Bed Capacity: | 500 lb. |
| Towing Capacity: | 1,500 lb. |
| Seating Capacity: | 23 |
| Ground Clearance: | 11.0 in |
| Turning Radius: | 12.72 ft. |
| Claimed Dry Weight: | 1,139 lb. |
| Fuel Capacity: | 9.5 gal. |
| Warranty: | 1 year, unlimited mileage |
| Availability: | Now |
| Contact: | ranger.polaris.com/en-us/ranger-sp-570/ |