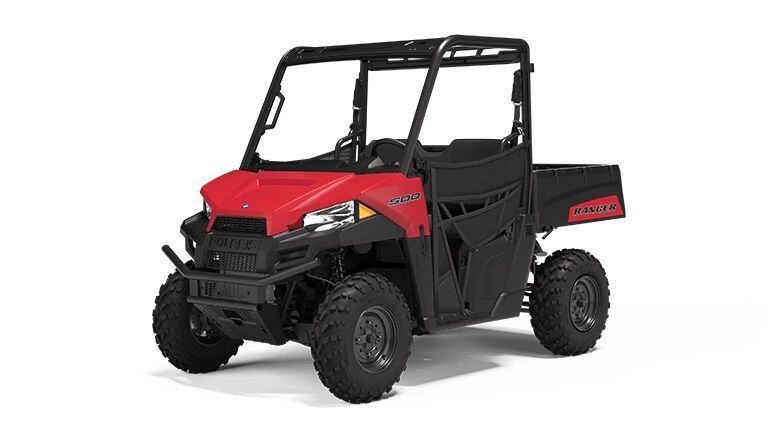 The 2022 Polaris Ranger 500. (Polaris/)
Ups
Fits in the bed of a full-size pickup, healthy cargo and towing capacities for a machine of its size, only weighs 1,065 pounds
Downs
Ranger 570 is only $400 more, not high on power
Verdict
The 2022 Polaris Ranger 500 is a machine for those who prefer or need understated utility over outright in-your-face performance. It's a workhorse first but can still be enjoyed on a trail, something made easier by the fact that it doesn't require a trailer to get to the trailhead.
Overview
Relatively small, light, and low on power compared to many of today's headline-making UTVs, this is a work-first machine and is rather good at its job. It can tow and haul a decent amount, especially considering how light and small it is. While the 500cc ProStar engine only makes 32 hp, it should still bring smiles when tackling tight trails.
Updates for 2022
The Ranger 500 is unchanged for 2022.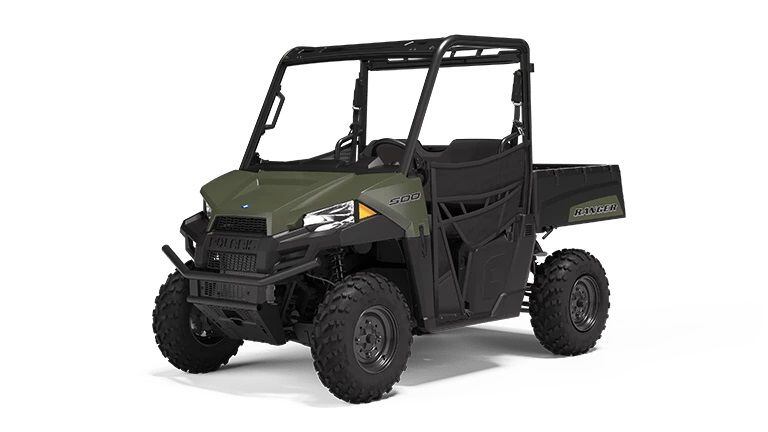 The 2022 Polaris Ranger 500. (Polaris/)
Pricing and Which One to Buy
2022 Polaris Ranger 500 MSRP: $9,799
Polaris only offers one Ranger 500 for the 2022 model year. Electric power steering is an optional accessory and one we would recommend except in the rare instance of a buyer seeking to keep the vehicle as simplistic as possible. Otherwise, if you want a Ranger 500, your only choice is color: Sagebrush Green or Solar Red.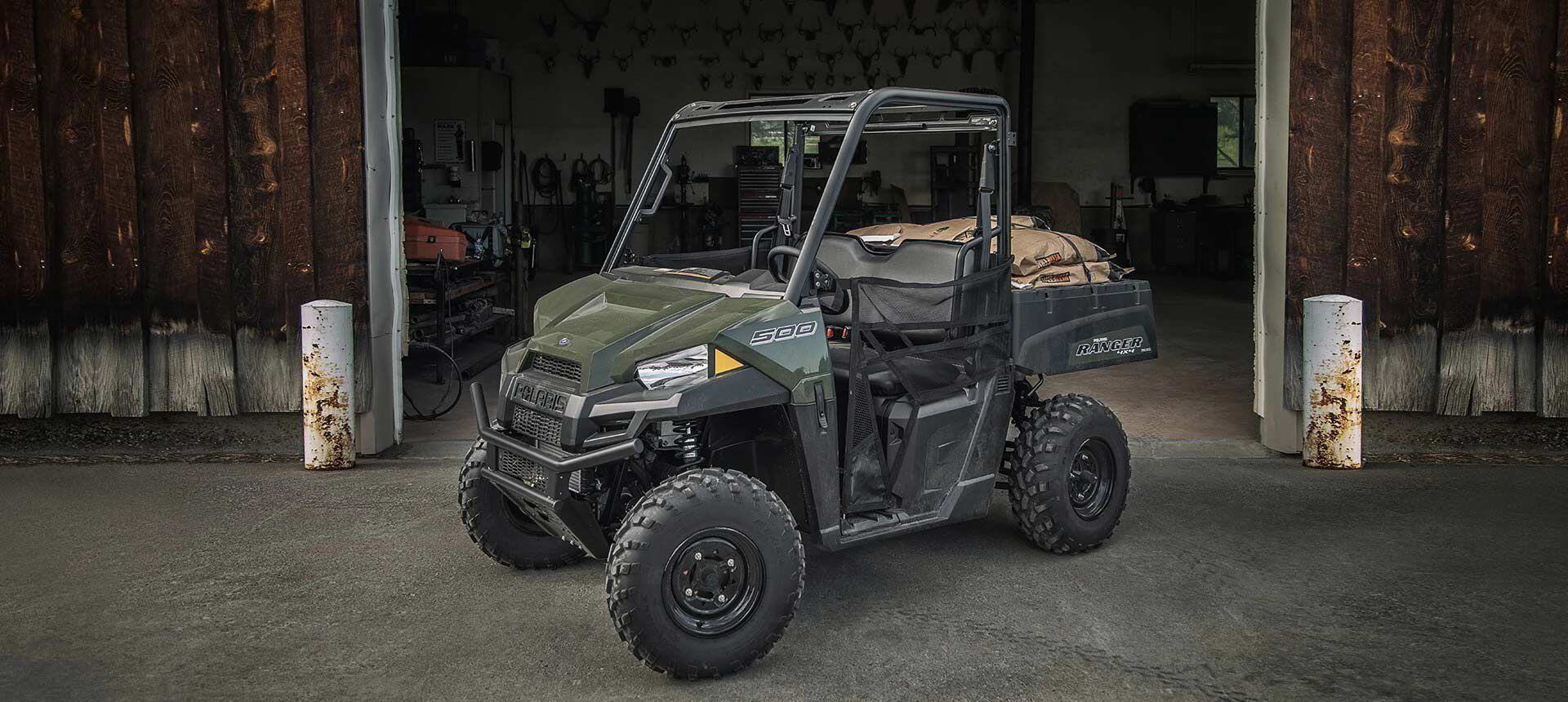 The 2022 Polaris Ranger 500. (Polaris/)
Powertrain: Engine, Transmission, and Performance
Although proven to be reliable and fairly easy to maintain, the Ranger 500′s single-cylinder 500cc ProStar engine isn't going to light anyone's hair on fire with its performance. The 32 hp is ample for a machine that weighs only 1,065 pounds dry, but it's still not a powerhouse. Being that the Ranger 570 only costs a few hundred bucks more and gets the 44 hp engine, the Ranger 500 can be overlooked easily on the performance front.
The Ranger 500 has an automatic PVT with H/L/N/R/P. Driveshafts send power to front and rear axles, and Polaris' On-Demand True AWD/2WD/VersaTrac turf mode system allows for a selection of where the power is ultimately sent.
Handling
The Ranger 500 isn't a handler and isn't designed to be one. At 58 inches wide it has the width to be competent, but its focus is work over fun. Still, we think the relatively lightweight and compact size should prove a good combo for chucking the Polaris around trees or on a tight trail.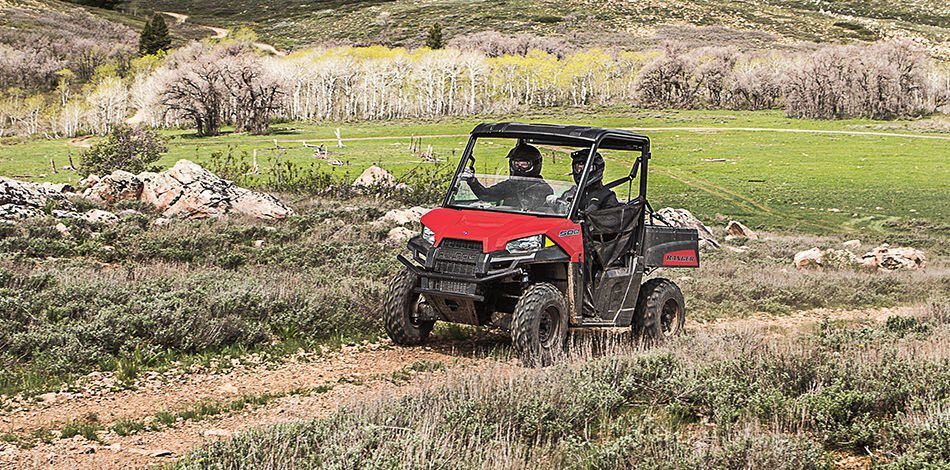 The 2022 Polaris Ranger 500. (Polaris/)
Brakes
Hydraulic disc brakes adorn each corner of the Ranger 500.
Ergonomics: Comfort and Utility
As Polaris expects many people to use the Ranger 500 for work duty, comfort is a high priority for the Ranger 500 in anticipation of long days getting in and out of the machine. The open-access doorways make ingress and egress easy, and the seating position is one that is meant to be both comfortable and purposeful for work intentions. The cabin is also designed to maximize cargo and bed space for the small overall footprint. Inside, there's a tilting steering wheel for the driver and in-dash sealed glove box along with two cupholders.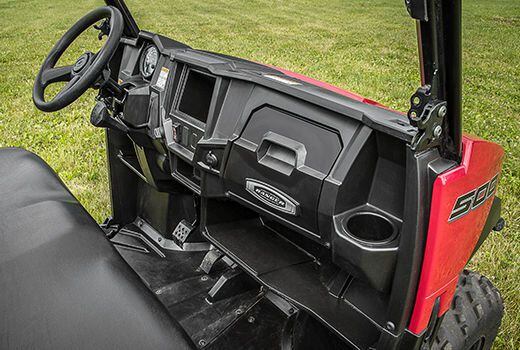 The 2022 Polaris Ranger 500. (Polaris/)
Payload/Towing
Context is important here, and we have to remember that the Ranger 500 is on the smaller end of the UTV scale. And yet, its payload of 1,000 pounds and a bed capacity of 500 pounds, which is quite impressive when taking into consideration the vehicle's 1,065-pound weight. Likewise, it can tow 1,500 pounds off of its standard 2-inch hitch receiver.
Electronics
For an entry-level machine, the Ranger 500 boasts a fair amount of tech. In the cabin a 2-inch LCD Rider Information Center displays a speedometer, tachometer, odometer, tripmeter, clock, hourmeter, gear indicator, fuel gauge, coolant temperature, voltmeter, service indicator and code reader, and seatbelt reminder light. There's a DC outlet as well, and an LED taillight in addition to the 50-watt headlight. Electric power steering is an optional accessory.
Warranty and Maintenance Coverage
The Ranger 500 carries Polaris' standard six-month warranty.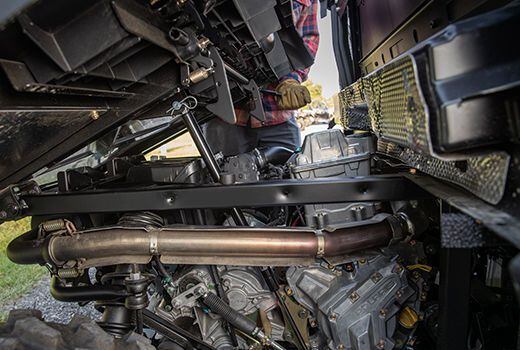 The 2022 Polaris Ranger 500. (Polaris/)
2022 Polaris Ranger 500 Claimed Specs
| | |
| --- | --- |
| Price: | $9,799 |
| Engine: | ProStar SOHC, liquid-cooled, four-stroke single-cylinder |
| Displacement: | 500cc |
| Bore x Stroke: | 93.0 x 73.6mm |
| Compression Ratio: | 10.0:1 |
| Transmission: | Automatic PVT w/ high and low range, reverse; park |
| Claimed Horsepower: | 32 hp |
| Claimed Torque: | N/A |
| Fuel System: | EFI |
| Steering: | Manual; electric power steering accessory |
| Drivetrain: | On-Demand True AWD/2WD/VersaTrac turf mode |
| Front Suspension: | MacPherson strut; 9.0 in travel |
| Rear Suspension: | Dual A-arms, IRS; 10.0 in travel |
| Front Brakes: | Hydraulic disc |
| Rear Brakes: | Hydraulic disc |
| Wheels, Front/Rear: | Stamped steel; 12 in. |
| Tires, Front/Rear: | Carlisle 489; 25×8-12 / 25×10-12 |
| Length: | 110.0 in. |
| Width: | 58.0 in. |
| Height: | 73.0 in. |
| Wheelbase: | 73.0 in. |
| Bed Capacity: | 500 lb. |
| Towing Capacity: | 1,500 lb. |
| Ground Clearance: | 10.0 in. |
| Turning Radius: | 14.9 ft. |
| Claimed Dry Weight: | 1,065 lb. |
| Fuel Capacity: | 9.0 gal. |
| Warranty: | Polaris 6-month limited |
| Availability: | Now |
| Contact: | ranger.polaris.com/en-us/ranger-500/ |