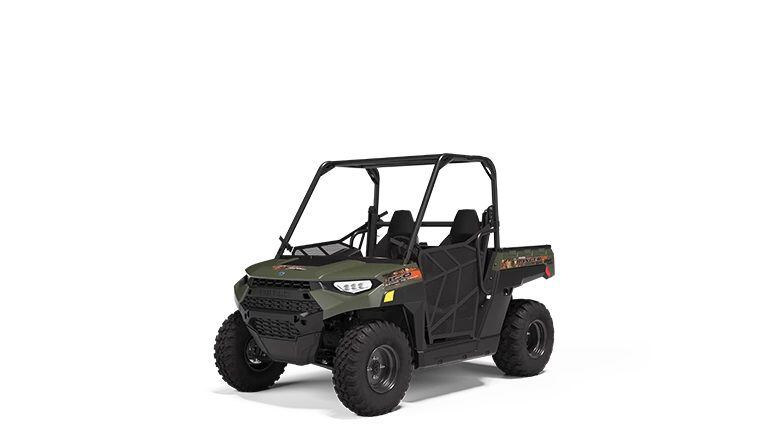 The 2022 Polaris Ranger 150 EFI in Sage Green (Polaris/)
Ups
Emulates its bigger siblings in the styling department, 100 pounds lighter than the RZR 200 EFI, excellent features to keep children in check
Downs
Not cheap, chain-driven, 2WD-only
Verdict
If your child wants to drive a Ranger of their own that looks just like yours, the Ranger 150 EFI nails it. The cargo bed can only hold 50 pounds and it's only two-wheel drive, but it'll inevitably engender massive smiles and can allow younger riders to get into the sport at an accessible price point. Polaris also went so far as to include excellent technology that allows parents and guardians to control their young riders' speed and keep track of the machine's location.
Overview
Polaris has delivered a Ranger for riders 10 and up that looks just like the larger, adult-minded Rangers it tries to emulate. It's only 2WD and only 150cc, but children will revel in their machine's ability to pretend to be the real thing.
Updates for 2022
Polaris added Helmet Aware technology to the Ranger 150 for 2022. This means that every Ranger 150 sold comes with two helmets and an attachable Bluetooth beacon which allows adults to keep track of the Ranger 150 via the Ride Command mobile app, in turn ensuring safety via geofencing and speed limiting. Additionally, and perhaps most importantly, it ensures that a helmet is always worn when the Ranger 150 is being used.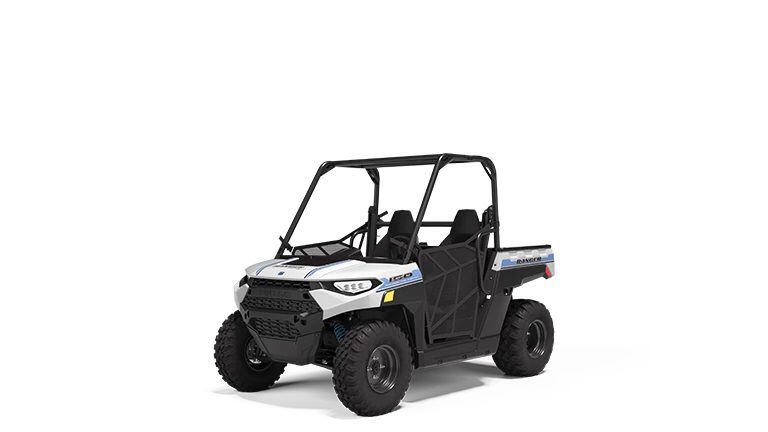 The 2022 Polaris Ranger 150 EFI in White/Sky Blue (Polaris/)
Pricing and Which One to Buy
2022 Polaris Ranger 150 EFI MSRP: $5,599
Does your child want a Ranger 150, or do you want one for your child? Polaris makes picking one easy for 2022, as there is only one available model and only two colors to choose from (Sage Green and White/Sky Blue).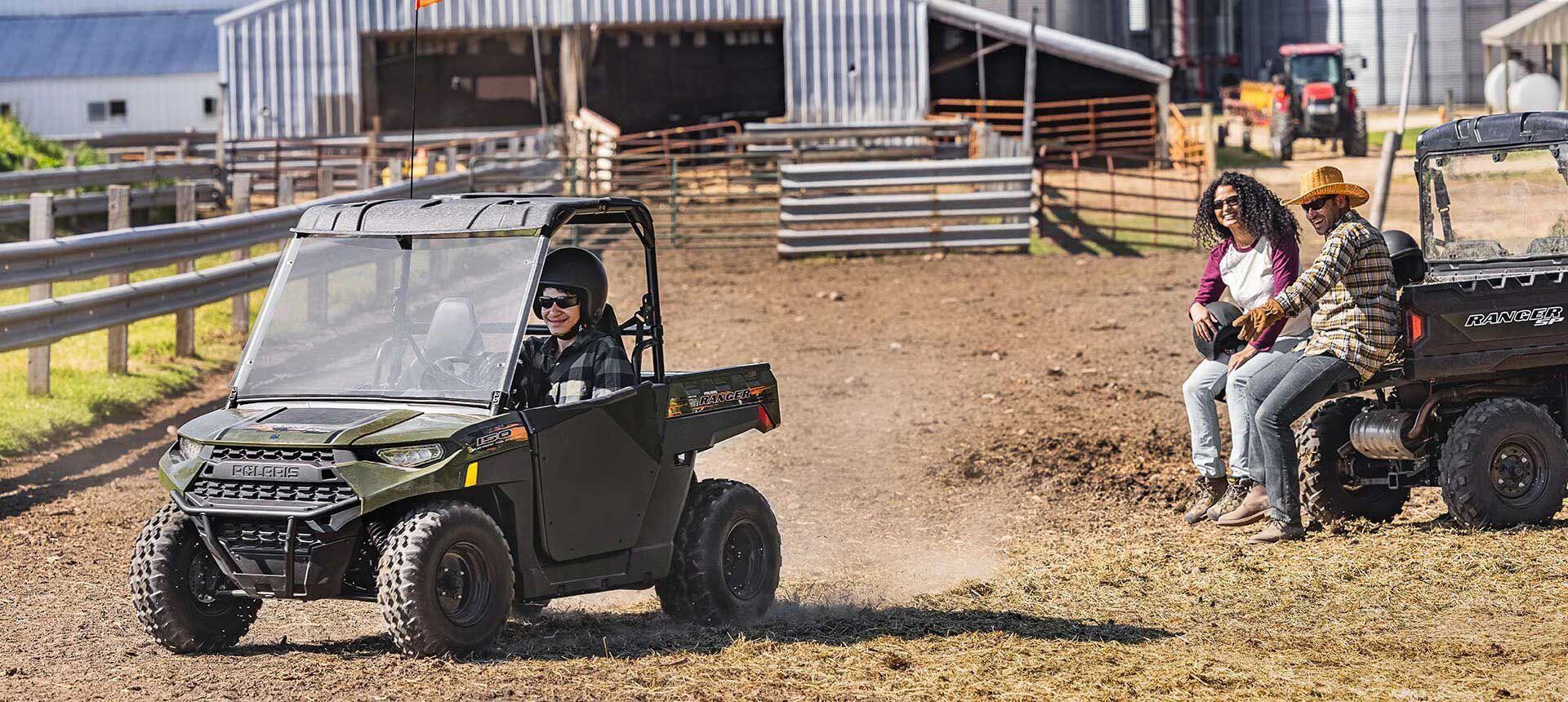 The 2022 Polaris Ranger 150 EFI (Polaris/)
Powertrain: Engine, Transmission, and Performance
Polaris' 150cc air/oil-cooled single-cylinder four-stroke engine pushes the Ranger 150 EFI along comfortably but by no means quickly. The 16-mph speed limit from the factory keeps children in check, but even derestricted the Ranger 150 will only do 29 mph. It's by no means a speed machine, but should be powerful enough to put smiles on users' faces.
Similar to bigger Rangers, the 150 EFI uses an automatic PVT with forward, reverse, and neutral. There is no low range or park gear.
While the Ranger 150 EFI is only rear-wheel drive, it should not serve as much of a detriment given the intended purpose for the model. However, we'd love to see a 4×4 version down the line, which would also likely move the machine to shaft drive versus the antiquated chain it uses today.
Handling
Although the 150cc engine isn't overly powerful, the Ranger 150 EFI does weigh roughly 100 pounds less than the brand's own RZR 200 EFI. This should pay dividends in tight trails, as will a relatively low center of gravity. This machine won't win any XC races through the woods, but it'll corner well enough to be an enjoyable experience for those just getting into driving a side-by-side.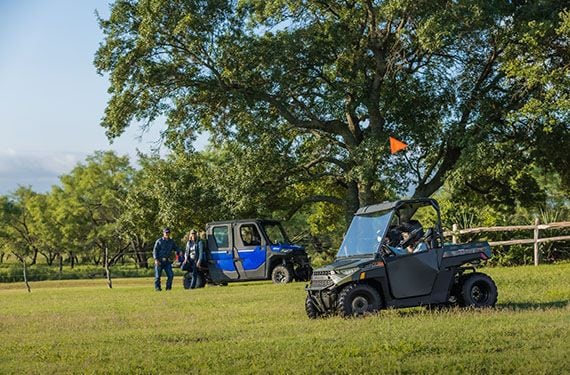 The 2022 Polaris Ranger 150 EFI (Polaris/)
Brakes
The Ranger 150 EFI lives in the modern era with four-wheel hydraulic disc brakes. We're thankful for these over the drum brakes seen on some other machines in the class that are still stuck in a bygone era. Unfortunately the Ranger 150 EFI uses a hand-actuated parking brake to keep the machine from rolling when parked, as the transmission does not have a park gear.
Ergonomics: Comfort and Utility
The Ranger 150 EFI is certainly comfortable enough for those it's geared toward. Frankly, we're inclined to think youngsters will be having too much fun to care about bolstering, lumbar support, and plushness of the ride; those are generally reserved for us adults, who will have a hard time squeezing into the Ranger 150 EFI's cabin anyway.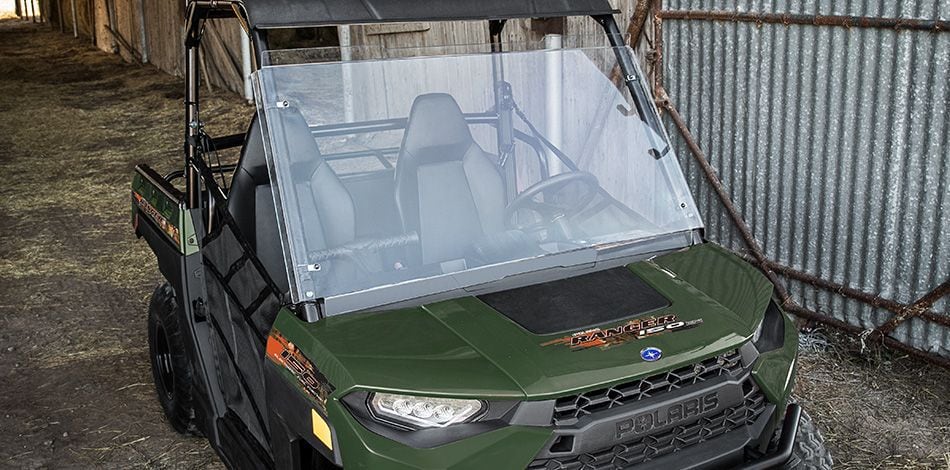 Polaris offers a slew of accessories for the Ranger 150 EFI, such as a windshield and roof (Polaris/)
Payload/Towing
The Ranger 150 EFI has a 21 x 45 x 5-inch cargo bed. It doesn't tilt, but has a 50-pound weight capacity that should prove to be more than enough for carrying gear for the trail or a cooler. Or throwing in some tools or farm materials to use it in the manner in which many full-size Rangers are used.
Electronics
Daytime running lights grace the Ranger 150 EFI's front end, and a single brake light/taillight combo adorns the rear. Instrumentation is plentiful for a machine in this class, with the digital display showing what gear the machine is in along with an odometer, speedometer, tripmeter, voltage, engine temperature, engine hour interval, and engine rpm.
Perhaps the best part of the Ranger 150 EFI's electronic abilities are its safety-focused features. By way of the Ride Command mobile app, adults can set the machine's speed limit, geofence it to keep riders in a designated area, and track it using GPS. The company's Helmet Aware technology also assures that, via Bluetooth beacon, those using the machine are wearing the helmets (provided by Polaris with the purchase of a Ranger 150 EFI). Additionally, the Ranger 150 EFI has Polaris' P.A.S.S. PIN-protected safe start feature, so that only those with the proper passcode can start the little UTV.
Warranty and Maintenance Coverage
The 2022 Polaris Ranger 150 EFI comes with Polaris' standard six-month warranty.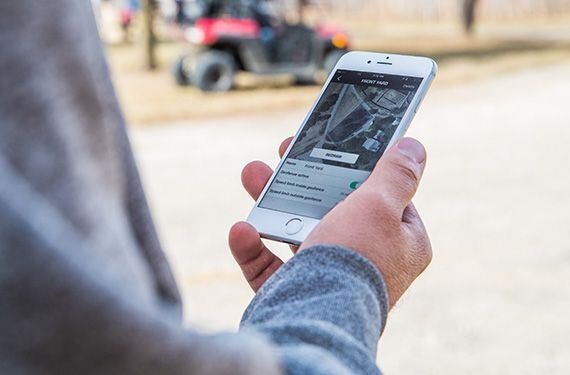 The 2022 Ranger 150 EFI offers the ability to geofence, speed limiting, and GPS tracking via the Ride Command mobile app. (Polaris/)
2022 Polaris Ranger 150 EFI Claimed Specifications
.tg {border-collapse:collapse;border-spacing:0;}
.tg td{border-color:black;border-style:solid;border-width:1px;font-family:Arial, sans-serif;font-size:14px;
overflow:hidden;padding:10px 5px;word-break:normal;}
.tg th{border-color:black;border-style:solid;border-width:1px;font-family:Arial, sans-serif;font-size:14px;
font-weight:normal;overflow:hidden;padding:10px 5px;word-break:normal;}
.tg .tg-0pky{border-color:inherit;text-align:left;vertical-align:top}
.tg .tg-0lax{text-align:left;vertical-align:top}
| Price: | $5,599 |
| --- | --- |
| Engine: | Air/oil-cooled four-stroke single-cylinder |
| Displacement: | 150cc |
| Bore x Stroke: | 57.4 x 57.8mm |
| Compression Ratio: | 9.5:1 |
| Transmission: | Automatic PVT w/ reverse |
| Claimed Horsepower: | N/A |
| Claimed Torque: | N/A |
| Fuel System: | EFI |
| Steering: | Manual |
| Drivetrain: | 2WD, chain-driven |
| Front Suspension: | Single A-arm; 5.1 in. travel |
| Rear Suspension: | Dual shock swingarm; 6.0 in. travel |
| Front Brakes: | Hydraulic disc |
| Rear Brakes: | Hydraulic disc |
| Wheels, Front/Rear: | Stamped steel; 10 in. |
| Tires, Front/Rear: | Wanda; 22×7-10 / 22×10-10 |
| Length: | 85.0 in. |
| Width: | 48.0 in. |
| Height: | 58.0 in. |
| Wheelbase: | 65.0 in. |
| Cargo Box Capacity: | 50 lb. |
| Towing Capacity: | Not rated |
| Max Seating Capacity: | 2 |
| Ground Clearance: | 8.0 in. |
| Turning Radius: | 7.5 ft. |
| Claimed Dry Weight: | 673 lb. |
| Fuel Capacity: | 2.5 gal. |
| Warranty: | 6-month limited |
| Minimum Operator Age: | 10 |
| Availability: | Now |
| Contact: | ranger.polaris.com/en-us/ranger-150-efi/ |