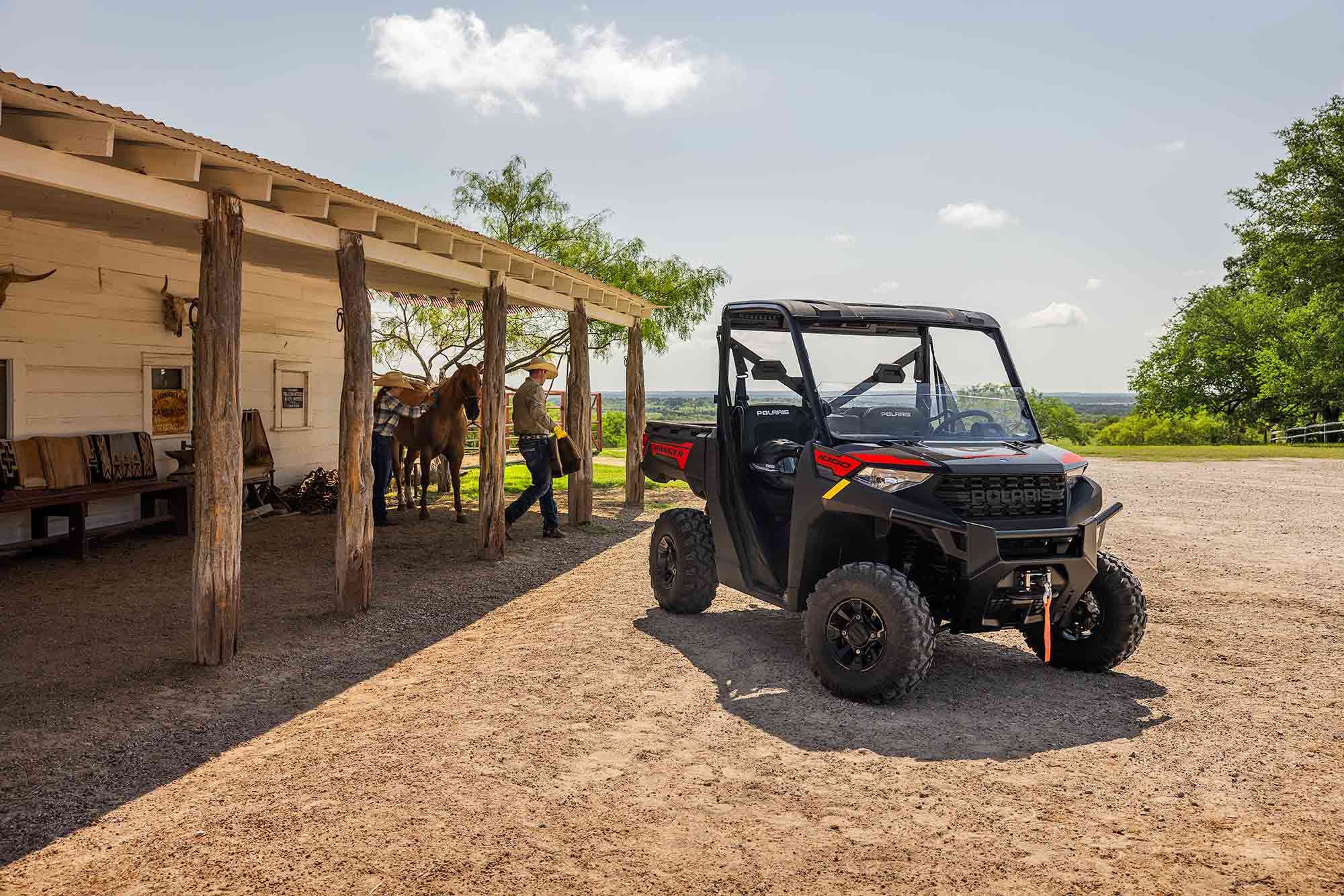 The sweet spot: where incredible work performance meets all-day comfort, and skips the sport-tuned stuff. (Polaris/)
Ups
Smooth engine, great suspension, high workload limits, attractive pricing
Downs
12-inch wheels and 25-inch or 26-inch tires leave some ride comfort and ground clearance to be desired; you have to live with the fact you didn't buy the faster model.
Verdict
All of the capability, 74 percent of the horsepower: The non-XP variant of Polaris' Ranger 1000 is a great buy for the money. Giving up 21 hp and some comfort and performance features to the uprated Ranger XP, this model offers strong work performance, a plush ride, and an awesome cab layout at a price that won't break you down. While it doesn't pack the extra horsepower or sportier ride of the XP models, it still works just as hard. It gives up an inch of suspension travel to the XP, which is only missed at high speeds. The Ranger 1000 is a calm, strong workhorse that offers smooth operation and plenty of comfort.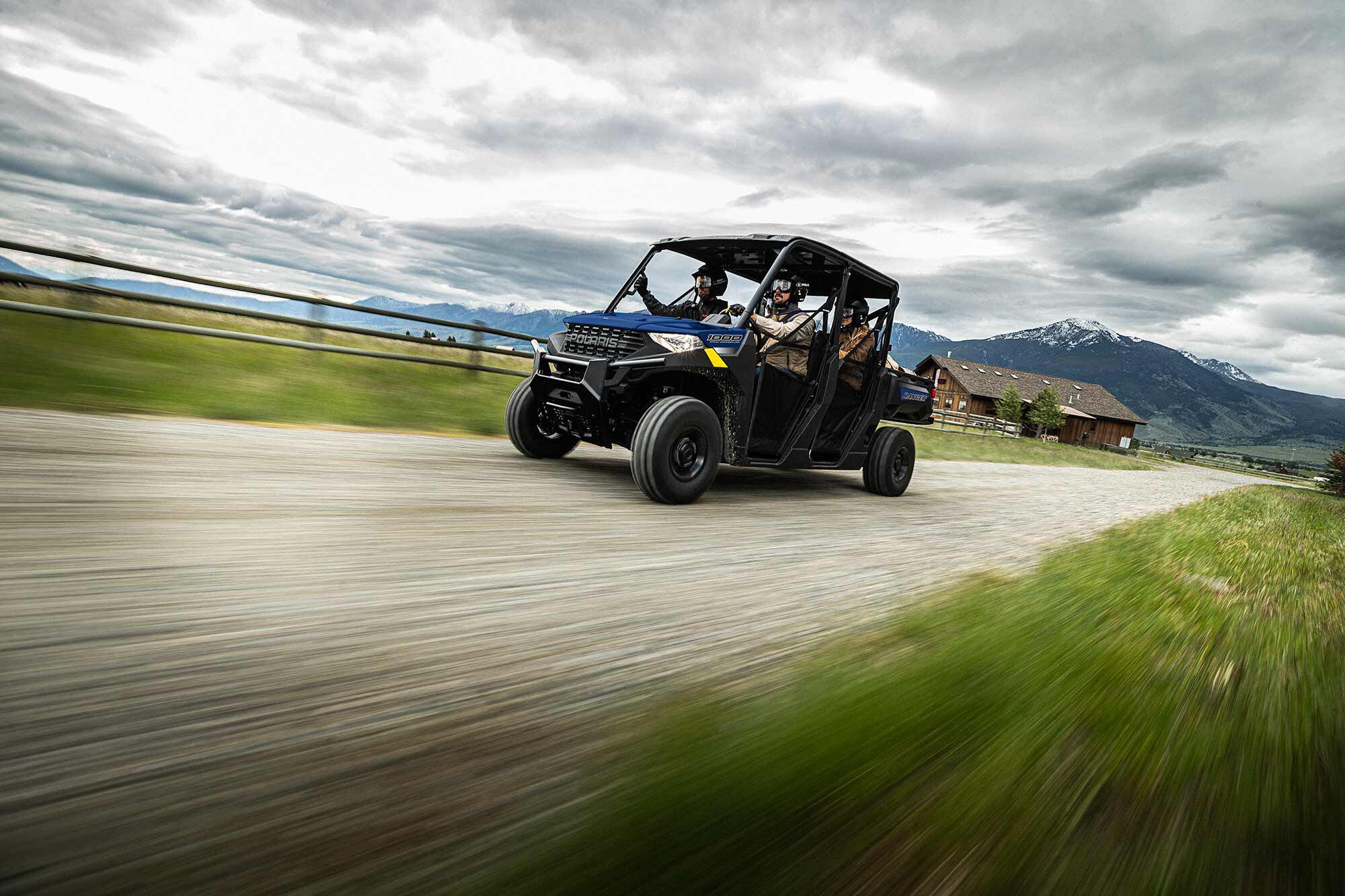 Crew models offer plenty of room for full-sized adults. When loaded down with people and cargo, the Crew 1000 moves at a very relaxed pace. (Polaris/)
Overview
The Ranger 1000 is the starting point for the top-tier Rangers. It uses a different engine and some chassis components than the XP, making it a stand-alone model that can't simply be tuned up to make up the difference. The 1000 is the last of the work-oriented Rangers in this lineup, as models priced higher than this one start to edge more toward recreation.
Its single-overhead-cam engine pumps out plenty of horsepower and ample torque, allowing this Ranger to do real work—it can haul 1,000 pounds in the bed and tow 2,500 pounds using a standard hitch receiver. Polaris focused heavily on the interior layout when it designed this generation of Ranger, and the 1000 has a ton of organizational tools built into the dash and cabin that make carrying your daily essentials much easier.
Updates for 2022
None.
Pricing and Which One to Buy
2022 Polaris Ranger 1000 MSRP: $13,399
2022 Polaris Ranger 1000 EPS MSRP: $14,399
2022 Polaris Ranger 1000 Premium MSRP: $15,399
2022 Polaris Ranger 1000 Premium + Winter Prep Package MSRP: $16,899
2022 Polaris Ranger Crew 1000 MSRP: $14,899
2022 Polaris Ranger Crew 1000 Premium MSRP: $16,999
2022 Polaris Ranger Crew 1000 Premium + Winter Prep Package MSRP: $18,499
Since Polaris gives a ton of headroom in its Ranger pricing structure, the Ranger 1000 (non-XP) can be priced with every available option and still be less expensive than the Ranger XP 1000 Premium. That being said, if you live where it gets below freezing and you will be using your UTV during the colder months, the Winter Prep Package's eight-vent heater and dash seals will be your favorite options.
Powertrain: Engine, Transmission, and Performance
The Ranger 1000′s smooth 61 hp parallel-twin engine and CVT transmission make driving around the jobsite, property, or trail easy as can be. The Ranger's smooth powertrain is complemented by a fairly plush ride and slow steering, which make it feel very trucklike. It won't take your breath away, but it offers more than enough power to run around at speed, with ample torque for hauling duties.
Handling
The Ranger's chassis handles very well, and owners of the Ranger 1000 likely won't have any complaints in this department. The occupants begin to slide across the seat before you reach the Ranger's handling limits.
Brakes
The full-size Ranger 1000 features four-wheel hydraulic disc brakes with dual-piston calipers at each corner. It stops well without drama.
Ergonomics: Comfort and Utility
This is an area where the Ranger excels. With more cupholders and dash pockets than you will know what to do with, living with the Ranger 1000 is pleasant. The cab is easy to access, but the soft doors will have you searching for other options if you plan to keep them. Your dealer can help you there—the Ranger has hundreds of available accessories, including fully enclosed cab kits!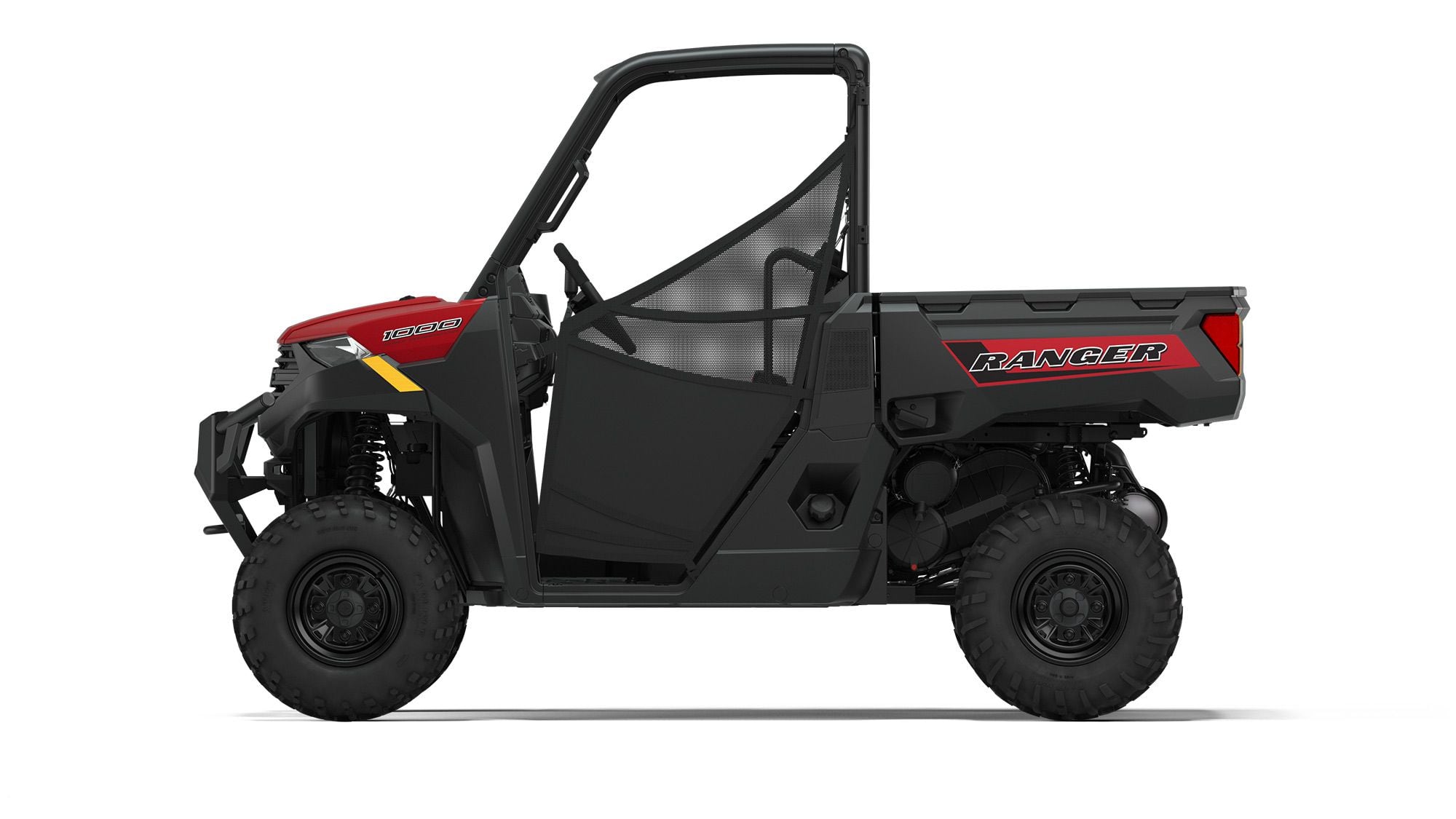 The Ranger 1000 is available without electric power steering, but we would not recommend skipping the $1,000 option for it. (Polaris/)
Payload/Towing
Best in the lineup: This Ranger 1000 boasts Polaris' highest bed capacity and tow ratings, matching the more powerful Ranger XP 1000. The standard 2-inch receiver means you likely won't have to buy another hitch to tow with the Ranger, though you may have to flip the ball over to bring the height up. Polaris just introduced a new partnership with Rhino-Rack, so accessory storage options just got even broader.
Electronics
The basic Ranger 1000 is stripped down, and the Premium packages follow in the same footsteps when it comes to electronics. All models feature an in-dash trickle charging port that accepts standard Battery Tender or other two-prong tender plugs. This will allow you to keep the battery topped up between uses without having to do much more than plug it in.
Warranty and Maintenance Coverage
Polaris gives a standard one-year, unlimited-mileage warranty to all new Ranger owners. Dealerships offer extended warranty and service plans.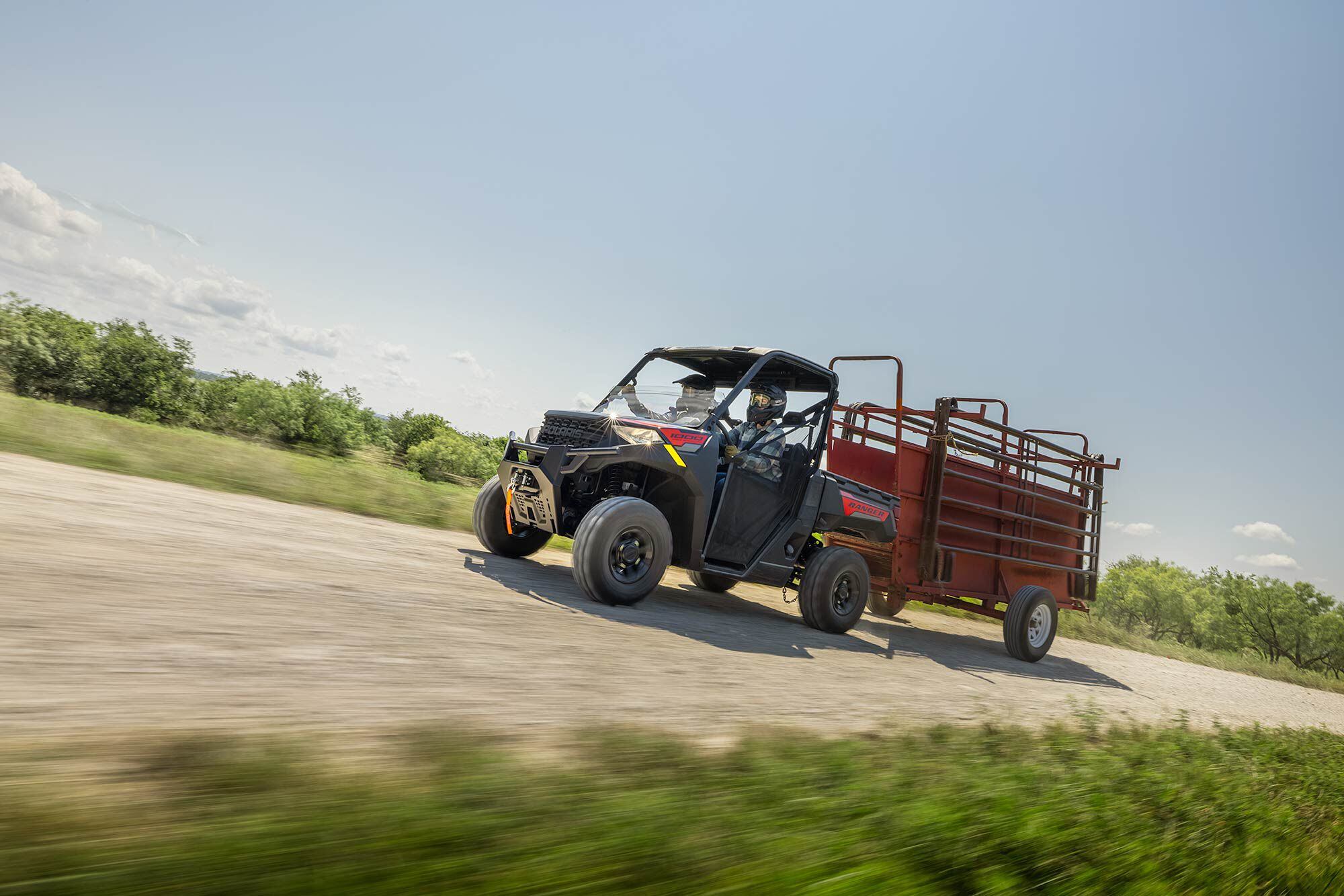 Happy to work, the Ranger 1000 will do more than some pickup trucks. (Polaris/)
2022 Polaris Ranger 1000 Specs
| | |
| --- | --- |
| MSRP: | $13,399–$18,499 |
| Engine: | SOHC, liquid-cooled 4-stroke single-cylinder |
| Displacement: | 999cc |
| Bore x Stroke: | 93.0 x 73.5mm |
| Compression Ratio: | 10.5:1 |
| Transmission: | Automatic PVT w/ high/low range, reverse |
| Claimed Horsepower: | 61 hp |
| Claimed Torque: | 55 lb.-ft. |
| Fuel System: | EFI |
| Steering: | Manual (base) / EPS (all other models) |
| Drivetrain: | High Performance On-Demand True AWD/2WD/VersaTrac turf mode |
| Front Suspension: | Dual A-arms; 10.0 in. travel |
| Rear Suspension: | Dual A-arms, IRS; 10.0 in. travel |
| Front Brakes: | 2-piston calipers, hydraulic disc |
| Rear Brakes: | 2-piston calipers hydraulic disc |
| Wheels, Front/Rear: | Steel (all other models) / aluminum (Premium models); 12 in. |
| Tires, Front/Rear: | Carlisle 489; 25×10-12, 25×11-12 (all other models) / PXT 2.0; 26×9-12, 26×11-12 (Premium models) |
| Length: | 120.0 in. (3-seat) / 152.0 in. (Crew) |
| Width: | 62.5 in. |
| Height: | 76.0 in. |
| Wheelbase: | 81.0 in. (3-seat) / 113.0 in. (Crew) |
| Bed Capacity: | 1,000 lb. |
| Towing Capacity: | 2,500 lb. |
| Max Seating Capacity: | 3 (base) / 6 (Crew) |
| Ground Clearance: | 12.0 in. (all other models) / 12.5 in. (Premium models) |
| Turning Radius: | 13.0–13.3 ft. (3-seat) / 17.0 ft. (Crew) |
| Claimed Dry Weight: | 1,437–1,485 lb. (3-seat) / 1,640–1,794 lb. (Crew) |
| Fuel Capacity: | 11.4 gal. |
| Warranty: | 1 year, unlimited mileage |
| Availability: | Now |
| Contact: | ranger.polaris.com |