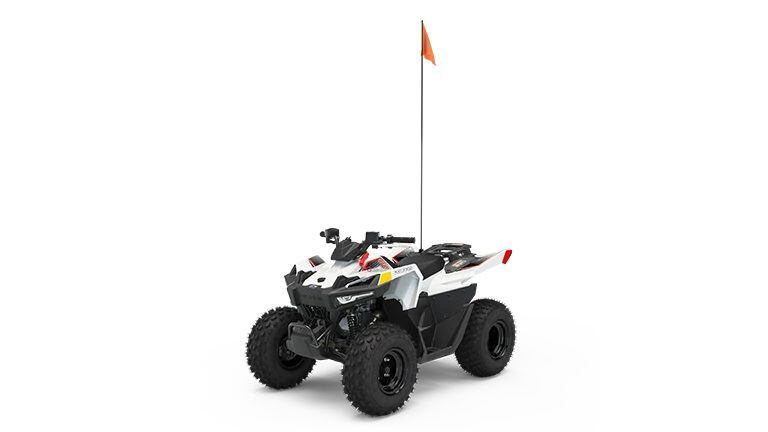 The 2022 Polaris Outlaw 70 in Bright White/Red. (Polaris/)
Ups
Low cost of entry, plentiful safety features to keep parents' minds at ease, up-class styling, electronic fuel injection
Downs
It's been far too long since Polaris made an Outlaw for adults
Verdict
The 2022 Polaris Outlaw 70 is a good-looking youth-class ATV that offers young riders an opportunity to get into the sport while not breaking their parents' bank accounts.
Overview
The 2022 Polaris Outlaw 70 is Polaris' entry-level youth ATV. It's relatively simple, but parents will love the built-in speed limiter and LED lights, making it easy to keep children in check and keep eyes on them on the trail. The included safety kit (whip flag, tether, helmet, and training DVD) is a nice touch. Kids will love that it emulates the bigger Polaris styling.
Updates for 2022
The Outlaw 70 is unchanged from 2021.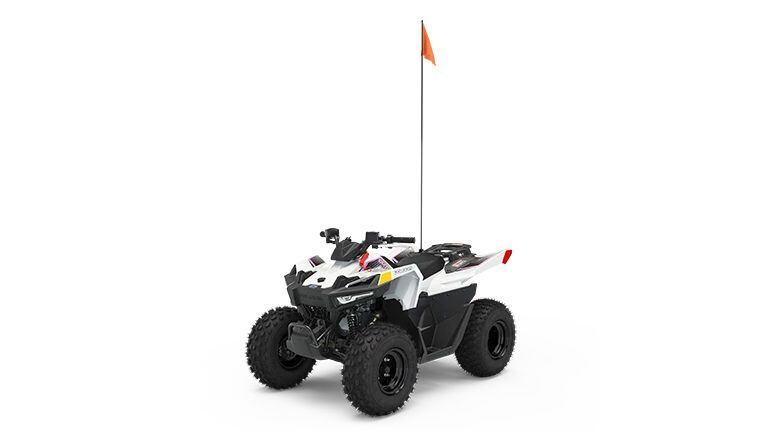 The 2022 Polaris Outlaw 70 in White/Pink. (Polaris/)
Pricing and Which One to Buy
2022 Polaris Outlaw 70 MSRP: $2,349
Pricing for the 2022 Outlaw 70 starts at a palatable $2,349 plus destination. There is only one trim. Buyers either select if they want their kid's Outlaw 70′s white plastics trimmed with red or pink accents. Either way, it's a good value for a machine with electronic fuel injection (EFI) and aggressive styling.
The 2022 Polaris Outlaw 70. (Polaris/)
Powertrain: Engine, Transmission, and Performance
The Outlaw 70 uses a four-stroke single-cylinder 70cc engine with EFI. It's not a powerhouse engine, but we doubt any parents would want it to be. The inclusion of EFI is a nice touch, allowing for ease of starting and for lessened maintenance time and cost. The engine sends power solely to the rear tires via chain drive. Young users will find the Outlaw 70′s continuously variable transmission (CVT) easy to use, but may wish for reverse gear. Thankfully, the Outlaw 70 weighs only 278 pounds, so it's easy enough to turn around should the need arise.
Handling
The Outlaw 70 is aided by its low center of gravity and reasonably light weight, which make it feel faster than it is. Four inches of suspension travel isn't much, but it allows enough plushness to keep riders planted on their seats instead of bouncing around. Although the Outlaw 70 only has 4 inches of ground clearance, its nimbleness will allow young riders to learn how to avoid obstacles in darting around rocks, trees, and the like. The 18-inch tires help soak up the bumps that kids can't avoid.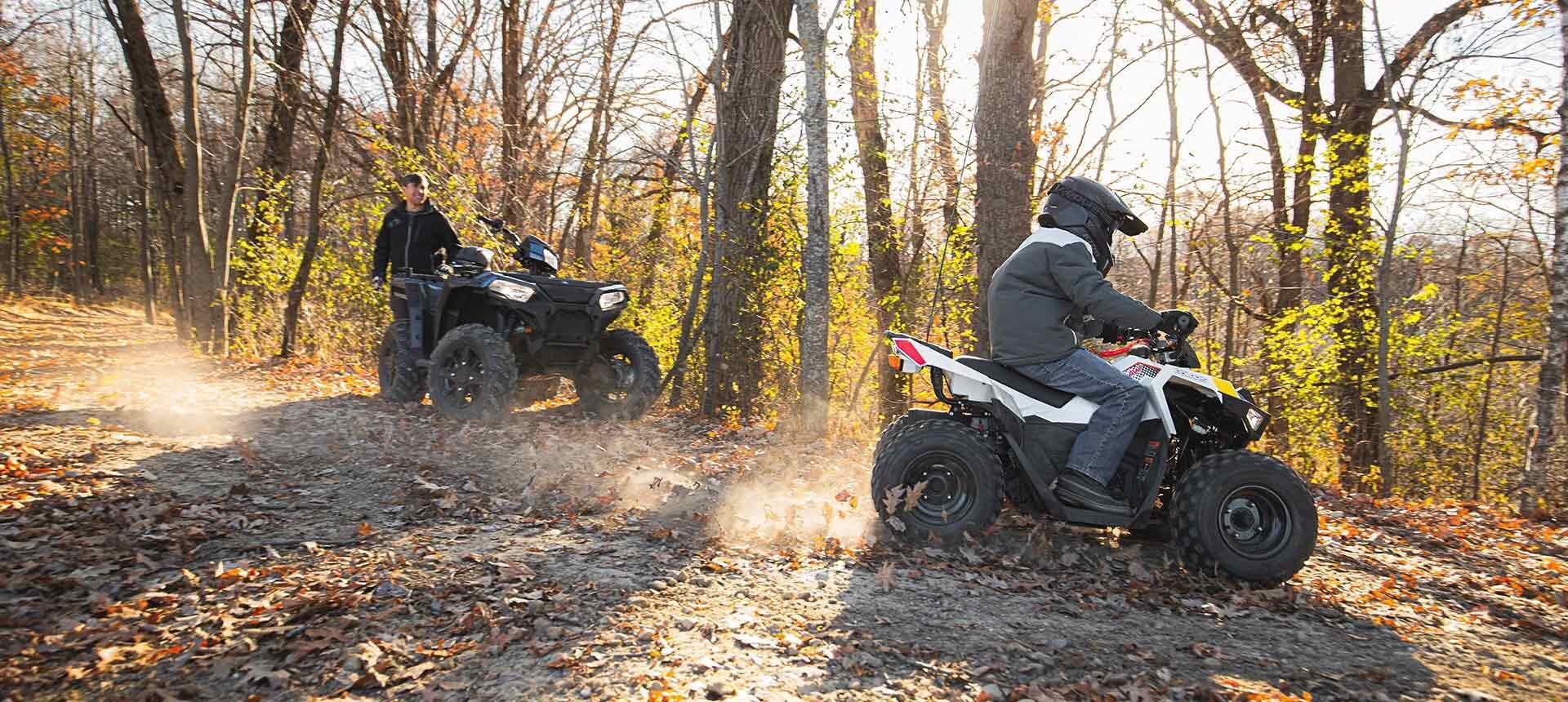 The 2022 Polaris Outlaw 70. (Polaris/)
Brakes
All Outlaw 70s use hydraulic disc brakes with one disc per wheel in the front, and an axle-mounted hydraulic disc in the rear. Front and rear brakes are operated simultaneously by a single handlebar lever. Additionally, a handlebar-mounted mechanical locking parking brake is present as well. The Outlaw 70 does not have park gear.
Ergonomics: Comfort and Utility
This is a machine suited to riders 6 and up, but as they age, riders will quickly feel cramped, which is just an excuse to step them up to the next size of Polaris ATV. That said, we think children will be perfectly comfortable on the Outlaw 70, and frankly will be having too much fun to care about whether the seat is perfectly contoured to their liking.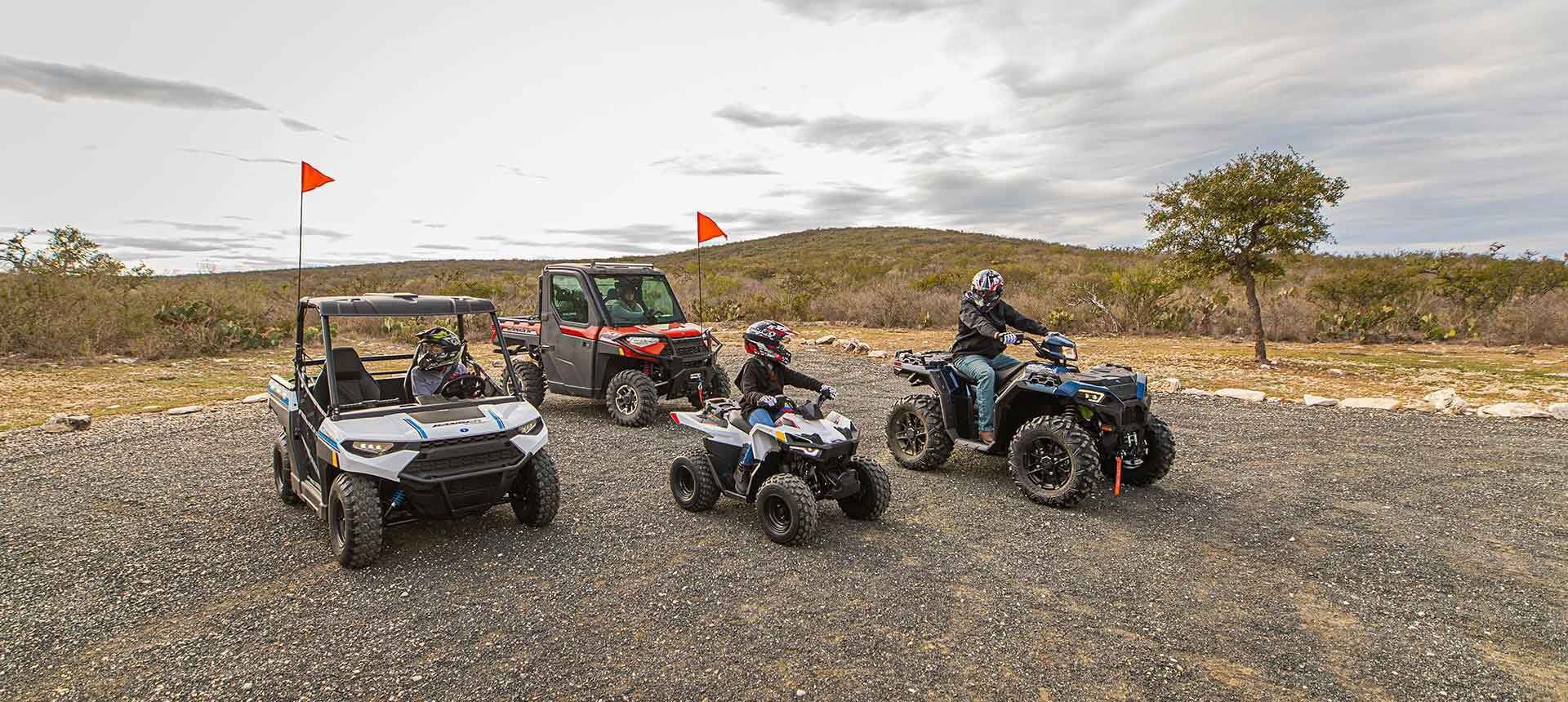 The 2022 Polaris Outlaw 70. (Polaris/)
Payload/Towing
Being a youth ATV, the Outlaw 70 is only rated to carry a payload of 140 pounds. Larger, heavier riders need not apply, as much fun as it might be for adults to tool around on kids quads. The Outlaw 70 is not rated to tow, but the rear rack can carry 25 pounds—enough for a small cooler or gear.
Electronics
Electronics and instrumentation are slim on the Outlaw 70. There's a check engine light, a horn, and a parent-adjustable speed limiter (1-15 mph; note that the Outlaw 70 is limited to 10 mph at the time of manufacture).
Warranty and Maintenance Coverage
The Outlaw 70 comes with Polaris' standard six-month warranty.
The 2022 Polaris Outlaw 70. (Polaris/)
2022 Polaris Outlaw 70 Claimed Specifications
| | |
| --- | --- |
| MSRP: | $2,349 |
| Engine: | Air-cooled four-stroke single-cylinder |
| Displacement: | 70cc |
| Bore x Stroke: | N/A |
| Compression Ratio: | N/A |
| Transmission: | Automatic CVT w/ forward gear only |
| Claimed Horsepower: | N/A |
| Claimed Torque: | N/A |
| Fuel System: | EFI |
| Steering: | Manual, handlebar-driven |
| Drivetrain: | 2WD |
| Front Suspension: | Single A-arm; 4 in. travel |
| Rear Suspension: | Monoshock swingarm; 4 in. travel |
| Front Brakes: | Single-lever-operated hydraulic disc w/ one disc per wheel |
| Rear Brakes: | Single-lever-operated axle-mounted hydraulic disc |
| Wheels, Front/Rear: | Stamped steel; 8 in. |
| Tires, Front/Rear: | 18x7R-8 / 18x8R-8 |
| Length: | 56.0 in. |
| Width: | 35.5 in. |
| Height: | 35.3 in. |
| Wheelbase: | 37.8 in. |
| Cargo Capacity: | 25 lb. (rear rack only) |
| Towing Capacity: | Not rated |
| Seat Height: | 25.8 in. |
| Ground Clearance: | 4.0 in. |
| Turning Radius: | N/A |
| Claimed Dry Weight: | 278 lb. |
| Fuel Capacity: | 1.5 gal. |
| Warranty: | 6-month limited |
| Minimum Operator Age: | 6 |
| Availability: | Now |
| Contact: | atv.polaris.com/en-us/outlaw-70/ |