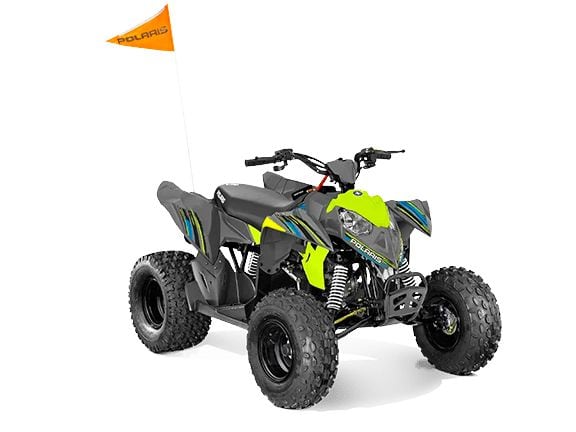 The 2022 Polaris Outlaw 110 EFI in Avalanche Gray/Lime Squeeze. (Polaris/)
Ups
Looks like the real deal, EFI in a segment unfamiliar with it, comes with good safety kit
Downs
Slightly pricey for the segment, no full-size equivalent
Verdict
An excellent sporty choice for riders ages 10 and up, with encouragement by Polaris to stay safe for maximum enjoyment.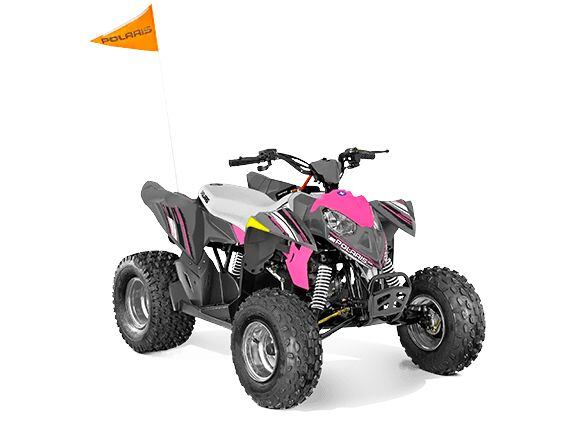 The 2022 Polaris Outlaw 110 EFI in Avalanche Gray/Pink Power. (Polaris/)
Overview
The 2022 Polaris Outlaw 110 EFI is Polaris' second-smallest sport ATV in the youth segment, with safety features to keep parents happy and the styling to keep kids excited.
Updates for 2022
The Polaris Outlaw 110 EFI is unchanged for 2022.
Pricing and Which One to Buy
2022 Polaris Outlaw 110 EFI: $3,599
Polaris' little Outlaw 110 EFI is available in two colors for 2022, Avalanche Gray/Lime Squeeze and Avalanche Gray/Pink Power. In this segment the Polaris is a good choice but there's no optional trims or packages, simply a choice in what electric color offsets the gray plastic background on which they sit.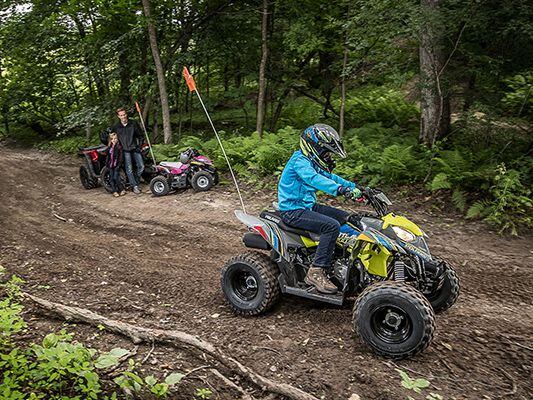 The 2022 Polaris Outlaw 110 EFI. (Polaris/)
Powertrain: Engine, Transmission, and Performance
The Outlaw 110 EFI's engine is a four-stroke, single-overhead-camshaft unit with electronic fuel injection. At 112cc, its displacement is actually bigger than the name indicates. We especially appreciate the inclusion of EFI in this segment.
The Outlaw 110 EFI uses a PVT with forward, neutral, and reverse gears. A chain drive is responsible for handling power that's sent solely to the back end.
Handling
The Outlaw 110 EFI is a sporty-looking machine that uses traditional architecture front and rear, with single A-arm up front and a monoshock swingarm at the rear. Travel is decent at 5 inches front and 6 inches rear, but ground clearance is a paltry 3.5 inches so riders will have to take advantage of the low 278-pound weight to dodge obstacles. On that note, it should handle slightly better than the slightly heavier Sportsman 110 as well. The Outlaw 110 EFI has no natural competition but does offer slightly more travel than the 90-class machines found elsewhere. The brand's own Outlaw 200 does offer appreciably more travel and ground clearance though.
Brakes
The Outlaw 110 EFI has dual drum brakes front and rear. Discs would be a nice improvement and step up in braking quality, but drums get the job done.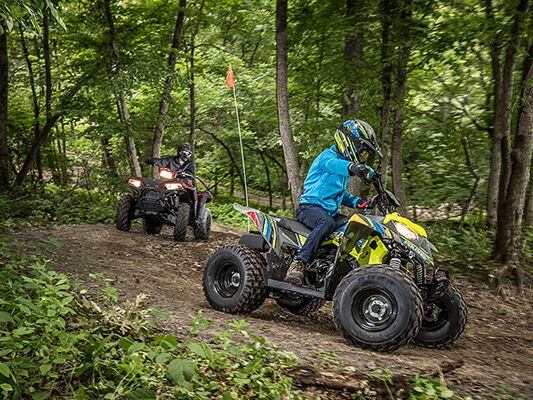 The 2022 Polaris Outlaw 110 EFI. (Polaris/)
Ergonomics: Comfort and Utility
The 110 class is an odd one, straddling the much more popular 90 class below it but not quite reaching the size or power (or price) of 170- and 200-class machines. As such, it's really a one-size-fits-all unit that is perfectly suited to neither smaller nor larger riders. Everyone should fit with reasonable ease. Polaris makes a comfortable seat and generally puts the handlebars and footpegs in the right place, but this machine is meant for a wide variety of ages that correlate with a wide variety of body types and sizes.
Don't expect much from the Outlaw 110 EFI on the utility front, but that's par for the class. The rack-wearing Sportsman 110 looks like it should be better-suited to utility duty and has a rear rack capacity of 30 pounds. Not much, but more than the Outlaw's zero.
Towing
The Outlaw 110 EFI is not rated for towing.
Electronics
Safety is important in this segment and Polaris knows that. The Outlaw 110 EFI comes with an adjustable speed limiter to keep kids in check. On the safety front it also comes with a youth helmet and safety whip flag, along with a safety tether. Other electronics included are a neutral/reverse light, LED running lights, and a brake light/taillight combo out back.
Warranty and Maintenance Coverage
Polaris' six-month limited factory warranty is standard on the Outlaw 110 EFI.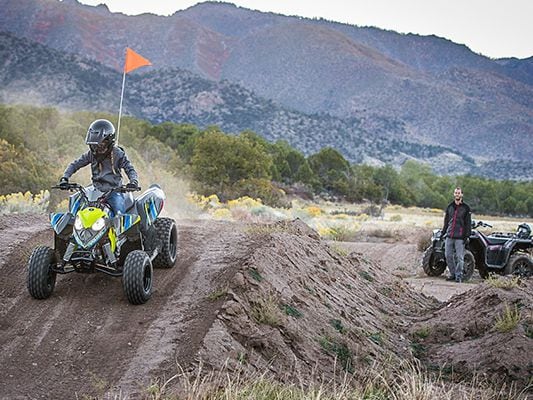 The 2022 Polaris Outlaw 110 EFI. (Polaris/)
2022 Polaris Outlaw 110 EFI Claimed Specifications
| | |
| --- | --- |
| MSRP: | $3,599 |
| Engine: | SOHC, air-cooled, four-stroke single-cylinder |
| Displacement: | 112cc |
| Bore x Stroke: | 61.0 x 57.8mm |
| Compression Ratio: | 9.5:1 |
| Transmission: | PVT w/ reverse |
| Claimed Horsepower: | N/A |
| Claimed Torque: | N/A |
| Fuel System: | EFI |
| Drivetrain: | Chain-driven 2WD |
| Front Suspension: | A-arm; 5.0 in. travel |
| Rear Suspension: | Monoshock swingarm; 6.0 in. travel |
| Front Brakes: | Dual drum |
| Rear Brakes: | Dual drum |
| Wheels, Front/Rear: | Steel; 8 in. |
| Tires, Front/Rear: | Duro; 19×7-8 / 18×9.5-8 |
| Length: | 61.25 in. |
| Width: | 36.75 in. |
| Height: | 38.5 in. |
| Wheelbase: | 41.5 in. |
| Rack Capacity: | N/A |
| Towing Capacity: | N/A |
| Seat Height: | 27.0 in. |
| Ground Clearance: | 3.5 in. |
| Steering: | Manual |
| Turning Radius: | N/A |
| Claimed Dry Weight: | 278 lb. |
| Fuel Capacity: | 1.6 gal. |
| Warranty: | 6-month limited factory warranty |
| Minimum Operator Age: | 10 |
| Availability: | Now |
| Contact: | atv.polaris.com |