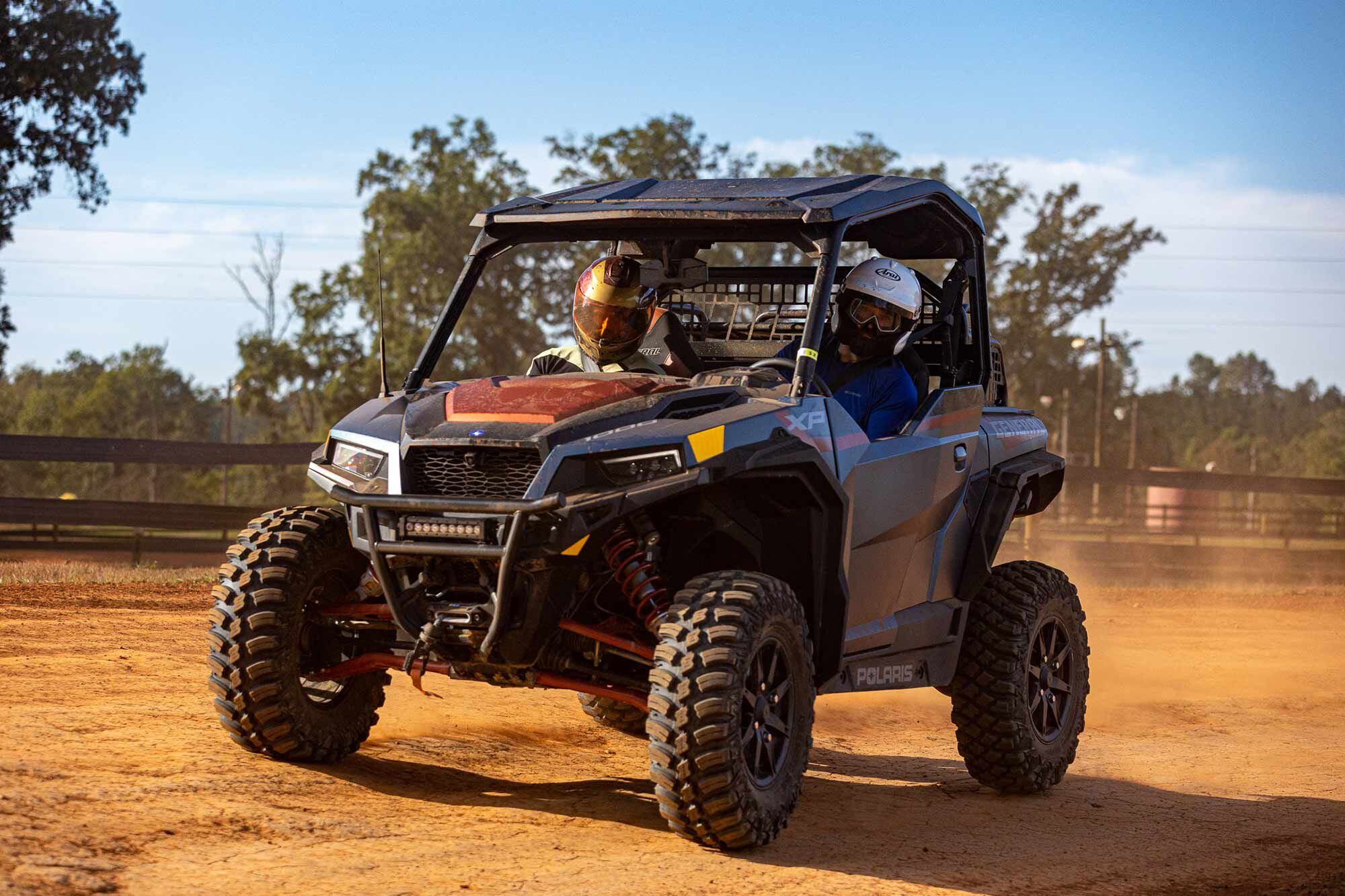 The 2022 Polaris General Trailhead Edition is aimed squarely at the overlanding crowd, but it's got great go-fast chops. (Kevan Ray/)
A glance at the 2022 Polaris General XP 1000 Trailhead Edition leaves little doubt about its intended use. With 29-inch tires, a winch, a roof, and a set of MOLLE racks climbing out of its generous bed, it's pretty clear this thing wants to take you as far into the backcountry as you dare, with as much gear as you care to pack.
Long story short, we haven't tested the General Trailhead Edition's overlanding chops yet, but that's not to say we haven't thoroughly tested it. We recently loaded up the General and a 2021 Polaris RZR Trail S Ultimate and headed to Durhamtown Off Road Resort near Greensboro, Georgia.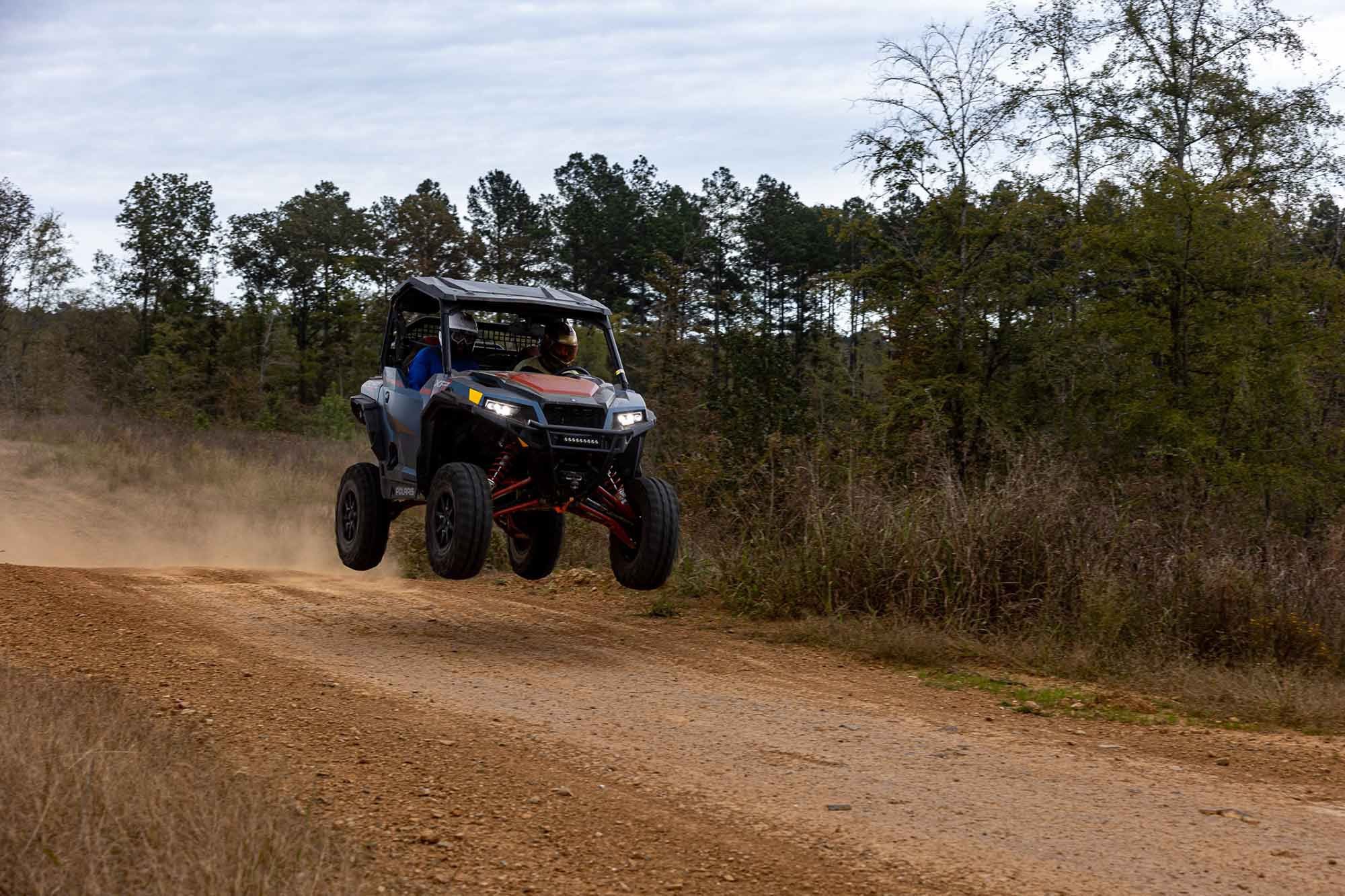 It's big, but with stout Walker Evans shocks, hefty sway bars, and 100 hp, the Trailhead Edition flies like a much smaller rig. (Kevan Ray/)
Durhamtown isn't exactly the General's happiest hunting ground, as it's marked by more than 150 miles of flowing, seriously fast trails and tracks winding through the flat pine woods. The General is wide, tall, and heavy, but packed with a 100 hp, 999cc dual-overhead-cam parallel-twin engine and Walker Evans Velocity Series shocks, its pace surprised us around Durhamtown.
Despite its 14 inches of suspension travel, the General's front and rear stabilizer bars give it shockingly flat handling through the long, fast corners on Durhamtown's wide-open, 1.4-mile Turbo Track, where we saw speeds on the other side of 60 mph. In two- or four-wheel drive, the General has acres of grip, performing confident tail-out slides in two-wheel drive and Audi Quattro-style four-wheel drifts with the transfer case engaged.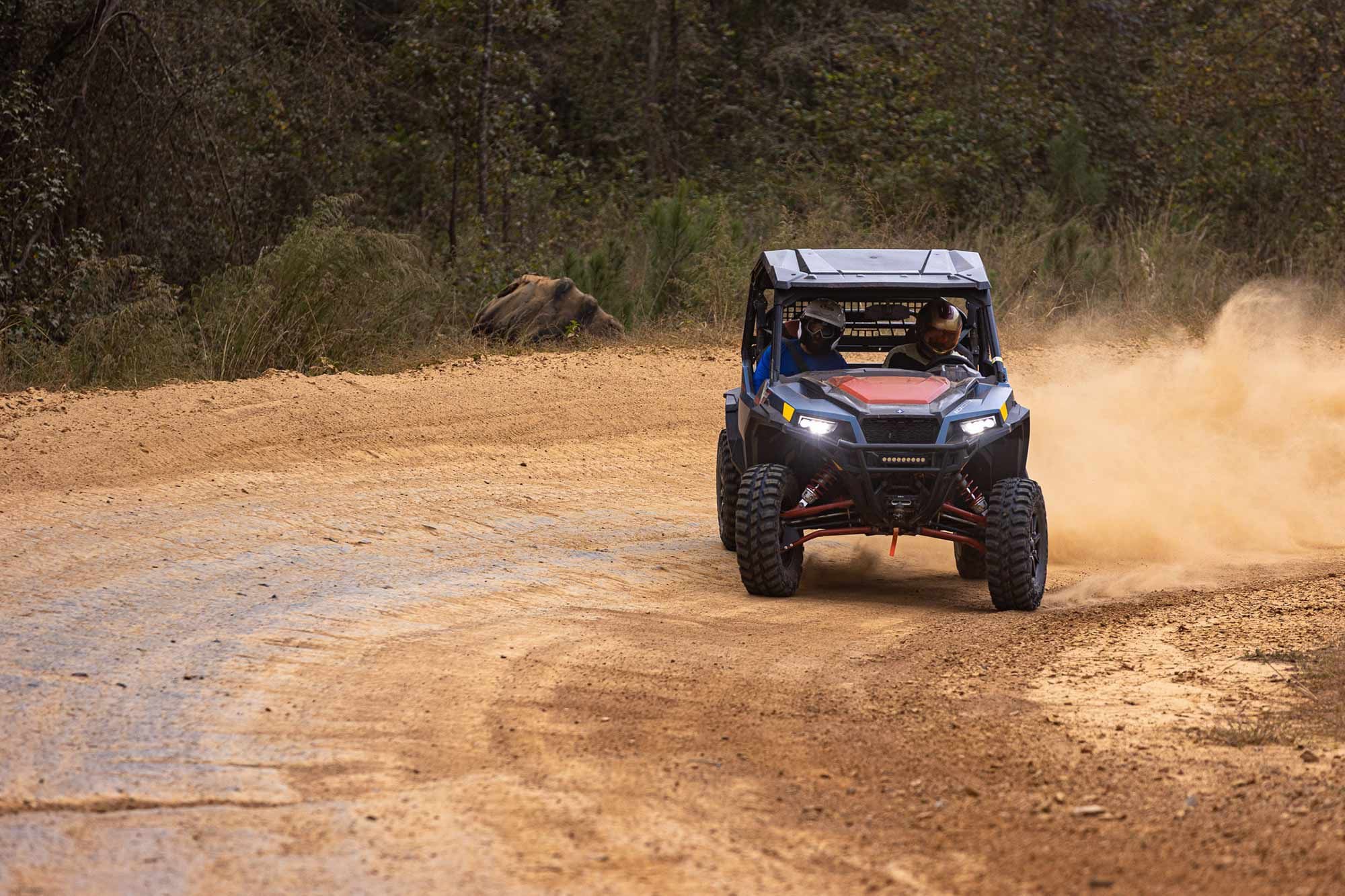 In two-wheel drive, the General loves to throw the back end out and execute a lovely, predictable slide. Stick it in four-wheel drive, and it does its best Audi Quattro impression, clawing forward in confident four-wheel drifts. (Kevan Ray/)
Both the park's Turbo Track and its smaller, similarly quick GP Track have several opportunities to get airborne, which the big Polaris handled without drama. Lift slightly to transfer weight forward, then punch it just before the lip, and the rig flies flat and straight. Better yet, the Walker Evans shocks and stabilizer bars prevent harsh bottom-outs, so landings are consistently soft and confident. It might go without saying, but the feeling is addicting.
To be clear, the General is nowhere near as fast as the RZR Trail S Ultimate with the same engine, but its handling was more comfortable and sure-footed than the smaller rig, which made it at least as much fun to hustle around.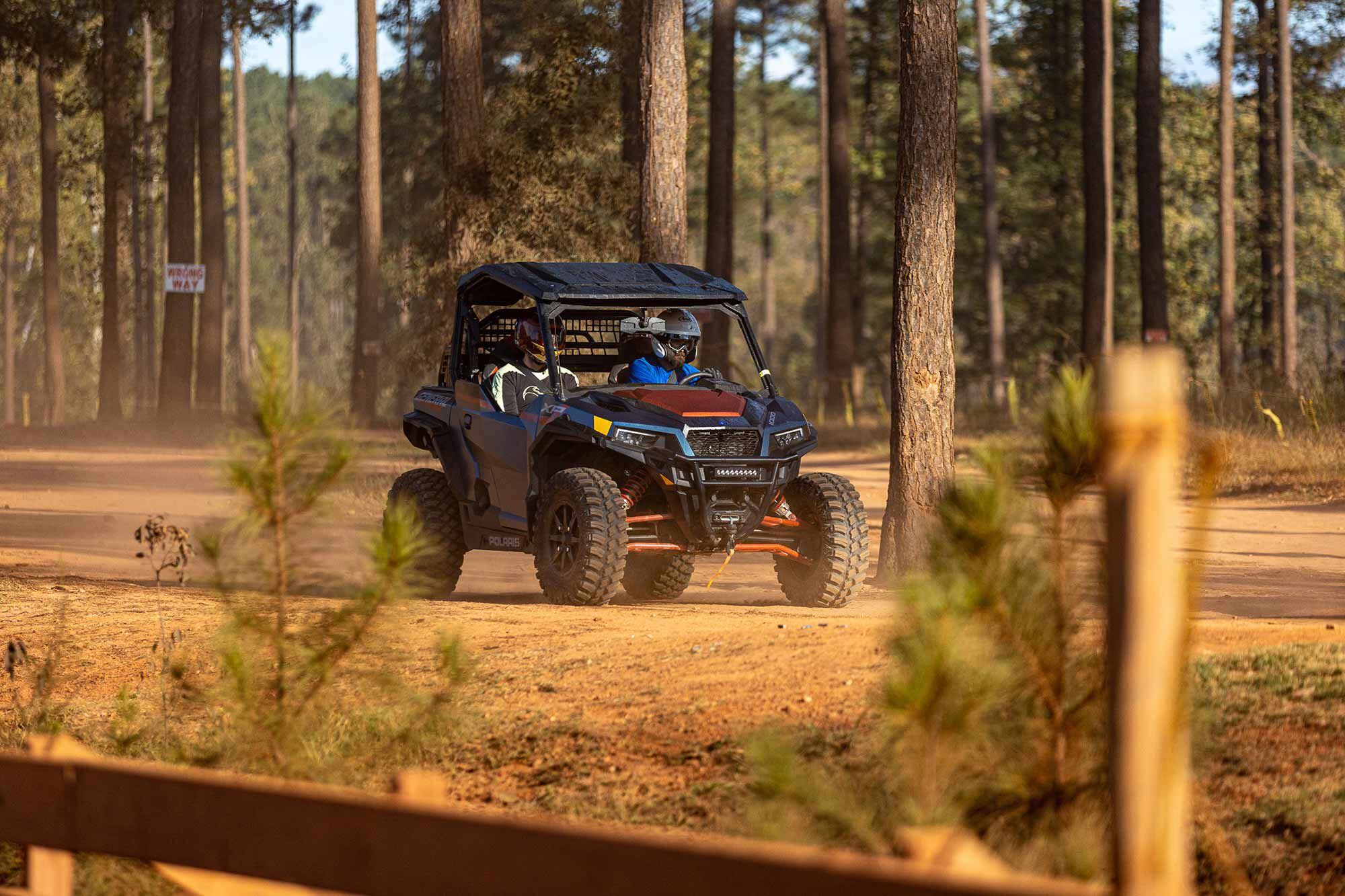 The Trailhead's gorgeous blue and orange livery is fantastic in person, especially when it catches the light. (Kevan Ray/)
As good as it was at Durhamtown, the General Trailhead proved itself in the rocks and roots at Windrock OHV Park, our local stomping grounds in Oliver Springs, Tennessee. Before we headed to Georgia, we took the General for a romp down Windrock's Trail 16, a gut pile of rocks, deep ruts, roots, and muddy, stepped climbs.
Despite scoring considerably lower on our RTI ramp than the 2021 Yamaha Wolverine RMAX2 1000, we had absolutely no issues getting over whatever Trail 16 stuck in front of us. There's a 4,500-pound winch up front if you get stuck, but in our experience you would need to be in way over your head to need it.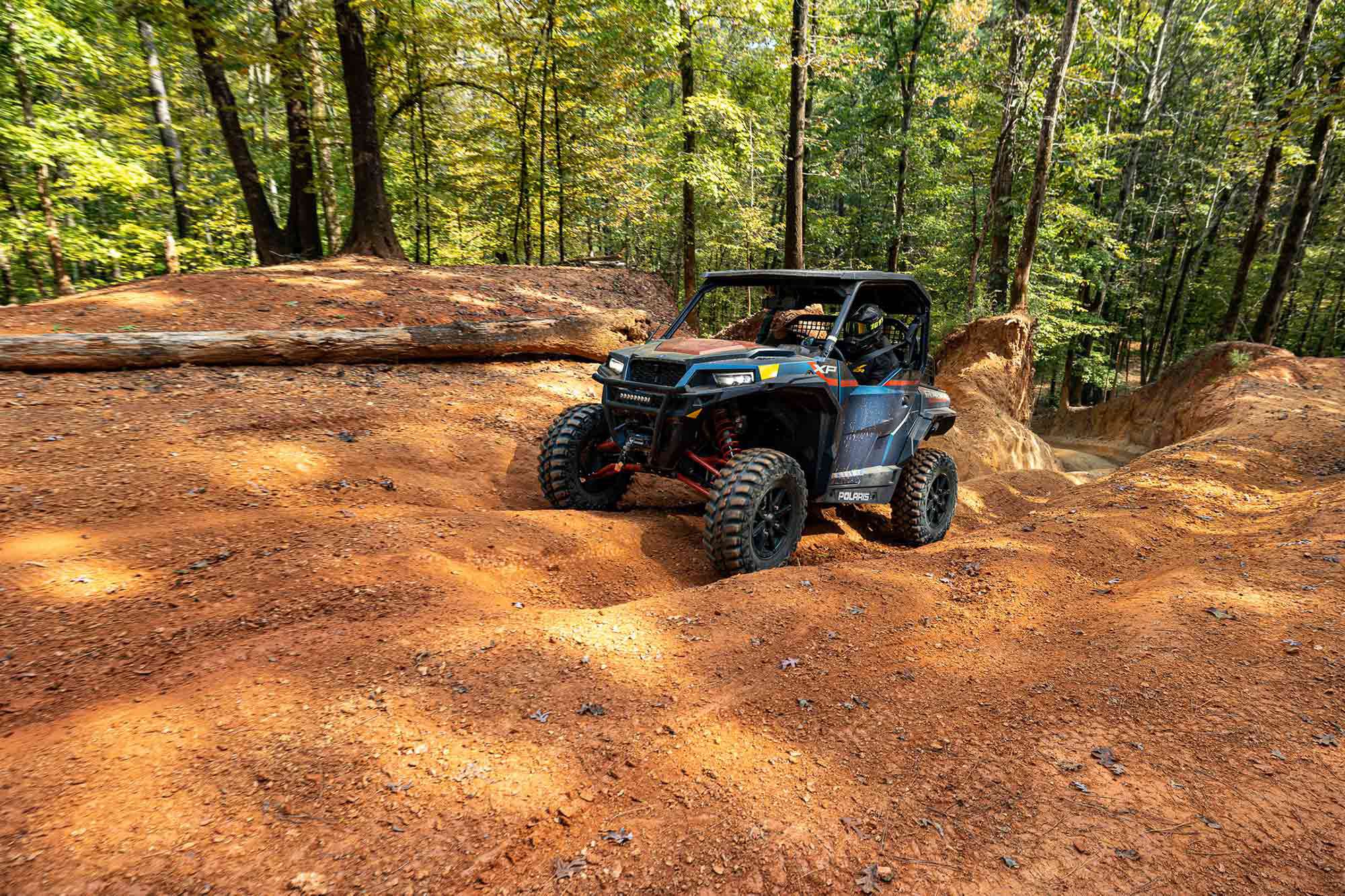 At Durhamtown's hill climbs, the General proved it's as good when the going gets steep and rutted as it is at flying along flowing trails. (Kevan Ray/)
Inside, you get a pair of excellent, highly bolstered seats, upholstered in two-tone vinyl. The driver's seat is adjustable fore and aft, and each seat gets a three-point safety belt. Opting for the Trailhead package also gets you Polaris' Ride Command and a Rockford Fosgate Stage 3 stereo. Both are excellent, and miles past what most competitors offer.
The exterior gets a gorgeous blue and orange color scheme, with vinyl graphics embossed with a topographic map. The livery is set off by a set of handsome 15-inch, eight-spoke aluminum wheels wrapped in a set of 29-inch Pro Armor Crawler XGF tires up front and XGs out back that gives the rig a flat, athletic stance that just looks right.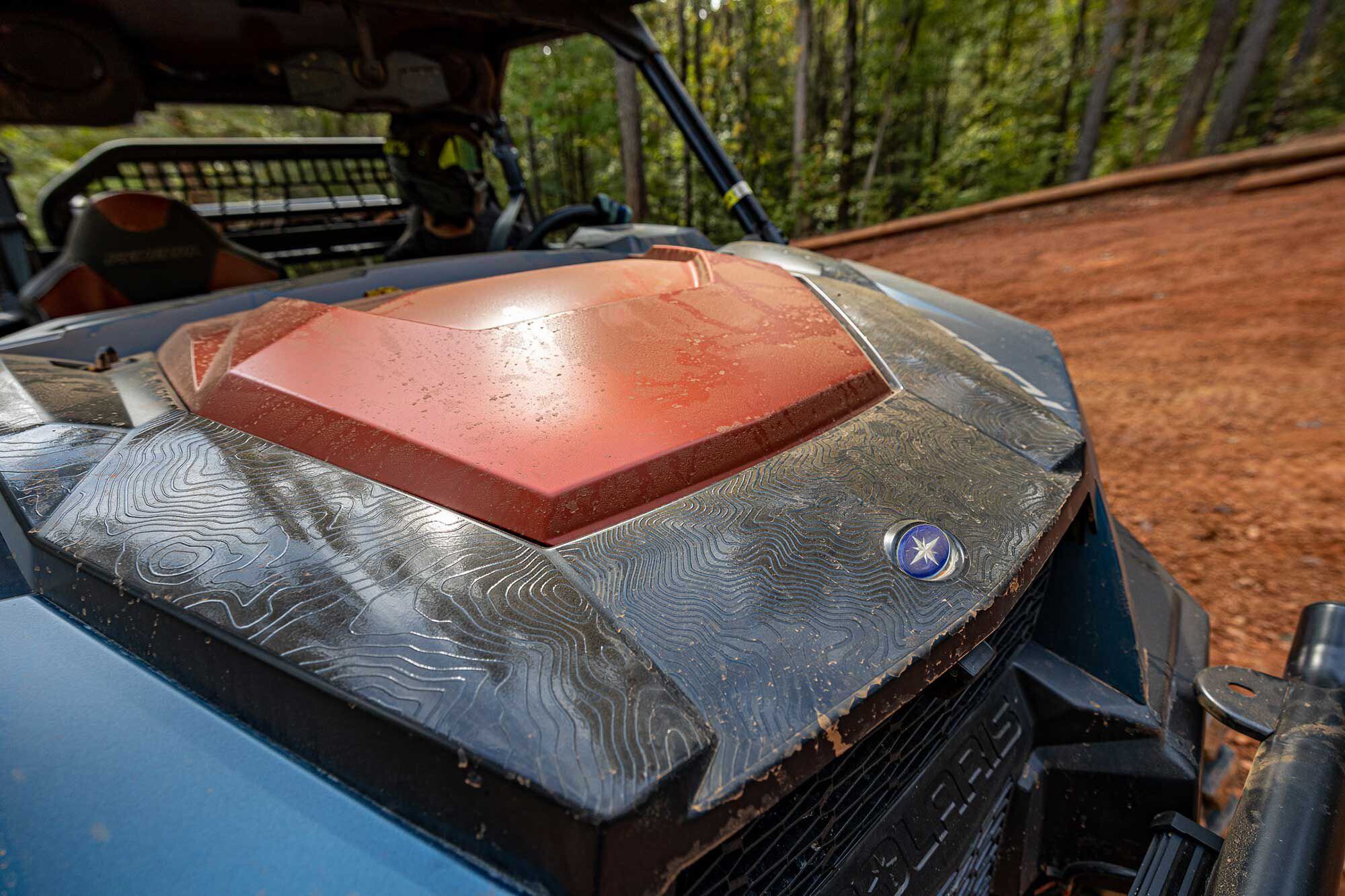 We usually don't wax lyrical about paint and graphics, but these are something else. They don't just look good in pictures, either. They have a seriously high-end, premium feel. (Kevan Ray/)
We found little to dislike about the General over our test, but there were a few drawbacks we should mention. First, the winch gave up the ghost before we had a chance to use it. It will let out line just fine, but will no longer reel it back up, which renders it useless.
The bodywork also shed a few of its plastic fasteners. We weren't exactly easy on the rig, but it feels like the plastic retainers will head for the hills if you look at them wrong. Not a difficult thing to remedy or fix, but annoying nonetheless, especially given the machine's MSRP. That said, the rear racks stayed steadfastly put and didn't emit so much as a squeak over our shenanigans at Windrock and Durhamtown.
Lastly, fit and finish of the interior gives something up to competitors like the Yamaha RMAX. Sure, we don't expect luxury in a side-by-side, but in one this pricey, a little more spit shine would be nice. The plastics feel cheap, the shifter is typical Polaris clunky, and the seat rails have some unwelcome slop.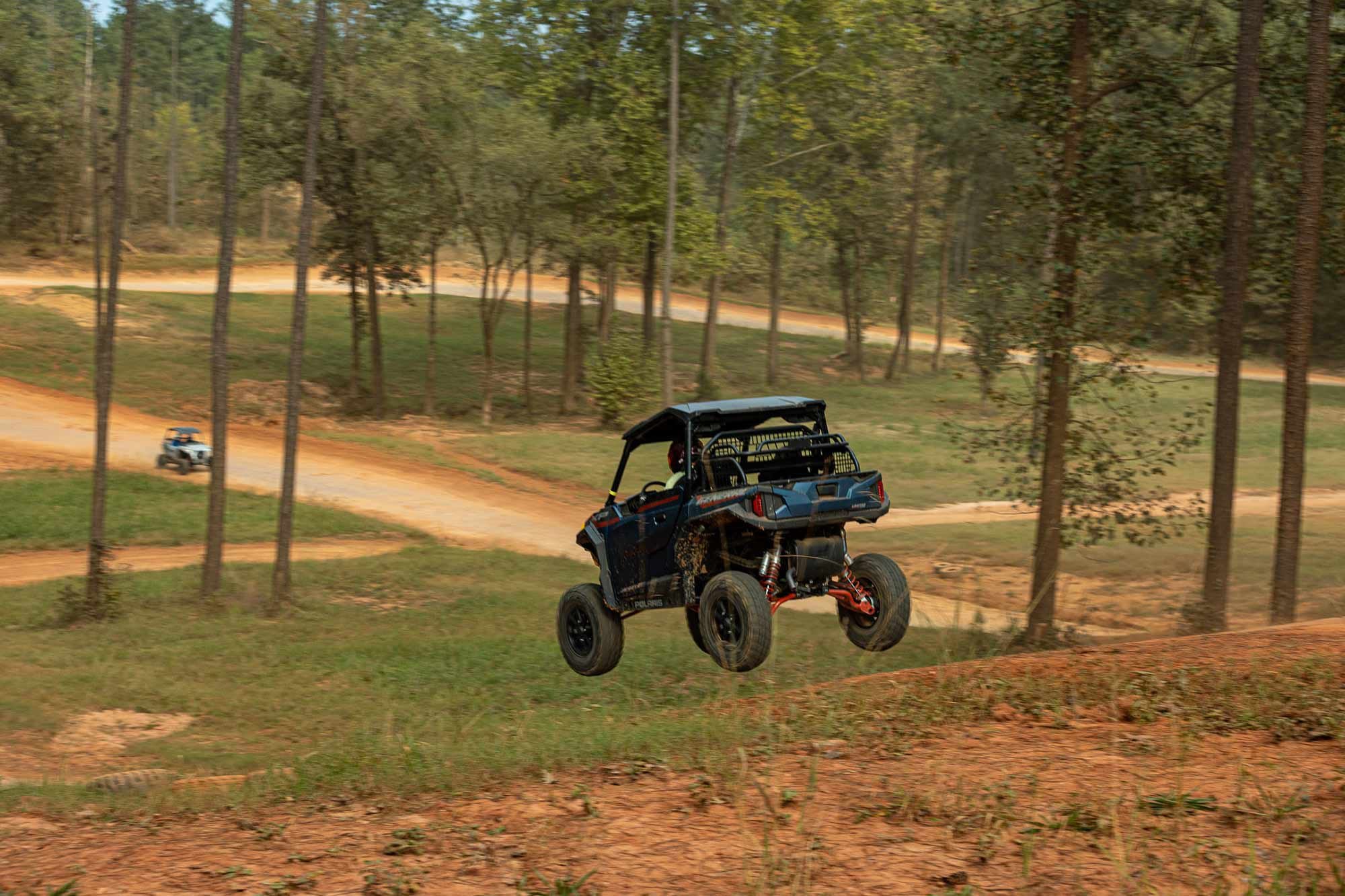 At full extension and in rapid transit, the General is in its element. (Kevan Ray/)
That leads us neatly to the price. As you see it, this thing retails for an eye-watering $26,699. The 2022 Yamaha Wolverine RMAX2 1000 Limited Edition is similarly equipped, minus the racks, at $24,399. The 2022 Can-Am Commander XT-P, decked out with factory beadlock wheels, a winch, and a roof, and a 100 hp Rotax V-twin, slots in at $22,699.
It's also worth noting that both the RMAX and the Commander got redesigned for 2021, while the General soldiers on on the same platform it has used since 2016.
Overall, the 2022 Polaris General Trailhead Edition is a fantastic machine. Its handsome bodywork has a premium feel, the front-and-center Walker Evans shocks promise acres of capability, all of which is backed up when you get underway. Added to that, it comes with almost all the accessories we'd throw at it out of the box, at an MSRP well below what it would cost you to build a base unit up to this level yourself.
If you're looking for a recreation rig that can absolutely hold its own when you decide to let your hair down a bit, the General Trailhead Edition is a fantastic choice.
Want to stay up to date on the latest UTV Driver news and reviews? Sign up for our newsletter!
EMBED GALLERY HERE
2022 Polaris General XP 1000 Trailhead Edition Specs
| | |
| --- | --- |
| MSRP: | $26,699 |
| Engine: | DOHC, liquid-cooled parallel twin |
| Displacement: | 999cc |
| Bore x Stroke: | 93.0 x 73.5mm |
| Compression Ratio: | 10.0:1 |
| Transmission: | Automatic PVT w/ high/low range, reverse; park |
| Claimed Horsepower: | 100 hp |
| Claimed Torque: | N/A |
| Fuel System: | EFI |
| Steering: | High-output electric power steering |
| Drivetrain: | AWD w/ selectable 2WD and turf mode |
| Front Suspension: | Dual A-arms w/ stabilizer bar, Walker Evans Velocity Series shocks; 14.0 in. travel |
| Rear Suspension: | Dual A-arm IRS w/ stabilizer bar, Walker Evans Velocity Series shocks; 14.0 in. travel |
| Front Brakes: | Hydraulic disc, 2-piston calipers |
| Rear Brakes: | Hydraulic disc, 2-piston calipers |
| Wheels, Front/Rear: | Aluminum; 15 in. |
| Tires, Front/Rear: | Pro Armor Crawler XGF 30×10-15 / Pro Armor Crawler XG 30×10-15 |
| Length: | 118.2 in. |
| Width: | 64.0 in. |
| Height: | 77 in. |
| Wheelbase: | 83.0 in. |
| Bed Capacity: | 600 lb. |
| Towing Capacity: | 1,500 lb. |
| Max Seating Capacity: | 2 |
| Ground Clearance: | 13.5 in. |
| Measured Wet Weight: | 1,806 lb. |
| Fuel Capacity: | 9.5 gal. |
| Warranty: | 6-month |
| Availability: | Now |
| Contact: | general.polaris.com/en-us/general-xp-1000-trailhead-edition/ |
2022 Polaris General XP 1000 Trailhead Edition UTV Driver Test Data
| | |
| --- | --- |
| RTI Score: | 370.5 |
| Wet Weight: | 1,806 lb., 43.8% front/56.2% rear |
| Top Speed: | 70 mph, electronically limited |
| Acceleration: | 0-40 mph: 4.72 sec. |
| | 0-60 mph: 13.09 sec. |
| Braking: | 40-0 mph: 84.97 ft. |
| | 60-0 mph: 192.47 ft. |