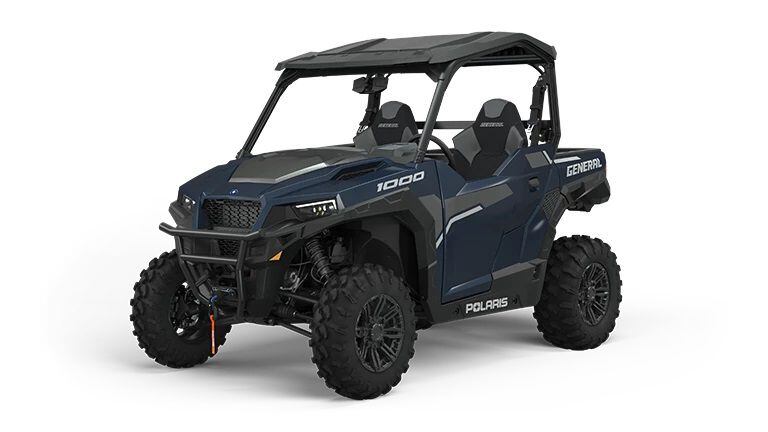 The 2022 Polaris General 1000. (Polaris/)
Ups
Excellent blend of fun and function, strong looks, healthy power from the 999cc ProStar engine, Fox Podium QS3 suspension available, lots of tech
Downs
Not particularly light, gets pricey quick, Polaris offers countless other General 1000 XP models to lure buyers away from the base General 1000 models
Verdict
For buyers who want one machine to do it all, the General 1000 and General 4 1000 can be that tool for any and nearly every job or trail. This might be Polaris' Goldilocks machine: not too sporty, not too work-focused, just right for something that's easy to live with for weekday farm work and weekend forest fun.
Overview
Polaris offers a number of General 1000 and 4 1000 models, all of which are stout machines designed to handle whatever is thrown at them. These are neither Polaris' sportiest models nor are they the most work-oriented, but the General 1000 and 4 1000 do a good job of being able to handle both with poise. The 999cc ProStar engine, On-Demand True AWD, and chiseled good looks are a potent package.
Updates for 2022
General 1000 Deluxe and General 4 1000 Deluxe models (along with Deluxe Ride Command Editions of both) get a 4,500-pound Polaris-branded winch with synthetic rope. Ride Command models also get Plow mode, improving the General's ability to handle winter duty. Polaris says this allows the General to automatically lower the plow when the vehicle is shifted into forward gears, and raises it when its operator shifts into park or reverse. Further, Ride Command models get the new Rockford Fosgate Stage 3 sound system, which blows what most of us have in our tow rigs out of the water.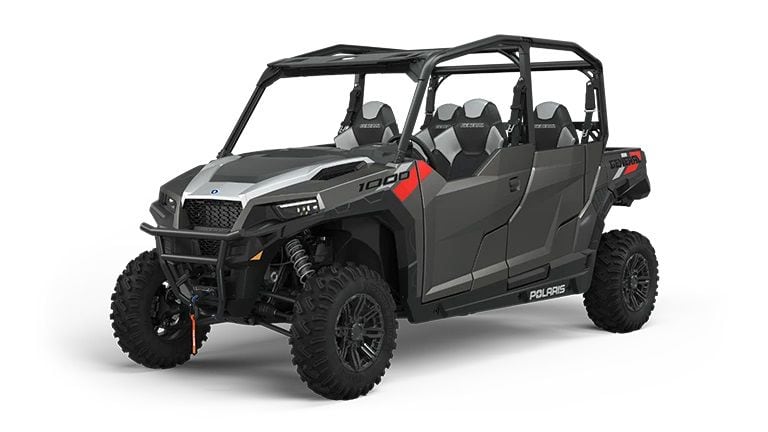 The 2022 Polaris General 4 1000. (Polaris/)
Pricing and Which One to Buy
2022 Polaris General 1000 Sport MSRP: $16,399
2022 Polaris General 1000 Premium MSRP: $18,999
2022 Polaris General 1000 Deluxe MSRP: $21,499
2022 Polaris General 1000 Deluxe Ride Command Edition: $23,499
2022 Polaris General 4 1000 Premium MSRP: $22,699
2022 Polaris General 4 1000 Deluxe Ride Command Edition: $25,699
The two-seat General 1000 starts at a palatable $16,399 and pricing for the most expensive General 4 1000 runs up to $25,699 for the well-equipped Ride Command Edition. While the price delta for a Ride Command model is fairly hefty—it's $2,000 more on the two-seater and $3,000 more on the four-seater—the included technology is truly astounding and makes the General hyper-modern. If you're looking for less tech and more functionality, skipping the Ride Command Edition is easy. The Premium and Deluxe trims offer tons of kit at prices that lower price points.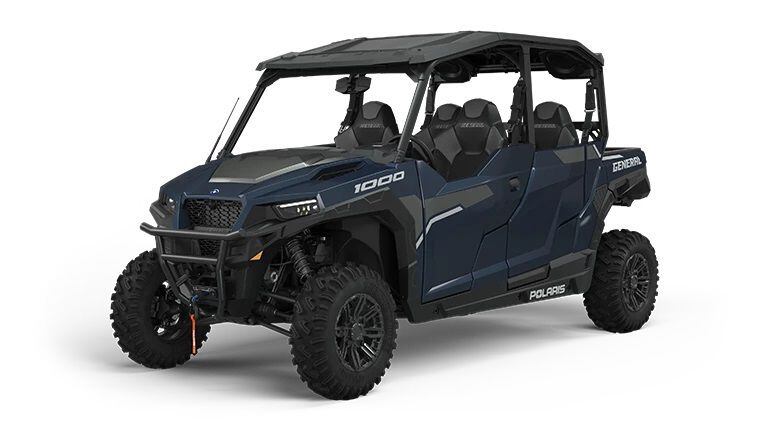 The 2022 Polaris General 4 1000. (Polaris/)
Powertrain: Engine, Transmission, and Performance
The General 1000 and General 4 1000 certainly do not lack power. The DOHC liquid-cooled twin-cylinder ProStar engine is honest to the model's name, ticking in at a full 999cc. It's an honest 100 hp unit, which will prove more than sufficient for all but the most experienced users. This engine is a ripper, and we like it quite a lot.
Power gets to an automatic PVT that has high, low, neutral, reverse, and park. It's a fine transmission that gets the job done. From there, drivers can select 2WD or 4WD via Polaris' On-Demand True AWD system which also includes VersaTrac Turf mode for surface friendliness.
Handling
The General 1000 is no RZR, but it will handily out-corner a Ranger. The somewhat upright seating position is a detriment to one's ability to really feel the weight transfer from a true "driver's" perspective, but we still think most will be impressed by how well the General can move through the twisty bits of trail. Factor in the base Sachs shocks and optional Fox suspension, and it's a recipe for a true surprise.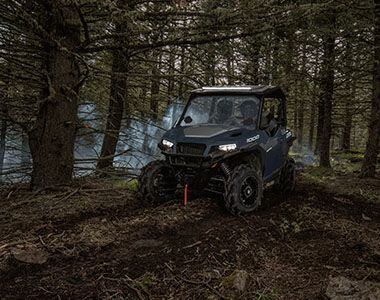 The 2022 Polaris General 1000. (Polaris/)
Brakes
All 2022 General 1000 and General 4 1000s use four-wheel hydraulic disc brakes that feature dual-bore front and rear calipers. It's a fairly stout setup that does a good job hauling the rig down from speed.
Ergonomics: Comfort and Utility
Bucket seats with side bolstering are comfortable thrones that also do a good job of keeping their occupants in place. Polaris claims the seats are "rider-optimized" and each seat has a belt with adjustable belt height. The driver's seat slides as well, and the steering wheel tilts, allowing for riders of almost every size to find a comfortable position. There's not a ton of room for second-row occupants to spread out, but we doubt anyone will be bothered.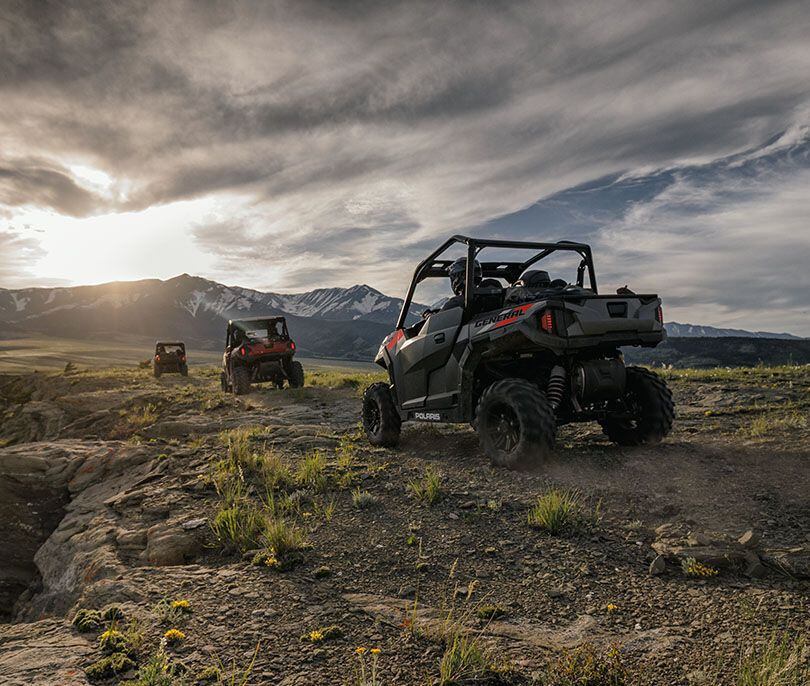 The 2022 Polaris General 1000. (Polaris/)
Payload/Towing
The General 1000 has an overall payload capacity of 1,100 pounds, with a 600-pound bed capacity rating. It can tow 1,500 pounds via a 2-inch receiver hitch. The General 4 1000 ups the payload to 1,280 pounds but retains the two-seater's cargo box and towing capacities.
Electronics
You want tech? The General 1000 has tech. Let's start with the instrumentation: dual-sweep analog dials with a 4-inch LCD "Rider Information Center"; user-selectable blue/red backlighting and brightness; programmable service intervals; speedometer; tachometer; odometer; tripmeter; clock; hourmeter; gear indicator; fuel gauge; coolant temperature; voltmeter; service indicator and codes; and seatbelt reminder light. There's a DC outlet too.
Most prominently, the available Ride Command 7-inch touchscreen delivers info on vehicle diagnostics, Bluetooth and USB phone connectivity, cameras, and GPS. The General even has an auto-stop function for the winch, along with Plow mode. There's a Rockford Fosgate sound system that has no right to be this good. The Generals have 55-watt low beams and 60-watt high beams, and LED taillights. LED headlights light the way on Premium and Deluxe trims.
Warranty and Maintenance Coverage
Both the General 1000 and General 4 1000 come with Polaris' standard six-month warranty.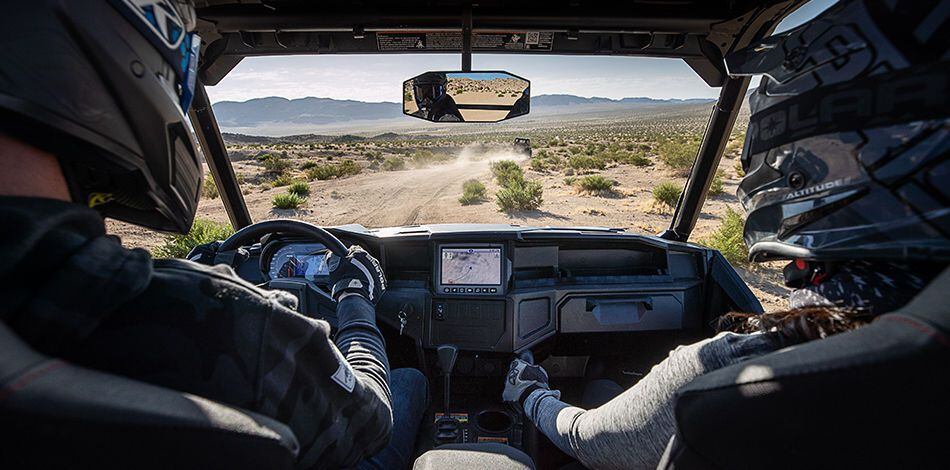 The 2022 Polaris General 1000. (Polaris/)
2022 Polaris General 1000 & General 4 1000 Claimed Specifications
MSRP:
$16,399–$25,699
Engine:
ProStar DOHC, liquid-cooled four-stroke twin-cylinder
Displacement:
999cc
Bore x Stroke:
93.0 x 73.5mm
Compression Ratio:
10.5:1
Transmission:
Automatic PVT w/ high and low range, reverse, park
Claimed Horsepower:
100 hp
Claimed Torque:
65 lb.-ft.
Fuel System:
EFI
Steering:
Standard (Sport); High Output EPS (all other models)
Drivetrain:
On-Demand True AWD/2WD/VersaTrac Turf mode
Front Suspension:
ZF Sachs twin tube, dual A-arms w/ stabilizer bar (Sport, Premium) / Fox 2.0 Podium QS3, dual A-arms w/ stabilizer bar (all other models); 12.25 in. travel
Rear Suspension:
ZF Sachs twin tube, dual arm IRS w/ stabilizer bar (Sport, Premium) / Fox 2.0 Podium QS3, dual arm IRS w/ stabilizer bar (all other models); 13.2 in. travel
Front Brakes:
Disc w/ 2-bore calipers
Rear Brakes:
Disc w/ 2-bore calipers
Wheels, Front/Rear:
Aluminum; 12 in. (Sport) / 14 in. (all other models)
in.
Tires, Front/Rear:
CST Clincher; 27×9-12 NHS, 27×11-12 NHS (Sport) / Maxxis Coronado (all other General 1000 models) / Dirt Commander (General 4 1000); 27×9-14, 27×11-14
Length:
116.4 in. (Sport) / 118.2 in. (all other General 1000 models) / 150.2 in. (General 4 1000)
Width:
62.5 in.
Height:
73.8 in. (General 1000 Sport, Premium) / 75.0 in. (all other models)
Wheelbase:
81.0 in. (General 1000) / 113.0 in. (General 4 1000)
Cargo Box Capacity:
600 lb.
Towing Capacity:
1,500 lb.
Max Seating Capacity:
2 (General 1000) / 4 (General 4 1000)
Ground Clearance:
12.0 in.
Turning Radius:
15.8 ft. (General 1000); N/A (General 4 1000)
Claimed Dry Weight:
1,422–1,560 lb. (General 1000); 1,805–1,867 lb. (General 4 1000)
Fuel Capacity:
9.5 gal.
Warranty:
6-month limited
Availability:
Now
Contact:
general.polaris.com/en-us/general-1000/
general.polaris.com/en-us/general-4-1000/