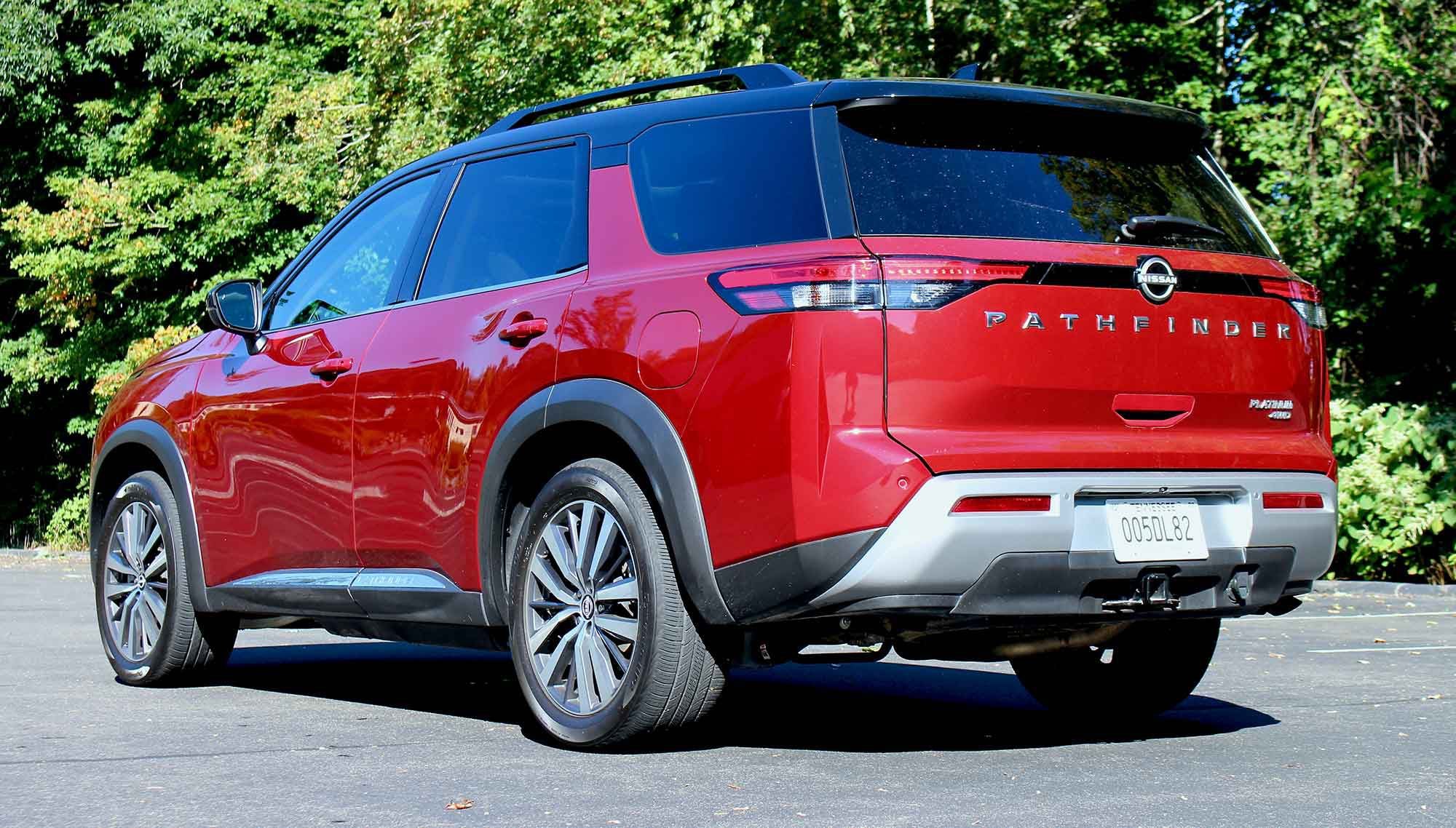 Nissan's new-for-2022 Pathfinder Platinum 4WD. (Ross Ballot/)
The Nissan Pathfinder has changed a lot over its 36-year run. Long departed from the two-door, body-on-frame SUV that debuted in 1986 to fight the Toyota 4Runners and Jeep Cherokees of the world, the new-for-2022 fifth-generation Pathfinder is a different machine in concept and execution. Although it rides on an updated D-platform shared with its immediate predecessor, Nissan took drastic measures to make the Pathfinder look and perform more like a traditional SUV and emulate its ancestors' go-anywhere mindset.
As with nearly all modern vehicles, Pathfinder prices have crept up. While the 2022 Pathfinder has a base price of $33,410, the preproduction example we have is a nearly loaded Platinum 4WD trim, with the $795 lighting package (illuminated door sill plates and welcome lighting) and $255 captain's chair floor mats, which rings in at $50,290 including destination and handling. The Platinum package itself has a lot of goodies, including 20-inch wheels, a dual panoramic moonroof, Bose stereo, quilted seats, a wireless charging pad, and a 12.3-inch TFT screen. Most importantly for those who want to use the Pathfinder as comfortable transportation to the trail, the Platinum package includes a tow hitch with wiring harness. That means the Pathfinder is rated to tow 6,000 pounds, very solid for a full-size crossover.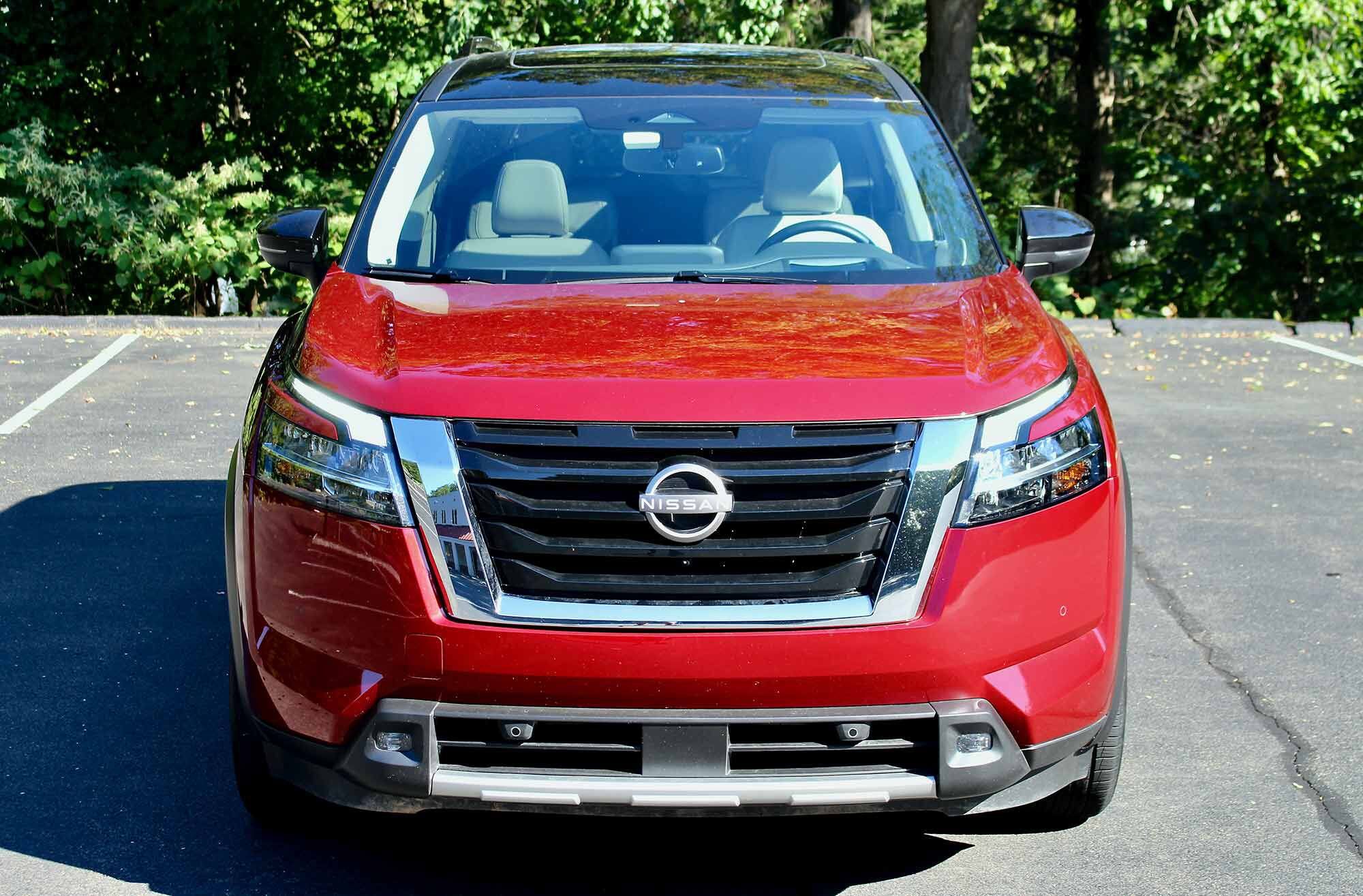 Nissan reworked the Pathfinder's styling to be decidedly more evocative of off-road fantasies. (Ross Ballot/)
We don't usually think of the Pathfinder as a luxury vehicle, but Nissan has certainly gone that route and brought the big seven-seater (eight seats are standard, but our tester had optional second-row captains chairs). The steering wheel is power-adjustable and wrapped in a nice leather, the rear seats are heated, and the front seats are both heated and cooled. Charging ports are everywhere in the cabin and sound deadening has clearly been a crucial part of the vehicle's development, which becomes evident after just moments on the road. We're not as keen on some of the switch gear, which has clearly been pulled from other Nissan models, many of which slot well below the $50K price point, but we can't fault Nissan too much, as most owners will never notice the parts-bin quality of insignificant items.
What prospective buyers will notice is the sheer number of leather-wrapped surfaces in the cabin. Soft-touch materials abound, and they're all pleasant to the eye. The same can be said for the Pathfinder's redesigned exterior. We're confident the big Nissan's styling will draw plenty of eyes and buyers. It's appropriately macho for the class and comes as a well-done direct response to competitors like the Kia Telluride and Hyundai Palisade, which have been almost universally praised. Some elements of the Pathfinder's looks aren't to our liking, such as the low-mounted lights in the front bumper and the small splash of the black roof that seems to have melted down the C-pillar, but overall it's a solid-looking thing. And when you're trying to squeeze seven or eight people into something and simply won't have a minivan, this isn't a bad machine to have to look at.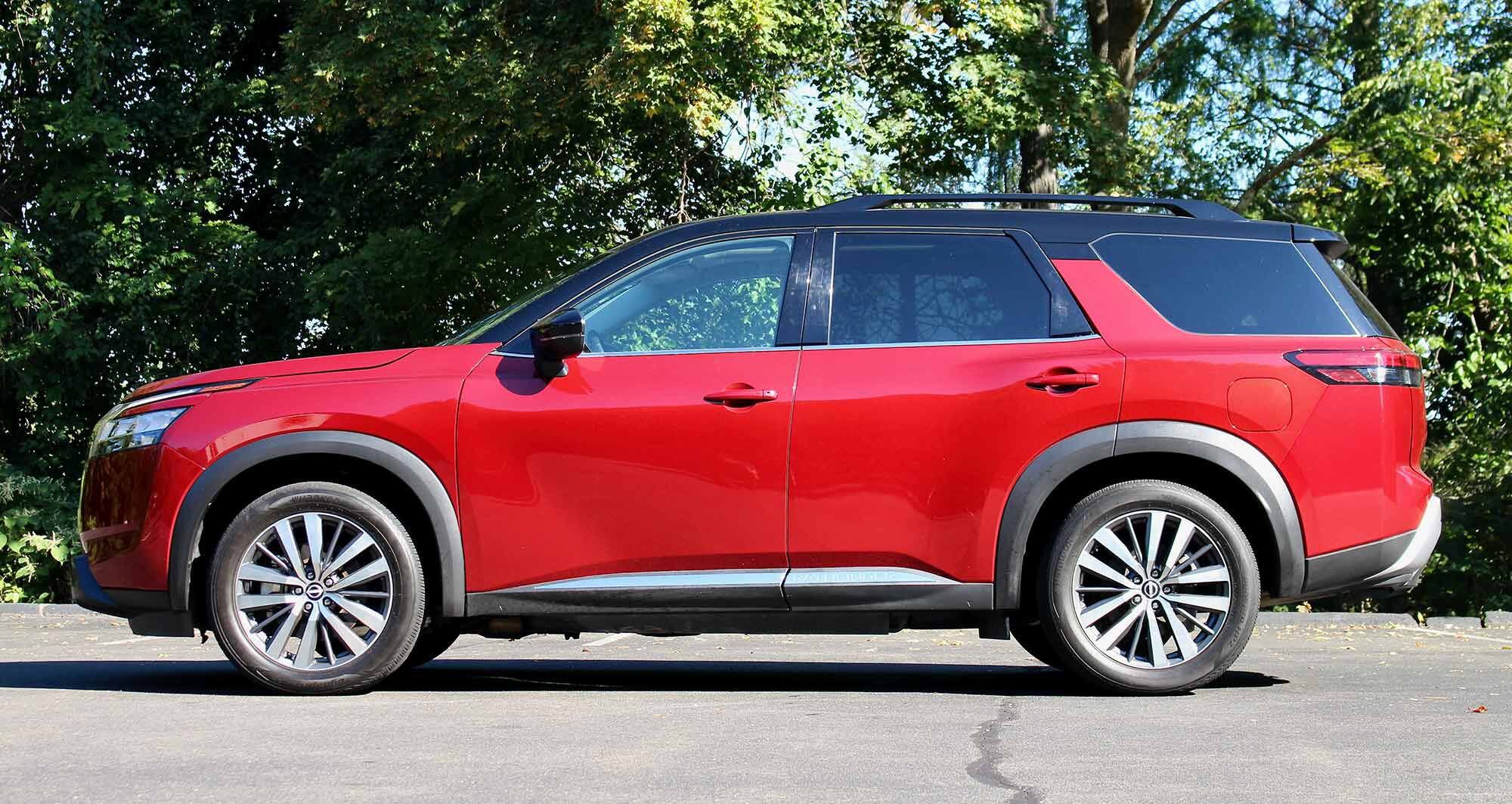 The black contrast roof brings the Pathfinder up-class in the styling department. (Ross Ballot/)
The Pathfinder comes with a base towing capacity of 3,500 pounds but that can be pushed to 6,000 pounds with the right options. That should be more than enough to pull a trailer loaded with multiple ATVs, a heavy UTV, or some combination of the two. We don't doubt the Pathfinder's engine is up to the task. The Pathfinder is powered by Nissan's venerable 3.5-liter VQ35DD V-6, and it's a sweetheart. In the age of turbochargers, superchargers, and compound forced induction, this naturally aspirated unit is a breath of fresh air. Unfortunately, it was mated to a CVT in the previous-generation Pathfinder, which severely hindered function and driving dynamics. Nissan's new nine-speed automatic transmission with manual mode and paddle shifters should be a much more enjoyable and usable pairing.
The engine is rated at 284 hp and 259 pound-feet of torque. Fuel economy is rated at 20/25/22 city/highway/combined, which for a 4,625-pound vehicle rated to tow three tons isn't bad. If the current powertrain combo is anything like the prior one, it should be able to manage those numbers easily, especially on the highway. Off-road those numbers go out the window, but Nissan seems to be taking the Pathfinder's 4×4 capabilities seriously, which is further evidenced by a full page on the Pathfinder site called "Return to Rugged." We're a little skeptical because the Pathfinder still rides on a front-wheel-drive platform and doesn't offer a proper low-range transfer case or any real four-wheeling hardware. The Range Rover-like rotary Terrain mode selector offers plenty of off-road options, such as Sand, Mud/Rut, and Snow, and a bonus Hill Descent Control option via the middle button. The rotary controller also engages tow mode, which we will explore in an upcoming review.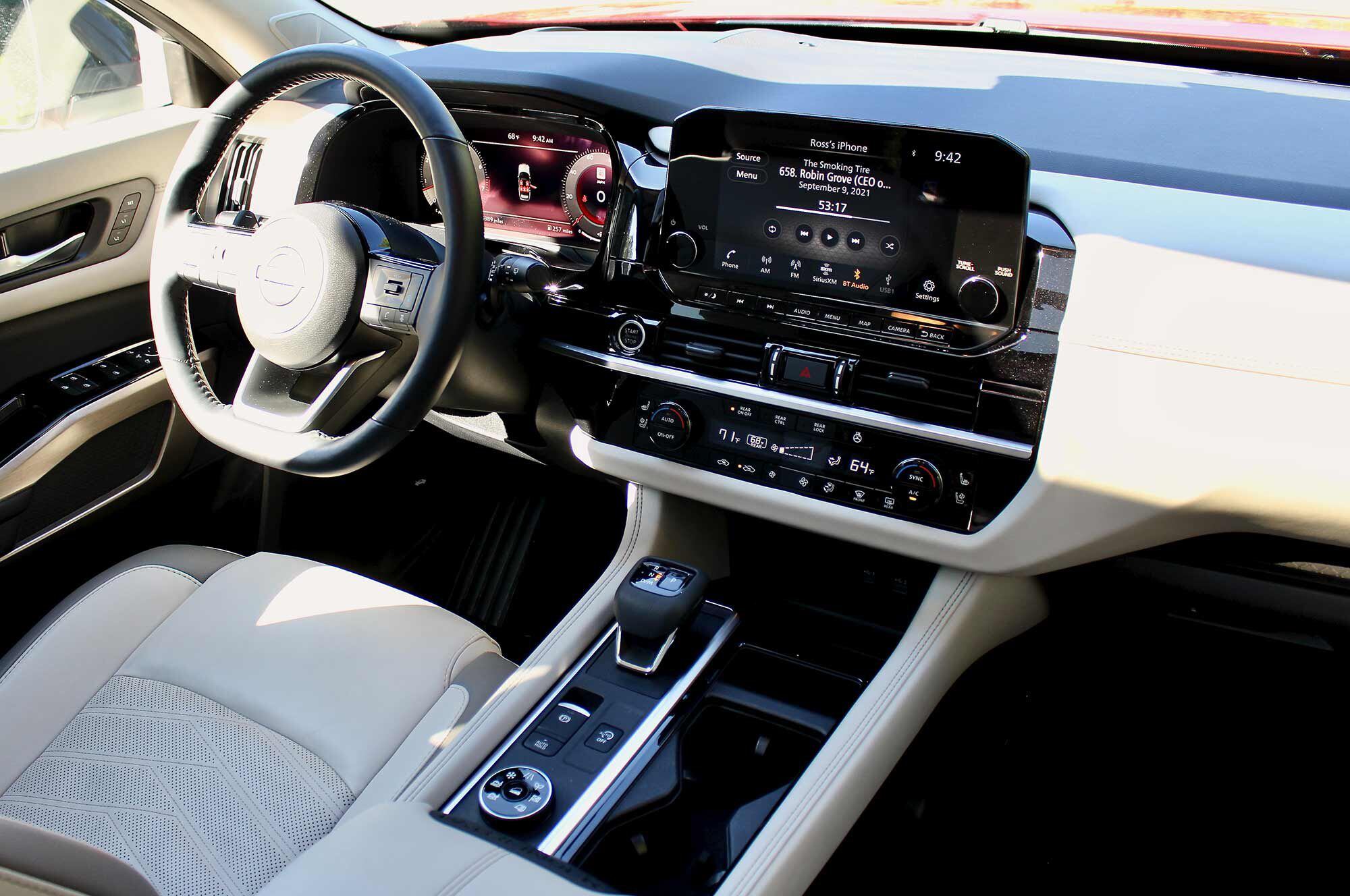 You wouldn't know Nissan is positioning the Pathfinder as a wannabe-wheeler from this view. (Ross Ballot/)
Nissan really put its eggs in the 4WD basket with the new Pathfinder, and on paper it's a good effort. Stay tuned to find out how the plush interior, buff tow rating, and macho styling stack up in practice.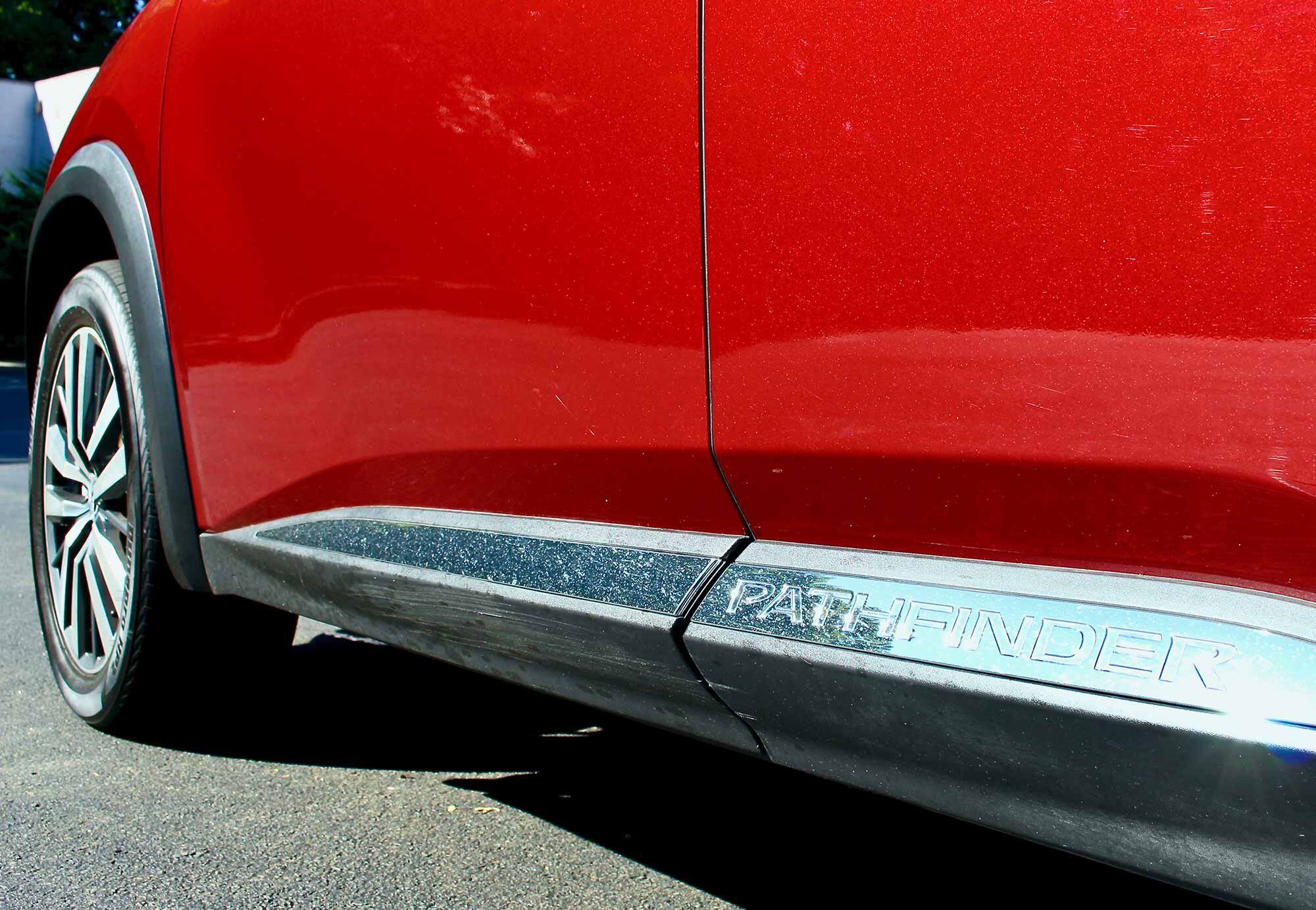 Stamping the model name into the rocker panel is a bold move, but Nissan is proud of the new Pathfinder and wants everyone to know what it is. (Ross Ballot/)