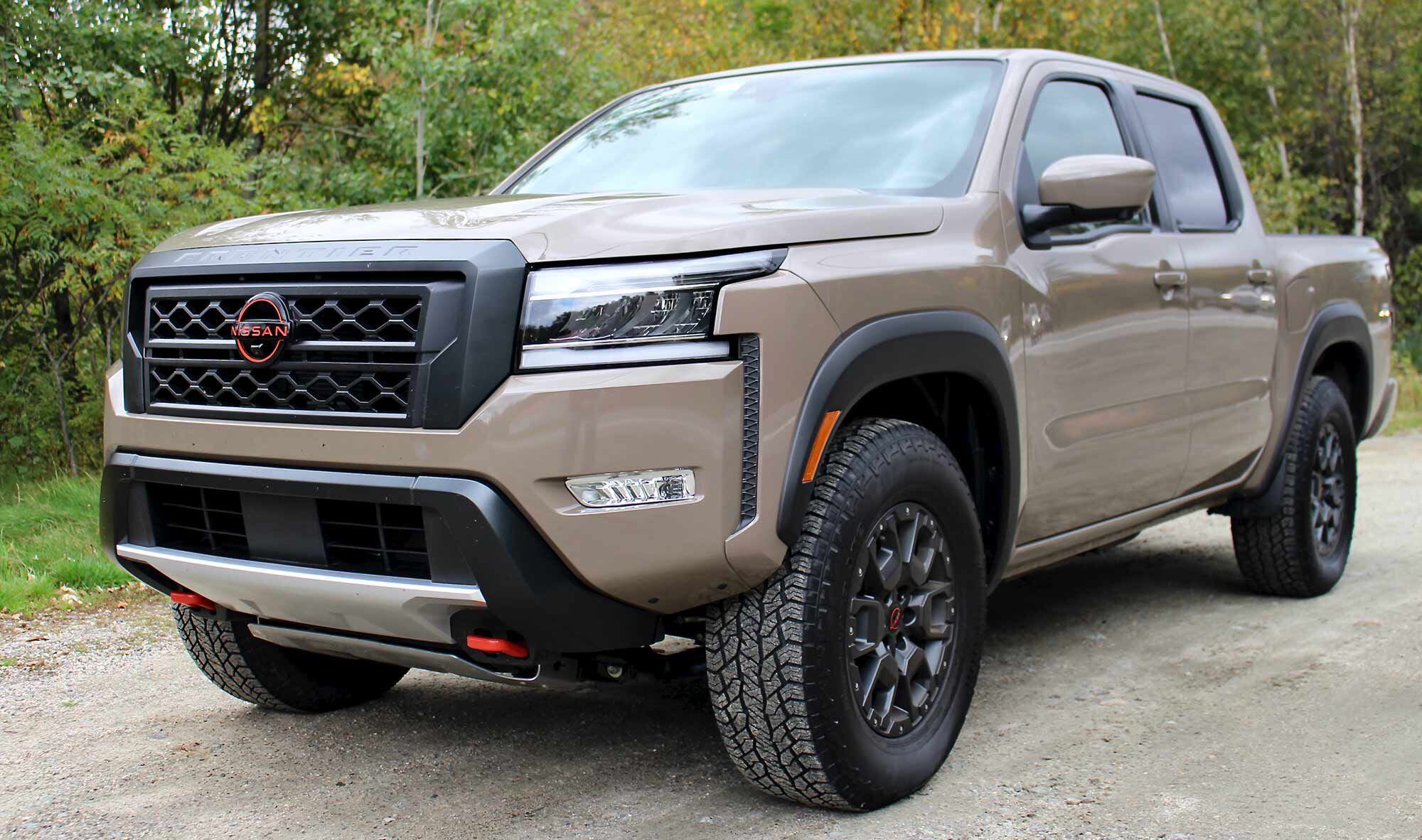 The 2022 Nissan Frontier's sheetmetal is new, but what lives beneath isn't. (Ross Ballot/)
For years, if you wanted a small or midsize pickup, you bought a Toyota Tacoma. Simple as that. There were other options but the "You should have just bought the Toyota" factor was always high. Nissan wanted none of that and, after drawing out the second-generation Frontier for an insane 16 years, finally brought a fully revised Frontier to the world in a bid to steal some of the Taco's thunder.
Nissan wants you to believe the 2022 Nissan Frontier is all-new, and we wouldn't fault you for thinking it is based on the massive styling change. Truth is, the underpinnings reveal a modified version of the outgoing model's high-strength steel ladder frame. And while the 310 hp, 3.8L V-6 and nine-speed automatic transmission made a brief appearance in the second generation's final model year, they're front and center in the revised truck. The prior engine wasn't lacking for power, but the five-speed transmission bolted to it felt ancient. This new powertrain is a welcome change, despite the slightly disappointing 20.4 mpg average over our highway-heavy loan.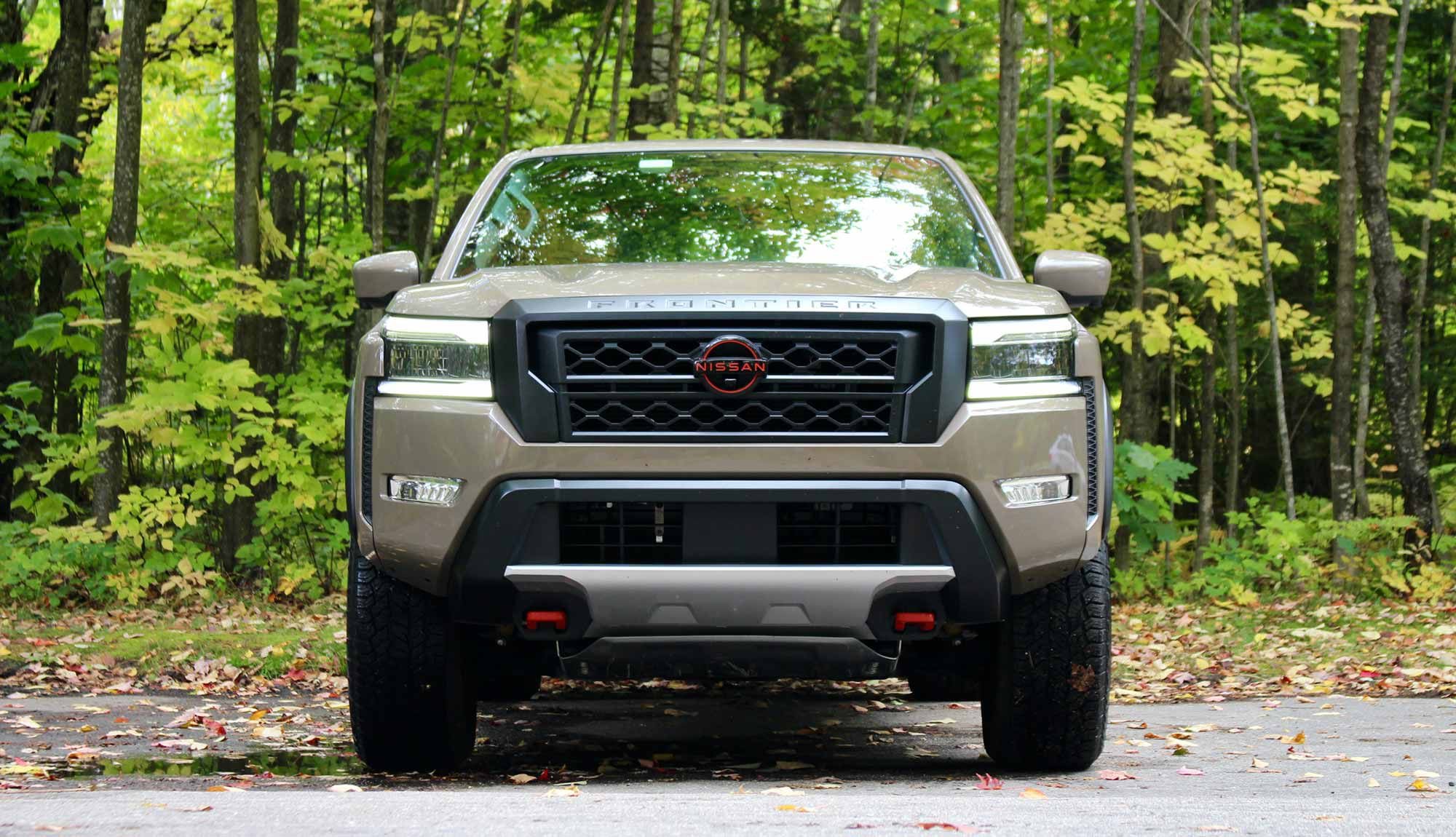 Tacoma-esque looks do the new Frontier favors. (Ross Ballot/)
Perhaps even more welcome is the lengths to which Nissan went to update the interior. The last version's utilitarian interior left a lot to be desired. With a touchscreen front and center and partially quilted seats, the 2022 truck's insides are ready for the modern era. Those leather thrones have amazing heaters and kept road-trip fatigue at bay over the 15-plus hours we spent driving it. Other interior accoutrements aren't quite on the same level, as material choices in places are subpar and the resolution of the backup camera is more PS2 than PS5. If you can palate the few quibbles, it's a pleasant place to spend time and thankfully does a good job of isolating out exterior noise, something we were especially grateful for on New Hampshire's crosswind-heavy highways.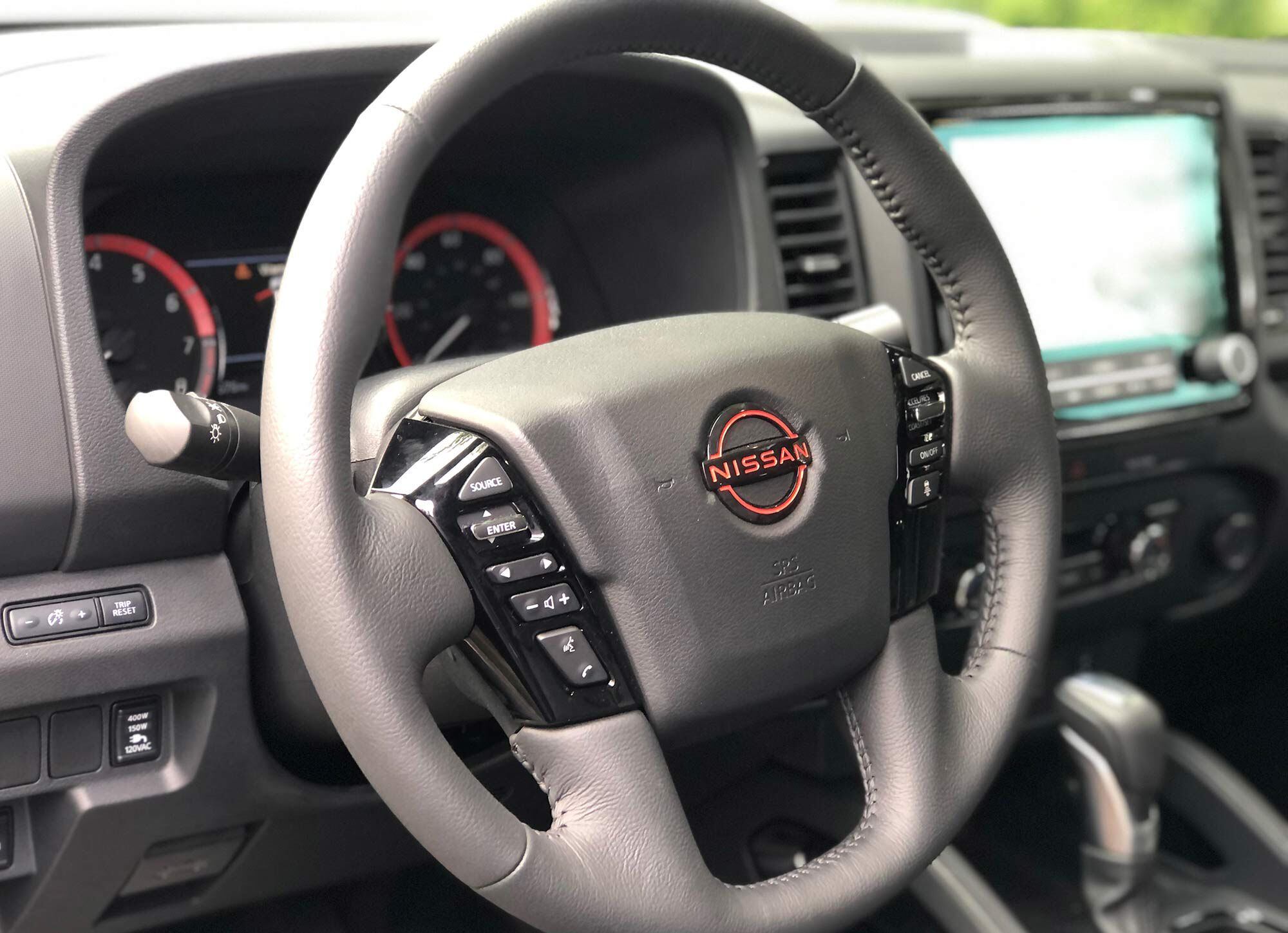 The interior is part of a major aesthetic and functional overhaul. It works. (Ross Ballot/)
These comprehensive upgrades are reflected in the price, the Frontier now more expensive than ever and comparably priced against the competition. The base-trim 2022 Frontier King Cab S 4×2 starts at a palatable $27,840 but doesn't have many of the niceties of our test unit. The Pro-4X seen here starts at $37,240 and includes features such as Bilstein suspension, LED headlights, the 9-inch touchscreen, a Wi-Fi hotspot, an electronic locking rear differential, and so on. This gussied-up press loaner also had technology, convenience, and premium packages, adding a suite of safety, bed/cargo, and luxury features like Fender audio, sunroof, and a hitch. All-in, this Frontier costs $43,165 plus destination.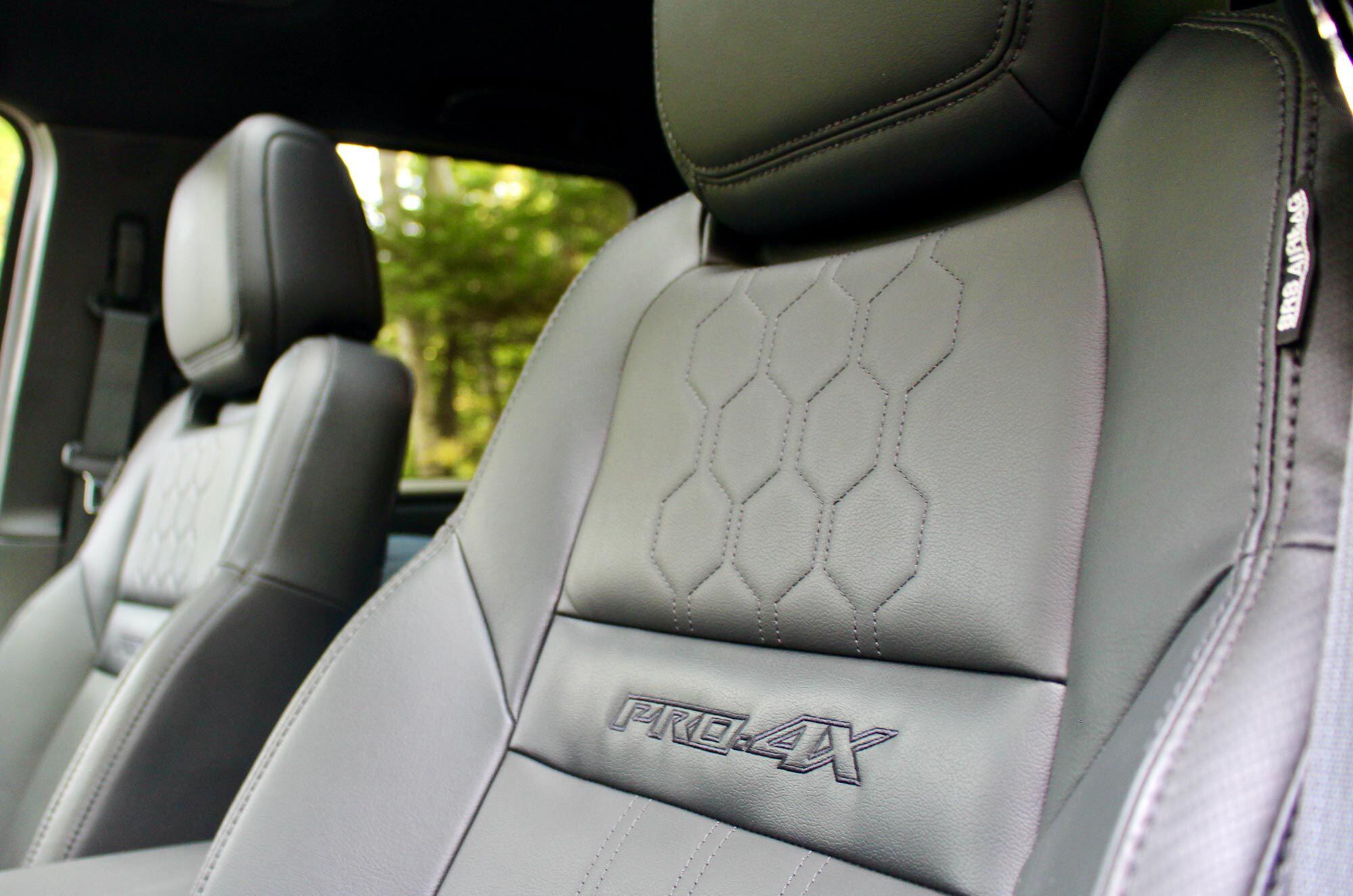 Partially quilted seats are a nice touch, bringing the interior up-class. (Ross Ballot/)
We tacked on just shy of 750 miles over a long weekend's trek to New Hampshire's White Mountains. On the highway the Frontier is cool and collected, easily ticking away the miles though not as easily as the Honda Ridgeline, which benefits from a unibody platform on the road. Excellent forward visibility and a drivetrain willing to stay in the meat of the powerband made for easy highway cruising, further allowing us to take in the sights and enjoy the drive. The only unpleasantness was some highway-speed bump steer. When you hit a road joint or bump at speed, the steering wheel would bounce hard in the opposite direction. A proper alignment may have eliminated the tendency in our preproduction tester, but it's worth noting. Otherwise, we're happy to report that we had no qualms with the Frontier's on-road performance.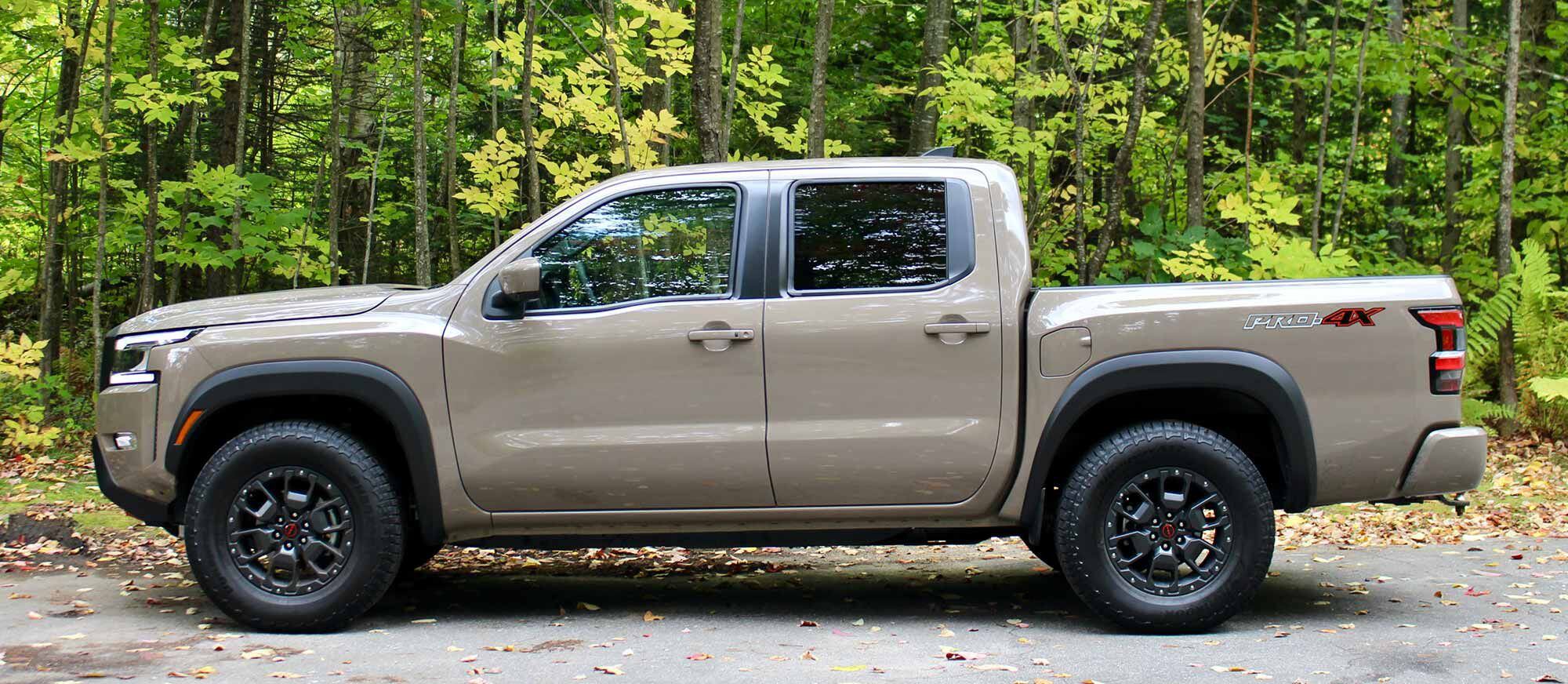 On-road compliance is a strong suit, and the reasonable size paired with a powerful V-6 and nine-speed auto are a big part of that. (Ross Ballot/)
Pickup owners love to brag about how much their truck can tow and haul, and Nissan's newest offering tucks itself right into the throes of things. The Pro-4X is rated to pull 6,270 pounds off its standard 2-inch hitch and touts a payload capacity of 1,230 pounds. Unfortunately these are a bit below the segment leaders, but note that these numbers are always slightly lower for off-road-oriented versions like the Pro-4X. Still, a standard Frontier SV Crew Cab only ups the ante to 6,330 pounds of towing and 1,290 pounds of payload. Not bad, but not particularly good.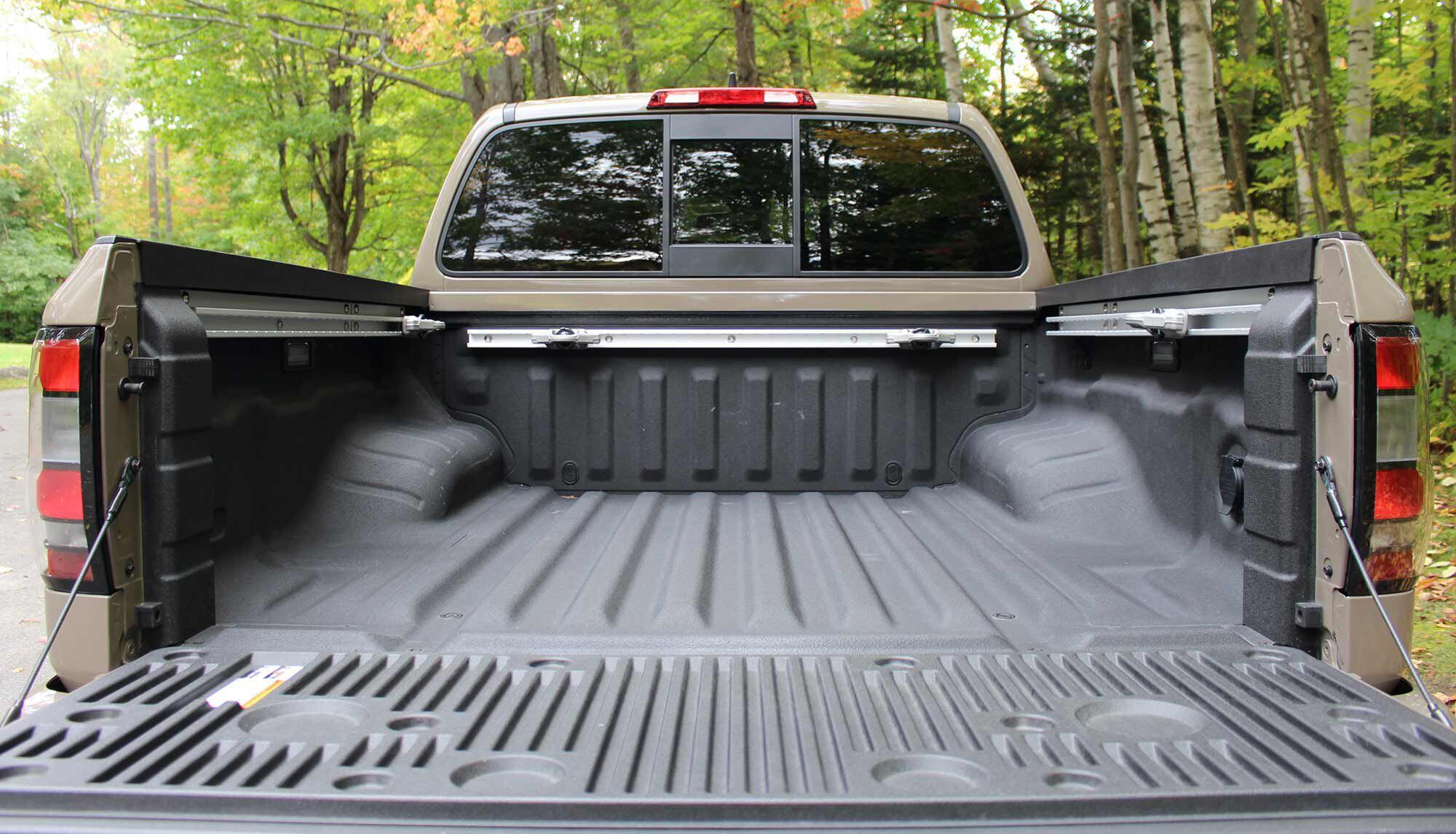 The Frontier's bed is decently outfitted and has good tie-down points built in. (Ross Ballot/)
Despite the less-than-stellar statistics, the Frontier performed well in our towing test. We hooked up a Tractor Supply-sourced rental trailer loaded with a 2021 Polaris RZR Trail S 1000 Premium for our adventure into the wilds. We figure the combo weighed in around 2,500 pounds or so, nowhere near the Frontier's capacity but more than vehicles like the Ford Bronco Sport can handle. The Frontier looked truly trucklike with the load hanging off its back and more importantly towed like the weight wasn't there. We pushed the dash-mounted Tow Mode button and hit the road expecting the engine and transmission to fare well but not prepared for how competent the chassis was for a task like this.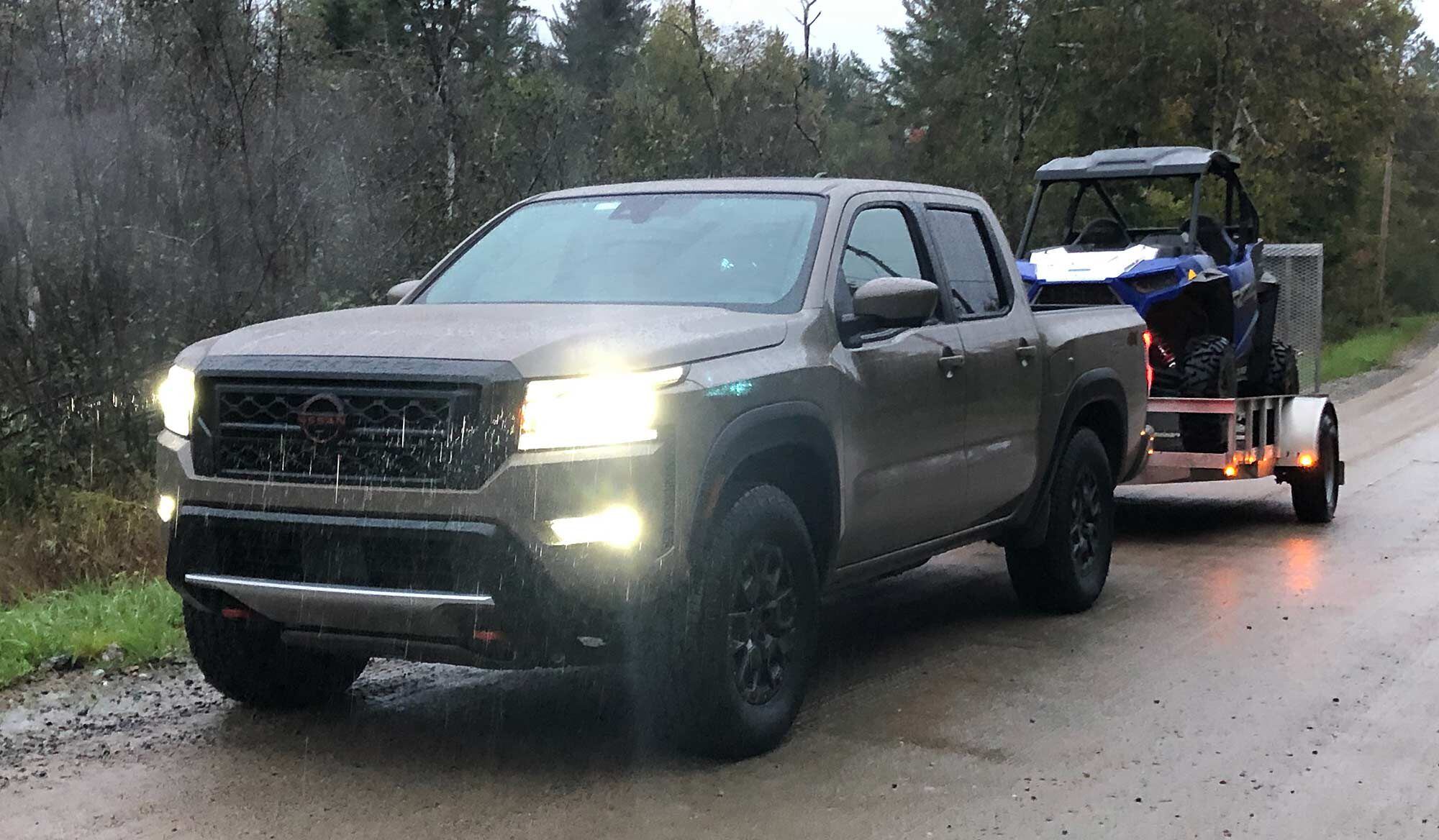 It was so rainy, foggy, and messy that even our camera didn't want to cooperate. The Frontier, however, was more than happy to oblige. (Ross Ballot/)
Towing in the dry is one thing but pulling a 1-ton-plus load down a messy, soupy dirt road in a torrential downpour as the day fades into night can easily reveal a tow vehicle's less-than-ideal handling characteristics. The Frontier performed flawlessly, instilling total confidence in us and proving its worth with seat heaters cranking and SiriusXM blasting our favorite tunes while we focused on watching for moose instead of dealing with an unwilling towing companion. We need to hook up a heavier trailer to really test the Frontier's limit, but in this instance it did everything we asked for with ease.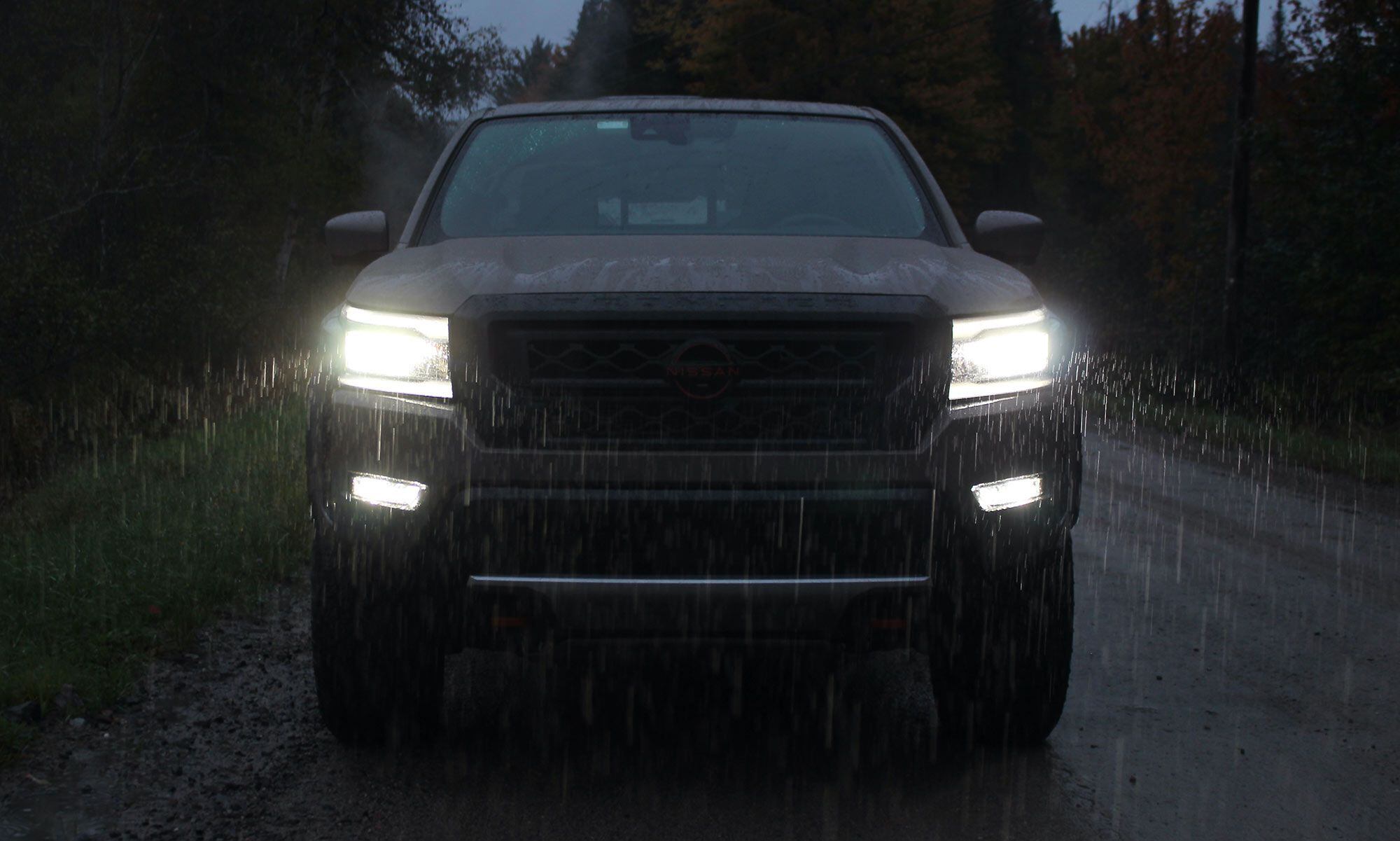 Light in the night. The Frontier couldn't have cared less about the 40-degree temperature and cold rain falling around it. (Ross Ballot/)
Unfortunately, we found that the Frontier displayed an issue similar to that we experienced in the Pathfinder. Even in Tow Mode, the backup sensors and integrated emergency brake automatically stay on every time reverse gear is selected. The truck subsequently thinks an object is obstructing its path rather than knowing a trailer is attached. It's a minor nuisance pushing the button to turn off the sensors, especially since it's just fore of the shifter itself, but those who tow regularly or have tight parking locations that require multiple adjustments to land their trailer will be bothered. We reached out to Nissan for comment and we're told they are addressing this, though as of this writing there is no definitive timeframe for when it will be implemented.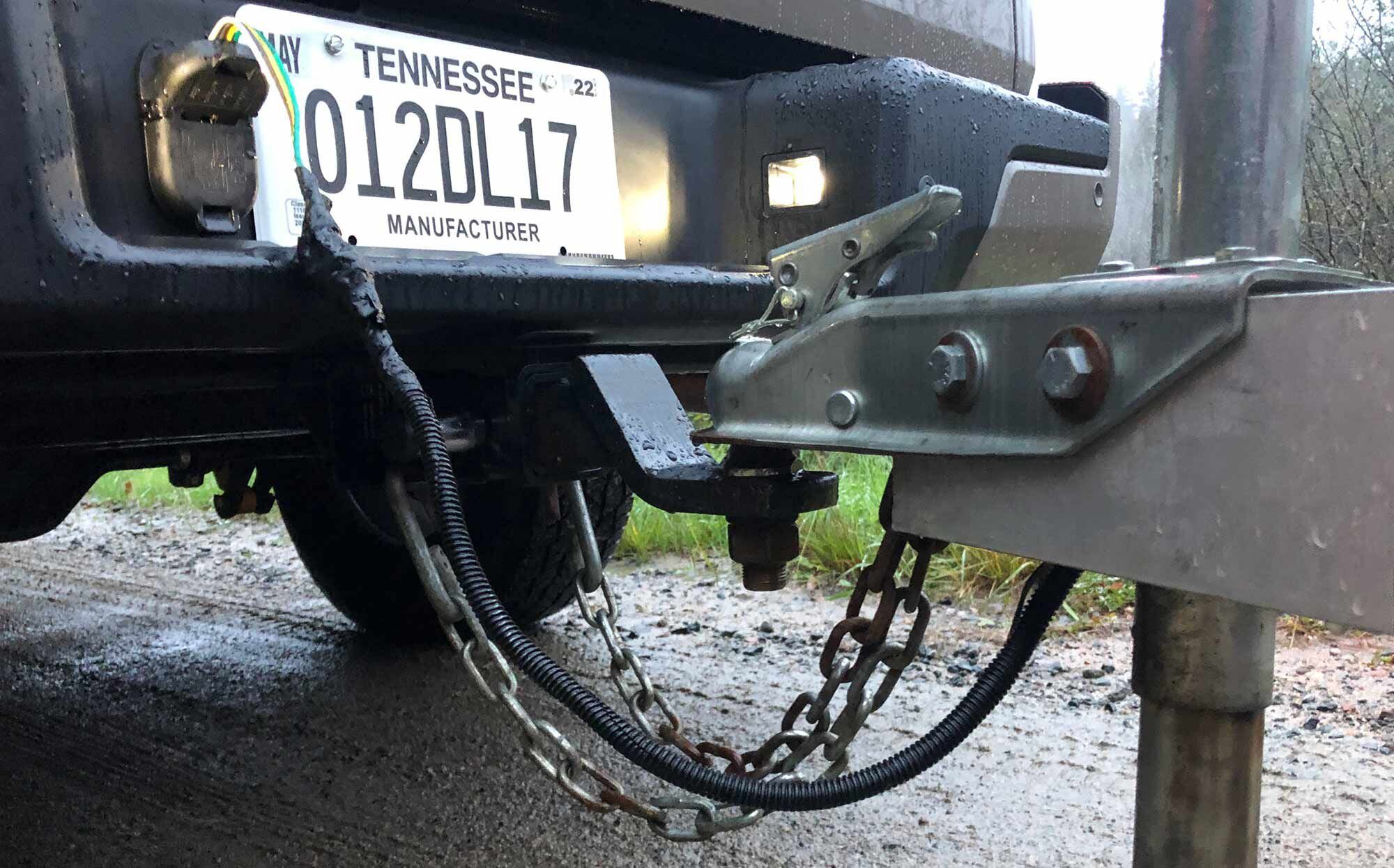 The Frontier's trailer hookup points are easy to reach and use. (Kevan Ray/)
Ultimately, this issue doesn't sway how we feel about the 2022 Frontier Pro-4X. As is evident in the Titan, Nissan has been putting in a lot of effort lately and has only misstepped in minor ways. We wouldn't hesitate to recommend the updated Frontier to those who want a reasonably sized pickup that's a good place to spend time, handily tows a trailer in poor conditions, and should be decent off-road. The revised truck is more comfortable than the outgoing model as well as the class-favorite Toyota Tacoma, boasts a better engine and transmission, and has the creature comforts buyers have come to expect from today's do-it-all trucks. We'd be happy commuting in it and using it to support our ATV and UTV adventures alike. Consider us fans.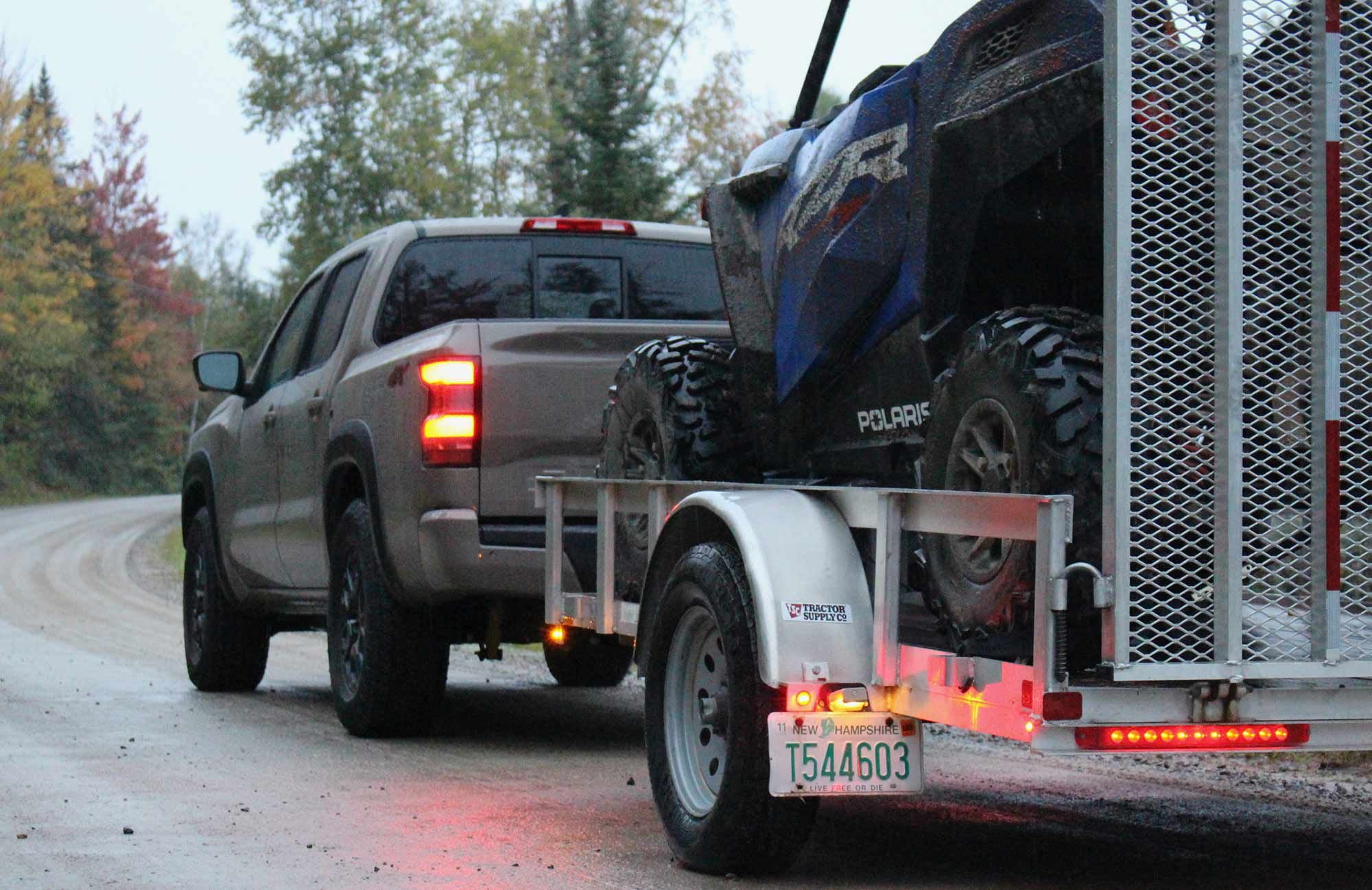 This is a combo we're happy to have with us any weekend. (Ross Ballot/)
2022 Nissan Frontier Pro-4X Specs
| | |
| --- | --- |
| MSRP: | $37,240 (base) / $43,165 (as tested) |
| Engine: | DOHC Direct Injection Gasoline (DIG) V-6; 4 valves/cyl. |
| Displacement: | 3.8L |
| Bore x Stroke: | N/A |
| Compression Ratio: | 11.0:1 |
| Transmission: | 9-speed automatic |
| Claimed Horsepower: | 310 hp @ 6,400 rpm |
| Claimed Torque: | 281 lb.-ft. @ 4,400 rpm |
| Fuel System: | EFI |
| Steering: | Engine-speed-sensitive power steering |
| Drivetrain: | Switch-operated two-speed transfer case 4WD w/ electronic locking rear differential |
| Front Suspension: | Independent double wishbone w/ stabilizer bar and Bilstein shocks |
| Rear Suspension: | Overslung multi-leaf w/ solid axle, stabilizer bar, and Bilstein shocks |
| Front/Rear Brakes: | Vented discs |
| Wheels, Front/Rear: | Dark finished aluminum-alloy wheels; 17 in. |
| Tires, Front/Rear: | 265/70R-17 all-terrain tires |
| Length: | 210.2 in. |
| Width: | 74.7 in. |
| Height: | 72.9 in. |
| Wheelbase: | 126.0 in. |
| Towing Capacity: | 6,270 lb. |
| Max Seating Capacity: | 5 |
| Max Ground Clearance: | 9.8 in. |
| Turning Radius: | N/A |
| Claimed Wet Weight: | 4,709 lb. |
| Fuel Capacity: | 21.1 gal. |
| Warranty: | 3-year, 36,000-mile basic; 5-year, 60,000-mile powertrain |
| Availability: | Now |
| Contact: | nissanusa.com/vehicles/trucks/frontier |