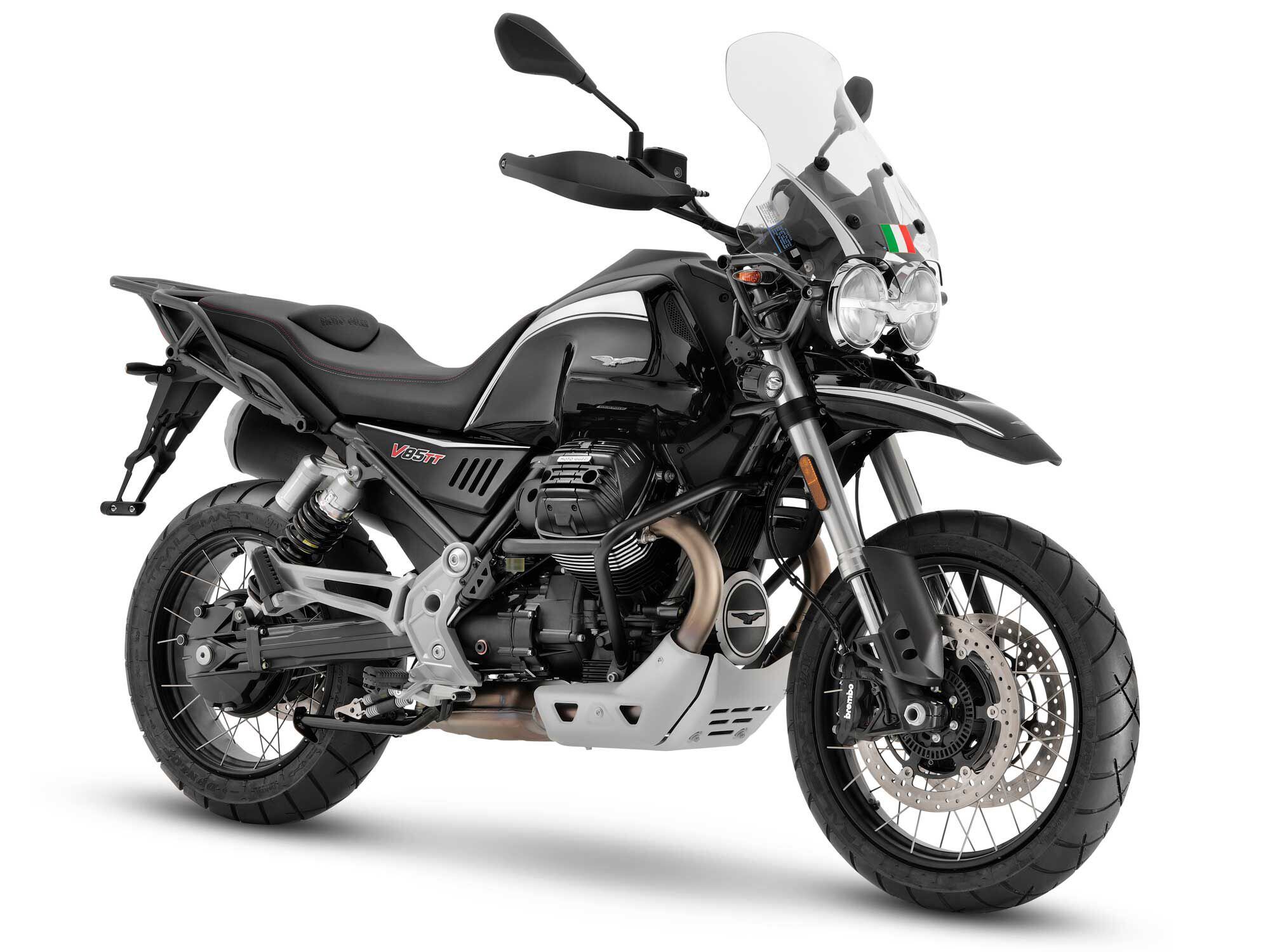 The 2022 V85 TT Guardia D'onore edition will be released in a numbered series of 1,946 models. (Moto Guzzi/)
In 1946, Italy's Cuirassiers Regiment, the honor guard to the Italian president, chose Moto Guzzi as its first official motorcycle. Since then, whenever the Italian head of state travels, his security regiment accompanies him on a fleet of Moto Guzzis. For 2022, Moto Guzzi is releasing a new limited edition V85 TT to the public as a way of honoring this 75-year partnership.
Various models have been used and adapted for the regiment's purposes, which changed bikes every few years until the V-1000 I-Convert model was adopted in 1975. These lasted a decade before being replaced by 948cc California models in 1985, which in turn held on until 2007, when they were supplanted by the larger California 1400 Touring models which remain in use to this day. As a way to celebrate Moto Guzzi's centennial in 2021, the company gifted two new V85 TTs, bearing the same Guardia D'Onore livery we see here, to the President of the Republic Sergio Mattarella. They are now ridden alongside the Californias in the fleet.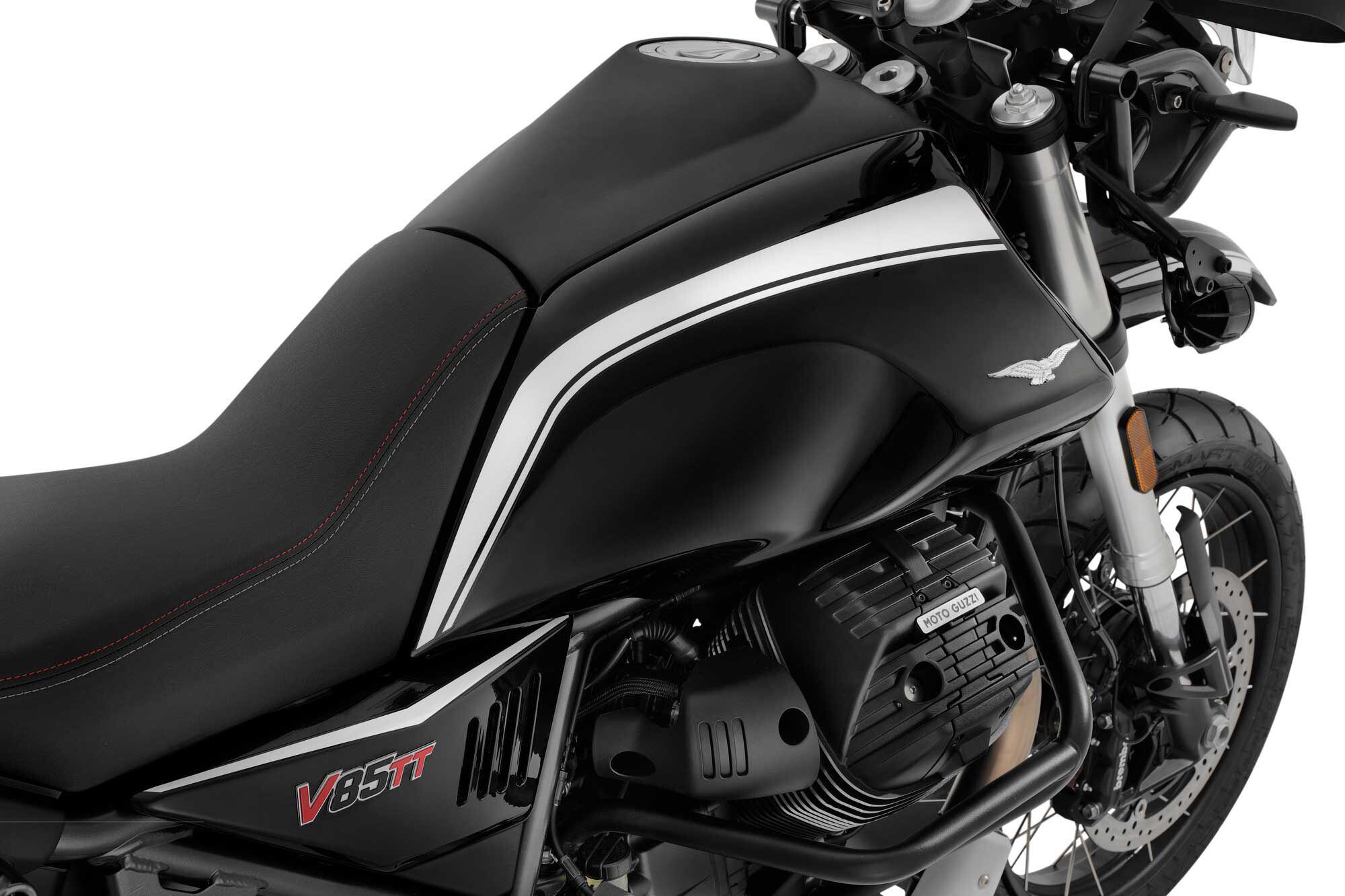 Along with its limited livery, the V85 TT will come with a taller windshield, crashbars, centerstand, and each bike's unique serial number engraved on its handlebar riser. (Moto Guzzi/)
In their black and white uniforms, the Cuirassiers Regiment matches Moto Guzzi's most iconic color scheme, though this early partnership is likely responsible for part of that livery's popularity. The new V85 TT Guardia D'Onore edition will be limited to only 1,946 models, painted to match the iconic guard bikes of the past with a black base and white graphics.
The special editions will come with a suite of accessories, such as a taller windshield, paint-matched side covers, centerstand, and LED auxiliary lights. A matching pannier set is also available as an added accessory. Each bike will be serialized, numbered 1 through 1,946, with that number engraved on the handlebar risers.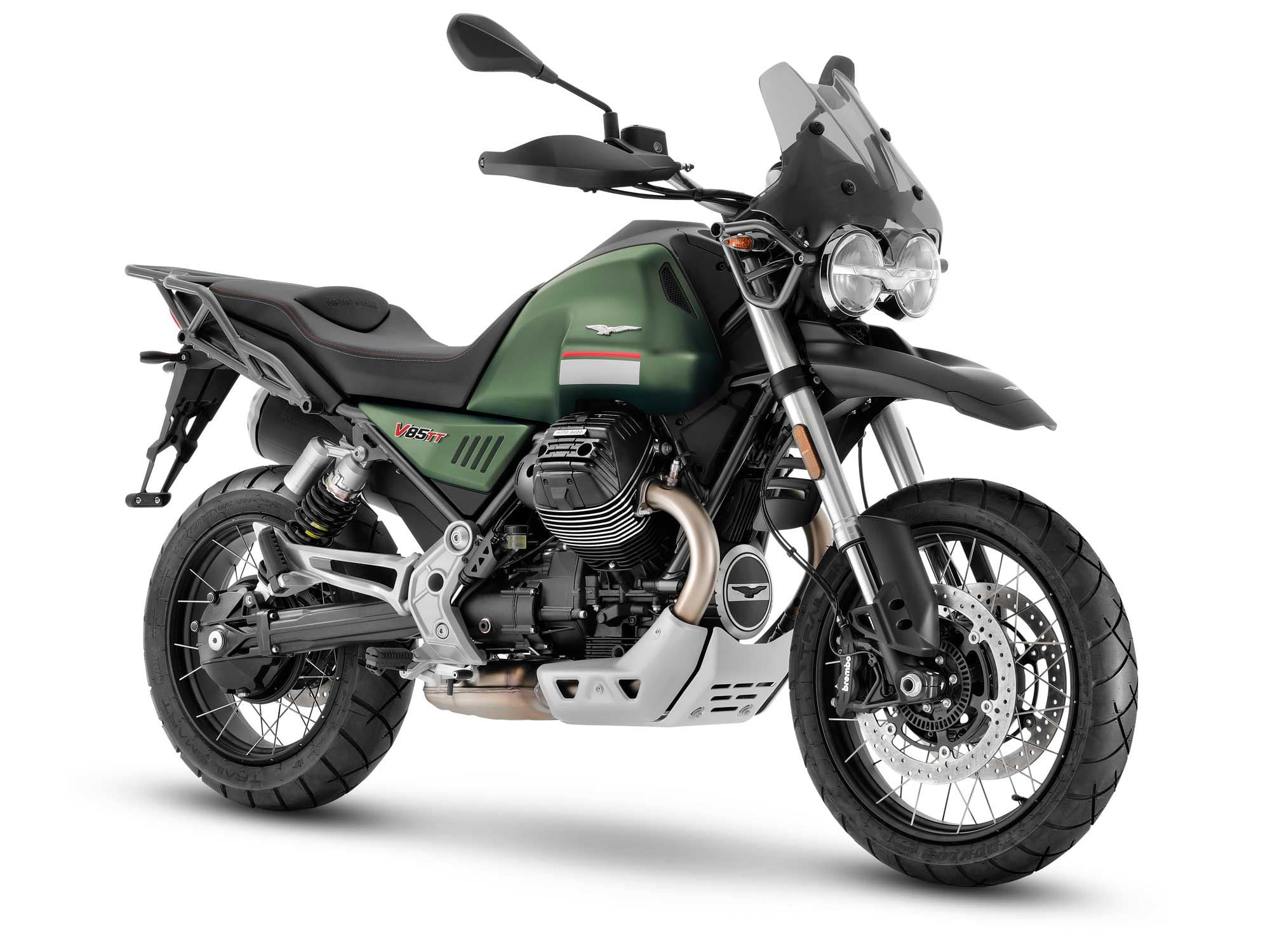 The base-model 2022 Moto Guzzi V85 TT comes equipped with a shorter windshield and no crashbars or centerstand. (Moto Guzzi /)
As an added bonus, each customer who purchases this version of the V85 TT will receive a commemorative case with a brochure on the history of past Moto Guzzi motorcycles used by the Cuirassiers and a stamp collector's folder with the postmarked stamp issued on Moto Guzzi's 100th anniversary.
Moto Guzzi has not released any information on the pricing or availability of these models, but check its website for more details and information at motoguzzi.com.