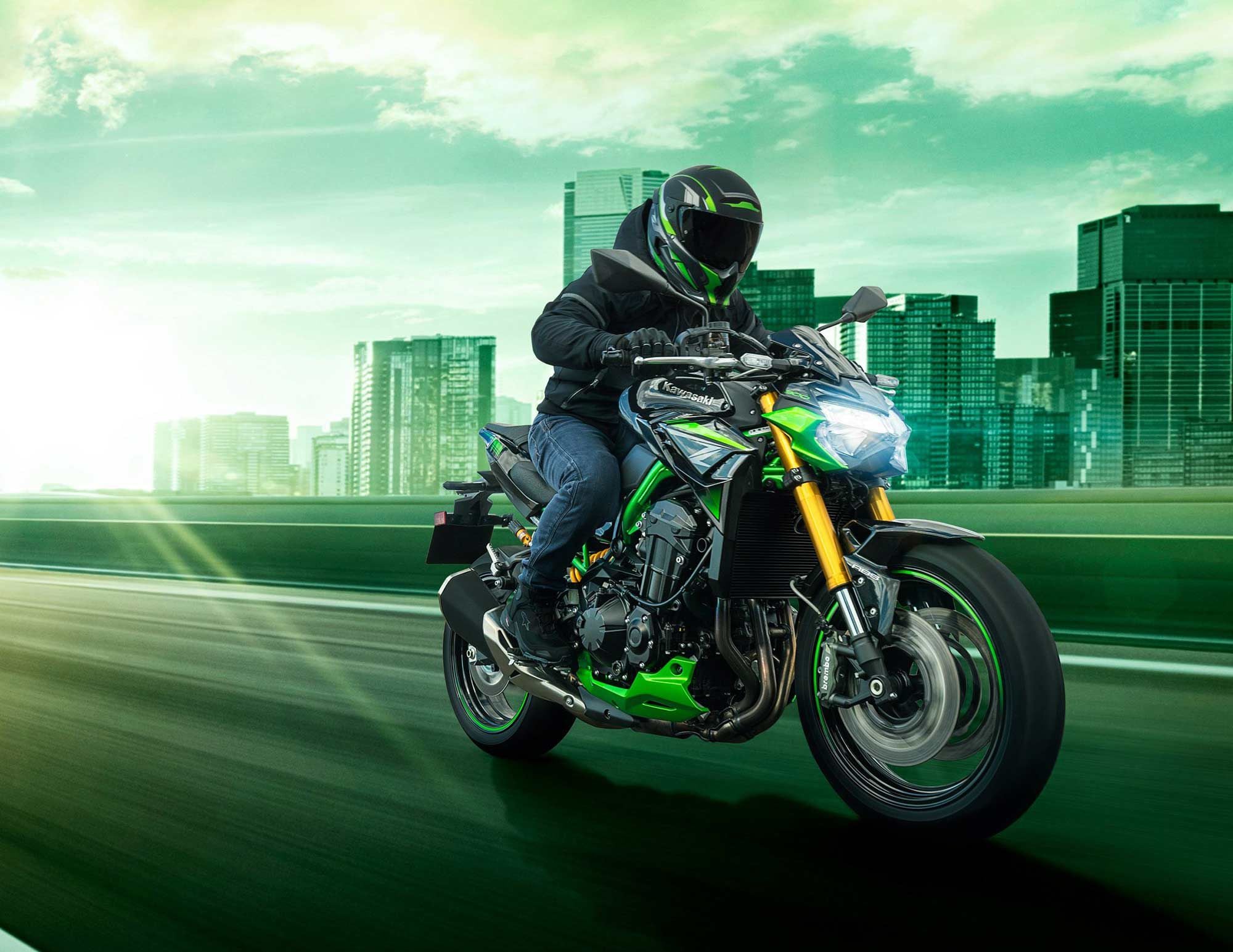 The Z900 SE joins Kawasaki's super naked stable for 2022, with tighter styling and brake and suspension upgrades. (Kawasaki/)
Given the universally glowing praise Kawasaki's Z900 naked enjoyed for its debut in 2018, it was inevitable that variants and ongoing upgrades would continue to expand the series beyond just the Z900RS that followed soon after. We've witnessed Kawasaki bestowing other models in its stable with uprated components and labeling them with an SE designation, and now there's the newest addition to the 2022 super naked lineup: the Z900 SE. As you may have guessed from the call letters, this new special-edition bike – which had already been announced for Europe – is built on the same platform as the base model, retaining the liquid-cooled 948cc inline-four as a stressed member in the lightweight steel trellis frame, but sharpening the styling and tacking on major upgrades in the form of suspension and braking.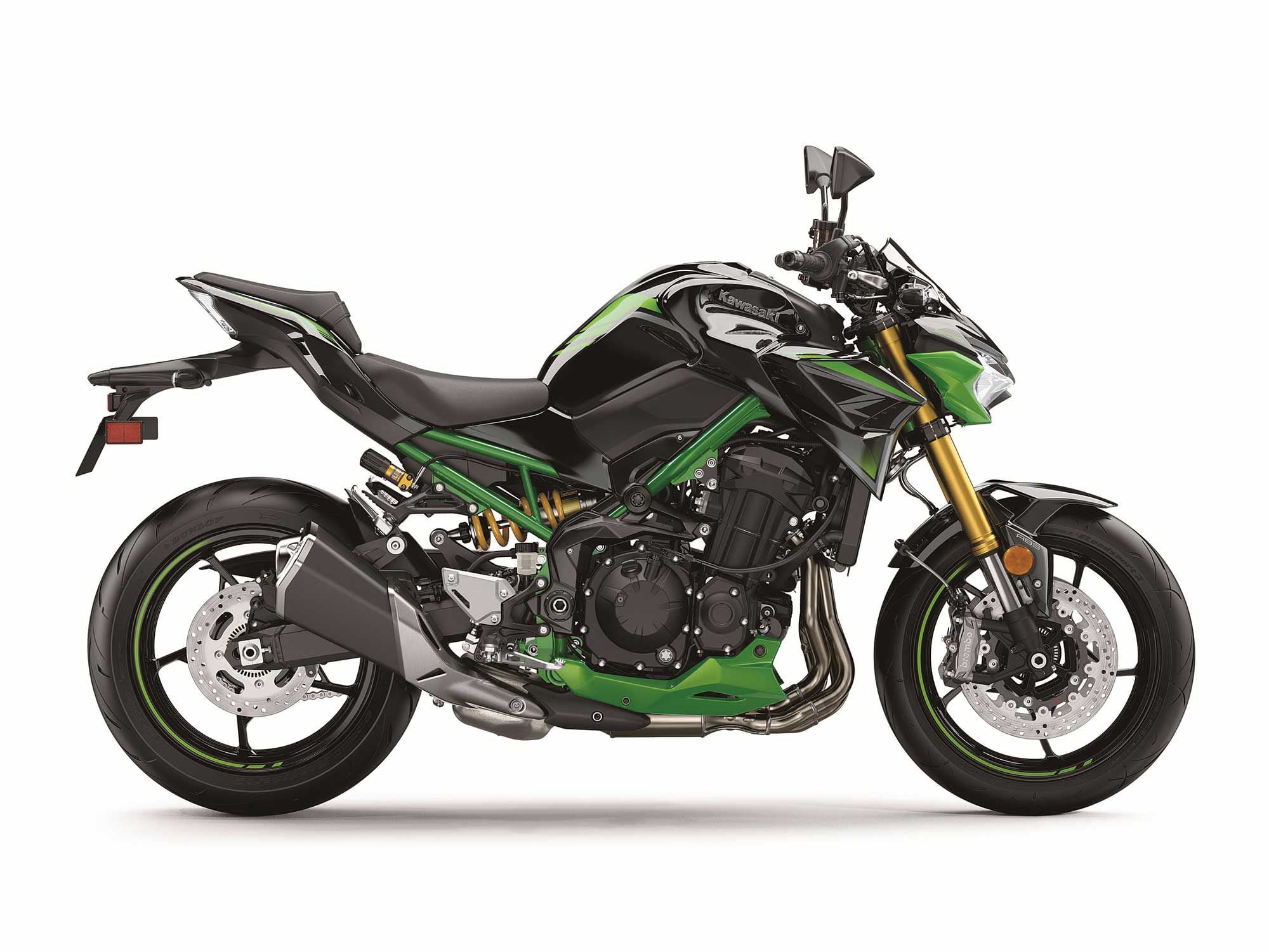 The new SE's 41mm upside-down fork gets improved suspension settings and is now fully adjustable—and gold colored. (Kawasaki/)
A quick glance confirms the edgier "sugomi-inspired styling" (we're not sure why Kawi is trying to trademark that word) with the SE's low-positioned LED headlight and upswept tail giving it a lower, more crouched appearance. Other details like compact, harder shrouds, cowlings, and contrasting paint accents add a more aggressive vibe that's distinct from Kawasaki's other super naked Z models. Even the LED taillight lights up in a Z pattern.
Related: How Much Power Does The 2020 Kawasaki Z900 Make?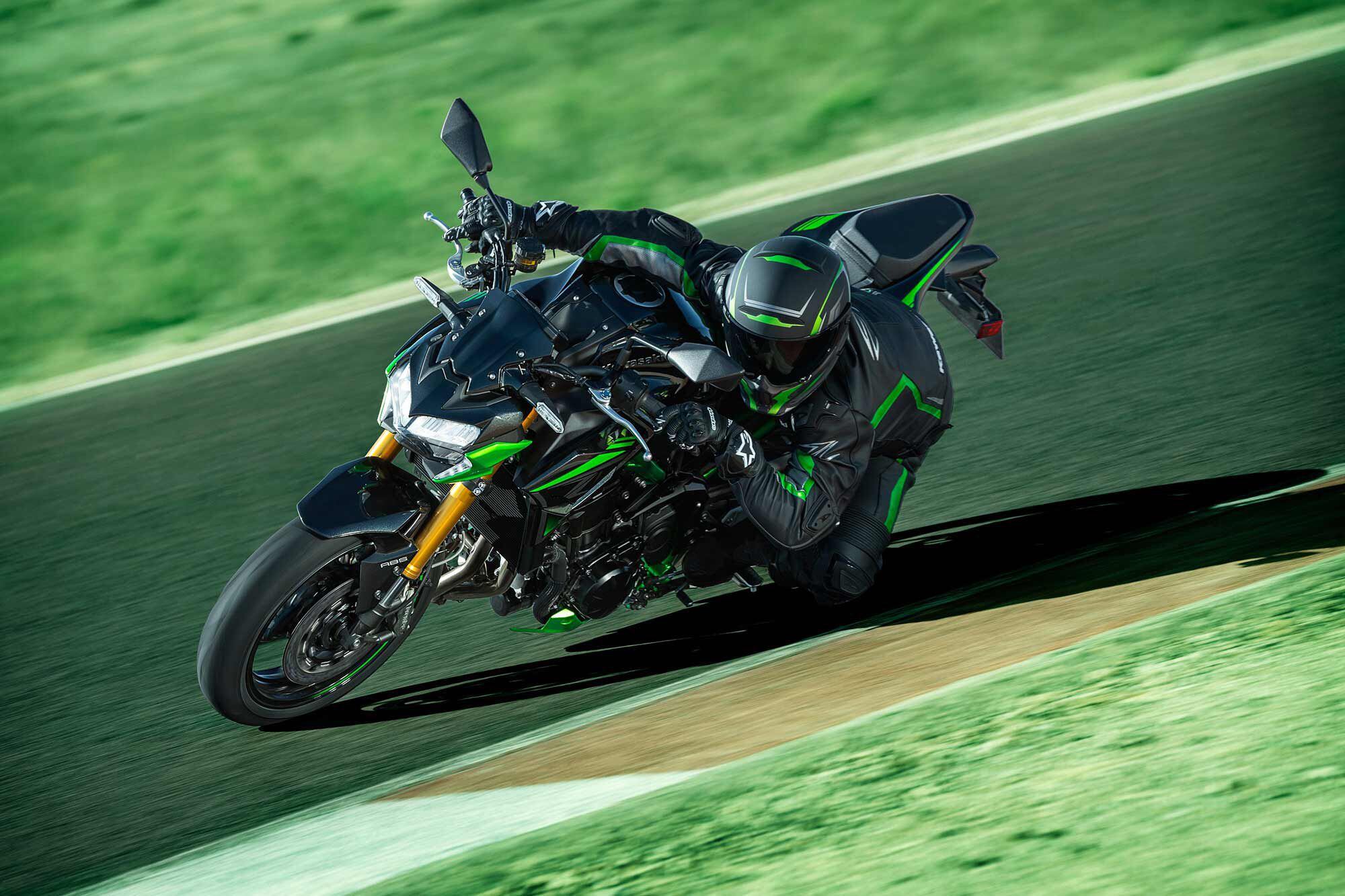 "<em>Sugomi</em>" styling is what Kawasaki says informs the sharper bodywork, as with the shaped engine shrouds and headlight cowl. (Kawasaki/)
The addition of an upgraded brake package and higher-grade suspension components is where the SE adds performance benefits, however. Up front, the still 41mm upside-down fork is now fully adjustable, allowing for easy compression and rebound tweaks as well as stepless adjustable preload that can also be fine-tuned to your liking. The outer fork tubes on the SE are gold colored as well, for a distinct look that also happens to match the spring on that new Öhlins rear shock.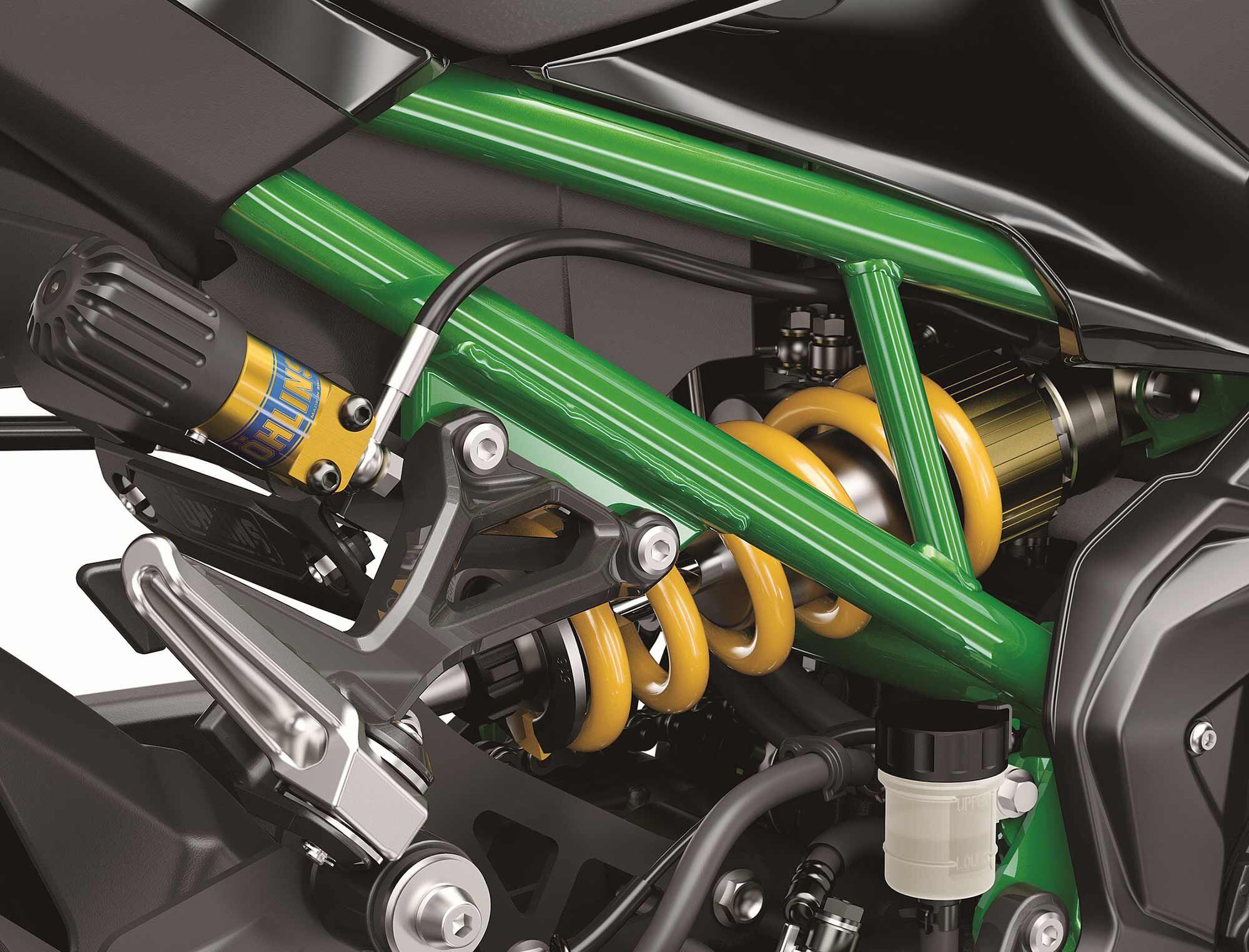 An Öhlins S46 shock juggles the rear, with a 46mm piston and a remote preload adjuster to help smooth out road defects. (Kawasaki/)
The unit in question is an aluminum-body Öhlins S46 shock, that Kawasaki says will contribute to an overall plusher feel; a remote preload adjuster knob lets you dial in quicker changes to the suspension settings without tools. The shock also has adjustable preload and rebound damping. Both the front and rear suspension components get improved settings that Kawi claims will result in a more supple ride quality.
Related: 2020 Kawasaki Z900 ABS First Look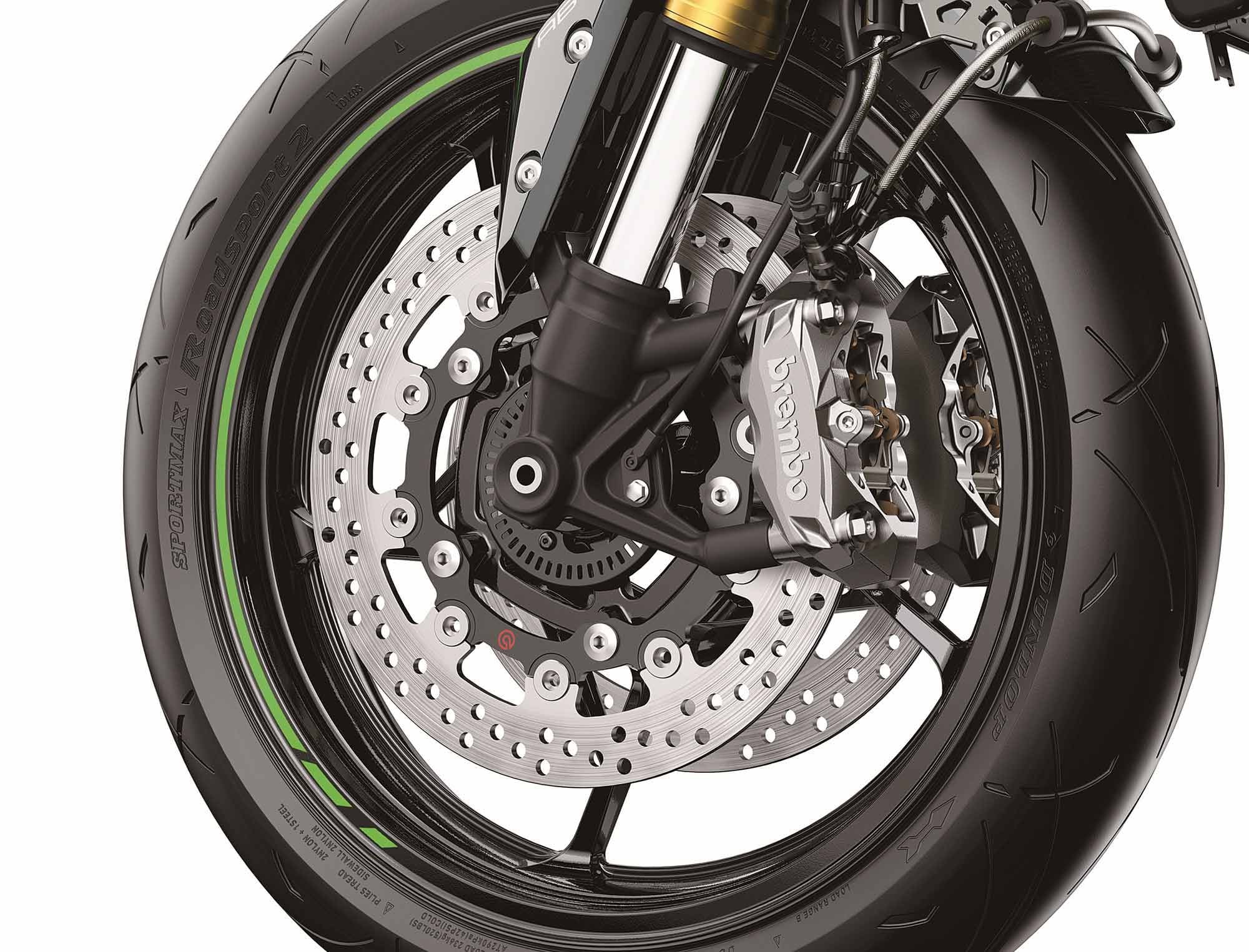 Brembo brakes, stainless steel braided lines, and a radial pump master cylinder improve power and progression up front. ABS is standard. (Kawasaki/)
As for the brake swap on the new SE, you'll find dual Brembo 300mm discs now clamped by the same M4.32 radial-mount Monoblock calipers seen on the Z H2 model, with a radial pump master cylinder and stainless steel lines to ensure optimal power transfer from the lever.
Those improvements don't add any power but they do increase the weight of the SE by a hair, as it weighs in at a claimed 469.7 pounds (a mere 0.2 pound more than the base model). Uprated components like these don't come cheap though, and the SE is priced accordingly, with an MSRP of $10,699—that's $1,600 over the base Z900 ABS model (there's no more non-ABS model in the line).
The newest SE will only be available in one color, Metallic Spark Black/Candy Lime Green.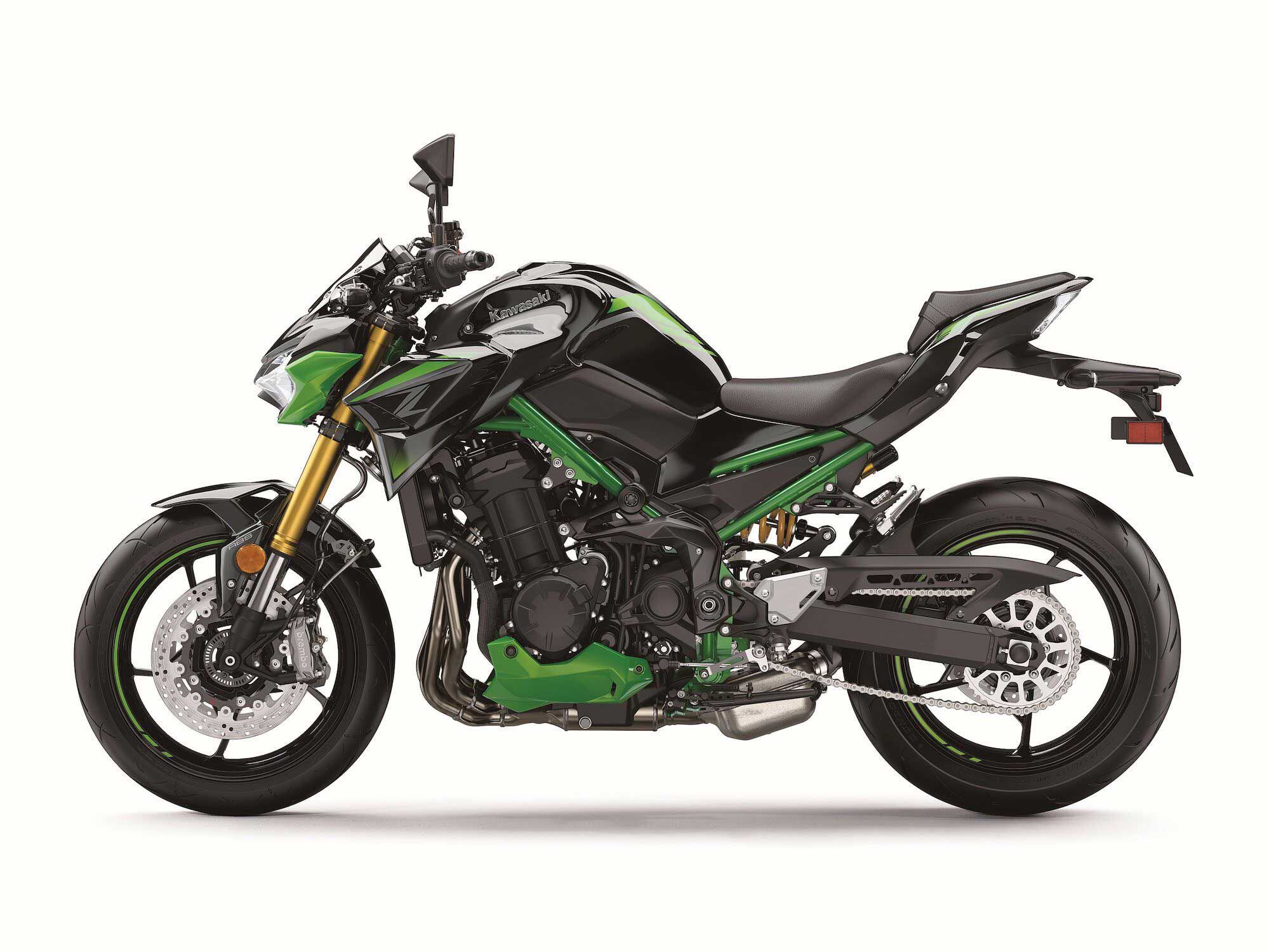 Four power modes, traction control, and smartphone connectivity can be accessed via the 4.3-inch TFT color display. (Kawasaki/)