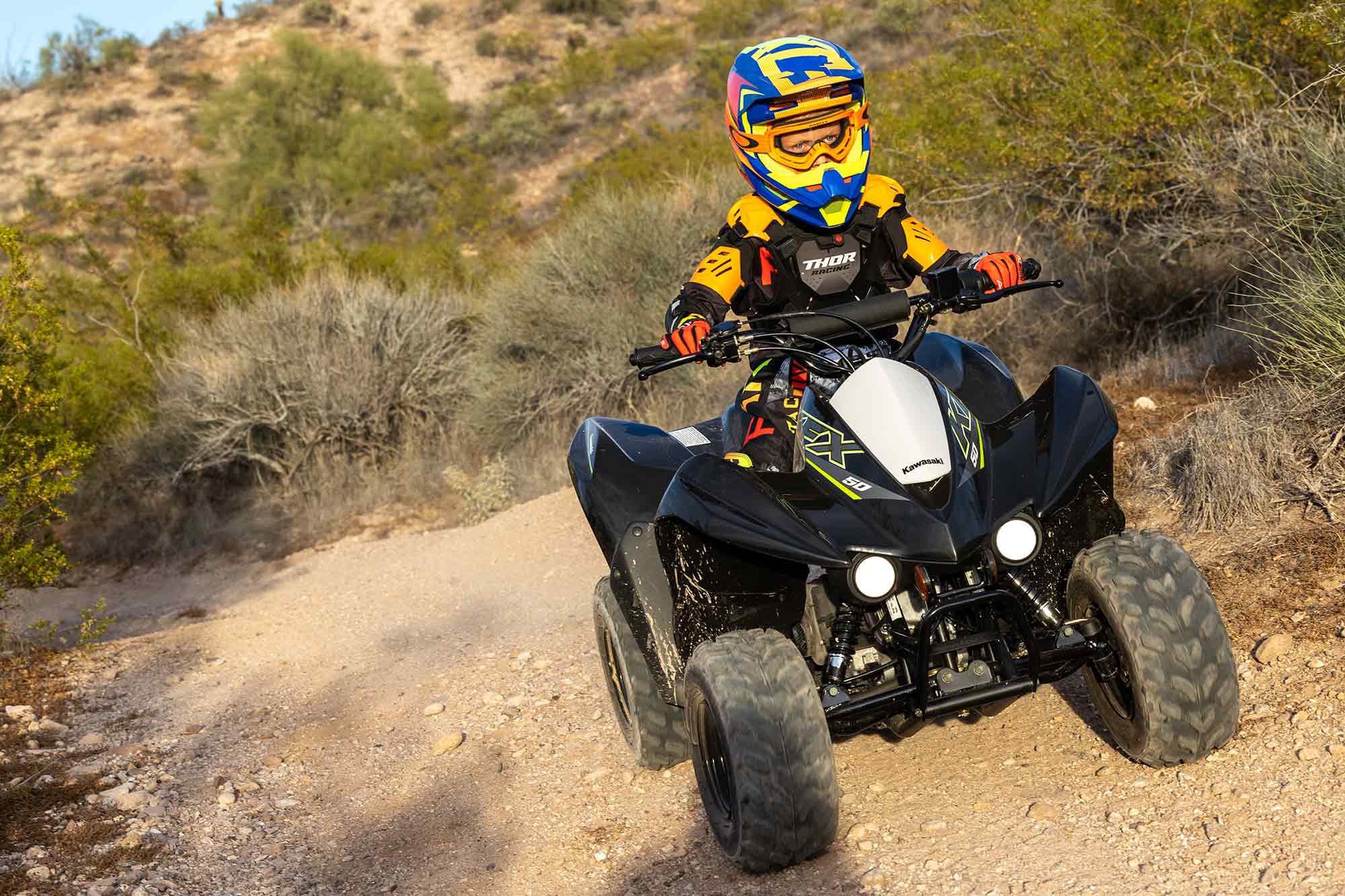 Built for riders aged 6 and up, the KFX50 is a great choice for teaching kids responsible ATV riding. (Jeff Henson/)
Sticking your child on an ATV for the first time can be a nerve-racking experience, but learning to ride is much easier to do if you get them started at a young age. First and foremost, get your child properly fitted with youth-sized ATV riding gear. Next, get them on an ATV that is appropriate for their age and size. Kawasaki makes the process simple with an ATV that is affordable, built for riders 6 and older, and already set up with some features that keep parents in control—the Kawasaki KFX50.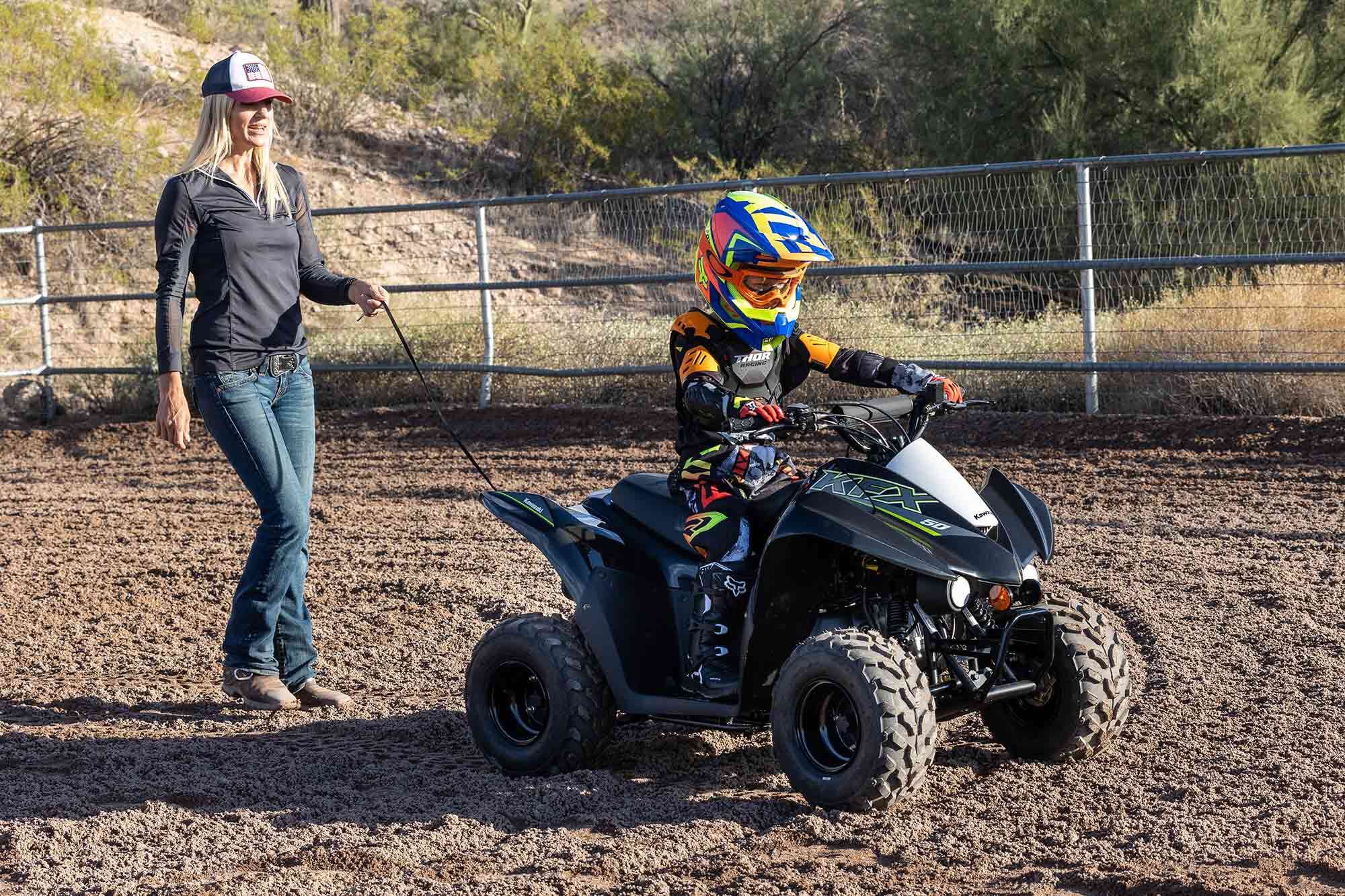 The 2022 Kawasaki KFX50 includes a throttle limiter and a tether kill switch to keep parents in control. (Jeff Henson/)
Parental controls include a throttle limiter and a tether engine kill switch that is attached to the rear grab bar. With a screwdriver, the thumb-throttle limiting screw can be dialed down to the point that the ATV moves at a crawl. Parents can then follow behind with the tether kill switch in hand. If the child appears to lose control of the KFX50, a quick tug disengages the switch and shuts off the engine. As young riders progress with their ATV riding skills, throttle speed can be increased. Features like this provide a safe starting base and plenty of room for your child to progress on the same ATV.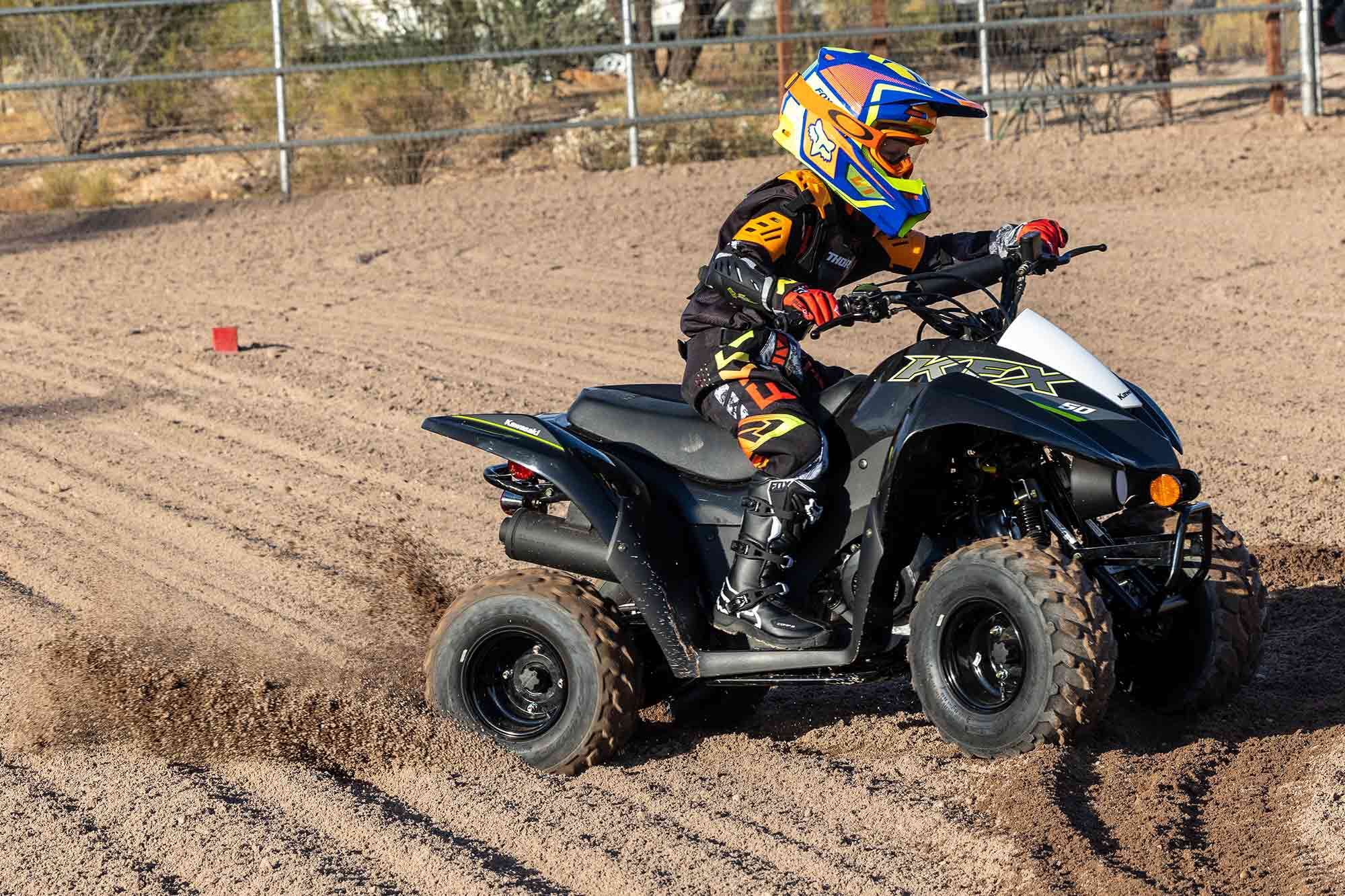 As rider skills progress, the limiter can be turned off to reveal a potent engine. (Jeff Henson/)
With the throttle limiter completely disengaged, the KFX50 is a surprisingly strong performer. Even with an adult rider (and one who exceeds the 187-pound limit) the KFX50 will toss up a fair amount of roost in the corners. Once the engine is warmed up, the throttle is very responsive but controllable. It will power through turns and motor right up moderate inclines with little effort.
The KFX50 definitely leans toward the sport side of ATVs. It comes with traditional motocross-style handlebars with a bar pad. It's a popular model with mini-motocross racers so it includes a front number plate. And while it does have a CVT-style automatic transmission for beginner riders, the final drive is chain and it only has one speed: forward.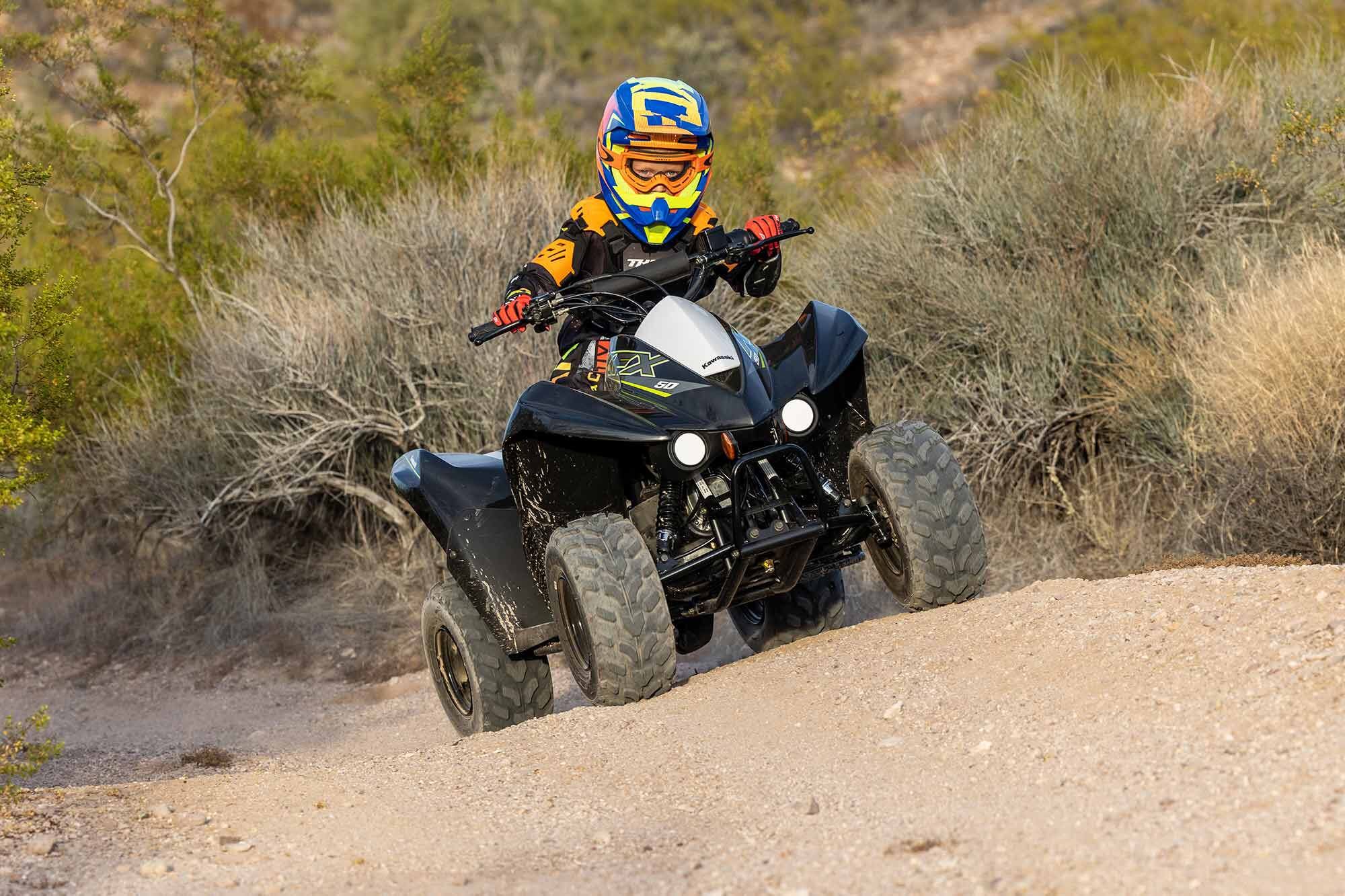 The Kawasaki KFX50 has a wide stance for better overall stability and confident cornering. (Jeff Henson/)
You might be tempted to save a few bucks on a lesser known beginner ATV, and we understand that. Your kids will outgrow a youth model before you know it. But there are a few good reasons why paying an extra couple of hundred bucks is worth it.
First off, a lot of those cheaper brands are very narrow. The KFX50 has a low center of gravity and a wide track at almost 35 inches. That's almost 4 inches wider than many cheaper competing machines, which is a good thing for a youth-sized ATV. Additional width makes for a more stable ride everywhere, and inspires more confident cornering speeds.
The KFX50 comes with ergos that are designed for young riders. The seat height is low enough to throw a leg over without help from mom and dad. The seat is formed so that the rider can easily slide from front to back, which promotes balance when climbing and descending. Footwells are large, provide excellent boot grip, and are reinforced with steel to better protect small legs and feet.
Another reason the KFX50 is a good investment—it's a Kawasaki. Once your kid outgrows it, resale value will be much higher on a KFX50 than one of those ATVs you can pick up at the local feed and hardware store. Take care of it and you'll definitely get your money's worth out of the Kawasaki KFX50.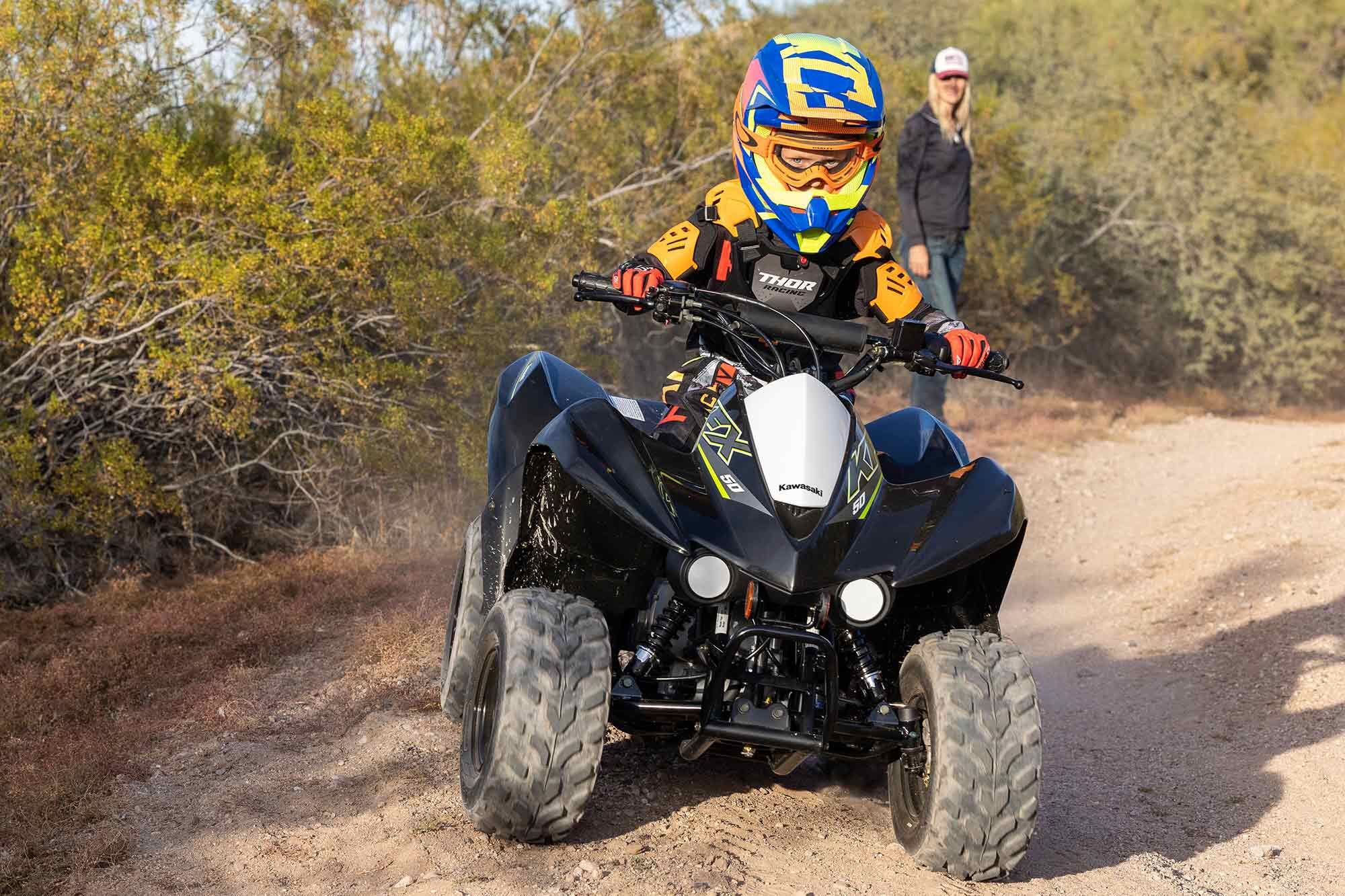 With a little practice and help from mom and dad, our test rider says he's ready to head to the motocross track. (Jeff Henson/)
At the end of the day, and with help from mom and dad, our test rider had already mastered advanced cornering techniques, completed some light trail riding, and developed a good feel for speed control on the Kawasaki KFX50. He's also expressed interest in trying his hand at the local motocross track. As we implied, getting your first ATV doesn't have to be overly expensive, but the habits it can produce, well, that's a completely different story.
2022 Kawasaki KFX50 Specs
| | |
| --- | --- |
| MSRP: | $2,099 |
| Engine: | Air-cooled 4-stroke single-cylinder |
| Displacement: | 49.5cc |
| Bore x Stroke: | 39.0 x 41.4mm |
| Compression Ratio: | 10.0:1 |
| Transmission: | Automatic CVT |
| Claimed Horsepower: | N/A |
| Claimed Torque: | N/A |
| Fuel System: | Carburetor |
| Drivetrain: | 2WD w/ chain final drive |
| Front Suspension: | Single A-arm, independent; 2.8 in. travel |
| Rear Suspension: | Single shock; 2.9 in. travel |
| Front Brakes: | Dual mechanical drums |
| Rear Brakes: | Hydraulic disc |
| Wheels, Front/Rear: | 7-inch |
| Tires, Front/Rear: | Tubeless; AT 16×8-7 |
| Length: | 55.1 in. |
| Width: | 34.6 in. |
| Height: | 35.8 in. |
| Wheelbase: | 38.0 in. |
| Front/Rear Rack Capacity: | N/A |
| Towing Capacity: | N/A |
| Seat Height: | 25.0 in. |
| Ground Clearance: | 3.3 in. at rear axle |
| Steering: | Manual |
| Turning Radius: | 8.7 ft. |
| Claimed Wet Weight: | 245 lb. |
| Fuel Capacity: | 1.5 gal. |
| Warranty: | 12-month limited warranty; additional terms available through Kawasaki Protection Plus |
| Minimum Operator Age: | 6 and older |
| Availability: | Now |
| Contact: | kawasaki.com |