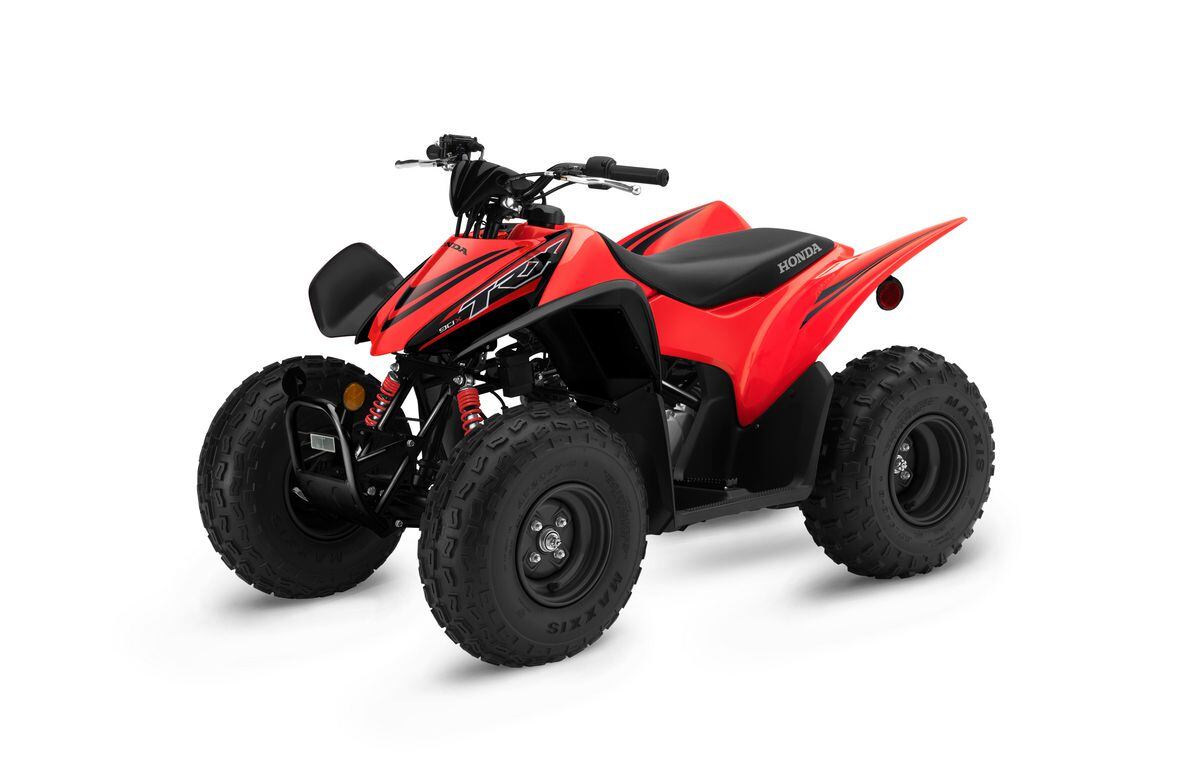 The 2022 Honda TRX90. (Honda/)
Ups
Gets younger riders into the sport; looks the part; Honda reliability
Downs
Carbureted engine from a bygone era; chain drive more troublesome than shaft; where's the TRX450R?
Verdict
Kids and younger riders will love the TRX90. Isn't that all that matters?
Overview
Honda's TRX90 has been around for a while and remains an excellent option for youth riders looking to get into the sport, or who are being brought into the off-road world by their guardians. Although the carbureted engine leaves something to be desired on the ease-of-use front, as does a chain-driven rear axle and swingarm setup, Honda has engineered the TRX90 to be a simple machine that keeps on running after days, weeks, and years of fun.
Updates for 2022
There are no updates for 2022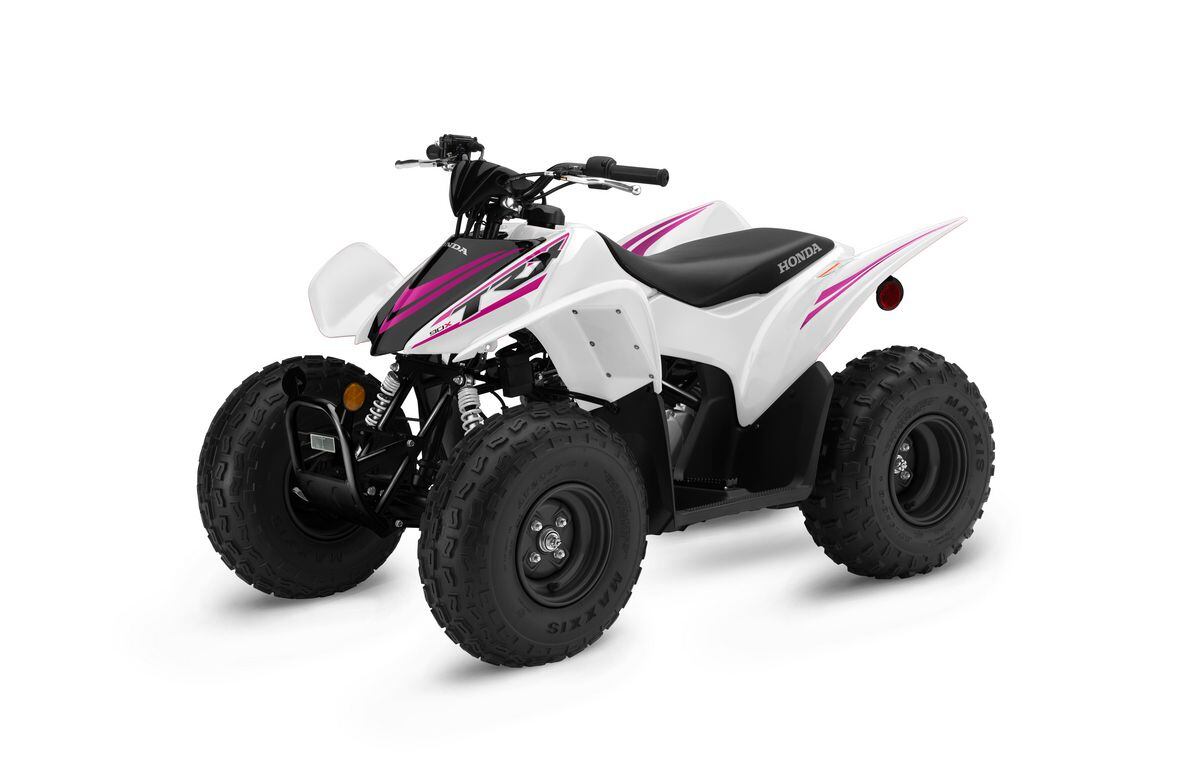 The 2022 Honda TRX90. (Honda/)
Pricing and Which One to Buy
Honda TRX90 MSRP: $3,249
There is but one TRX90 for 2022, and it rings in at a palatable MSRP of $3,249 plus $265 in destination charges. That's a reasonable price and given the machine's reputation for reliability and fun, more so when you consider what people think used units are worth. The Honda is a good option in the pack of youth ATVs available today.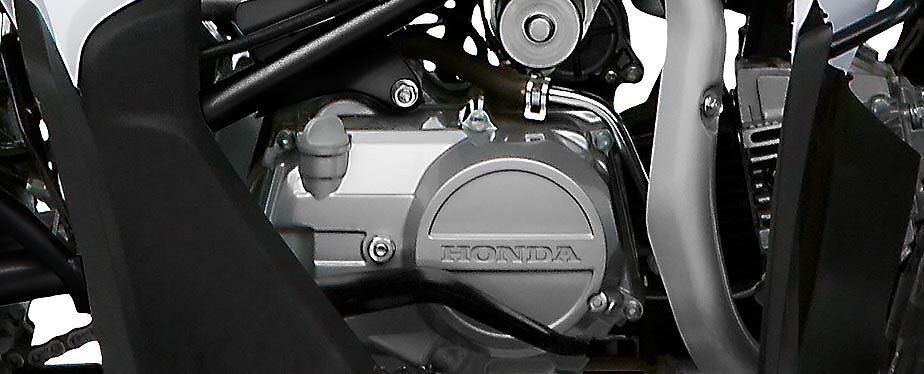 The 2022 Honda TRX90's engine. (Honda/)
Powertrain: Engine, Transmission, and Performance
The TRX90 continues to use Honda's air-cooled 86cc SOHC four-stroke engine. It's a good, reliable powerplant that allows riders to keep having fun by way of venerable reliability even if the engine isn't the most potent. It is, unfortunately, still carbureted, leaving those less mechanically inclined wanting. However, young riders will appreciate the electric starter and semi-automatic four-speed transmission, both of which make the TRX90 easy to get going on and easy to ride.
Handling
You know it, we know it: Youth ATVers will love the TRX90′s handling. The low center of gravity and relatively square stance mean it will be a hoot to ride for those just getting into the sport. That goes for ripping around the backyard or cruising down a trail. Don't get us wrong; this isn't a massively capable rig. But it doesn't need to be. The TRX90 is safe and approachable. It'll handle just fine for the intended users.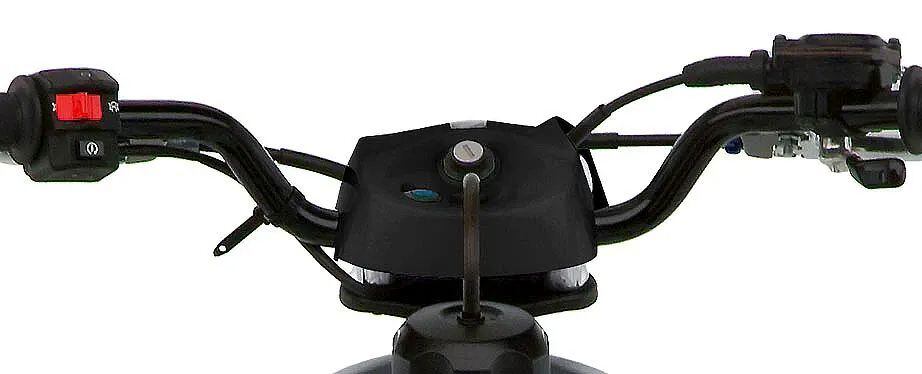 The Honda TRX90's command center. (Honda/)
Brakes
The TRX90 uses dual sealed drums up front and a single sealed drum in the rear. We'd much prefer discs, but for the given intention and the TRX90′s limited speed, the drums work just fine and continue to be easily serviceable and inexpensive to maintain. If it ain't broke, don't fix it.
Ergonomics: Comfort and Utility
Let's get this straight from the get-go: Larger riders will be uncomfortable on the TRX90. It's a decidedly small machine, and being that Honda recommends it for riders 10 and older (ages 10–16 per its site), it's a tough age group to generate a one-size-fits-all machine for. Smaller riders will fit just fine, and the seat is plenty comfortable for all but the longest rides, but those in the higher height and weight percentiles will find it a bit cramped.
Payload/Towing
The TRX90 is not rated for a payload or towing capacity. We expect it could pull a small wagon or trailer around the property in a pinch, though.
Electronics
Sticking with the minimalist, inexpensive mojo, the TRX90 is limited on the electronics front. Notably, electric start is present despite the lack of electronic fuel injection. There are no gauges or instrumentation, but there is an adjustable speed limiter that makes controlling a kid's pace and power access simple.
Warranty and Maintenance Coverage
Honda supplies the TRX90 with a transferable one-year limited warranty. Extended coverage is available with a Honda Protection Plan.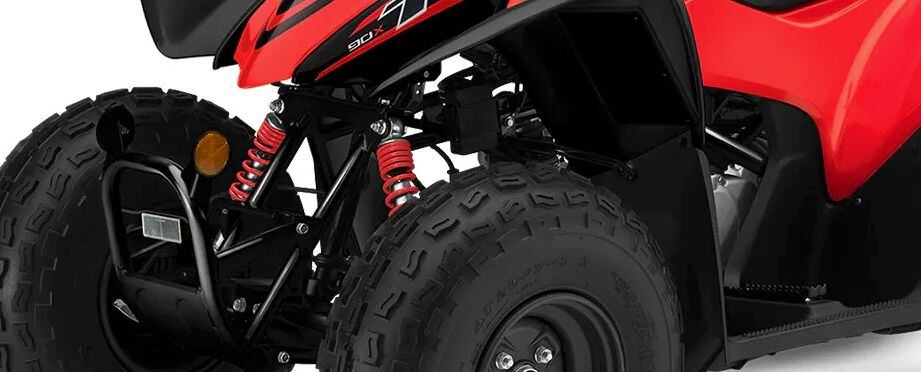 The 2022 Honda TRX90. (Honda/)
2022 Honda TRX90 Claimed Specifications
| | |
| --- | --- |
| MSRP: | $3,249 |
| Engine: | SOHC, air-cooled, four-stroke single-cylinder |
| Displacement: | 86cc |
| Bore x Stroke: | 47.0 x 49.5mm |
| Compression Ratio: | 9.2:1 |
| Transmission: | 4-speed automatic |
| Claimed Horsepower: | N/A |
| Claimed Torque: | N/A |
| Fuel System: | 15mm piston-valve carburetor |
| Steering: | Manual |
| Drivetrain: | O-ring sealed chain, 2WD |
| Front Suspension: | Independent; 2.6 in. travel |
| Rear Suspension: | Swingarm w/ single shock; 2.6 in. travel |
| Brakes, Front/Rear: | Dual sealed drums; sealed drum |
| Wheels, Front/Rear: | 8 in. |
| Tires, Front/Rear: | 20×7-8 / 19×8-8 |
| Length: | 58.6 in. |
| Width: | 35.2 in. |
| Height: | 36.5 in. |
| Wheelbase: | 38.7 in. |
| Front/Rear Rack Capacity: | N/A |
| Towing Capacity: | Not rated |
| Seat Height: | 26.0 in. |
| Ground Clearance: | 3.9 in. |
| Turning Radius: | 8.3 ft. |
| Claimed Curb Weight: | 262 lb. |
| Fuel Capacity: | 1.7 gal. |
| Warranty: | Transferable 1-year unlimited-mileage limited warranty; extended coverage available with a HondaCare Protection Plan |
| Minimum Operator Age: | 10 |
| Availability: | Now |
| Contact: | powersports.honda.com/atv/sport/trx90x |