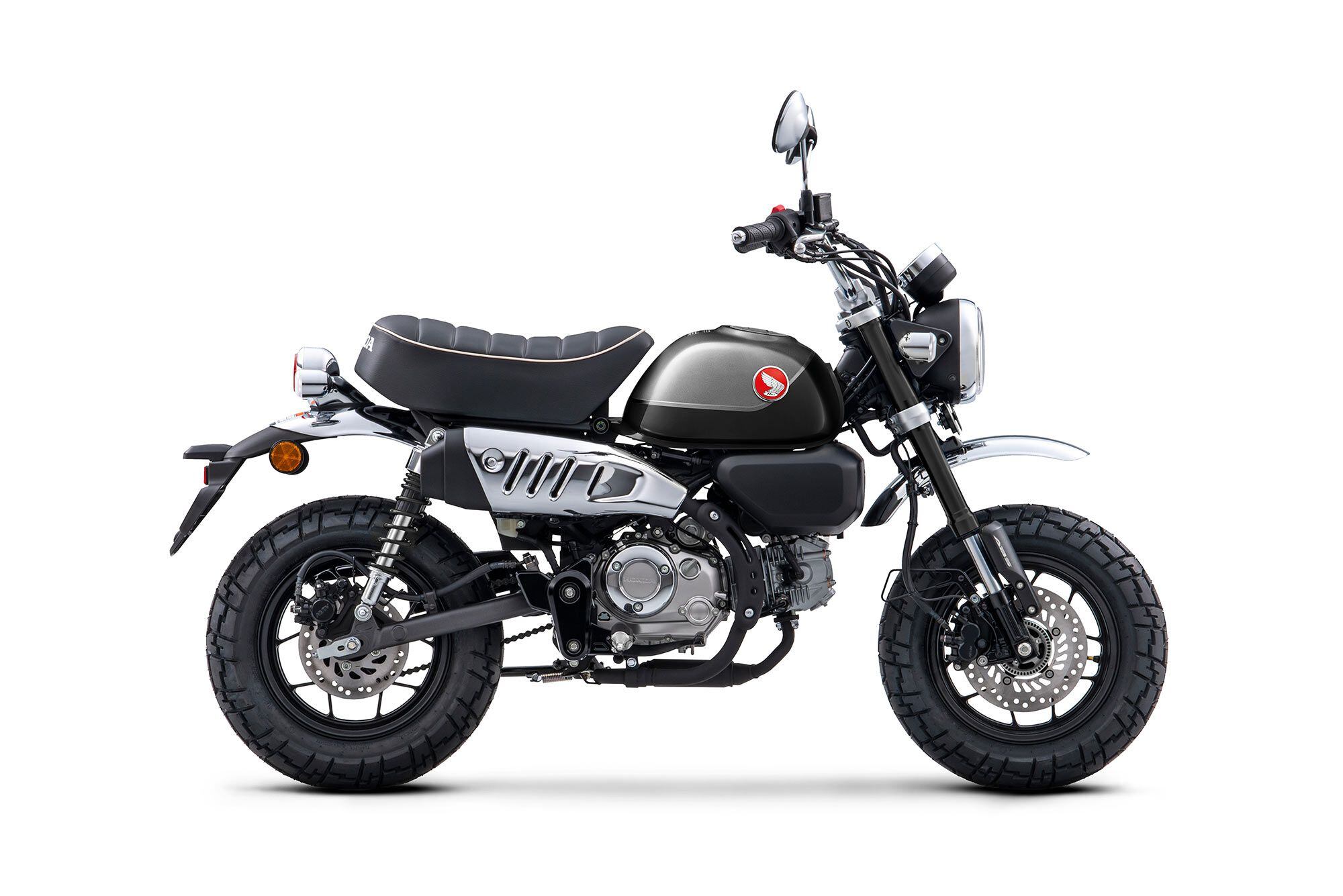 2022 Honda Monkey ABS. (Honda/)
Ups
Maximum fun, minimum size
Improved version of a classic design
New long-stroke 125cc engine
New five-speed gearbox
Standard ABS
Downs
Little engine does not make a freeway flier
Short 45-inch wheelbase feels odd dynamically, at first
Verdict
To inject some fun into your day, take a ride on the Honda Monkey ABS. Its new long-stroke engine and wide-ratio five-speed gearbox improve both acceleration and top speed. Still, don't expect to set any Bonneville records, because this Monkey is basically a mini.
Overview
In America, the original 1968 Mini Trail 50 lit a powder keg of excitement for small motorcycles. For 2019 Big Red launched its spiritual descendent, the Monkey. Now comes the 2022 Monkey ABS with a gutsier engine, wide-ratio five-speed gearbox, higher top speed, and standard ABS.
Updates for 2022
Honda gave the 2022 Monkey what riders have wanted all along—a five-speed gearbox, spunkier acceleration, higher top speed, and standard ABS. This new little standard shares key engine specs with the 2022 Grom, including a smaller bore and longer stroke (50mm x 63.1mm versus the previous 52.4mm x 57.9mm) for more low- and midrange grunt. The five-speed gearbox has a wider ratio spread overall, and ABS is now included as standard equipment.
To ease maintenance, a cartridge-style oil filter replaces the previous prehistoric spinner and screen filter. A choice of yellow or black paint replaces 2021′s choice of red or blue.
Pricing and Variants
If you want a 2022 Monkey, Honda makes choosing ridiculously easy: Pearl Black or Banana Yellow. The paint colors are literally the only decision to make, because the base MSRP of $4,199 now includes ABS for the first time (it was previously a $200 option).
Competition
The Honda Monkey's competition includes the Benelli TNT 135, Kawasaki Z125 Pro, Yamaha TW200, and even Honda's Grom.
Powertrain: Engine, Transmission, and Performance
Compared to the original 49cc Mini Trail, the 2022 Monkey is leagues apart in technology. Although its 125cc engine uses a horizontal cylinder, air-cooling, and a single-overhead-camshaft, two-valve head, it leapfrogs ahead with electronic fuel injection and the above-mentioned five-speed gearbox with manual clutch. Power output? The original Mini Trail reportedly made 3 hp—a far cry from the modern Monkey's expected 9.7 hp (based on 2022 Grom preview here).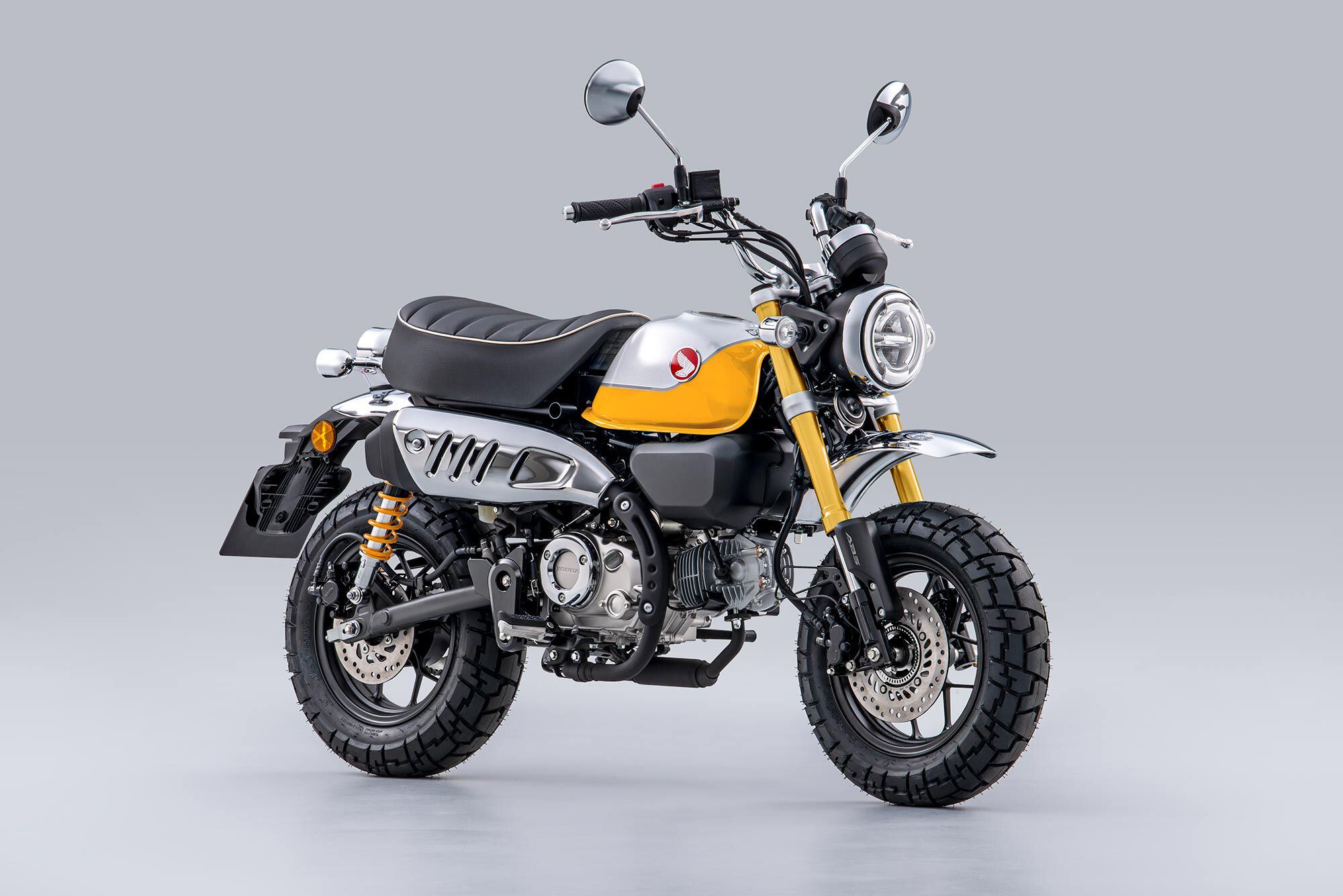 2022 Honda Monkey ABS. (Honda/)
Handling
Any motorcycle with a short 45-inch wheelbase like the Monkey ABS has will likely feel pretty perky in the handling department. Get aboard and you'll first notice there isn't much motorcycle visible ahead or behind you. And rolling into motion, the slightest tug on the handlebar gets the bike turning left or right. Tire footprints (120mm front and 130mm rear) are similar to larger bikes, and with a fairly typical geometry, the steering is predictable, albeit quick—just right for sub-60 mph territory where the Monkey lives. Bottom line: The Monkey ABS is responsive handling, and once you get accustomed to it, enjoyable in a variety of street settings.
Brakes
Fifty years ago, twin-piston front disc brake calipers were cutting-edge racing kit, but now, even on starter bikes like the Monkey, they're ubiquitous. And for good reason: They work way better than retro drums, with consistent feel and clamping force appropriate for the Monkey's low-speed job at hand. The rear disc is less posh, with a single-piston caliper and a 190mm disc, 30mm smaller than in front. As is universal now, both discs are cross-drilled for consistent performance in all conditions. The standard ABS, like on most bikes, is most likely activated by overexuberant rear-brake application. It'd take a pretty hard pull on the front brake lever to get the ABS going here. The ABS is not disengageable in case you want to venture into the dirt, where the original Mini Trail 50 started.
Fuel Economy and Real-World MPG
As of this writing, Cycle World had not conducted a full test of the 2022 Monkey ABS, but the estimated 155 mpg is likely close to accurate for typical around-town and backroads riding. With the little bike's 1.5-gallon fuel tank, that's 232 miles of range on a good day. Let's go!
Ergonomics: Comfort and Utility
With its standard handlebar, claimed low 30.5-inch seat, and 231-pound curb weight, the Monkey ABS is easy for practically anyone to straddle and ride. The cockpit is cramped for taller riders (the old term "a monkey riding a coconut" is perfect here), but for anyone in the general vicinity of 5 to 6 feet tall, this Monkey can serve. And it's rather a one-trick pony, because the solo seat, genially shaped and thickly padded, is designed for a single rider; no passenger pegs are provided.
Electronics
The Monkey is about as easy to start and ride as a manual-gearbox bike can be. Turn the ignition key, flip up the sidestand, thumb the starter, and the EFI engine starts and idles immediately.
A multifunction LCD panel reads out engine rpm, road speed, fuel level, gear position, and has an odometer, twin trip odometers, and a clock function. Plenty of functionality for a small bike, but nothing is premium or over the top.
LED lighting is used in its round headlight and taillight.
Warranty and Maintenance Coverage
Honda's limited warranty coverage for the 2022 Monkey ABS is one year, with unlimited mileage. But optional via the HondaCare Protection Plan is an additional five years of coverage, with no mileage limits, which can also include roadside assistance.
Quality
Even more than a half-century after Honda introduced the Mini Trail 50, the 2022 Monkey ABS mirrors Honda's characteristic build quality: The components are cleanly designed, fit together with aforethought and precision, and leave little to criticize in terms of execution. In a word, the Monkey, like its forebears, is "refined."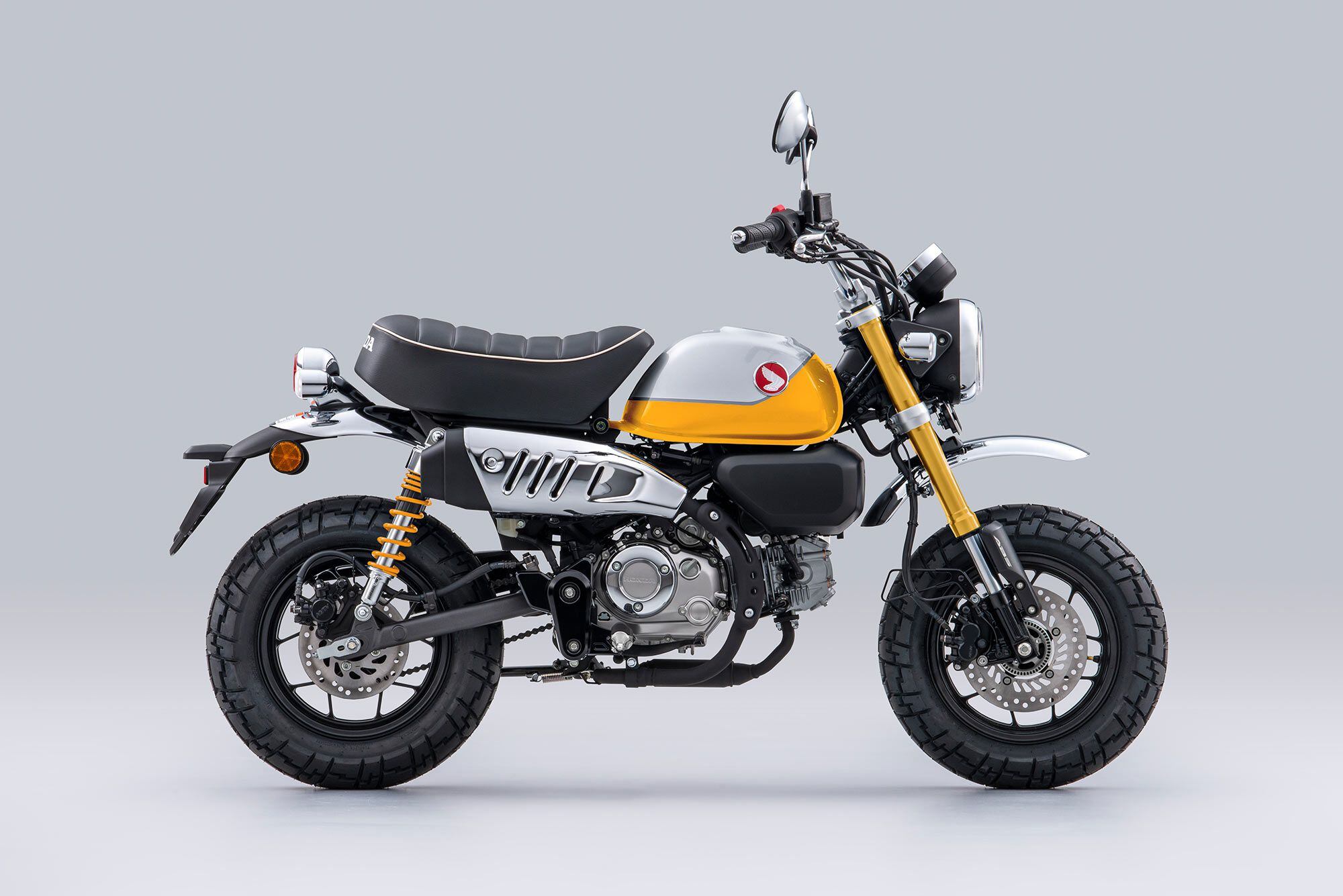 2022 Honda Monkey ABS. (Honda/)
2022 Honda Monkey ABS Claimed Specifications
| | |
| --- | --- |
| MSRP: | $4,199 |
| Engine: | 125cc, SOHC, air-cooled single; 2 valves/cyl. |
| Bore x Stroke: | 50.0 x 63.1mm |
| Transmission/Final Drive: | 5-speed/chain |
| Fuel Delivery: | Electronic fuel injection w/ 24mm throttle body |
| Clutch: | Wet, multiplate; cable operation |
| Engine Management/Ignition: | PGM-FI w/ automatic enrichment, transistorized ignition |
| Frame: | Steel-tube backbone chassis |
| Front Suspension: | 31mm USD fork; 3.9 in. travel |
| Rear Suspension: | Twin shocks; 4.0 in. travel |
| Front Brake: | 2-piston caliper, 220mm disc w/ ABS |
| Rear Brake: | 1-piston caliper, 190mm disc w/ ABS |
| Wheels, Front/Rear: | Cast aluminum; 12 in. |
| Tires, Front/Rear: | 120/80-12 / 130/80-12 |
| Rake/Trail: | 25.0°/3.2 in. |
| Wheelbase: | 45.0 in. |
| Ground Clearance: | 6.9 in. |
| Seat Height: | 30.5 in. |
| Fuel Capacity: | 1.5 gal. |
| Wet Weight: | 231 lb. |
| Contact: | powersports.honda.com |