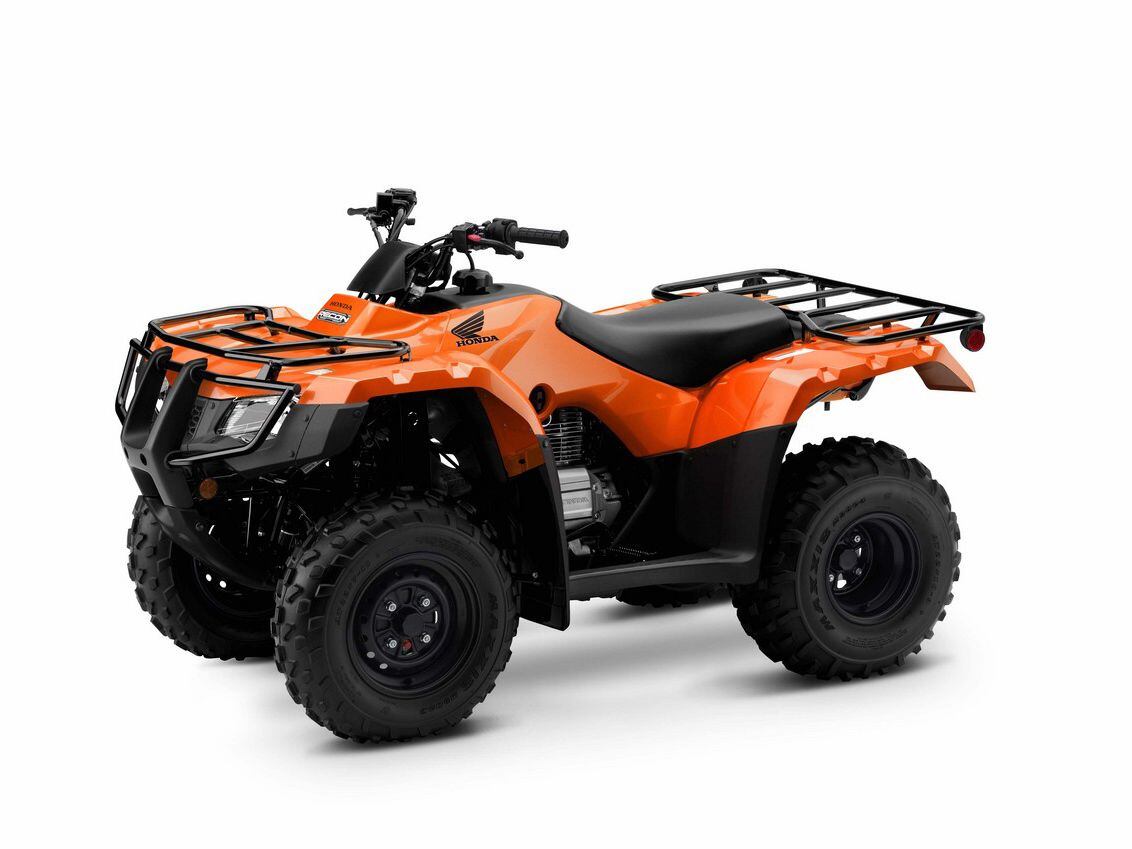 The 2022 Honda FourTrax Recon in Zest Orange. (Honda/)
Ups
Honda reliability, known entity on replacement parts and repairs, simple to use and work on, low entry price, two transmission options
Downs
Carbureted engine, two-wheel drive, fairly outdated
Verdict
The Honda FourTrax Recon is one of Honda's workhorses, and even if it's a bit down on features and grunt it will still outlive us all.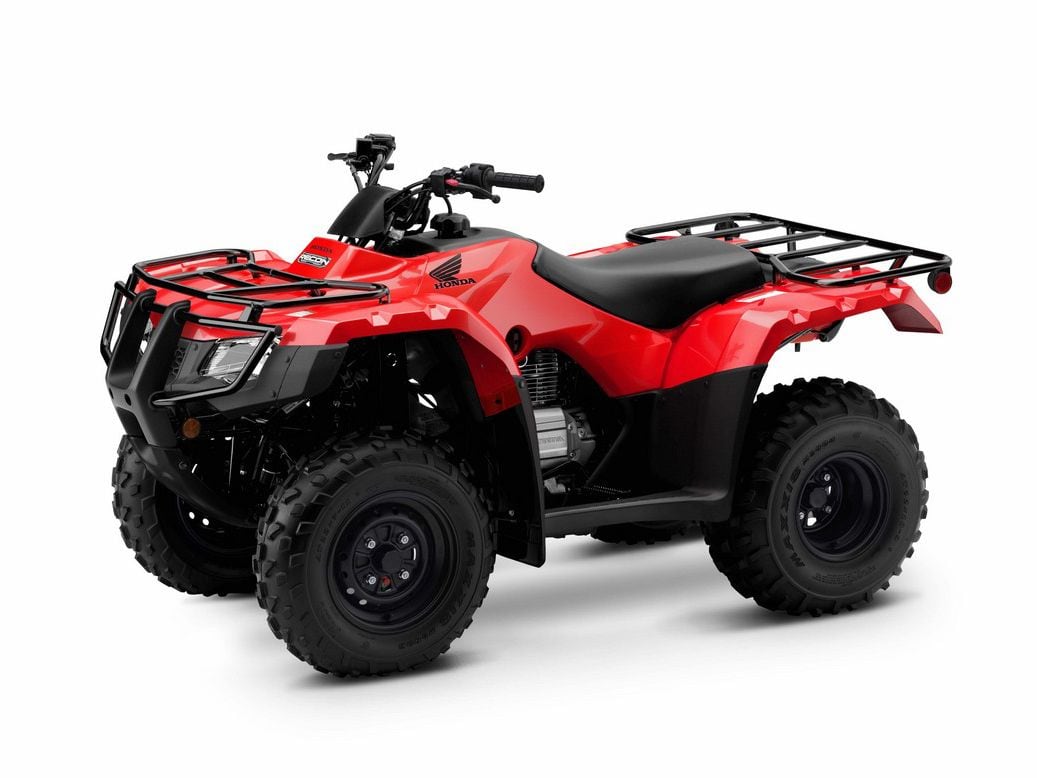 The 2022 Honda FourTrax Recon in Red. (Honda/)
Overview
Honda's FourTrax Recon is a stalwart of the small utility ATV space, and despite only offering a 229cc engine and two-wheel drive, it remains a good machine that built its reputation on durability as well as ease of use and serviceability.
Updates for 2022
The Honda FourTrax Recon is unchanged for 2022.
Pricing and Which One to Buy
2022 Honda FourTrax Recon: $4,499
2022 Honda FourTrax Recon ES: $4,749
The only difference between the base Recon and the Recon ES is the higher trim's addition of Honda's ESP shifting system. Instead of the five-speed manual transmission of the base model, the ES has two handlebar-mounted buttons for doing the same deed without the foot lever. Whether you want to shift with your hand or foot is the only means for choosing the base or ES trim. You really can't go wrong with either.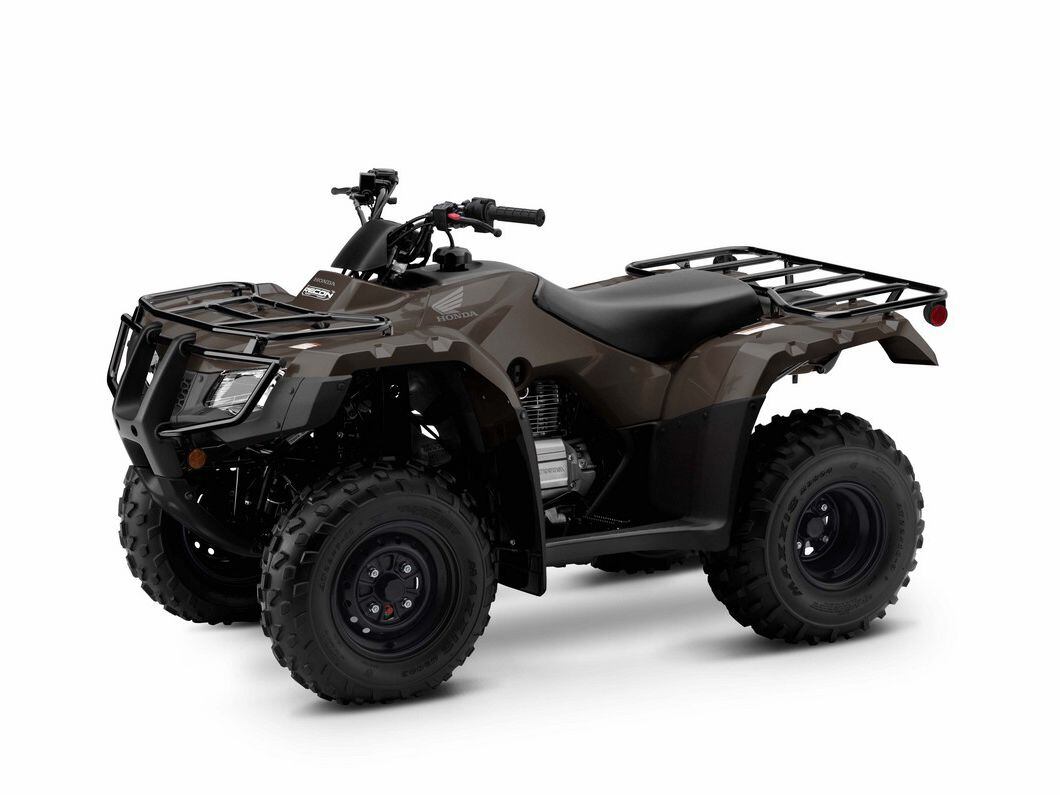 The 2022 Honda FourTrax Recon in Moose Brown. (Honda/)
Powertrain: Engine, Transmission, and Performance
The FourTrax Recon uses the 229cc engine that is extremely familiar by now. This four-stroke isn't particularly peppy or willing to get wrung out but it does boast excellent reliability and durability. Unfortunately it is carbureted and we'd like to see it get electronic fuel injection to join the 21st century. Honda is proud that the engine sits low in the frame to create a low center of gravity and also uses a dry-sump oil system.
Interestingly, Honda offers two different transmission choices in its entry-level FourTrax Recon. The standard model uses a five-speed, clutchless manual gearbox and the ES gets a hand-controlled electronic shifter to toggle through the gears. Either option sends power exclusively to the rear tires via shaft drive.
The Recon isn't a performance machine but its combination of shift-it-yourself engine and relatively light weight make its performance just enough for the class and size group. The Recon won't set the performance world on fire, but that doesn't mean it's not a good time. Just don't expect to win any races on one.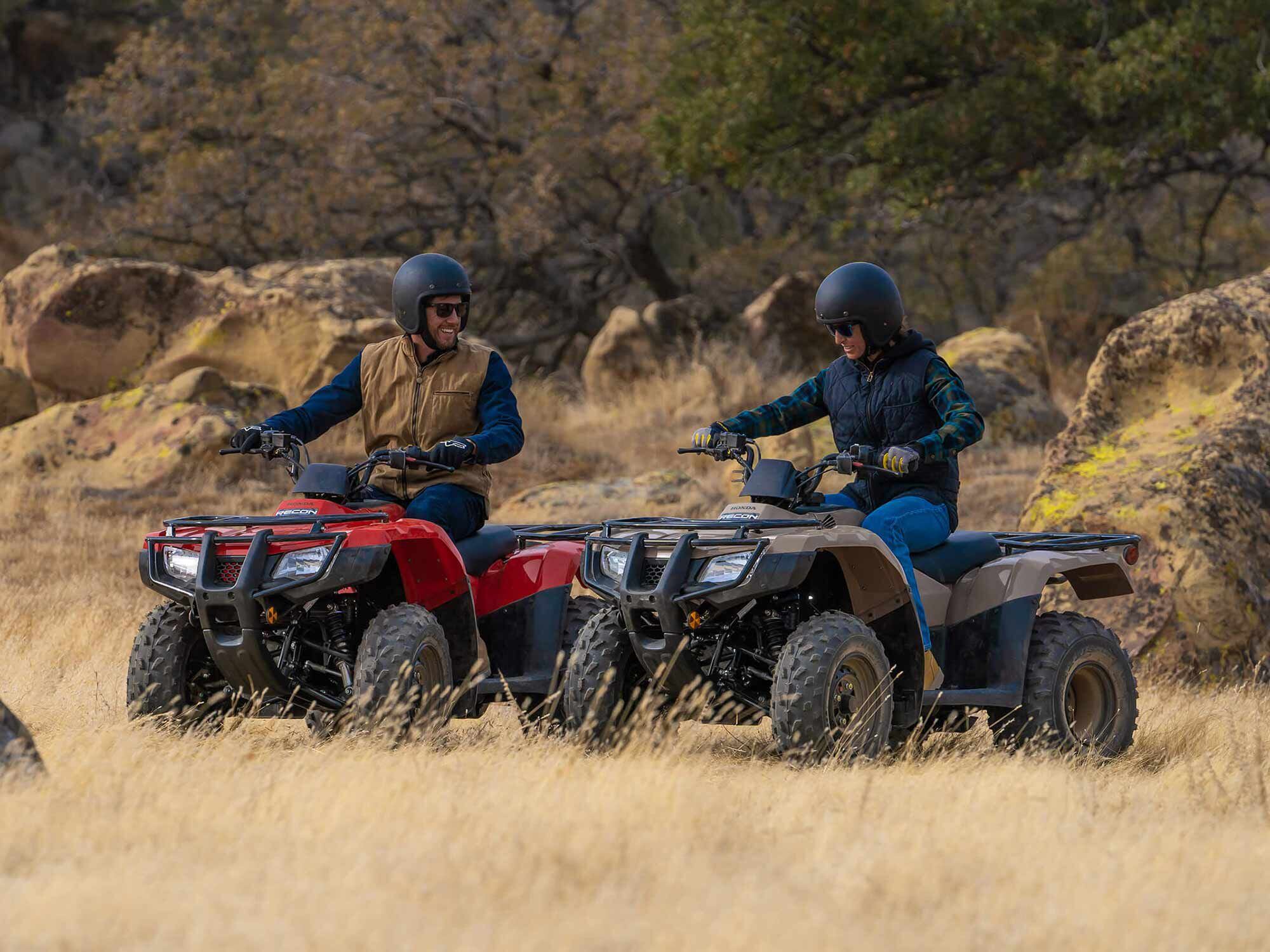 The lightweight Honda FourTrax Recon is a nimble trail performer. (Honda/)
Handling
If you go into riding the FourTrax Recon and don't expect much of its handling, you'll be pleasantly surprised. The dry-sump engine layout and approximately 440-pound weight make for a fairly sprightly machine. It'll get smoked by just about anything else out there, but it has low limits that can easily be explored thanks to limited suspension travel of 5.1 inches front and 4.9 inches rear, which in turn makes it a fun quad to play around with on tight trails. While its front independent wishbone and rear single shock swingarm are outdated, they work and play into the long-run durability the Recon made its name on.
Brakes
The Recon has dual sealed hydraulic drum brakes in the front and a sealed mechanical drum in the rear. While we would welcome discs front and rear, the Recon's drums cost very little to maintain and get the job done. That said, we hope to see discs on the Recon in the future as they improve braking ability and confidence.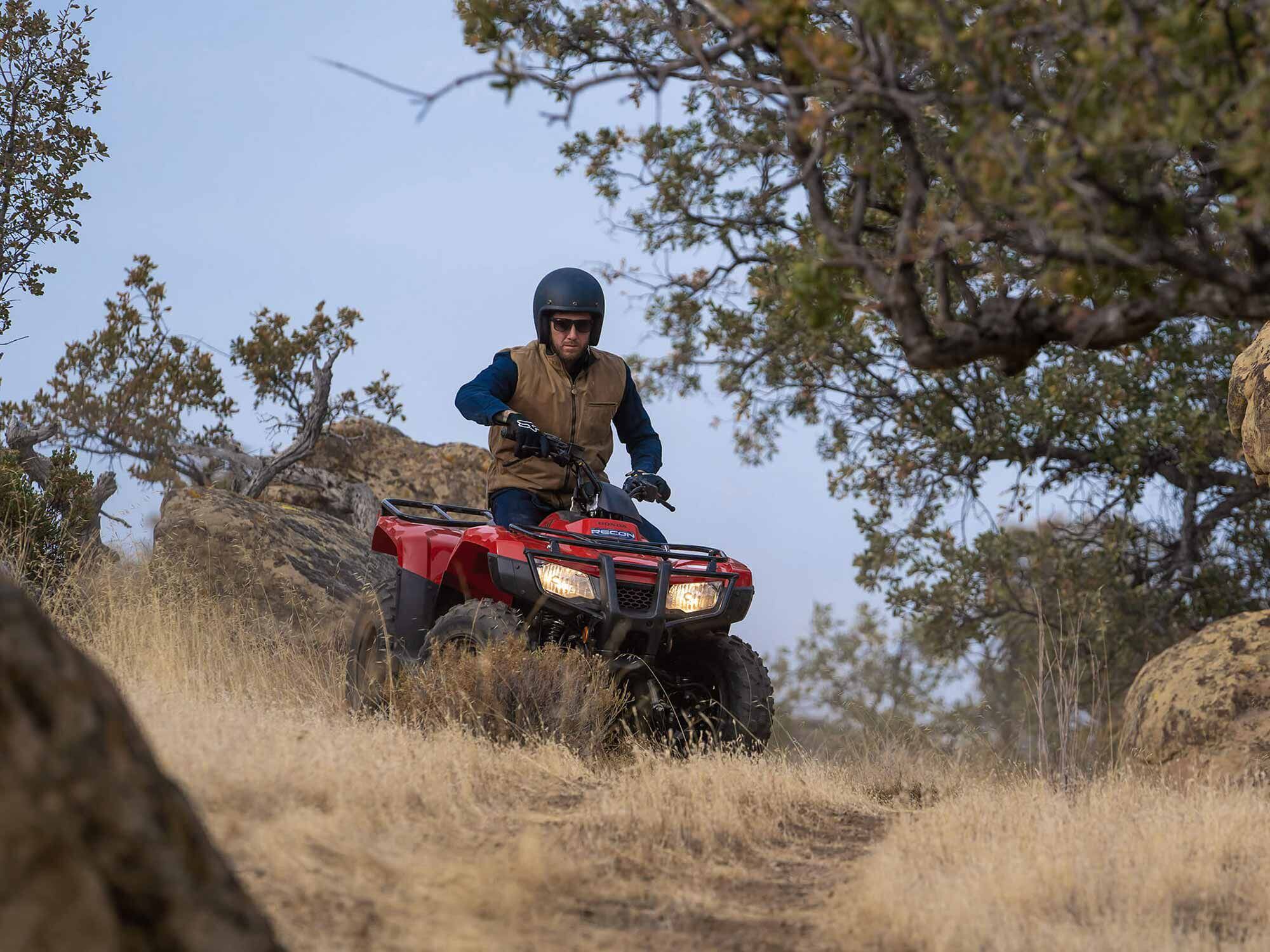 The 2022 Honda FourTrax Recon. (Honda/)
Ergonomics: Comfort and Utility
The FourTrax Recon plays the difficult game of "one size fits all." It's expected to straddle the line of comfortable and safe for younger riders exploring on their first non-youth ATV as well as big and spacious enough for larger and experienced riders using it on the farm or as an inexpensive trail toy. Its ergonomics fare accordingly. As expected, smaller riders will feel right at home while larger riders will feel somewhat cramped. With this in mind, we recommend the ESP push-button shifter for bigger riders as it frees up room in the floorboard and makes it easier in not having to squeeze large boots into the shifter area.
On the utility front, the Recon offers racks both front and rear, rated to carry 33 pounds and 66 pounds, respectively. These numbers pale in comparison to the weights that larger machines can hold, yet the combined load totals nearly a quarter of the Recon's own weight and that's nothing to scoff at.
Towing
The FourTrax Recon is not rated for towing. We expect it could tow a light trailer with ease though.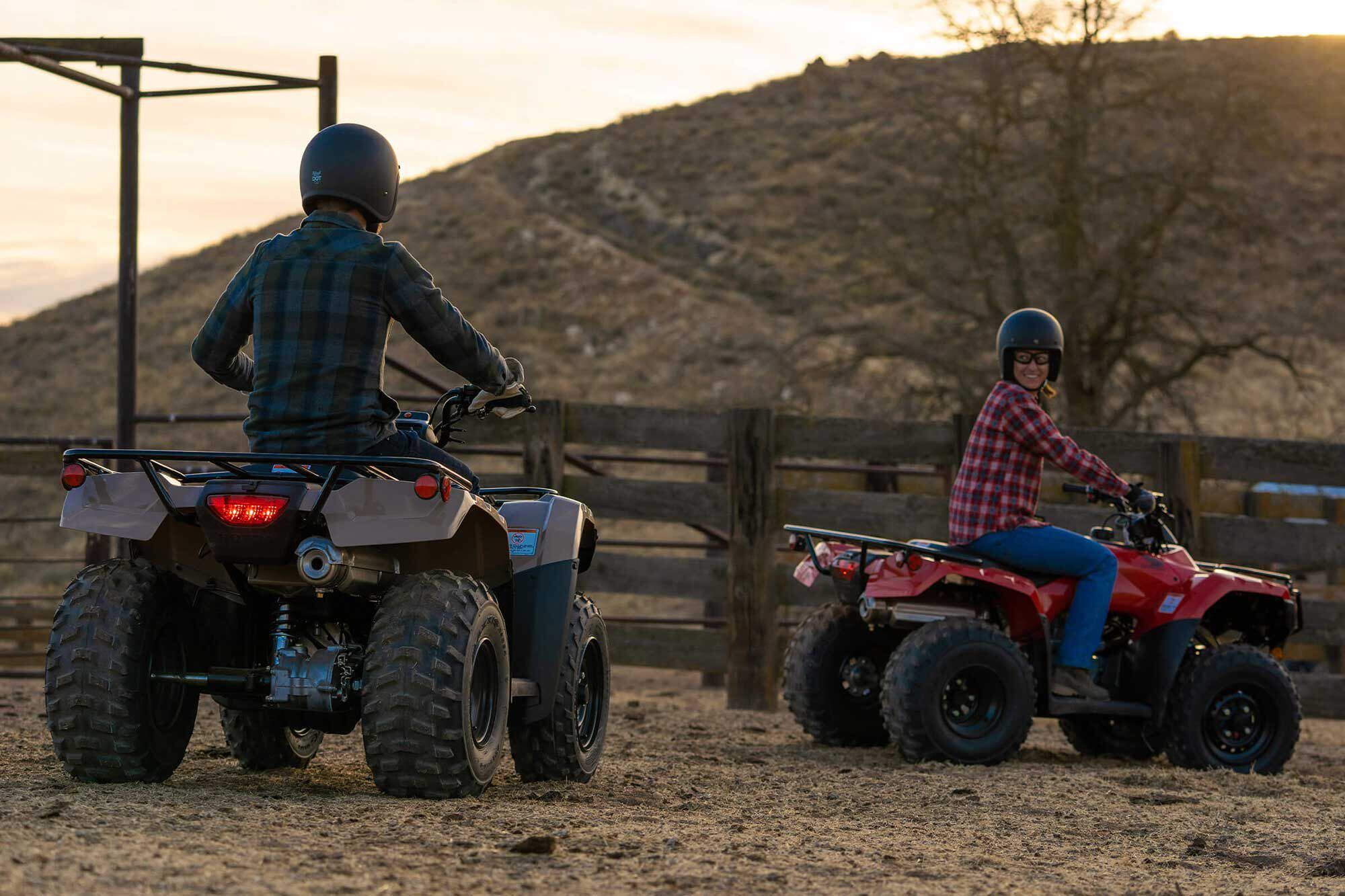 If your needs are light-duty ranch chores, Honda FourTrax Recon has your back. (Honda/)
Electronics
There's not much in the way of electronics or techy, flashy features on the FourTrax Recon. Honda states the Recon has electric start, and there's an LED taillight and brake light. It has headlights as well, but that's where it starts and ends with the Recon on the technology front.
The Recon's electronic push-button shifter is worth noting though, as it means the Recon offers something unique in its class.
Warranty and Maintenance Coverage
The 2022 FourTrax Recon carries Honda's one-year transferable unlimited-mileage warranty, and the HondaCare Protection Plan is offered as an option for extended coverage.
2022 Honda FourTrax Recon Claimed Specifications
| | |
| --- | --- |
| MSRP: | $4,499-4,749 |
| Engine: | OHV, air-cooled, four-stroke single-cylinder |
| Displacement: | 229cc |
| Bore x Stroke: | 68.5 x 62.2mm |
| Compression Ratio: | 9.2:1 |
| Transmission: | 5-speed manual w/ reverse / electric-shift 5-speed w/ reverse (ESP) |
| Claimed Horsepower: | N/A |
| Claimed Torque: | N/A |
| Fuel System: | 22mm carburetor |
| Drivetrain: | Shaft-driven 2WD |
| Front Suspension: | Independent double wishbone; 5.1 in. of travel |
| Rear Suspension: | Monoshock swingarm; 4.9 in. travel |
| Front Brakes: | Dual sealed hydraulic drum |
| Rear Brakes: | Sealed mechanical drum |
| Wheels, Front/Rear: | Steel; 11 in. / 9 in. |
| Tires, Front/Rear: | Maxxis; 22×7-11 / 22×10-9 |
| Length: | 75.0 in. |
| Width: | 40.7 in. |
| Height: | 42.1 in. |
| Wheelbase: | 44.5 in. |
| Rack Capacity, Front/Rear: | 33 lb./66 lb. |
| Towing Capacity: | N/A |
| Seat Height: | 31.2 in. |
| Ground Clearance: | 6.0 in. |
| Steering: | Manual |
| Turning Radius: | 8.5 ft. |
| Claimed Dry Weight: | 437 (Recon); 443 lb. (Recon ES) |
| Fuel Capacity: | 2.4 gal. |
| Warranty: | 1-year transferable unlimited mileage; HondaCare Protection Plan optional |
| Minimum Operator Age: | 16 |
| Availability: | Now |
| Contact: | powersports.honda.com |