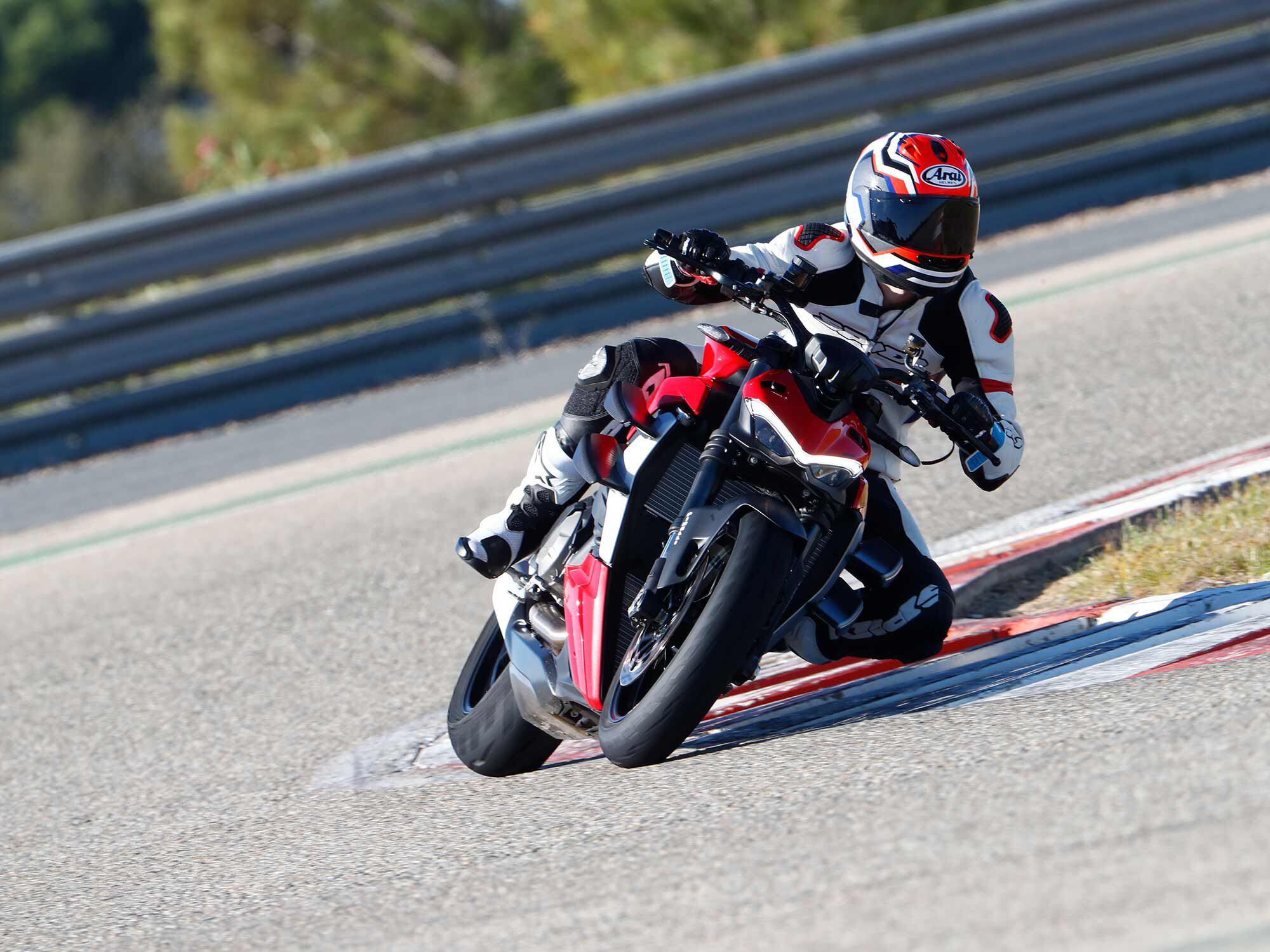 To properly sample the all-new 2022 Ducati Streetfighter V2, Cycle World jet-set to Spain to put it through its paces. Testing included a half day lapping at Circuito Monteblanco and the rest ripping through the mountains outside of Seville. (Ducati/)
All we've ever wanted is bare-skinned superbikes with serious horsepower and cornering abilities to match. What we've gotten is a number of so-called super-nakeds that are merely knife-edge racetrack machines with a one-piece handlebar. Talk about untapped potential. But what if we asked for a little too much?
Take the Ducati Streetfighter V4 S we last tested, for example: A very nearly stripped-down repli-racer built upon the apex-smashing Panigale V4 superbike platform. The Italians hardly conceded to a smidge of practicality in the way of performance, considering the 180 hp from its 1,103cc Desmosedici Stradale powerplant, knife-edge handling, and no-expense-spared componentry. A wicked, adrenaline-pumping ride? No question. But that raw performance on tap comes at the sacrifice of everyday versatility, not to mention how its $25,195 starting price hinders accessibility.
Behold therefore the debut of the 2022 Streetfighter V2, a motorcycle Ducati promotes as a more practical and approachable addition to its lineup while maintaining Borgo Panigale's serious performance and "Fight Formula'' design concept. It's still a streetfighter, in every sense.
That means superbike influence, this time from the middleweight-plus Panigale V2. Ducati stripped the Panigale of most of its bodywork, adjusted the riding position, nipped and tucked all the right areas, and threw it to the wolves as "a new fighter in town."
While the 955cc Superquadro 90-degree V-twin engine is in principle identical to the Panigale V2, Ducati made slight modifications for more practical street performance. Final drive gearing has been shortened via the addition of two teeth to the rear sprocket to aid engine response. Ducati claims the powerplant is good for 153 hp at 10,750 rpm and 74.8 pound-feet of torque at 9,000 rpm. Considering that's 55 hp less than the claimed 208 hp of the flagship V4 model, it's a more approachable engine package for a wider range of riders, yet with serious potential.
The Ducati Streetfighter V2 is essentially a stripped-down, bare-skinned version of the Panigale V2 sportbike and aimed at being a more practical option to its Streetfighter lineup. (Ducati/)
That potential can be felt on both road and racetrack. The Streetfighter V2 has the subtle touch of a gentle giant at low rpm and a rough-and-tumble personality when ridden with aggression. Off-idle fueling and initial throttle response is direct with a solid connection to the rear wheel via Ducati's finely calibrated ride-by-wire system. It's easy to romp around between 5,000 and 8,000 rpm, taking advantage of the V2′s broad torque spread. Honestly, riders will rarely need to leave this range while shredding their favorite winding backroads; there's enough power to maintain chassis composure at every apex and then grunt to the exit with speed.
But once revved past 8,000 rpm, the engine experiences a power surge that's a reminder of its superbike roots. There's a small window from 8,000 rpm to around 10,000 where the Streetfighter punches into a higher weight class with breathtaking acceleration and lofting wheelies, which may be effective at reducing front-tire wear. Its true fighting spirit is short-lived, however, as it quickly signs off toward its 11,500 rpm redline; a gear change via the clutchless Ducati Quick Shift (DQS) EVO 2 system managing the bike's well-spaced six-speed gearbox is required. At the racetrack, the V2 lives in this zone, making for an otherworldly good time every session.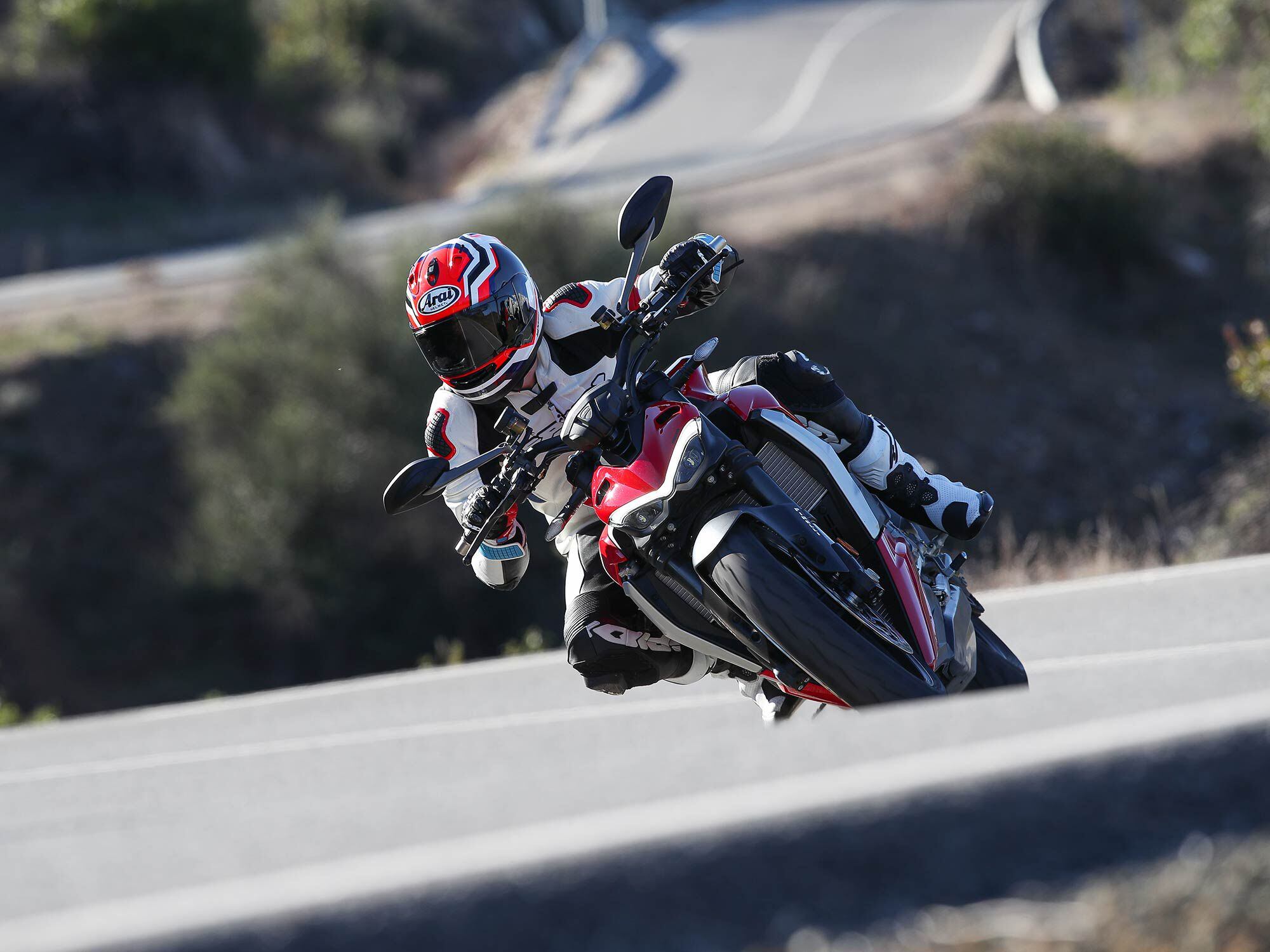 Absolute confidence and chassis composure at the racetrack translates to superb street performance. (Ducati/)
Keeping in line with Ducati's intentions, the Streetfighter V2′s powerplant offers a solid balance of versatility, flexibility, and fighting spirit. Credit Ducati's sophisticated six-axis Bosch IMU-based electronic rider aids suite with tailoring the Streetfighter into a manageable motorcycle for every scenario, via the assistance of its "predictive" Ducati Traction Control (DTC) EVO 2, Ducati Wheelie Control (DWC) EVO, and Engine Brake Control (EBC) EVO systems. In total, DTC is selectable in eight levels plus off, four levels of DWC, and three settings of EBC, including three choices in throttle response settings and an option to limit peak output to 110 hp.
To make sense of all of the rider-aid selections are three riding modes, each with preset parameters, including Sport, Road, and Wet. Even better, these modes can be individually customized to rider preferences via the Streetfighter V2′s 4.3-inch TFT display. Toggling to level 3 of DTC and level 1 of DWC offered a balance of predictable on-throttle control of the OE-fitted Pirelli Diablo Rosso IV rubber and sheer corner exit speed, not to mention hoisting low-trajectory wheelies. Fight on!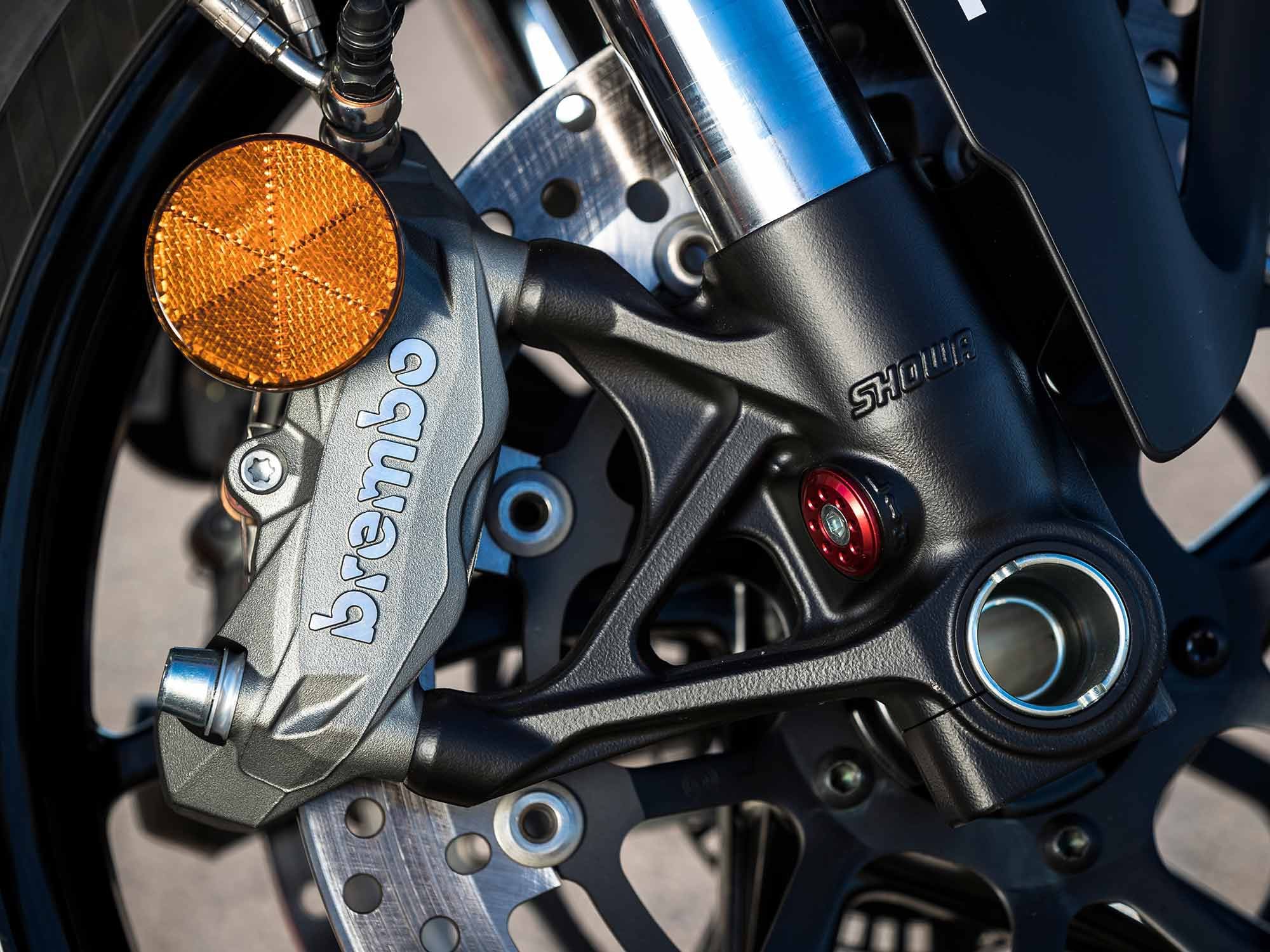 The Streetfighter V2 is stopped via the same Brembo M4.32 Monoblock brake calipers as the Panigale, but utilizes a less aggressive pad compound that hinders feel at the brake lever. Still, the brakes work well, and Ducati's ABS Cornering EVO system is top-notch. (Ducati/)
The Streetfighter's chassis is remarkably well-balanced. In fact, I wouldn't shy away from calling it the highlight of our first ride. Although it's fundamentally the same running gear as the Panigale V2′s, Ducati lengthened the single-sided swingarm by 16mm (0.6 inch) for additional stability and added two chain links to offset the gearing change. The final result is a wheelbase 26mm (1 inch) longer than the Panigale's. But while the straight-line stability is excellent, what we are after is apex smashing, the very characteristic that makes the Streetfighter so good. It carves, quickly, with serious front-end feel that can be relied upon and planted midcorner composure, all of it complemented by a Showa BPF fork and Sachs shock that are resilient enough for racetrack conditions and balanced enough for on-road comfort.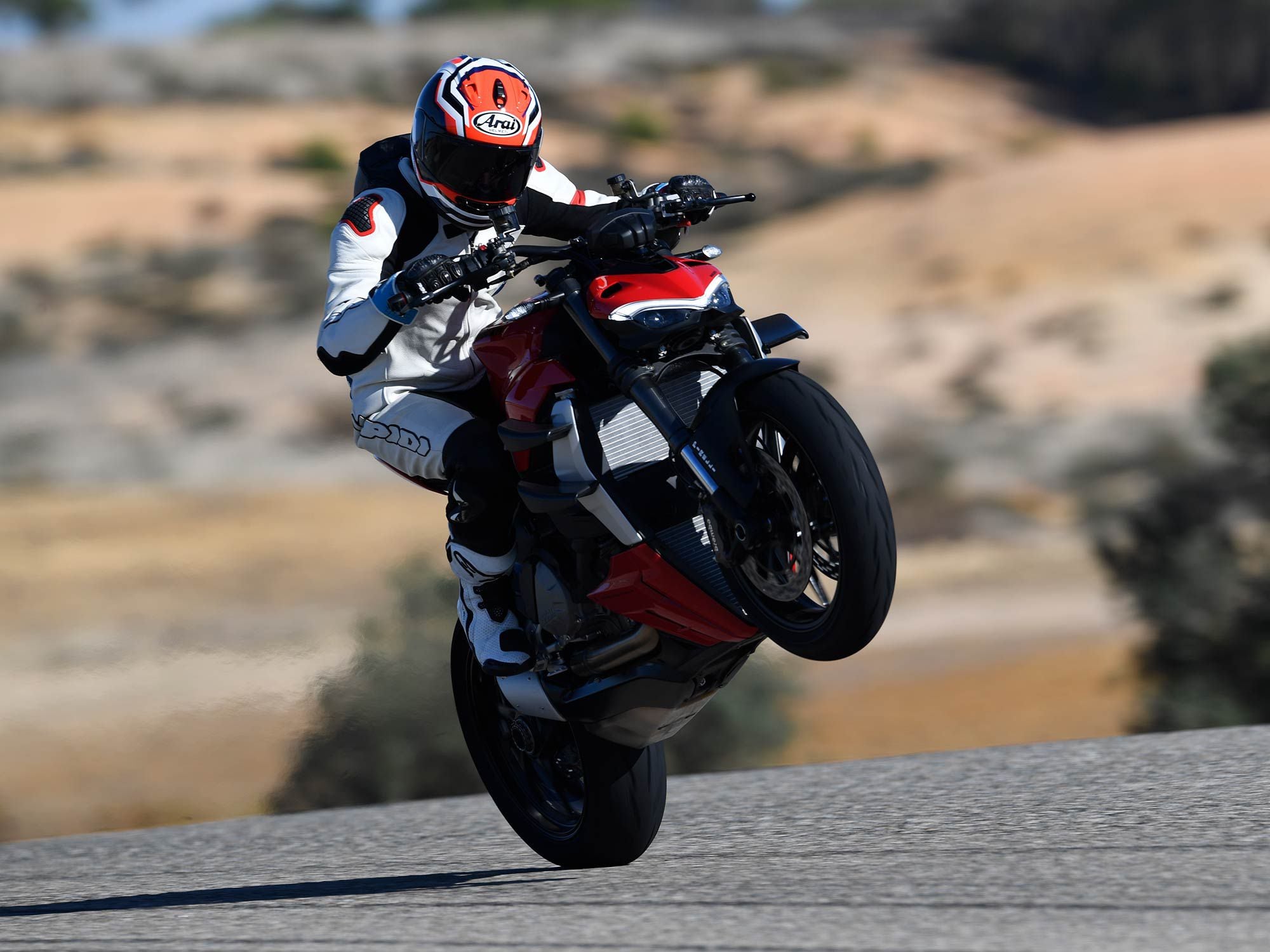 True to the Streetfighter badging, the V2 easily lofts the front tire tread skyward. (Ducati/)
As this bike is a stripped-down, lean-muscle version of the Panigale V2, Ducati pushed the footpeg position down and forward to a less aggressive stance, thickened and widened the saddle shape for more comfort, and fitted the Streetfighter with a motocross-style handlebar. Overall comfort is quite good and viable for the daily ride, but aggressive enough to take advantage of the V2′s sporting prowess. That said, the one-piece handlebar is pushed forward enough to create an uncomfortable wrist pressure while logging big miles or extended track sessions. Given more testing time, it would have been worth rolling the handlebar back slightly in the clamp.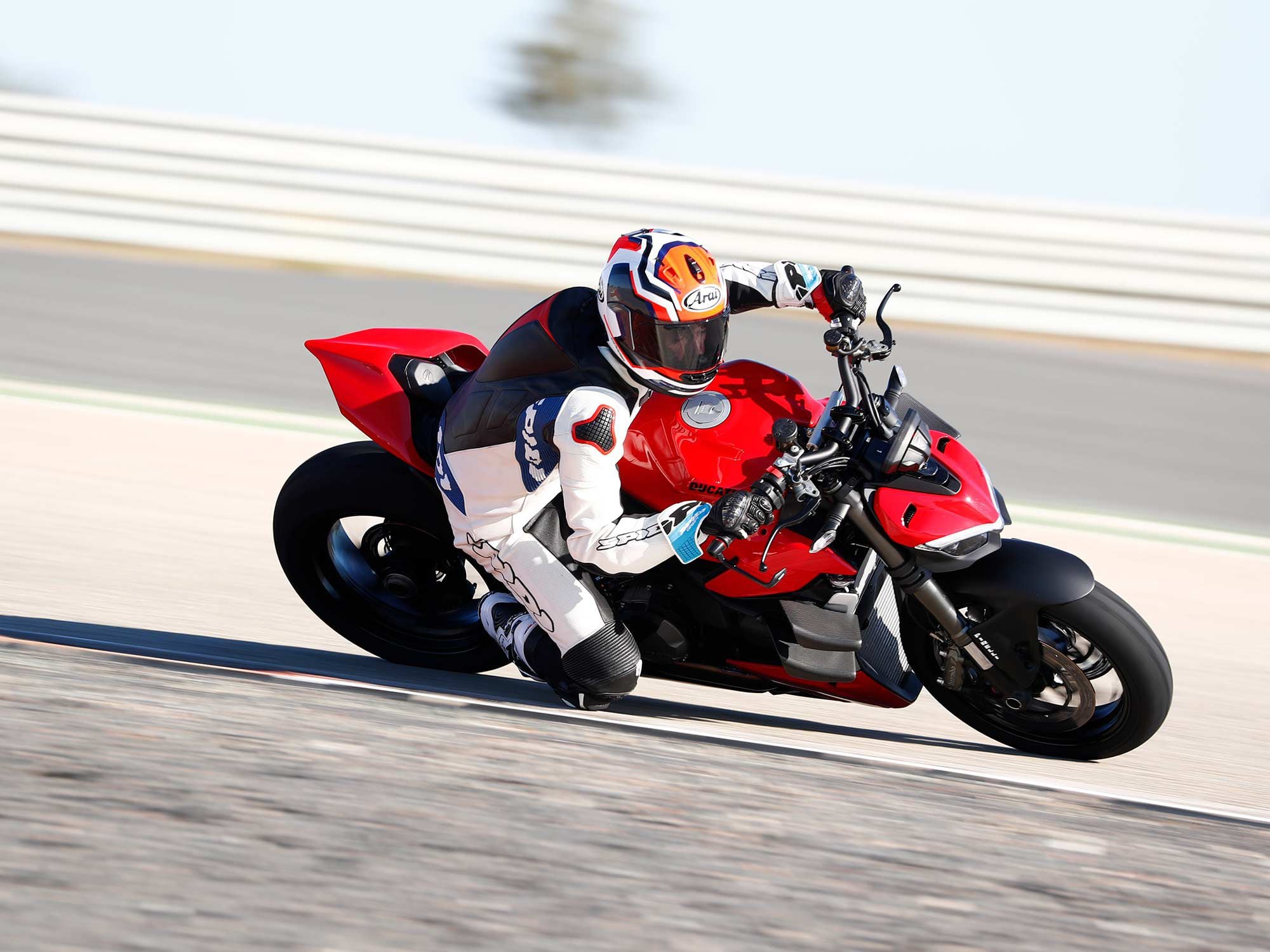 A sticky set of Pirelli Diablo Rosso IV glues the Streetfighter to the road with solid grip and feel, while handling racetrack demands with confidence. (Ducati/)
The Ducati Streetfighter V2 represents a balance of high-level technical excellence with practicality and versatility, one that makes premium Italian motorsport a little easier to reach. The engine's power delivery is engaging, entertaining, and an undeniably fun time on two wheels, yet a realistic option for everyday riding with less chance of a run-in with the law than you might conceivably experience on the V4. Smooth, neutral handling adds to the experience, but this bike would have no problem crushing the apex of Monza's Parabolica. Not to mention that it's dripping with race-inspired electronics.
No Ducati comes cheap, but the Streetfighter V2′s price tag is easier to accept, as its rip-per-dollar ratio is high in comparison to the V4. The small(er)-displacement Streetfighter V2 will retail in the United States for a starting price of $16,995 beginning in February of 2022.
The Streetfighter V2 retails for $16,995, while Ducati offers a number of performance-minded accessories via its parts catalog, including this biplane winglets fitted to our test unit at the racetrack. (Ducati/)
2022 Ducati Streetfighter V2 Specs
| | |
| --- | --- |
| MSRP: | $16,995 |
| Engine: | Superquadro liquid-cooled, 90-degree V-twin; 4 valves/cyl. |
| Displacement: | 955cc |
| Bore x Stroke: | 100.0 x 60.8mm |
| Compression Ratio: | 12.5:1 |
| Transmission/Final Drive: | 6-speed/chain |
| Claimed Horsepower: | 153.0 hp @ 10,750 rpm |
| Claimed Torque: | 74.8 lb.-ft. @ 9,000 rpm |
| Fuel System: | Electronic fuel injection w/ ride-by-wire |
| Clutch: | Wet, multiplate slipper; hydraulic actuation |
| Frame: | Monocoque aluminum |
| Front Suspension: | 43mm Showa BPF fork, fully adjustable; 4.7 in. travel |
| Rear Suspension: | Sachs shock, fully adjustable; 5.1 in. travel |
| Front Brake: | Brembo M4.32 4-piston calipers, dual 320mm discs w/ Cornering ABS EVO |
| Rear Brake: | 2-piston caliper, 245mm disc w/ Cornering ABS EVO |
| Wheels, Front/Rear: | 5-spoke alloy; 17 x 3.50 in./17 x 5.50 in. |
| Tires, Front/Rear: | Pirelli Diablo Rosso IV; 120/70-17/ 180/60-17 |
| Rake/Trail: | 24.0°/3.7 in. |
| Wheelbase: | 57.7 in. |
| Seat Height: | 33.3 in. |
| Fuel Capacity: | 4.5 gal. |
| Claimed Wet Weight: | 441 lb. |
| Availability: | February 2022 |
| Contact: | ducati.com |