We swing a leg over Ducati's more refined Panigale V4 S superbike in this first ride from the official press introduction in southern Spain. (Milagro/)
Ducati's Panigale V4 S Superbike ($29,995) is the crown jewel of the Italian brand's lineup. As such, the Borgo Panigale factory continues to hone the performance of this V-4 powered rocket ship. Faster lap times with reduced rider effort is the name of the game. Will it be enough to keep Ducati atop the podium in the infinitely competitive liter-plus sportbike segment? To find out, we test rode the 2022 Ducati Panigale V4 S during its official international press launch event at the Circuito de Jerez–Ángel Nieto racing circuit in southern Spain.
2022 Ducati Panigale V4 S Engine and Transmission
As its model name announces, this Ducati is powered by a rip-roaring liquid-cooled 1,103cc Desmosedici Stradale V-Four. Inspired as it is by Ducati's MotoGP prototype, this engine shares the same 81mm cylinder bore, 90-degree configuration, counter-rotating crankshaft (which spins in the direction opposite its forged alloy rims), and—perhaps most importantly to some—the exhilarating intake and exhaust notes that make it a joy to ride.
For 2022, Ducati's Panigale V4 S superbike incorporates subtle changes to make it easier to ride for novice and professional riders alike. (Milagro/)
The engine benefits from an oil pump updated to mitigate pumping power loss. The exhaust outlet was increased 18% to reduce back pressure. The transmission's first, second, and sixth gears were lengthened by 11.6 percent, 5.6 percent, and 1.8 percent, respectively, to allow greater flexibility in slow turns, as the rider doesn't have to work the gearbox as much at lower speeds. Like before, an electronic quickshifter makes for immediate up- and downshifts, without the need to squeeze the clutch lever. Another plus is the solid shift feel between cogs and the brighter green shift light, about which more later.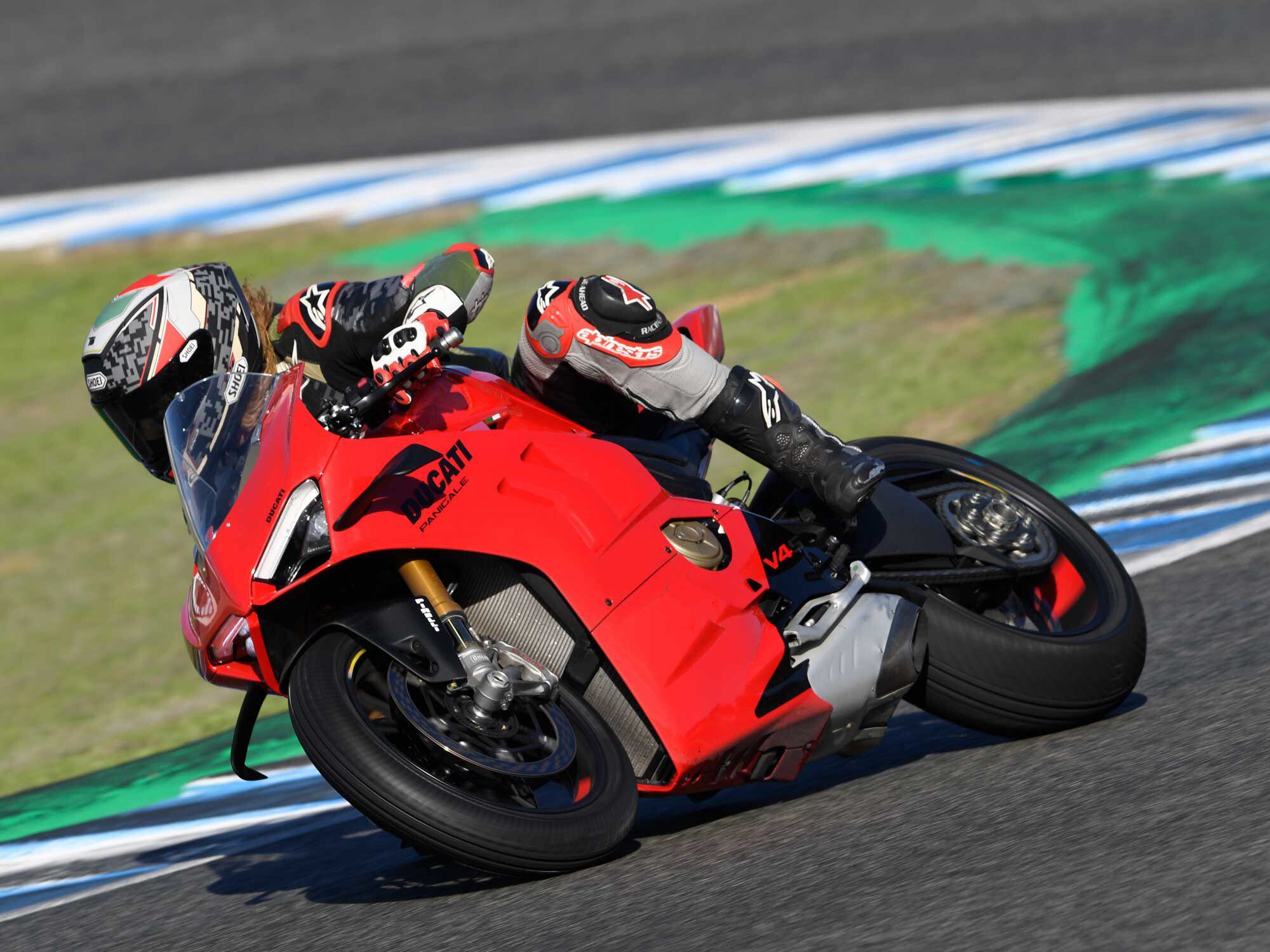 Even though it weighs more than the outgoing L-Twin-powered Panigale 1299, we're mesmerized by how agile the Panigale V4 S is in motion. (Milagro/)
Ducati says the engine is good for 90.6 pound-feet of torque at 11,000 rpm and 210 hp at 12,500 rpm. This is a slight reduction from last year's Panigale due to current Euro5 regulations. The last time we dyno tested this engine package, it delivered 79.6 pound-feet of torque at 11,310 rpm and 186.01 hp at 13,320 rpm at the business end of the 200-series Pirelli Diablo Supercorsa SP V3 tire. Those yearning for extra speed can opt for a DP3-spec Akrapovič titanium exhaust (closed-course use only). The exhaust emits 105 decibels (102 decibels with the decibel killer fitted) and adds 18 hp while dropping 11 pounds off the 431-pound (claimed fully fueled curb weight) V4 S.
The exhaust pipe outlet was increased to reduce back pressure. Ducati says the engine is good for 90.6 pound-feet of torque at 11,000 rpm and 210 hp at 12,500 rpm. This is a slight reduction from last year's Panigale due to current Euro5 regulations. (Milagro/)
2022 Ducati Panigale V4 S Electronics and Rider Aids
Since the introduction of ride-by-wire throttle, achieving accurate throttle response that's neither too abrupt nor too dull is no easy feat. But that's exactly what Ducati has accomplished.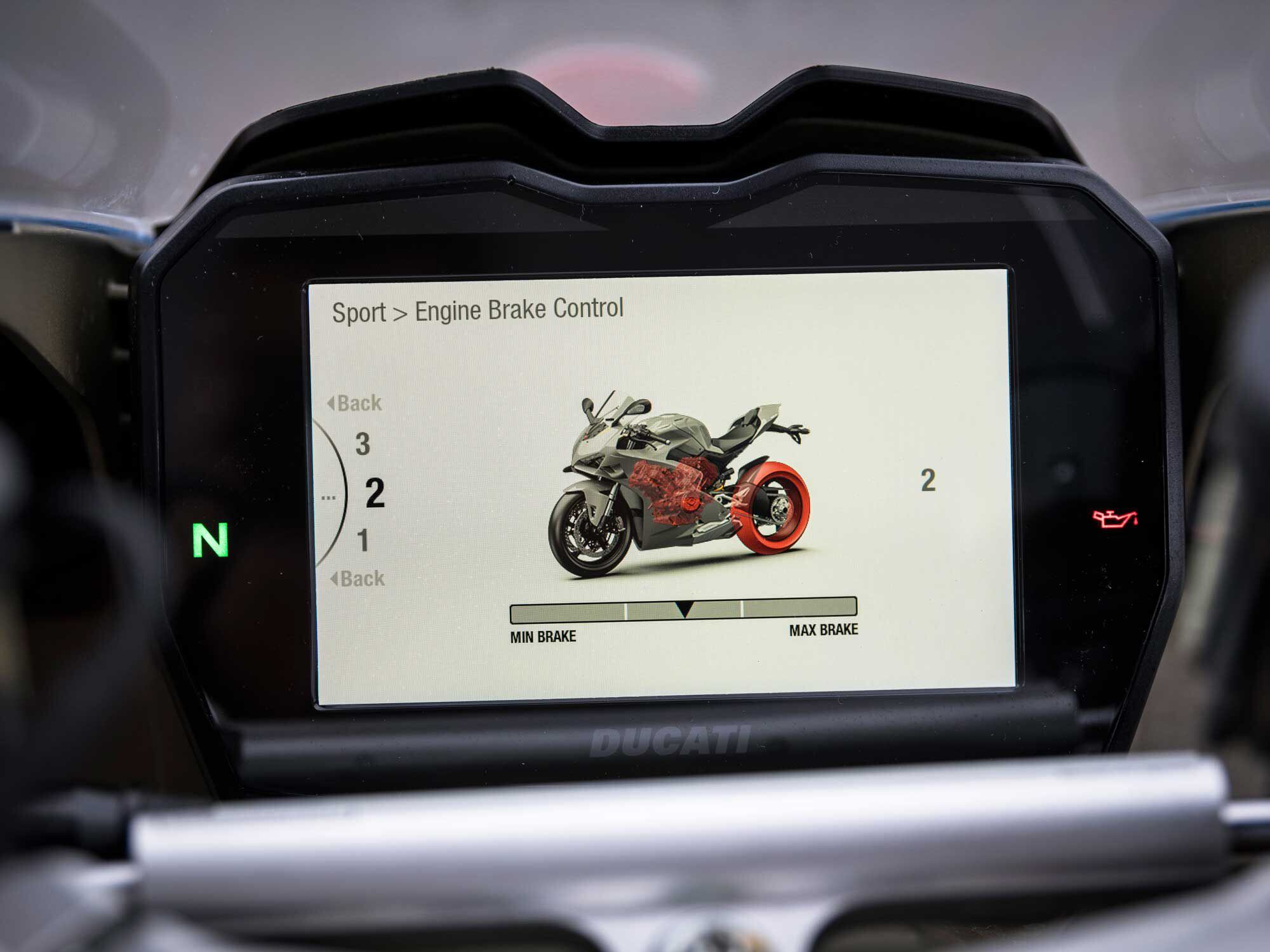 The 2022 Ducati Panigale V4 S offers a wide range of electronic countermeasures which make the motorcycle easier for all riders. (Milagro/)
Engineers spent considerable time honing each of the four combined engine power and throttle maps. The latest edition, Full mode, gives expert riders instant throttle response, with reduced electronic intervention in all but first gear. This makes the motorcycle feel like an extension of your wrist, with an astounding level of connection between the twist grip and the rear Pirelli.
The bike drives hard off turns, especially in the lower gears. We were surprised by how peppy it felt off the bottom, especially compared to the Medium power setting. Riders seeking smoother power delivery, especially in the first few cogs, will appreciate the High and Medium power modes.
Ducati's 1,103cc V-Four is easily one of our favorite modern superbike engine's. It offers plenty of character with a wide, hard-hitting powerband. (Milagro/)
Another subtle yet important upgrade is the individual torque mapping used in High and Medium modes. These maps are based on individual gear position, rather than being grouped maps (first/second, third, and fourth/fifth/sixth gears). This allows for more accurate torque delivery based on speed.
The Low setting, on the other hand, now limits maximum power to 150 hp with a more tempered throttle response. This is ideal for riders who are getting up to speed. This was especially useful during our initial laps of the 2.75-mile circuit in partly wet conditions, during which the setting made it easier to understand the dynamic of the throttle and judge rear grip on a foreign surface.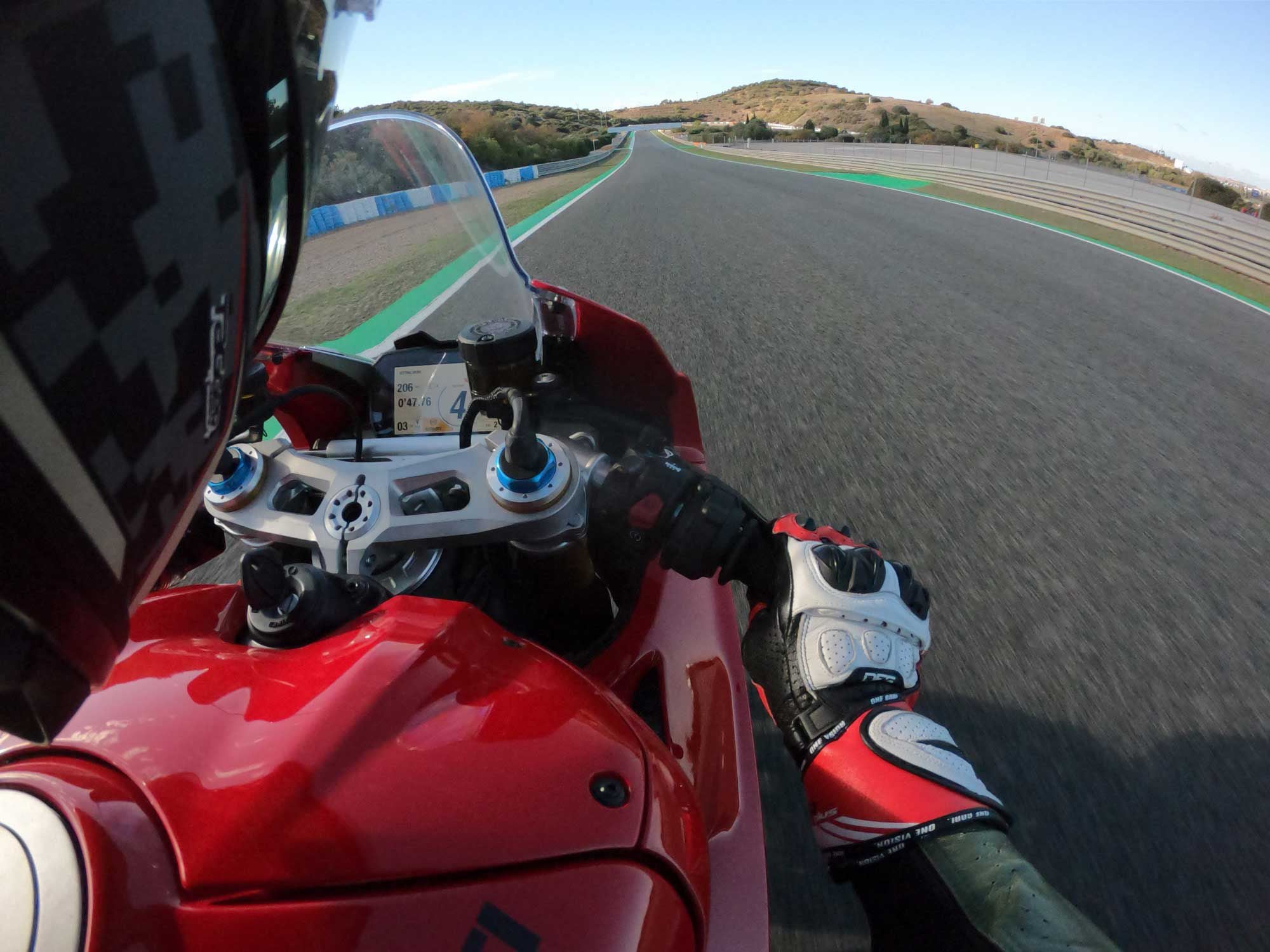 We were impressed with the intimate feel of the Panigale's 1,103cc V-Four in its most aggressive Full power setting. (Adam Waheed/)
A new color instrument panel gains sharper fonts and an updated display layout. In addition to the standard road readout, riders can select a racetrack specific setting, which Ducati calls "Track EVO," that makes it simpler to adjust traction, wheelie, slide and engine brake control programming on the fly. It also offers a lap timer and counter. We also appreciated the bright green shift light that lets you know when it's time to grab a gear.
As usual, the Panigale's electronic suite enables a wide range of adjustment for novices and professional riders alike. For instance, the eight-level adjustable wheelie control has a finite spread of options, so riders can tweak front wheel lift response when driving off turns. We are also big fans of the engine brake control, which allows more or less engine brake effect based on skill or vehicle dynamic preference during corner entry.
Grouped riding modes return, each with an ideal selection of electronic countermeasures. Riders can also customize each mode to their liking. The menu, similar to those found in Audi automobiles, displays a detailed image of the Panigale with highlighted areas inside the vehicle outline visually demonstrating the electronic modifications. It's a nice touch.
Still, menu navigation remains too clunky for our liking. For instance, after making a selection, the user must tediously scroll out of the menu before changes are saved. The handlebar-mounted switchgear could also benefit from improved tactile feel.
The rear portion of the fuel tank features a more vertical shape which makes it easier for the rider to squeeze with his or her knees. (Milagro/)
2022 Ducati Panigale V4 S Chassis and Suspension
The Panigale V4 continues to use Ducati's innovative front frame, which resembles a shorter version of a conventional twin-spar aluminum frame. The main frame connects the front and rear of the engine's cylinders, with an aluminum subframe supporting the rider and tail section. The pivot height of the single-sided swingarm was raised 0.2 inch to help keep the chassis more level during wide-open acceleration. We continue to be impressed with the chassis' high level of agility, despite it weighing a few pounds more than the retired L-Twin powered 1299 Panigale.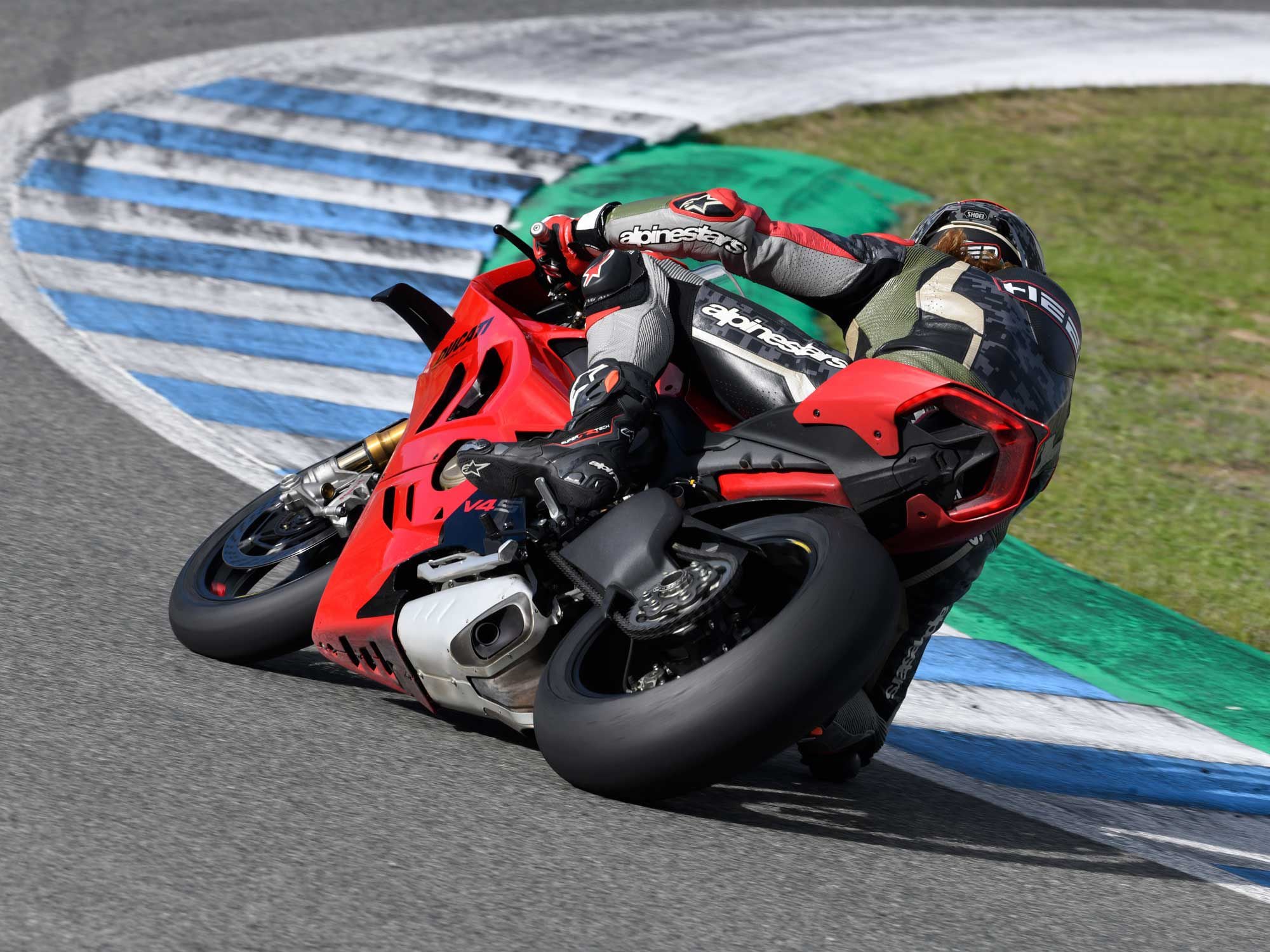 The reshaped and larger 4.49-gallon fuel tank and flat seat afford added control, especially during braking. (Milagro/)
The big news comes from the fitment of a gas-charged Öhlins NPX fork with 0.2 in. increase in travel and softer (yet again) spring rates. The suspension continues to benefit from Öhlins' marvelous Smart EC 2.0 semi-active programming front and rear, which allows the suspension to make adjustments in real time based on rider control input and vehicle load. Fixed damping adjustment is also offered for those seeking more consistent suspension action. At our pace, however, we feel comfortable relying on machine automation.
The winglets were reshaped to reduce drag. Ducati says they produce the same amount of downforce at speed. (Milagro/)
Stability during braking and corner entry are hallmark features of the Panigale V4. Now, with the addition of a pressurized fork, its handling capabilities have reached a new level. Riders can now work the front end even harder with the brakes and the front suspension will continue to offer a pleasing level of support and feel, urging the rider to try harder.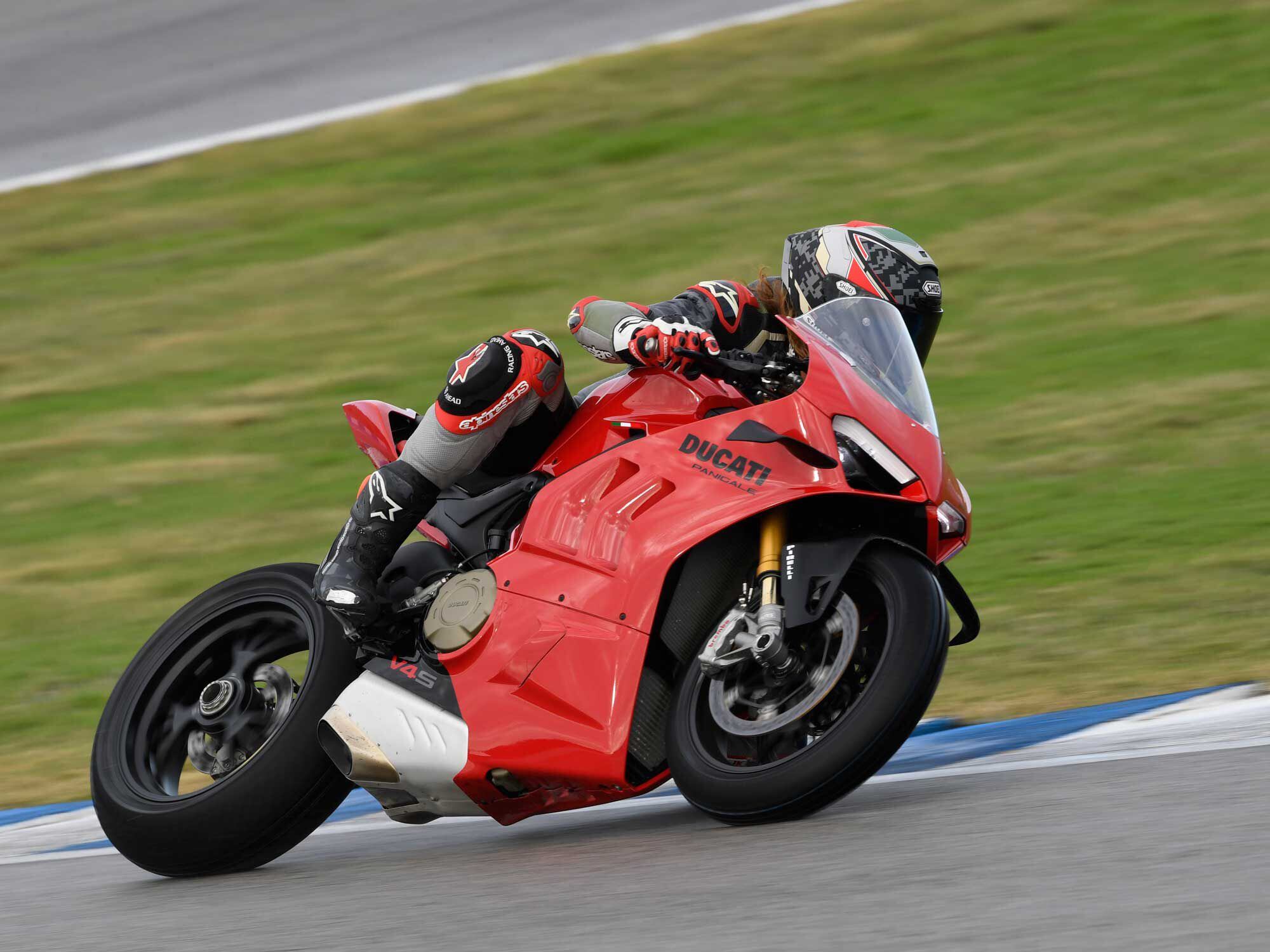 With a few pushes of a button the 2022 Panigale V4 S goes from mild to wild. This makes it easy for all riders to get up to speed with. (Milagro/)
Speaking of brakes, the Panigale's oversized 330mm discs and beautifully machined Brembo Stylema calipers are as good as it gets on a production sportbike. These components deliver intricate lever feel with an astounding degree of speed-shedding power. Three-way adjustable ABS permits the rider to further tailor chassis feel through turn-in with cornering function, rear wheel lift mitigation, and the ability to disable rear ABS .
An updated fuel tank with a more vertical rear section gives riders an improved surface for squeezing the quart-larger capacity 4.49-gallon fuel tank. The forward portion of the tank benefits from a new surface that's more compatible with the rider's forearms at extreme lean angles. Another pleasing change, especially for taller folks, is the flatter profile of the seat, which allows for added freedom of movement. It also now comes in a two-tone material.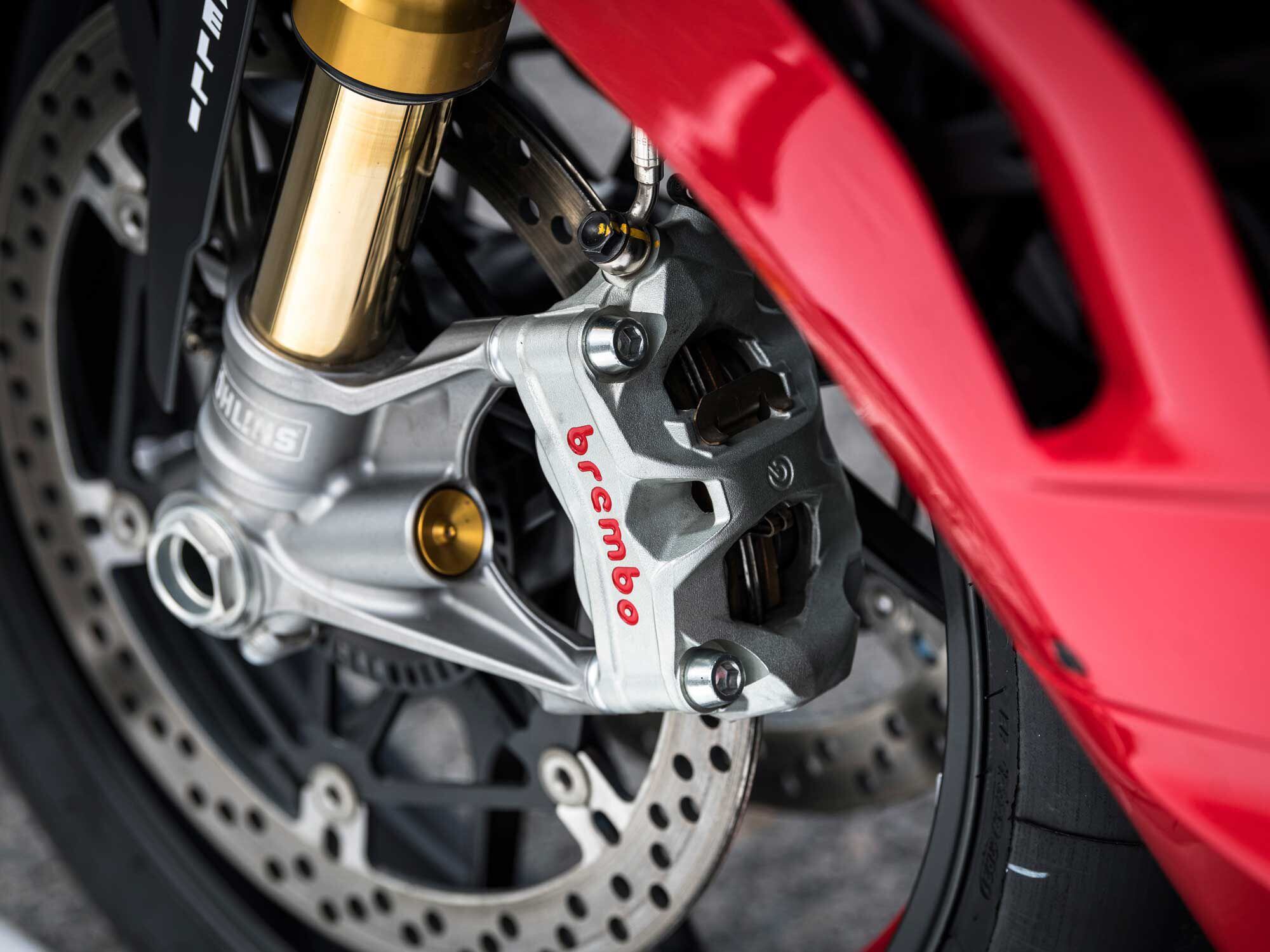 The Öhlins NPX gas-charged fork is a revelation, boosting the already very high handling prowess of the Panigale V4 S, especially during braking and corner entry. (Milagro/)
Slimmer load-generating wings have been incorporated into the front fairing. These wings present a more aerodynamic profile, yet still generate 57.3 pounds of front wheel downforce at 155.3 mph. This helps keep the front wheel in contact with pavement at speed while giving the front tire extra load through faster bends.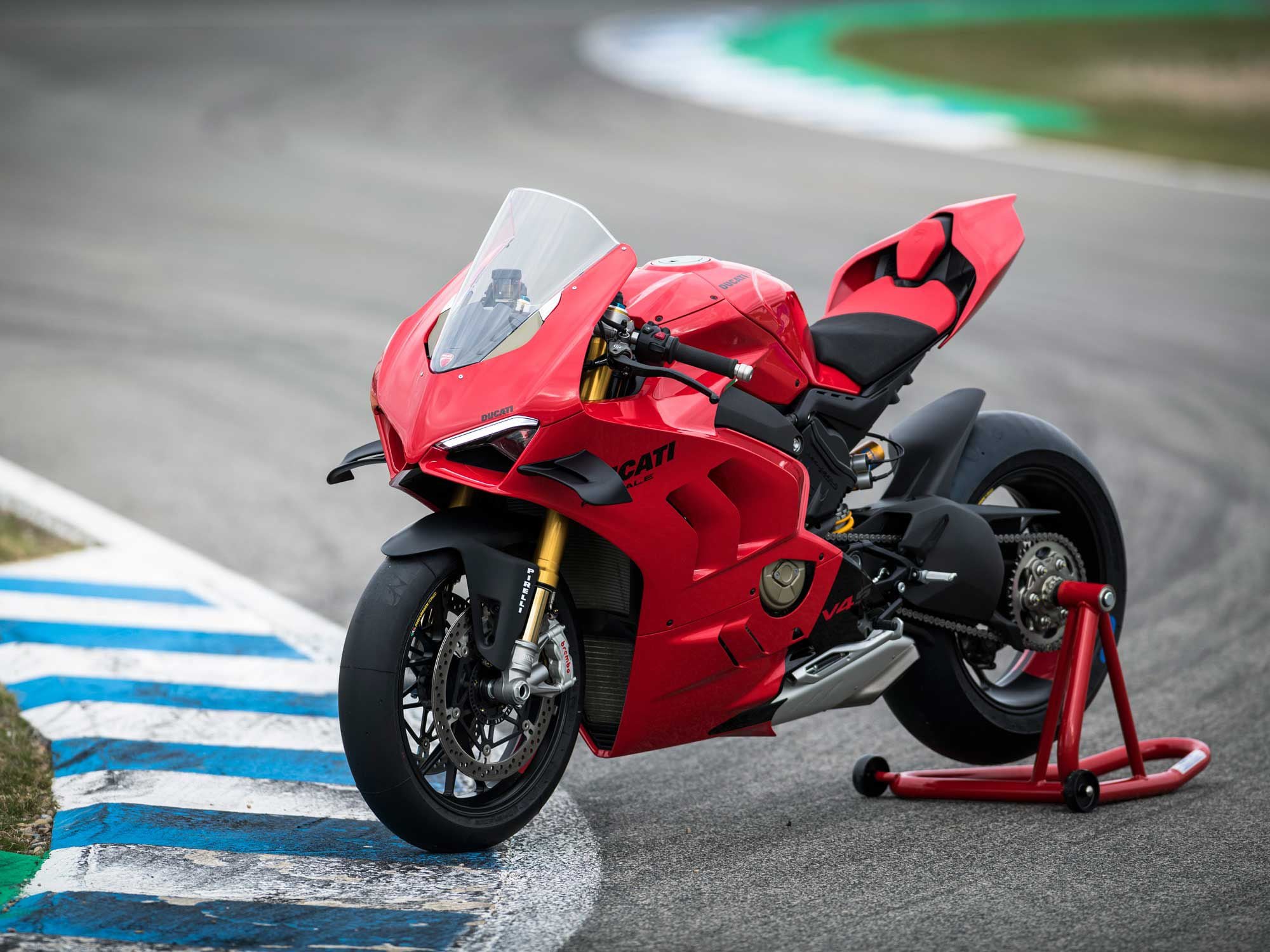 The 2022 Ducati Panigale V4 S Superbike rings in at $29,995 and carries a two-year warranty. (Milagro/)
2022 Ducati Panigale V4 S Conclusion
Still fast, still red, the 2022 Panigale V4 S is also still a hoot to ride, especially around a racing circuit. And we're mesmerized with its outright performance. That raw power has always come at the price of wearing out the rider—and with nearly 190 horsepower at the back tire, the Panigale V4 will always require a decent level of athletic aptitude. But now, with the subtle improvements Ducati has made, it'll be more friendly in all riders hands.
Gear Box
Helmet: Shoei X-Fourteen
Custom Helmet Paint: Tagger Designs
Suit: Alpinestars Race Replica V3 with Tech-Air Race Vest
Glove: Alpinestars GP Plus R V2
Boots: Alpinestars Supertech R
2022 Ducati Panigale V4 and V4 S Technical Specifications
| | |
| --- | --- |
| PRICE | $23,295 (base)/$29,995 (S) |
| ENGINE | 1,103cc Desmosedici Stradale 90-degree, liquid-cooled desmodromic V-4; 16-valve |
| BORE x STROKE | 81.0 x 53.5mm |
| COMPRESSION RATIO | 14.0:1 |
| FUEL DELIVERY | Dual-stage fuel injection |
| CLUTCH | Wet, multiplate slipper clutch; hydraulic actuation |
| TRANSMISSION/FINAL DRIVE | 6-speed/chain |
| FRAME | Aluminum front frame |
| FRONT SUSPENSION | 43mm fully adjustable Showa BPF; 4.7 in. travel (base) / 43mm Öhlins NIX 30 electronically adjustable for compression and rebound; 4.9 in. travel (S). |
| REAR SUSPENSION | Fully adjustable Sachs shock (base), Öhlins TTX 36 electronically adjustable for compression and rebound (S); 5.1 in. travel |
| FRONT BRAKES | Brembo Stylema radial-mount 4-piston calipers, 330mm discs w/ Bosch Cornering ABS Evo |
| REAR BRAKE | Brembo 2-piston caliper, 245mm disc w/ Cornering ABS Evo |
| WHEELS, FRONT/REAR | Die-cast aluminum (base) / forged aluminum (S); 17 x 3.5 in. / 17 x 6.0 in. |
| TIRES, FRONT/REAR | Pirelli Diablo Supercorsa SP V3; 120/70-17 / 200/60-17 |
| RAKE/TRAIL | 24.5°/3.9 in. |
| WHEELBASE | 57.8 in. |
| SEAT HEIGHT | 33.5 in. |
| FUEL CAPACITY | 4.49 gal. |
| CLAIMED CURB WEIGHT | 438 lb (base) / 431 lb. (S) |
| CLAIMED CURB WEIGHT | 438 lb (base) / 431 lb. (S) |
| Fuel Capacity: | 5.5 gal. |
| Wet weight: | 483 lb. |