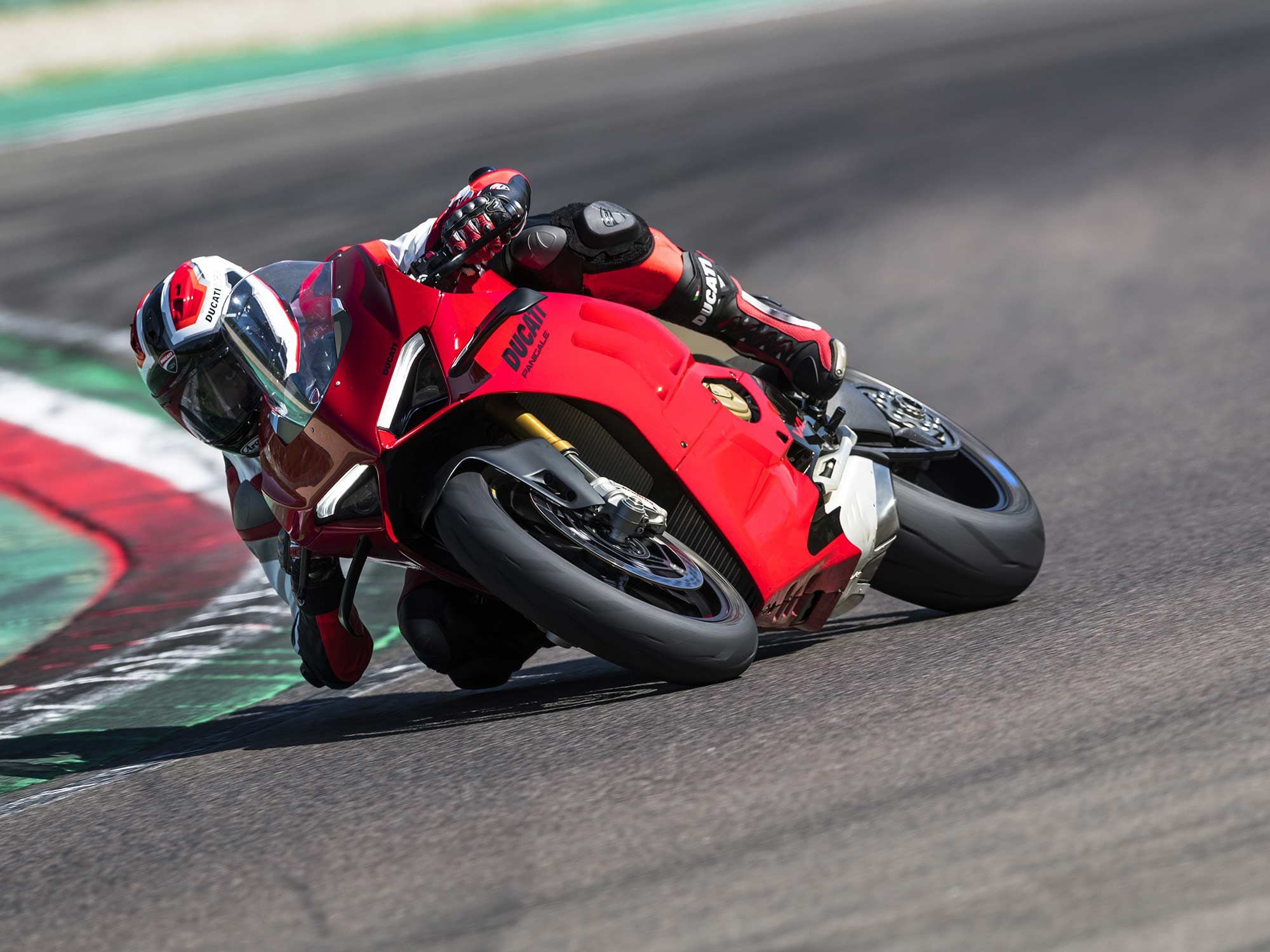 Leaned over hard and on the gas, a natural environment for Ducati's new 2022 Panigale V4 S. Ducati skipped EICMA, but our European editor gets the story anyway. (Ducati/)
Ducati is not present at EICMA 2021, but that doesn't mean there's no news from Bologna. Just the opposite, in fact: The engine from the markedly updated Ducati Panigale V4 and V4 S will be heard far and wide.
Ducati claims the 2022 Panigale V4/V4 S is a most impressive evolution. It's easy to see why the motorcycle has always been a favorite of superbike purists, with an engine of supreme potential in a chassis of refined dynamic qualities.
The first hints of the new model can be seen in its bodywork, which has been updated both aerodynamically and ergonomically. Wind tunnel testing at the Dallara Automobili R&D department helped improve the Panigale's overall drag numbers and engine-cooling airflow. New downforce wings feature a thinner profile to reduce drag while still producing the desired 37 kilograms of downforce at 300 kph (81.6 pounds at 186 mph).
New shark-gill-style hot-air extractor vents have been carved on the fairing sides, serving the engine-coolant radiator, and on the lower section of the full fairing for the large oil radiator. Vents also open up under the floor of the fairing to remove air trapped under the oil sump. The large horizontal bracing connecting the nose of the fairing to the tank's front cover has been reshaped to offer a solid support to the rider's forearm when lying flat at full speed.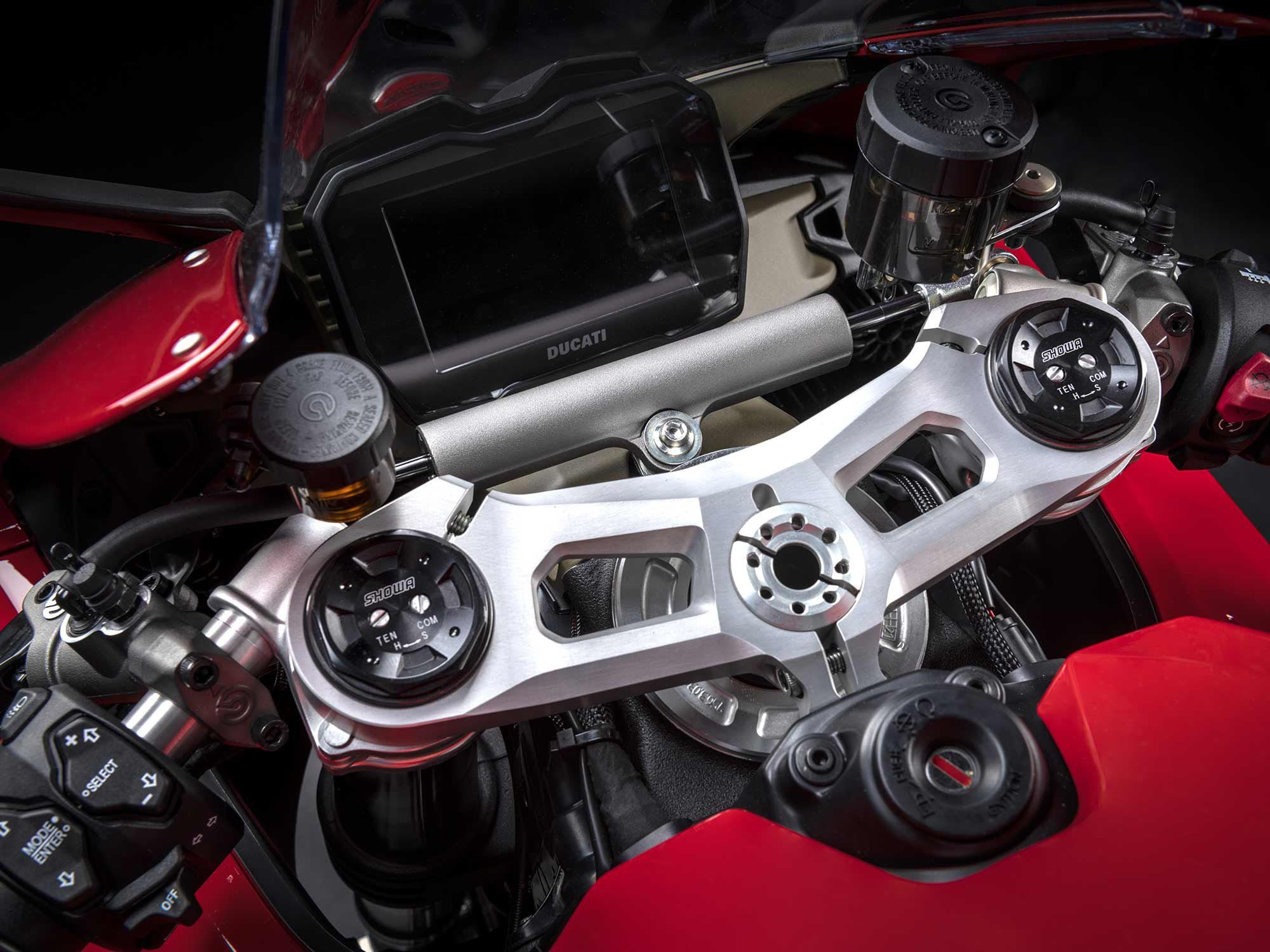 Has there even been a better-looking cockpit? Thoroughly modern and all business, the view for the Panigale's pilot still looks like something out of a museum of modern art. (Ducati/)
The seat, set at a rather tall 33.5 inches above the ground, has been modified to offer the rider more freedom of motion. One reason the overall seat height is so tall: The bike's front suspension has been changed this year to use a fork featuring an extra 5mm (0.2 inch) of travel in an effort to reduce spring load and improve the fork's ability to follow the road surface. Chassis geometry remains unchanged at 24.5 degrees of rake and 100mm (3.9 inches) of trail; wheelbase is also unchanged at 57.8 inches.
About that fork: The Panigale V4 uses a fully adjustable 43mm male-slider Showa BPF, while Panigale V4 S is equipped with a 43mm male-slider Öhlins NPX 25/30, semi-active and electronically managed by an Öhlins Smart EC 2.0 control system. New rear-suspension geometry positions the single-sided swingarm's pivot 4mm (0.16 inch) higher than on last year's bike, a change intended to improve the anti-squat behavior when accelerating hard out of corners. Here the Panigale V4 S uses an Öhlins TTX 36 gas-charged shock, also electronically controlled by the same Smart EC 2.0 system, while the standard Panigale V4 has a fully adjustable Sachs shock at the rear. The V4 and V4 S roll on Pirelli Diablo Corsa in 120/70-17 front and 200/60-17 rear tires fit to cast- and forged-aluminum wheels.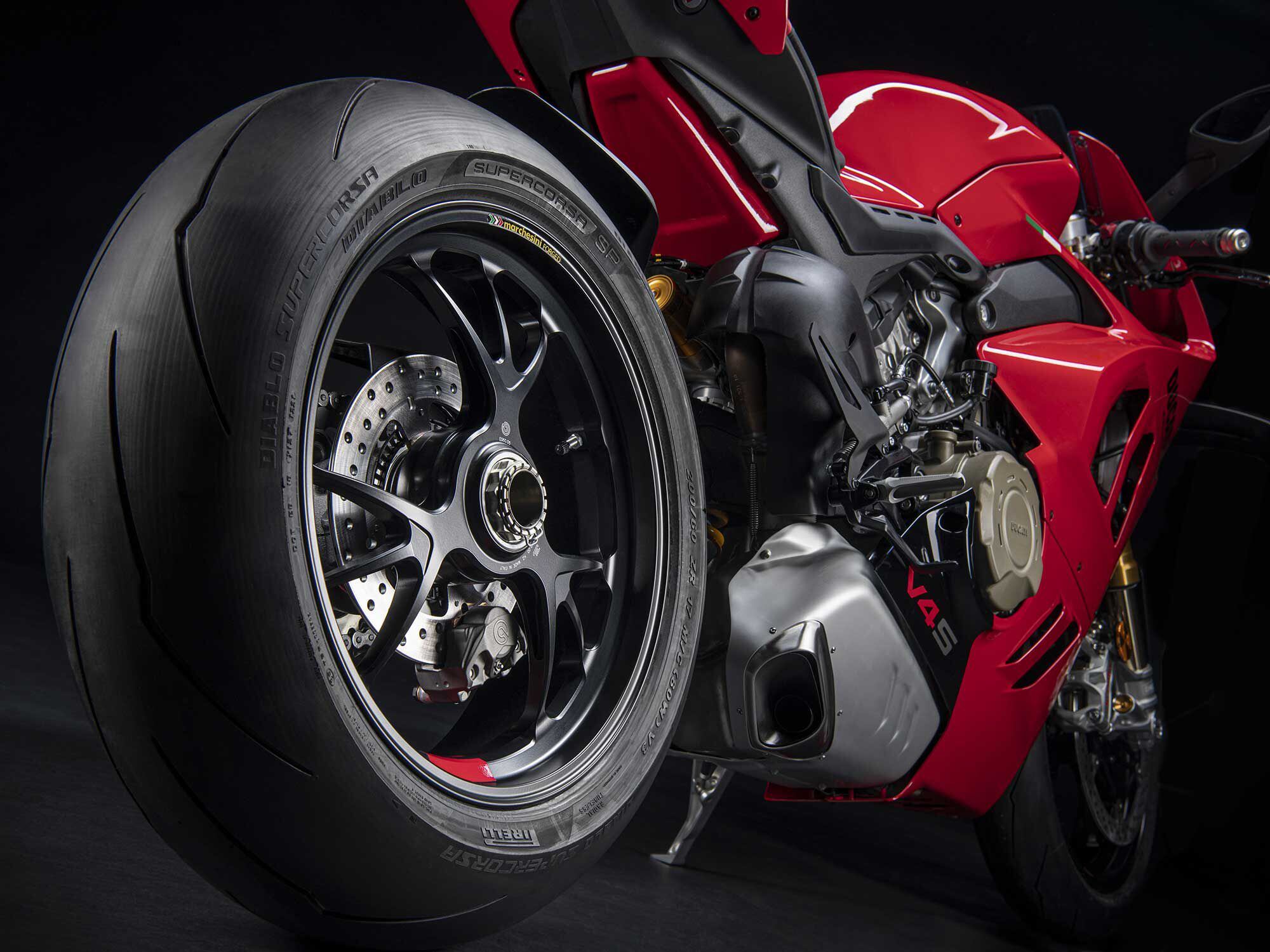 The single-sided swingarm's pivot in the 2022 chassis is 4mm higher to counteract suspension squat under hard acceleration. And the Panigale V4 is more than capable of hard acceleration. (Ducati/)
Bolted to those wheels are Brembo discs, a pair of 330mm rotors up front and a single 245mm rotor in the rear, gripped by Stylema Monoblock four-piston calipers (front) and a two-piston caliper (rear), all controlled by Bosch Cornering ABS Evo.
Like the bodywork, the powertrain has also received a share of Ducati's attention. The six-speed gearbox has new ratios in first, second, and sixth, thanks to experience gathered in World Superbike racing. First is now taller by 11.6 percent, while second has grown only 5.6 percent, closing up the 1-2 gap. To take advantage of the bike's increased power, sixth is taller by 1.8 percent, allowing a top speed five kph greater than the previous bike's. The gearbox internals are now (first) 36/15; (second) 34/17; (third) 33/19; (fourth) 32/21; (fifth) 30/22; and (sixth) 27/22.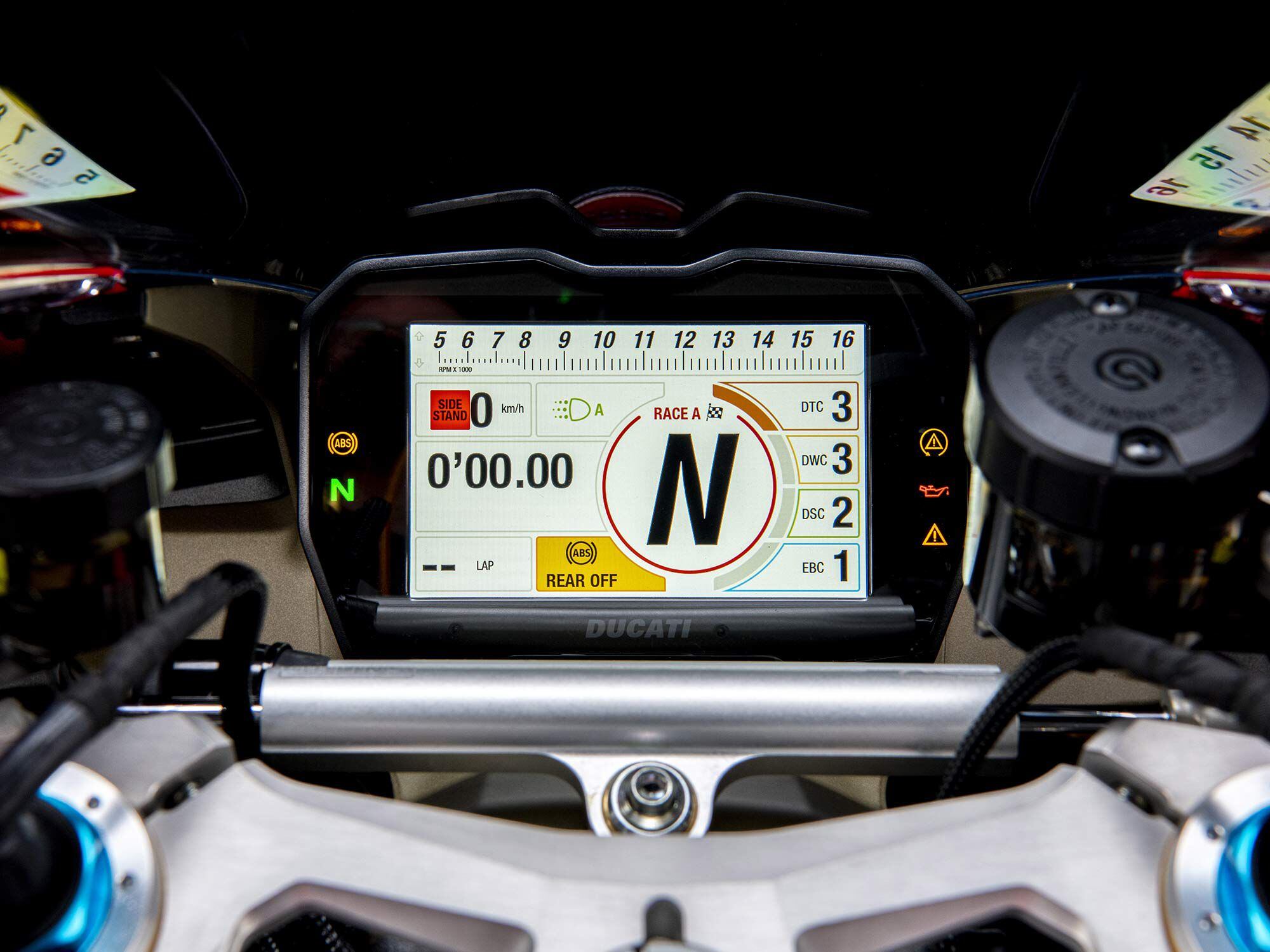 The TFT instruments get a graphics update, and display all their info clearly. The tach is readable even in a full tuck. (Ducati/)
The 1,103cc V-4 (81mm bore and 53.5mm stroke) now complies with full Euro 5 homologation. In the process it gained 1.5 hp and now puts out 215.5 hp at 13,000 rpm. Rev the engine to 14,500 and you get another 2.5 horses. While torque remains unchanged at 91.2 pound-feet, that number comes up at 9,500 rpm, 500 revs below the previous peak. The torque curve has also grown flatter: 80 percent of peak twisting force is already available at 6,000 rpm. A new exhaust system features a final-duct diameter increased to 38mm, 18 percent larger than the 2021 version.
Ducati's electronics suite is recognized as one of the most advanced available. Based on a six-axis inertial platform managing a number of safety and rider-assistance functions, the list includes ABS cornering Evo, traction control, slide control, wheelie control, power launch, quickshifter (up and down), engine-braking control, and electronic suspension management. The rider can choose from four engine power modes: Full, High, Medium, and Low. Full is a new concept and is the toughest ever adopted on a Ducati sportbike. In addition, the throttle-by-wire system offers four riding modes: Race A, Race B, Sport, and Street. Full power mode does not come as a default with any riding mode, but must be set through the dashboard and is recommended only for track use.
On the V4 S, the Panigale benefits from electronically adjustable Öhlins suspension front and rear. (Ducati/)
The 2022 Panigale V4 and V4 S feature a state-of-the-art TFT instrument panel incorporating an info mode labeled Track Evo. The tachometer is clearly visible even when riding in a full tuck, flat on the tank. The screen includes four sections with different colors devoted to different electronic controls (DTC, DWC, DSC, EBC). The electronics suite also includes a multimedia system of high versatility in terms of connectivity.
All in all, the new 2022 V4 and Panigale V4 S promise to be the best-performing Panigales yet.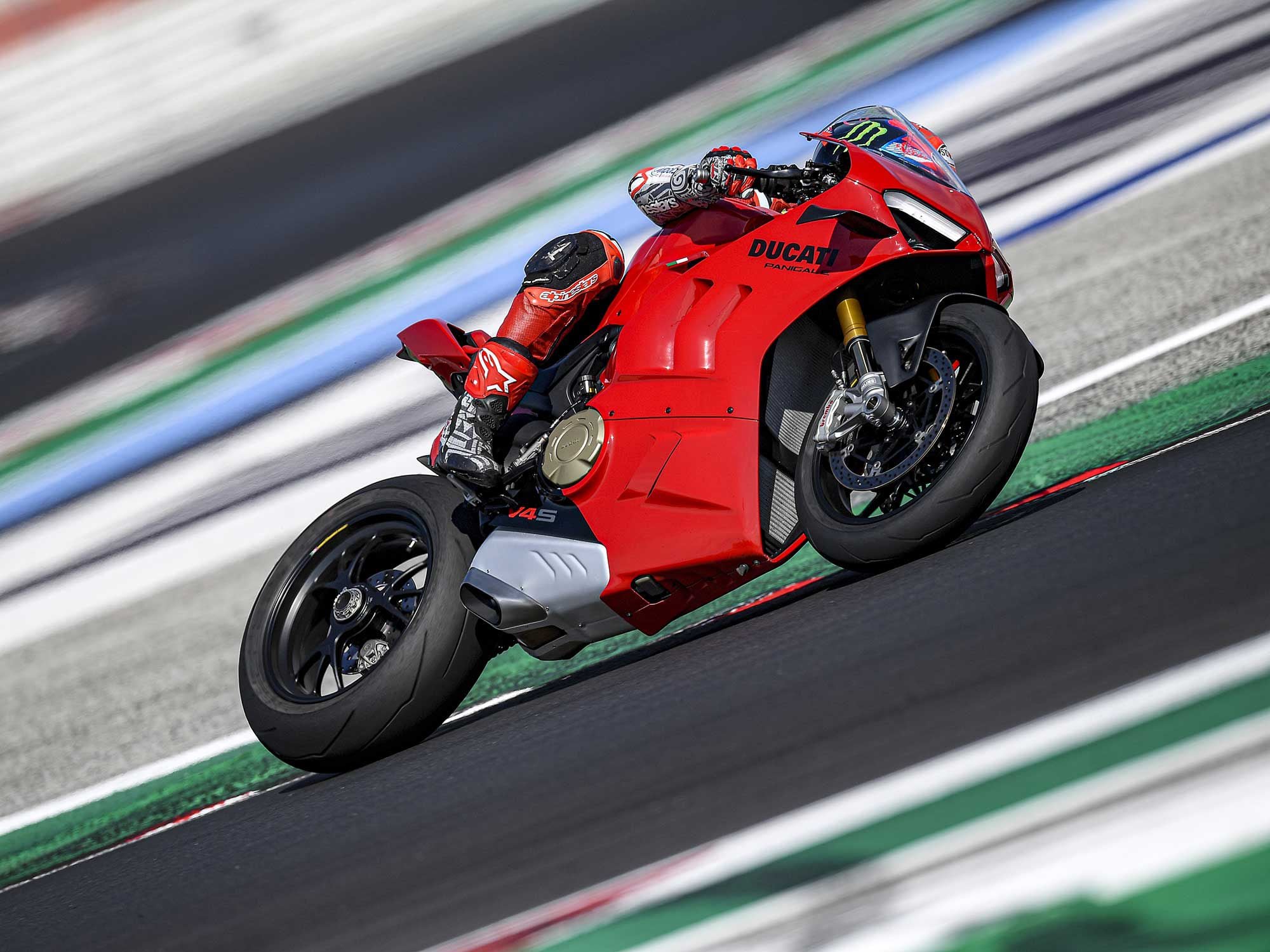 The Panigale V4 and V4 S feature a whole host of bodywork vents for better airflow, including venting in the bottom of the fairing bellypan. (Ducati/)