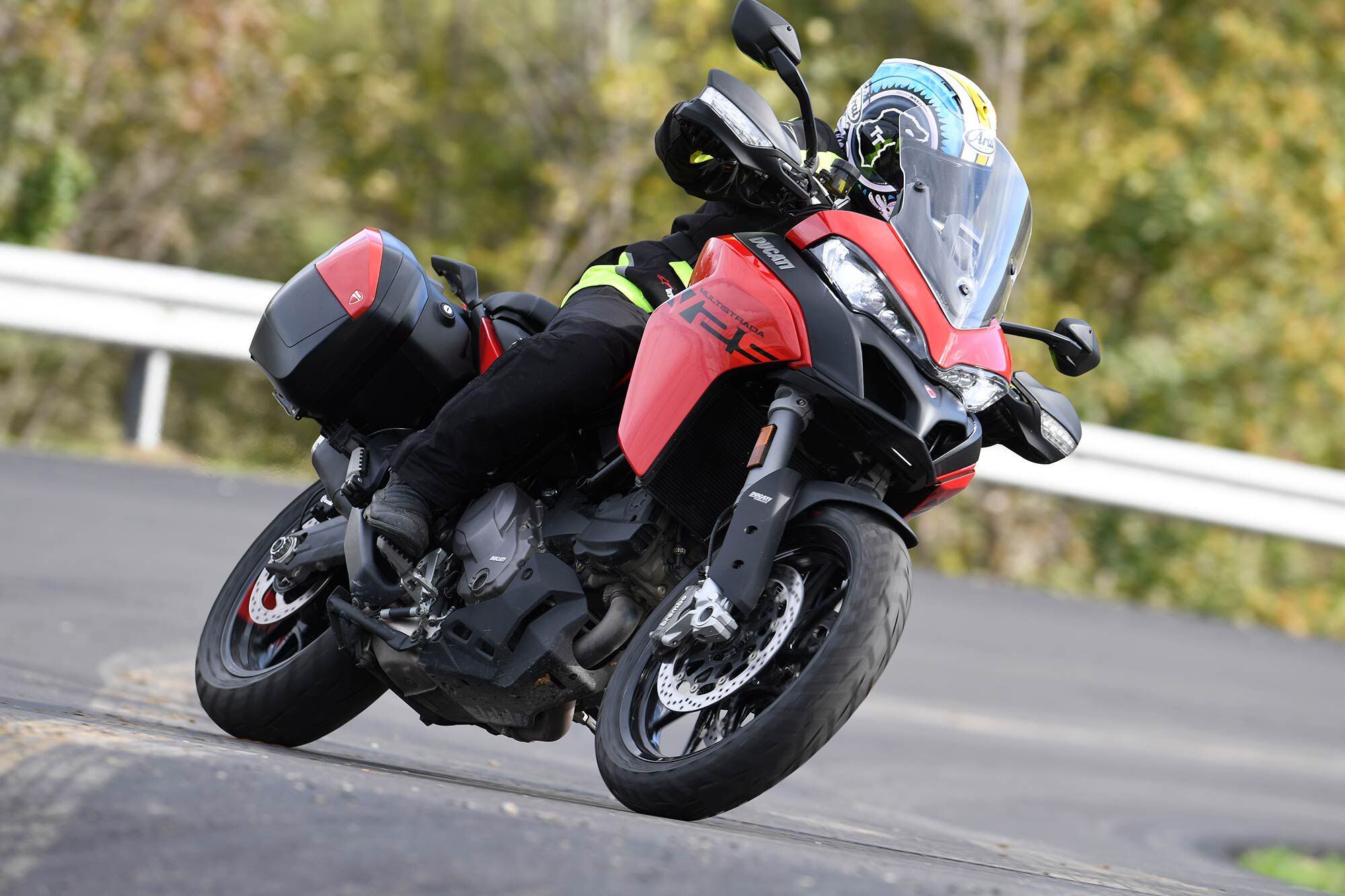 After two days in Italy, it's become clear the Multistrada is an exceptional value in the Italian brand's lineup. (Ducati/)
The autumn buzz around Ducati's Multistrada line has quite understandably been dominated by the upcoming Pikes Peak V4. With its sport-focused 17-inch wheels, dedicated Race riding mode, and thunderous 170 hp (claimed) 1,260cc Stradale motor, it promises to be a Multistrada like no other.
But the Multi that deserves even more of our attention, the one that will deliver an immaculate experience when loaded up and pointed at the scenery next summer, and do it for $17,895, is the relatively humble but thoughtfully uprated V2 S.
Ducati introduced the Multistrada 950 back in 2017 as an entry point into the Multistrada family. Its versatility, price, and keen but proportionate performance made it a hit with those who don't believe biggest is always best. Yet the 950 has largely remained in the shadow of the V4 Multis, particularly the best-selling V4 S. For 2022 the Bologna, Italy, factory has emphasized the V2′s strengths by making it lighter, more comfortable, and even easier to ride and maneuver, especially where shorter riders are concerned.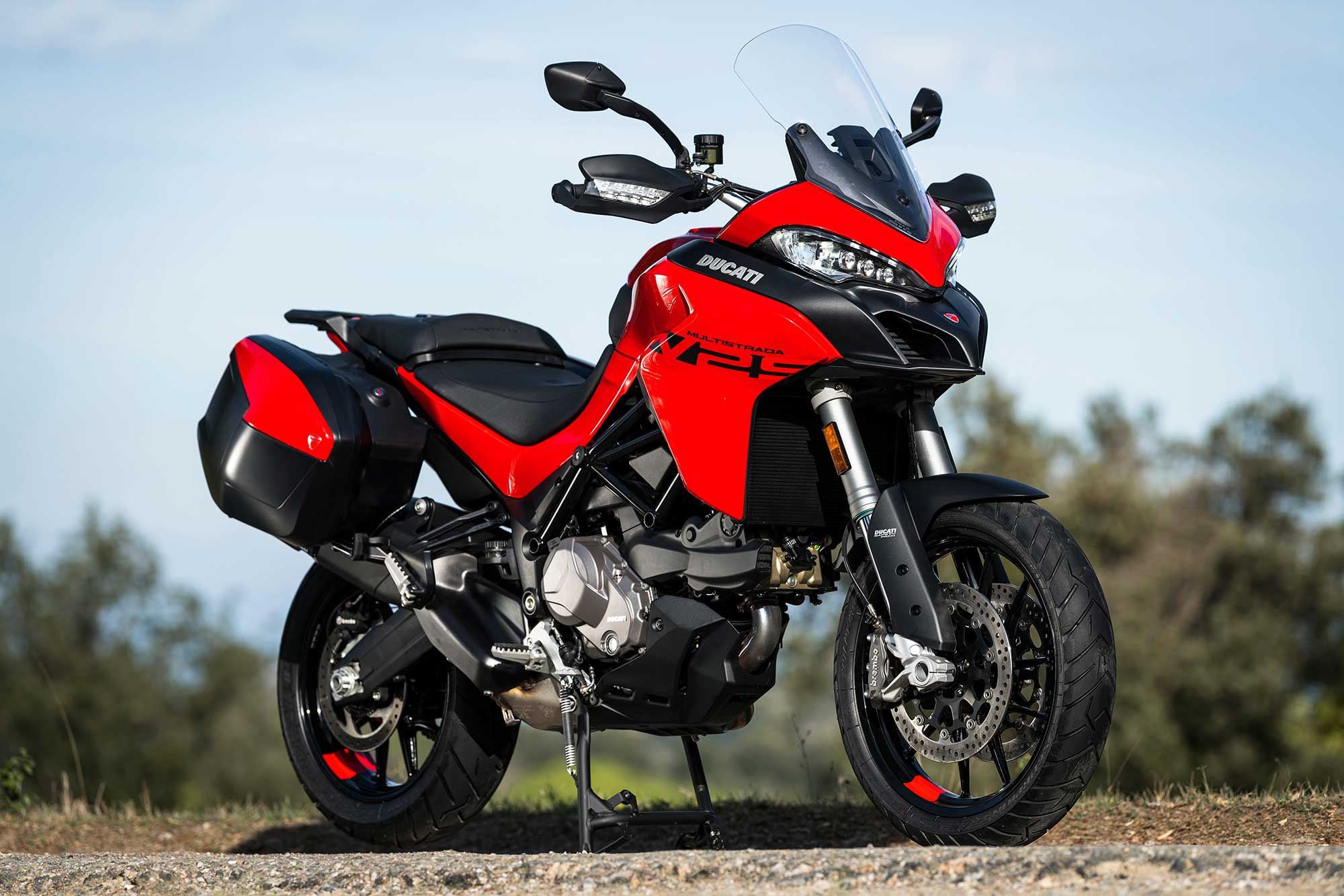 The 2022 Ducati Multistrada V2 S has an MSRP of $17,895. (Ducati/)
Ducati hasn't tried to reinvent its middleweight adventure bike. Instead, the existing model has been refined and enlivened with small but significant changes, many of which have been requested by existing Multistrada owners. A lighter clutch makes sense. So, too, does a roomier riding position with 0.4 inch (10mm) more between pegs and seat, and cutting back unsprung weight by using 3.7-pound-lighter (1.7kg) wheels from the premium Multistrada V4.
Ducati set up a two-day road test to get a flavor for its refreshed Multi V2 S, including a tour around Tuscany. The factory wanted us to "discover the beauties of this territory, its culture, food, and wine while introducing the true spirit of the new Multistrada V2." Which, yes, is flagrant stage-setting, but we must go where the job takes us. With the bike's (optional) panniers packed with enough kit for a few days, we dutifully headed out into the stunning scenery.
Multistrada V2 Pre-ride Details
It's surprising how much gear you can fit into the Multi's new panniers. At 26 liters, the right pannier is slightly smaller than the 30-liter left due to exhaust routing. But the bags ooze quality and incorporate a simple lock and release system. There is extra storage under the seat, as well as a conventional charger and a USB port. There's even an additional charging point next to the full-color TFT dash.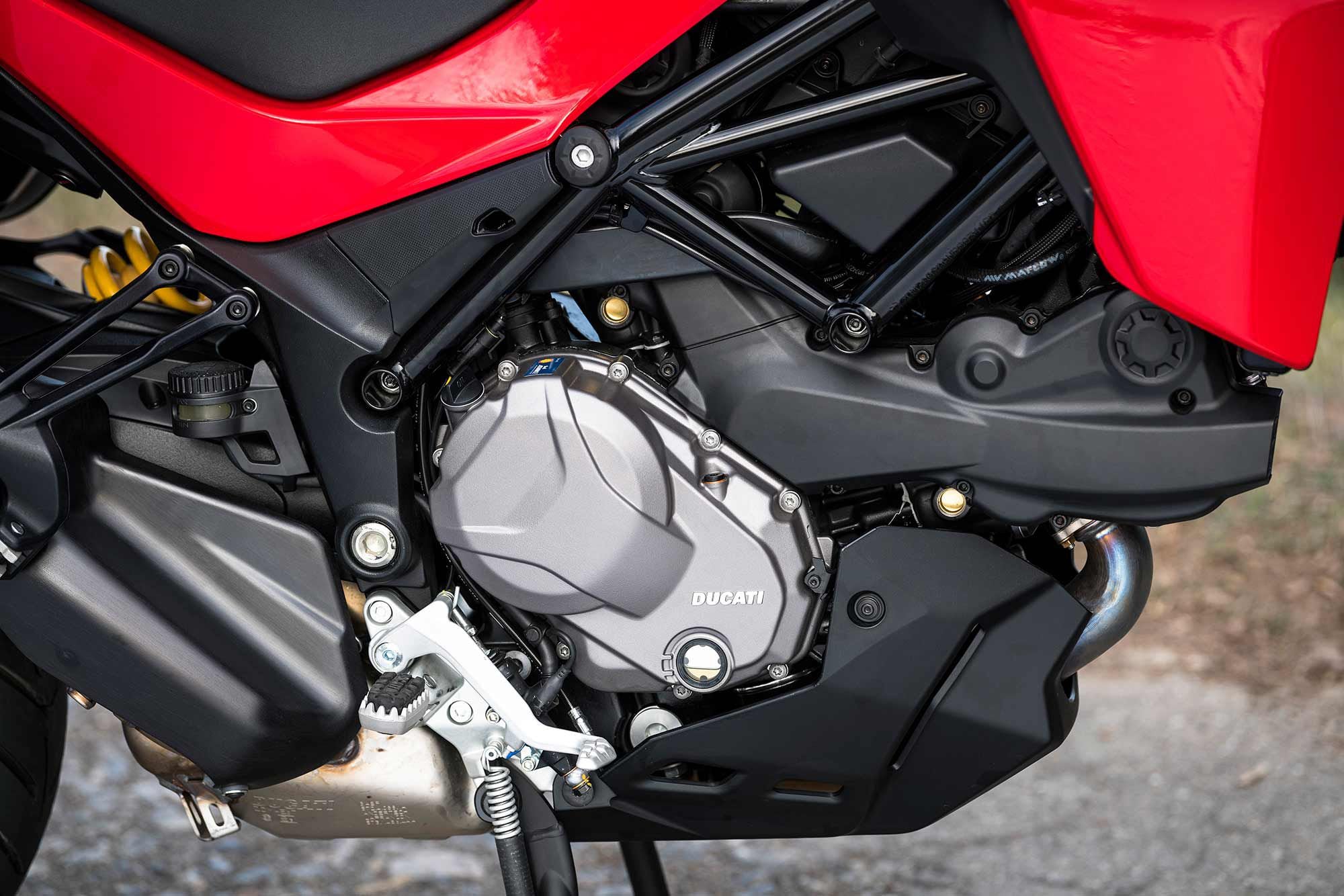 A 937cc Testastretta twin powers the Multistrada V2 and V2 S. (Ducati/)
As before, there are four riding modes to choose from: Urban, Touring, Sport, and Enduro. With a 19-inch front wheel and off-road-capable Pirelli Scorpion Trail II rubber, the new Multi V2 is on point for light dirt duties. Unlike the base V2, this more expensive S edition comes equipped with Ducati's Skyhook EVO semi-active suspension, meaning each riding mode changes the suspension setup as well as the lean-sensitive traction control and ABS rider aids. As my fully loaded panniers added extra weight to the rear end, I electronically adjusted the suspension accordingly by selecting "rider plus luggage" from the menu, which added a little spring preload.
A typical new-model press launch is basically 24 crazy hours of photo taking, video making, and social media, with interviews and technical briefings squeezed in between as much fast riding as possible. However, this launch had a few days touring ahead, and it was rewarding to take the time to get properly acquainted with the Multi V2.
Multistrada V2 Ergonomics
Throwing a leg over the bike for the first time, I was struck by the 0.4-inch-lower seat height and narrower seat shape, which shortens the length of the inner-seam arch—the stand-over, if you like. At 5-foot-7, I was able to stand almost flat-footed, which is rare on bikes of this sort. This standard seat now sits at 32.7 inches and can't be lowered on a stepped system like some; instead, Ducati offers a lower seat option of 31.9 inches, as well as a suspension lowering kit that drops seat height to 31.1 inches. A 33.5.-inch seat option has been added to the catalog for taller riders.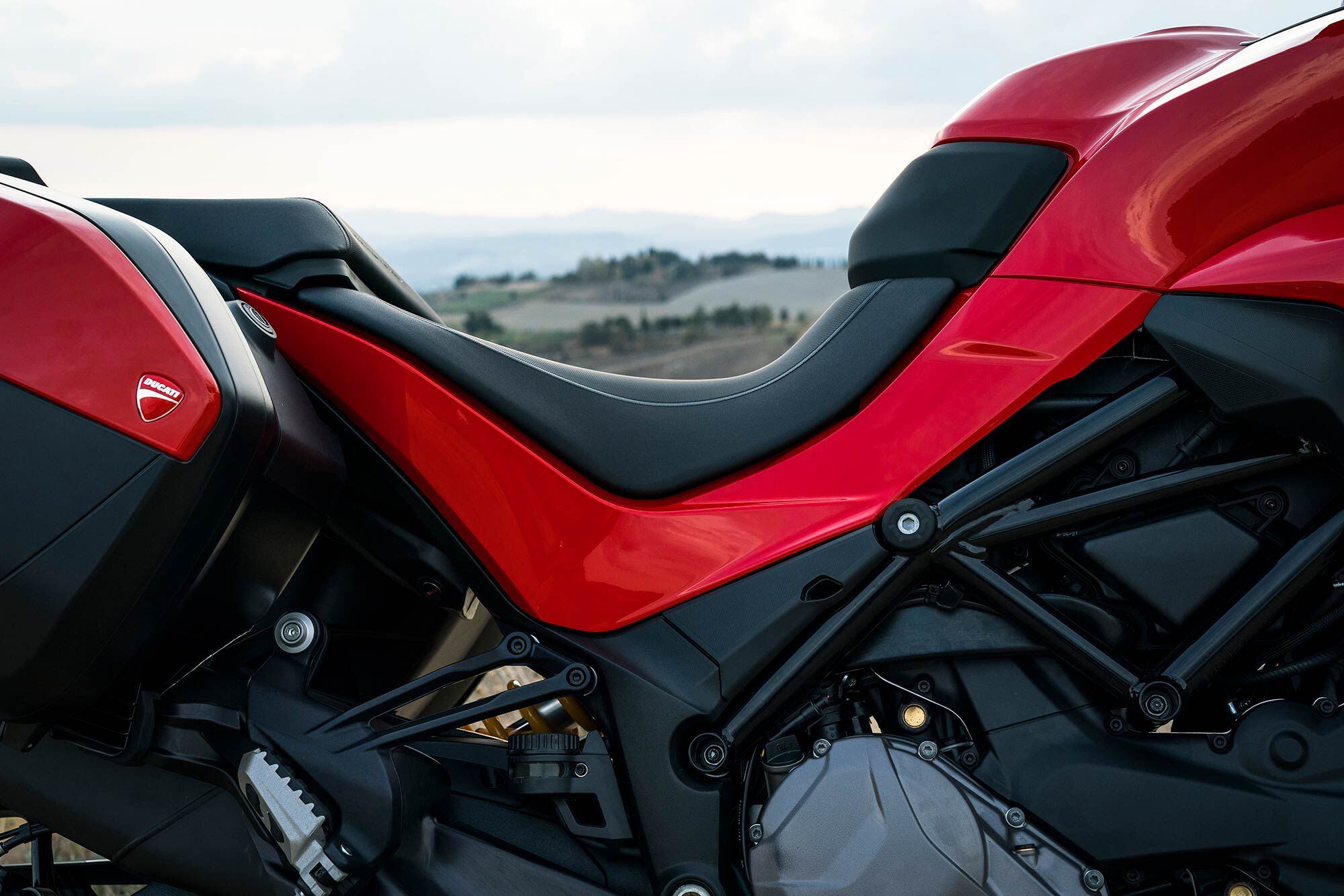 A 32.7-inch seat height and narrow seat make for an easy reach to the pavement. (Ducati/)
Dirt Capability
Our first test section was mild off-road, and it was suggested we try the Enduro riding mode. It's slightly surreal to feel the electronic Sachs suspension rise slightly in readiness of the tough terrain. Ducati has fitted lighter, Multi V4-style mirrors to the V2, and my first off-road observation is how the curvature of their stems means your forearms aren't impeded when you stand up. The manually adjustable screen is, on its lowest setting, just about low enough to peer over in the standing position. It all works nicely.
The Multi V2 lacks the 21-inch front wheel of true off-road-focused adventure bikes, but it can certainly take on some challenging terrain. And now it's easier for feet to reach and get traction on the uneven surface when coming to a stop, which inspires confidence, especially for short and inexperienced riders. There is a limit, of course, as the road-biased bars are set too low for prolonged or technical dirt adventures. I'd also want more room around the pegs for my heels, especially on the right side which is slightly restricted due to the exhaust routing.
On the Road
Leaving the dusty trails behind, I quickly switched into Urban mode, which behaves like a wet mode in that there's relatively early intervention from the TC and ABS, which was most welcome, given my bike's dirty tires. Tuscan roads are smooth and flowing in the country, but very tight, twisty, and usually cobblestoned in the picturesque villages that cling to the hillside. This V2 is in its element in both. The fueling in Urban mode is softer than a hug from Santa, and gentle use of the throttle results in a seamless and proportionate response from the 937cc Testastretta 11°. Forget those horror stories of snatchy V-twins of old; this one is smoother than the Fonz.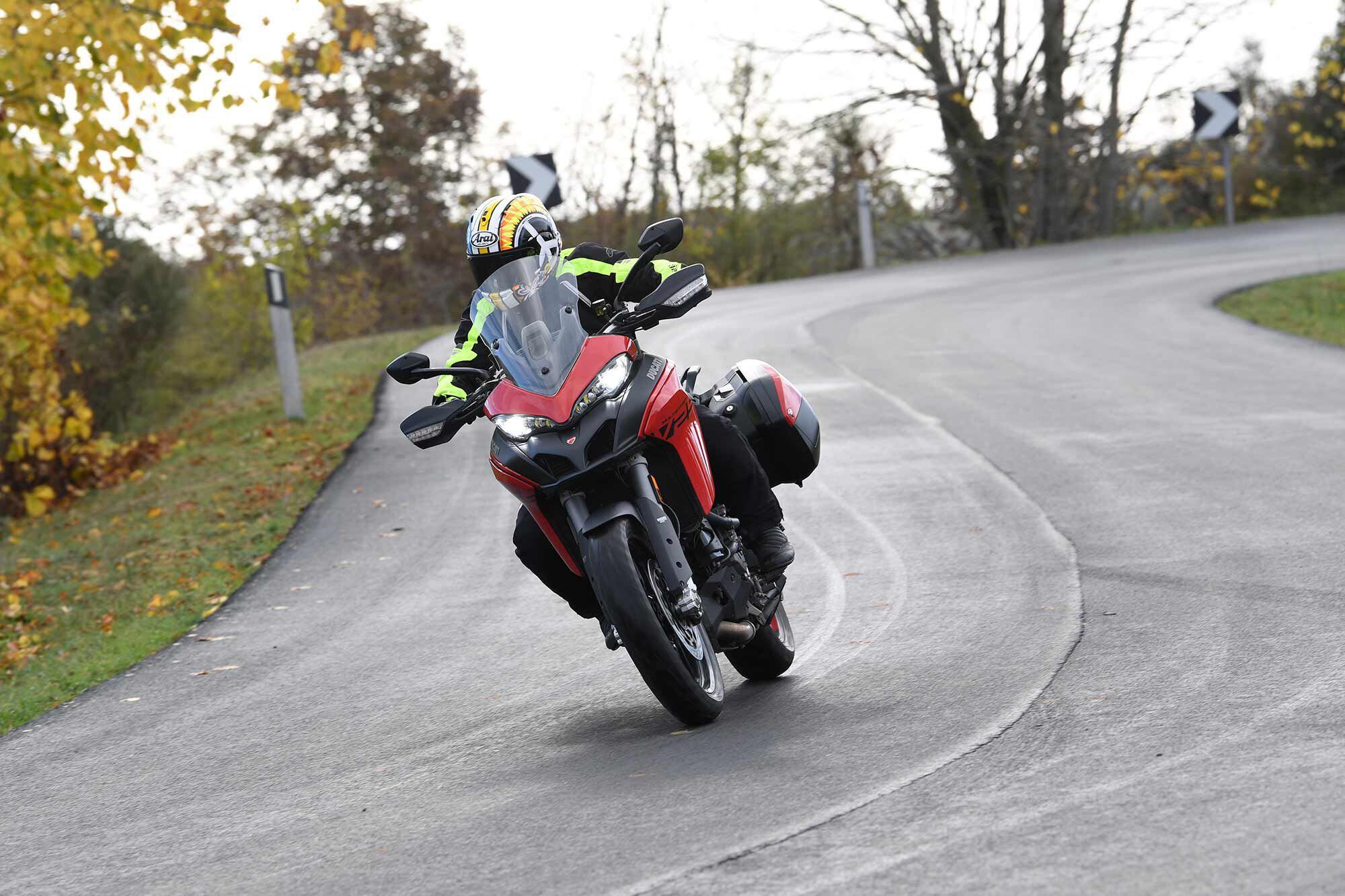 Urban mode is well suited for duty on wet or damp roads. (Ducati/)
The clever semi-active suspension is now on a noticeably soft setting, allowing it to control speed bumps and iron out those cobbled surfaces nicely. New riders will adore the V2′s balance and calm at slow speed.
The roads opened up as we left the historic villages behind and headed into the Tuscan hills. Once flicked into Touring mode, easily done on the move with a closed throttle, the changes in the Ducati's performance and suspension are instantly noticeable. The setup is still on the soft side, but fueling is more aggressive and there appears to be more power to play with.
The open road is, naturally, the best place to get the flavor of the claimed 113 hp twin. Despite being Euro 5 compliant, there's a pleasant bark to the engine and exhaust that makes the ride even more rewarding. Ducati has made clutch actuation easier, and the eight-plate unit is lighter in weight, while the up-and-down quickshifter that's standard on the S model adds to the acoustic experience by selectively cutting the ignition. All of it is noticeably smooth and effortless.
On the snaking asphalt of Tuscany, the V2′s chassis was free to display its considerable ability. Ducati has reduced the new bike's weight, most significantly the unsprung weight by adopting those wheels from the V4 Multi. This, in theory, should allow it to steer more quickly, but the added bulk of my fully loaded panniers pretty much canceled out any obvious new sportiness.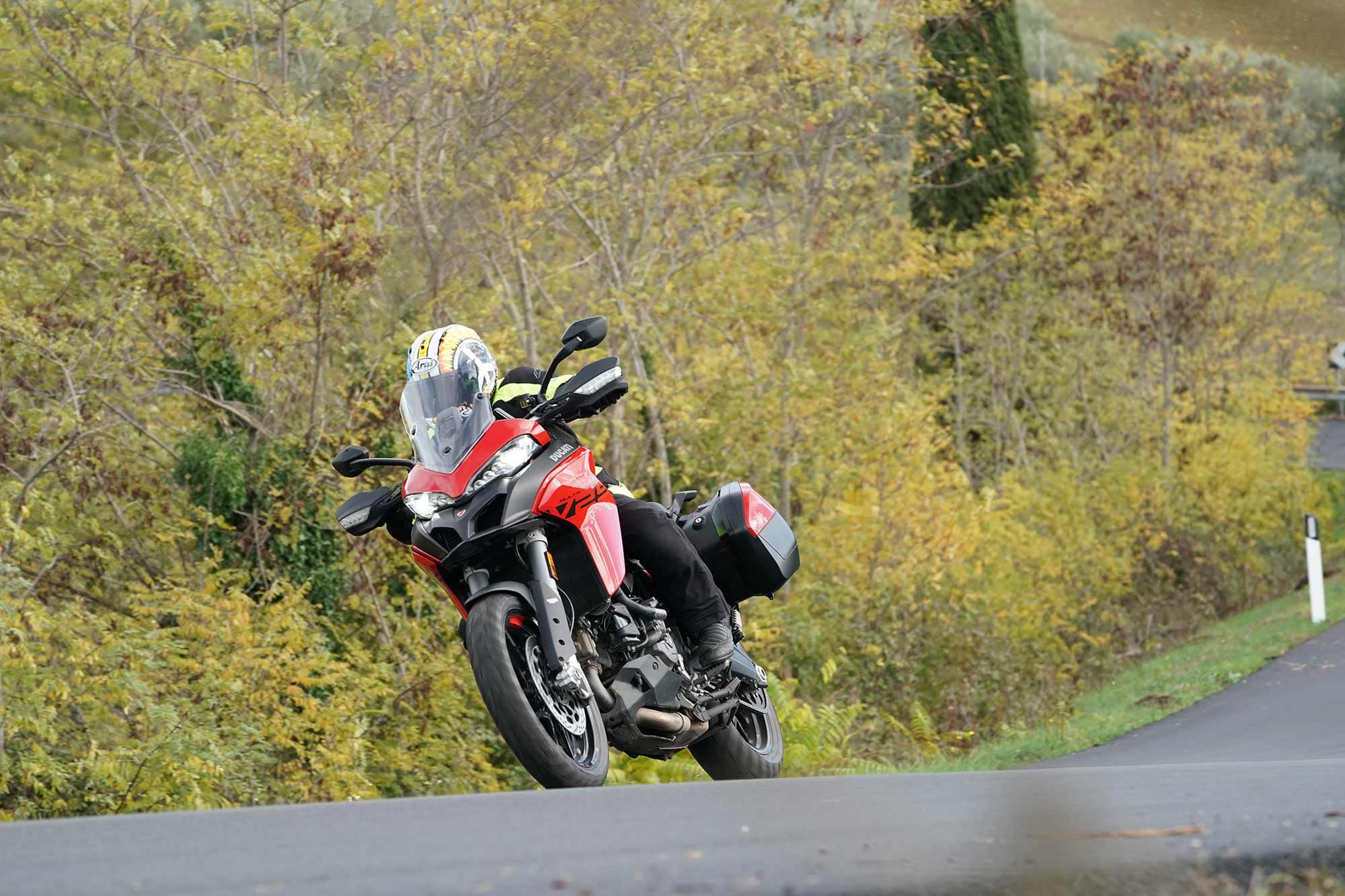 Moving through the countryside is smooth and effortless on the Multistrada V2 S. (Ducati/)
Despite all that baggage, the Multi V2 was more than happy to carve up the endless twists and turns of the stunning landscape. Steering is precise and engaging, and the Skyhook EVO suspension can be felt controlling fork dive, reducing rear squat, and generally making the ride as smooth and effortless as possible. It all feels as high-quality and plush as you'd expect from a Multi, no matter the price point.
In mixed weather conditions I was thankful for the Ducati's advanced rider aids, both the lean-sensitive traction control and ABS. Most corners were wet, with a scattering of dry sections here and there, a real mixed bag of grip and surfaces. It was comforting to have such effective electronic backup, which like the rider modes can be tailored to match the rider and conditions via the dash.
Once the sun was higher and the road dried out, I opted for Sport mode; after all, this Ducati came from the same factory as the MotoGP missile which just claimed the constructors' title. Again.
And once again there is detectable adjustment to the chassis and the reaction from the semi-active Skyhook EVO suspension. There is less travel, the chassis feels tauter, and the body of the bike moves less, particularly when I start to push hard.
While 113 hp may not appear to be a lot of power, especially when pushing 496 pounds of bike plus rider and loaded bags, I never felt short-changed by this supposedly entry-level Multi. There are gratifying servings of torque and drive at the bottom, followed by a clean and satisfying spread of power. I never really had the opportunity to explore the engine performance, as this session is about enjoying the roads, not doubling the national speed limit. But the power delivery is not intimidating, just easy. You'd only want more for high-speed touring on German autobahns, two-up and fully loaded with luggage. In fact, with the TC deactivated to better chase crazy Italians down their local roads, the Testastretta motor is more than enough, even allowing the front wheel to lift on occasion.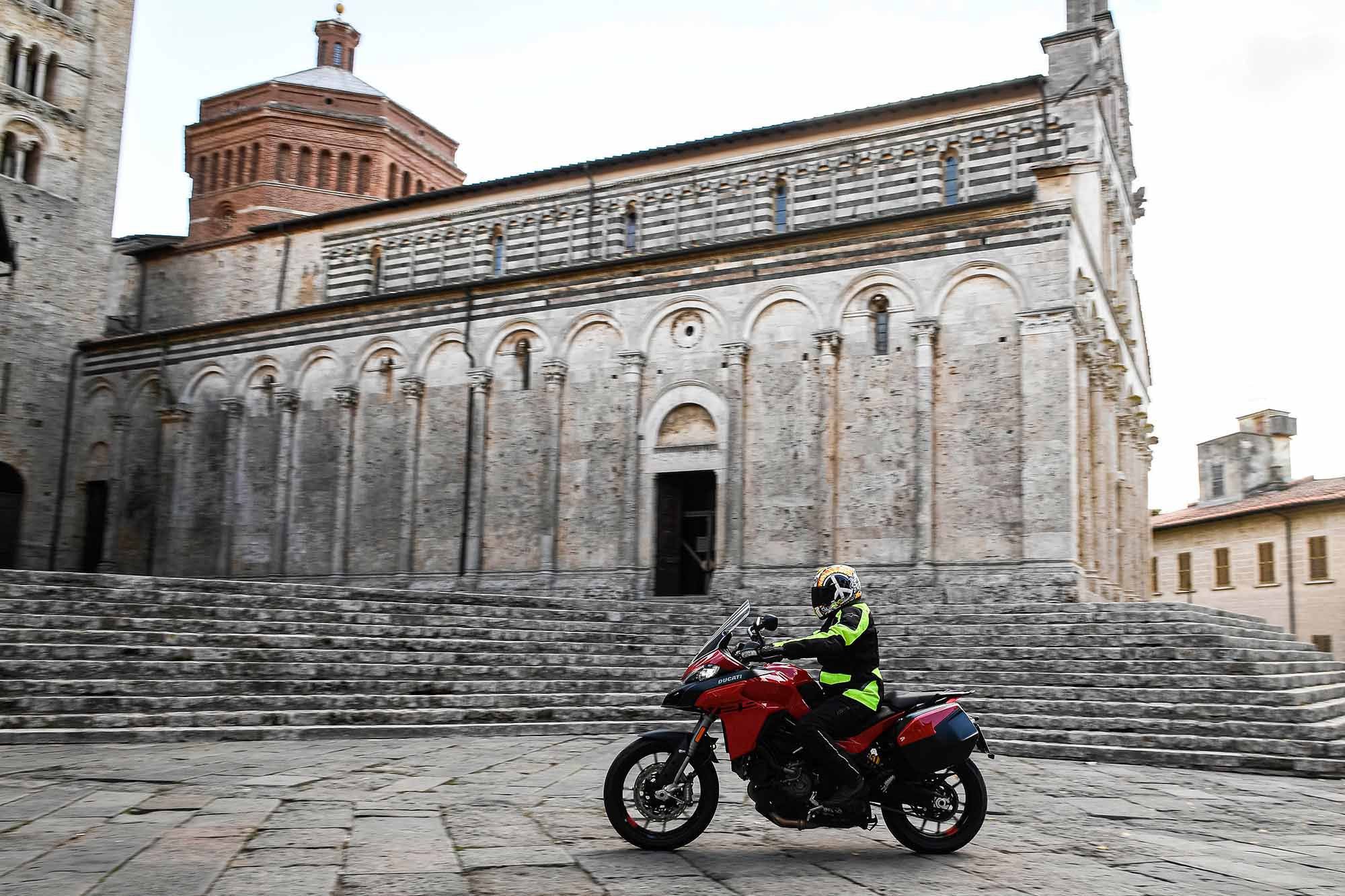 The Multi V2 S is just as happy exploring cobblestone streets as it is tearing up well-maintained blacktop. (Ducati/)
these get a separate button on the right bar, not a setting hidden within a menu. The grips, centerstand, and panniers are all optional extras, part of the Travel pack. Reinstating the TC I had deactivated the previous night to Sports mode was all simple and intuitive.
I also took time to play with the standard-equipment cruise control, which is operated via the left bar, and the manually adjustable windscreen. Cruise control is simple to set; the windscreen offers sufficient wind protection and low buffeting for most rider sizes. My only quibble is the wind noise, which at speed is noisier than expected.
But after two days of riding, none of my body parts were complaining, and comfort simply wasn't an issue. The engine proved frugal, returning a 45 mpg average over two days, which equates to a best estimated range of 238 miles. Three to four uninterrupted hours in the saddle shouldn't be a problem for the V2 rider.
V2 or V4?
After two days of riding some of the best roads in Italy, it's unclear why anyone would want more. If I took this trip again, I'd choose this bike again; the new Multistrada V2 S is that good. For sheer fast touring you might reasonably pick the Ducati Multistrada V4, but for most the twin will be more than sufficient. In terms of performance, spec, and quality, it feels nothing like a base or budget model.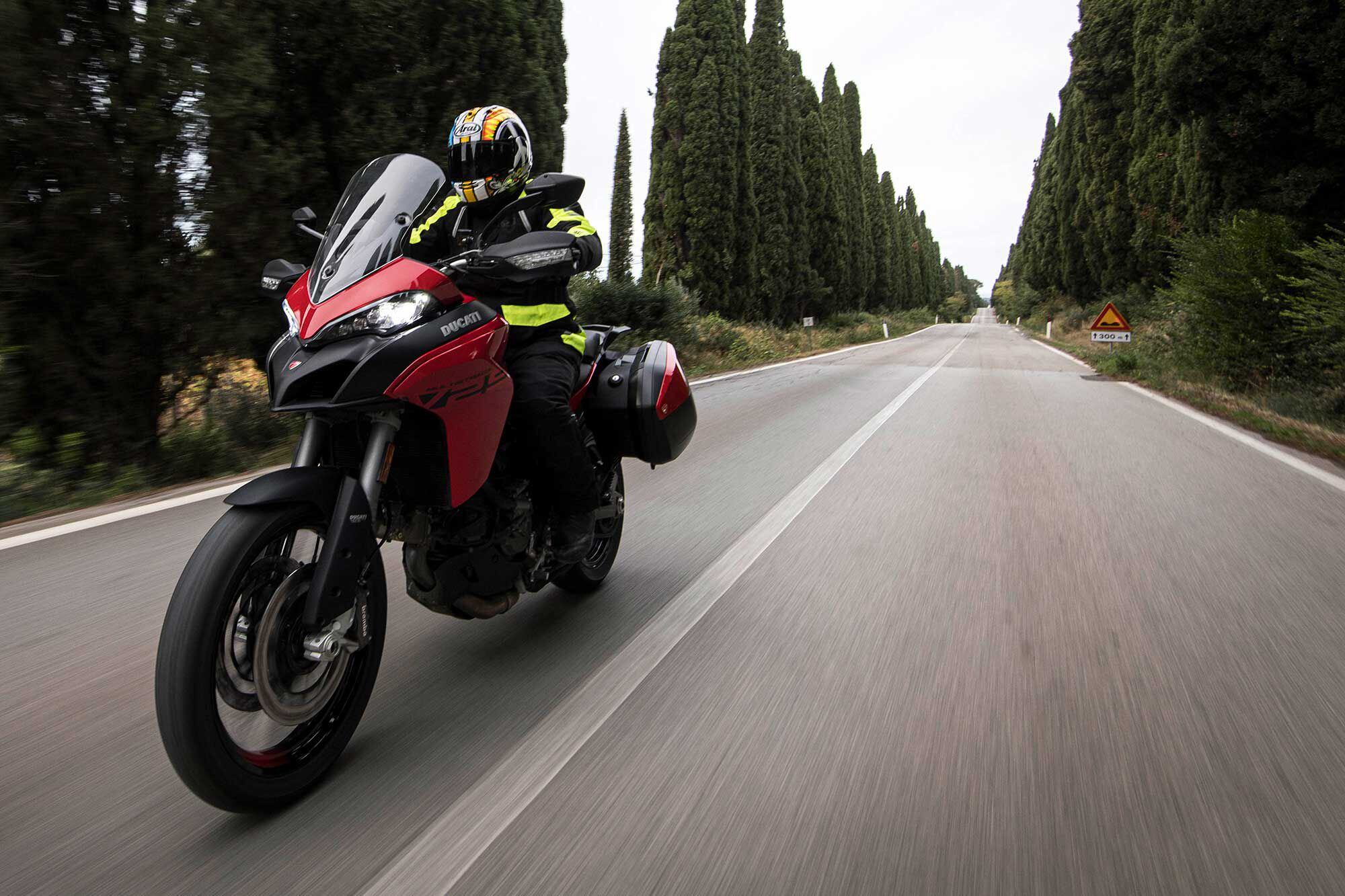 Ducati's current evolution of the 937cc V-twin-powered Multistrada is capable, comfortable, and has plenty of power for an entirely enjoyable road trip. (Ducati/)
This 2022 refresh isn't a massive leap. Instead, it's a significant evolution for those who, whether by seat height, weight, or price, are put off by big adventure bikes. It's far more accessible than the existing bike, and deserves to attract a new and younger audience. Owners will get Ducati styling, quality, and character, as well as a high level of performance and handling delivered through excellent rider aids. It's a competitive market, but the new V2 S should carry on the success of the 950. It's now more appealing to a larger audience than ever.
2022 Ducati Multistrada V2 S Specifications
| | |
| --- | --- |
| MSRP: | $17,895 |
| Engine: | Liquid-cooled Testastretta DVT L-twin; 4 valves/cyl. |
| Displacement: | 937cc |
| Bore x Stroke: | 94 x 67.5mm |
| Compression Ratio: | 12.6:1 |
| Transmission/Final Drive: | 6-speed/chain |
| Claimed Horsepower: | 113 hp @ 9,000 rpm |
| Claimed Torque: | 71 lb.-ft. @ 7,750 rpm |
| Fuel System: | Fuel injection w/ ride-by-wire 53mm throttle bodies |
| Clutch: | Wet, multiplate, slipper function; hydraulic actuation |
| Frame: | Steel trellis |
| Front Suspension: | 48mm USD fork, fully adjustable; semi-active, 6.7 in. travel |
| Rear Suspension: | Monoshock, fully adjustable; semi-active; 6.7 in. travel |
| Front Brake: | 4-piston Brembo radial caliper, dual 320mm discs w/ ABS |
| Rear Brake: | 2-piston Brembo caliper, 265mm disc w/ ABS |
| Wheels, Front/Rear: | Cast aluminum; 19 x 3.0 in. / 17 x 4.5 in. |
| Tires, Front/Rear: | 120/70-19 / 170/60-17 |
| Rake/Trail: | 25.0°/4.2 in. |
| Wheelbase: | 62.8 in. |
| Seat Height: | 32.7 in. |
| Fuel Capacity: | 5.3 gal |
| Claimed Wet Weight: | 489 lb. |
| Availability: | January 2022 |
| Contact: | ducati.com |