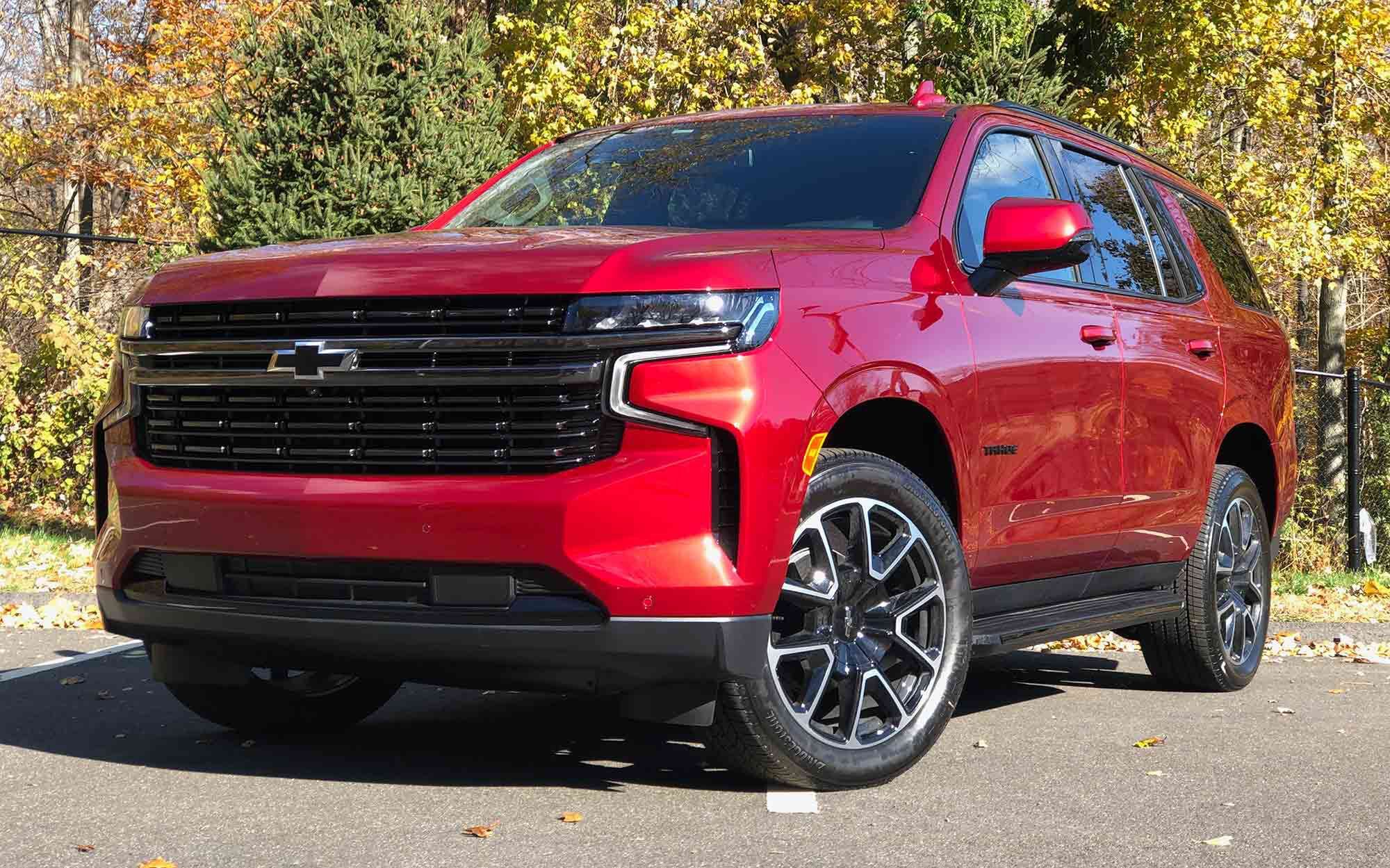 The 2022 Chevrolet Tahoe 4WD RST is big and bold, as is its 6.2L V-8. (Ross Ballot/)
Let's say you want a full-size SUV with seven (or eight) seats to pull your side-by-side, but you want something at least a little exciting. Something with a big honkin' V-8 up front and a plush ride for long hauls to the trail. Enter the 2022 Chevrolet Tahoe 4WD RST.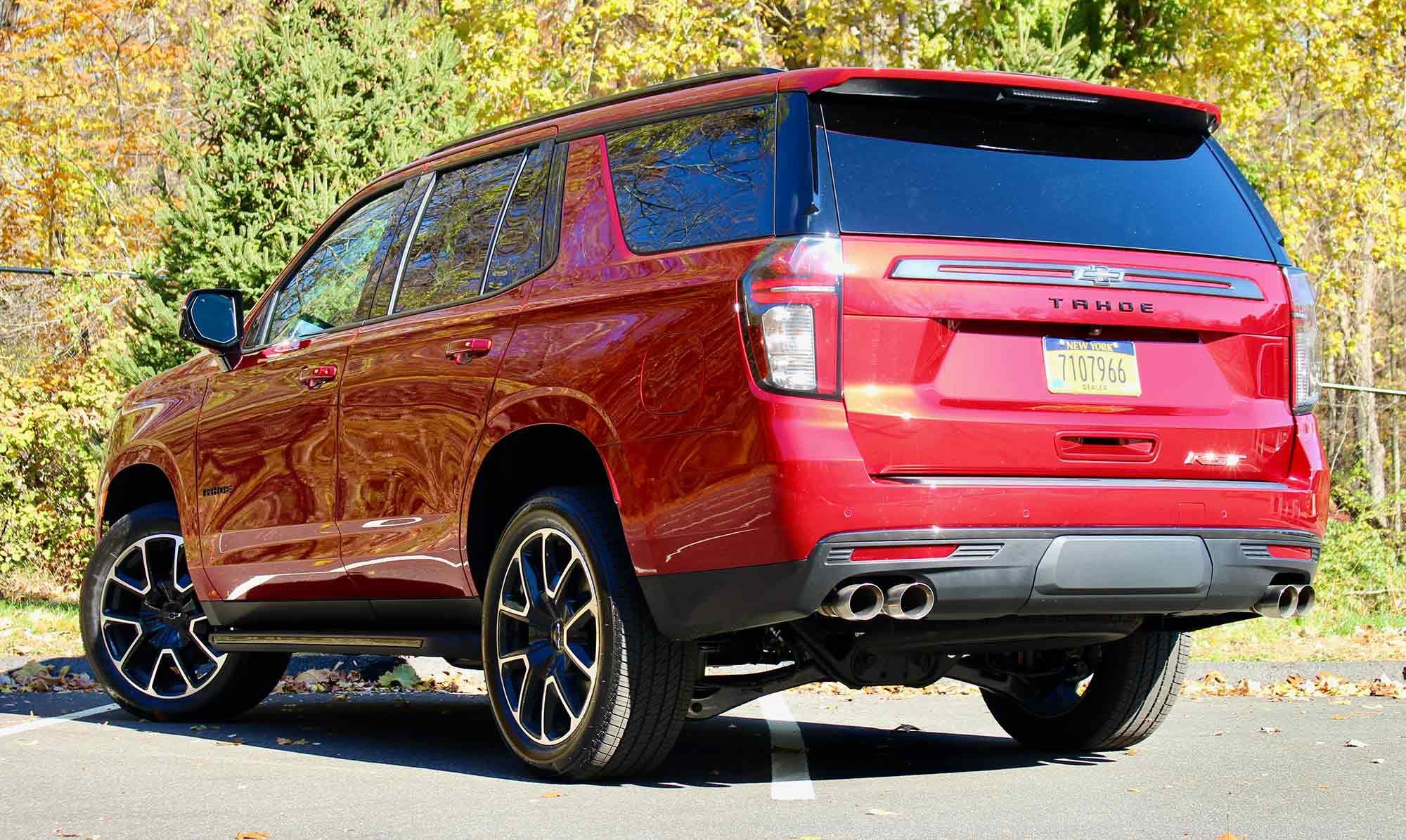 Too little, too much, or just right? Even the massive RST badge adorning the back of the vehicle stands out, here reflecting the sun's glare as it frequently does. (Ross Ballot/)
Chevrolet is rightfully proud of the big Tahoe's powerplant, a 6.2L aluminum-block V-8. It's down on power, torque, and EPA-rated efficiency compared to the competition's turbocharged mills, but it makes up for it with rumble and seamless power. In this guise the 6.2 produces 420 hp and 460 pound-feet of torque. Plenty, but not groundbreaking.
The V-8 is bolted to a solid 10-speed automatic transmission. Unlike the Yukon we just tested that had a two-speed transfer case, the RST has to live with a single-speed unit. Clearly, GM doesn't expect anyone to off-road this rig. There is a mechanical limited-slip differential out back for added traction and tire smoke. Towing capacity is a healthy 7,700 pounds and the 1,947-pound payload capacity bests some pickups. The Tahoe is rated at 14 mpg city and 19 mpg highway and 16 in mixed driving, which is to be expected for a 5,553-pound V-8 SUV.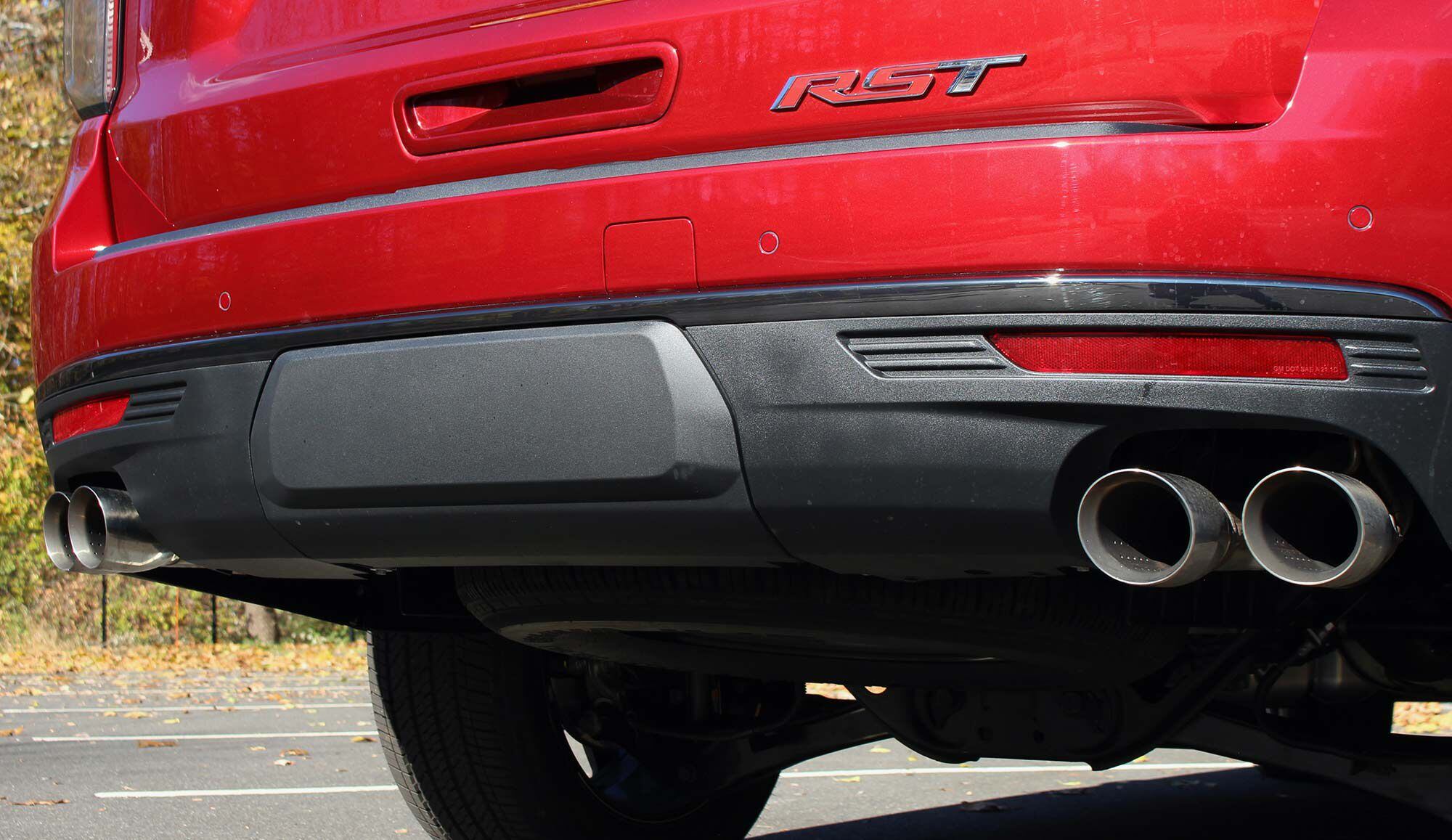 The Tahoe's tow hitch lives beneath a plastic cover between each set of oversize dual exhaust tips. (Ross Ballot/)
The RST has bombastic styling, with bright 22-inch wheels, four massive exhaust tips, and the paint/accent theme you'd expect on Camaros and Corvettes. LED headlights, taillights, and daytime running lights are part of the package as well. The blacked-out D-pillar is a visual trick to make the rig look smaller and sportier, and matching black accents elsewhere carry on the theme. Overall, the Tahoe looks good, but the RST might just be a bit too flashy. At least it has the power to back it up.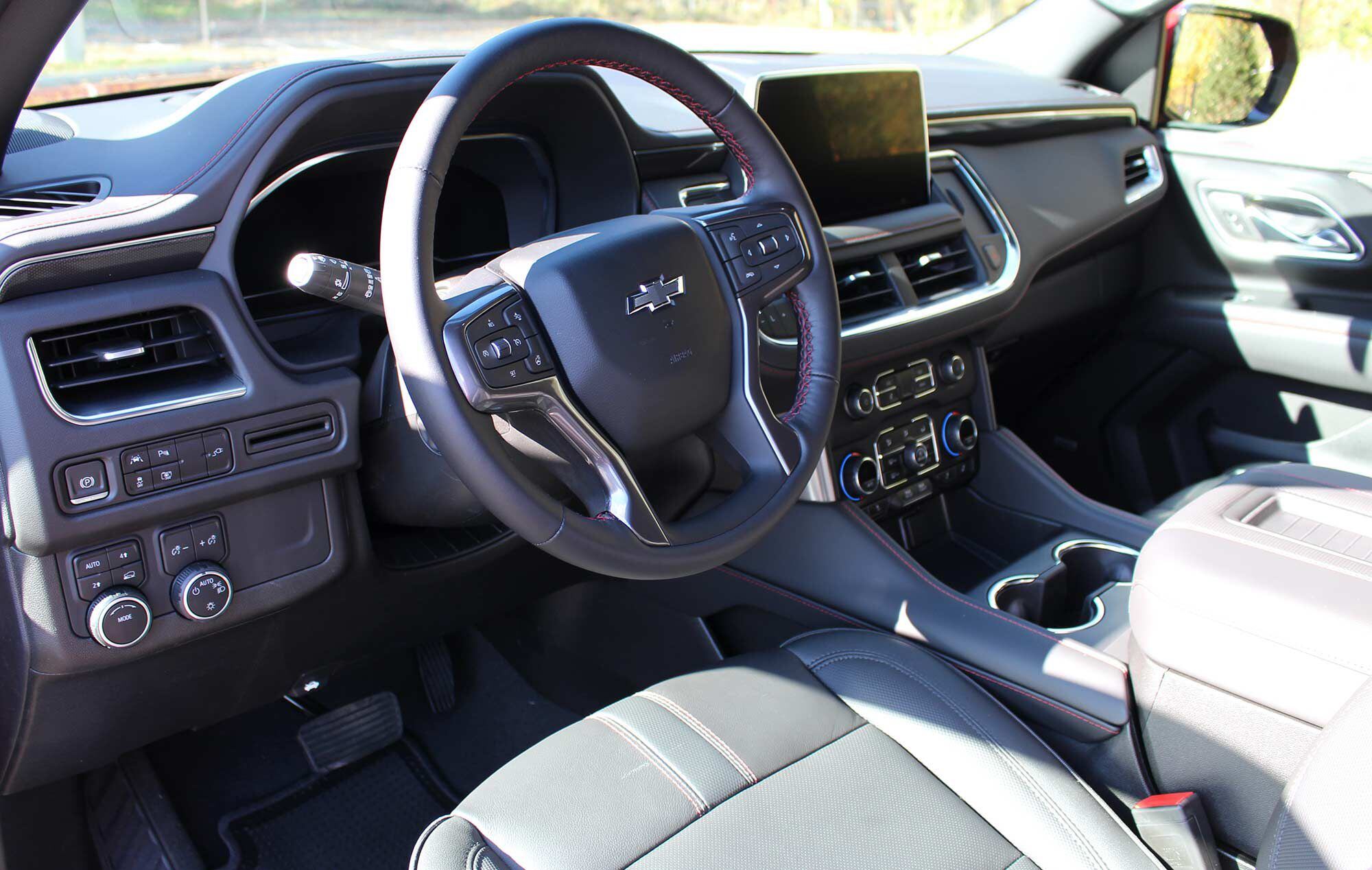 The Tahoe RST's interior is familiar, and adds red piping to the leather surfaces to let you know this is the sporty version. (Ross Ballot/)
There's a fair amount of technology and luxury adorning the RST's interior. Wireless CarPlay and Android Auto make connecting a phone easy, and there's a wireless charger to keep batteries full for a day on the trail. The RST rocks a Bose stereo, which we've had mixed experiences with in the past. The system has nine speakers, which isn't near the top of the class these days, but we're itching to give the sound quality a thorough test. The heated leather front seats are fit for a living room, and tri-zone automatic HVAC will keep all three rows of passengers happy.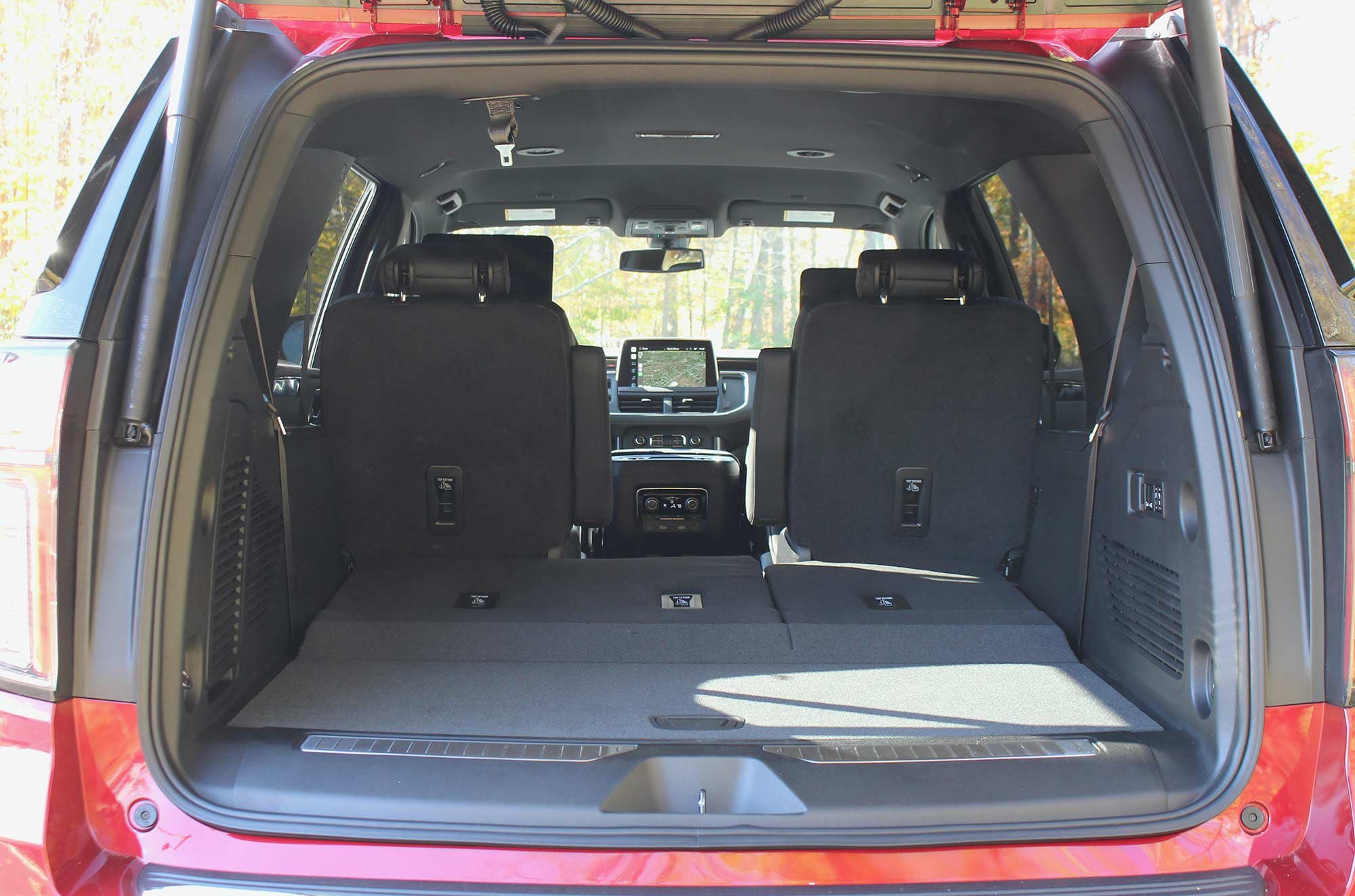 Plenty of room for riding gear. (Ross Ballot/)
Inside, the Tahoe is huge, which isn't exactly a surprise, given that it's just over 17-1/2 feet long. That translates into a cavernous interior, with more headroom, legroom, and cargo capacity than the likes of the Toyota Sequoia, and more cargo room behind the third-row seats than the Sequoia or the Ford Expedition. With all three rows of seats folded, you get 122.9 cubic feet of cargo space. For those of you who don't speak numbers, that's damn near enough space to camp out of.
All that stuff comes at a price. The base-trim, two-wheel-drive 2022 Chevrolet Tahoe starts at $51,395. Our Tahoe 4WD RST starts at $62,995 with the 5.3L V-8. Opting for the 6.2L that lives in our tester shoots the base price to $66,760. Our tester has the $3,815 Sport Performance Package, which includes the bigger engine, Magnetic Ride Control, and full-length dual exhausts with quad tips to let the big mill sing.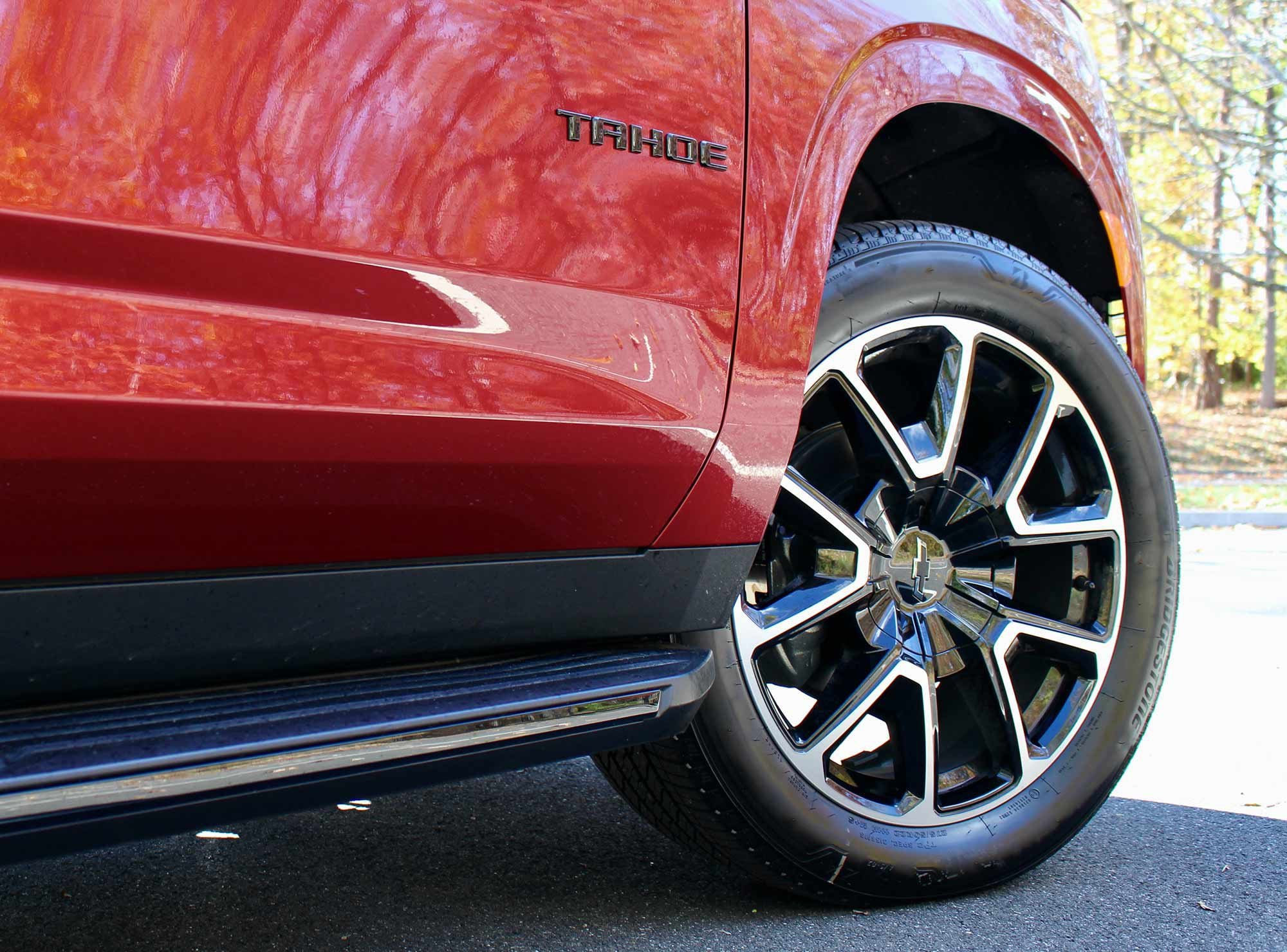 The Tahoe RST has a ton of flair to it, 22-inch wheels and blacked-out badges included. (Ross Ballot/)
Our test SUV also enjoys the $2,525 Luxury Package, which provides power second- and third-row seats, heated exterior mirrors, heated steering wheel, a powered tilt steering column, and extra safety tech like cross-traffic and lange-change alerts. It also adds on the $1,995 rear seat media system, $495 Cherry Red paint, and the $350 power sliding console. A few other odds and ends bring the total to $72,445. Or just a couple thousand higher than the base price of the Yukon we tested.
Is spending this much coin on a Tahoe worth it, and does it have any sporting merit to validate the RST badge and upgraded looks? We're spending a week with the 2022 Chevrolet Tahoe 4WD RST to find out.