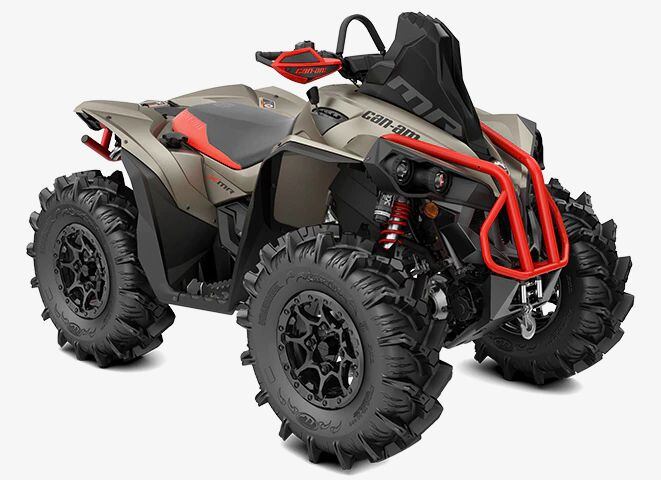 The 2022 Can-Am Renegade X MR 1000R. (Can-Am/)
Ups
Extreme speed, incredible handing, nearly unmatched mud ability, king-of-the-hill looks and performance
Downs
No stock ATV will feel fast after you ride one of these.
Verdict
Performance like this is something to be astounded by, and the Renegade 1000 lineup delivers.
Overview
The Can-Am Renegade X XC 1000R and X MR 1000R are the two highest-performing sport 4×4 ATVs available today, and possibly of any ATV. With no Polaris Scrambler 1000 for 2022, the Renegade 1000s hold the title for the hardest-hitting, best-handling, and most mud-ready machines money can buy without a utility designation.
Updates for 2022
Visco-4Lok is now part of the X MR package.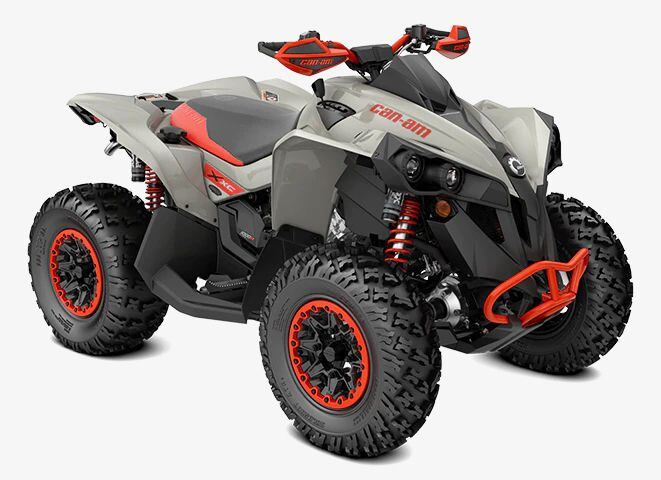 The 2022 Can-Am Renegade X XC 1000R. (Can-Am/)
Pricing and Which One to Buy
2022 Can-Am Renegade X XC 1000R MSRP: $14,499
2022 Can-Am Renegade X MR 1000R MSRP: $15,749
Both Renegades are absolute winners, and you can't go wrong with either. It's just a matter of having an honest conversation with yourself and deciding if you prioritize mud or trail performance. We'd pick the X XC 1000R, since it's always easy to add mud tires, but if you ever plan on adding a snorkel, then the X MR is a fantastic starting point.
Powertrain: Engine, Transmission, and Performance
You want power? Because the Renegade 1000 has power. As far as performance goes, this is the pinnacle. With 91 hp, the 976cc Rotax V-twin engine is a monster waiting to be unleashed by your right thumb. It pulls hard at any speed, and is not suited to novices or beginners. This is, in a word, beastly. When it comes to 4WD ATVs, there isn't a faster way to get down a trail or through the mud.
Transmission duty comes by way of Can-Am's continuously variable transmission. It allows riders to make ideal use of the 1,000-class Rotax powerplant, and is always up for the task of making the rider hang onto the handlebars for dear life. High, low, neutral, reverse, and park gears are part of the package.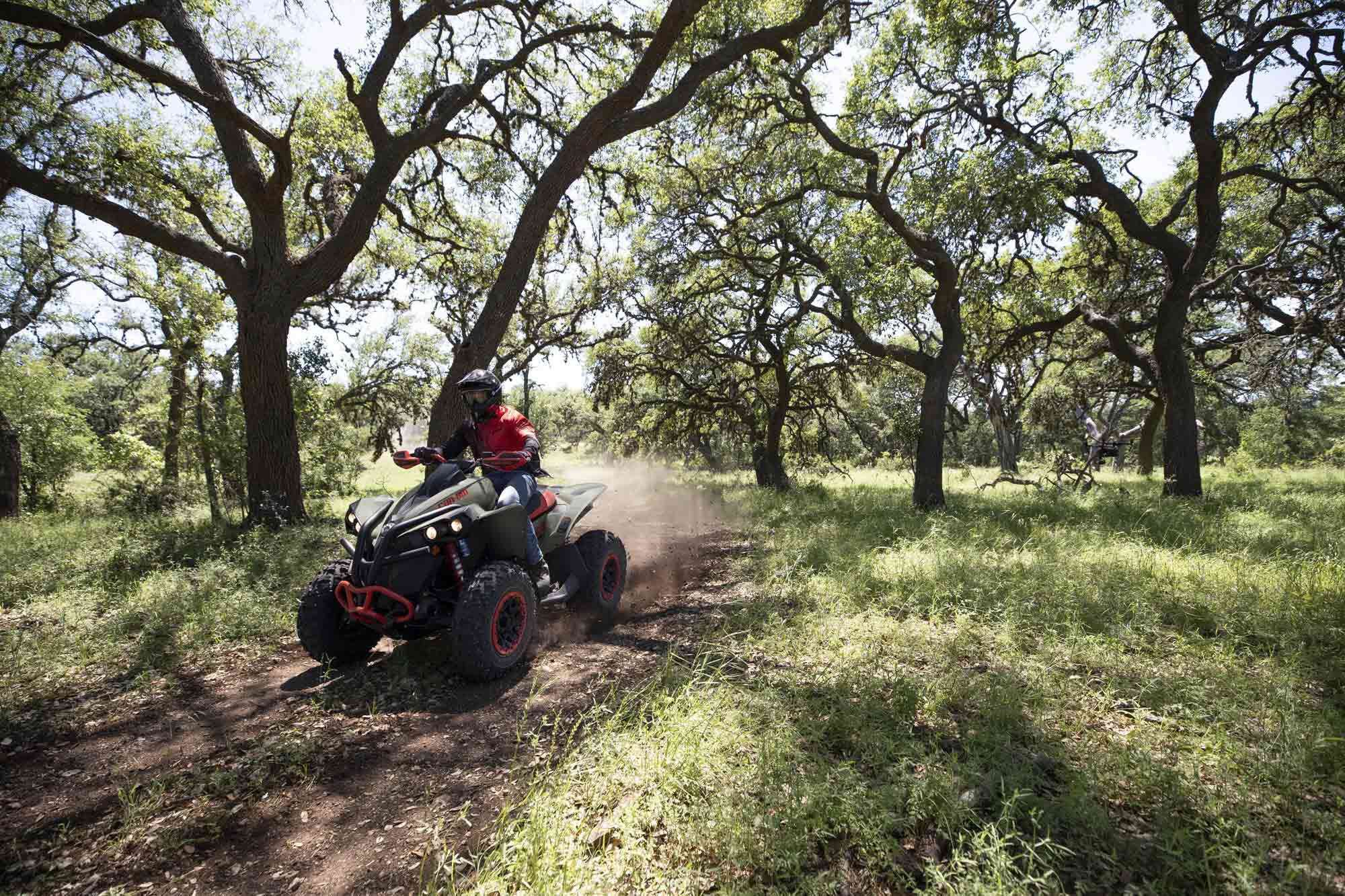 The 2022 Can-Am Renegade X XC 1000R. (Can-Am/)
Handling
The Can-Am Renegade X XC 1000R is the best-handling 4WD ATV on sale today. The Fox 1.5 Podium RC2 suspension is as good as it gets, and the low center of gravity means the Renegade will be extremely difficult for anyone to keep up with on any type of trail. ITP Holeshot ATR tires might be reminiscent of dirt-track racing of yore, but they're more than up to the task of handling the huge power that the Rotax spits out.
Even the X MR 1000R handles well. Although the Fox 1.5 Podium QS3 shocks are meant for controlling the tires' undulations in the mud, the suspension is still more than happy going around a corner. The big limitation here is the ITP Cryptid tires, which are bestsuited to churning through the muck. Despite this, the X MR 1000R will shock anyone who throws a leg over the seat with its ability to tear up a trail.
The 2022 Can-Am Renegade X MR 1000R. (Can-Am/)
Brakes
All Renegade 1000 models use dual 214mm discs with twin-piston calipers up front and a single 214mm disc with twin-piston caliper out back. It's sufficient for hauling down the 850-class Renegades and just enough for the 1000, but we doubt anyone will care; they'll be too happy laughing about the 1,000cc's worth of power.
Ergonomics: Comfort and Utility
Ergonomics are a mixed bag. The Renegade is certainly comfortable but lacks the all-day comfort of its main rival, the Polaris Scrambler. The Renegade puts performance at the top of its list whereas the Scrambler is more focused on rider pleasantries. That said, the only real detriment here is the width of the seat, which may be a bit wide for some riders. We like the handlebar placement on the Renegade lineup and how much it feels like a sport ATV, and this is directly reflected in the lack of a front rack. That gives you an excellent view of the trail ahead. The rear rack, or at least what there is of one, is small but can carry 35 pounds. It's not much, but it should be more than enough for a cooler, gear bag, or the ego of those who get outrun by the Renegade 1000.
Payload/Towing
All Renegade 1000 models are rated to tow 1,300 pounds. For a machine of this performance, it's more than enough; we highly doubt anyone will use a Renegade for real work anyway.
Electronics
The Renegade 1000 has a lot of standard tech. The 4.5-inch digital display provides the rider with a speedometer, tachometer, odometer, trip- and hourmeters, gear position indicator, 4WD indicator, temperature, engine lights, electronic fuel gauge, and a clock. The gauge console houses a DC outlet and a standard 15-amp connector. Can-Am's RF Digitally Encoded Security System (D.E.S.S.) keeps would-be thieves honest, and the X XC comes prewired for a winch while the X MR comes with a standard 3,500-pound winch. Lighting is by way of four 60-watt projector beam headlamps and a taillight/brake light lets following riders know of the Renegade's motions.
Warranty and Maintenance Coverage
All Renegade 1000s come with Can-Am's six-month BRP limited warranty.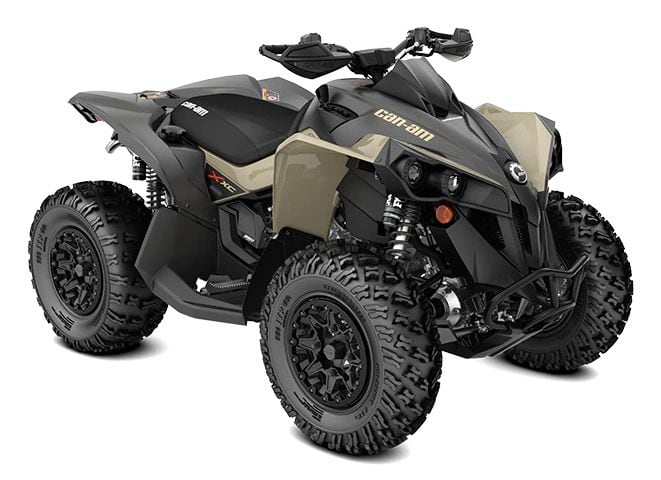 The 2022 Can-Am Renegade X XC 1000R. (Can-Am/)
2022 Can-Am Renegade X XC 1000R & Renegade X MR 1000R Specs
MSRP:
$14,499–$15,749
Engine:
Rotax SOHC, liquid-cooled, four-stroke twin-cylinder / snorkeled (X MR)
Displacement:
976cc
Bore x Stroke:
N/A
Compression Ratio:
N/A
Transmission:
Automatic CVT w/ high/low range, reverse; park / high/extra low range (X MR)
Claimed Horsepower:
91 hp
Claimed Torque:
N/A
Fuel System:
EFI
Steering:
Electric Power Steering
Drivetrain:
Selectable 2WD/4WD w/ Visco-Lok QE auto-locking front differential (X XC) / Selectable 2WD/4WD/Lock 4WD w/ Visco-4Lok front differential (X MR)
Front Suspension:
Arched double A-arms w/ front sway bar, Fox 1.5 Podium RC2 shocks (X XC) / Fox 1.5 Podium QS3 shocks (X MR); 9.2 in. travel
Rear Suspension:
Torsional Trailing arm Independent, Fox 1.5 Podium RC2 shocks (X XC) / Fox 1.5 Podium QS3 shocks (X MR); 9.9 in. travel
Front Brakes:
Dual 214mm discs, 2-piston calipers
Rear Brakes:
214mm disc, 2-piston caliper
Wheels, Front/Rear:
Cast aluminum beadlock; 12 in. (X XC) / 14 in. (X MR)
Tires, Front/Rear:
ITP Holeshot ATR; 25×8-12, 25×10-12 (X XC) / ITP Cryptid; 30×9-14 / 30×9-14 (X MR)
Length:
86.0 in. (X XC) / 83.0 in. (X MR)
Width:
48.0 in. (X XC) / 50.0 in. (X MR)
Height:
49.0 in. (X XC) / 56.0 in. (X MR)
Wheelbase:
51.0 in.
Rear Rack Capacity:
35 lb.
Towing Capacity:
1,300 lb.
Seat Height:
34.5 in. (X XC) / 36.75 in. (X MR)
Ground Clearance:
10.5 in. (X XC) / 12.5 in. (X MR)
Turning Radius:
N/A
Claimed Dry Weight:
710 lb. (X XC) / 991 lb. (X MR)
Fuel Capacity:
5.4 gal.
Warranty:
6-month limited BRP warranty
Availability:
Now
Contact:
can-am.brp.com/off-road/us/en/models/all-terrain-vehicles/renegade.html#x-xc
can-am.brp.com/off-road/us/en/models/all-terrain-vehicles/renegade.html#x-mr-1000r